Imagine a truck camper that fits entirely in the bed of your truck during travel, telescopes up to full walk-in height, then slides out for more space.  Introducing CyberLandr.  It's truly unbelievable.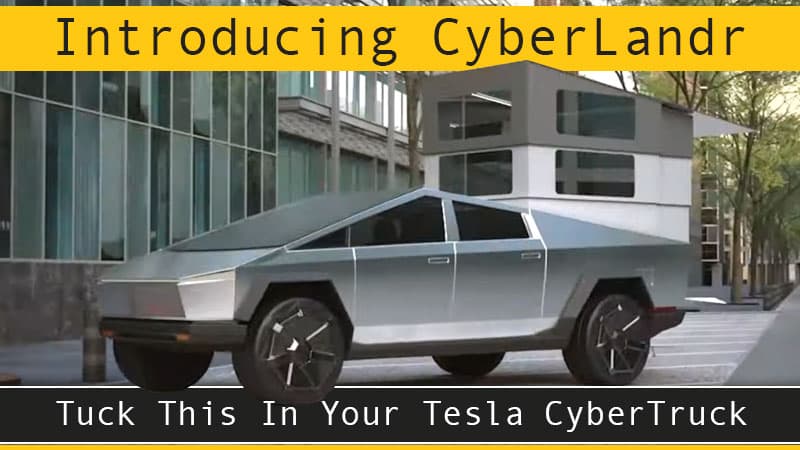 If this story ran on the first, it would be an April Fool's joke.  Since the news debuted a few days later, it can only be what we all know is coming but rarely openly discuss.  The future is going to be weird.  Hold that thought.
$65 Million Dollars
According to Tesla, there are currently 650,000 reservations for the Tesla CyberTruck.  Each of those reservations is $100, which means Tesla has taken in $65 million in just CyberTruck reservations.  Based on the run-away success of Tesla's cars and SUVs, and their valuation that now dwarfs Detroit's big three combined, let there be no doubt that the CyberTruck is coming.
The sheer size of the building Tesla CyberTruck wave has new and old companies positioning themselves to take full advantage.  As of this writing, the great majority of these products are purely vaporware; nothing more than Photoshop exercises by clever individuals looking for some fun and social media exposure.  Given the fervor around the CyberTruck, that's to be expected.
CyberLandr Truck Camper
This past Tuesday a new "truck camper" brand calling themselves CyberLandr emerged across the automotive press with a hide-away-collapsing truck camper designed for the Tesla Cybertruck.
If the above video does not play, click here to watch it on YouTube.
As with the aforementioned Photoshop apparitions, there is no evidence that this product exists in the real world.  It's 100-percent digital; nothing more than computer pixels and electron fairy dust.  The only person who could camp in this right now is HAL 9000. "I'm afraid I can't go camping, Dave."
In fact, not only is the CyberLandr not currently real, but Tesla's CyberTruck itself has only been shown in prototype form and is likely undergoing substantial revisions before production begins.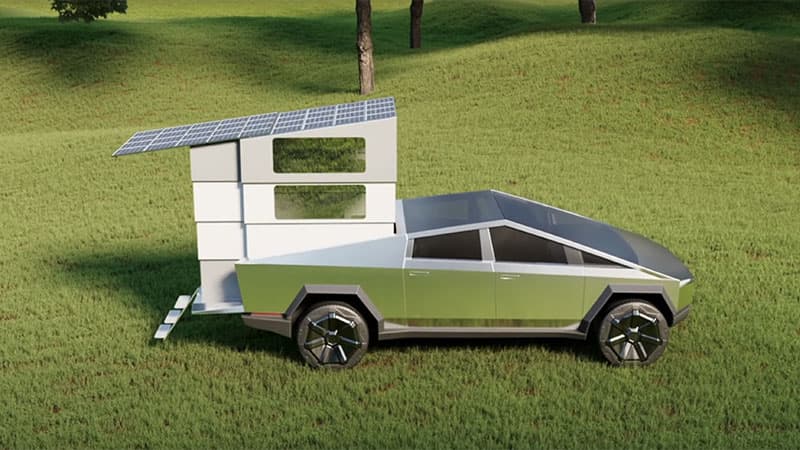 Just two weeks ago, Elon Musk, self-proclaimed, "Technoking of Tesla" tweeted out, "There will be no handles" in reference to the CyberTruck.  These 20 characters set off a frenzy of speculation into what Elon and his Tesla minions are up for the production CyberTruck.  Whatever it is, evidently it doesn't have handles.
The point is this; at this time it's completely nuts to be designing aftermarket products for the CyberTruck.  And yet, the automotive press went bonkers (Autoblog, Motor1, Inside EVs, Robb Report, etc.) with the announcement of the CyberLandr.  Hey fellas, how about covering real truck campers?
A Deep Digital Dive to Nowhere
All of this doesn't mean we can't have some fun with CyberLandr's fantasy.  There's a veritable bat cave full of 3D whimsy here, and a few potentially clever ideas.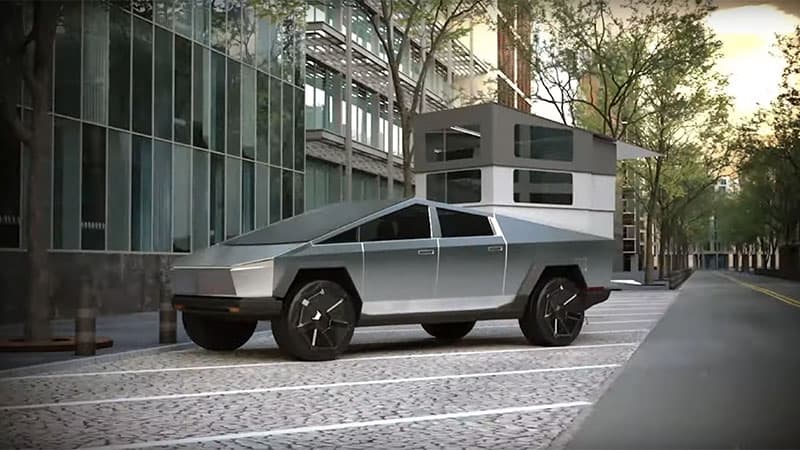 CyberLandr is promoting this as a collapsible camper.  From the video, the unit completely retracts into the bed of the CyberTruck and disappears for travel.  Talk about an improvement in aerodynamics.  This camper literally fits inside the bed rails.  Poof!  There it isn't.
For camping use, the CyberLandr telescopes up (presumably with electric actuators) for an unspecified interior standing height.  Then the rear of the camper telescopes out (the world's-first telescoping slide?) and presents a roll-up entry door.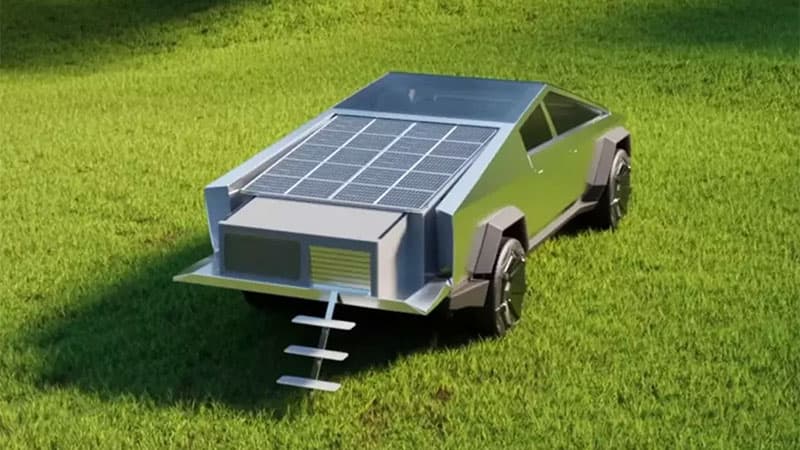 Then, metal spaceship-cool steps emerge from the lowered tailgate, and a two-level solar roof slides out to create a rear awning.  Hold on, I need to lie down.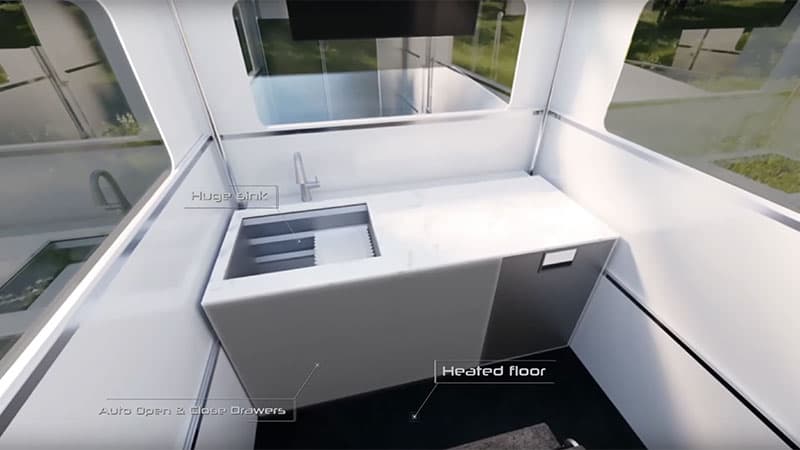 Inside this apparently 6-foot long camper is a kitchen with a sink, convection cooktop, 12-volt refrigerator, two metal lawn chairs (which somehow make into a bed), two tables, and a full bathroom.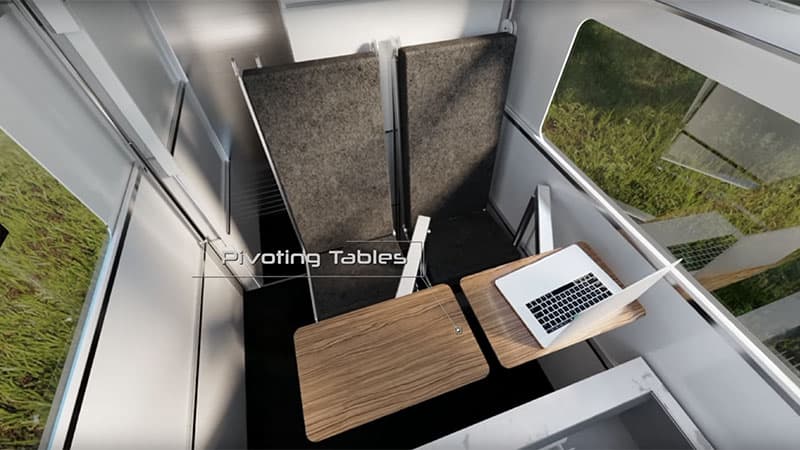 The sink, cooktop, refrigerator, and Lagun-lookin' pivoting tables all make perfect sense, but there's definitely some movie magic and Hollywood physics going on.  How/where does that bed go exactly?
The rendering in the video appears to have walls with zero thickness, a potential issue for structural integrity.  If the walls were one-inch thick (which is about as thin as camper walls get), the interior floor width would be meager.  One good yawn and stretch and you'll shoot out the windows.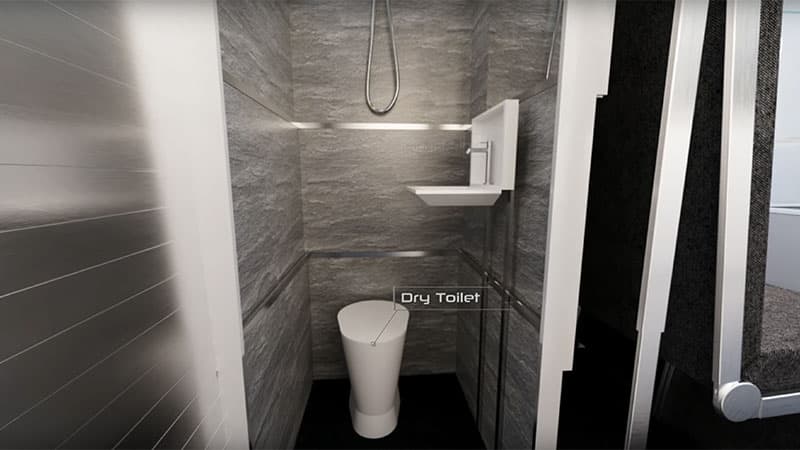 Now the bathroom is simply brilliant.  Radiant-heated porcelain floor, recirculating shower with 4-stage water filter, and a tiny fold-out sink.  Hey there, Cirrus!  And that must be the skinniest toilet ever attempted in a camper.  The website refers to it as a "dry-toilet".  Whatever it is, it looks like a cheek cutter.
Another $65 Million Dollars
Perhaps the most jaw-dropping aspect of this expanding future shock is the audacity of CyberLandr's reservation system.  Evidently, CyberLandr is ready to take your $100 deposit for a camper that doesn't exist, for a truck that isn't available, or defined in its final form.
Please, for the love of spring-loaded turnbuckles, gooey warm marshmallows over roaring campfires, and the sweet smell of fresh-cut grass on a brisk June morning, do not do this.  I beg you.  Put the phone down and step away.  At least wait until the Tesla CyberTruck rolls into the Austin atmosphere and the CyberLandr emerges into our physical world.  Then buy two, with fries.
If CyperLandr is reading this, I have an idea.  You have in your pixel mitts the making of the world's first NFT truck camper.  For those who aren't hip to the latest blockchain sensation, NFT stands for "non-fungible token".  Earlier this month an NFT file created by the artist Beeple sold at a Christie's auction for a mind-melting $65M.  That's $65,000,000, for a jpeg image.  If you understand any of that please explain it to the rest of us.
Anyway, CyperLandr could offer their clever electron camper as a NFT.  The new owner could download it onto an NFT CyberTruck and take it to a virtual National Park, or go plaid.  That weird future I was talking about?  We might be in it.
My advice?  Buy a real truck camper that's been designed, tested, and produced by real people from a real company at a real factory that fits a real truck and can actually go camping in the real world.  Until this CyberLandr pops up before my eyes, it's just a nice dream.  I want to believe.
Thank you TCM reader, Charlie Coushaine, for letting us know about the Cyberlandr video.