"Is there anything in my teeth?" I quietly asked Angela.
"No. How's my hair?" she replied.
"Okay."
Then it dawned on me.  I wasn't even wearing a Truck Camper Magazine shirt.  I was thinking a casual and friendly meet and greet in the parking lot, not a full court press GM video production.  It was too late.  Paul cued Jared to roll, and started asking questions.
From there on, it's all a blur.  Paul asked questions and we answered, but I have no idea what we said.  Paul and Jared walked us in and around the truck and camper and asked us, on camera, about this feature and that.  It was actually a lot of fun, but everything was shot in one take.  As many of you know from our video outtakes, we don't even do our own videos in one take.  And this was for GM!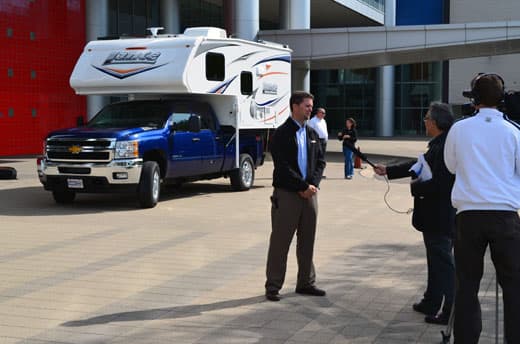 Midway through the video shoot, Tony Truelove, Chevrolet Silverado and Colorado Marketing Manager arrived.  Tony was instrumental in helping us to design our 2013 Chevy Silverado and it was fantastic to meet him in person and thank him for his help.  Tony and I didn't get to talk for long before Paul and Jared were recording our conversation and asking Tony about working with Truck Camper Magazine.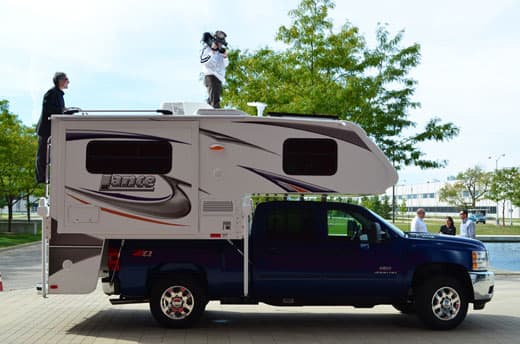 Once Tony was off camera, Paul and Jared got up on the roof to see the solar panel and other roof top features.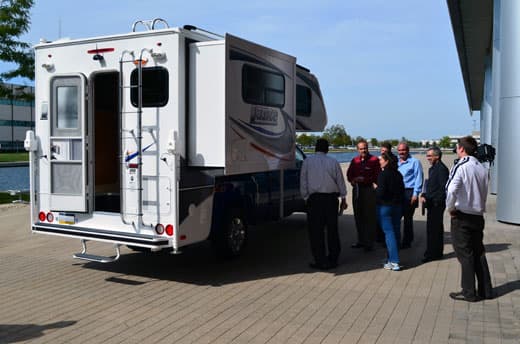 After about an hour of shooting video, the day was winding down and GM engineers began to exit the Vehicle Engineering Center and gather around our rig.  Angela and I were thrilled to engage their questions which ranged from design, to materials, to how the truck and camper were matched and attached.
In the back of my mind I was thinking about how this moment could be the beginning of a new era of cooperation and understanding between the truck camper industry and major automotive design and engineering.  What an opportunity.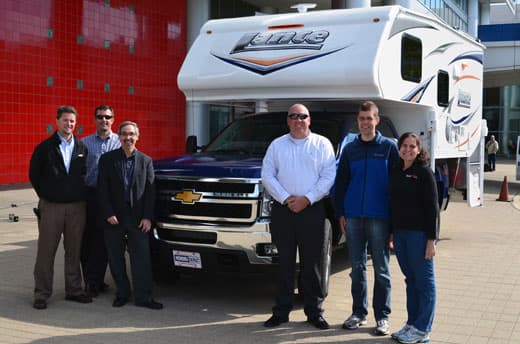 Before we were done, Jared put down his video camera and photographed the group.  From left to right; Tony Truelove, Chevrolet Silverado and Colorado Marketing Manager, Otie McKinley, Chevrolet Communications, Paul Manzella, Faces of GM Producer, Brian Goebel, GM North Central Region Communications, myself, and Angela.
Thank You GM!
We want to thank GM for taking a sincere interest in truck campers and for featuring Truck Camper Magazine in their Faces of GM video series.  We are honored and excited about the opportunity to present the, "Go Anywhere, Camp Anywhere, Tow Anything" truck camping lifestyle to GM and their fans.
Go truck campers!