"Come with me please."
With the rig still parked in the middle of the street, I was escorted into the building.  I was too far away to tell Angela what was going on.
Once inside, the security guard asked me who I was, what I was doing, and why I was taking photographs.  As best I could, I assured her of my media credentials and told her we were there, by invitation, to thank GM for helping us with our new truck project.
She listened intently, called her boss, and handed me the phone.  Again, I explained my entire life story after which the gentleman asked, "Are you here for the video shoot?"
"No sir," I said, "I'm here to meet the Silverado marketing team."
I must have said something right because he seemed to relax after a few minutes of our conversation and the security guard let me return to our camper.  Angela was still in the middle of the street in front of the Vehicle Engineering Center wide-eyed and curious as to what had happened.
I said, "They were not too happy that I was taking pictures without a permit".  Then Angela revealed that she had read the GM visitors pass when I was in detention and it clearly stated, "No Photography".  With that lesson learned, we retreated to the parking lot and set up for our truck camper open house.
Faces of GM Surprise
About an hour later, we got a call from Brian Goebel, GM North Central Region Communications.  Brian and I had been emailing back and forth since September of 2009, but this would be the first time we would meet in person.
"Where are you?" he asked.
"In the parking lot."
"We need you at the VEC."
Angela and I put our computers away, cranked in the windows, closed the vents, pulled in the slide-out, put Harley in the truck, and drove over to the Vehicle Engineering Center.  When we made our way into the loop near the building, I saw Brian waving us in.  Standing with him were several other GM team members, and a small camera crew.
I shook Brian's hand and we had one of those, "So that's the guy I've been emailing for years" moments.  It was great to finally meet Brian.  Standing with him was Otie McKinley, Chevrolet Communications.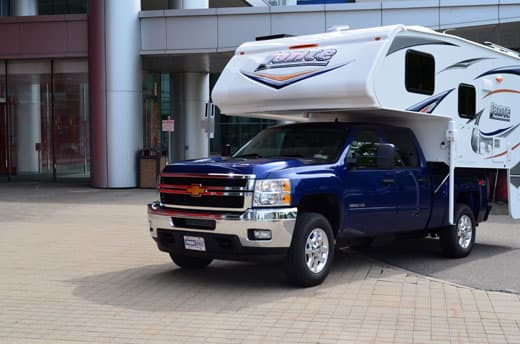 Above: Jumping the curb at GM's Vehicle Engineering Center
To our utter amazement, Otie asked us to drive the rig onto the concrete walkway between the building's water feature and the glass walls of the Vehicle Engineering Center.  An hour or so earlier I got in trouble just for photographing this building, and now they wanted us to drive our rig onto the walkway?  Then Otie asked, "Could you put the truck nose pointing towards the building and back up as close to the water as possible?"  Angela didn't hesitate, "Sure can".
A few minutes later, Paul Manzella, Faces of GM Producer, and Jared Bauman, Faces of GM Videographer and Editor, were positioning us in front of the rig, composing a shot, testing a microphone, and preparing us to be on camera.  We were about to be featured on a Faces of GM video.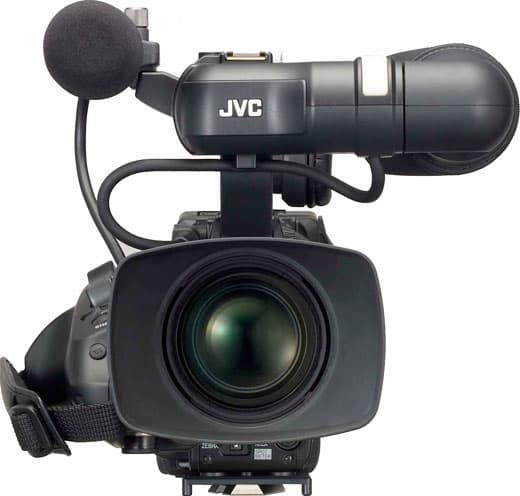 Angela and I kept looking at each other with that, "Are they serious?" and, "Is this really happening?" look.