GM features Truck Camper Magazine and our 2013 Chevy 3500 and 2013 Lance 855-S rig for their Faces of GM video series.  Here's the story behind the video.

*Unfortunately, the video we worked on with GM was taken off YouTube.
Faces of GM: Behind the Scenes
This past September, Angela and I drove out to Elkhart, Indiana immediately after the North-East Truck Camping Jamboree Rally in Gettysburg.  We were going to attend an industry only product expo and visit a few truck camping friends on the way.  It would be one of the last truck camping trips of the year and we were hungry for another adventurer or two before getting out the RV antifreeze.
Since we would already be in Indiana, we decided to take a detour to Detroit for a visit with the GM team that helped us design our 2013 Chevy Silverado 3500.  We wanted to thank them in person and present our newly completed truck and camper rig.  The idea was to park our rig at GM and have an informal truck camper open house.
Lucky for us, most of our GM contacts were available to meet us and were excited to see the rig.  The date was set for Monday, September 24th at 2:00pm.  The GM team asked to meet us at their Vehicle Engineering Center, aka the VEC, in Warren, Michigan.
Angela and I woke early that morning and drove the rig to Eastside Truck Wash.  On the drive west to Detroit, the camper had picked up approximately 9,862,403 bugs.  The Eastside crew took care of the encrusted critters and made the Lance and Chevy shine.  A mile or two down the road we pulled into a Lowes parking lot to dry the rig and detail the truck and camper interiors.  The rig was ready.  Next stop, GM's Vehicle Engineering Center.
Excuse Me Sir!
Looking back, I should have known that stopping the rig immediately in front of the Vehicle Engineering Center to take a picture of the rig would not be a good idea.  After all, we were handed a visitor's pass at the front gate that clearly stated, "No Photography".  Did we bother to read the pass before tossing it into our truck dash?  Of course not.
Angela stopped the truck about fifty feet in front of the Vehicle Engineering Center and I jumped out to take a few photographs.  As office buildings go, GM's eight story, 1.2 million square foot Vehicle Engineering Center is spectacular; a beautifully deigned modern structure of glass and metal.  Through the lens, the truck and camper looked fantastic against the VEC.  As I framed the photographs I could just feel the images working…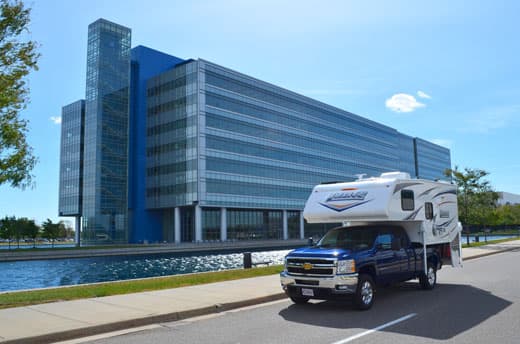 Above: The 2013 Chevy/Lance rig in front of the GM Vehicle Engineering Center
Piercing my blissful moment of photographic zen was a particularly stern and authoritative voice bounding, quite unmistakably, in my direction.
"Excuse me sir!"
I turned to look towards the building facing the Vehicle Engineering Center and saw a security guard hastily making her way to my location.
"Excuse me sir.  Would you come here please?"
I hadn't heard that tone of voice directed towards me since high school.  Clearly, I was in trouble.
"Do you have a permit to be taking photographs?  I witnessed you taking photographs."
"Well, I am here by invitation and didn't realize I needed a permit."
"Come with me please."
With the rig still parked in the middle of the street, I was escorted into the building.  I was too far away to tell Angela what was going on.
Once inside, the security guard asked me who I was, what I was doing, and why I was taking photographs.  As best I could, I assured her of my media credentials and told her we were there, by invitation, to thank GM for helping us with our new truck project.
She listened intently, called her boss, and handed me the phone.  Again, I explained my entire life story after which the gentleman asked, "Are you here for the video shoot?"
"No sir," I said, "I'm here to meet the Silverado marketing team."
I must have said something right because he seemed to relax after a few minutes of our conversation and the security guard let me return to our camper.  Angela was still in the middle of the street in front of the Vehicle Engineering Center wide-eyed and curious as to what had happened.
I said, "They were not too happy that I was taking pictures without a permit".  Then Angela revealed that she had read the GM visitors pass when I was in detention and it clearly stated, "No Photography".  With that lesson learned, we retreated to the parking lot and set up for our truck camper open house.
Faces of GM Surprise
About an hour later, we got a call from Brian Goebel, GM North Central Region Communications.  Brian and I had been emailing back and forth since September of 2009, but this would be the first time we would meet in person.
"Where are you?" he asked.
"In the parking lot."
"We need you at the VEC."
Angela and I put our computers away, cranked in the windows, closed the vents, pulled in the slide-out, put Harley in the truck, and drove over to the Vehicle Engineering Center.  When we made our way into the loop near the building, I saw Brian waving us in.  Standing with him were several other GM team members, and a small camera crew.
I shook Brian's hand and we had one of those, "So that's the guy I've been emailing for years" moments.  It was great to finally meet Brian.  Standing with him was Otie McKinley, Chevrolet Communications.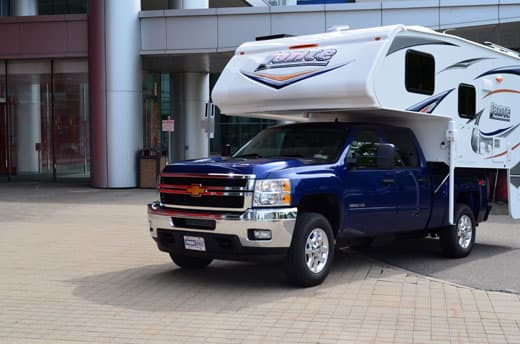 Above: Jumping the curb at GM's Vehicle Engineering Center
To our utter amazement, Otie asked us to drive the rig onto the concrete walkway between the building's water feature and the glass walls of the Vehicle Engineering Center.  An hour or so earlier I got in trouble just for photographing this building, and now they wanted us to drive our rig onto the walkway?  Then Otie asked, "Could you put the truck nose pointing towards the building and back up as close to the water as possible?"  Angela didn't hesitate, "Sure can".
A few minutes later, Paul Manzella, Faces of GM Producer, and Jared Bauman, Faces of GM Videographer and Editor, were positioning us in front of the rig, composing a shot, testing a microphone, and preparing us to be on camera.  We were about to be featured on a Faces of GM video.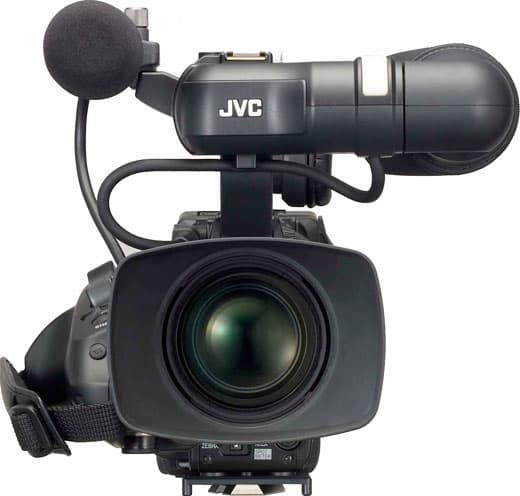 Angela and I kept looking at each other with that, "Are they serious?" and, "Is this really happening?" look.
"Is there anything in my teeth?" I quietly asked Angela.
"No. How's my hair?" she replied.
"Okay."
Then it dawned on me.  I wasn't even wearing a Truck Camper Magazine shirt.  I was thinking a casual and friendly meet and greet in the parking lot, not a full court press GM video production.  It was too late.  Paul cued Jared to roll, and started asking questions.
From there on, it's all a blur.  Paul asked questions and we answered, but I have no idea what we said.  Paul and Jared walked us in and around the truck and camper and asked us, on camera, about this feature and that.  It was actually a lot of fun, but everything was shot in one take.  As many of you know from our video outtakes, we don't even do our own videos in one take.  And this was for GM!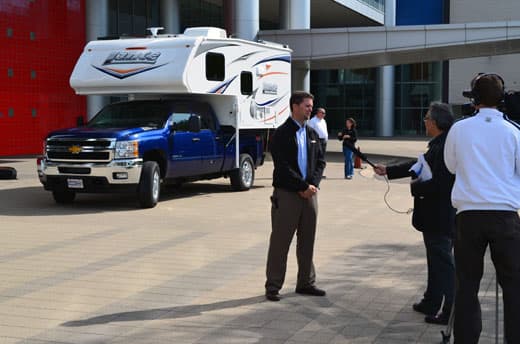 Midway through the video shoot, Tony Truelove, Chevrolet Silverado and Colorado Marketing Manager arrived.  Tony was instrumental in helping us to design our 2013 Chevy Silverado and it was fantastic to meet him in person and thank him for his help.  Tony and I didn't get to talk for long before Paul and Jared were recording our conversation and asking Tony about working with Truck Camper Magazine.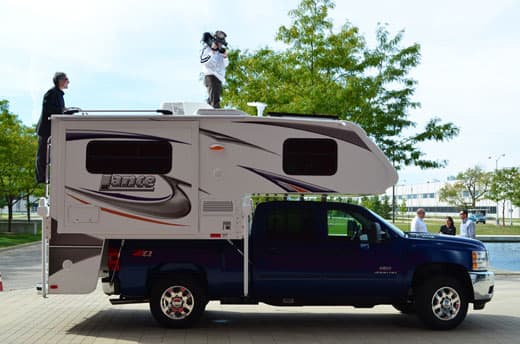 Once Tony was off camera, Paul and Jared got up on the roof to see the solar panel and other roof top features.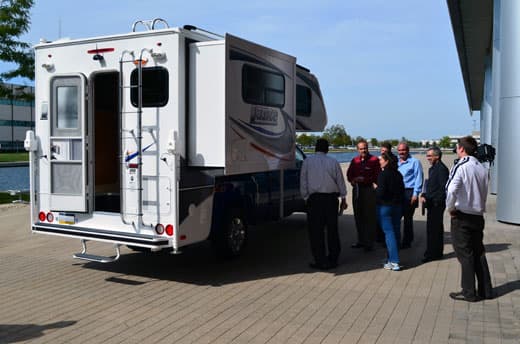 After about an hour of shooting video, the day was winding down and GM engineers began to exit the Vehicle Engineering Center and gather around our rig.  Angela and I were thrilled to engage their questions which ranged from design, to materials, to how the truck and camper were matched and attached.
In the back of my mind I was thinking about how this moment could be the beginning of a new era of cooperation and understanding between the truck camper industry and major automotive design and engineering.  What an opportunity.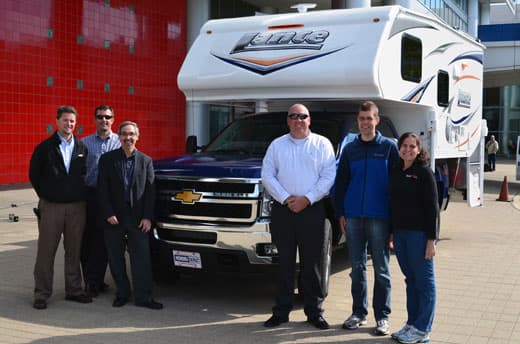 Before we were done, Jared put down his video camera and photographed the group.  From left to right; Tony Truelove, Chevrolet Silverado and Colorado Marketing Manager, Otie McKinley, Chevrolet Communications, Paul Manzella, Faces of GM Producer, Brian Goebel, GM North Central Region Communications, myself, and Angela.
Thank You GM!
We want to thank GM for taking a sincere interest in truck campers and for featuring Truck Camper Magazine in their Faces of GM video series.  We are honored and excited about the opportunity to present the, "Go Anywhere, Camp Anywhere, Tow Anything" truck camping lifestyle to GM and their fans.
Go truck campers!