Winnebago and Airstream just threw down the electric RV gauntlet at the 2022 Florida RV SuperShow.  Here's what that means for the entire RV marketplace, and the mind-boggling opportunity this represents for truck campers.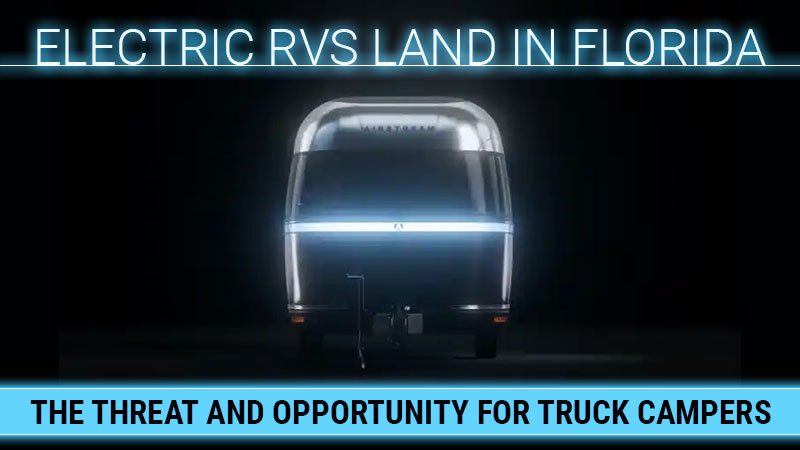 "Well, there goes the next generation of RVers."
That was my thought the second I saw the Car and Driver headline for Winnebago's e-RV.  Winnebago has the brand.  The e-RV is in tune with the seemingly unstoppable Van Life trend.  And the vehicle is a zero-emission all-electric Ford.  For current and future Millennial and Gen Z RVers, that's practically game, set, match.
Except for one thing, or five.  The e-RV is not overland capable.  It's not off-grid equipped.  It's not modular in design.  It doesn't offer the versatility of a modern pickup truck.  Oh, and towing.
Imagine the same Car and Driver headline, only with a truck camper.  The second the 2022 Ford F-150 Lightning EV becomes available I sincerely hope that's exactly what happens.
Every truck camper manufacturer that builds pop-ups or half-ton capable hard-sides should be focused on how to make that a reality.  Please don't miss this obscenely huge opportunity for branding and mind share.
Above: IEN Magazine has a roundup video of Winnebago e-RV
Not the Only e-RV Debuted in Florida
At this moment, Winnebago's e-RV is a concept on display at the Florida RV SuperShow, but it's not the only electric RV concept at the annual event.  Thor brought an "eStream" electric Airstream prototype.  "And there goes the Gen X and Baby Boomer generation."
The electric Airstream incorporates an electric drive axle by ZF that changes the towable game.  ZF specializes in electric drivetrains including electric motors and transmissions for vehicles of all descriptions.  With the ZF system, the self-powered electric Airstream moves "in harmony" with the tow vehicle.  The trailer is itself an electric vehicle!
Get this; the electric Airstream can also park itself under the control of a phone app.  Read that last sentence again because I'm sure it hasn't sunk in yet. Self. Parking. Electric. Airstream.
Above: The Airstream eStream concept introduction video
Now, where did we first see the idea of a self-driving "trailer"?  My admittedly out-there, "The Walking Truck Camper" article from April 2018.

Not only was that a "real" April Fools, but I foolishly predicted it would be 2043 before we saw a self-driving RV.  Somebody call Woody Allen.  His, "Sleeper" future is arriving.
Why This Belongs In Truck Camper Magazine
Honestly, it doesn't.  I'm the guy who came up with, "If it doesn't demount, it doesn't count."  I would explain to companies with chassis mount products that our readers would throw rocks if we didn't adhere to the demountable truck camper definition.  We don't do motorhomes or towables.
And yet, it's not hard to predict the entire RV marketplace following Winnebago and Airstream's electric examples.  Right now in RV manufacturer boardrooms across the United States, Canada and the world, leadership teams and designers are getting one heck of a wake-up call; electric RVs are at the gate.  There are two electric RV prototypes at the Florida SuperShow this year.  Next year there will be a dozen or more.  It's starting.
The Threat and Opportunity
The last time we saw a trend this powerful approaching the RV market was the invention of slide-outs.  By the time that trend hit, RVs without slide-outs were the horse and buggies of the marketplace.  What was the last major sea change in the truck camper market?  Slide-outs!  Thank you, Bob Mehrer of Interior RV (Snowriver).
What's exciting is that truck campers are poised to take full advantage of this emerging mega trend.  All we need is a suitable electric pickup truck and an hour or two to install the tie-downs, turnbuckles, and camper.
To make the camper truly electric, remove the propane tanks and replace all the propane appliances with 12-volt electric equivalents.  Now that the propane compartment is empty, fill it with a huge battery bank, and there you go; an all-electric truck camper rig.  Calling Car and Driver.
Deep Breath: This Is Just For Show
For the moment, I believe these electric RV concepts are all for show; literally a marketing stunt to capture the attention and imagination of future RV customers.
If anyone thinks I'm some kind of electric truck and camper cheerleader, think again.  I outlined my grave concerns about electric trucks in great detail last October in the article, "The Camper Collision Course with Electric Trucks".
While I enjoy following the rapid evolution and technology, I'm also troubled about its potential impact on our niche industry and lifestyle passion.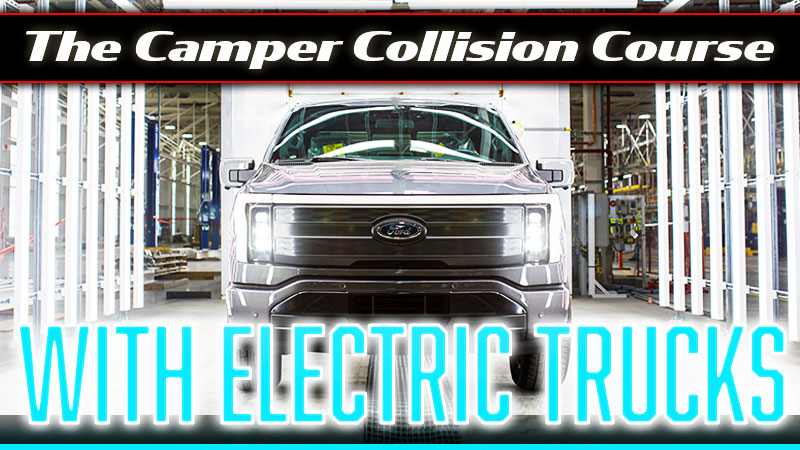 I am bringing these new e-RV concepts to the attention of our industry to make sure that we surf this approaching wave instead of drowning in it.
We need to keep close tabs on the incredibly fast-moving electric truck (and now) electric RV trend.  We need to make peace with this sea change and make it work for us, just as we did with slide-outs 25-years ago.
Within a decade, RVs of any type that aren't all-electric could be a tough sell.  We'll look back at the Winnebago e-RV and Airstream eStream as the all-electric starting gun for the entire RV industry.  On your mark.
If you are attending the Florida SuperShow this weekend, be sure to check out the five truck camper brands on display.