Readers reveal 14 dream truck camper floor plans that are sure to have industry pens, pencils, and mousepads wagging from coast to coast.  The dream plans start here.
This whole thing is another hair-brained idea of mine gone completely amok.  About a month ago I was supposed to be working on an article but, in the back of my inexplicable brain, I was attempting to design a sofa camper, with a booth dinette, dry bath, and no slides.
Eventually, Photoshop opened and I started creating my dream floor plan.  Two hours later, it was done; a non-slide dry bath sofa camper.  It's alive!
The problem was that Angela would not be pleased with my lack of progress against my to-do list.  Even so, I wanted to show her my design.  How could I show her my floor plan without spending another night on the slacker sofa of solitude?
"I was thinking we could do a dream truck camper floor plan contest.  To see if the idea could work, I designed my own dream floor plan.  What do you think?"
Angela glanced at me with that, "I know what you're up to" look, and promptly fell in love with my floor plan and contest idea.  Sometimes being creative can get you out of trouble as fast as it gets you into it.  Not always, but sometimes.  Don't tell Angela.
What follows simply amazes me.  I was a bit concerned that no one would actually draw and submit a dream floor plan.  It's a lot to ask, and quite a commitment.
It turns out I had nothing to worry about.  Within hours we had our first-floor plan entry.  Within days we had over a dozen.  What follows are the first fourteen of twenty-six reader-submitted dream floor plans.  How awesome is that?
Later this week we will publish twelve more dream floor plans and the winner.  And all of this happened because… squirrel!
Click to enlarge the floor plans below to see them bigger.
#1 – Andrew Bengtson, Riverside, California (age 16)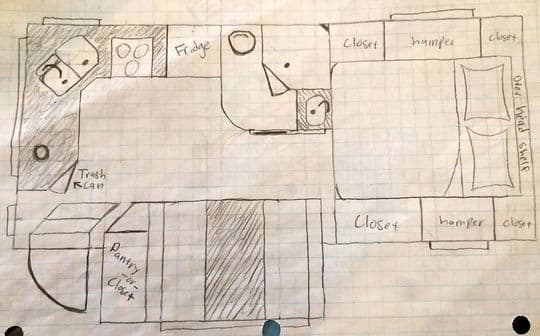 Click the image above to enlarge this floor plan.
This is my dream 11-foot, side-entry, dry bath truck camper.  It has a passenger side slide-out that includes a large-booth dinette, and a floor to ceiling pantry/closet.
The kitchen is located on the rear and driver side, like most fifth-wheel trailers, to give the floor plan a more spacious feel.  The dry bath is huge with one of those roll doors.
In the bedroom, the camper features a queen-sized bed.  This camper has storage everywhere, and large windows everywhere.
#2 – Lorin Lowe, Orem, Utah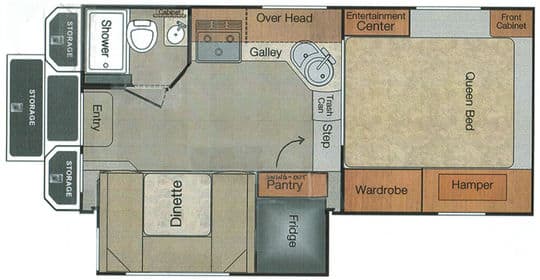 Click the image above to enlarge this floor plan.
This is a 9'11" camper with a dry bath and 57-inch wide floor.  It's a perfect size with everything you need!
Here are the key features:
1. U-Shape Dinette.  Why a U-shaped dinette instead of a full-booth dinette?  Well, with a U-shaped dinette, all you need to do to convert it into a couch is to remove the tabletop and leg.  You just saved two feet of camper length, an extra slide, and 600 pounds (and a redundant sitting device and sitting area).  Just store the tabletop and leg in the shower, under the bed, between the wall slide, or some other handy spot until you are ready to use it again.  Plus, you get an added, long storage compartment outside.
2. Dry Bath in Rear.  Who wouldn't want a dry bath without adding extra length to a 9'11" camper?  That way you can tow without needing an excessively long hitch extension.  Plus, by putting the dry bath in the rear, it opens up the floor space so the camper feels big and you are not bumping into each other.  Ah… space.
3. Swing-Out Pantry.  Look at that open space in front of a full-wall slide refrigerator just begging for productive use.  This nifty cabinetry allows you to swing open your pantry and have full access to your food items on height-adjustable, full-depth shelves.  This allows space on the other side of the camper for a dry bath.  Okay, so you need to open the pantry before you open the refrigerator, but how often are you getting in the refrigerator anyway?  And aren't you accessing your pantry items most of the time when you open your refrigerator?
Here are the specifications:
9'11" floor length.  This is a manageable length for a camper.
57-inch floor width.  Over the wheel-well height basement design.  Yes, it has winglets, but who cares when you have 57-inches of floor width?
Dry weight 3,200 pounds.  This will be a challenge for the manufacturer, but doable.
Reasonable tank capacities.  45 gallons fresh, 40 gallons grey (yes, 40 gallons so we can take showers for a week), 35 gallons black (dump your excess grey water in your black tank).
Synchronized jacks.  Jack manufacturers take note.  We need jacks with turn counters so they all go up and down at the same rate.  If I press two or more buttons on the remote, the corresponding jacks should move at exactly the same rate.  The next advancements should be height memory settings and auto-level using an accelerometer.  Who will be the first to develop this feature set and take over market share?
#3 – Donald Fox, Chesapeake, Virginia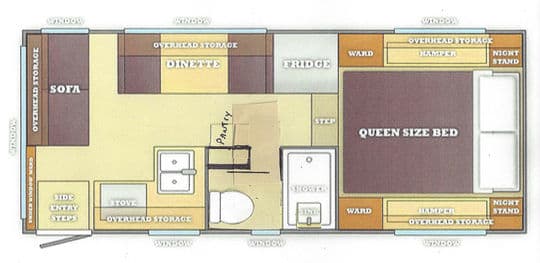 Click the image above to enlarge this floor plan.
I would like the bathroom to be smaller.  One way to do that is to incorporate the sink into the wall of the shower.  The sink could fold down during showering and transportation.  You would have to step into the shower to brush your teeth and wash your face, but it would save a lot of space for other stuff.
In order to incorporate the sink, you would move the shower drain to the outside wall and then the sink could have its own drain behind the shower.  Or, it could lay against the shower wall incorporated into that shower wall with a bump-out.  This would also place all water systems in the bathroom against an outside wall making maintenance easier.
I would also move the toilet ninety degrees which will give ample leg space between the shower and toilet.  This would free up space for a large pantry; drawers on bottom, and doors on top.  I would install a sliding door to the bath.
Part of the shower would have a side wall, near the door area.  To give more space in the bathroom, the sliding door could be on the outside, or just install a regular door.
I would also like the dinette to be six feet or more in length so that it could be made into a bed.  I'm not certain how long it is in our drawing.  I think it is only five feet.  I would want one dinette seat to slide back toward the sofa to allow for a six-foot bed at night.  That would cramp the sofa.
If I could, I would do one of three things to the sofa:
1. I would like to lengthen it once settled so that the sofa could provide more seating.  The sofa could be pulled out toward the steps when desired.  This would also allow it to convert into a bed long enough for a person almost six feet tall.  I know this would interfere with the entrance, but once in for the night, or when inside due to inclement weather, it would provide more space to stretch out.
2. I would like the sofa to slide to the right toward the door once settled in for the night giving more legroom for the person seated on the left of the couch.
3. If that's not possible, then I would want two small comfortable recliner chairs that, once settled into a place, could be unlocked and moved around.  Once the food is cooked it would be nice to move a recliner chair near the area of the stove providing a more comfortable room.  The chair or recliners would be the two options to choose from.
I have on order a Lance 1172 (due for delivery in mid-June).  Had this model been made available, I would have purchased this rather than the two-slide model.  I only went with the 1172 because of the sofa.  Another possibility with your design, which is the best non-slide design I have ever seen, would be to not have a window at the bed step area.
If I could purchase this floor plan from Lance, with a single slide, I would select your design and have the dinette and refrigerator slide out.  I would have the sofa installed like you show it and could easily not slide out when boondocking for the night.  Everything could be used without sliding out but obtain the extra space when needed.
Thanks for the opportunity.
#4 – Tom Rives, San Diego, California
Click the images above to enlarge this floor plan.
I have a Phoenix pop-up.  Phoenix Campers are custom built to your own floor plan, so it's exactly what I wanted.  My constraints were how to have a wet bath and queen size bed on a six-foot bed, and be self-contained.  The underfloor plan was just as important.
The most innovative item is the passenger side 45-degree seating area.  Even on a narrow truck it gives you enough seating depth and legroom to lounge rather than sit upright.  It gives the cook more room and, at 90-degrees to each other, you can play cards without cheating.
The driver's side from front to back is a sliding bed over cab, refrigerator/freezer, sink/stove, and the wet bathroom under a flip-up counter/wall at the rear.
There is ample storage because a 7-inch raised floor (basement) accommodates the 25-gallon fresh water, 10-gallon gray water, batteries, and storage for a table, two chairs, firewood, and outside kitchen box, all without intruding into the living floor plan above.
During the day, the floor plan is all kitchen and seating with extra windows all around.  This camper provides great airflow and a very spacious (no upper cabinet) feeling.  At night there is a queen-sized bed.
It is very comfortable to live in.  The flow and functionality is amazingly good for such a small space.  For us, it's all about being comfortable without sacrificing drivability or economy.
#5 – Howard Bisco, Washington, Illinois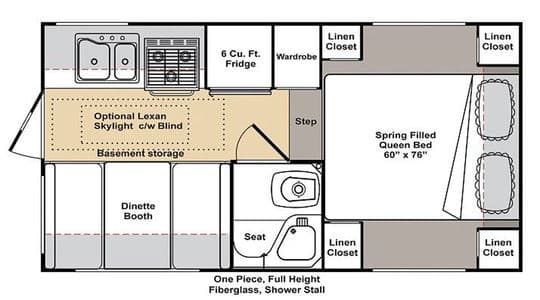 Click the image above to enlarge this floor plan.
Not to cheat, but if this Okanagan 90W had a cassette toilet, this is the floor plan that I would like.
#6 – Scott Mote, Westport, Indiana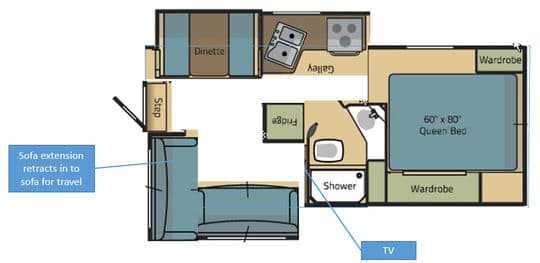 Click the image above to enlarge this floor plan.
My ultimate truck camper would have an L-shaped sofa in the back with an extension that would slide back into the sofa when in travel mode.  The picture doesn't show it, but a sliding door for the bathroom would make it accessible with the slide-out in.
#7 – Bill and Sue Billyard, Fort Erie, Ontario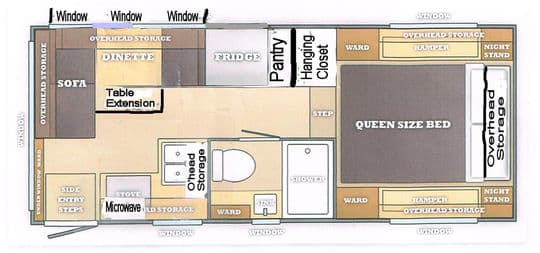 Click the image above to enlarge this floor plan.
Gordon, while Sue and I were impressed with your floor plan, we feel it could be even better.  A copy of our revised plan is included in this email.
The changes we made are:
1. Move the dinette closer to the sofa so the sofa could be used as a seat on one side of the table.  You could also add a removable table extension which would allow two people to sit side-by-side on the sofa and eat, use a computer, or whatever.
2. That would also move the refrigerator closer to the rear and closer to the kitchen area making it more accessible.
3. By making that move, you would have space for a pantry and a hanging closet.
4. Put a microwave over the stove taking part of the overhead storage away.
5. To make up for the microwave storage loss, put overhead storage above the sink.
6. Put overhead storage above the head of the bed.
#8 – Stan Carman, Wilkesboro, North Carolina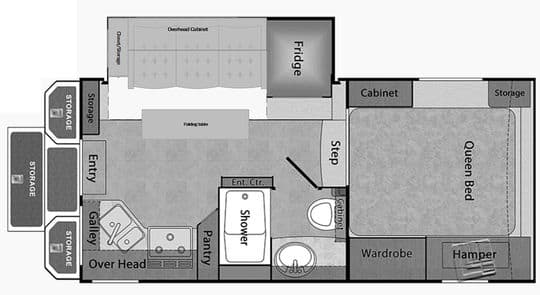 Click the image above to enlarge this floor plan.
Since most manufacturers seem hooked on slide-outs, we offer the attached modifications to the Lance 975 plan.   Swapping the dinette for a sofa with overhead storage and a skinny wardrobe should be possible in the same slide-out.
Replacing the bathroom door with a slider or folding door might make it possible to access the bath with the slide-out in.  A small folding table in front of the sofa could be stored under the sofa or in the wardrobe.
#9 – Fred Patterson, Fairfax Station, Virginia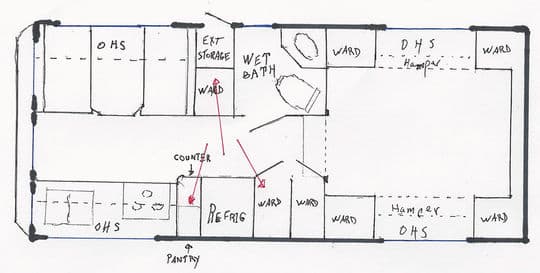 Click the image above to enlarge this floor plan.
Over the years, truck camper manufacturers have steadily improved design and efficiency to the point where we, truck camper owners, can only think we could do a better job if we started from scratch.
That said, there are a couple of improvements most truck camper owners agree should be made and it seems are never adequately achieved – at least in light-weight and mid-weight campers.  This design intends to correct that problem while still maintaining a weight suitable for a single rear wheel truck.
The goal is to add more and bigger windows, so one feels like they are outside, and to add more interior wardrobe/pantry/counter space while not significantly increasing weight.  Most campers without this extra storage space are 9-foot to 9.5-foot floor-length, so this design is 10-foot to 11-foot floor length without adding significant weight.
The entire rear half of the camper consists of as much window space as possible without weakening the structure.   Most of this design comes from existing camper designs, but the areas marked by red arrows show the storage improvements.
Specifications:  8-foot bed, hard-side, non-slide, shallow basement to allow facing dinette.
#10 – Mary Grandlund, Babbitt, Minnesota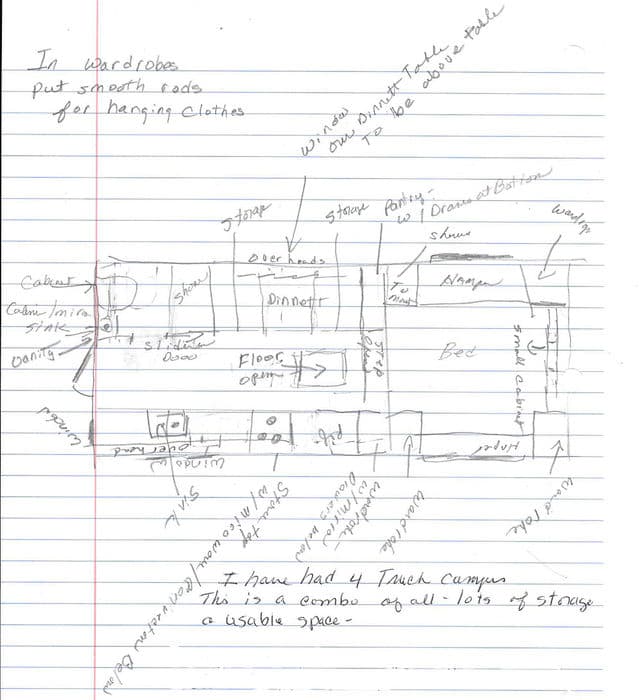 Click the image above to enlarge this floor plan.
#11 – Burt Brar, Surrey, British Columbia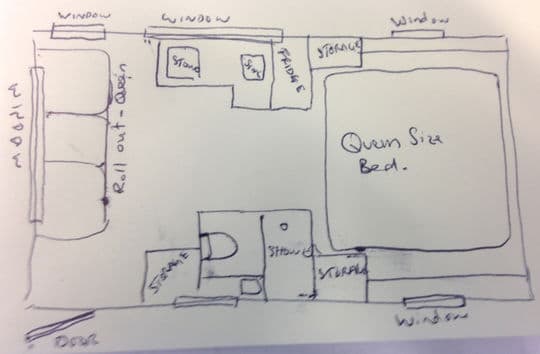 Click the image above to enlarge this floor plan.
My dream floor plan is a hard-side, four-season design with a north-south cabover and a queen-size bed.  There would be overhead storage and cupboards on both sides of the cabover bed.
The kitchen would feature a small sink, two-burner stove, and a refrigerator/freezer in the center of the camper.  The center of the camper would also feature a dry bath with a shower, toilet, and sink.  Next to the dry bath would be a storage cupboard.
The rear of the camper has a three-seat roll-out sofa that opens into a double bed for two adults.  The entry into the camper is a side-entry.
There would be a large rear window, a large window in the kitchen area, smaller windows in the cabover area, a small window in the dry bath, and a skylight.
This is a basement design with two large drawers for additional storage.  The camper would have two propane tanks, a generator, 100-watts of solar panels on the roof, two batteries, and a furnace that runs of propane, coal, or wood for colder climates.
The camper is aluminum framed with fiberglass or aluminum skin.  The interior cabinetry is also aluminum framed with fiberglass skin.  The floor would be laminated or aluminum.
Everything on this camper can be 100% recycled.  The weight would be about 1,500 pounds with a 2,500-pound dry weight maximum.  This camper would be for a short box truck, and have full-size truck options.
#12 – William A. Ortiz, Nathrop, Colorado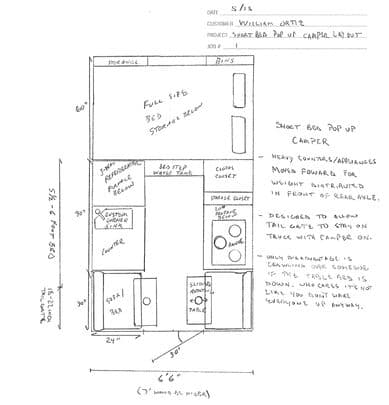 Click the image above to enlarge this floor plan.
#13 – Francois Jasmin, Montreal, Quebec
Thanks for your floor plan idea Gordon.  I want one.  Here's an entry for the floor plan contest based on your camper.
1. Is it possible to move the refrigerator in place of the toilet, and the toilet at the place of the refrigerator?  Then put a flip lavatory sink in the shower, like in a boat.
2. Place the back of the toilet on the wall and put a flip lavatory sink in the shower.
3. Put a smaller window in the bedroom and a larger wardrobe.
#14 – Steve Machen, N. Little Rock, Arkansas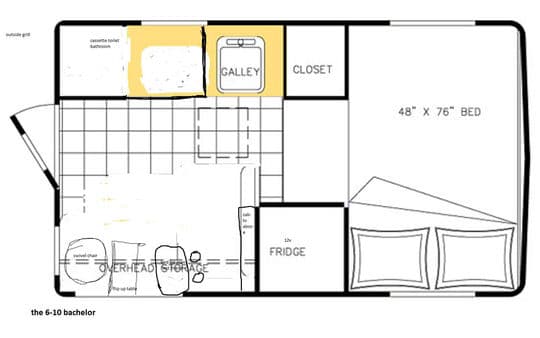 Click the image above to enlarge this floor plan.
Everyone designs campers for as many people as they can squeeze in.  Nothing is designed for a single person.  Here's how I would build a Northern Lite 6-10.
Eliminate the oven, move the grill outside to make room for a bathroom.  Seating would be one comfortable chair that you could swivel to the door.  Sit and take off your shoes.  There would be a small swing-up table and an area for pets.
Click here to go to Part 2 and see the winner of the Dream Floor Plan Contest.