Readers reveal 14 dream truck camper floor plans that are sure to have industry pens, pencils, and mousepads wagging from coast to coast.  The dream plans start here.
This whole thing is another hair-brained idea of mine gone completely amok.  About a month ago I was supposed to be working on an article but, in the back of my inexplicable brain, I was attempting to design a sofa camper, with a booth dinette, dry bath, and no slides.
Eventually Photoshop opened and I started creating my dream floor plan.  Two hours later, it was done; a non-slide dry bath sofa camper.  It's alive!
The problem was that Angela would not be pleased with my lack of progress against my to-do list.  Even so, I wanted to show her my design.  How could I show her my floor plan without spending another night on the slacker sofa of solitude?
"I was thinking we could do a dream truck camper floor plan contest.  To see if the idea could work, I designed my own dream floor plan.  What do you think?"
Angela glanced at me with that, "I know what you're up to" look, and promptly fell in love with my floor plan and contest idea.  Sometimes being creative can get you out of trouble as fast as it gets you into it.  Not always, but sometimes.  Don't tell Angela.
What follows simply amazes me.  I was a bit concerned that no one would actually draw and submit a dream floor plan.  It's a lot to ask, and quite a commitment.
It turns out I had nothing to worry about.  Within hours we had our first floor plan entry.  Within days we had over a dozen.  What follows are the first fourteen of twenty-six reader submitted dream floor plans.  How awesome is that?
Later this week we will publish twelve more dream floor plans and the winner.  And all of this happened because… squirrel!
Click to enlarge the floor plans below to see them bigger.
#1 – Andrew Bengtson, Riverside, California (age 16)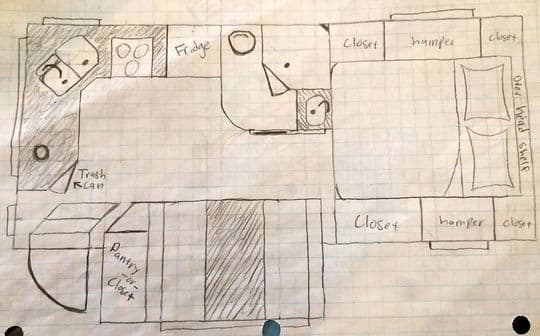 This is my dream 11-foot, side-entry, dry bath truck camper.  It has a passenger side slide-out that includes a large-booth dinette, and a floor to ceiling pantry/closet.
The kitchen is located on the rear and driver side, like most fifth wheel trailers, to give the floor plan a more spacious feel.  The dry bath is huge with one of those roll doors.
In the bedroom, the camper features a queen-sized bed.  This camper has storage everywhere, and large windows everywhere.
#2 – Lorin Lowe, Orem, Utah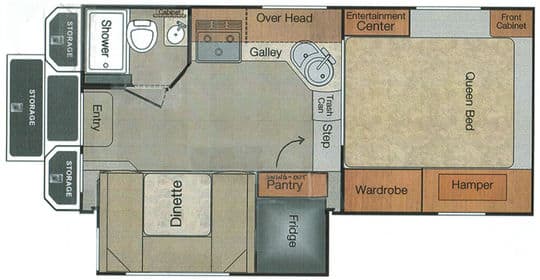 This is a 9'11" camper with a dry bath and 57-inch wide floor.  It's a perfect size with everything you need!
Here are the key features: