Bryan Wheat, President of Alaskan Campers, challenged himself to build a less-is-more, back-to-basics floor plan.  The result is an all-new production model; the Sportsman.  Introducing the most affordable – and cleverly streamlined – Alaskan Camper.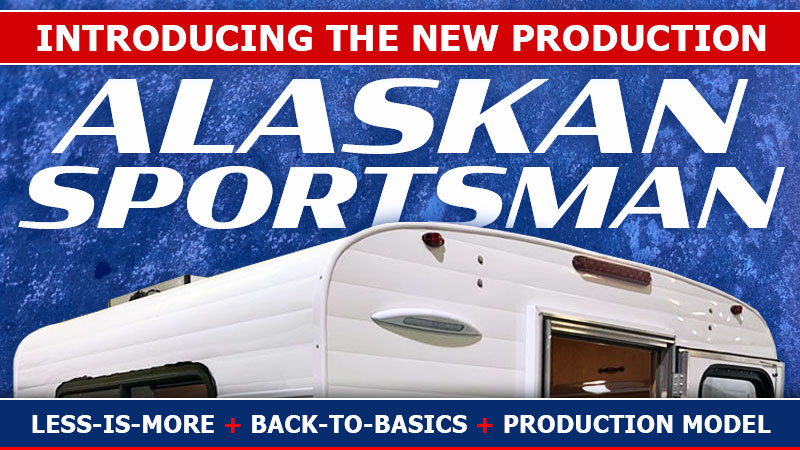 Between inflation and the consumer demand for more technology and amenities, the price of trucks and campers has escaped what most folks would consider affordable.  With the increase in technology and amenities, trucks and campers have also become more complex.  Maintenance and repair are often the sole purview of trained technicians with specialized diagnostic equipment.
Rewind the clock 63-years and things were much simpler at Alaskan Campers.  In 1958, World War II veteran, R.D. Hall, launched a truck camper manufacturing company based on a unique, "telescopic camper" he built for a trip to Alaska.  Public response to his creation was so strong that Hall mortgaged his home and launched Alaskan Campers.  In just 7 years there were 7 factories building Alaskan Campers across the United States and Canada.
To franchise Alaskan Campers across the continent with multiple factories and outlets, the camper design itself was standardized.  Thousands of Alaskan Campers were built using the simple cabover-less design of Hall's original model.  In fact, cabover Alaskan models didn't debut until 1971.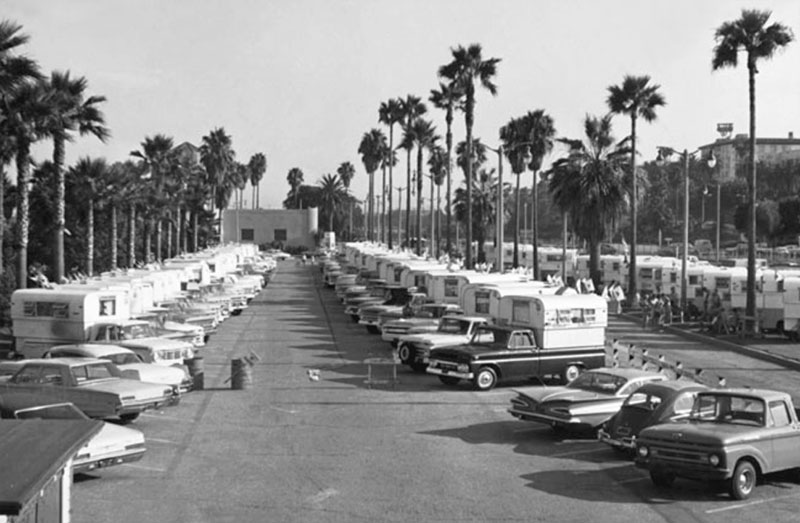 The best illustration of this standardization are the photos of 1960's Alaskan Camper rallies with hundreds of nearly identical cabover-less Alaskan Camper rigs all lined up.  In 1966, Hall gathered 1,000 such Alaskan Campers for a huge Jackson Hole, Wyoming rally.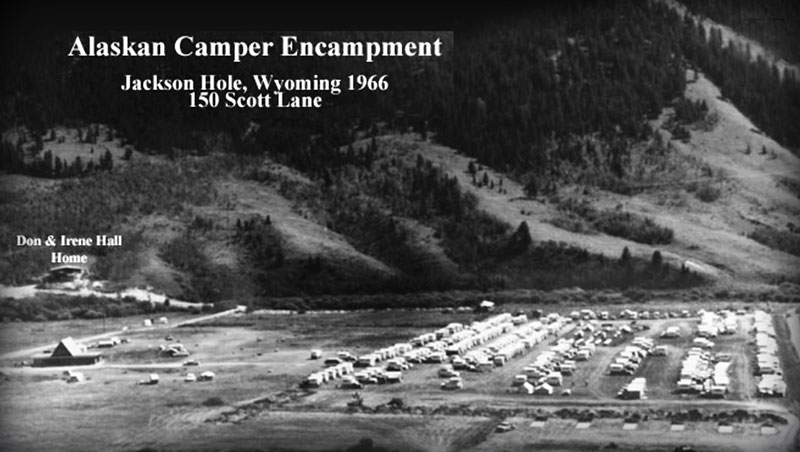 Just imagine driving into that 1966 rally with a modern Alaskan Camper rig from 2021.  The attendees would be knocked out by the technology and amenities and might need a defibrillator when you tell them what it costs.  Even adjusted for inflation, they'd probably think current-day truck camper owners were out of their noodles.
Alaskan Sportsman: Back To The Hall-Way
Bryan Wheat, President of Alaskan Campers, has navigated the expanding trends in pop-up truck campers for decades.  From cabover and flatbed models, to elaborate electrical, solar, and battery systems, to endless custom requests.  All of the additions and customizations have driven up design time, production time, and cost.  So long efficient franchised production line.  Hello, labor intensive custom manufacturing.
Thankfully, Bryan had an idea up his proverbial sleeve.  He could take Alaskan back to where it started and build a basic cabover-less model.  This camper would be focused on the returning, "less is more" mindset, keep costs down, and offer no customizations or options to ruin the point.  The camper would literally be a production model – like back in the Hall-day.  Take it or leave it.
The result is the new Alaskan Sportsman.  Drive this camper into that same 1966 Jackson Hole Alaskan Camper rally (on a shiny new 1966 Ford F-250 Camper Special) and it would fit right in.  It might even take a while for anyone to notice a camper from 55-years in the future just rolled in!  And if anything on the camper would break during the rally, chances are half the folks there could fix it.  Let that sink in.
For more information about Bryan's Back to the Future back-to-basics camper, we talked to Bryan Wheat, President of Alaskan Campers.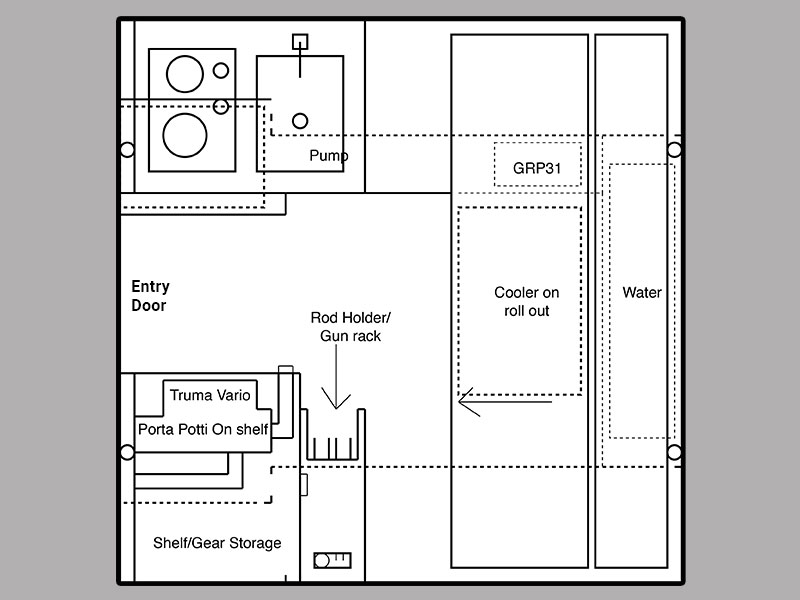 2022 Alaskan Sportsman Specifications:
The Alaskan Sportsman is a hard-side, pop-up truck camper that is made for short bed trucks.
The interior floor length of the Alaskan Sportsman is 79" and the interior height is 6'4″.  The overall width is 88″ and the overall length is 80.5".  Alaskan is reporting the dry weight of the Alaskan Sportsman at 1,332 pounds.
The Alaskan Sportsman has a 15-gallon fresh water tank, no grey, and no black tank.  The camper accommodates one Group 31 AGM battery and one horizontal twenty-pound propane tank.  The base MSRP for the Alaskan Sportsman is $25,500.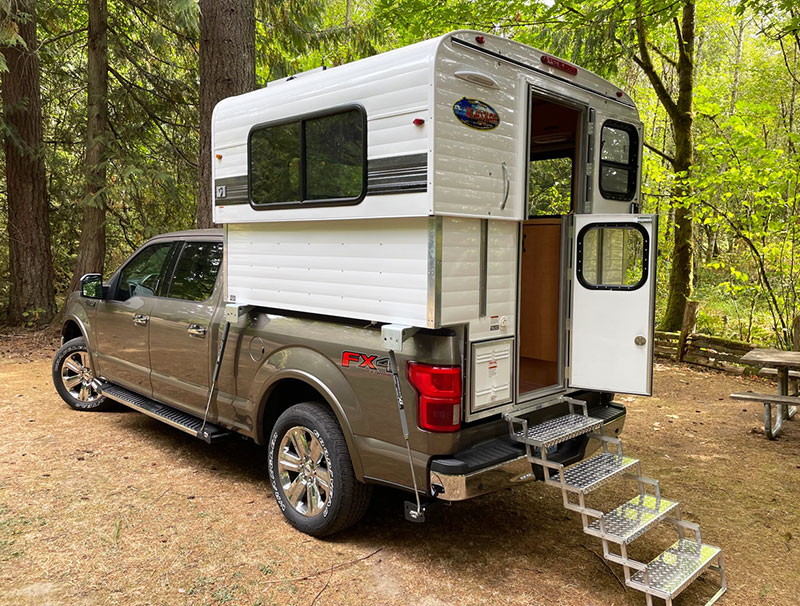 Above: The 2022 Alaskan Sportsman; all photos courtesy of Alaskan Campers
Where did the concept for the Alaskan Sportsman come from?
During the Covid shut-down, people wanted something to head for the hills and getaway.  That got me thinking about a less-is-more camper design; a basic Alaskan that could be loaded on a half-ton short bed and used without a big production.  That was the beginning of the Alaskan Sportsman.
"It's a back-to-basics unit for the less-is-more crowd that should also appeal to buyers looking for a lighter, simpler, and more affordable Alaskan Camper."
Even before Covid, customers asked us to build a shell model.  That would have been an obvious starting point for the Sportsman.  Unfortunately, the design of an Alaskan Camper requires interior cabinetry for structure and strength.  Since we can't build a shell, I designed the Sportsman with just the essentials.  It's a back-to-basics unit for the less-is-more crowd that should also appeal to buyers looking for a lighter, simpler, and more affordable Alaskan Camper.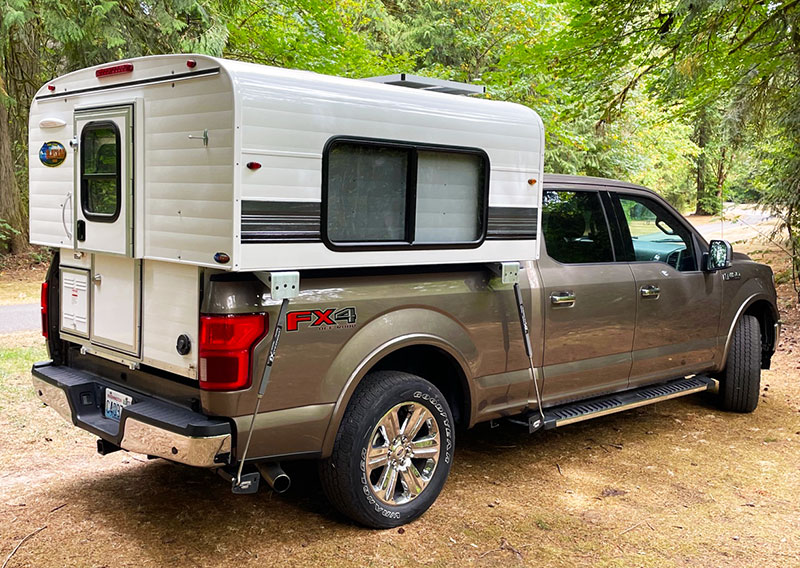 Is the Alaskan Sportsman strictly for full-size short bed half-ton trucks?
Yes, it's geared for full-size short bed half-tons, but can also fit short bed three-quarter and one-ton trucks.  We're not building different floor lengths for this model.  It's strictly a 6.5-foot short bed model.  No mid-size or mini trucks.  That said, it should fit any full-size short bed truck.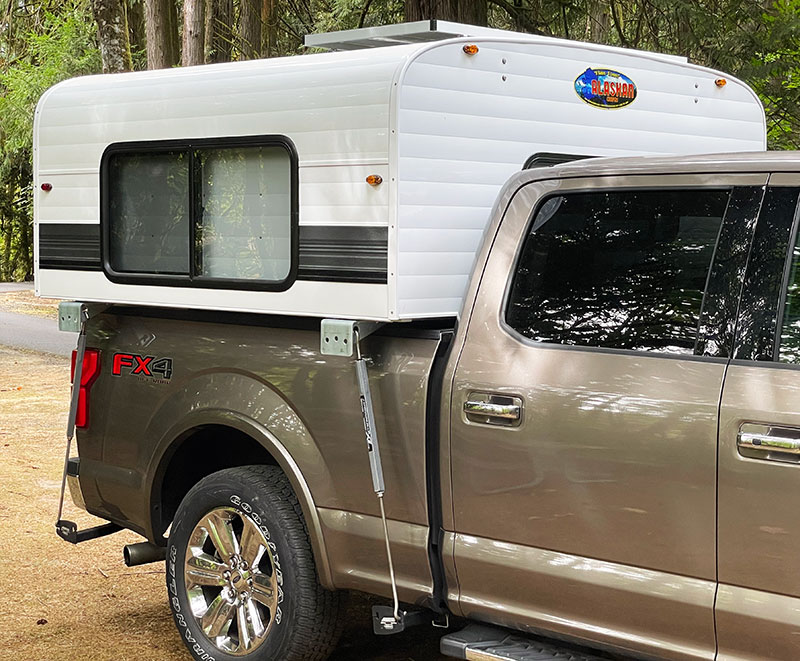 Alaskan has built cabover-less campers since its founding in 1958. What makes the Alaskan Sportsman different?
It's a new floor plan.  The jackknife sofa-bed across the front wall is the key.  It's just high enough to allow a 12-volt Truma Cooler C44 single-zone portable refrigerator-freezer underneath it.  That's what makes this floor plan work so well.  It all came together nicely once we started drawing it up and building the camper.
We still build our traditional cabover-less Alaskan models.  Mostly, guys love them for their weekend hunting and fishing trips.  Couples generally go for our cabover models.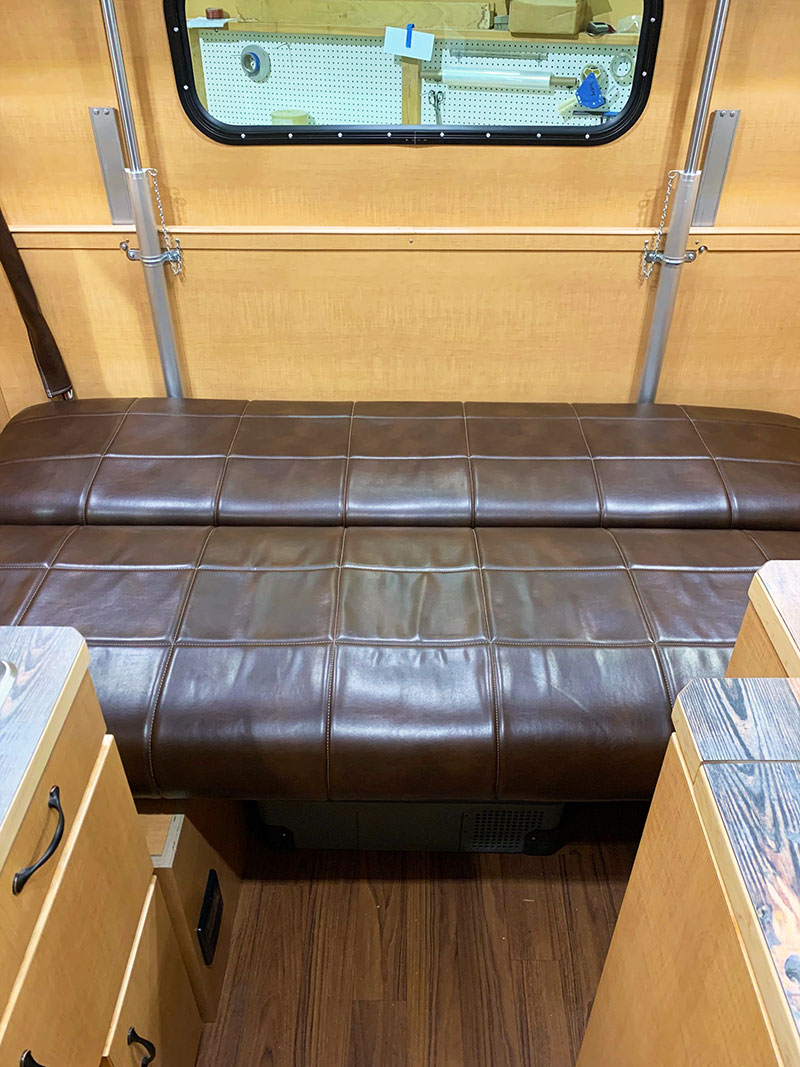 What size bed does the jack knife sofa turn into?
It turns into an 82 by 44-inch bed.  The Sportsman has a 6'4" interior height because I dropped the floor to accommodate the refrigerator.
Why did you decide to make the Sportsman a cabover-less design?
Mostly cost and weight.  Cabover-less models are also more aerodynamic and thus can help with fuel efficiency.  If you want an Alaskan to work well with a half-ton short bed truck, cabover-less is the way to go.
With a cabover-less design, there's also less set-up and take-down compared to a cabover model.  For example, you don't have to climb into the cabover and set up or take down the sidewalls in the cabover.  Some people prefer the simple approach.  In person, they really are cozy.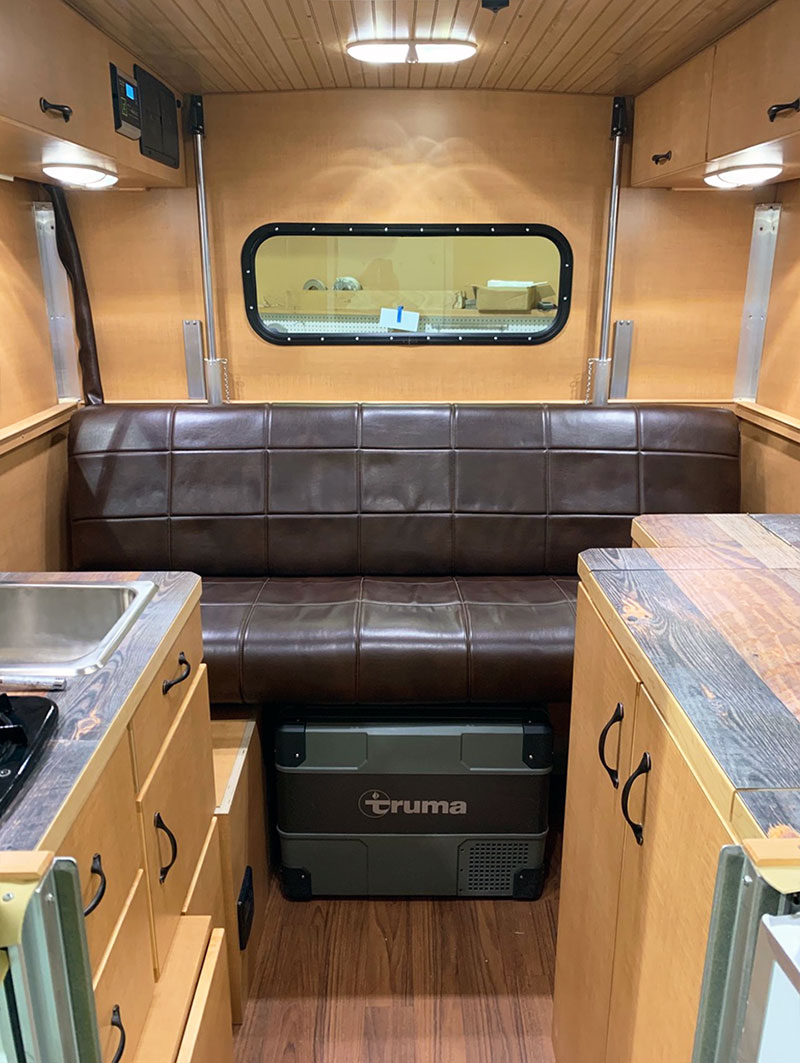 How did you go about designing the Sportsman?
I designed it in Simple CAD and brought it into our shop.  We took our time so it wouldn't take up our valuable production schedule.  Once it got started, there were little adjustments to make the hydraulic pump fit right and the couch clear the pistons; normal tweaks to a new floor plan.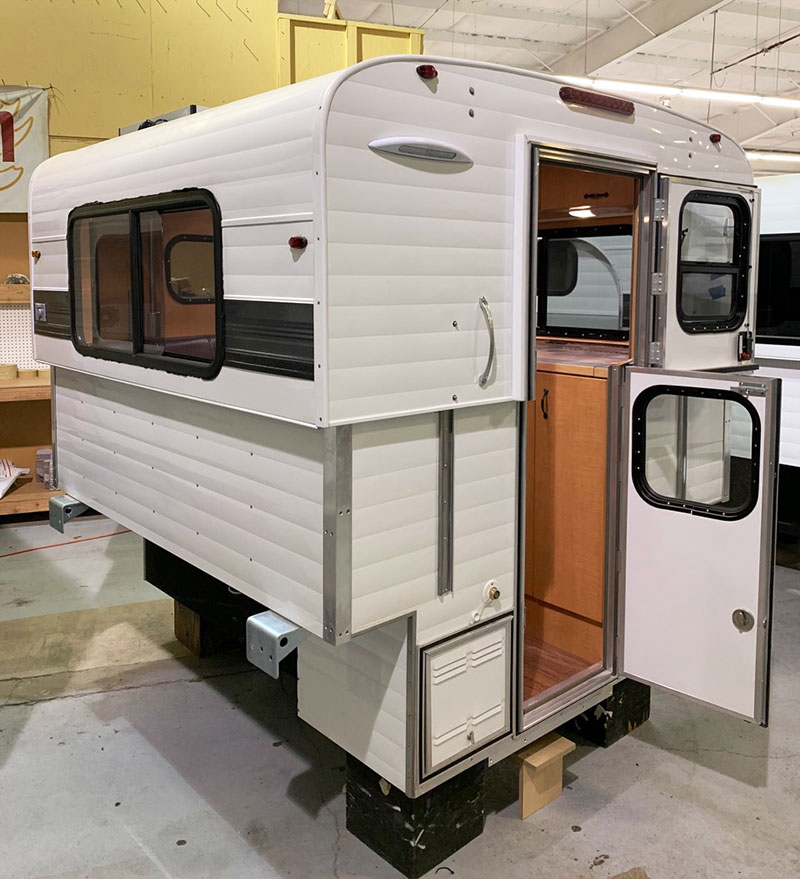 Did you make any changes to the way Alaskans are built to make this camper lighter or more affordable?
Absolutely not.  It's built like any other Alaskan Camper; right down to the time-tested and proven wood frame and aluminum skin.  The Sportsman is every inch an Alaskan Camper.
I wouldn't consider cheapening the product just to save a little weight or cost.  The weight and cost savings for the Sportsman are part of the cabover-less design and less-is-more concept.  We're not going to sacrifice the core Alaskan quality for anything.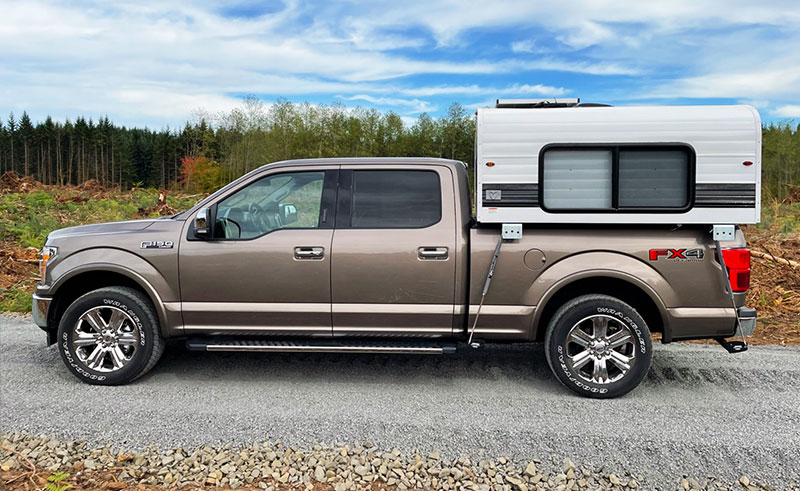 Does the cabover-less design use standard tie-downs and turnbuckles?
Yes.  The Sportsman uses the same tie-down and turnbuckle approach as all Alaskan Campers.
How did you decide what features and amenities to include in a less-is-more, back-to-basics camper like the Sportsman?
It wasn't all about cost.  For example, the manual hand pump in the kitchen sink costs us more than an electric water pump.  However, using a hand pump removes the need for wiring, fuses, and crimping.  After the labor is deducted, the cost difference is probably a wash and the manual hand-pump moves faster on our production line.
Another benefit of the hand pump is less noise.  For the hunters out in the wild, they want to stay quiet.  Hand-pumps were in the early Alaskan Campers and work well.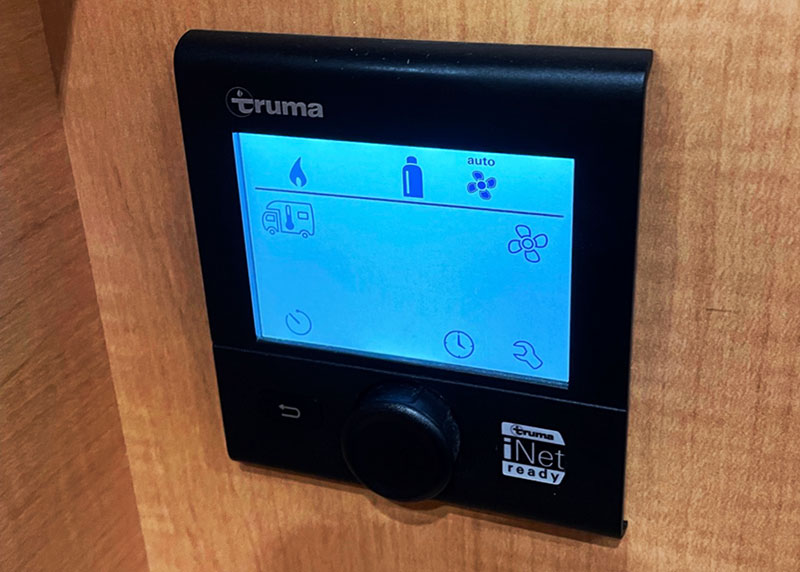 The Truma VarioHeat is more expensive than the alternative, but it's much smaller.  The Truma fits better in the small space allowing for the addition of a porta-potty space.  The Truma also doesn't need the ducting; another space and labor-saving difference in its favor.  Finally, it cuts down on the noise.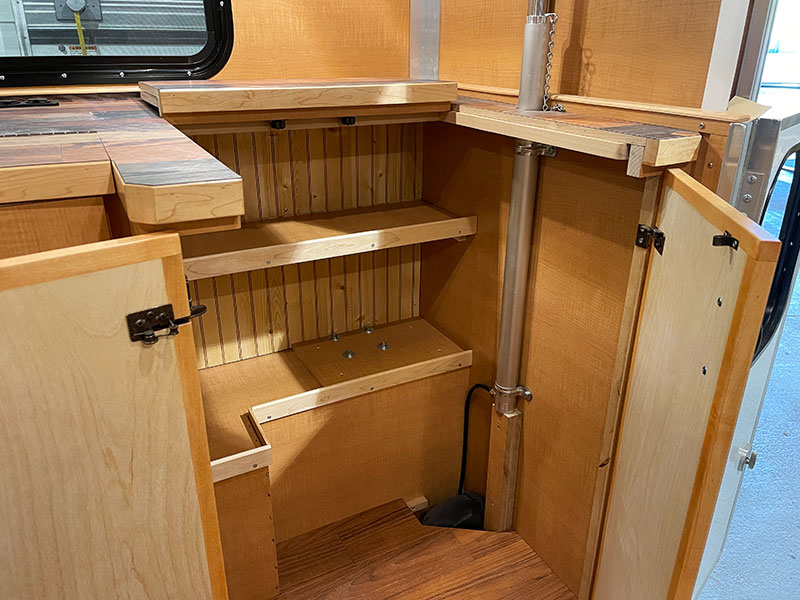 There's no water heater because there's no shower.  You can get a porta-potty from us, but you'll pay more than if you buy one on your own.  Everything that went into the Sportsman was a careful balance of space, weight, cost, labor hours, and lifestyle considerations.
That's interesting. How much is labor a factor in design?
It's all about labor.  Labor is expensive.  Wages are going up.  The more simple we can make the design of the camper, without sacrificing build quality, the better.  That's why we're getting away from custom campers.  If our campers don't vary from build to build, our team doesn't need to constantly look at the work order.  They can build more campers better and faster.  That's where we're focused.
Are there any options for the Sportsman?
No.  What you see is what you get.  You can delete items, like the Truma VarioHeat, or swap the MaxxAir vent for an air conditioner, but that's it.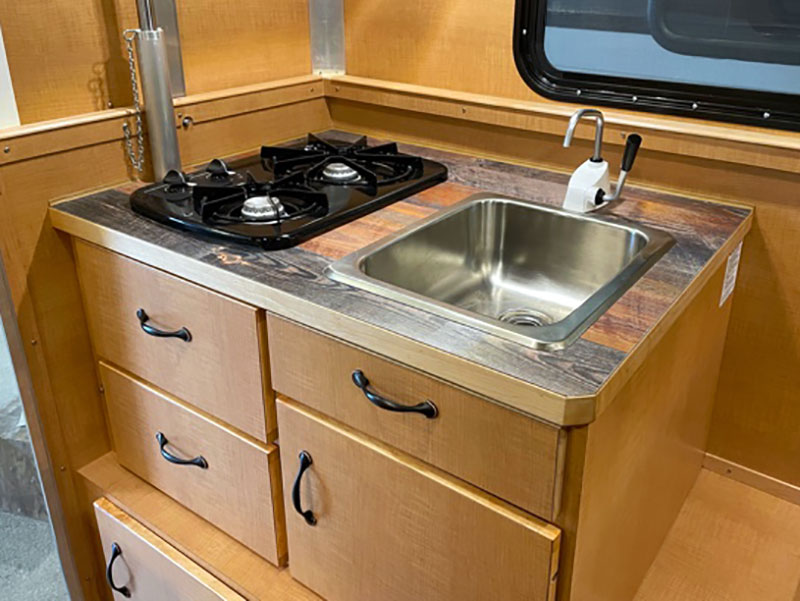 How about any options for the counter laminate or fabrics?
The Wilsonart counter laminate shown in the photos is our standard countertop.  Customers can get a different Wilsonart counter laminate, but it will be an upcharge.
Cabinets and fabrics are also standard.  If you want your own fabric, you can send it, but there may be an upcharge for that as well.  Also, note that our upholstery lady only has black and brown thread.  For the Sportsman, we recommend going with the interior shown.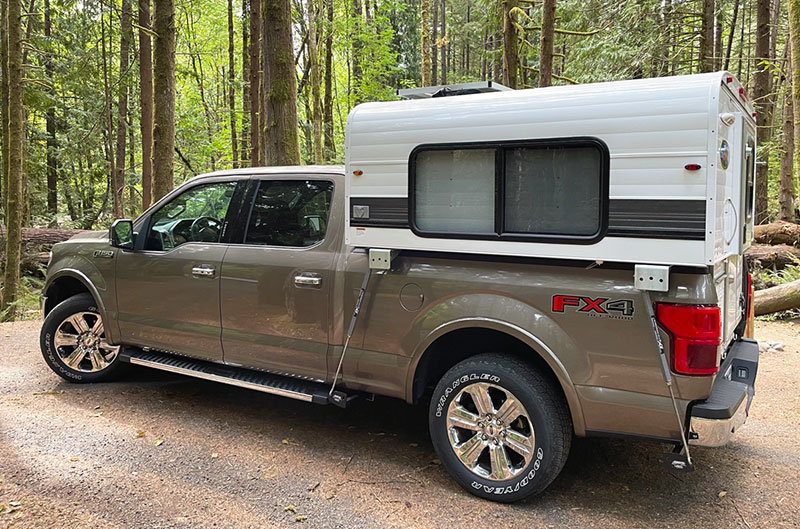 The Alaskan Sportsman pictured shows one solar panel. Is it standard?
Yes.  A 175-watt Zamp solar panel and 30-amp controller are standard.  Over 90-percent of people order Alaskan Campers with solar panels, so I included it for the Sportsman.  There really isn't room for another panel on the roof.  If you want more solar, I'd go with a portable suitcase panel.
What type of windows are standard on the Sportsman?
They are 44-inch Hehr 5900 radius slider windows with screens.  The windows are actually 10-inches narrower than our traditional windows because of the smaller size of the Sportsman camper.  Otherwise, the sidewalls would have been all glass.
Alaskan has been utilizing a hydraulic lift mechanism for over 63 years. Does the Alaskan Sportsman use essentially the same system?
Yes, but we've made improvements over the years.  Alaskan started with 1-inch cylinders.  In 1997 we went to 1.5-inch cylinders.  All that time we made the system in-house.  Now we buy the completed systems from the same company that builds our hydraulic pumps.  To say that our lift system is proven is something of an understatement.
What is the fresh holding tank capacity of the Alaskan Sportsman?
The fresh tank is 15-gallons.  It's only for the sink, so it's plenty of water.  We don't offer an exterior shower on the Sportsman, but portable shower systems have become very popular.  There is no grey tank.
Where is the battery located?
There's one Group 31 battery under the couch on the driver's side.  It's inside the living space so we only use sealed AGM or lithium batteries for safety.
Is there a battery disconnect?
There is no battery disconnect.  Keeping the camper simple, all you need to do is remove the ground wires and the battery is disconnected.
And the propane tank?
The Sportsman has one 20-pound horizontal tank on the rear driver's side of the unit.  The propane tank has an exterior ventilated compartment.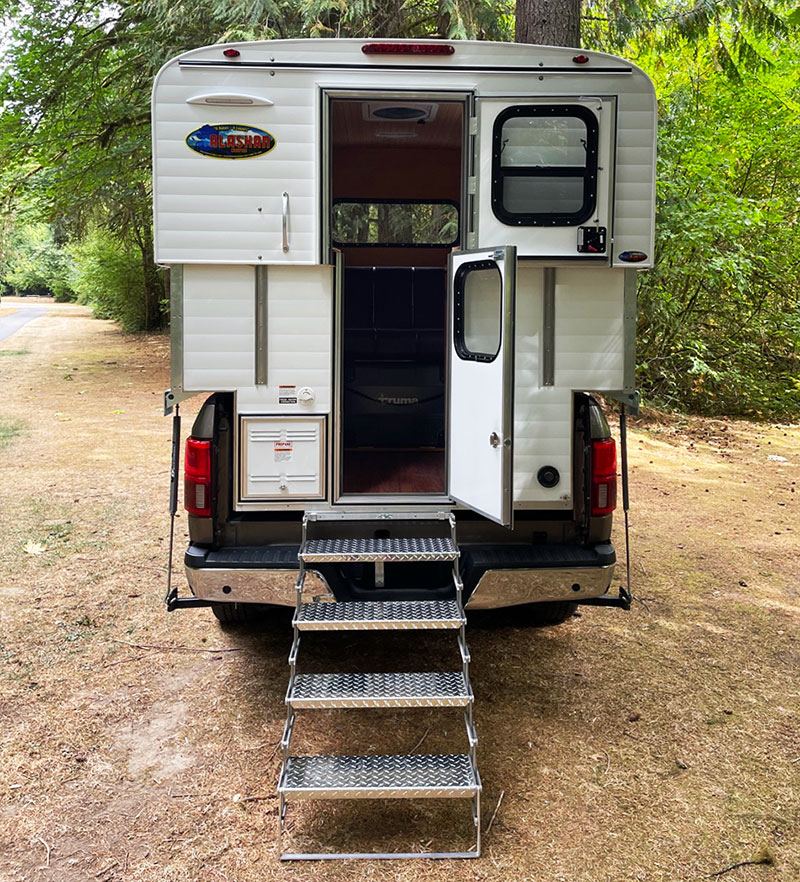 What does the Alaskan Sportsman weigh?
This Alaskan Sportsman was 1,449-pounds partially wet when I weighed it at the local scale.  The camper had full propane, five-gallons of water (of the fifteen-gallon capacity), and the Group 31 AGM battery.
Where is the center of gravity on the Alaskan Sportsman?
With five-gallons of water and an empty cooler up front, the center of gravity was 40-inches from the front wall.  With full water and a full refrigerator, that point will move forward.
Tell us about the warranty for the Alaskan Sportsman.
All Alaskan Campers come with a 12-month warranty and a lifetime warranty on the pump motor.  Individual components and materials come with their own extended warranties.  We always help our customers and stand behind our work.
What is the MSRP for the Alaskan Sportsman?
The Alaskan Sportsman is $25,500.  That price is subject to change as our supply costs continue to rise.  If you want one at that price, please order sooner than later.
How does one order an Alaskan Sportsman?
Call us up or email us and tell us you want one and we'll put you on the waiting list.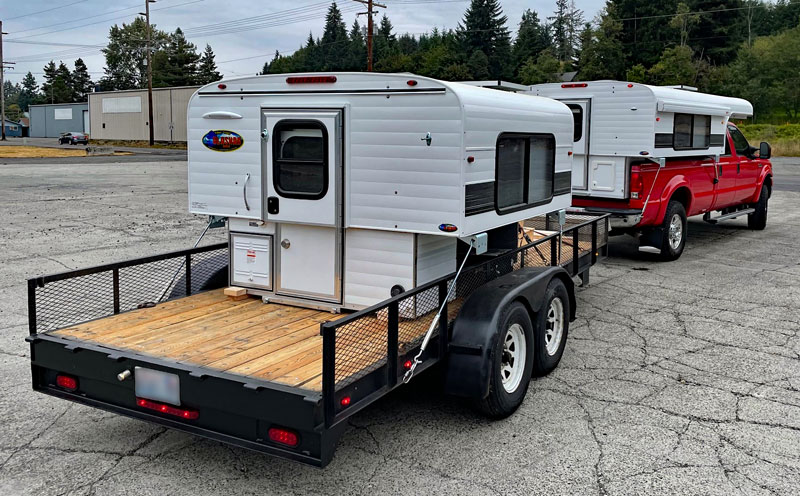 Above: Bryan is driving to Overland Expo West with the new Alaskan Sportsman in tow
What kind of wait is there for production?
Believe it or not, we're out to April of 2023 right now.  That could improve if our supply issues improve.  I've been here for a long time and I've never seen the demand this high, or supply issues this challenging. We're building and loading campers for customers every week, but our backlog is considerable.
The 2022 Alaskan Sportsman is making its public debut at the Overland Expo West in Flagstaff, Arizona this coming week; September 24th through the 26th.  It will also be at Overland Expo East.  We will have an Alaskan 8.5 cabover model and the Alaskan Sportsman model at the Expos that are shown in the pictures.  I'm looking forward to meeting Truck Camper Magazine readers and getting their feedback on our campers.
"If you want an Alaskan to work well with a half-ton short bed truck, cabover-less is the way to go."
Is there anything else about the Alaskan Sportsman that you would like people to know?
Actually, yes.  I'm building an Alaskan Sportsman for myself.  I showed the camper to my wife and she likes that we could mount it on our short bed Ford F-150 and go wherever and whenever we want.  I'm excited about the Alaskan Sportsman.  The less-is-more concept makes sense.
For more information on Alaskan Campers, please visit their website at alaskancampers.com.  Click here to request an Alaskan brochure.