Almost two years after Alaskan Campers was acquired, Truck Camper Magazine visits their new Winlock, Washington factory to see what's changed at the 60 year old hard side pop-up truck camper company.

In March of 2017, Truck Camper Magazine published the most significant news from Alaskan Campers in nearly three decades.  The previous fall, the company had been acquired by John Macpherson, Alaskan Camper's Alaska dealer for over 24 years.
The poetry of Alaskan's Alaskan dealer purchasing the company was not lost on us, but we were full of questions about John and the direction he wanted to take the legendary truck camper manufacturer.  During the acquisition announcement and interview, John stated that he would not be making changes to the Alaskan management team, production team, overall build process, or the final product.

That stated, John was moving the company to a larger facility in Winlock, Washington (shown above), improving the tools and equipment, and approving a much higher level of inventory.  If there was anything that would help the team to achieve a higher quality or increase production efficiency, John wanted to aggressively invest in that direction.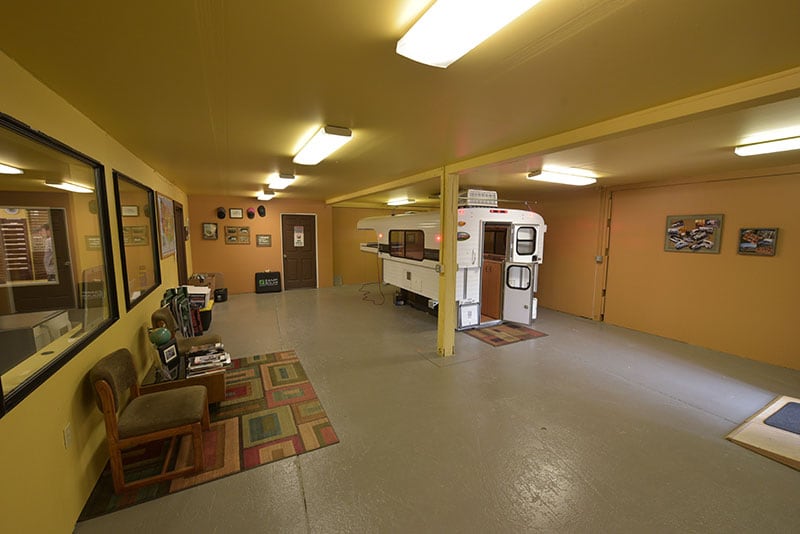 Above: There's an Alaskan Camper on display in the front entrance area
All of this sounded fantastic.  New building.  New investments.  Same amazing Alaskan team.  It seemed like the perfect situation to take Alaskan Campers to the next level.
As we pulled into the new Alaskan factory, we were anxious to see the results of John's stewardship.  Would we see the old Alaskan Campers in a different building, or discover Alaskan Campers 2.0?  Let's find out.
The New Building: Bigger, Brighter, and Better
It would be very easy to drive right past the new building.  It's a rather large battleship grey warehouse with a tiny white oval Alaskan Camper sign adjacent to a recessed front doorway.  Hint: Depending on your approach, if you cross train tracks you either just passed it, or are right upon it.
Speaking of trains, the rail road crossing sign at the front left side of the building isn't there for decoration.  A few times a day a long freight train rolls through and shakes the building.  Dorrie Benson, Office Manager for Alaskan Campers warned us to park at the back of the facility or risk losing a filling or two.  She wasn't kidding.
We were privileged to visit Alaskan Camper's previous Chehalis, Washington factory no less than three times; 2007, 2010, and 2015.  Each time we stayed for a few days, observed the production line, and deepened our understanding of their time tested and proven manufacturing process.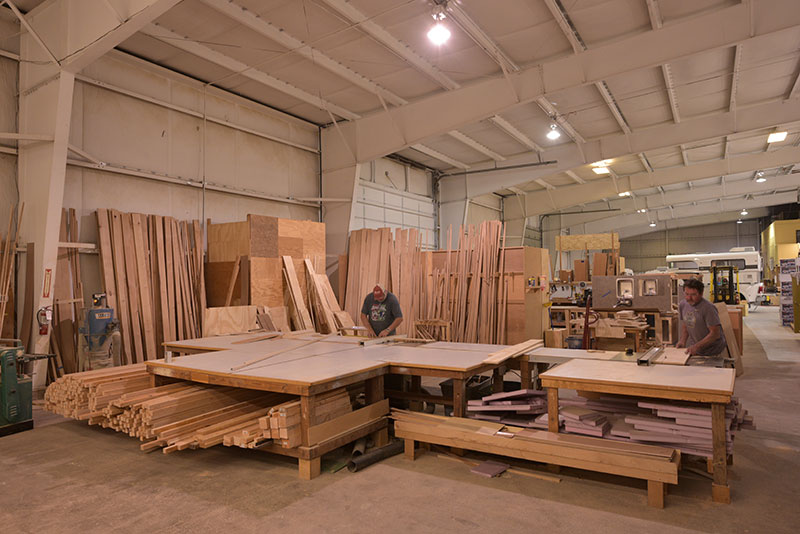 Above: The wood shop and saw stations at Alaskan Campers
Short of actually working at a company, there is simply no better way to truly understand a manufacturer, its products and its culture than to be on the production floor and with the management team for a few days.  Besides, we love this stuff.  Learn it, live it, report it.  That's what we do.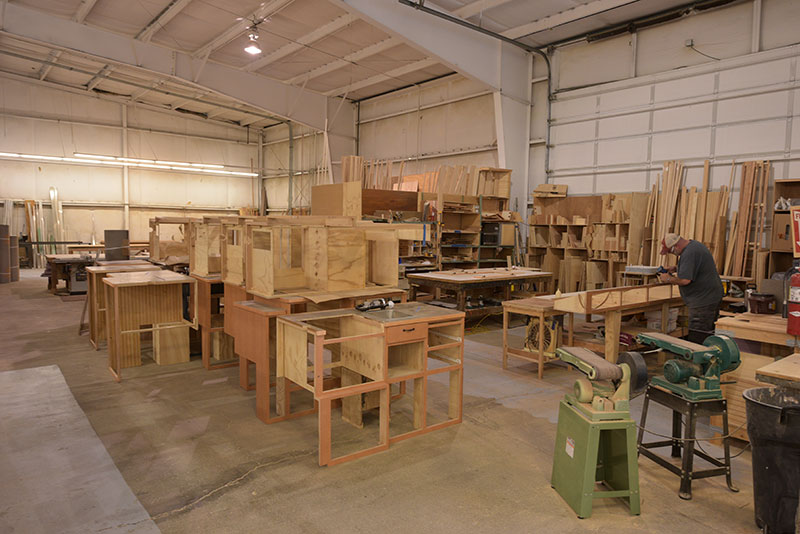 Above: The cabinetry shop with sets of completed cabinets ready to install
After our experiences at the old facility, walking into the new Alaskan Camper factory was a revelation.  Where the old building was relatively dark and closed-in, the new Winlock, Washington factory is bright and wide open.