Almost two years after Alaskan Campers was acquired, Truck Camper Magazine visits their new Winlock, Washington factory to see what's changed at the 60 year old hard side pop-up truck camper company.

In March of 2017, Truck Camper Magazine published the most significant news from Alaskan Campers in nearly three decades.  The previous fall, the company had been acquired by John Macpherson, Alaskan Camper's Alaska dealer for over 24 years.
The poetry of Alaskan's Alaskan dealer purchasing the company was not lost on us, but we were full of questions about John and the direction he wanted to take the legendary truck camper manufacturer.  During the acquisition announcement and interview, John stated that he would not be making changes to the Alaskan management team, production team, overall build process, or the final product.

That stated, John was moving the company to a larger facility in Winlock, Washington (shown above), improving the tools and equipment, and approving a much higher level of inventory.  If there was anything that would help the team to achieve a higher quality or increase production efficiency, John wanted to aggressively invest in that direction.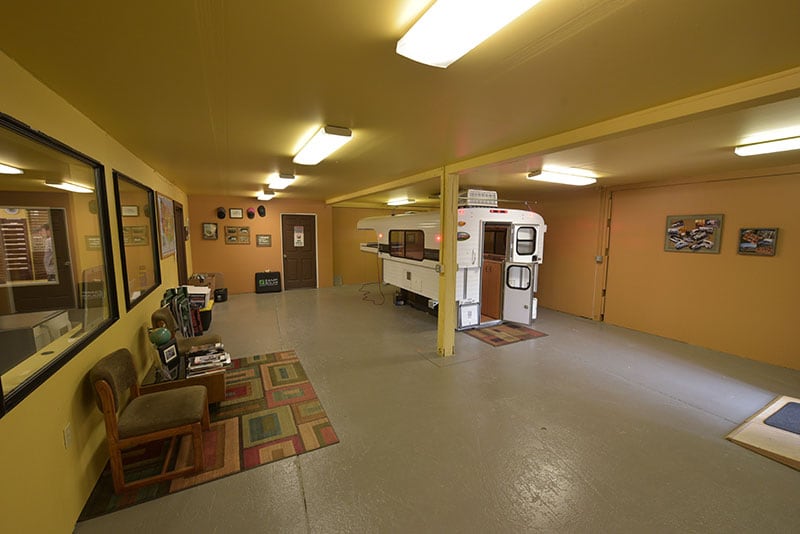 Above: There's an Alaskan Camper on display in the front entrance area
All of this sounded fantastic.  New building.  New investments.  Same amazing Alaskan team.  It seemed like the perfect situation to take Alaskan Campers to the next level.
As we pulled into the new Alaskan factory, we were anxious to see the results of John's stewardship.  Would we see the old Alaskan Campers in a different building, or discover Alaskan Campers 2.0?  Let's find out.
The New Building: Bigger, Brighter, and Better
It would be very easy to drive right past the new building.  It's a rather large battleship grey warehouse with a tiny white oval Alaskan Camper sign adjacent to a recessed front doorway.  Hint: Depending on your approach, if you cross train tracks you either just passed it, or are right upon it.
Speaking of trains, the rail road crossing sign at the front left side of the building isn't there for decoration.  A few times a day a long freight train rolls through and shakes the building.  Dorrie Benson, Office Manager for Alaskan Campers warned us to park at the back of the facility or risk losing a filling or two.  She wasn't kidding.
We were privileged to visit Alaskan Camper's previous Chehalis, Washington factory no less than three times; 2007, 2010, and 2015.  Each time we stayed for a few days, observed the production line, and deepened our understanding of their time tested and proven manufacturing process.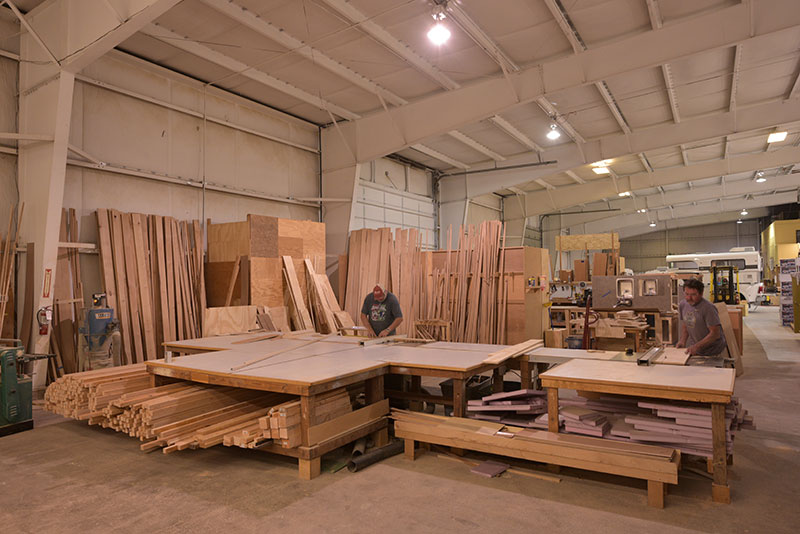 Above: The wood shop and saw stations at Alaskan Campers
Short of actually working at a company, there is simply no better way to truly understand a manufacturer, its products and its culture than to be on the production floor and with the management team for a few days.  Besides, we love this stuff.  Learn it, live it, report it.  That's what we do.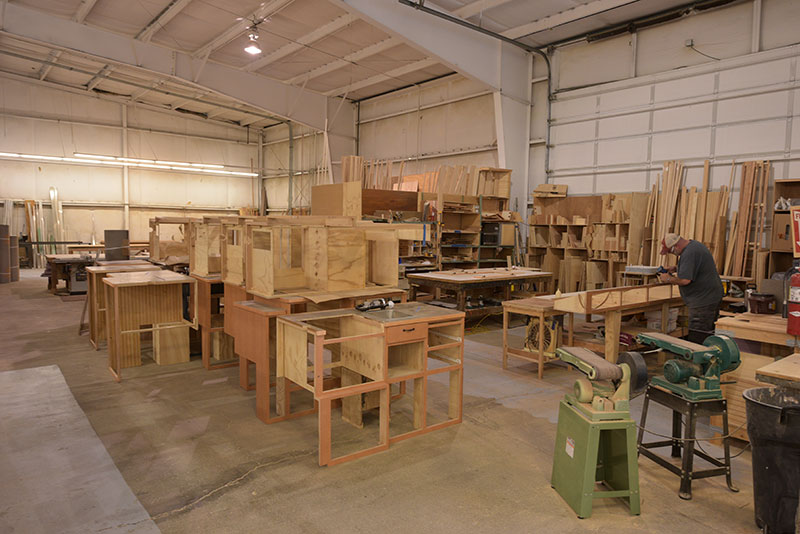 Above: The cabinetry shop with sets of completed cabinets ready to install
After our experiences at the old facility, walking into the new Alaskan Camper factory was a revelation.  Where the old building was relatively dark and closed-in, the new Winlock, Washington factory is bright and wide open.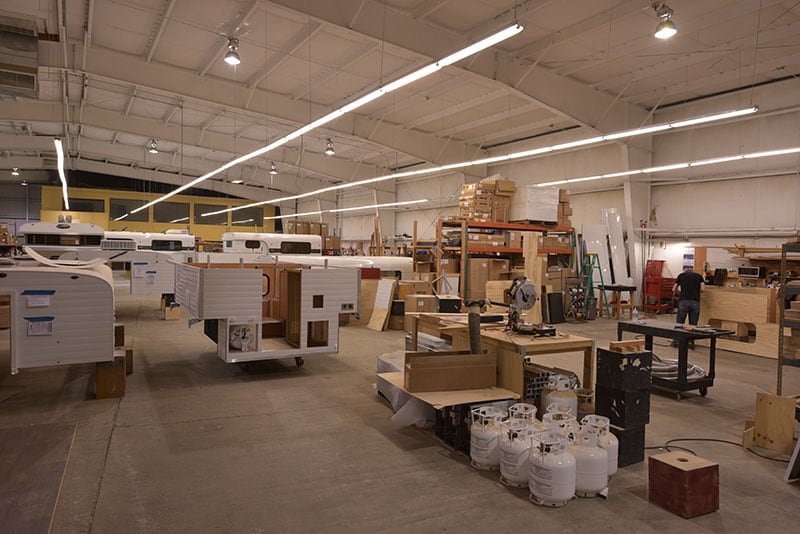 Production areas were always distinct at the previous facility, but now they're much larger with open work and aisle ways, tool areas, and clearly presented inventory.
The new facility is also significantly larger.  While we didn't take measurements of either building, the new building is at least two to three times the size of the former location.  What a huge difference!
A View From The Second Floor
In the old building, the management team was confined to one small first-floor rectangular office at the front of the facility. In the new location, there's not one but two stories of offices with a large office area overlooking the plant.
Guess where the Alaskan management team resides in the new digs?  In one small first-floor rectangular office at the front of the facility.  "I need to be out on the production floor all the time," explained Bryan Wheat, President of Alaskan Campers.
It's true, Bryan is in the plant as much as he is at his desk, and his production team is also in his office with questions now and then.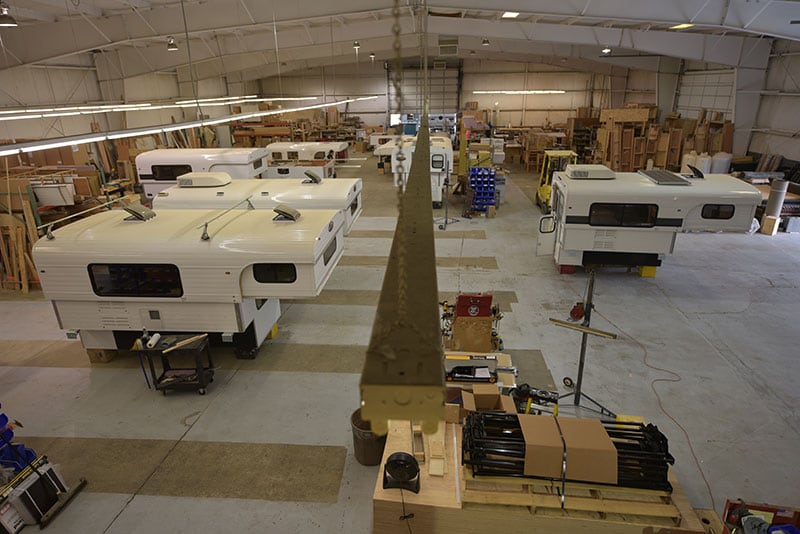 Above: The view of the production area from the second floor offices
That doesn't mean we can't go upstairs!  Noting a second floor balcony overlooking the factory floor, I went up the stairs and opened the sliding glass doors.  The first thing I noticed was how many units were in production.
Where we might have seen a handful at the old location, there were at least a dozen units visible from that vantage point.  No doubt about it, production is up at Alaskan Campers.
Stocked Up and Ready To Roll
Prior to the acquisition, Alaskan Campers was an extremely lean organization.  In fact, it wasn't unusual for the Alaskan production team to run out of a required material or component delaying a camper delivery for weeks.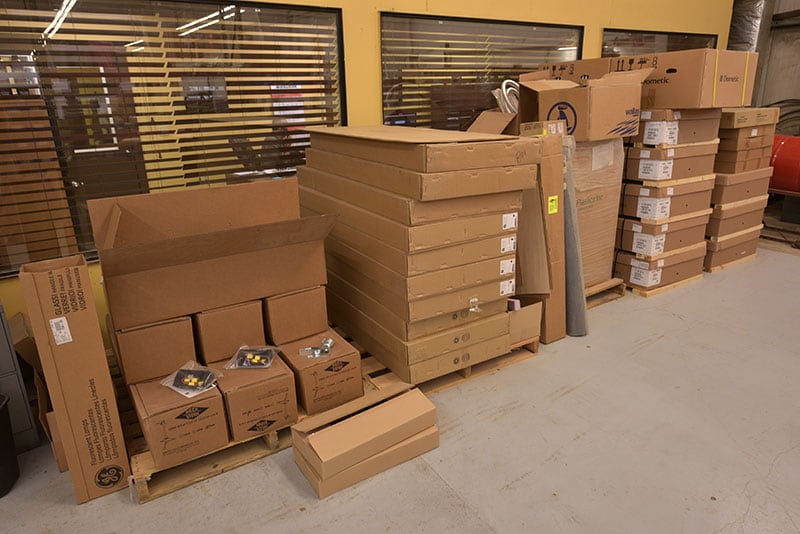 That problem is now history.  After listening to the team about what they needed to build campers with even better quality and efficiency, John instructed management to stock up – on everything.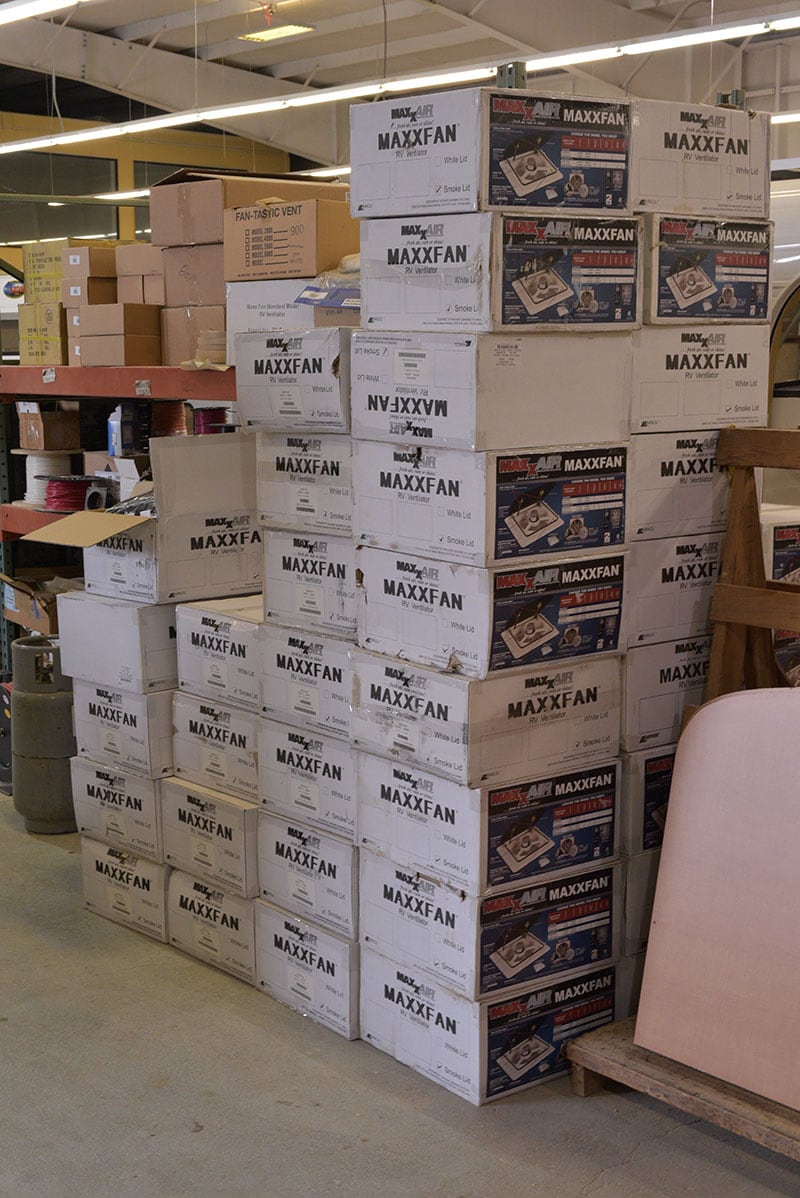 The impact of this decision is on full display throughout the new Alaskan Camper factory.  We saw towers of Maxx-Air vents, stacks of Rieco-Titan jack systems, loads of lumber, and rolls upon rolls of aluminum skin.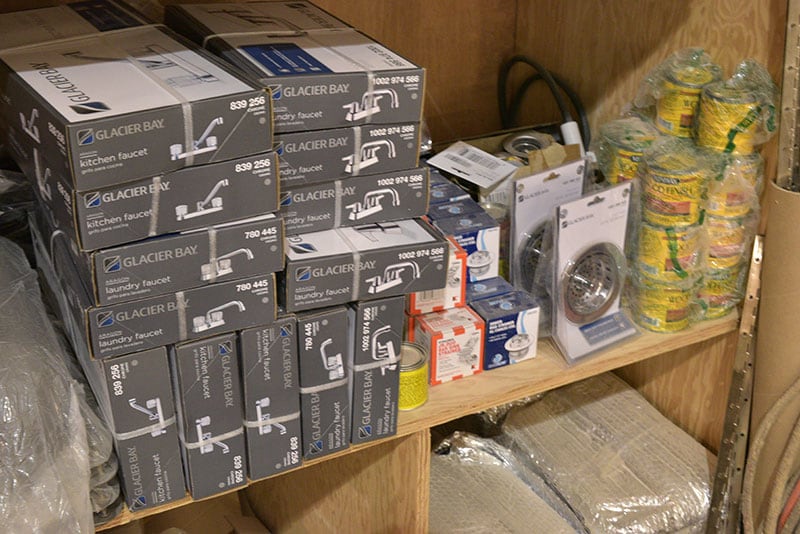 Heck, we even saw a stockpile of sinks ready for production.  Management really did stock up on everything – including the kitchen sinks!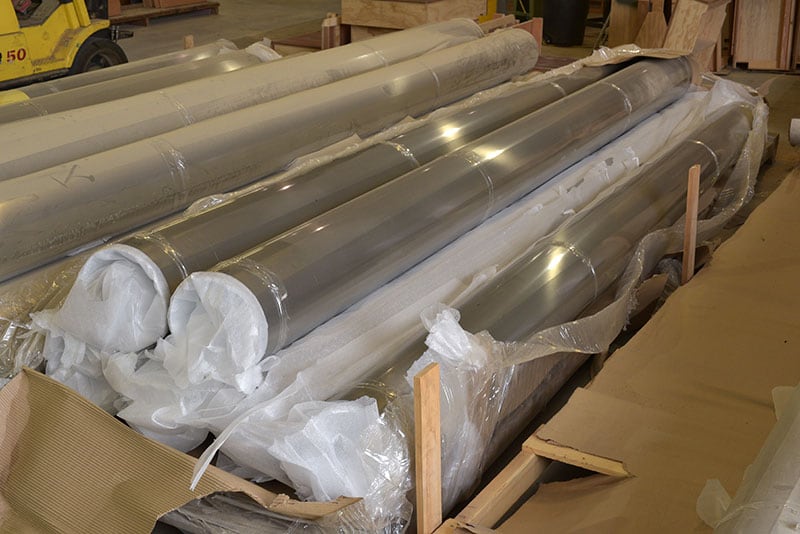 Bryan also explained how purchasing inventory in volume allows Alaskan to cut costs.  The savings for some items can be dramatic, especially when you factor in shipping.  For example, it's a lot cheaper to purchase and ship Thetford cassette toilets by the palette than one at a time.
CNC Outsourcing For Improved Efficiency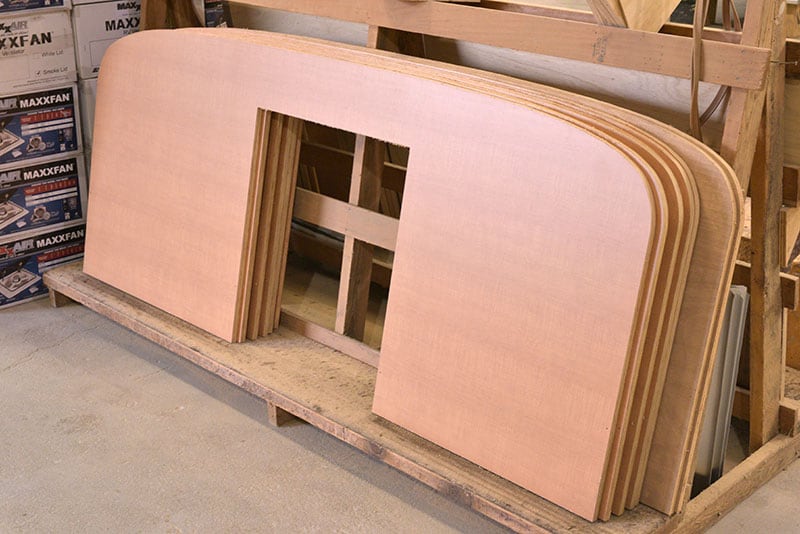 Another change we discovered at Alaskan Campers was the addition of outsourced CNC components.  Bryan said that using a local CNC company was more about improving efficiency than quality.
He explained that the Alaskan team could assemble, rout, and finish wood components at the same quality as the CNC process, but doing the work by hand takes a lot more time.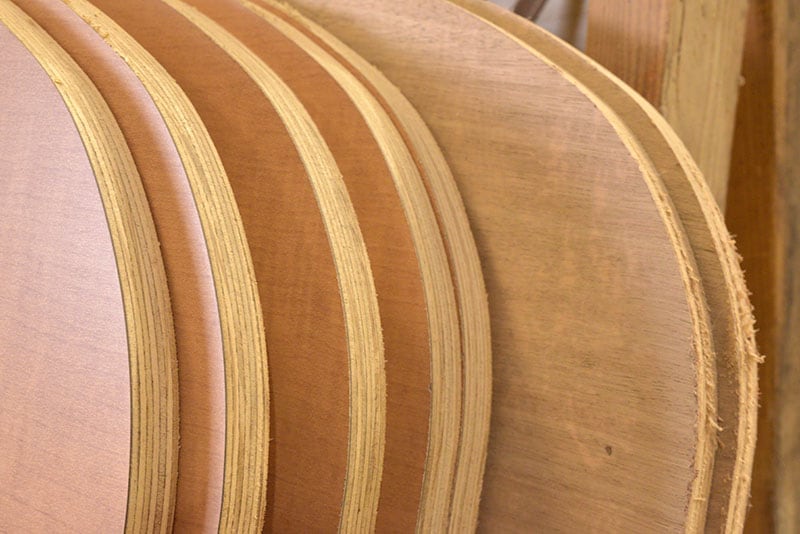 By outsourcing these components to a local CNC company, the Alaskan team could improve production efficiency and focus on the areas of Alaskan Camper manufacturing that must be built and finished by hand.
We have seen this same exact direction at almost every truck camper manufacturer.  Across the board, truck camper companies are actively pursuing multiple ways to cut time and/or cost without sacrificing quality.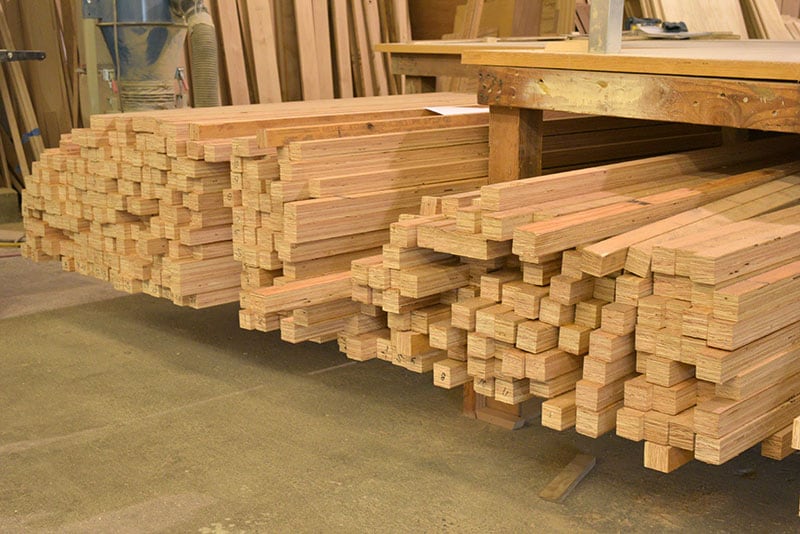 This may seem very obvious, but it's a significant change for Alaskan Campers.  Under the previous ownership there was little investment capital to pursue improved efficiencies.
As a result, the manufacturing culture had stagnated under the guise of tradition.  John's acquisition, factory move, and focus on improving quality and production has shifted that paradigm.  The evidence of this change was everywhere we looked.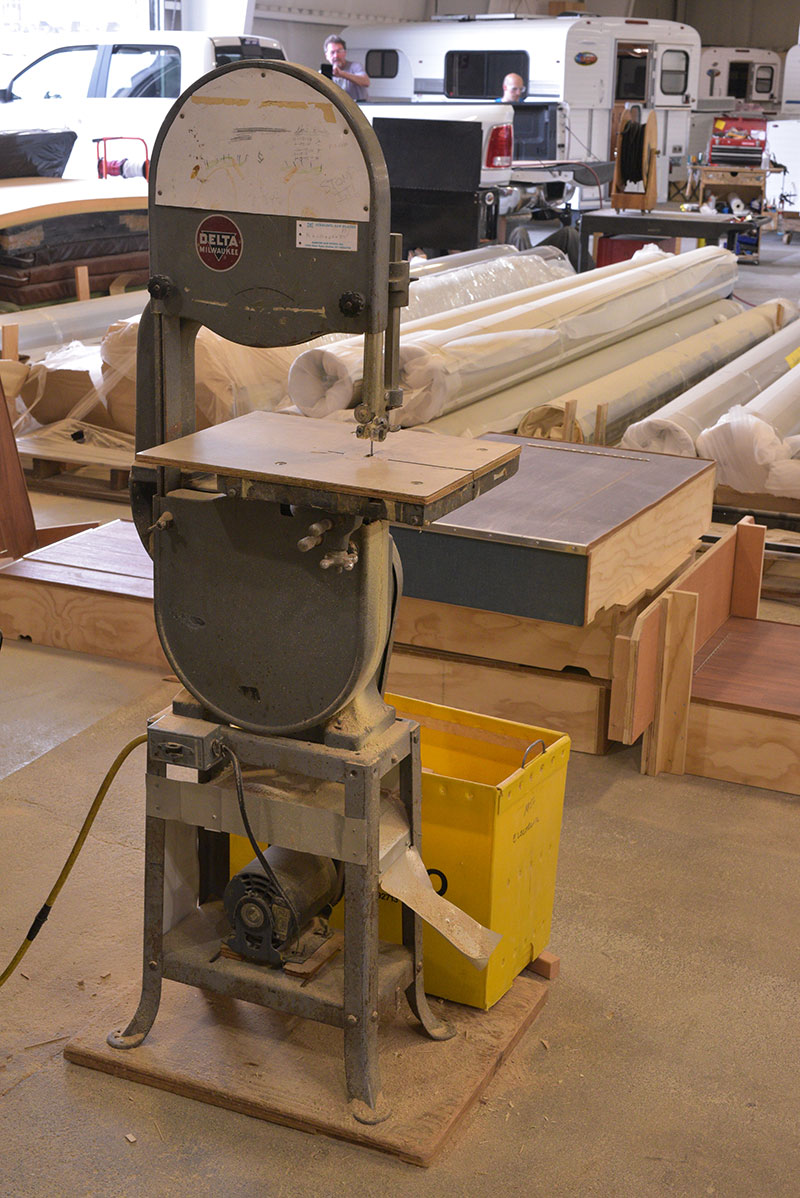 Of course not everything is new at Alaskan.  According to the production team, this 1940's Delta Milwaukee band saw is from the original Alaskan Camper factory.  They believe it might have come from the founder's garage.
If this is accurate (and we have no reason to believe it isn't) that means that part of every Alaskan Camper ever made likely passed through this band saw.  How cool is that?
A New Production Crew
Buildings, tools, and inventory do not build truck campers.   People build truck campers, and that's where this story takes another compelling leap forward; a new and larger production crew.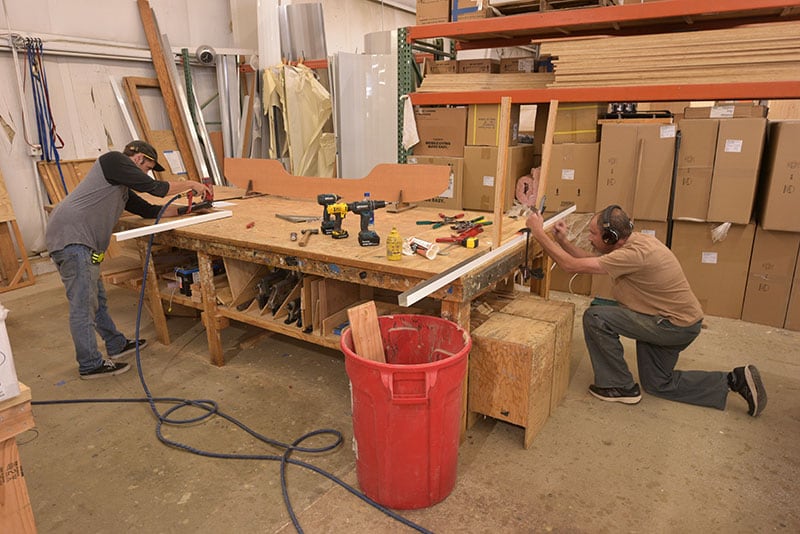 The new Winlock location is about 18-miles from the old Chehalis location.  For some members of the previous Alaskan production team, that was 18-miles too far.  Others were close to the age of retirement and the move was a natural time to make that transition.  There are a lot of new faces on the production floor.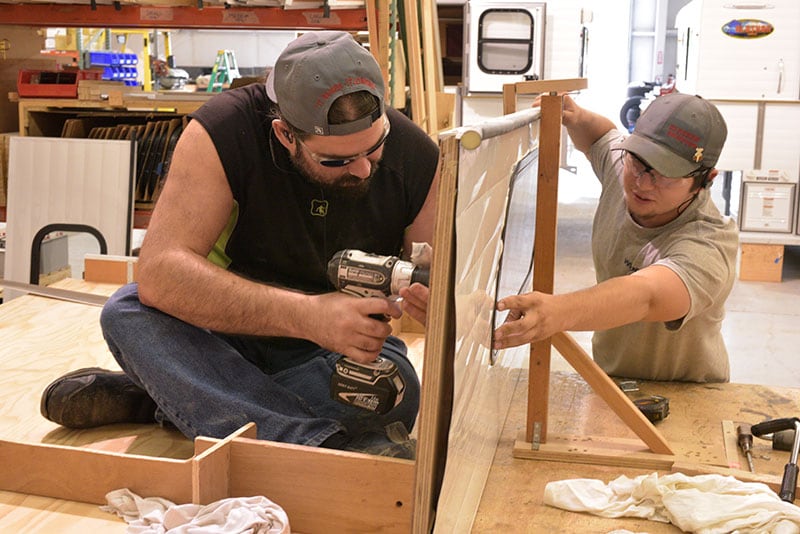 There are also more people.  Where there was just one team member at every station at the old facility, management is now working towards having two.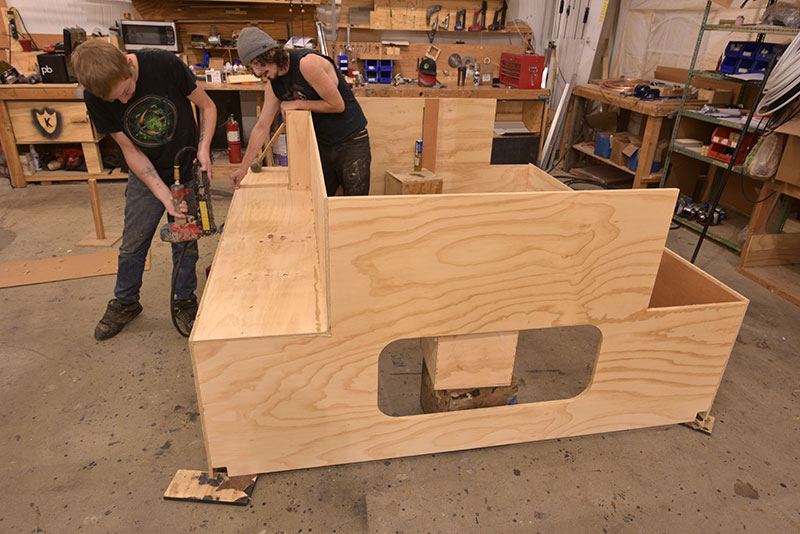 This not only further increases capacity, but also allows for team members to be absent without completely halting production.  At two stations we found a seasoned team member training a new hire.
During our visit, Bryan (above middle) dropped by these stations multiple times to check out their progress and work.  Bryan cares deeply about Alaskan Campers and makes sure to instill that passion – and careful attention to detail – into his team.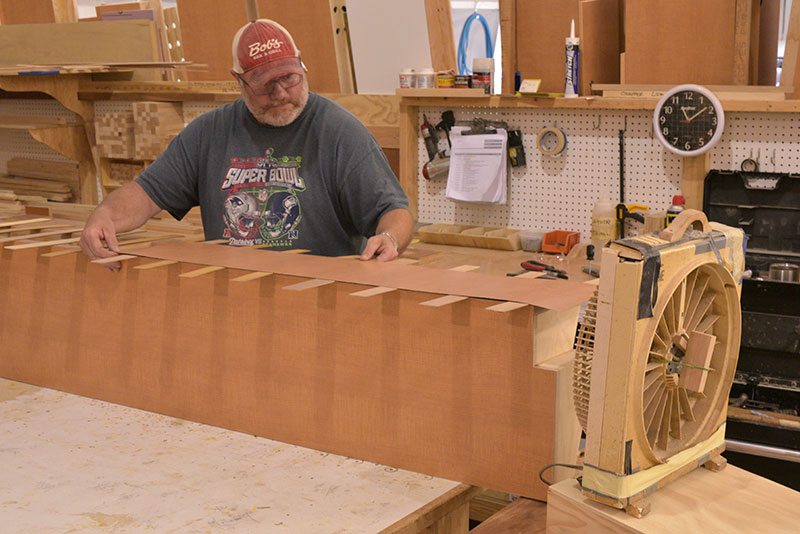 An Alaskan Delivered
The majority of Alaskan Campers are sold factory direct.  Prospective buyers call Alaskan Campers, consult with Bryan on the right model and layout, select their options, choose their counter top and other interior materials, and place a custom order.  A few months later, you get a phone call or email to come pickup your brand new custom Alaskan Camper.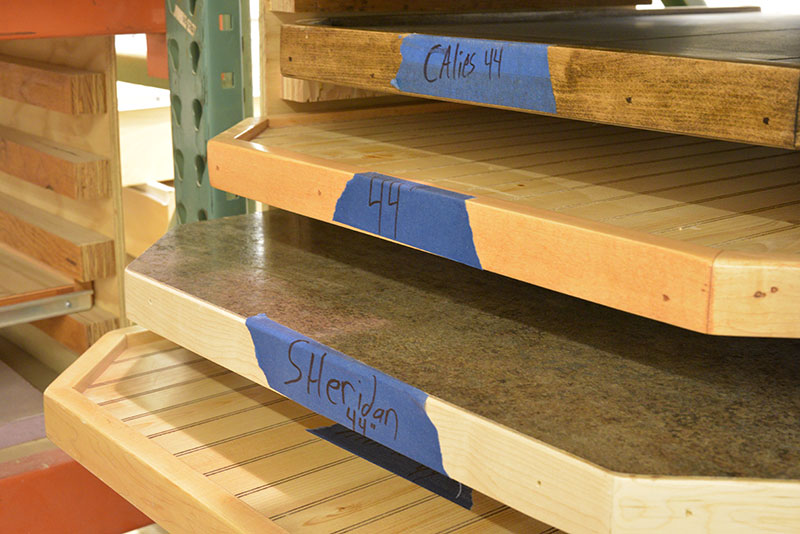 Above: Custom-built counter and table tops selected by Alaskan customers
Two benefits of this approach are (a) you get to order exactly what you want, and (b) you are right there with the Alaskan Camper team when you pickup your unit.  If you have any questions, or need anything adjusted, the right folks are on tap.  The downside – unless you happen to live nearby – is that you have to drive to Winlock, Washington to pickup your camper.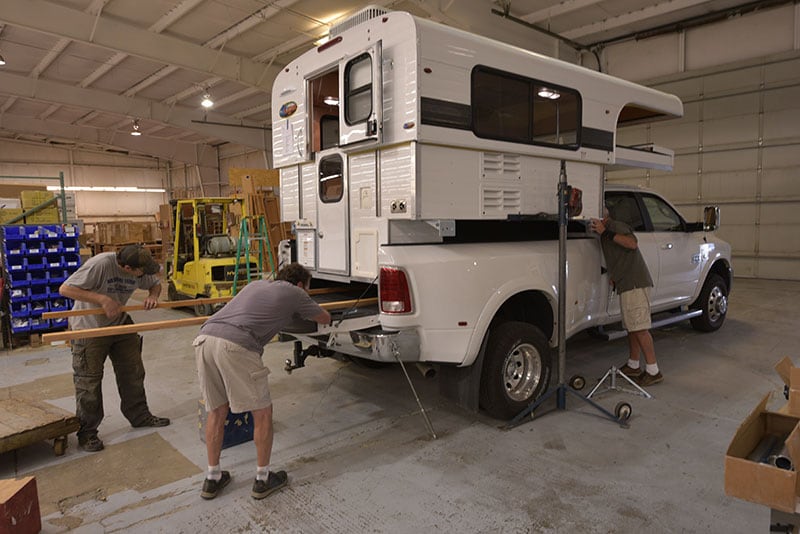 During our last day at Alaskan, an Alaskan customer arrived to load a brand new Alaskan Camper.  Rick Bremgartner, Foreman for Alaskan Campers, worked with Bryan to ensure the truck and Alaskan Camper was set-up right and fit properly.  Almost every truck and camper combination requires some final adjustments for an ideal fit, and this rig was no exception.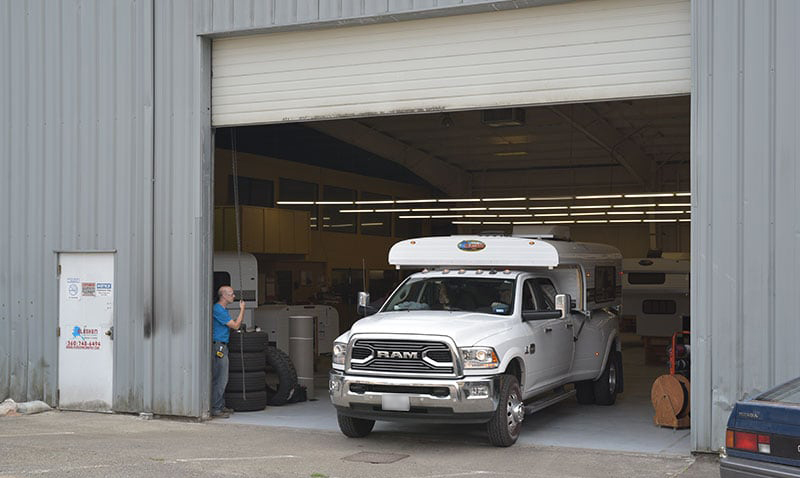 The rig looked incredible as it pulled out of the Alaskan building.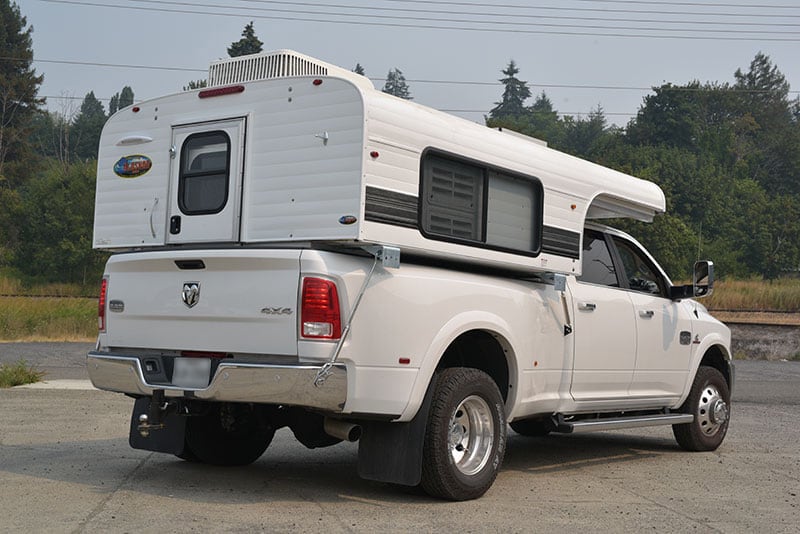 We especially liked that the tailgate closed with the camper loaded.  Even better, there's no need to worry about payload capacity with a dually truck.  This set-up has payload to spare.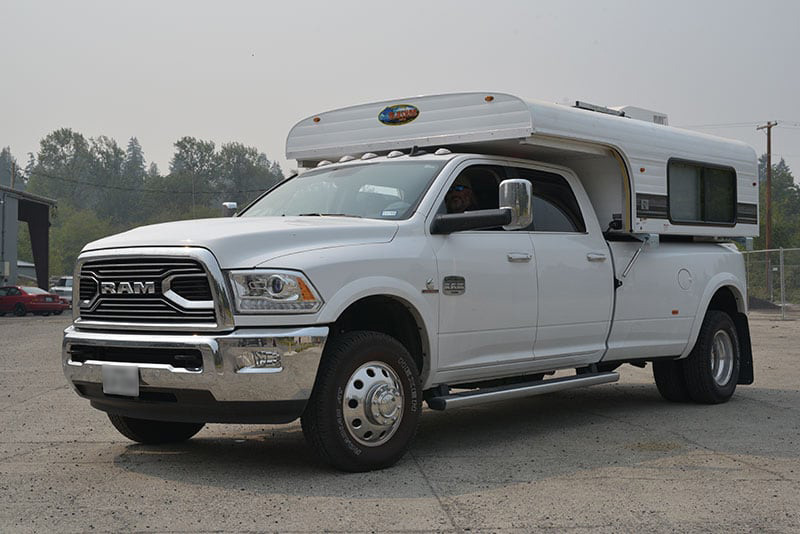 A 60 Year Building Tradition
Alaskan Campers are built the same way today as they were 60 years ago; wood frame, wood cabinetry, hard-side pop-up walls and front cabover panels, hydraulic lift mechanism, and aluminum skin.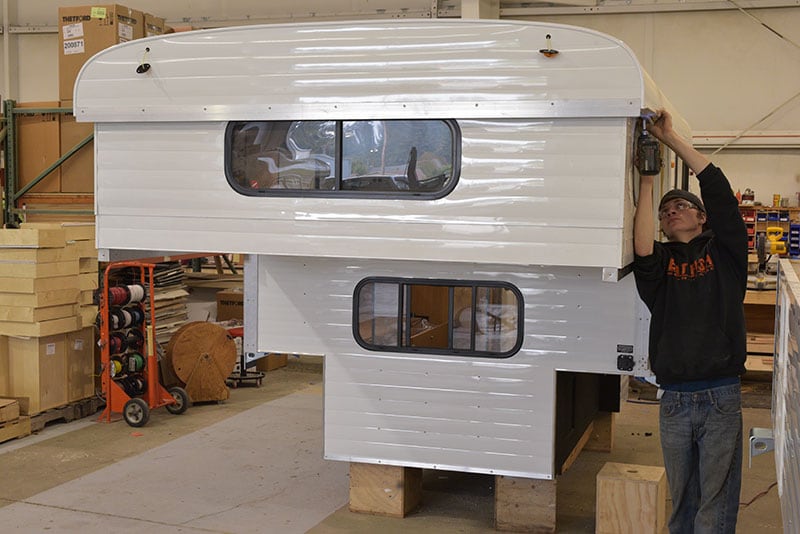 There have been many updates over the decades including an electric hydraulic pump in the 1980s, but essentially an Alaskan Camper in 2018 is built the same as an Alaskan in 1958.  It's an incredible history that the Alaskan Camper team is rightfully proud of.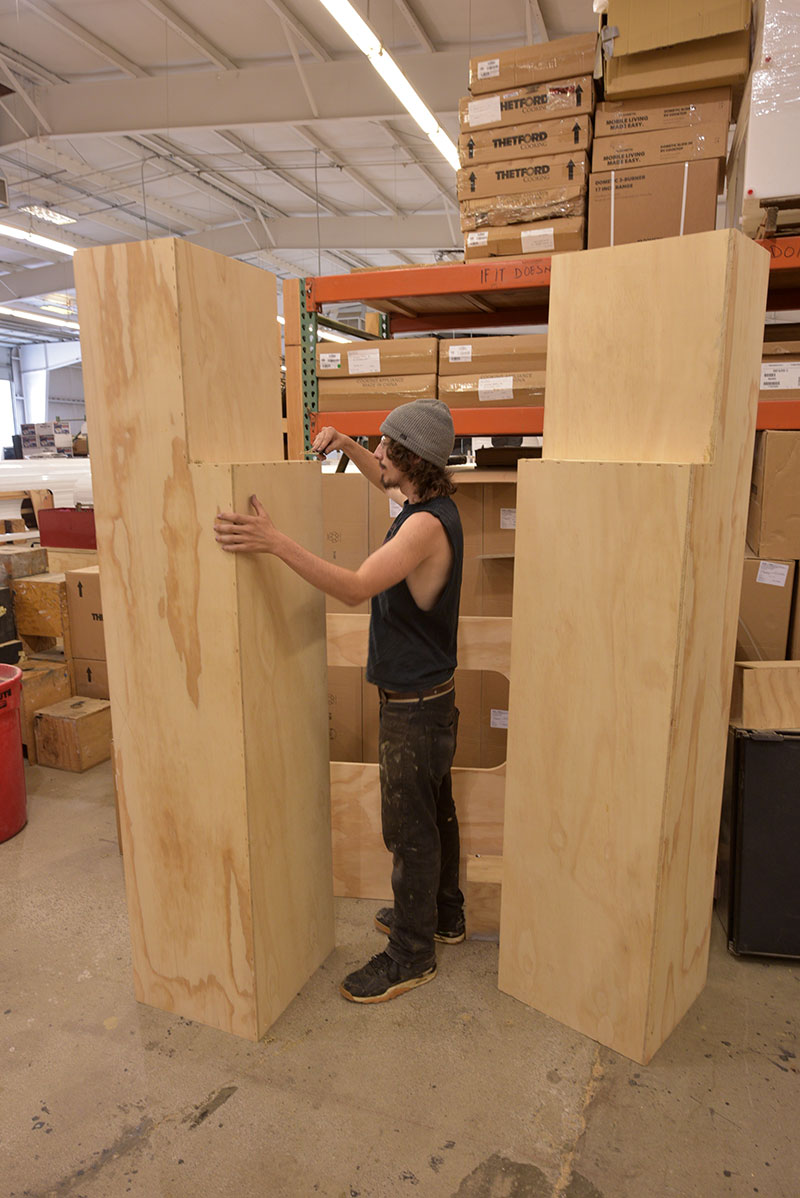 While we didn't spend enough time at the factory this time to observe every step of production, we can confirm that their proven build methodologies continue.
We found the same materials and watched the same construction techniques we first saw in 2007.  New people, different factory – the same construction approach.  The tradition continues.
For more information on Alaskan Campers, please visit their website at alaskancampers.com.  Click here to request an Alaskan brochure.