Steve Walken, President of AirWalken, Inc., has perfected two new products that he believes will revolutionize how people will learn to load, unload, and drive a truck camper.  If he's right, every truck camper dealership will soon offer an AirWalken Practice Camper and Loading Buddy.

For three generations, the Walken family has been in the party supply business.  Starting with party tent rentals in the 1950s, Walken Supply (as they were known then) quickly grew to become the number one party supply company in Atlanta.
When Steve Walken, son of the founder, took over the business in 1972, he longed for a way to grow the business beyond the Atlanta region.  Looking into expansion and franchising, he discovered other family owned party supply businesses had already taken hold in major markets across the United States, just as Walken Supply had.  Not eager to challenge another family business like his own, he resolved to look for other opportunities.
In 1976, Steve came across a newspaper ad for something called an inflatable castle.  Space Walk, a Louisiana company, had invented a temporary inflatable castle that was rented out for children's parties and school fairs.  Steve immediately contacted Space Walk and arranged to purchase an inflatable castle for Walken Supply.
That first inflatable bounce was so successful that Steve ordered three more, then six more, then a dozen.  Before the end of the decade, the inflatable rental business was neck-and-neck with Walken's party supply business.  Seeing the growth opportunity, Steve changed the company name to AirWalken in 1980, and went all-in with inflatable rentals.
Fast forward to 2016.
AirWalken is in five states, manufactures its own inflatables, and has grown to $60M in annual sales.  At the age of 69, Steve was finally ready to sell the company to his son, retire, and do something many of us can relate to; buy a truck camper rig and hit the road.
What happened next could very well alter the course of the truck camper industry forever.  Get ready for two new products that every truck camper newbie will want access to, the AirWalken Practice Camper and Loading Buddy.
To get the full story behind these new products, we talked to Steve Walken, President of AirWalken Incorporated.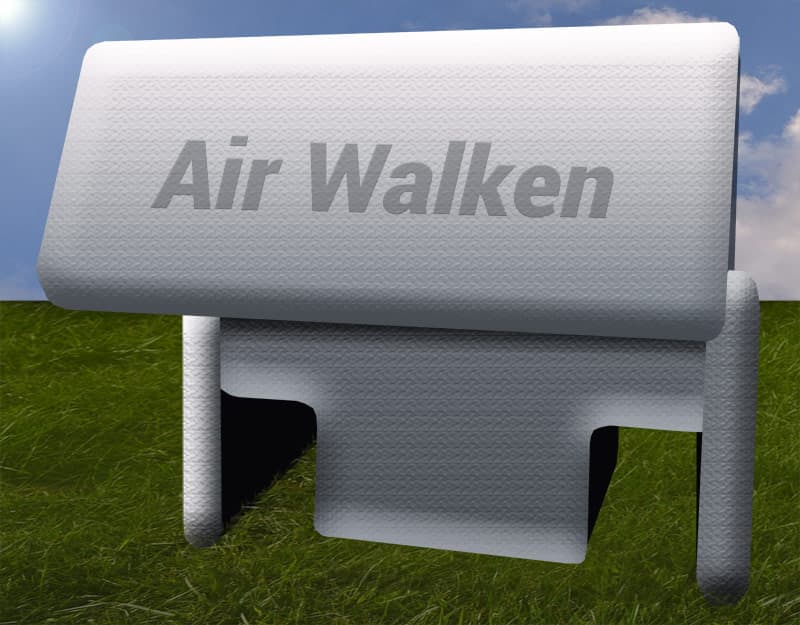 Above: Steve's initial computer rendering of the AirWalken Loading Buddy
TCM: When you first approached us with this idea, we couldn't decide if it was the most ridiculous or most brilliant idea we had ever heard.  First, tell us about your new product, and why it's something folks should take seriously.
Steve: I can understand that first impression.  The product is probably best explained with the story of where it came from.
When I first brought our truck camper home, I suddenly realized that I hadn't measured the exact height of our rig.  Before driving the truck and camper into our barn, I wanted to make sure the camper would clear not only the 12-foot entry door, but also the beams inside.  As I climbed the rear ladder to make the measurements, I had an epiphany.
If the camper was an inflatable, I could just drive it in and see if it hit anywhere.  I wouldn't be worried about damaging the barn or the inflatable camper as neither would likely be damaged upon contact.  Of course I was laughing about the idea before I reached the camper's roof, but the concept kept resurfacing.
About a week later I was talking to my wife about learning to drive our new rig.  I'm no spring chicken any more and I don't want my wife to be stranded if I twist an ankle on a trail.
"I think you should learn how to drive the rig," I suggested.  "After all, I could fall off a cliff on Route 1, or get dragged off by bears in Yellowstone."
Her immediate answer was, "No way I'm driving that thing!"
It would have been nice if she reacted to the thought of my demise, but that might be a relief after thirty plus years of marriage.  Joking aside, she was worried about hitting something with our brand new truck and camper, a concern I could relate to.  That's when I sprung my idea on her.