You can now build and option Adventurer and Eagle Cap truck campers online with MSRP price, option weight, and wet weight information.  This is a game changer.
For many years Truck Camper Magazine has championed the cause of safe truck and camper matching.  Our Newbie Corner article, "Matching a Truck and Camper" has been read over 39,500 times and has helped hundreds, if not thousands of people to assemble a safe truck and camper match.
The challenge now is making sure the data consumers need for safe truck and camper matching is available, complete, and accurate.  Behind the scenes, we regularly talk with truck camper industry leaders about this important issue and implore them to make accurate truck camper and truck camper option weight data more accessible.
Today we are very excited to help debut a new online system developed by Adventurer Manufacturing that is designed to directly address this need.  Adventurer Manufacturing's Build Your Own system not only allows you to build and option their Adventurer and Eagle Cap truck camper lines, but it also shows you the resulting dry weight with with options, wet weight with options, and MSRP prices with options.
Clearly this is big stuff and could potentially signal a way of the future in the truck camper industry.  We are thrilled and congratulate Adventurer Manufacturing for taking such a bold and unprecedented step in the right direction.
But before we get too excited, there are a few items regarding Adventurer's Build Your Own system that need to be addressed.  First, the system requires a bit of explaining to understand how it works and why it works that way.  Second, the camper weights given also require a bit of explaining to understand why they are what they are.
And third, four line items needed for a safe truck and camper match are mentioned but not included in the Adventurer Build Your Own system; people and pet weight, tie-down and turnbuckle system weight, suspension enhancement equipment weight, and cargo weight including food, clothing, kitchen supplies, bedding, towels, toiletries, pet food and supplies, cameras, computers, electronics, and all required truck camper chemicals, cords, hoses, and tools.
To get to the bottom of the Build Your Own system, we begin by taking a close look at the system and go through it step by step.  Next we talk to Greg Tucknies, Sales Manager for Adventurer Manufacturing, to address questions and dig deeper into how the Build Your Own system came to be, and where it's going.
Adventurer Manufacturing "Build Your Own" System
To start the Build Your Own system, choose, "Build Your Own" from the top navigation menu on the Adventurer Manufacturing website or go directly to the page here: www.amlrv.com/build-your-own-camper/
You will then be taken to a Build Your Own registration page and prompted to complete a short form to register as a user of the Build Your Own system.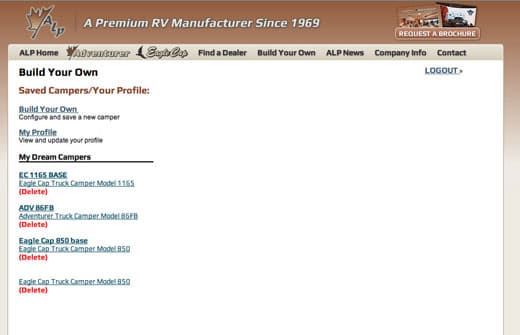 As a registered user, the Build Your Own system will save your camper builds automatically and email you each camper configuration you build.  If you forget your password, you can always reset your password through a link on the Build Your Own system registration page.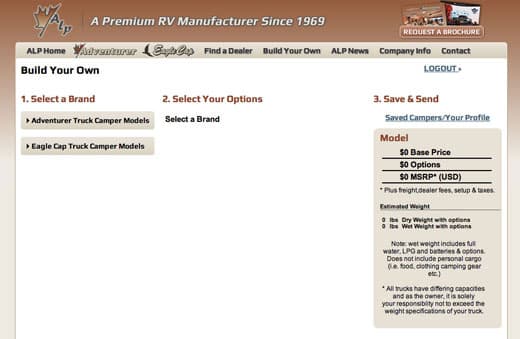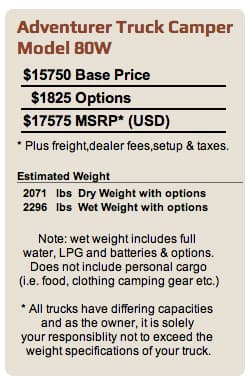 Once signed in, you'll be taken to the Build Your Own system page.  You will them be prompted to select a truck camper brand; Adventurer or Eagle Cap.
When a truck camper brand is selected, a drop down menu will appear under that brand showing currently available models.  Choose one of the models and a list of available options for that model will appear in a second column to the right.
The MSRP, option name, and weight for each option item are displayed left to right in this second column.  Options highlighted in blue are Standard Build Options.
Standard Build Options are options that Adventurer Manufacturing builds into every truck camper not special ordered from the factory.  In order to not receive these options on a camper build, you must special order a truck camper from the factory.