For the first time in their 54 year history, Capri is offering a built-in cassette toilet option. In addition, Capri is announcing an optional North-South pull-out bed, forced air furnace, and lithium battery. Don't miss the interior changes that made this possible.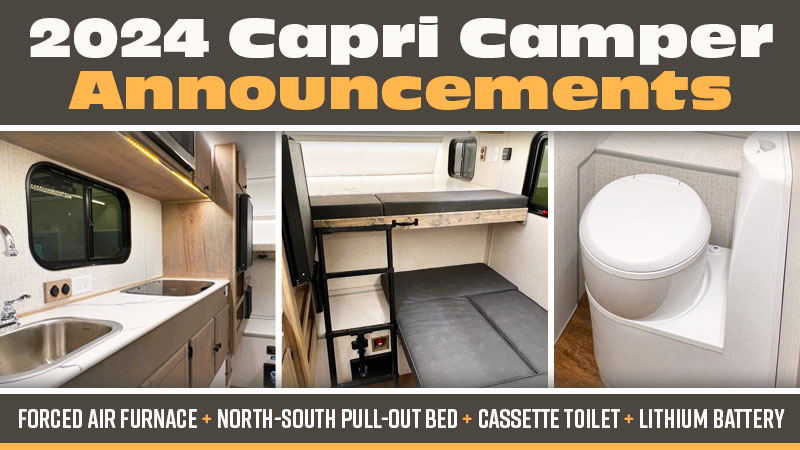 When we launched Truck Camper Magazine almost seventeen years ago, cassette toilets were rare in the truck camper and RV marketplaces. There were companies that championed built-in cassette toilet systems, but they were few and far between.
Fast forward to 2023, and cassette toilets have gone mainstream. Why? Cassette toilets offer the presentation and comfort of a traditional built-in flush toilet, but with far more versatility. For example, a cassette toilet allows you to camp when campgrounds and dump stations are closed for the winter, or otherwise unavailable. And for weekend warriors, cassette toilets can be used for two or three days and then dumped at home. No dump station required.
The ability to remove and completely clean a cassette is another feature that's unavailable to campers with built-in black tanks. Heck, you can even replace a cassette with a brand-new one, or carry more than one tank to increase your capacity. We've seen Earthroamer owners (yes, Earthroamers use cassette toilets) use this approach.
All of this is why Capri Campers is, for the first time in their 54 year history, offering a built-in cassette toilet option in 2024. This isn't just the first time they've offered a cassette toilet, it's the first time they've offered a built-in toilet of any kind. In our conversations with Capri Campers, the team is equally excited and curious to see how this new feature will be received by their customer base.
In addition to the cassette toilet, Capri is launching a new North-South pull-out bed. This is sure to be a home run for anyone who's been stuck on the outside nose area with a snoring significant other blocking the cabover exit. A North-South cabover alleviates that situation. Just scoot down, and go.
Capri is also launching a force air furnace and a lithium battery option for 2024. Both of these new options, as well as the cassette toilet and North-South sleeping arrangement, scored highly in our 2024 Ultimate Camper Survey (hard sides). Capri Campers is listening.
For all the details on Capri's announcements for 2024, we talked to Pete and Tyson D'Acosta, President and Vice President of Capri Campers.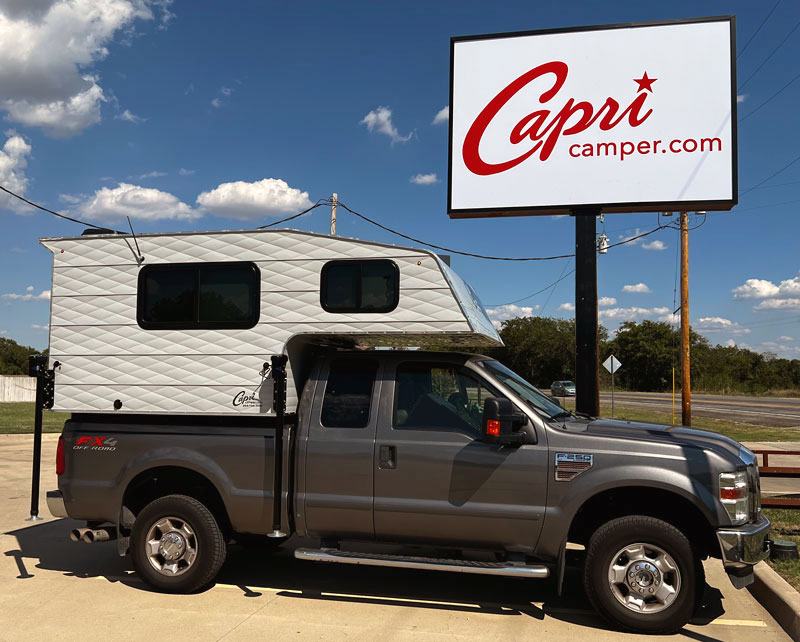 The stand-out Capri Camper option for 2024 is a built-in Thetford cassette toilet. What led you to offer this option for 2024?
Pete: Having a cassette toilet option is going to expand our potential market. By choosing the Thetford cassette system, we are staying away from built-in plumbing and black tanks. For those who want a Capri with a built-in toilet, they now have an option.
Tyson: We selected the Thetford 224-CW with manual flush for its self-contained design and reliability. The only compromise is the shower. If you opt for the cassette toilet, you lose the inside shower. The cassette design is not compatible with our one-piece fiberglass shower stall.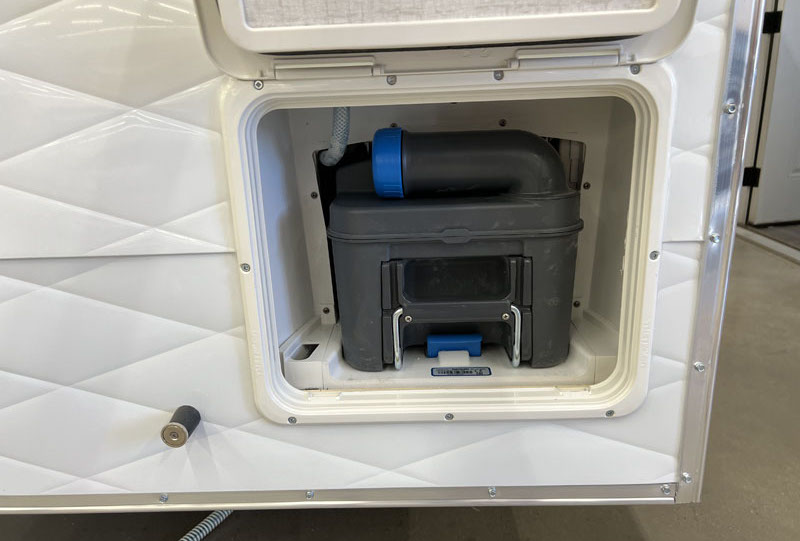 Above: The Thetford 224-CW cassette is removed from an exterior compartment
What Capri models will be available with the Thetford cassette toilet?
Tyson: Our long and short bed Retreat models are now available with the Thetford cassette. Unfortunately, the cassette toilet does not work in a Capri Cowboy.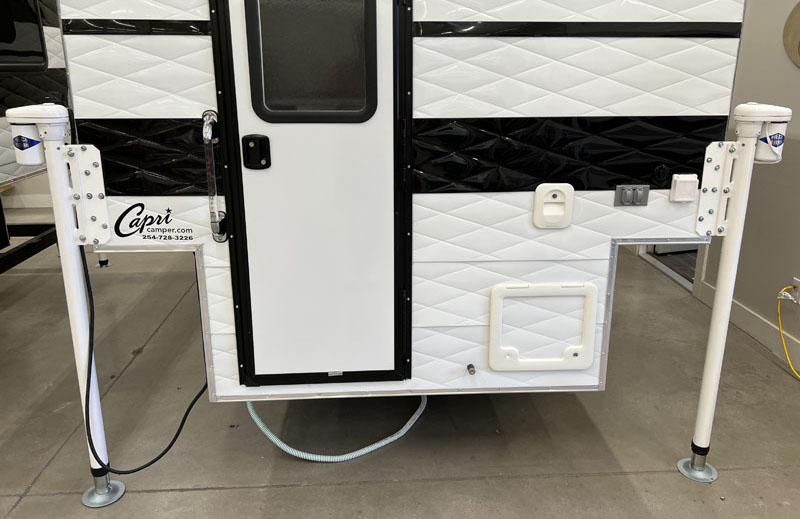 Above: Note the Thetford cassette compartment on the rear passenger side
Now that a Thetford cassette toilet has been installed, what do you think about the product and how it works in the context of a Capri Camper?
Tyson: We like it. It's convenient and easily integrated into our camper. If you want the option, it's available.
Are you providing walls and a door for the cassette toilet bathroom option?
Tyson: The cassette toilet is installed in the same place as the shower. For the cassette toilet option, we maintain the privacy wall, clothing rod, and privacy curtain already in that area. There's no hard door, but you have privacy with the hard wall and curtain. With the cassette toilet option, we also added a storage cabinet.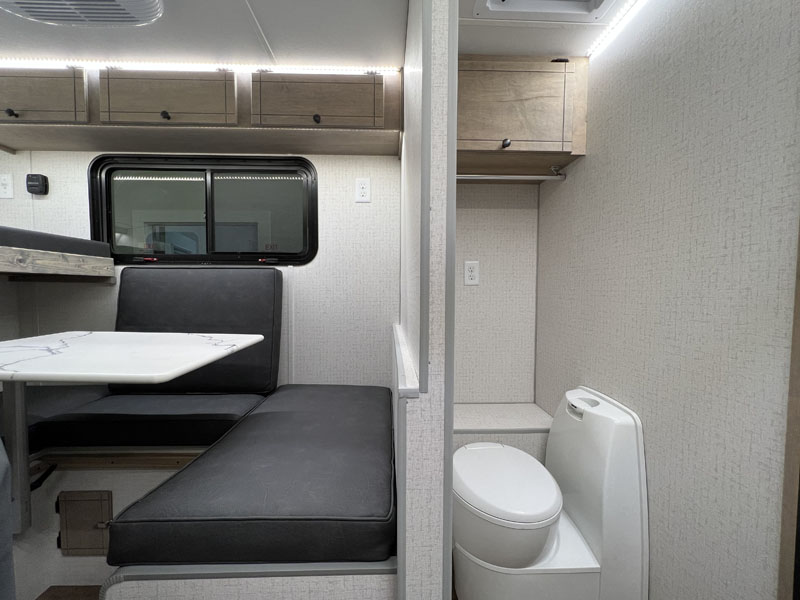 Above: Note the hard wall (privacy curtain not shown) between the cassette toilet and the main living area
Another stand-out option for 2024 is a pull-out North-South bed. Capri Campers have always had East-West beds. Why did you decide to create a pull-out North-South option?
Tyson: We're always looking to improve and make our campers better. With the pull-out North-South bed, we can offer a North-South sleeping arrangement without changing the overall size or integrity of the camper. If you decide not to pull out the bed, it's not in the way. You can still use the cabover as an East-West bed.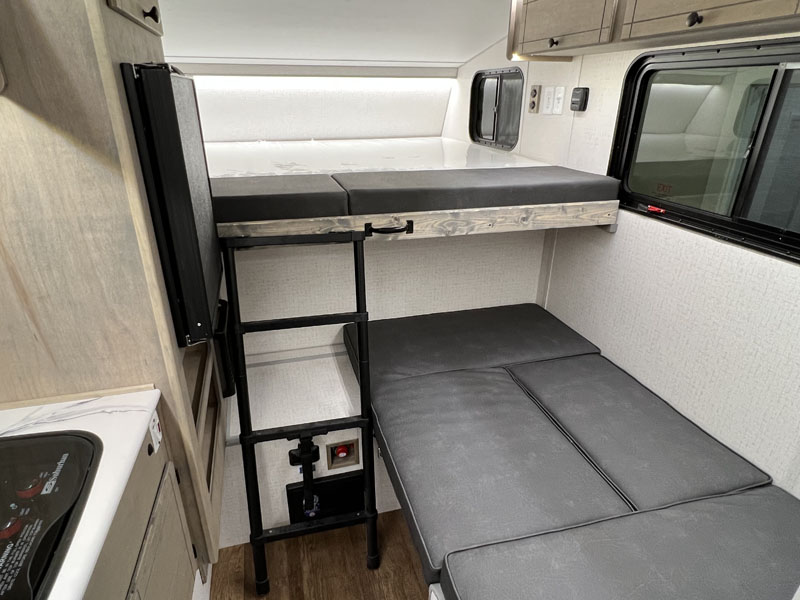 Pete: The pull-out North-South bed comes with hooks on the front so that you can attach a ladder we provide. That makes it easier to get into the bed rather than taking the table down and jumping up.
Why not just extend the cabover to make a true North-South cabover?
Tyson: By keeping the cabover the same length, our campers stay smaller, lighter, and more aerodynamic. A North-South cabover would add weight and change the integrity of the camper. That's not something we're going to do. Our new pull-out North-South option avoids those compromises and keeps the weight down.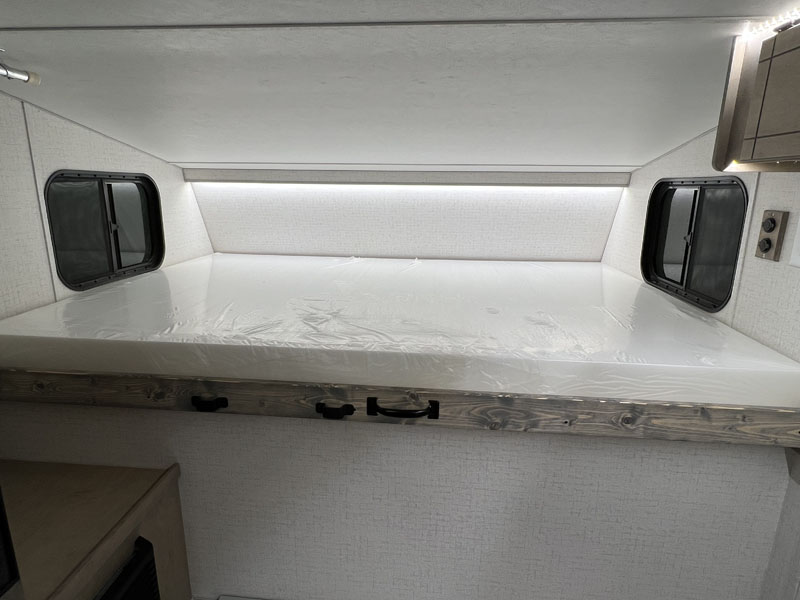 Above: As an East-West bed, the cabover is 60″ by 80″
What size bed does the pull-out bed become?
Tyson: As an East-West bed, the cabover it is 60" by 80". Pulled out into a North-South bed, it's 76" by 80".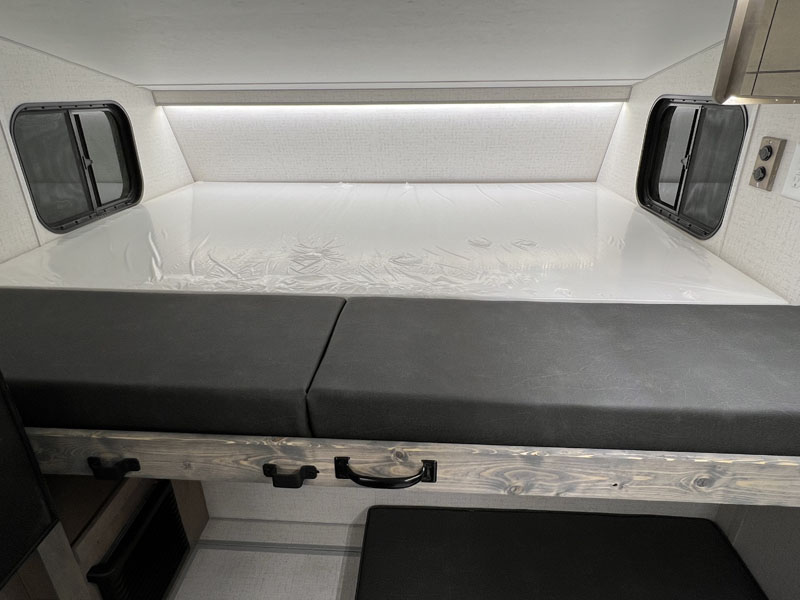 Above: As a North-South bed, the cabover is 76" by 80"
Did you need to change your mattress cushions to work with the pull-out bed?
Tyson: The East-West part of the mattress stays the same. To fill in the extension, there are two additional cushions that can also be used as back cushions in the dinette.
Pete: Those back cushions fit perfectly and are 40" by 16". They are the same foam and the same thickness as the bed cushions.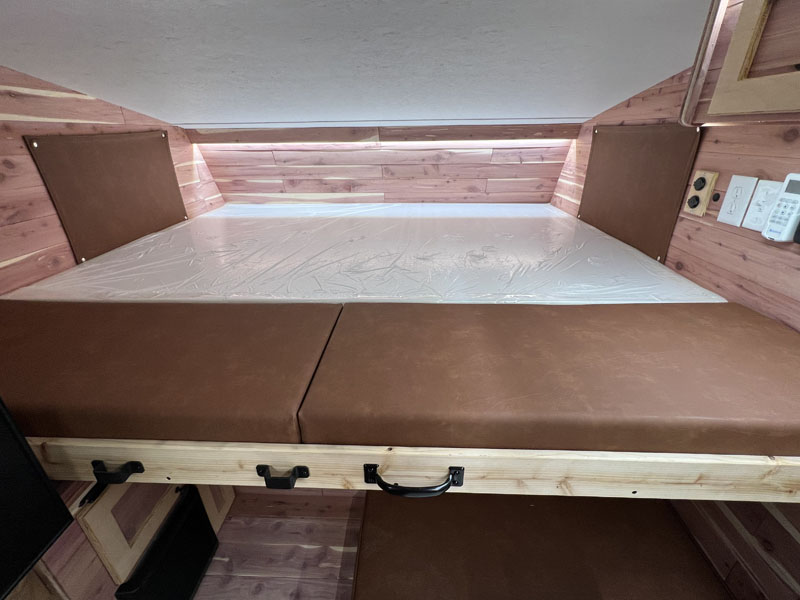 Above: North-South bed with the cedar interior
What Capri models will be available with the North-South pull-out bed?
Pete: The North-South pull-out bed is available in all our Retreat models. As far as a 5.5' Retreat, the North-South works if you limit the options inside. That's also true for the cassette toilet. It comes down to the other options a customer wants. When someone orders a camper, we can talk them through those choices.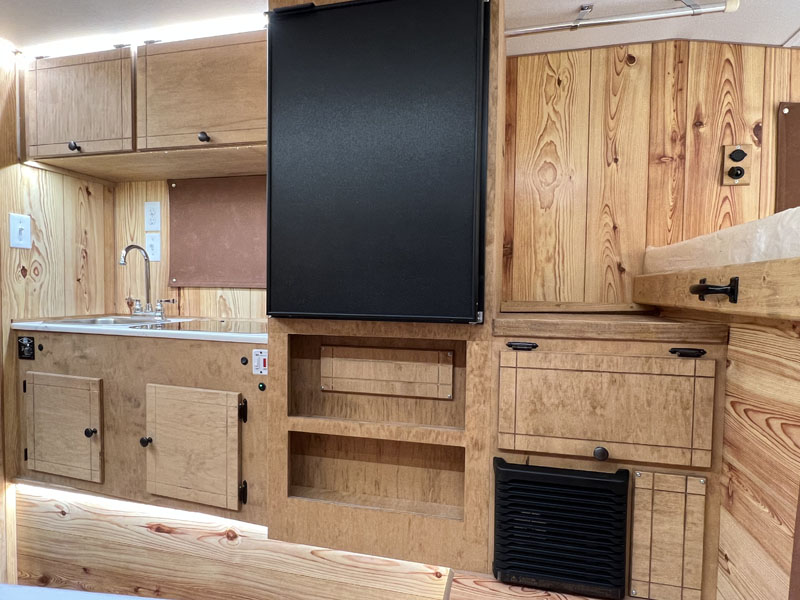 Above: The Capri Retreat short bed model in Cedar
Capri has been installing Camco Olympian Wave 3 catalytic heaters for some time. Why are you now offering forced air furnaces?
Pete: Our customers are very happy with the catalytic heaters we install. That said, there may be customers who would prefer a more traditional forced air furnace. For 2024, we successfully installed and tested an 18,000 BTU furnace made by Suburban. If you plan to camp in cold climates, the Suburban furnace with its increased heat output might be a better choice.
Tyson: A forced air furnace could cut down on condensation compared to a catalytic heater. Some customers might prefer the forced air heat rather than the radiant heat provided by the catalytic heater. That said, we have a lot of happy customers with catalytic heaters. They're both good choices.
Which forced air furnace did you decide to use?
Pete: It's the Suburban 2504 ABK.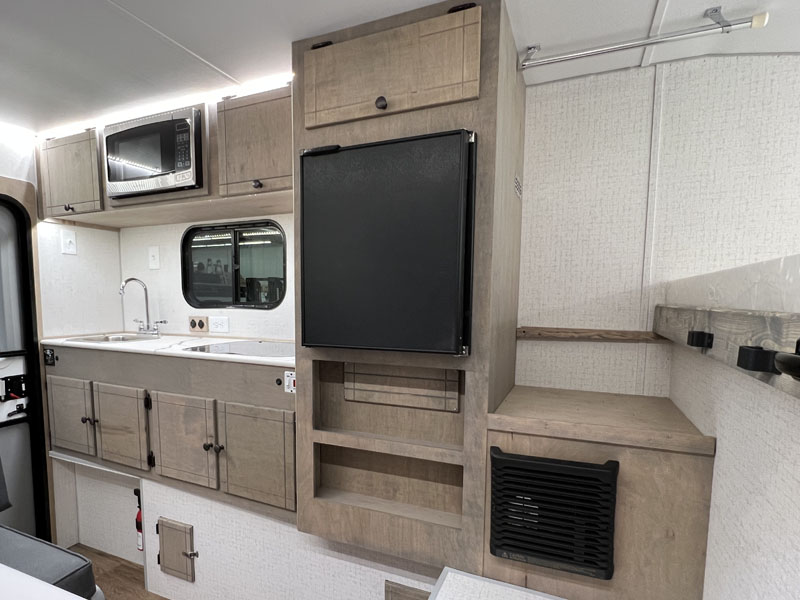 Above: Capri Retreat long bed model with the North-South pull-out bed and furnace options
The kitchen area looks to be redesigned in the unit being showcased. What has changed?
Tyson: We had to make some adjustments to the Retreat layout to accommodate the new options. For example, the forced air furnace needed additional space. We also had to find 16 inches for the North-South bed option to pull out.
You actually gain a little more storage by going with the new forced air furnace and North-South pull-out bed. And we kept the refrigerator, sink, cooktop, and microwave. The microwave is in the same cabinet, but the refrigerator is raised to accommodate the propane compartment.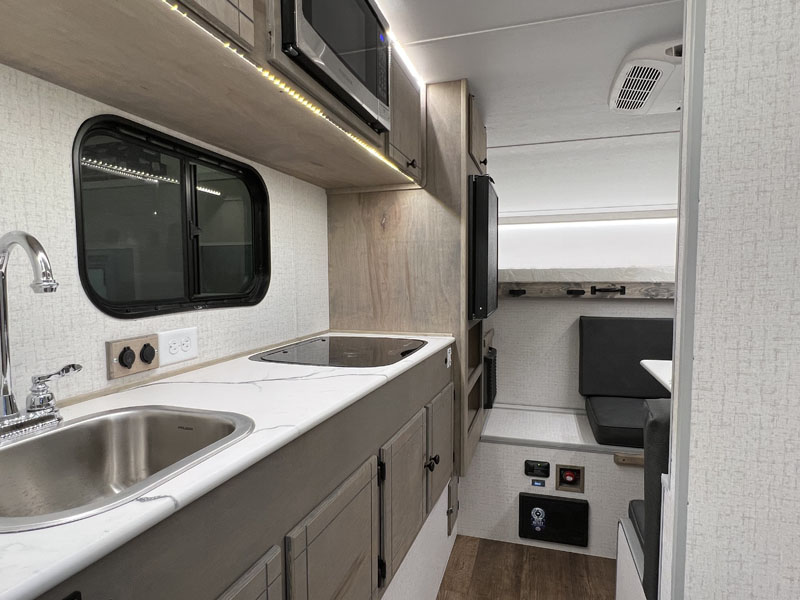 Will the new cassette toilet, pull-out north-south bed, and/or furnace option be available for the Capri Lone Star line?
Tyson: We're hoping the North-South pull-out bed will be an option in the Lone Star models, but there isn't enough space in the Lone Star line for the cassette toilet or the forced air furnace.
Pete: The Lone Star model's philosophy is that everything that goes in can come out, so the cassette and heater do not really fit that concept. We want to keep the Lone Star 100-percent modular.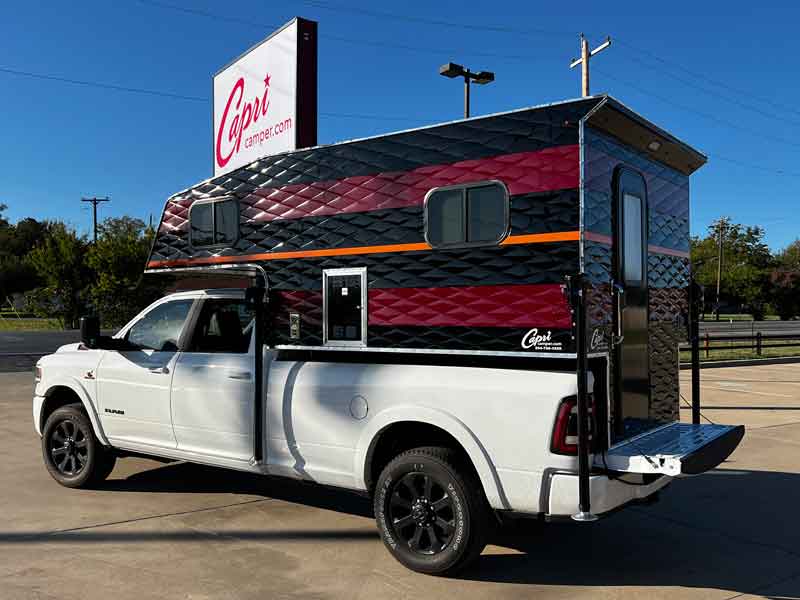 Above: Customers select the colors they want for the exterior of their camper; look at different color combinations in their Build Your Own
Are there any other new Capri features or options available for 2024?
Tyson: Yes. Lithium batteries are now an option for every camper. In the Retreat and Cowboy models, we use a Renogy 100 Ah Lithium Iron battery with a self-heating function. Our lithium-compatible power center in the Retreat and Cowboy is the AutoTech from WFCO.
The Lone Star and Lone Star Junior come standard with a Goal Zero Yeti 1500 lithium power station.
What does the 2024 Capri Retreat weigh with the cassette toilet, pull-out bed, and furnace?
Tyson: We don't have that exact weight, but we believe the optioned weight will be less. The cassette toilet option requires deleting the 100-pound fiberglass shower stall. The catalytic heater and forced air furnace are about the same weight, and we are working on significantly reducing the weight of the North-South pull-out bed for production.
We weigh every camper that goes out the door. From all of the campers we've made and documented, we are able to give customers an accurate weight estimate before their camper is built. If a customer orders a Capri with the new options, we will have an accurate weight for them.
What is the MSRP for these options?
Tyson: The North-South bed extension is $995. The forced air heater is $1,295. And the cassette toilet is $1,195.
Is there anything else you want our readers to know about the new 2024 Capri options or Capri Campers in general?
Pete: The Lone Star Junior has really been hot lately. In the last two weeks, we've sent out Juniors on a Honda Ridgeline, Nissan Frontier, and Toyota Tacoma. For customers with mid-size trucks, the Capri Lone Star Junior is a great option.
For more information on Capri Campers and their 2024 announcements, visit their website at CapriCamper.com.  Click here for a Capri Camper brochure.