New truck camper models have been added. Discontinued models have been deleted. Prices, weights, and specifications have been updated, calculated, and verified. Check out the 2023 Truck Camper Buyers Guide and Gear Guide. Dig in.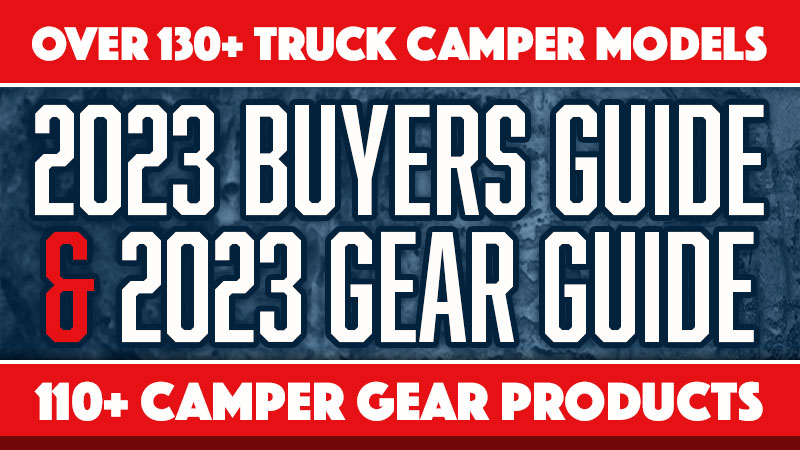 CLICK HERE FOR THE 2023 TRUCK CAMPER BUYERS GUIDE
CLICK HERE FOR THE 2023 TRUCK CAMPER GEAR GUIDE
It never ceases to amaze us how many people visit the Truck Camper Magazine Buyers Guide and Gear Guide over a given year. In 2022, these two popular sections had 356,000 pageviews from 301,000 unique visitors. That's roughly 7.7-percent of the 4.5-million pageviews Truck Camper Magazine had in 2022.
What's even more mind-blowing is that the average visit to these pages is 2-minutes and 22-seconds. Multiply that by 356,000 and you have 14,042 hours that fellow truck campers spent researching truck campers and truck camper gear in these two sections. That's 1.6 years. Wow.
Over the past few weeks, Angela has worked directly with the camper manufacturers to meticulously update the 2023 Truck Camper Buyers Guide and Gear Guide. Every truck camper and gear make, model, specification, and capacity have been checked and verified. Thank you, Angela.
More Essential Truck Camper Research
If you're researching a truck and camper purchase, start with, The Best Truck Camper, Picking The Perfect Truck Camper, and then How To Match A Truck and Camper. Then use the Buyers Guide, Camper Chooser, and Reviews to make your choices.
If you're buying a used camper, don't miss 6 Tips For Buying Used Campers and How To Inspect A Used Camper. Both are essential reading for a used camper purchase.