Northstar debuts a list of new standard features and options for their 2021 hard side and pop-up truck campers and discusses their company-wide response to Covid-19.  With appropriate caution, it's full steam ahead in Cedar Falls, Iowa.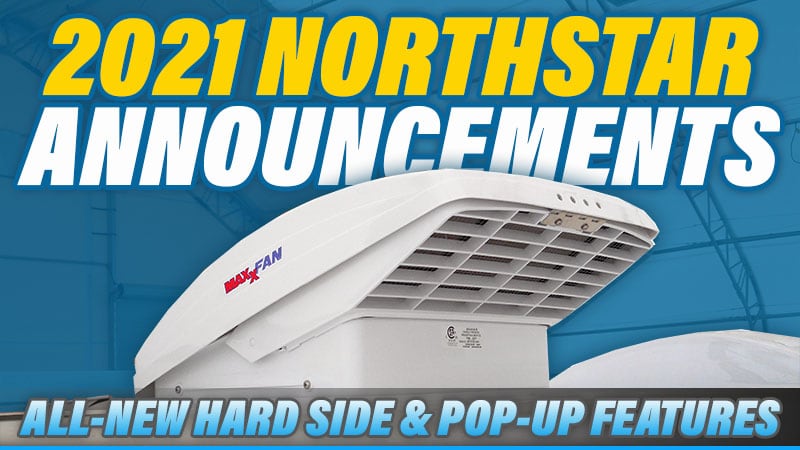 Northstar Campers hasn't lost a beat. From the beginning of the coronavirus outbreak, they have been able to adapt their production line to keep their team safe and working.
Northstar had a deep inventory of materials and parts allowing them to produce complete units despite many suppliers being closed down. They're not operating at peak capacity, but they're not falling behind either. Northstar is building campers and moving ahead.
Northstar's actions in the face of Covid-19 reveal the positive American grit that will steer our economy out of this situation.
Unfortunately, much of this Covid-19 coverage glosses over the gut-wrenching decisions and day-to-day sacrifices business owners and employees are being forced to make. It's easy to read a reopening business checklist, but effectively implementing and maintaining those recommendations can be a serious challenge.
In the end it boils down to this; now more than ever it's critical for a company to have a strong and connected team that trusts each other. If a production team cares about and trusts its management and the management team truly cares about and trusts its people – top to bottom – that esprit de corps will get the company through darn near anything, including Covid-19.
All of this ran through my mind as Angela and I listened to Rex Willett, President of Northstar Campers, talk about how Northstar is weathering this storm. Woven throughout this interview is a palpable sense that Rex truly cares about and fully trusts his team. Having met and observed the Northstar production team a number of times, we can confirm that Rex's care and trust is fully returned. Northstar Campers is one solid team.
Perhaps the more exciting news is that Northstar isn't just up and running. They're also moving forward with some important and useful changes to their 2021 pop-up and hard side truck campers. One of the updates – a fresh tank access panel – is nothing less than a truck camper industry first. I bet you'll say, "I wish I had that on my camper" when you read what that fresh idea is all about. We sure do.
To get the full story behind the 2021 Northstar announcements and how the company is adapting to face Covid-19, we talked to Rex Willett, President of Northstar Campers.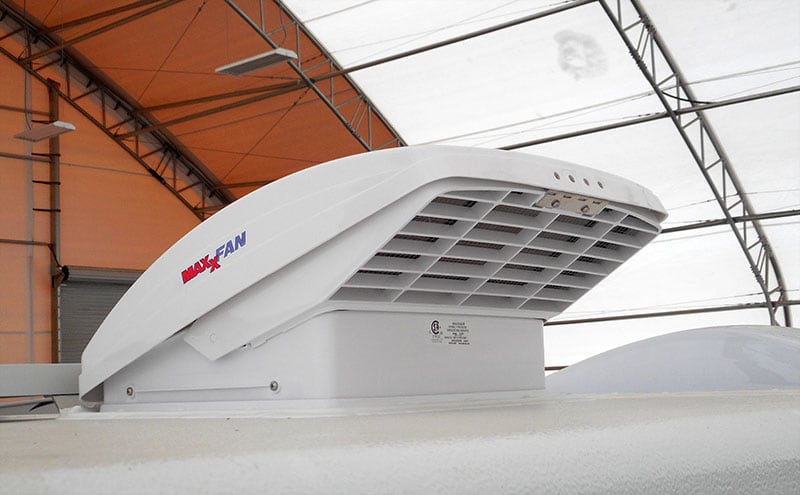 Above: The new Maxxair Maxxfan is now standard on Northstar Campers.  All photographs were provided by Northstar.  Click here to request a free Northstar brochure.
For 2021, Northstar is making the Maxxair Maxxfan Deluxe model standard. Why was this particular Maxxair model selected?
The Maxxfans are now standard on everything we build. Northstars have had Fantastic Fans for a long time but, after Fantastic Fans was acquired, the quality and service suffered. I also didn't like the way their 12-inch tall rain covers looked on our pop-up models.
For a fair price, Maxxfan offers a nicely featured fan. I also appreciate the built-in rain shield. That allows Northstar owners to go on a hike and not worry about a passing rainstorm.
Another smart feature is the ability to use the fan in ceiling fan mode, or reverse the airflow. The Maxxfan moves a lot more air in reverse mode than the Fantastic Fans did.
To accommodate the Maxxfan, we had to make some changes to our pop-up roof's framing. It's larger than the 14-inch by 14-inch cut-out because it extends back 6-inches. That's how the Maxxfan design lowers down further.
On a side note, we're getting fewer customers who want a Heki skylight. They're too fragile and it can be tough to get parts for the Heki products. We are looking into a Maxxair version of the Heki-style vent that is at least as good, for less money.
Another possibility is skipping the cabover skylight and installing a Maxxair Maxxfan instead. Our large side windows in the cabover are escape windows, so we may test market interest in that direction. With a Maxxfan in the cabover, you could really move some air.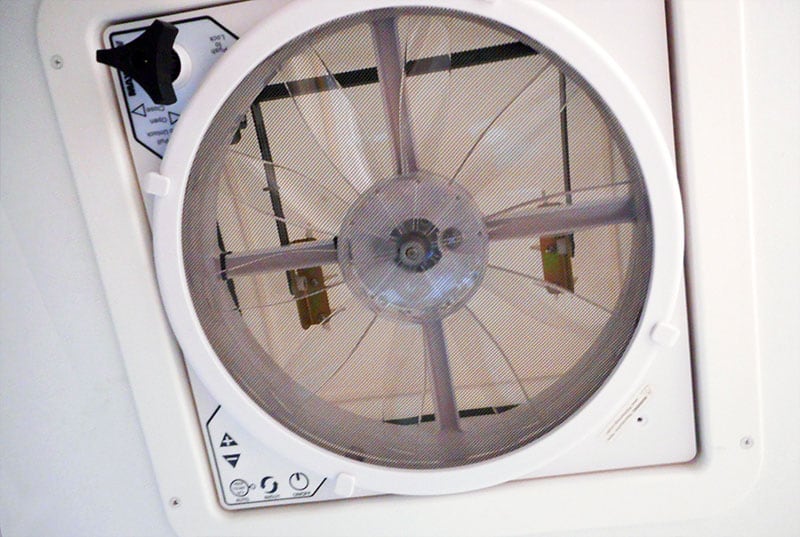 We have long-term tested truck campers with fans in the cabover instead of skylights and they really do pull a lot of air for comfortable sleeping in hot weather. It's also nice to reach up from the bed and turn the fan on or off.
Exactly. We may not go in that direction, but it's something we are thinking about.
Maxxair Maxxfan Deluxe is more expensive than the Fantastic Fan it replaced, but we still have had no price increases on Northstar Campers in the past 16-months.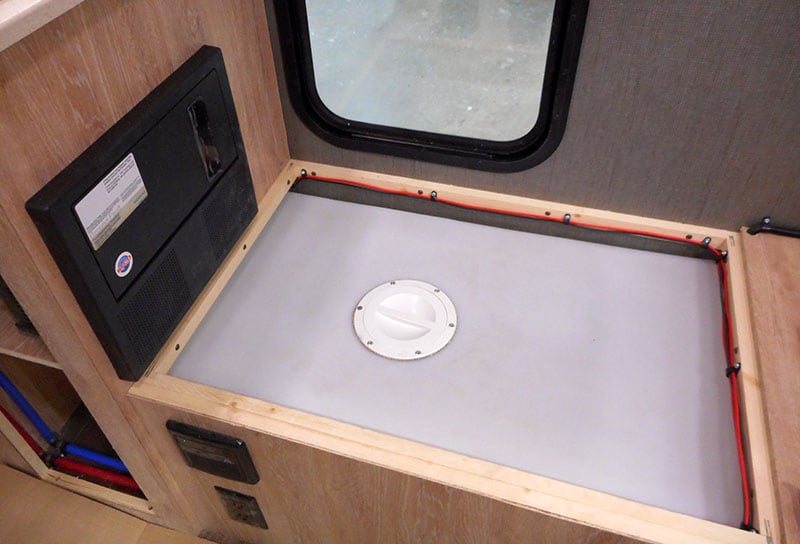 The idea of having direct access to your fresh tank via an access panel is really interesting. No other manufacturer that we know of has this feature. Why did you decide to make this change?
Most truck camper and RV manufacturers put their fresh tanks in the basement where you can't access the tank. The tanks are literally sealed inside the lower body of the unit.
Northstar Campers do not have basements and locate the freshwater tanks above the main floor. This means you can not only see our fresh tanks, but you can easily access them.
With our new access panel we took things a big step forward. Now you can open the access panel and truly clean the fresh tank. Who wouldn't like that?
With the access panel you can access every corner of the tank. When you get your Northstar out in the spring you can clean out the fresh tank with a garden hose and pressurized water. That's a great way to start the camping season – with a truly clean fresh tank. No other manufacturer allows you to do that.
The fresh tank access panel is now standard on every Northstar hard side and a $49 option for our pop-up models. It costs us a little more to add this feature, but I think it's worth the benefit of a clean fresh tank.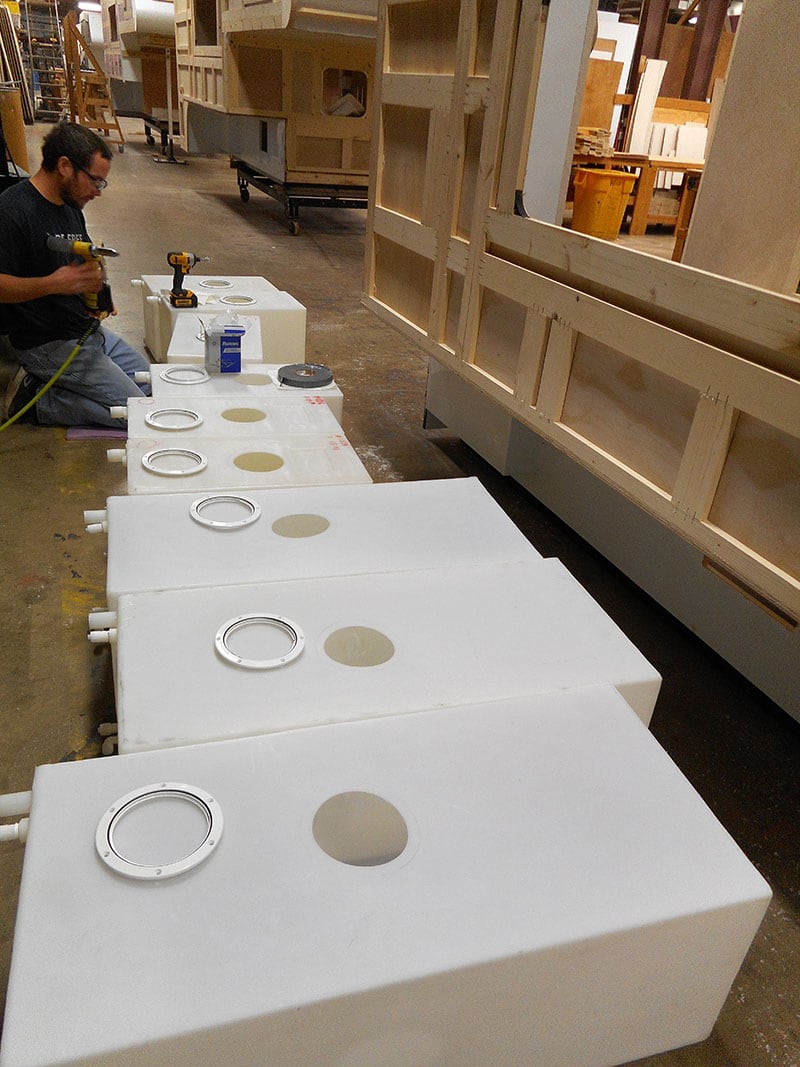 Our fresh tank is fully-enclosed in our basement and we would love to have the kind of access this allows for. We sanitize our fresh tank routinely, but who knows what it really looks like inside. Can this modification be retrofitted into older Northstar campers?
Yes, it can be retrofitted with a kit we supply. We can send customers the tank port, Eternabond, and rivets. The kit price is $27 plus shipping. We will do our best to keep these kits in stock for customers who request them.
The installation process takes some time. You need a hole saw to put the hole in the top of the fresh tank. Then we put Eternabond under the flange and install the pop rivets with a small washer to get the required right fit. The mod difficulty would be medium in the TCM mod contest.
Now that's just funny! Could Northstar owners have a Northstar camper dealership install the fresh tank access panel?
Yes, you can take your Northstar to a Northstar dealer and have them install it for you.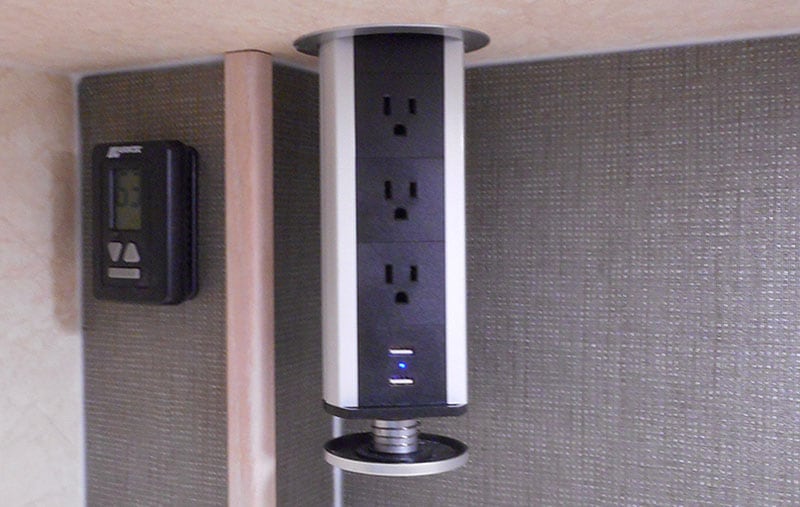 The pop-down electrical 110-volt and USB outlet is a clever idea. Is that something that will be optional or standard for 2021 Northstar camper models?
It will be standard on all 2021 Northstar hard-side models. Every hard side order I'm writing right now is for 2021 and they will all have the pull-down 110-volt and USB charge station.
When I look at truck campers from other manufacturers, they all have an outlet on the overhead cabinet in the kitchen. Coffee makers and toasters often have short power cords that can't reach this outlet. The drop-down outlet puts the outlets much closer to the appliances.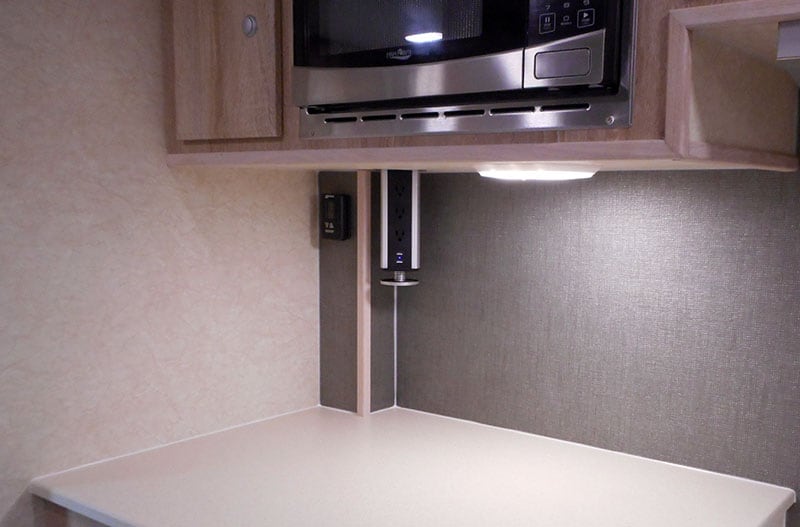 We locate these pop-down outlets to the right of the microwave above the kitchen counter. We are plugging them into the outlet used by the microwave. This outlet was often unused and made perfect sense for this application.
The 2021 Northstar 12STC, our flagship hard side model, features three pop-up outlets. There's one in the cabover, one on the back wall near the counter, and one in the kitchen. They are extremely convenient and easier to access. Northstar customers are going to love them.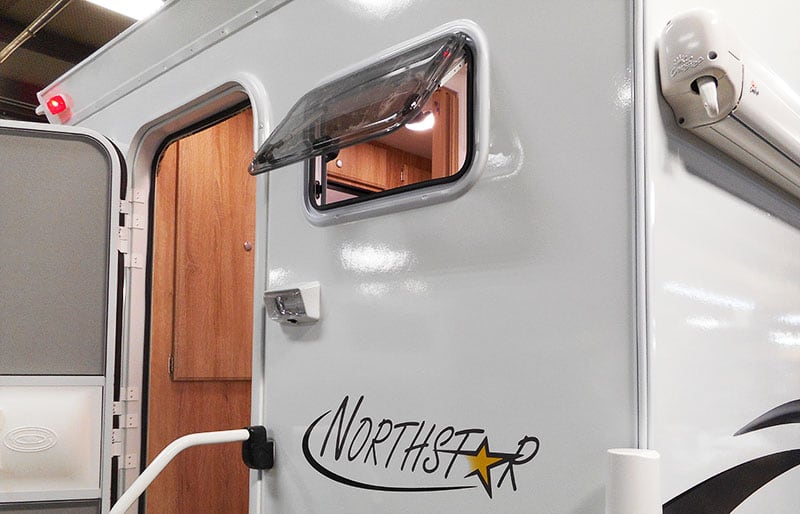 Of all the updates you're announcing for 2021, we are most excited about the new bathroom window. Now only does that provide daylight and airflow for the bathroom, but it also offers the opportunity to better see what's behind the unit while camping. What led to this change?
All of those reasons. The window also makes an area that's not very big seem larger. People like the light it lets in.
Bathroom windows also allow for better airflow to dry the wet bath after a shower and keep the area aired out and fresh. And everyone likes the better visibility out the back.
We also had feedback asking for a bathroom fan. Now we have a push-out fan in our bathrooms. They are small, and move a lot of air. That's been a very popular change.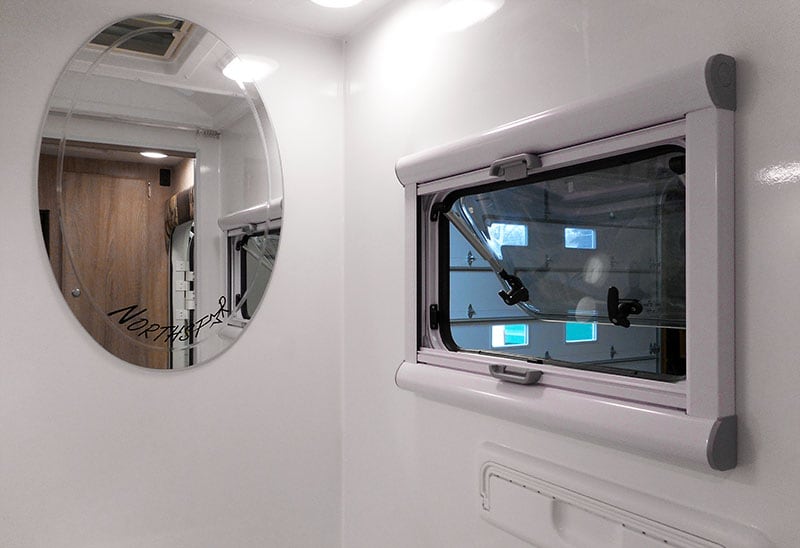 Is the bathroom window standard or optional?
It's a $450 option on our hard side models. The insulated windows we use are lightweight, durable, and have built-in shades and screens, but they're expensive. I did not want to add that cost to every Northstar hard side, so I made it an option.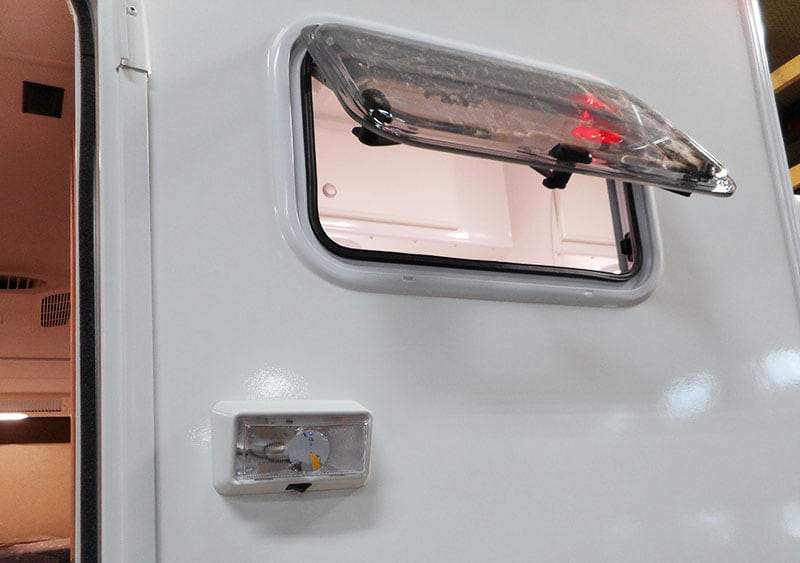 How are the dealers ordering the campers? Do they order the bathroom window?
Yes, most Northstar dealers are ordering campers with the bathroom window.
If a customer sees a camper that's $31,260 without the bathroom window, and $31,710 with the window, most will opt for the window. All of the 2021 hard side Northstars are framed for a bathroom window, so it can be added by the dealer.
Could you add the bathroom window to an existing Northstar Camper?
Yes, that should be possible. That would be another medium-level TCM mod.
If you have an older Northstar hard side you could add one. There's no wiring or plumbing in that location. You would need a jigsaw to cut out the window location. Don't cut the hole before calling us to make sure we have the window in stock.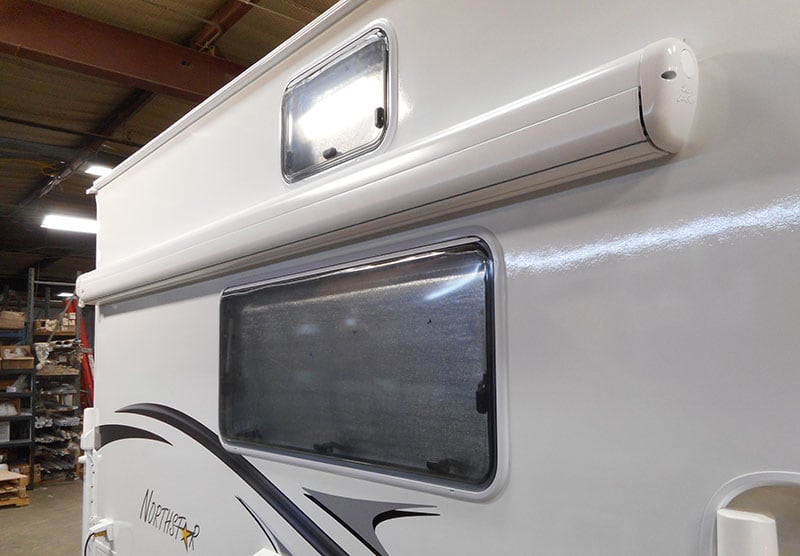 Tell us about the new insulated bunk window.
It's a misconception that truck campers don't offer enough sleeping capacity for families. The truth is you don't need a towable or a motorhome if you have a family. You can get a Northstar truck camper.
Northstar hard side truck campers offer a queen-size bed in the cabover, full-size dinettes that convert into a bed, and dinette upper bunk for a bonus sleeping area. Up to five people can comfortably sleep in a Northstar Camper; two in the cabover, two in the dinette, and one in the dinette's upper bunk. We want families and grandparents to be able to go camping with their kids and grandchildren.
The new insulated upper bunk window makes the bunk above the dinette an even more comfortable sleeping area. Like all of our windows it has a built-in screen and black-out shade. The window opens up at different angles for lots of airflow. In cold weather the insulated window will keep you warm.
The upper bunk window works best in Northstar models with a flat roof profile and a 6'8" interior height. That includes the larger Northstar models; Arrow U, Igloo U, Laredo SS, and the 12STC.
As you can see in the photograph above, the awning installation works pretty well, even with the new insulated window. On the shorter Northstar models, you cannot have both the insulated bunk window and the awning. That includes the Liberty, Laredo SC, and the 8.5 Adventurer.
Have there been any other changes to Northstar Campers for 2021?
I'm going to change the colors of the countertops and the interiors. The exterior graphics and logos will also change in the next several weeks. I want Northstars to stay fresh. We'll keep you posted here in TCM when we make the changes.
Is there anything else about the 2021 Northstar Camper changes that you'd like to add?
Next year will be Northstar's 60th year of continuous production. For almost 60-years we have been a family-owned company building truck campers in the United States.
We pride ourselves in building a practical camper that's old school, but also new school and relevant. The new pull-down outlet, bathroom windows, Maxxair fan, and the ability to clean out the tanks are important updates to the quality, versatility, and function of our campers.
As a side note, I fully plan to build a truck camper for electric trucks. Electric trucks are coming. I think 50-percent of the vehicles will be electric in five years. A 100-percent electric truck and camper is coming.
That means everything will be powered by lithium batteries. We are anticipating this change now and moving away from plastic battery boxes. Everything will be built for AGMs and lithium batteries in Northstar Campers. We are also moving to a lithium-compatible converter for 2021. It has a dip switch on it for lithium batteries.
Electric truck camper rigs are the future. Count on it.
We agree. Gas and diesel powered trucks will be the driving force for the foreseeable future, but electric trucks will begin to be a competitive alternative in the next few years. The prospect of an all-electric truck camper is a fascinating proposition. On a completely different topic, how is everyone doing at Northstar?
I don't know anyone here in Cedar Falls, Iowa, or who works at the Northstar factory who has gotten the virus or has gotten sick. That said, at the Waterloo, Iowa Tyson Plant there are 400 to 500 people with Covid-19. We are taking this seriously.
I have 25 guys on the production line. A lot of guys who work at Northstar are in their 40s and 50s. Their kids are grown and gone.
When this started, I talked to them and said that we need to stay healthy. I asked them to promise me that they are not going to be hanging out with friends. If one person gets sick at Northstar, we would need to shut down.
I told the employees we all have two important places to protect – your house and building we're standing in. We've had serious conversations.
We've got a shot if we watch what we're doing. We all know to stay safe we need to routinely wash our hands and not touch our face.
Some things have changed. I stop at the grocery store every ten-days instead of every other day. I used to go more often to get fresh meat to grill. At this point I'm just going back and forth to work. That's our routine now.
We're going to get through this. Elkhart, Indiana is opening up and I will order more parts and supplies. We've got a big list of parts we will need and we're sending our orders in. It's odd to see the supply chain falter.
If we don't get another outbreak after this first one, we will see that there is pent up demand for truck campers and RVs. Sales will be good as soon as this opens up.
If there is another outbreak, that's where the RV industry will take a gut punch. I don't want to see the RV season shortened any more than it has been.
That reflects our concerns as well. Has Northstar Campers been able to stay open during Covid-19?
We never closed. We're all here and everyone is working. Iowa is a little more rural so we have fewer cases. That has helped.
We also moved our production stations further apart so our team members can stay further apart. Before our stations were about 8-feet apart. Now we're 16-feet apart. Just in case someone sneezes, that space increases our safety.
At break time, everyone washes their hands. Some employees brought in spray bottles of disinfectant and are spraying everything. They even spray their dollar bills when the food cart comes for lunch. We're all adapting as best we can.
I feel positive that the truck camper segment will be strong once this passes.
Were you able to take advantage of the Paycheck Protection Program (PPP)?
Staying open helped us qualify for the PPP. Iowa was open the entire time. My bank sent me information every day. They kept changing and tweaking the program daily. They were on it. States had already shut down at that point and they didn't have the people in place to process the loans. The PPP became available on April 1st and by April 12th we had it.
The blessing is that we had a deep inventory of parts when this hit. We were fully stocked with doors, lumber, windows, and everything we needed to continue production. In the six weeks since this started we have produced 42 complete units. That's not setting the world on fire, but it prevents us from falling too far behind.
In the future I am making arrangements to have enough raw goods to run unaltered for 15-weeks and be able to produce 100-campers.
Some of the dealers have expressed concerns about getting products from the manufacturers once the stay-at-home orders are lifted. Any insights into that concern?
That should not be a concern for Northstar dealers. For example, I have six to seven weeks of pop-up campers ready for orders.
There are some smart dealers running strong businesses. They have had the foresight to order during this situation. They want to get the campers in stock knowing that people will be buying them. I don't think there will be a shortage except for those who are late to the party.
Is there anything else Covid-19 related you'd like to share?
I have kept all of our people. By doing that, we have kept our fluidity and quality going. If a company loses five people, that could be 10-percent of the workforce. It's not easy to replace those employees, and you're going to see a dip in quality.
We have completely avoided that potential problem by staying open and keeping our entire crew working. We are keeping our continuity. That's what I'm most excited about. I think this situation is going to make truck campers stronger.
For more information on 2021 Northstar Campers, visit northstarcampers.com. Click here to request a free Northstar brochure.