Northern Lite introduces Black Diamond leatherette seating, Greystokes hardwood cabinets and table, and a new cooktop and oven.  Oh, and they've added a second 100-watt solar panel – standard.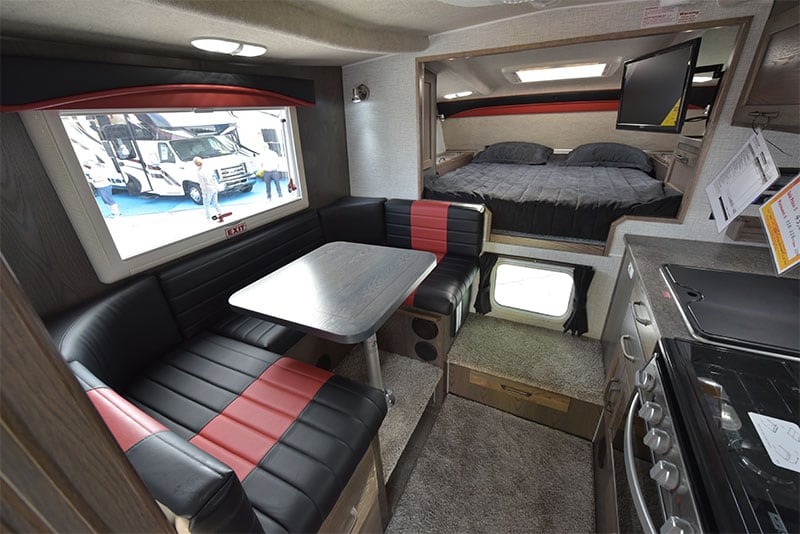 Above and below: A 2020 Northern Lite Limited Edition with the new Black Diamond interior decor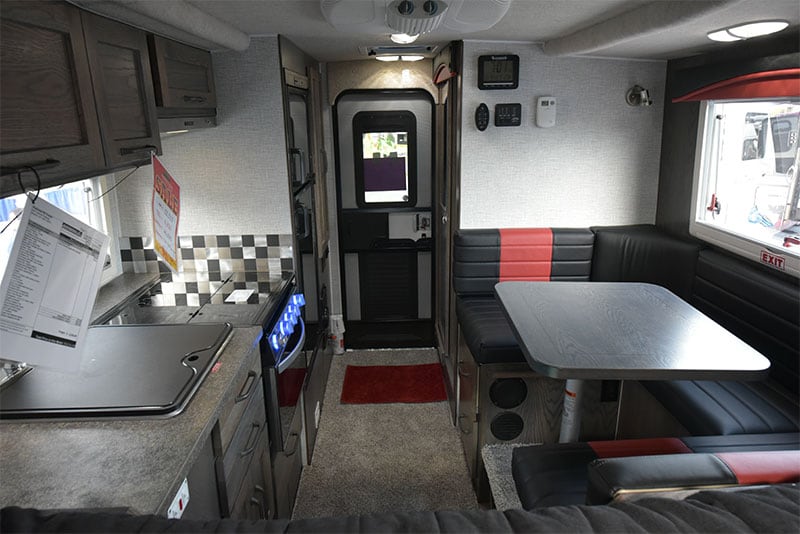 Northern Lite is on a serious roll. From talking to dealers and consumers – and just paying attention to what truck campers we see being purchased by readers – we see more and more Northern Lites.
This was very apparent at the recent Gettysburg Truck Camper Rally where over 12-percent of the truck campers were Northern Lite.  The number of Northern Lite campers was right up there with the established heavy-hitters – something that no one would have believed possible just a few years ago.
What can this be attributed to?  Two words; clamshell fiberglass.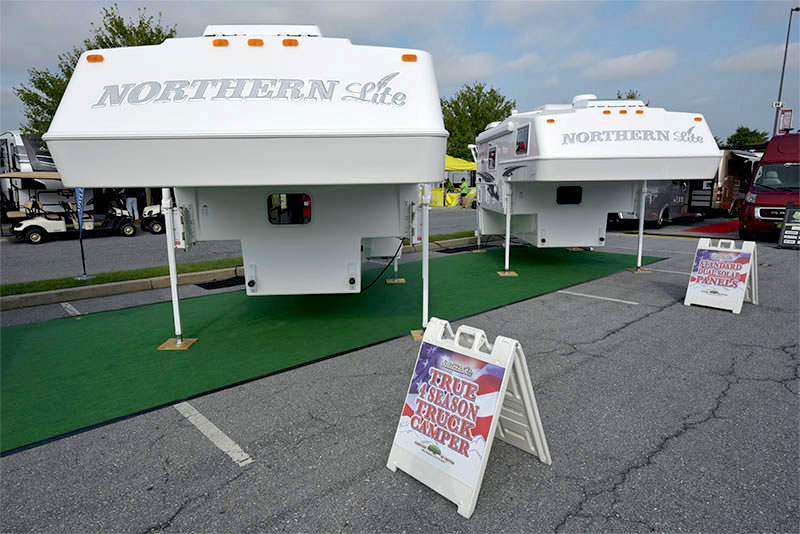 Above: The Northern Lite Black Diamond interior was first shown by Parkview RV Center at the Hershey RV Show in Hershey, Pennsylvania
When you talk to Northern Lite owners, they are often quick to describe the leak and sidewall de-lamination troubles they had with previous RVs.  While no camper is leak-proof or maintenance-free, Northern Lite's clamshell fiberglass construction greatly reduces potential leak points and essentially eliminates the possibility of de-lamination.  For many, that's enough.
Others describe the refined interior presentation; another strong point for Northern Lite.  The Sapele wood interiors of the Special Editions have always been a show stopper.  Last year's Limited Edition debut took the Special Edition interior materials to the next level – like going from a Ford Lariat to a King Ranch – and then upped the ante with more standard features.  That announcement even had more than a few Special Edition owners wondering if they should trade up.
So what does Northern Lite do for 2020 to kick it up another notch?  For starters, they're adding an all-new Limited Edition interior; Black Diamond.  They're also bringing out a new cabinetry look called Greystokes.  Together, Black Diamond and Greystokes give Northern Lite a very different interior presentation.  It's definitely bold!
There are a few more surprises, but we'll let Northern Lite have the honors.  To get the full details behind all of their 2020 announcements, we contacted Keith Donkin, General Manager for Northern Lite.
Before we start on the 2020 announcements, tell us how the Northern Lite Limited Editions are doing. How has the market reacted to the Limited Edition since their debut last year?
The Limited Editions have been very successful.  In fact, the Limited Editions were more than 50-percent of our sales last year.  We were originally going to curtail the Limited Editions to 100-units, but we have decided to continue to offer the Limited Edition into 2020.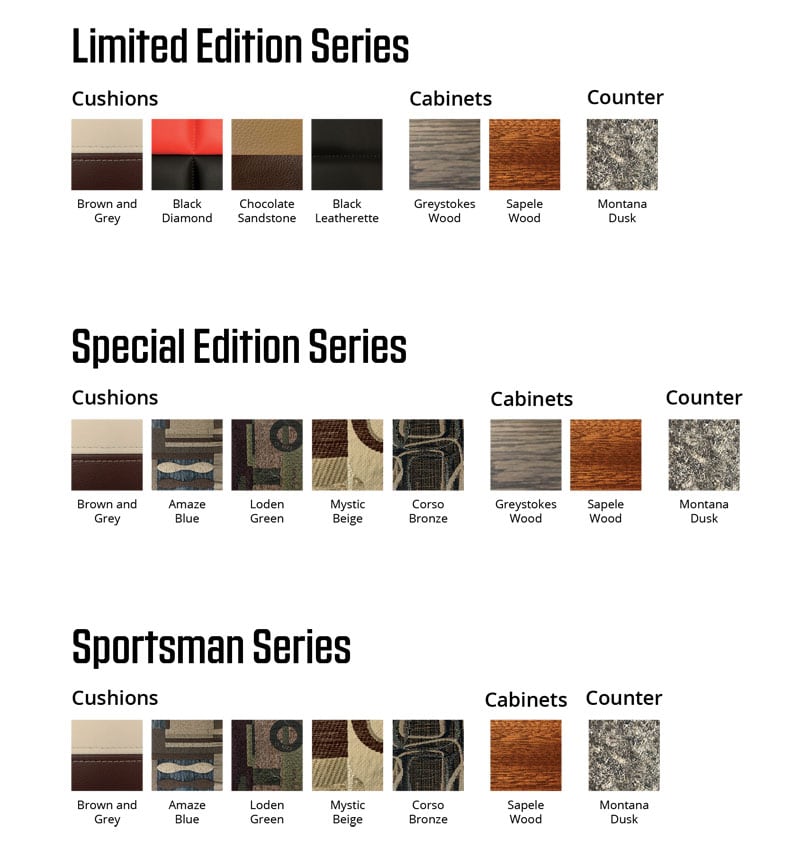 Above: The 2020 Northern Lite decor options by model type
We are also launching new Limited Edition decor options.  First, we are offering our new Greystokes cabinetry and Black Diamond interior.  Black Diamond features a tufted leatherette that is even more comfortable than our original Limited Editions.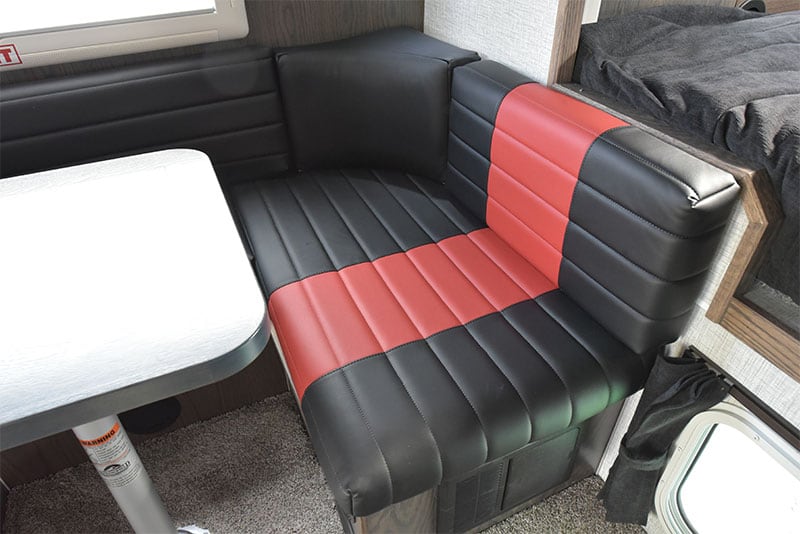 Above: Black Diamond cushions in red and black
Customers can order Black Diamond in red and black or solid black, and with Greystokes or Sapele cabinetry.  Greystokes will be available as an optional upgrade on the Special Editions as well, but will not include the solid hardwood table.
Second, we are announcing another brown and grey leatherette interior that will be available in our Limited Editions, Special Editions and Sportsman Editions.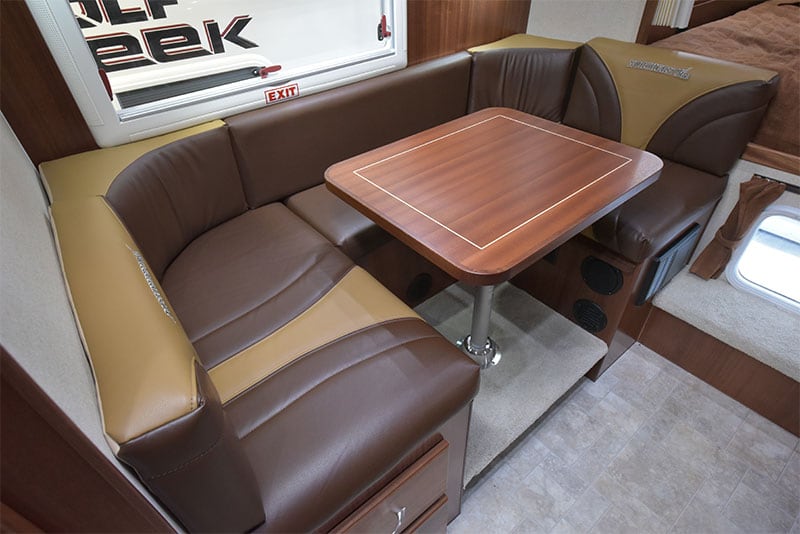 Are you continuing with the brown and tan leatherette interior that launched with the Limited Edition that launched last year?
Yes, we are still offering the original Limited Edition brown and tan leatherette.
Are you making any changes to the Special Edition or Sportsman interiors for 2020?
We will continue to offer four cloth interiors for the Special Edition and Sportsman models; Maze Blue, Mystic Beige, Loden Green and Corso Bronze.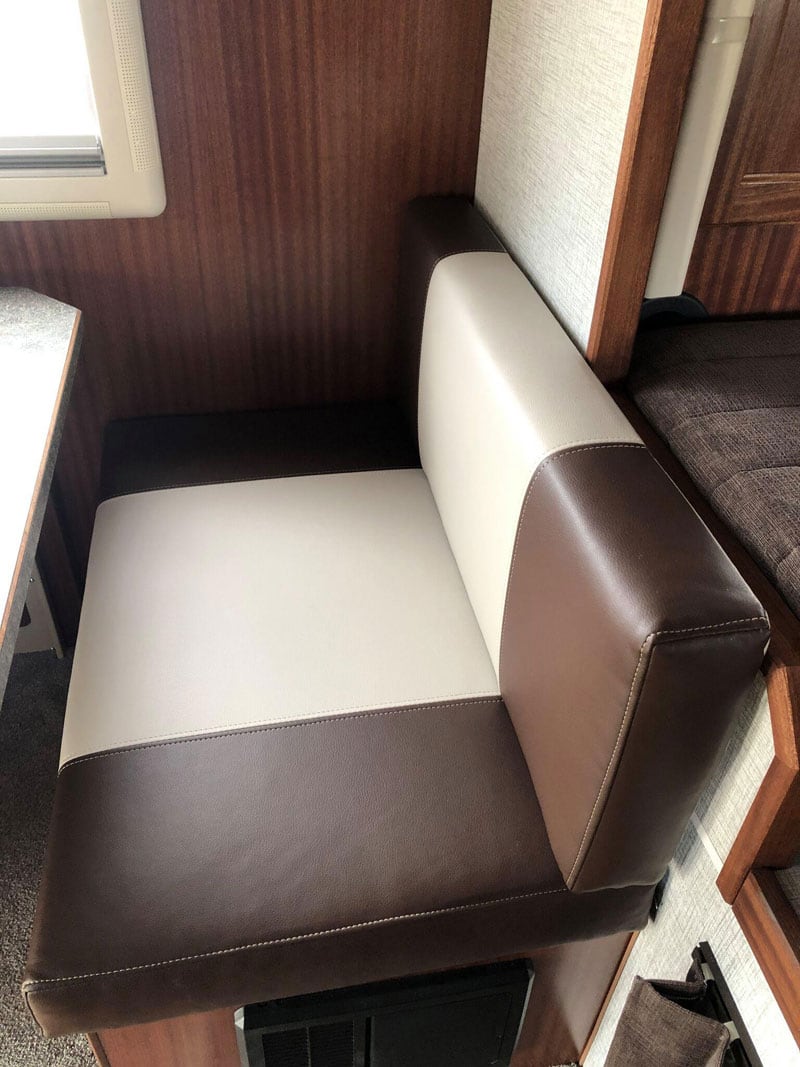 In addition, these models can also get the new brown and grey leatherette interior (shown above).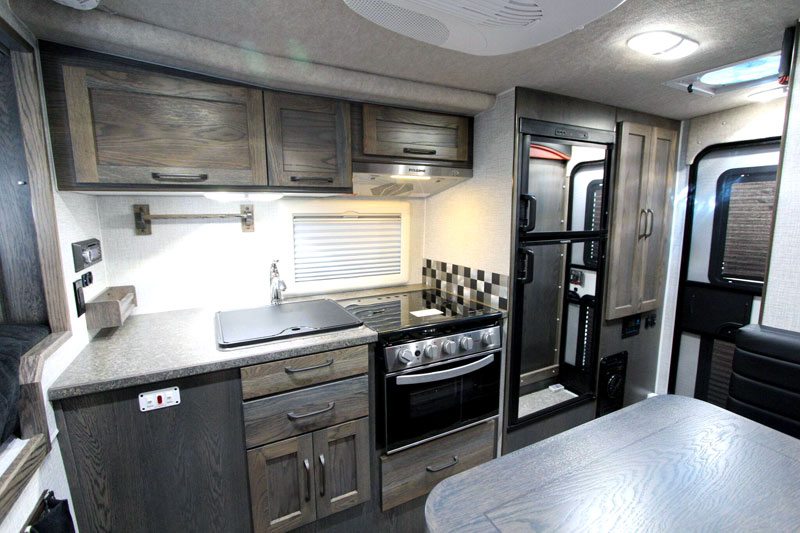 Above and below: Greystokes is an optional Limited Edition and Special Edition cabinet choice for Northern Lite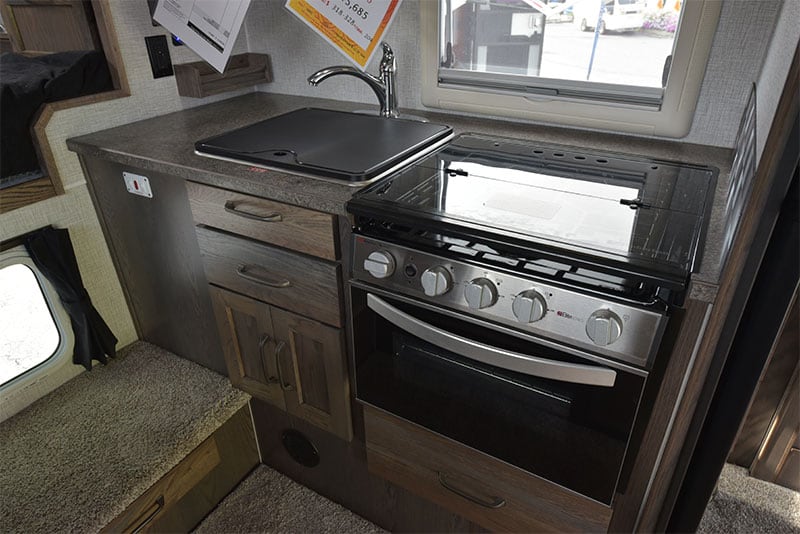 What type of wood is the Greystokes cabinetry?
The base is white oak hard wood that is stained grey.  We worked with a high end cabinet shop in town to come up with the exact color.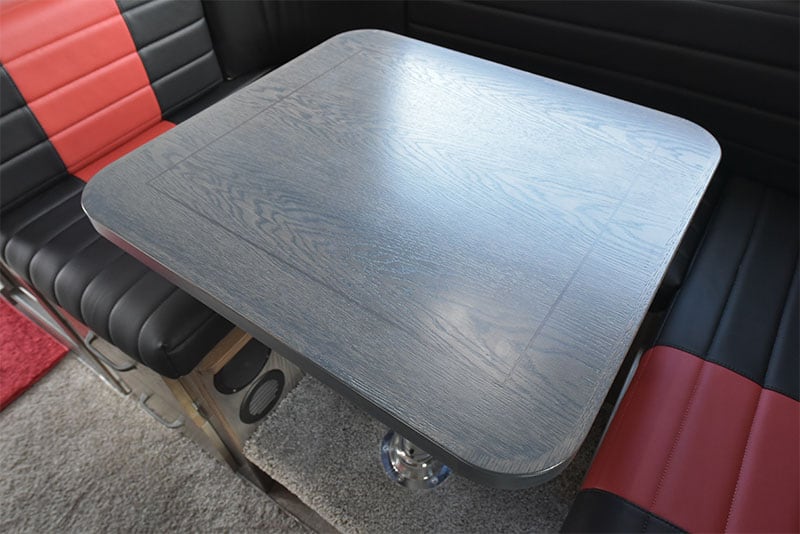 Above: The table that for the Greystokes interior decor
We went through several wood options and the white oak had the best look and profile for what we wanted.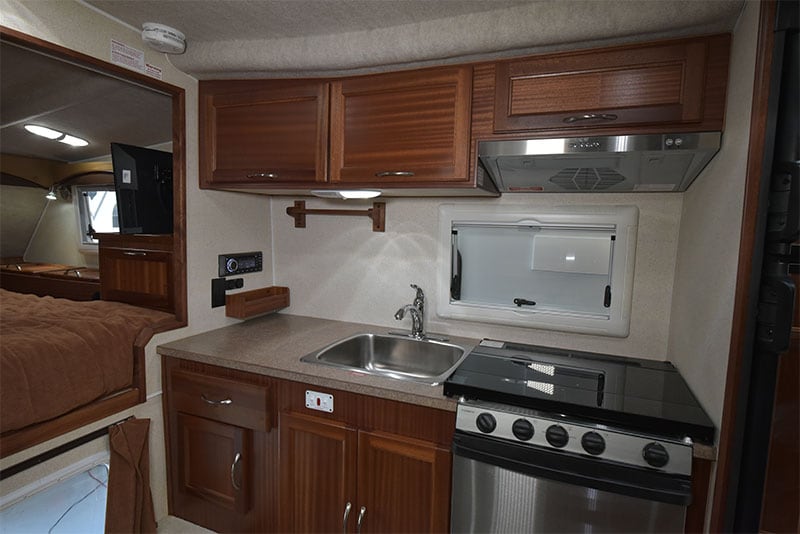 Are you going to discontinue Sapele?
No, we are not going to discontinue Sapele.  We still have many customers who love Sapele.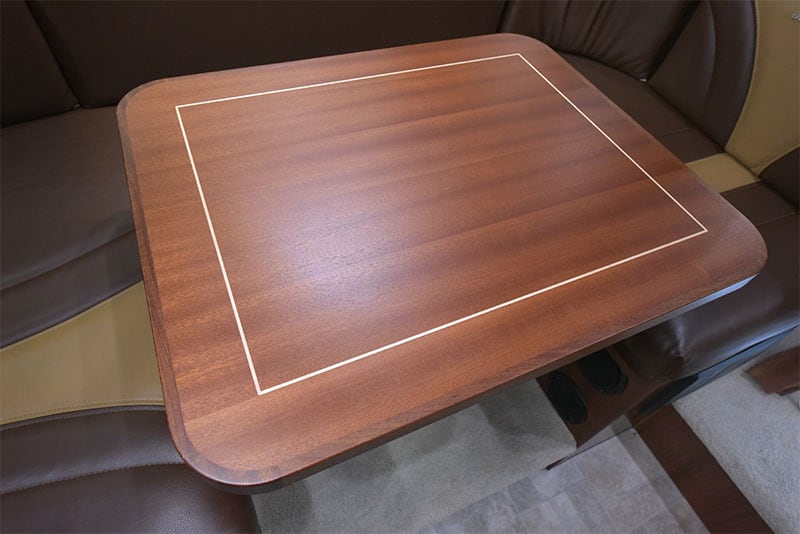 Above: The Sapele table available in Limited Edition campers
We developed the Greystokes cabinetry for people who want a more modern interior look.  There is a slight upcharge for it.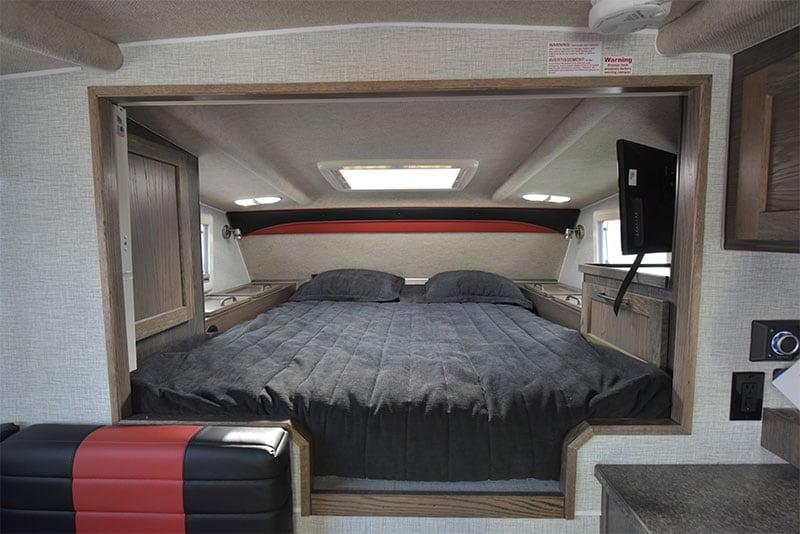 Above: The overcab in the new Black Diamond interior
The Black Diamond interior is a more aggressive look than we have seen from Northern Lite.  Where did that interior concept come from?
The Black Diamond interior was originally created for two units we're taking to SEMA.  I wanted a leather color with more pizzaz for SEMA.  When I saw the black and red, we bought a sample for my demo unit, which was very well received.
We are attending SEMA primarily for brand exposure.  It's the biggest show of any type in Las Vegas.  There will be an Overland section at SEMA for the first time ever.  One Northern Lite will be in that section and one will be in the Off-Road section.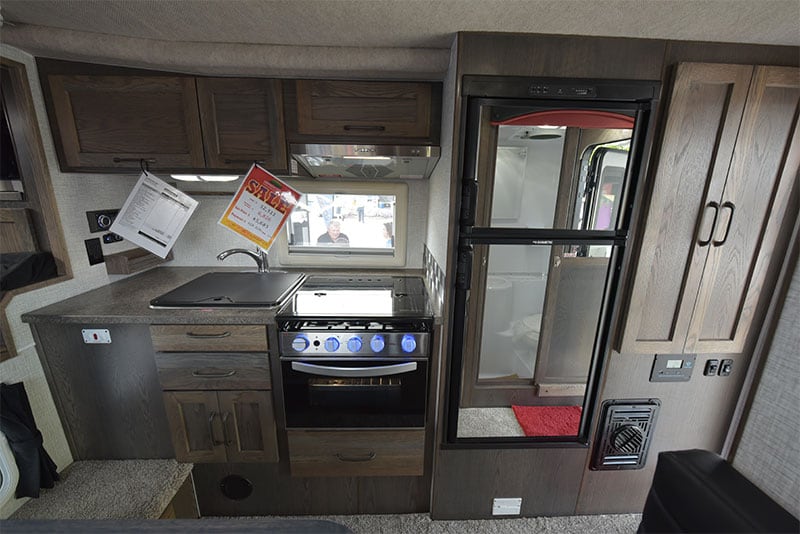 Above: 2020 Northern Lite Limited Edition with the Greystokes cabinetry
Is the new Greystokes cabinetry made in house?
Yes.  Both our Greystokes and Sapele cabinetry is made in house.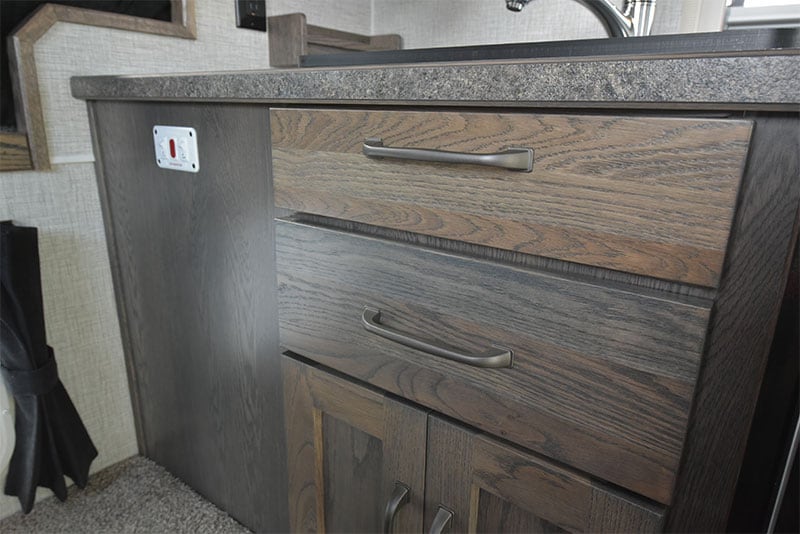 Above: 2020 Northern Lite Greystokes cabinetry drawers
Are you planning on adding additional interior upholstery and hardwood options?
We are not looking at any other cabinetry options, but we are always keeping our eyes open for additional interior fabric options.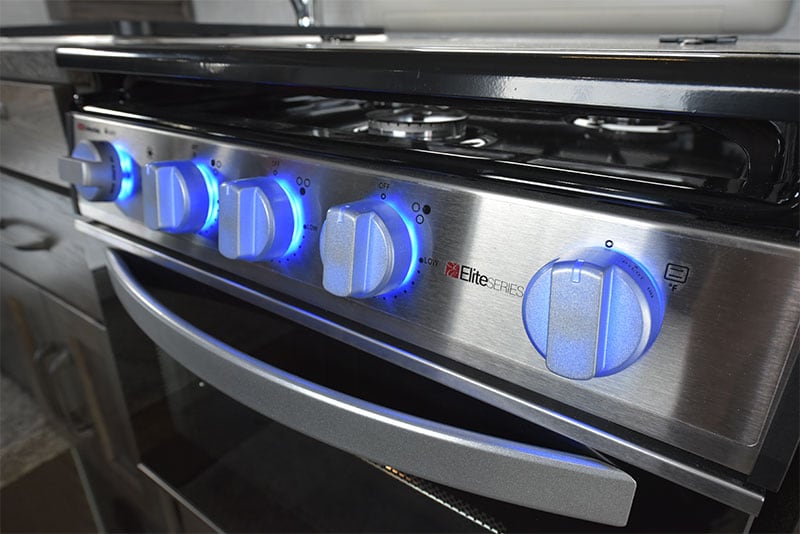 Tell us about the new oven and cooktop.  Is that exclusively for Limited Editions, or is it available for the Special Editions as well?
I've been looking for a few years for something more modern.  The Suburban Elite stovetop and oven combination (shown above and below) is now standard on all of our units.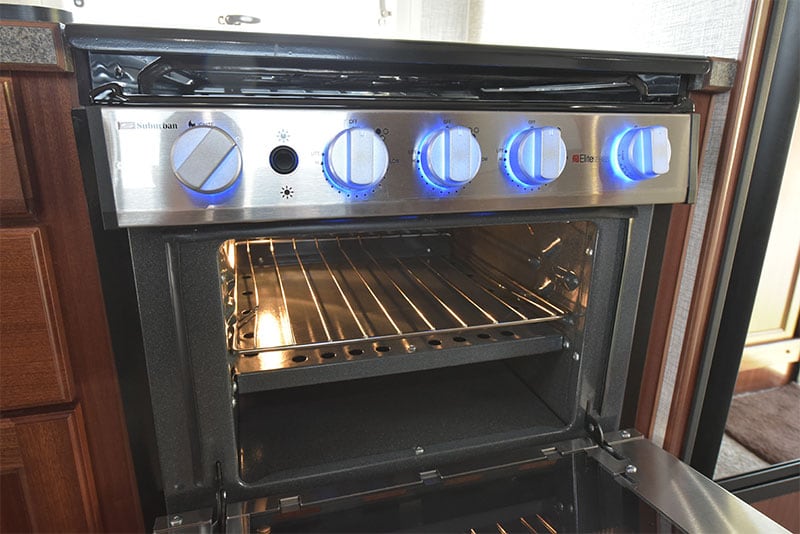 The Suburban Elite features LED backlights, a built-in stove light, and the glass top is flush with the countertop.  It's a nice upgrade for all of our units.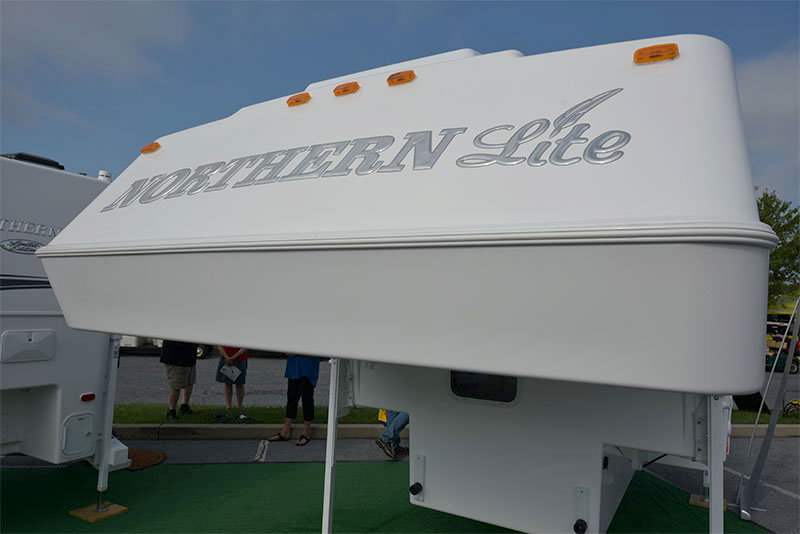 Have you changed the exterior graphics for 2020?
Yes, we have gone to grey carbon fiber graphics.  The Northern Lite name on the front nose of the Limited is now raised chrome.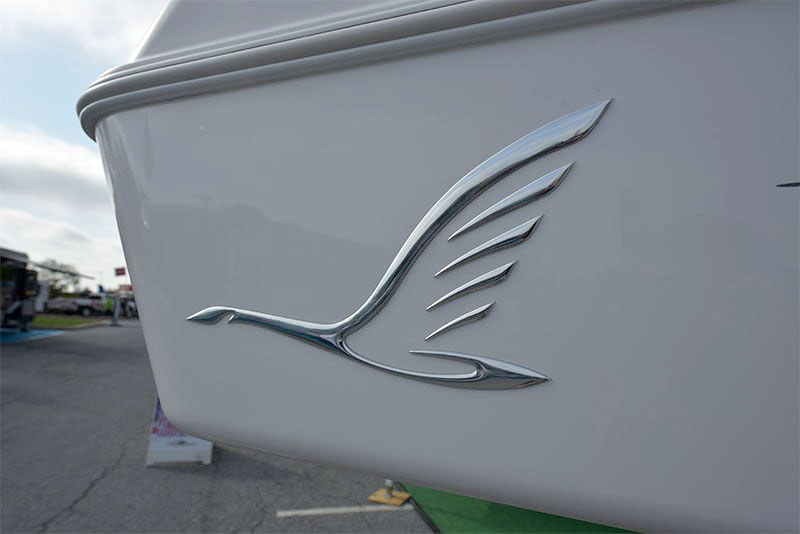 We've also gone to a new goose on the sides.  That will be the new logo.  The old goose couldn't be produced in raised chrome.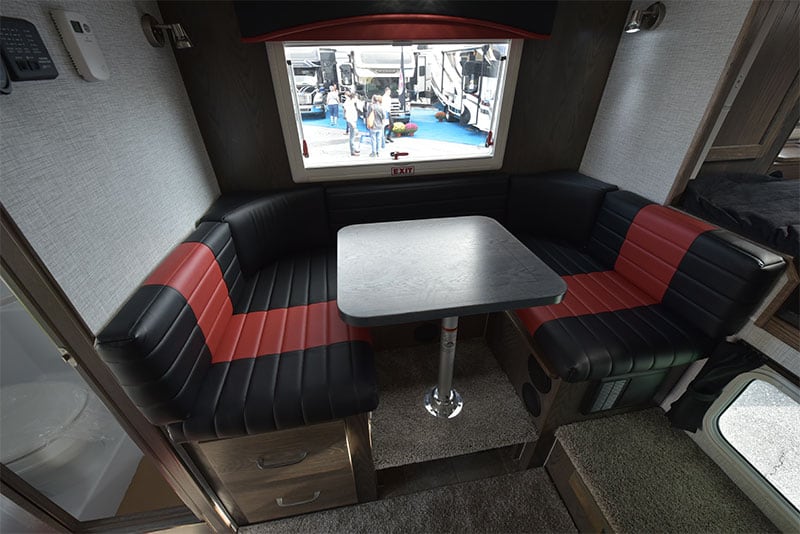 Another important 2020 update is the change to Dometic S5 windows across the entire Northern Lite model range.  Why are you changing all Northern Lite campers to Dometic S5 windows?
The S5 windows cost us a little more money, but I definitely liked the S5 windows better.  They have a premium blind and screen assembly that allows for infinite positions and smoother operation.  With the S5, you can move the blinds with one hand and you don't have to squeeze in the locks to open them.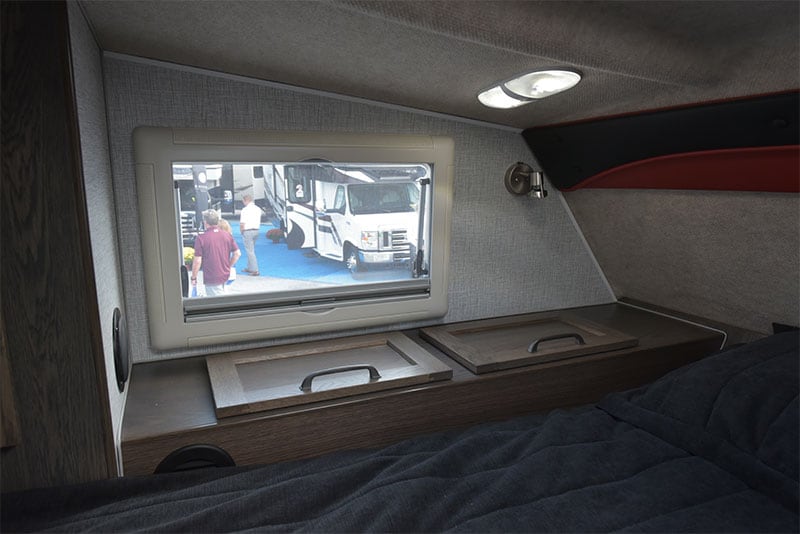 For 2020, I made the upgrade to S5 windows across the board.  We are constantly improving.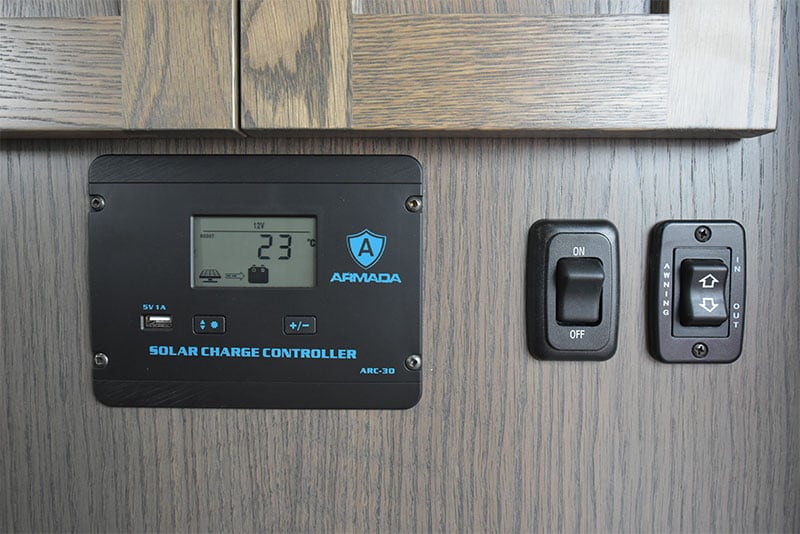 Above: The new solar charge controller with a Lithium Ion battery option
When we published our Limited Edition review, we noticed that two solar panels are going to be standard in 2020.  Are you making that official?
Everything in 2020, except for our Sportsmans, have two 100-watt solar panels standard.  We are using two 100-watt panels because they fit on our roof well.  Having them fit right is important.  I can't remember anyone tearing a factory solar panel off one of our roofs.
We have also switched to a new 30-amp solar regulator with a Lithium battery option.  A Lithium battery converter is an option as well.  If you want Lithium batteries you need to have a compatible main converter and solar regulator.  A Lithium converter needs to be with Lithium batteries, and vice-versa.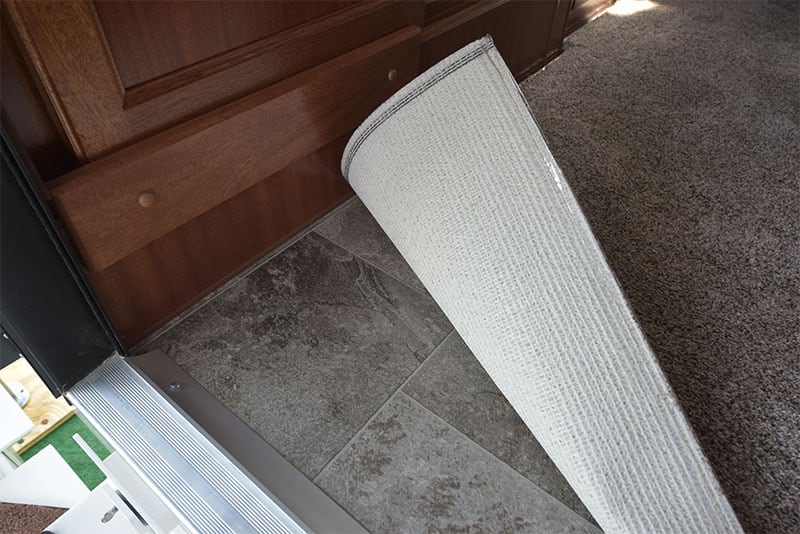 Above: New linoleum for 2020 Northern Lite campers
You also changed the linoleum floors and carpets for 2020. Tell us about that change.
The type of linoleum and carpet is the same high-end product we were using, but the color is new.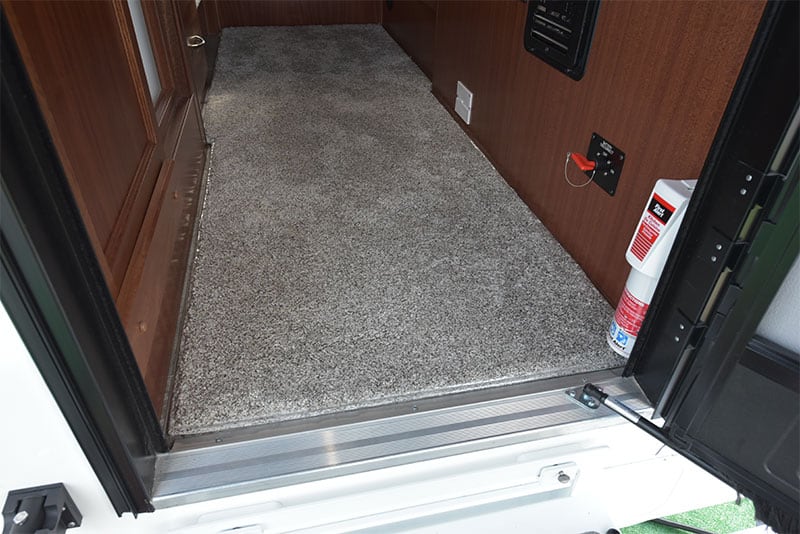 Above: New carpet for 2020 Northern Lite campers
It took some time to find the color we wanted.  When we found it, we immediately made the change on the production line.  We don't always wait for the model year to make an improvement.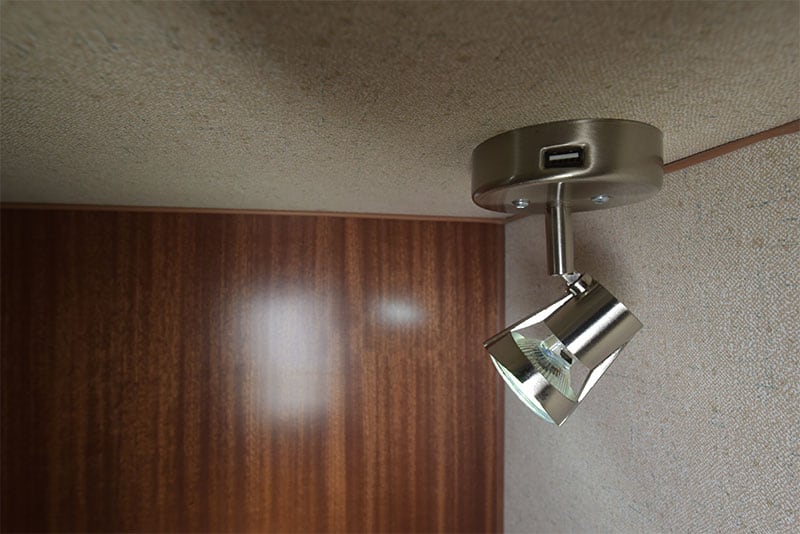 Above: LED reading lights with USB charging built-in
Is there anything else you want to share about Northern Lite's 2020 announcements?
For 2020, we now have two USB charging stations in all of our campers.  All campers come with LED reading lights in the cabover and dinette with USB ports built into them.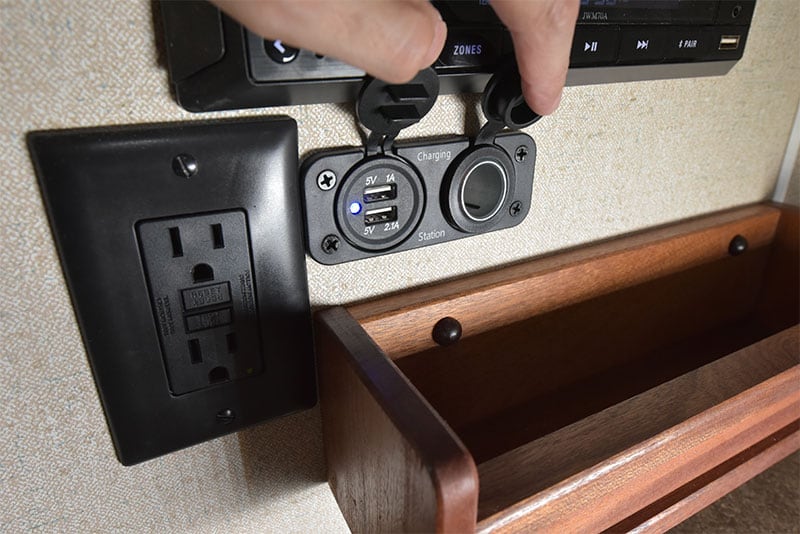 Above: The kitchen area USB charging station in a 2020 Northern Lite
There are also two USB and 12-volt charging stations; one near the kitchen counter and one by the television in the cabover.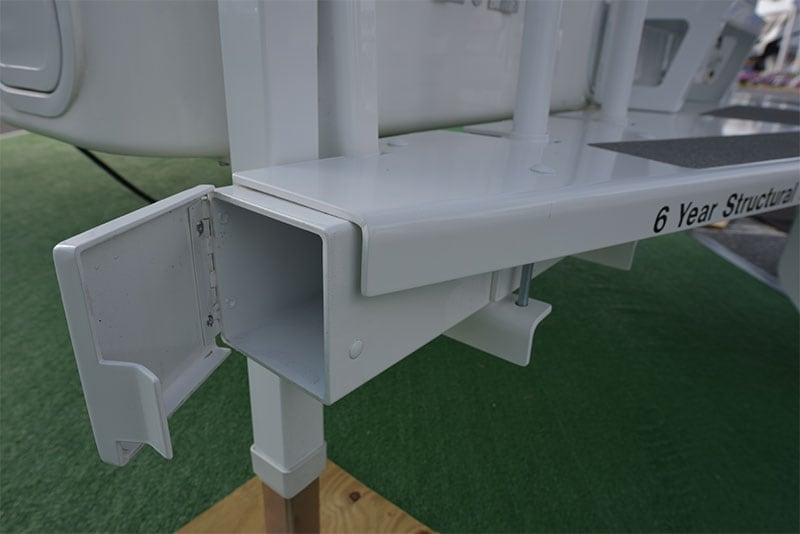 We have also increased our step bumper's sewer hose size.  We received feedback from customers that we needed a larger sewer hose holder.  Now there's enough room for a longer sewer hose with sewer hose connectors on each end.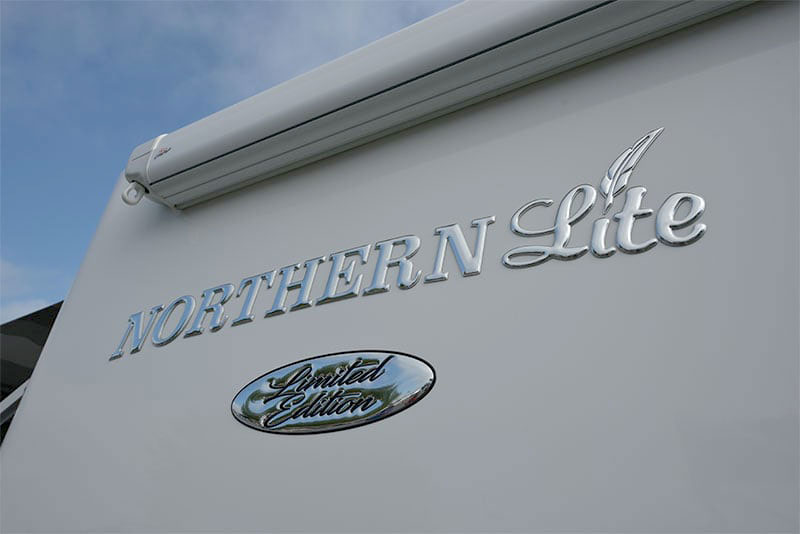 How is Northern Lite doing?  We are seeing a lot of new Northern Lite owners in the field.
We are continuing to grow by adding more dealers into new territories.  We have recently brought on quite a few new dealers.  We just showed campers for the first time at the Hershey RV Show and we will be at the 2019 California RV Show in Fontana from October 4th through 13th.  Come see us at the show!
We now have a full-time marketing manager and the plans are just about finalized for another expansion to the building.  Everything is going very well at Northern Lite.  Customers like the quality of our products and more and more people are realizing the benefits of clamshell fiberglass truck campers.  We are expecting an even bigger year for 2020.
For more information on Northern Lite, visit their website at northern-lite.com.  Click here for a free Northern Lite brochure.