With new design elements and an enticing list of modern features, the 2019 Capri Retreat 50th Anniversary Edition celebrates the past, and charges into the future.

In many ways, the 2019 Capri Retreat 50th Anniversary Edition is like Capri's Greatest Hits. First, Capri started with their most popular model. Then they incorporated the best custom ideas from customer builds over the past five years. Next the team took things into the stratosphere with a very, very long list of standard features.
On top of that this camper has all of the 2019 Capri updates including the new electrical system, 12-volt compressor refrigerator, standard Group 31 AGM battery, and more. As they state in the following interview, the 50th Anniversary Edition Retreat is, "…the best camper we've ever built."
And that's the best part about an Anniversary Edition model; the opportunity it gives a manufacturer to go beyond their established designs, think big, and challenge themselves to make a better camper. The resulting Anniversary Editions often have a significant impact on the company's future product line.
Based on what Capri has developed with the 2019 Capri Retreat 50th Anniversary Edition, we have no doubt this camper is the most important model the company has built, perhaps in decades. The question isn't if this camper will have an impact. The question is how big?
To get the full story on the 2019 Capri Retreat 50th Anniversary Edition, we talked to Pete and Tyson D'Acosta, President and Vice President of Capri Campers.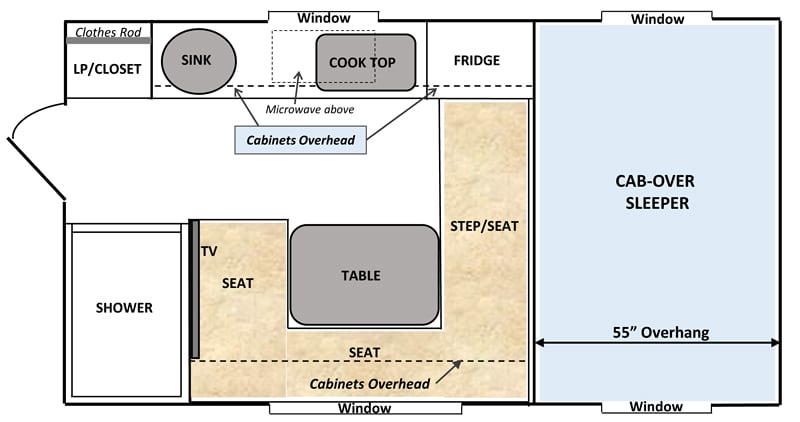 Capri Retreat 50th Anniversary Edition Specifications
The 2019 Capri Retreat 50th Anniversary Edition is a hard side, non-slide, shower only camper made for short or long bed trucks.  The interior floor length is 8'5".  The 2019 Capri Retreat has a 30 gallon fresh water tank, 4 gallon water heater, no grey tank, and no black tank.  One AGM battery is standard. It has a twenty pound propane tank.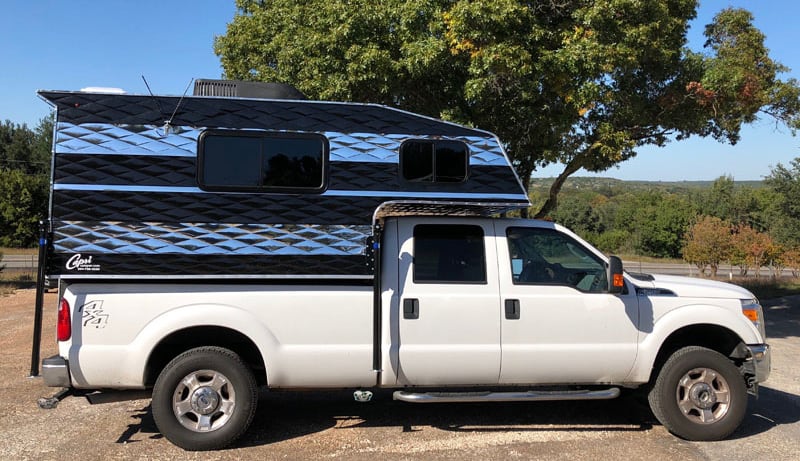 Above: The 2019 Capri Retreat Anniversary Edition, all photos courtesy of Capri Camper
Capri Camper is reporting the base weight to be 1,743 pounds.  The base MSRP for the 2019 Capri Retreat 50th Anniversary Edition is $18,995 until December 31, 2018. Click here to request more information about the anniversary camper.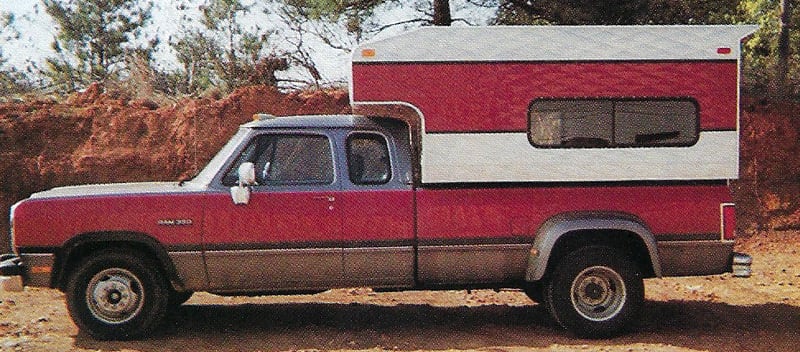 Above: Here's a blast from the past – a 1995 Capri Camper
What anniversary is Capri Campers celebrating in 2019?
Pete: We are celebrating the 50th year of Capri Camper being in business in 2019.
Two brothers in Burleson, Texas built the first Capri Camper in 1969. Henry Roye, the previous owner of Capri, bought the company in Burleson, Texas about twenty-five years ago. Henry moved Capri to Bluff Dale, Texas in 2003, where we are located today. We took over Capri Campers in 2014 and have enjoyed running the business ever since.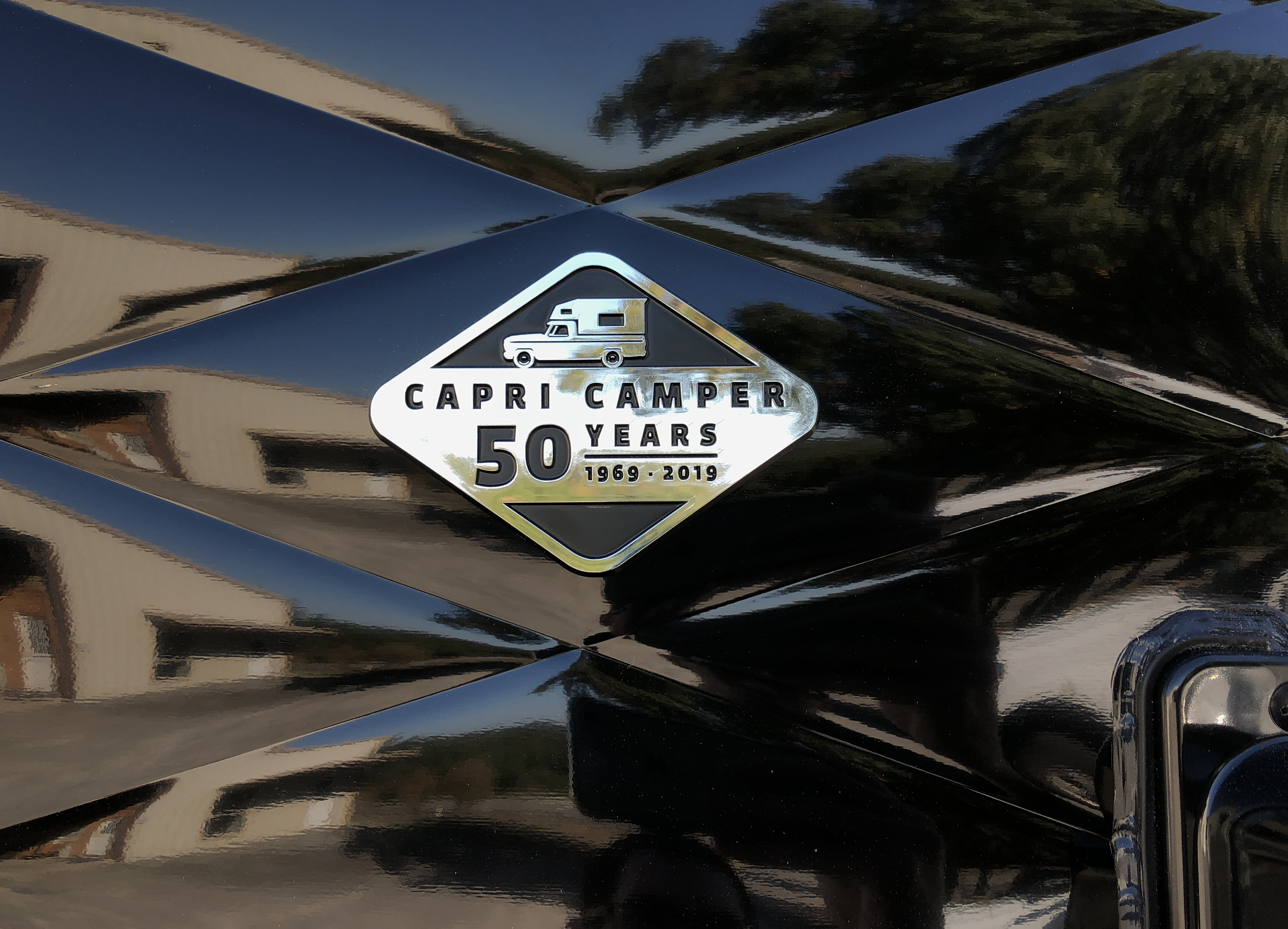 We are putting a 50th anniversary emblem on every 2019 Capri Camper we build. In addition, we have a new 50th anniversary model to announce.
The Capri Retreat 50th Anniversary Edition starts with a Retreat model and adds a number of significant changes. How was this new camper developed?
Tyson: The design started by sitting down with our framer and foreman and throwing ideas around. I also spent a lot of time reviewing customer feedback, and going through successful design ideas customers had requested.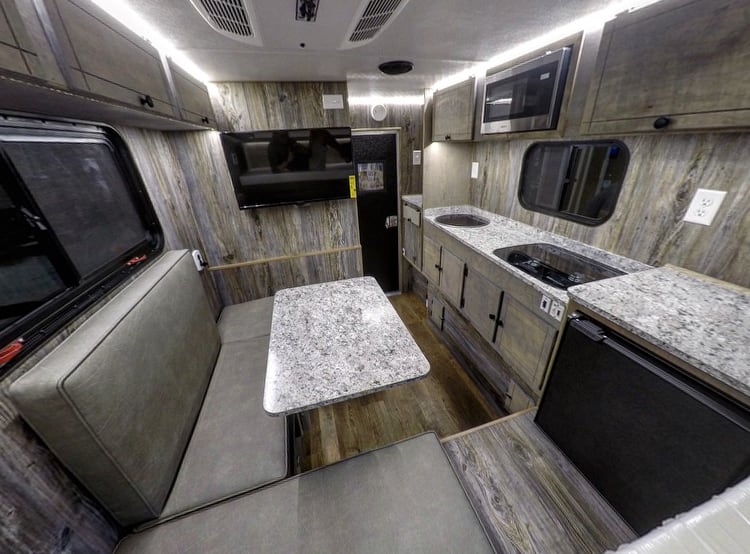 What were the design ideas that emerged from that process?
Tyson: In our current Retreat model, the propane compartment and refrigerator are located up near the cabover. There is an internal support bridge that extends to the ceiling, and a large 2.5-foot closet. All of this makes the camper feel smaller inside.
For the new model, we moved the propane tank to the back of the camper, dropped the refrigerator to bench level, and changed the configuration of the closet.
The kitchen countertop now runs front to back, which is unique from any other camper we've seen. In the long bed version, you literally get a 96-inch countertop with flush-mount appliances.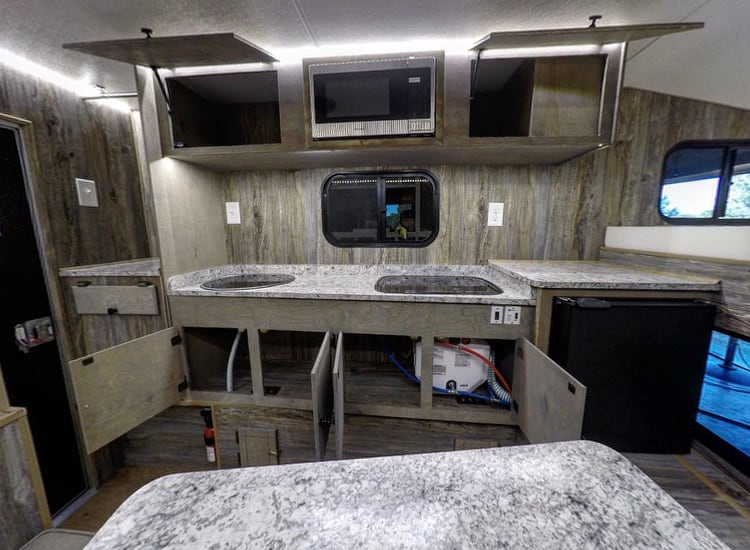 Underneath the countertop in the Retreat are two cabinet doors. One houses the water heater. In the Anniversary Edition we have three separate storage areas under the countertop and three cabinets above the counter for storage.
If you option for a microwave you lose one of those cabinets, but you still have a camper with more storage, and a much more open feeling.
Are there features in the Anniversary Edition that are unique to this model?
Tyson: The 2019 Capri Retreat 50th Anniversary Edition comes loaded with a ton of standard features that are either optional or unavailable in the standard Retreat.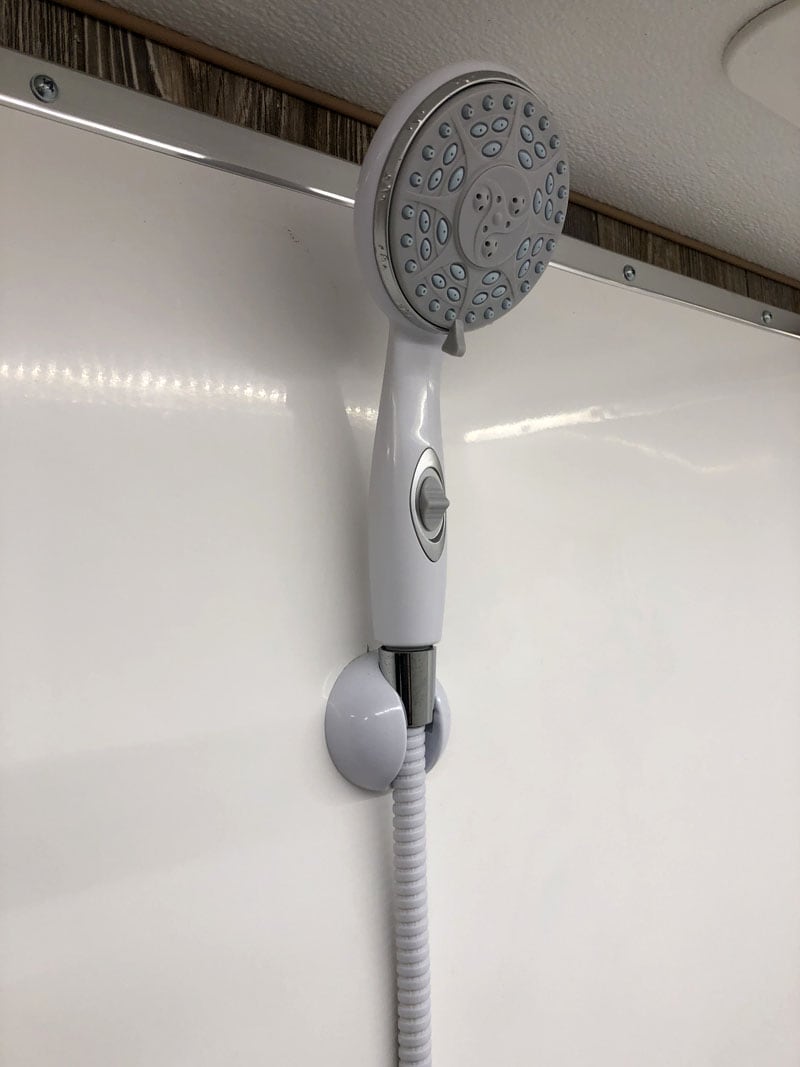 For example, the Anniversary Edition comes with a 60-inch extended cabover, low profile air conditioner with heat strip, inside shower with updated shower head, and a 2.4-cubic foot Nova Kool R-2600 12-volt compressor refrigerator and freezer.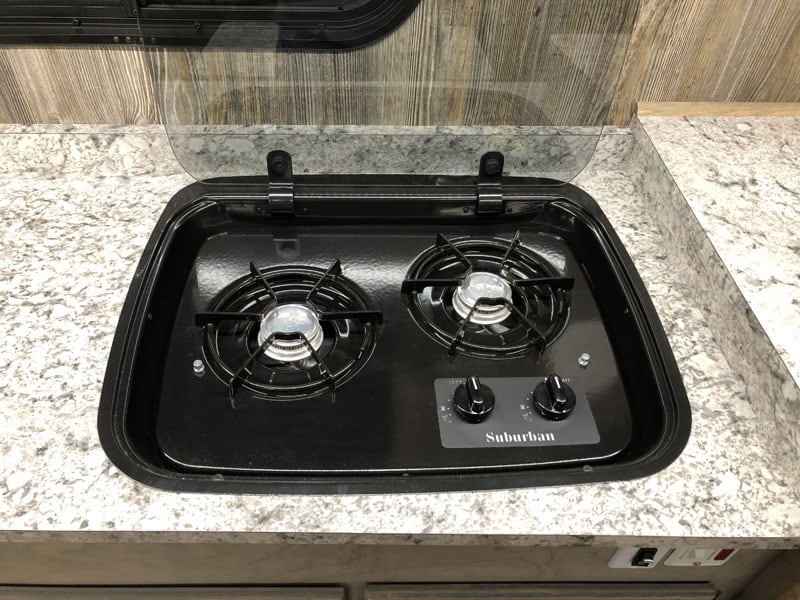 The Retreat 50th Anniversary Edition also has a 2-burner recessed cooktop with glass top, microwave oven, upgraded flush mount stainless steel sink with chrome faucet and glass top cover.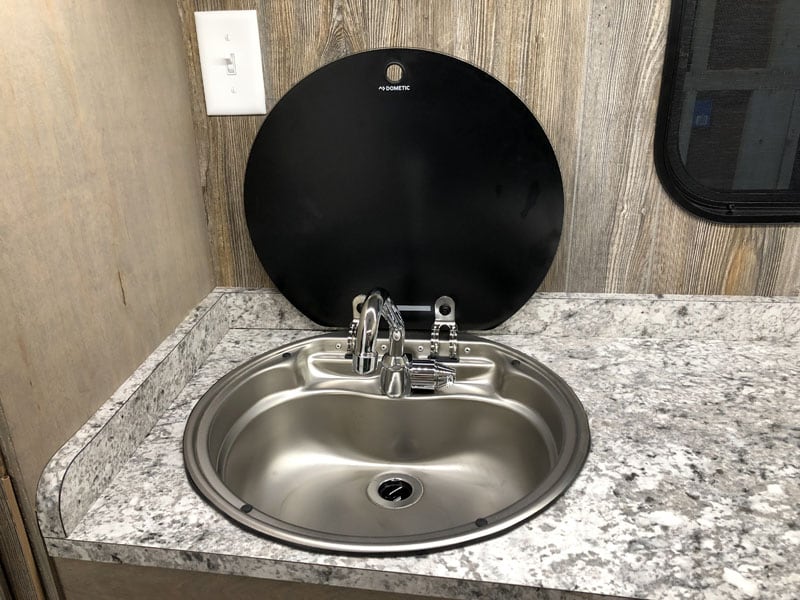 There's also a Formica counter top, back splash, Lagun adjustable dinette table leg system, and custom cushions.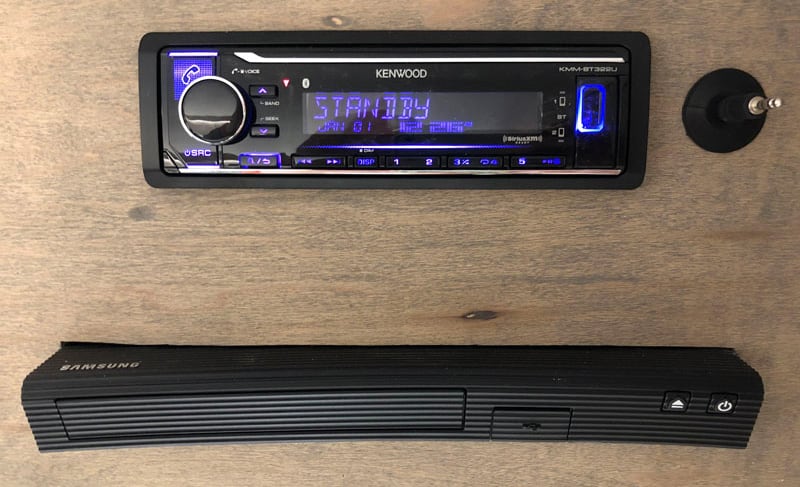 Finally, the 50th Anniversary Edition features the audio/video package (32-inch HDTV, Blue-ray/DVD player, stereo/CD player with auxiliary port, dual inside and outside stereo speakers (total of four).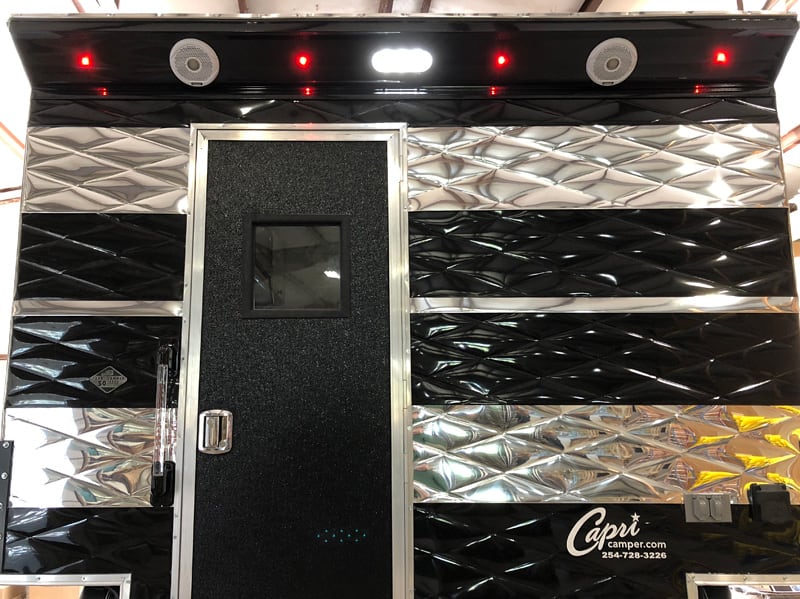 You will also get a 30-gallon water tank, 4-gallon water heater, on demand water pump, propane tank, four corner jacks, and black out shades.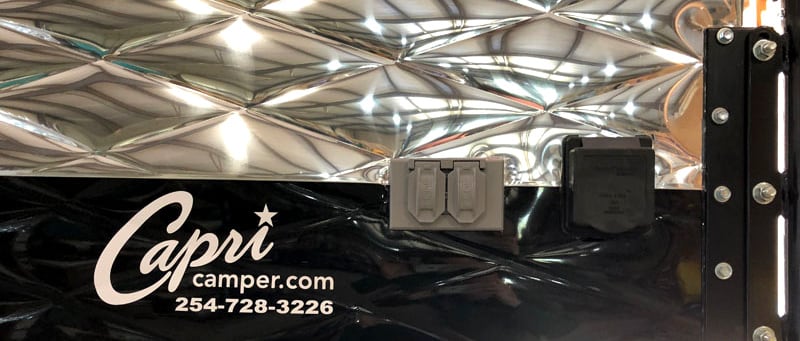 All of that is on top of the major upgrades we made across the board for 2019. Those upgrades include the new WFCO power center and electrical system, 100-amp hour Interstate Group 31 AGM batteries, Fantastic Fan, all LED interior and exterior lighting, multiple 110-volt, 12-volt and USB outlets, wood grain flooring, dual 110-volt exterior outlets, LP, CO and smoke alarms, customer selected interior paneling and exterior color and striping, and 30-amp power cord, 20-inch by 42-inch escape window, and more.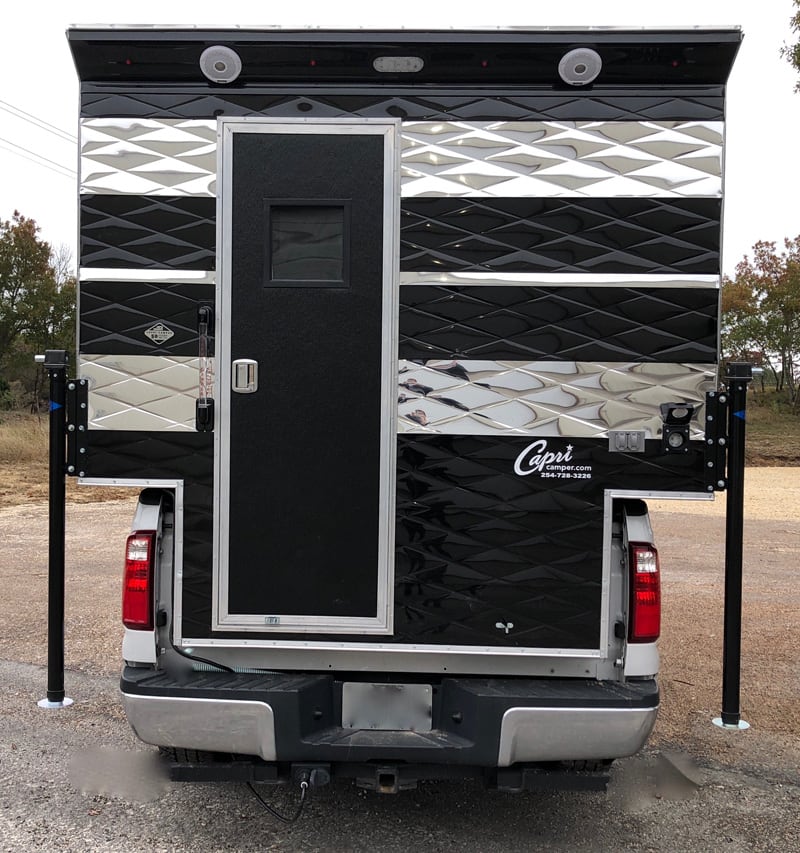 That's an extensive list. How was the floor length, total exterior length, and overhang length determined?
Tyson: We haven't made any changes to the exterior dimensions of the Retreat. Most Capri owners tow boats or other toys. The dimensions of the Retreat are optimized for towing.
We like having our campers 84-inches wide for using your factory mirrors. That also gives you big enough bed width to sleep comfortably. The cabover length is 55-inches which gives you a full-size bed or an optional 60" nose to accommodate a queen-size bed.
The camper's interior height is 6'4", which is enough height for most people. That height, with no basement, means that the camper doesn't catch wind like basement model campers.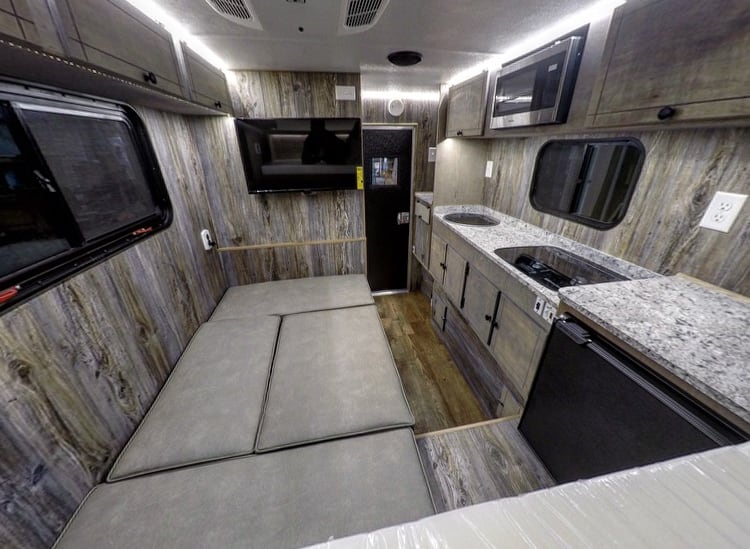 Did you start with a prototype?
Pete: Yes, the Anniversary Edition went from design to prototype very quickly. There is no board of directors here at Capri, so within a day we had something to look at.
Tyson: Once the prototype was started, we worked together to make sure the camper was well balanced. For example, the battery was moved under the bench on the passenger's side to improve the overall balance and center of gravity.
Did you make any changes once the first prototype was completed?
Tyson: We made a number of adjustments and fine tunings. The final camper has the absolute best use out of every square inch of this camper.
Pete: In a sense, we are always prototyping campers. Our customers routinely custom order units with special requests. Those special requests require careful planning and testing, and allow us to try different design approaches all the time.
We didn't design the Anniversary Edition in one day. It's been a gradual process. For example, several months ago we made a camper for someone who didn't a need a refrigerator. To accommodate their request, we built a Formica counter on top of the propane compartment.
That change made the camper feel bigger, especially in the sleeping compartment. When we found the Nova Kool refrigerator we were able to incorporate the longer counter into the Anniversary Edition. We are always looking for ideas.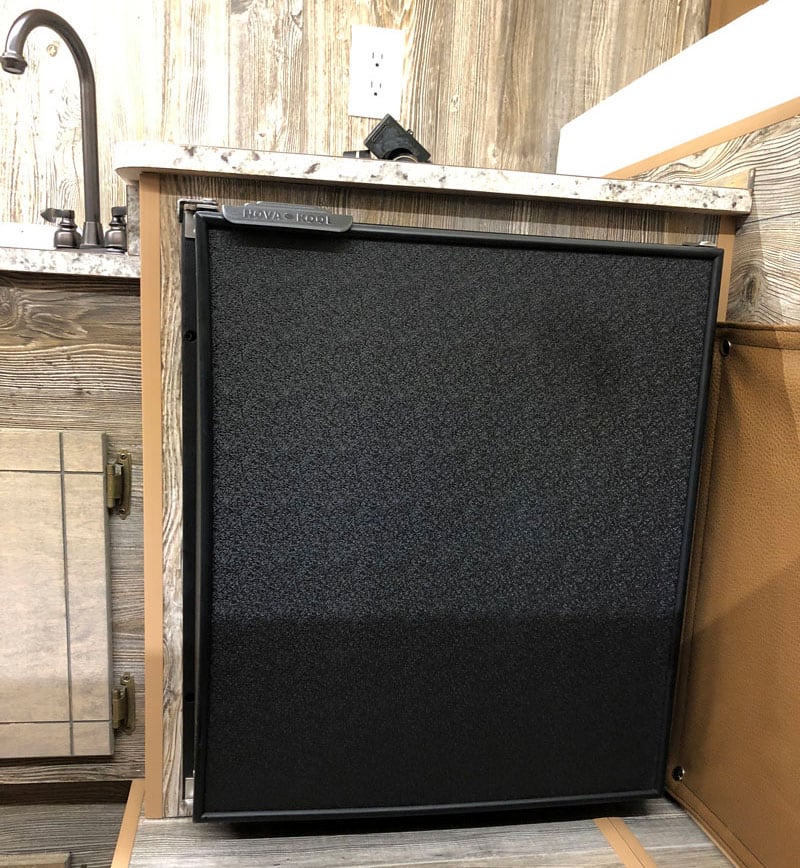 How did the Nova Kool help to make that design element possible?
Pete: The Nova Kool is smaller than the Dometic allowing us to bring it to bench level. In three separate camper builds we were able to visualize the evolution moving the refrigerator and not losing any functionality. In fact, we gained storage and opened up the unit.
It's too easy to build everything the same way day in and day out. That's how a company loses creativity. You have to walk in with an open mind and visualize things in different places. That's the challenge, and the fun.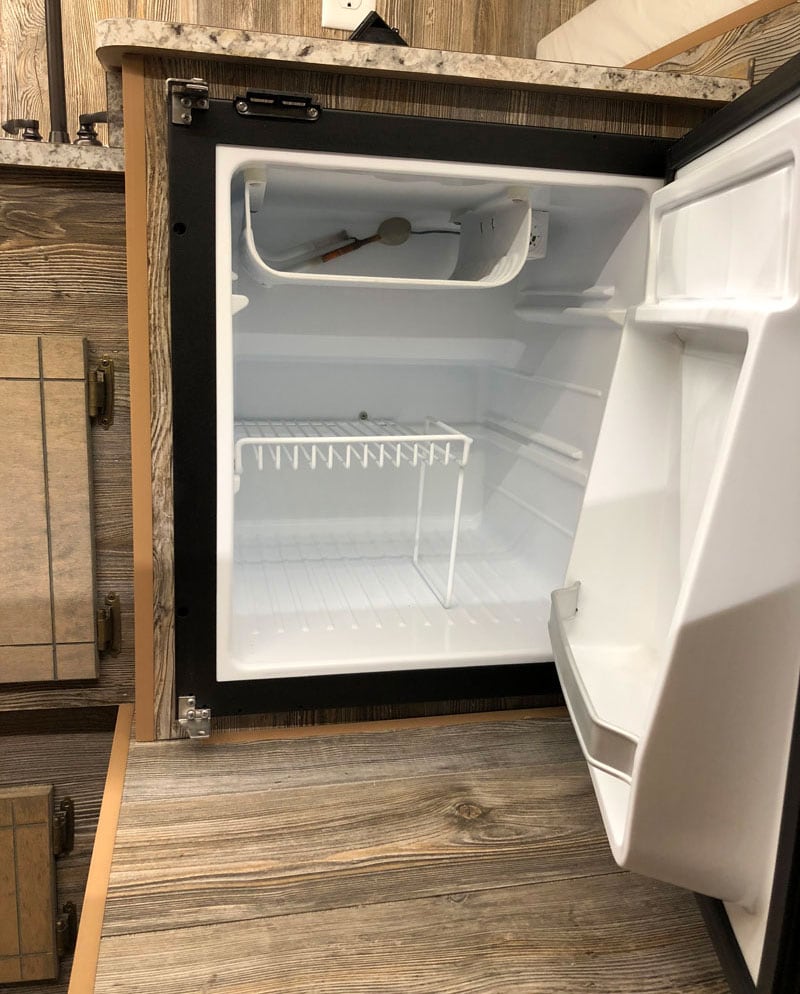 You selected a Nova Kool R-2600 for the Anniversary Edition. That's a 12-volt compressor refrigerator. Other than the size, what led you to that model?
Pete: The only real complaint we have had in our campers since we've owned the company has been the refrigerator. We have used the same Dometic three-cubic foot refrigerators that many other manufacturers use. Too many customers are frustrated with the inconsistent performance of the refrigerator, especially fluctuating temperatures inside the box.
If you read the manufacturer's instruction book you will see just how finicky they can be if you are not level, if it is too hot outside, if you put warm food or drinks in a cold box, etc. The other big problem is that most all of the authorized service centers around the country have a two-week or longer wait list, and our customers are rarely satisfied with the outcome. For these reasons, the Dometic refrigerator has been at the top of my list to replace all year long.
With positive customer feedback to the 12-volt Nova Kool R-2600, we knew it would be a good fit. Most of our customers are weekend and vacation campers. They do not mind a slightly smaller (2.4 cubic foot) refrigerator. The quality, reliability, and efficiency is well worth the .6 cubic feet of lost storage space.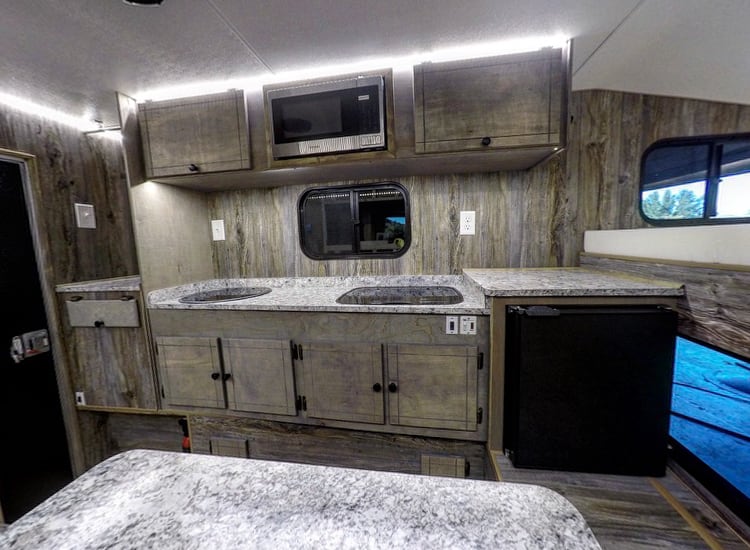 What do you see as the important advantages of a 12-volt compressor versus an absorption refrigerator?
Pete: The advantages of the compressor refrigerator are that they do not need to be level, they do not need propane, and they do not have the same temperature fluctuation problems. We think we've found a solid solution with the Nova Kool. Solving the refrigerator problem was big.
Is there anything different about the way the Anniversary Edition is built?
Tyson: Structurally, it's the same as every Capri Camper; wood frame and hung wall. Our campers get used pretty hard off-road, so they have to be solid and durable. We feel like we build one of the most solid campers out there.
Pete: Professional rodeo cowboy customers routinely put 100,000 miles on their Capri Campers every year. Our wood frame and hung wall construction holds up to that intense use, and is flexible for off-road driving.
Aluminum framing does not flex and is a conductor of hot and cold temperatures. Our wood campers are comfortable in the cold. We have customers who camp in minus 20-degree temperatures and stay comfortable in their Capri.
Wood framing is the best for warmth. And we seal everything with double-sided automotive putty tape to prevent leaks and make the most solid and well insulated camper possible.
Another advantage of wood frame and hung wall construction is repairability. De-lamination is almost impossible to fix right, and is very expensive and time consuming. Aluminum framing is even worse. If aluminum framing gets bent or breaks, repairs can be a nightmare. It's not unusual for de-lamination or aluminum damage to total a unit.
With wood framing and hung wall construction, you can open the wall, remove the damaged wood, replace it, and re-skin. In a few hours, you can't tell that there was a problem. De-lamination is very tough to fix.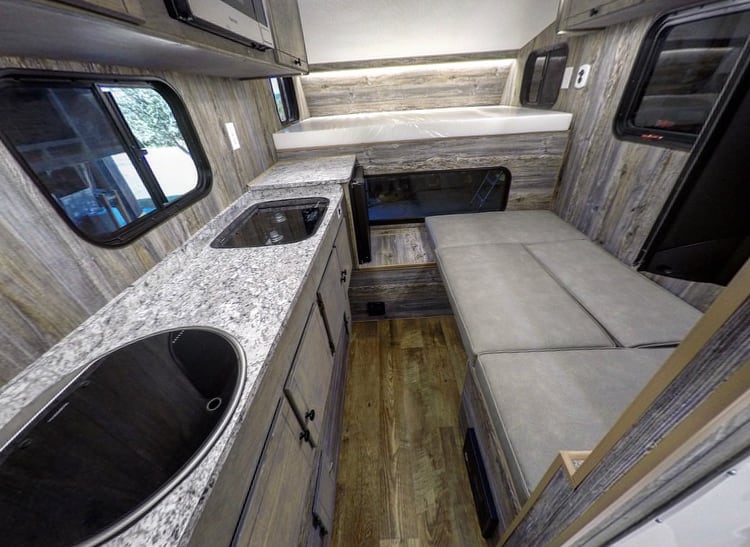 Can you get the Anniversary Edition with your different interior finishes (like cedar) and your exterior colors options?
Tyson: Yes. Customers can custom order an Anniversary Edition in any interior or exterior we offer.
Tell us about the size of the holding tanks and why you made the tanks that size.
Tyson: Like all Retreat models, the Anniversary Edition has an optional 10, 16, and 30 gallon water tank and an optional 4-gallon Suburban water heater.
If a customer doesn't need 30 gallons of fresh, they can get more inside storage. The size of the shower stall is not optional, but everything else is in play.
What size is the propane tank?
Tyson: There is a single 20-pound vertical tank. That size has worked well for us and we like that our customers can exchange them anywhere.
What does the anniversary camper weigh with standard build features?
Tyson: The Anniversary Edition in the photography, with jacks, is 1,743 pounds.
Pete: You can take the jacks off. They're 80 pounds.
What is the center of gravity for the anniversary camper?
Tyson: The center of gravity is 42-inches from the front wall.
Will you be building a certain number of Retreat Anniversary Editions?
Pete: We're building 50 units for our 50th anniversary. They will be marked inside with a custom Anniversary Edition plaque.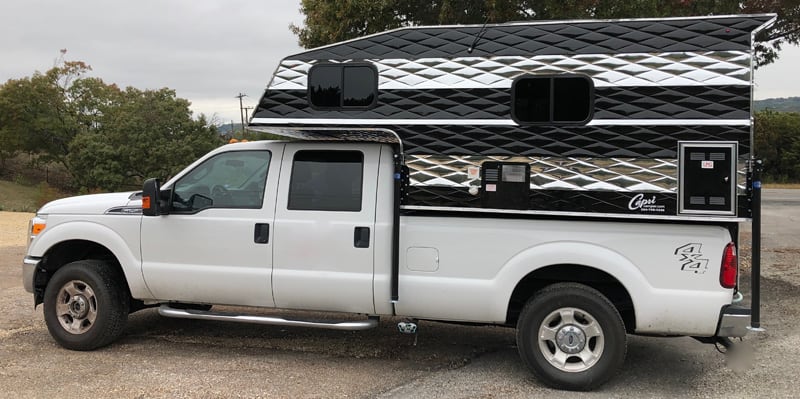 What is the MSRP for the Capri Anniversary Edition?
Pete: Retail will be $20,590, but we have a 50th anniversary special price from now until the end of December. You can order this special camper right now for only $18,995.
What is the warranty for the 2019 Capri anniversary camper?
Pete: There is a one year warranty on all Capri Campers. Each appliance has its own warranty, which is a minimum of one year.
A customer from California is here today. He had a small accident at home and ripped out both rear jacks. He drove two and a half days to bring it to Texas. In less than a full day, it will be fixed and he will be back on the road again.
That's another example of why we believe in wood framing and hung wall construction. Had this camper been laminated or aluminum framed, the repair would be extremely difficult, time consuming, and expensive.
On his Capri, we cut out the damaged area, replaced it with perfect structure, re-skinned it, and put on new jack brackets. Fast and easy.
When will the Anniversary Edition be available?
Pete: We are starting to take orders right now.
Do you see the Anniversary Edition floor plan becoming a permanent model for Capri Campers? Or maybe over taking the standard Retreat?
Tyson: It will probably become a regular Capri model, but that matters on the feedback we get from our customers.
What are the stand out features of the Capri Retreat Anniversary Edition that you are most excited about?
Tyson: The entire layout makes it an efficient and usable camper. As you can see in the pictures and the video, there is a lot of storage space and the long countertop.
The cabover is also more open. With the U-shaped seating you can seat five to six people (long bed version) (2-4 in a short bed) in the dinette comfortably, and it turns into a bed. The Lagun leg allows the table to swing.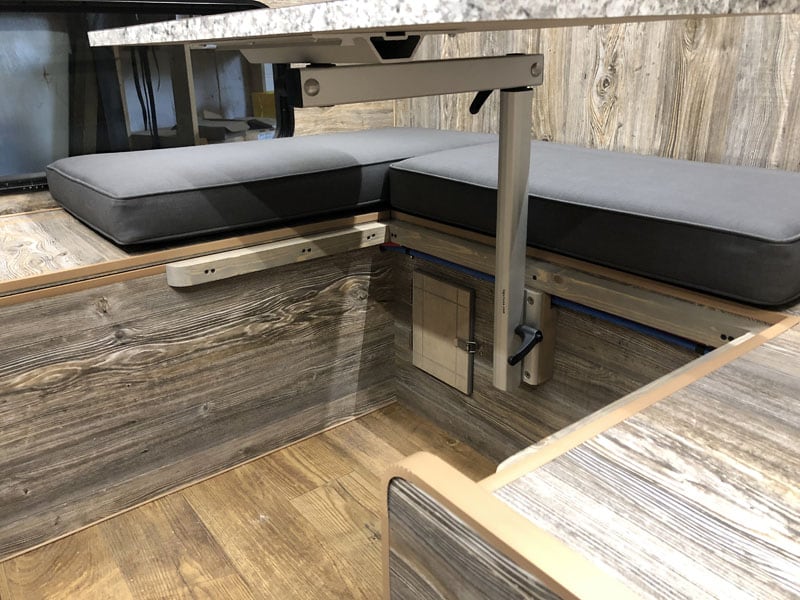 The Anniversary Edition really is exciting for us. Even though it's just a few changes, it's an open concept camper inside. The camper itself is a culmination of things over the past 5 years, which makes it the best camper we've ever built.
Capri Campers has had some very exciting growth over the past five years. How was your 2018?
Tyson: Our growth continues to be tremendous. We are already maxing out our facility, even with the expansion and changes we made last year. In 2018 we continued to refine the factory layout for efficiency. We also hired several people this year. We're up to thirteen guys in the back. We had three when we bought the company in 2014.
Capri purchased an Intercomp SW500 E-Z Scale System over a year ago. Are you still using the scales to weigh every unit you deliver?
Tyson: Yes. As soon as a camper is finished, it's weighed and we make up an MSO (Manufacturer's Statement of Origin) for it. The MSO includes the VIN number, a dry weight with options, and a title.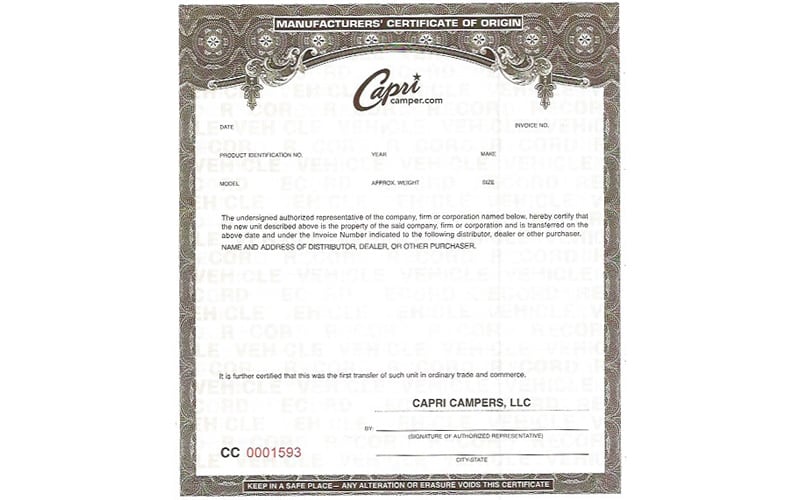 I keep a record of that information on my computer, including a picture of the camper and the scaled weight. That way we have documented proof that every camper has been weighed. Every Capri gets weighed before it's delivered.
Since every Capri is custom ordered, it's been helpful to know exactly what our campers weigh with different options. For example, I can tell a customer what a Retreat weighs with the bunk, table and sink options. I have one on file. Before we were making an educated guess, but this is much more precise.
Wood weight and other material weights fluctuate slightly. After all, Capri Campers are built by hand, not a machine. That said, I can tell a customer what their ordered camper will weigh within a few pounds.
The other day a customer told us the available payload on his truck. From that we designed a camper that met that important requirement; wet with options and cargo.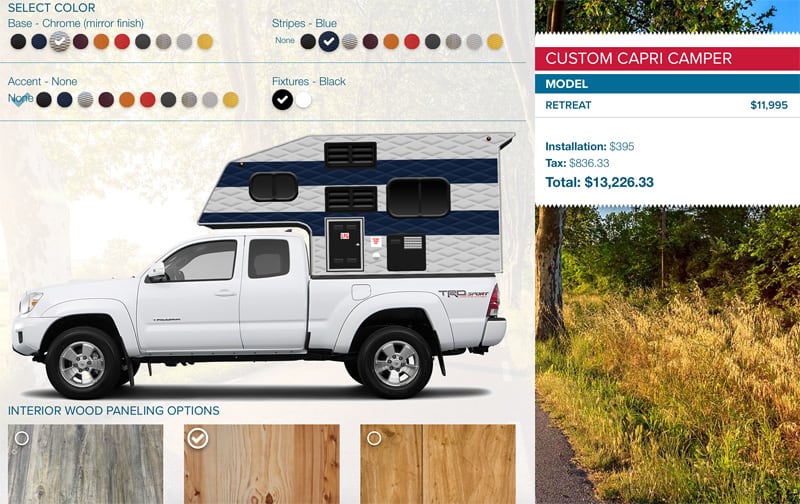 Is there anything else you want folks to know about Capri Campers or the 2019 Capri Retreat 50th Anniversary Edition?
Tyson: We are getting ready to make our site more mobile friendly. We update the website each month to change photos and add new video walkthroughs and customer videos. It's important to keep the site fresh.
Being able to build your own camper including exterior color choices, interior paneling, options, and cost with tax is all on the website. We get a lot of positive feedback on that feature. Check it out.
For more information on Capri Campers, visit their website at CapriCamper.com.  For a Capri Camper brochure, click here.