Capri Campers announces their 2018 updates and reveals their expanded building, in-house scales, and an incredible build-your-own website system.  Introducing the coolest option package ever conceived for truck campers – The Works!

Pete and Tyson D'Acosta are having way, way too much fun running Capri Campers.  Every time we talk with this father and son team they're excitedly pushing forward with new product ideas, production efficiency initiatives, and strategic plans.
As a result of their tireless efforts, every facet of Capri Campers has experienced explosive growth.  And when we say growth, we're taking 40 to 50-percent year-over-year growth!  It's no wonder that Pete and Tyson have told us many times, "We're having so much fun running Capri!"
Why does it matter that the D'Acosta's are having so much fun running their company?  Company pride, quality control, and product advancements are all brought front and center in their inspired environment of rapid growth.  We saw this first hand when we visited the Capri factory earlier this year.  From what you're about to read, this forward momentum has only accelerated.
In addition to their 2018 product updates, Capri has a list of impressive news items including an expanded building, the addition of in-house scales, a new options package, a remarkable build-your-own website system, and more.  If you've ever wanted to know what a growing truck camper company looks like when they're firing on all cylinders, this is it.
For the inside skinny on the Capri Camper 2018 updates and news, we talked to Pete and Tyson D'Acosta, President and Vice President of Capri.  Hang on.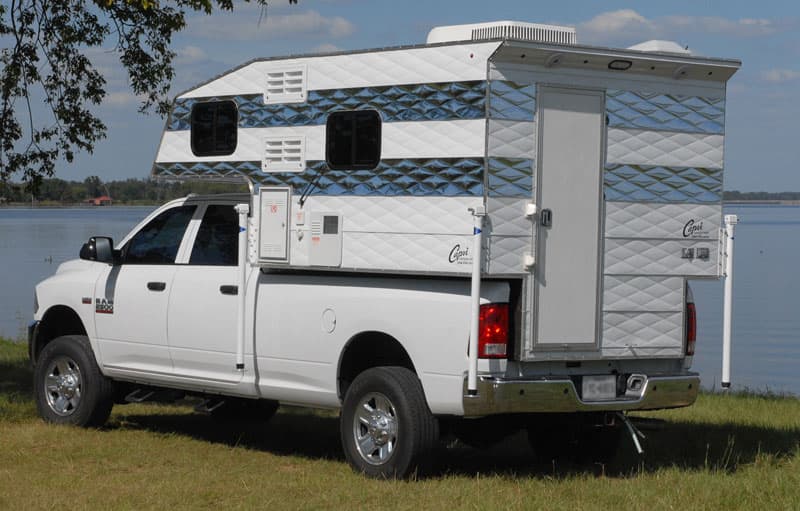 Above: A Capri Retreat in white and chrome
TCM: How has 2017 been for Capri Campers?
Pete: We've had 40 to 50-percent growth for four consecutive years.  Through the first eight months of 2017, we are already up 50-percent from 2016.  It's been a great year.
TCM: That's incredible.  Has the rapid growth been a challenge?
Pete: We are managing our growth so it doesn't get away from us, but we're at a crossroads.  We are looking at growing from 150 campers per year to more than 500.  To do that we would need to significantly change our infrastructure.
We want to continue the personal touch and direct contact with our wonderful customers.  We need to take a big step without losing that.  We have a lot going on strategically.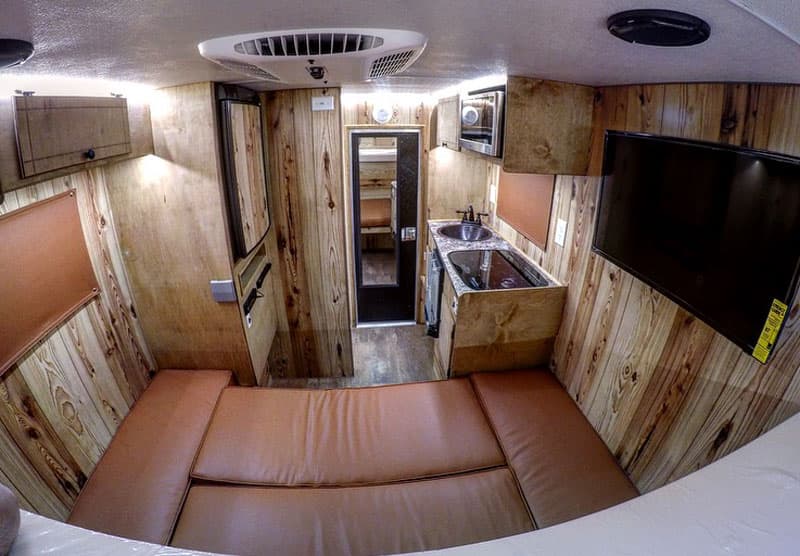 Above: Personalizing your camper is part of what makes Capri unique
TCM: Why do you feel it's so important to have that personal and direct contact?
Pete: What really separates a company is how they handle problems.  When our customers call, we never know if they're going to say they love their camper, or if they need help with a water pump.  We always answer our calls and never dodge the problems.
We believe in staying with our customers all the way through, and meaning what we say.  We put a lot of time and energy to help customers when things go wrong.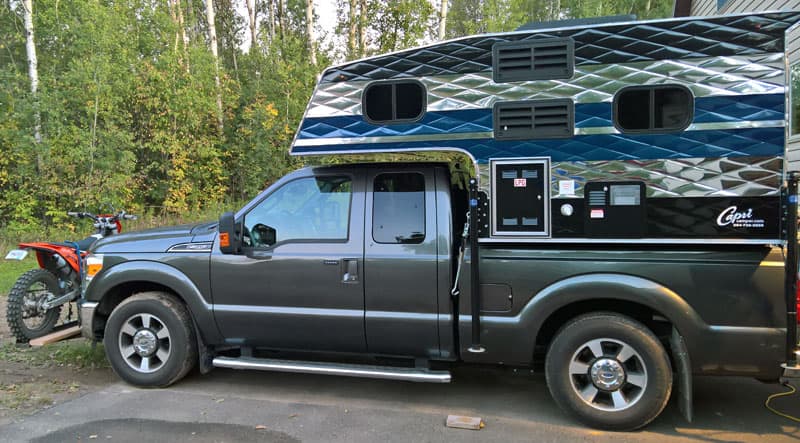 TCM: That's refreshing to hear.  Have you spotted any trends with the way customers are ordering Capri Campers?
Tyson: A few years ago we didn't offer a battery system and many other amenities that other truck camper manufacturers offered.  Our customers told us they wanted these amenities to allow them to camp off-grid.
Today, about 80-percent of our Retreat models are loaded with a battery system, refrigerator, and more.  If there's a trend, it's for more off-grid capable amenities and features.
Pete: As we gain more exposure, we're also gaining more customers outside of Texas.  That's been another important trend for our company.  It's fun when someone discovers us and says that a Capri is what they've been looking for.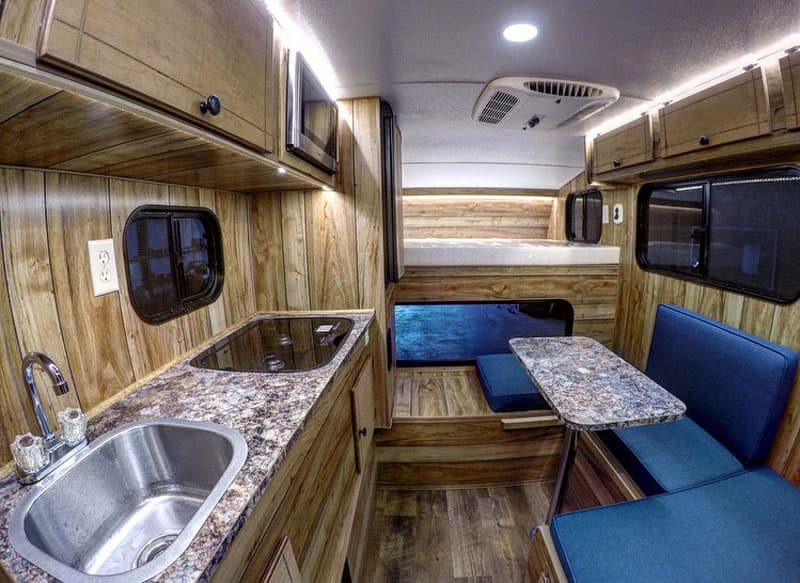 Above: The interior of a loaded Retreat
TCM: What's been the best selling Capri Camper in 2017?
Tyson: A loaded Retreat is our best seller for sure.  More and more customers want a loaded off-grid camper.  One guy went to Canada to ski in -16 degree Fahrenheit weather and couldn't believe how warm his Capri Retreat was with the catalytic heater.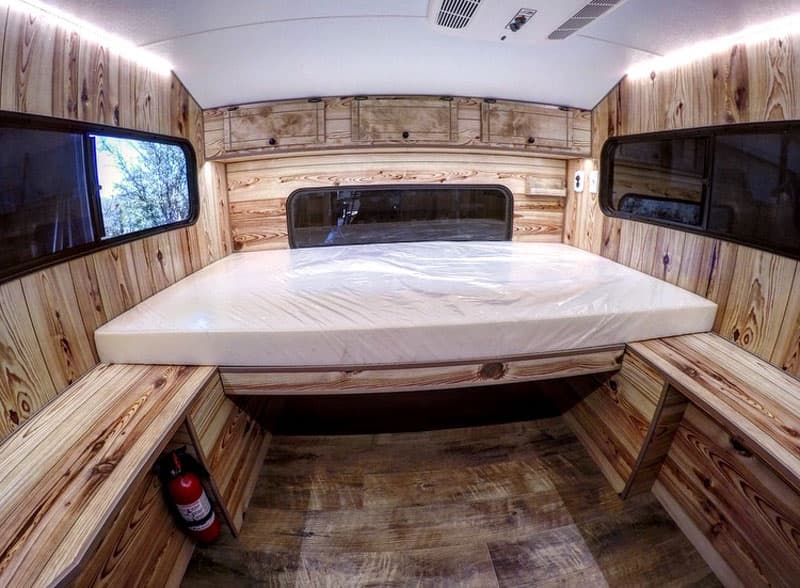 Above: The interior of a base Cowboy
Pete: We also sell a lot of Cowboy models, but that customer is not an RVer.  Our Cowboy customers want a comfortable place to sit or sleep.  I bet we've sold as many Cowboys as Retreats because you can buy a Cowboy for under $10,000 and still choose everything you want in it.
A customer called me yesterday during his lunch break from Kansas.  He bought a Cowboy for his work breaks so that he can have lunch and watch television.  People are realizing the convenience of a small camper to take a break at work, or tailgate at a sporting event.
Tyson: We've sold eight campers recently to traveling doctors and nurses who are on call.  They take breaks in their Capri camper.  They've got a queen size bed to take a nap, cabinets for snacks, a refrigerator for cold food, and a television.  There's no end to what you can do and the cost is relatively small.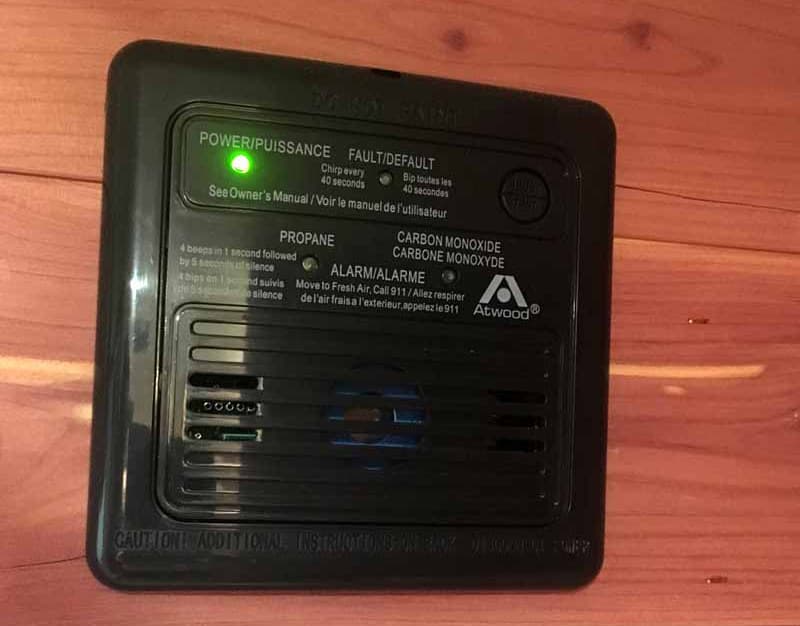 TCM: We are very excited to see that Capri will be including LP detectors, CO detectors, and smoke alarms for 2018.  Are these safety items now standard across the board?
Tyson: Yes, every camper we build now has a LP detector, CO detector, and smoke alarm.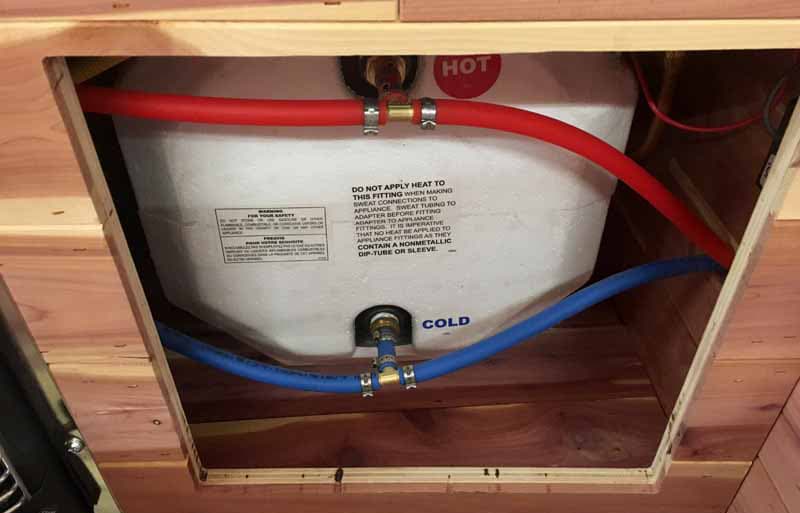 TCM: The change to red and blue PEX plumbing seems like a curious update.  Tell us why you made this change.
Tyson: The primary reason is for maintenance.  If something in the plumbing lines were to break, the customer can easily see the cold versus the hot line.
Pete: It also helps our production team with quality control.  We caught a plumbing mix-up once that would have been avoided had the plumbing lines been color coded.  The color lines are another step forward in our refinement.
TCM: In the information you sent us, you described a, "new installation method with trap doors and turnbuckles".  Can you explain what this change is about?
Pete: The old installation system consists of bolting the camper (four 6" hex bolts) down to the bed of the truck.  That is the safest and cleanest method of securing the camper to the truck.  We still offer to do that for those customers that rarely, if ever, remove the camper from their truck.
The bolt-down system however, has one significant drawback.  Getting the camper off the truck is easy, but putting it back on the truck and matching up the bolt holes is not always easy.  It can take some time and is a little frustrating for some customers.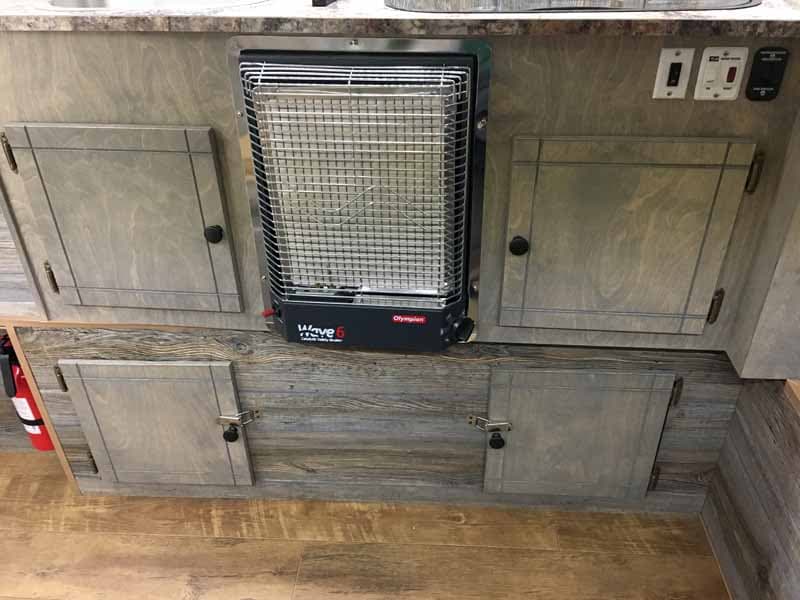 Above: The trap doors are on the bottom left and right.
So we came up with a new system that includes turnbuckles and trap doors and it is much easier.
Above: Camper tie-down brackets
We now install four heavy-duty rings and brackets (manufactured by a local welder) under the wings of the camper.  There are four matching trap doors with heavy duty latches and weather stripping.
Above: The trap door open (left) and closed (right)
When it is time to install, we measure the customer's truck bed and match-up four eye-bolts that we install into the truck bed.  Using this approach, when we slide the camper into the truck's bed, you simply reach into the trap door with a turnbuckle, reach up to the camper's hook and down to the truck bed hook.  Then, you tighten the turnbuckle.  The beauty is that an individual can do it in fifteen minutes, and there are no visible straps or turnbuckles from the outside.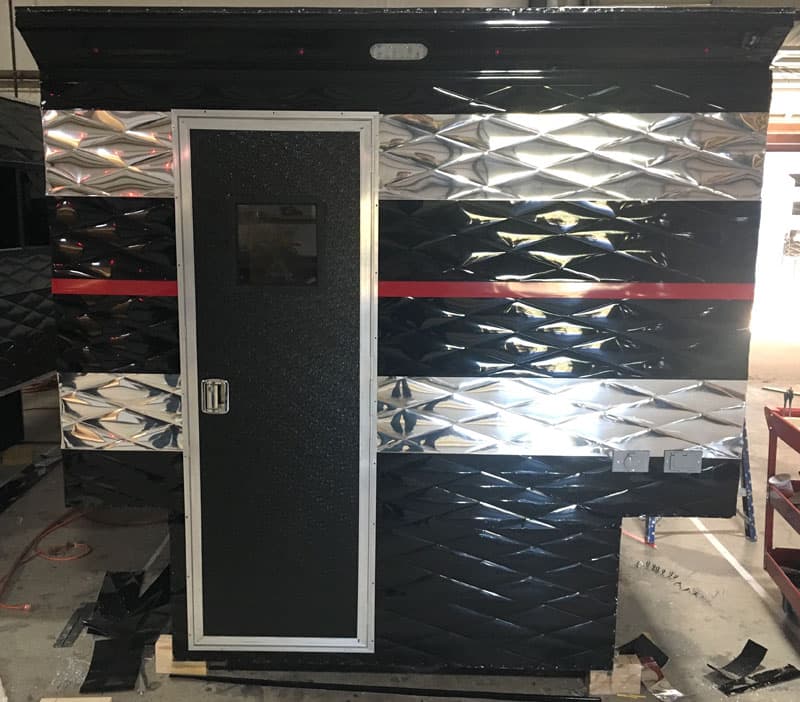 TCM: For 2018, Capri Campers is offering an optional 10-inch by 10-inch window in the rear door.  Is this the first time Capri Campers have been available with a rear door window?
Tyson: Yes, it is.  Our door manufacturer would never agree to put a window in the door.  We finally convinced the manufacturer to put windows in.  Now you can get a door in black or white, with or without a window.
TCM: Is the optional door window clear or frosted?
Pete: It's 10-inch by 10-inch fixed clear glass.  A door window is available for both the Retreat and Cowboy.  A blackout window shade is also available for privacy and to block the light.
Once people hear about the window door offering, they love it.  Our black-out window shades are also functional.  If you have the black-out shades attached while driving, the camper stays comfortable.
TCM: What's the option cost for the door window?
Tyson: It's $125 for the upgraded door with the window.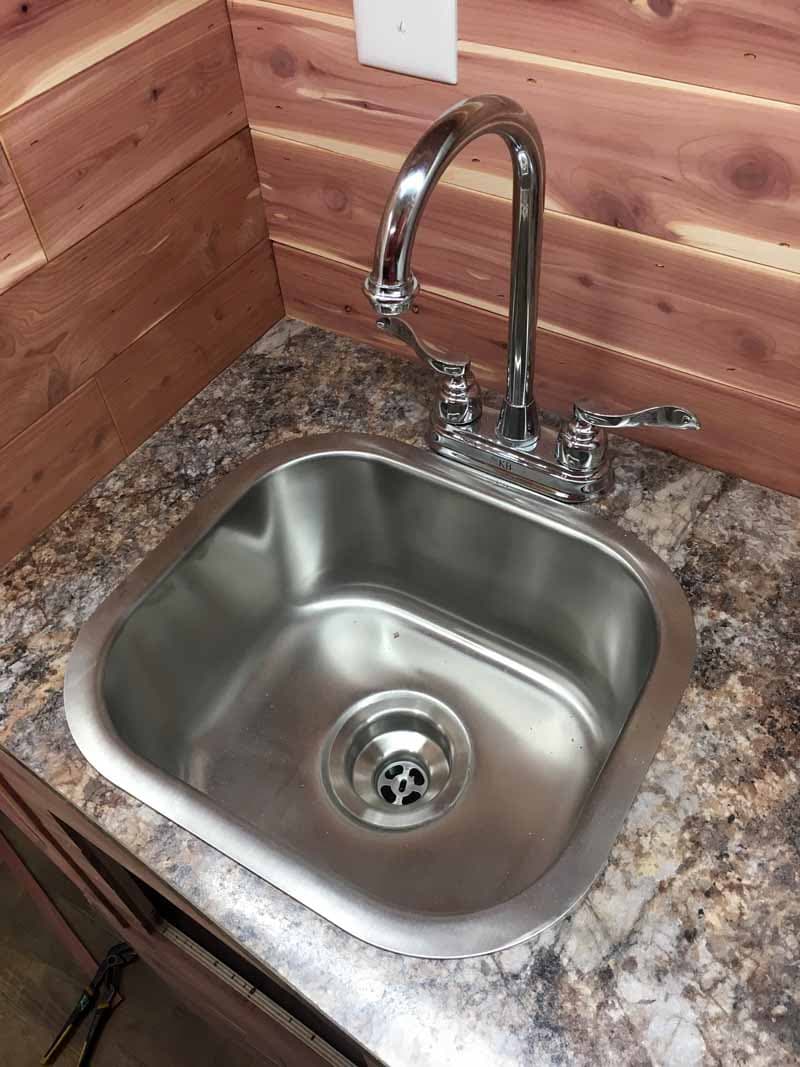 TCM: Tell us about your new sink faucet.  What were you using before, and why is this new faucet an upgrade?
Pete: We have been looking for an RV faucet upgrade and ordered some RV faucets to try out.  They ranged from $10 plastic faucets to hundreds of dollars.  In the end we found a high-quality Kensington stainless steel, chrome plated faucet designed for domestic use.  It's really nice.
RV faucets tend to be cheaply built.  There are only a handful of features and accessories in a Capri Camper and we want them to be high quality products from good brand names.  That will reduce the amount of maintenance our customers experience down the road.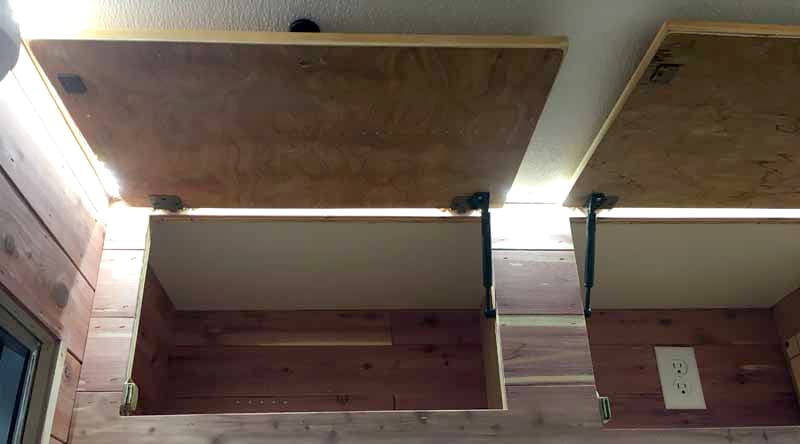 TCM: That is very true.  Talk to us about the new gas struts for the cabinetry.
Tyson: It was often a pain to get things from our upper cabinets because you had to use two hands; one to hold the cabinet door open, and the other to get what you needed.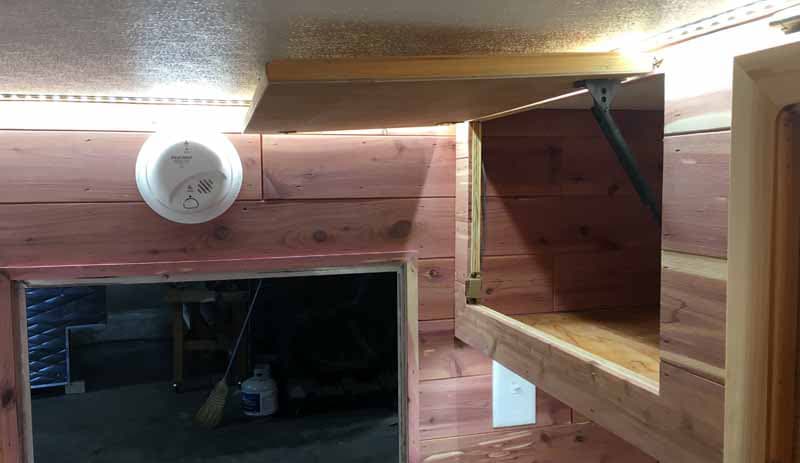 To fix this, we added gas struts to every cabinet that opens upward.  There are magnets on the cabinets that open to the side.  Either way, our cabinets now operate with one hand.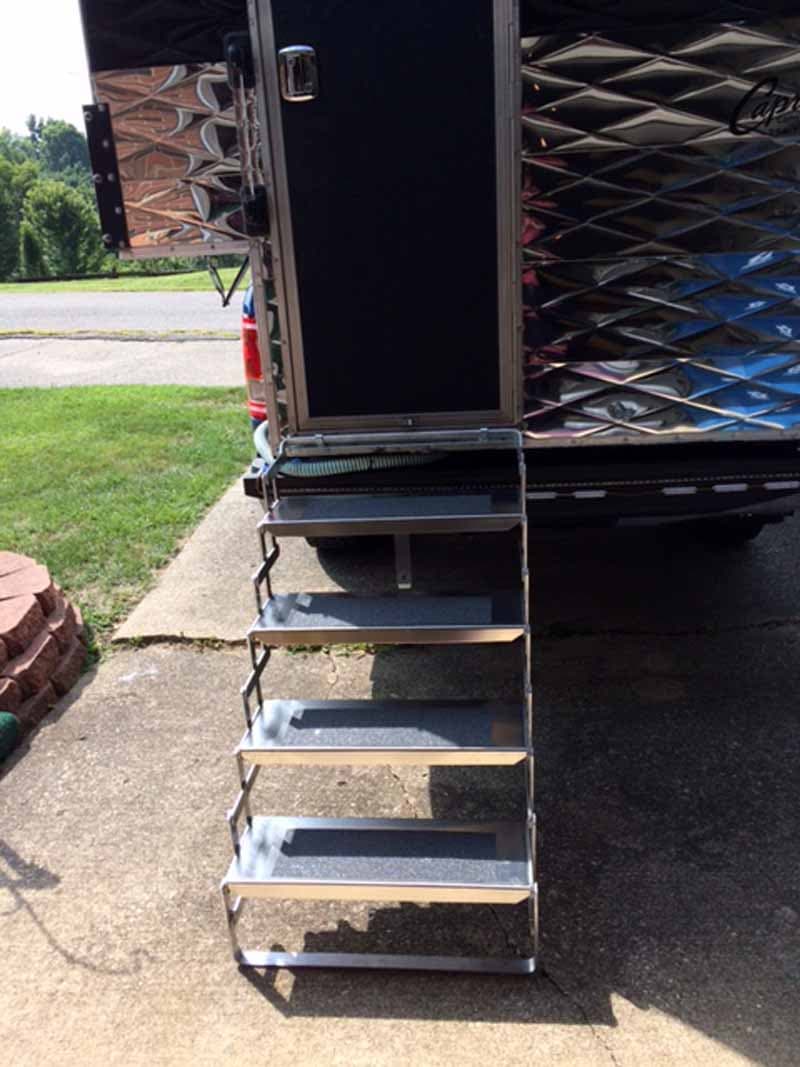 Above: Optional scissor steps
TCM: For 2018 you're offering the option of scissor steps.  Which manufacturer are you using?
Pete: We are using Brophy scissor steps that mount with brackets.  The four steps are 22-inches wide, like our camper doors.
As an alternative, we also offer a heavy-duty generator rack that doubles as an entry step system.  You do not need the scissor steps if you order the generator rack.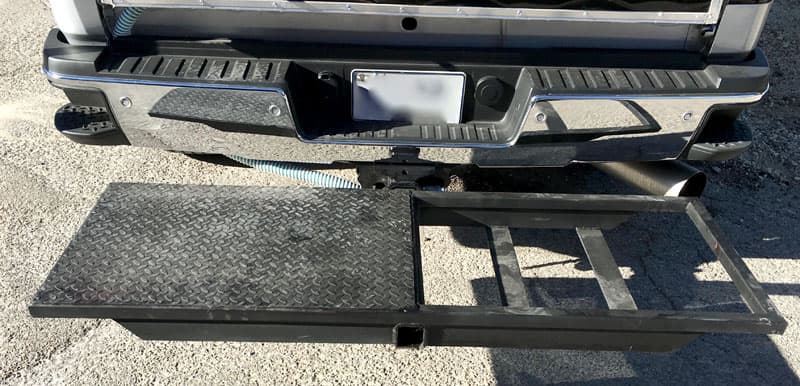 Above: The optional heavy-duty generator rack
Some people will just step on the ball hitch or the bumper to enter the camper, but we realize that can be a climb.  Many of our customers us a simple $20 step stool from Walmart, Lowes, or Home Depot.  There are a number of entry step solutions for Capri Campers.
TCM: For 2018, Capri is offering an optional a flush mount sink with glass cover.  What can you tell us about this new sink?
Tyson: The new flush mount sink is from Dometic.  It has a faucet that, when not in use, will fold down under the glass cover giving you a flat surface on the counter.  It's a $195 option.  It looks great, is well built, and keeps the kitchen layout clean and simple.
TCM: In the past you've offered the Primary and Premium packages.  For 2018, you're introducing a new package; The Works.  What's in The Works?
Pete: The Works is new and based on customer orders from this past year.  We have had quite a few customers who have asked us to put everything in their campers.  That's why we developed The Works.
Above: The Capri Retreats we designed in the Color customizer.  Many more options are possible.
TCM: Readers are going to have a lot of fun with the new online exterior color customizer on the Capri website.  For those who may be new to Capri, what are the color choices?
Tyson: The look of a Capri Camper is one more thing that sets us apart from other brands.  We do not have the standard white filon siding.  Our customers can have whatever color combination they want.
We just built a camper where two sides were blue, the back was black, and the roof was grey.  You can have fun with the colors, and then stripe it how you want.
The customizer on our website, on the Retreat and Cowboy pages when you Build Your Own Camper, allows you to play around with different color combinations.  Picking the colors and stripes is a way to make your Capri Camper your own, just like with the interior choices.
Above: The Capri Cowboys we designed in the Color customizer.  Many more options are possible.
Pete: On the phone, customers sometimes have a hard time choosing a color combination.  The customizer gives the customers a reference to make their decision.  It also gets our customers creatively thinking about their color choices, and excited about their camper.
There are six fixed panels on the right, left, and back of a Retreat camper and four fixed panels on a Cowboy.  Customers tell us what color they want on panel 1, panel 2, and so on.  Luckily we have not built any campers with the wrong colors.
Tyson: We try to make our website user friendly.  You can choose an item or a package and see a picture of every item.  You can also see the floor plans to see what they look like.  Our website is very interactive.
Pete: We have pricing, the interactive color configurator, pictures, floor plans, and five easy steps to order a camper.  Last week we just started a new camper builder for the Retreat and Cowboy where you get to build your own camper.  The idea is to give you everything you need to know to decide if a Capri Camper is right for you.
Tyson: We also just added a Frequently Asked Questions (FAQ) tab.  The FAQ has answers to most of the questions we get asked all the time.
I am also working on videos for each floor plan.  Other than seeing the pictures and floor plans on our website, you can watch a video and get inside the camper.  You may wonder what's inside a cabinet, so I take you through that in the videos.
TCM: That's a great idea, Tyson.  What are some of the standout color combinations you've seen?
Tyson: We just built one that was all orange like a pumpkin.  That was an interesting look.  My favorite colors are a black camper with red stripes for Texas Tech.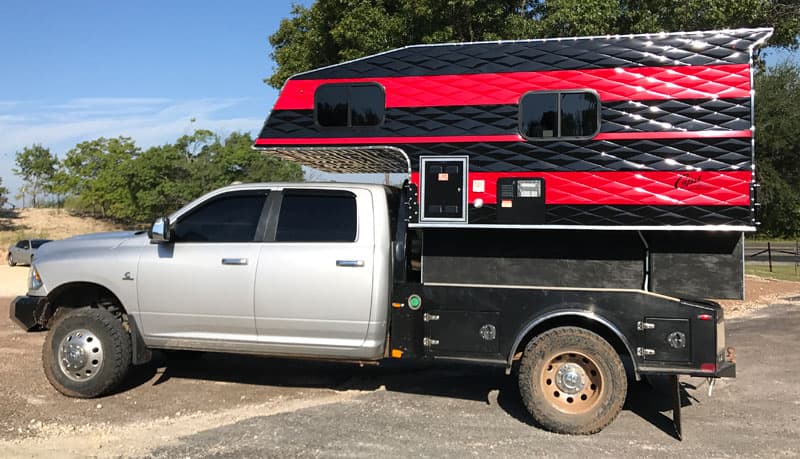 Above: Tyson's favorite color combination is black and red for Texas Tech
Pete: I think the solid chrome camper is striking because it's like an Airstream.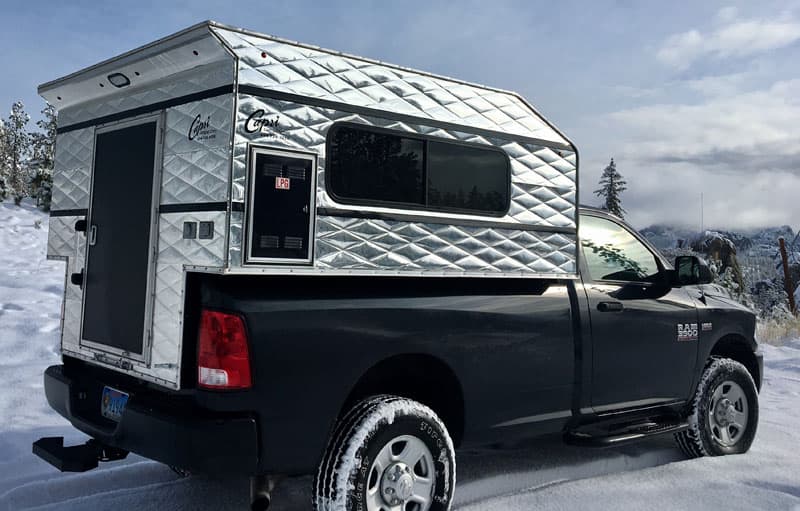 Above: Pete likes the solid chrome look
It doesn't look quite as good once it rains and gets bugs on it.  We can't keep white, black and chrome in stock.  Those are our most popular colors.
TCM: Tell us about your new in-house scale system.  How has that worked out?
Tyson: Truck Camper Magazine keeps helping us to improve.  After the Capri Retreat review, we ordered the Intercomp SW500 E-Z Weigh Scale System you recommended.
Before we just weighed each model empty and loaded and made a guess on the weight in between.  We are very excited to now have accurate weights for every camper we build.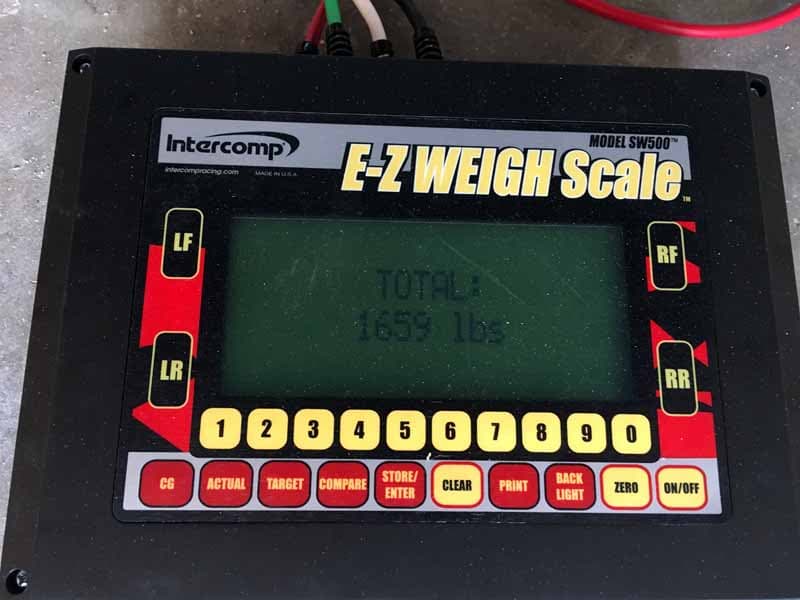 Above: The Capri Retreat pictured above weighed 1,659 pounds dry with options
Before each camper gets installed on a truck, it goes through final testing and gets weighed.  The Manufacturers Statement of Origin (MSO) has the VIN number, weight, and title for the camper.  It's all done before the customer arrives.  Every weight goes into the customer's file.  I also have pictures of each camper on my computer.
TCM: That's fantastic!  Thank you for taking the initiative to purchase the scale system and weigh every camper.  That information is invaluable to your customers and their safety.  Can you give us a recent example of weighing a Capri?
Tyson: We just delivered a fairly loaded Retreat long bed with bunk beds and a battery system; about the heaviest camper we can build.  That unit was 1,860 pounds with jacks.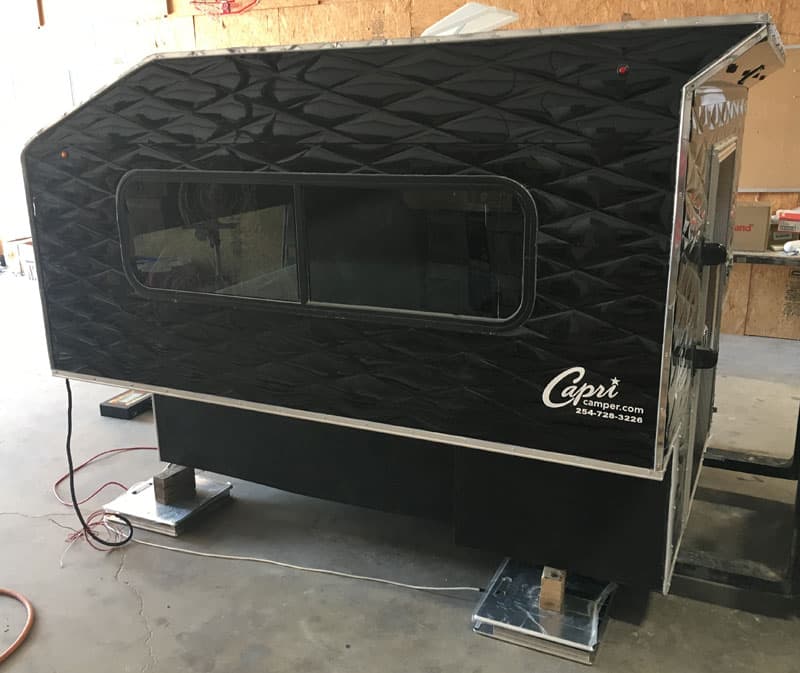 Above: This Capri Cowboy with no jacks weighed 743 pounds dry with options
TCM: Was that weight in line with your expectations?
Tyson: Yes, the scales have confirmed what we were thinking.  Some were maybe 50 to 60 pounds off, but the range is what we were expecting.  Now if we upgrade or change appliances in a camper, we have more accurate information.  The new scales have been great.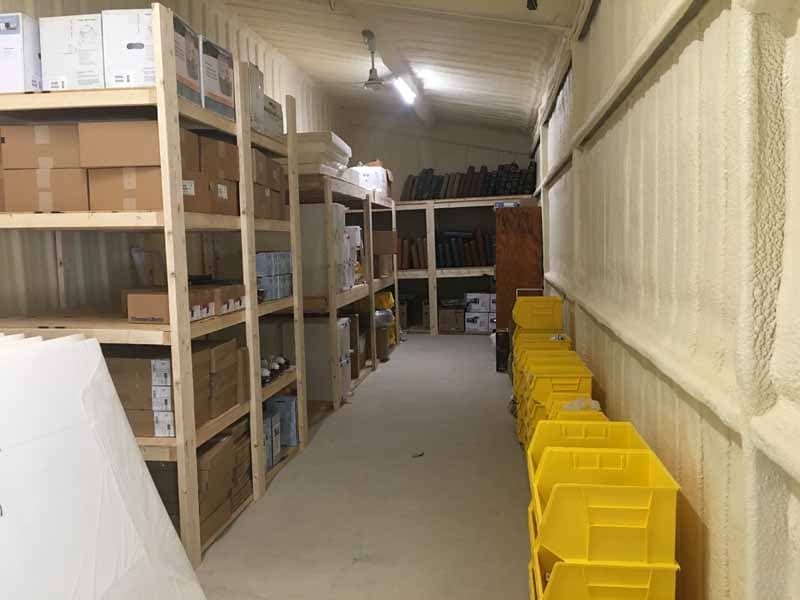 TCM: You completed expanding your facility shortly after our factory tour.  How has this new space helped with Capri's production, quality, and day-to-day operations?
Tyson: With the extra room we can organize everything so much better.  The plumbing, propane, and aluminum trim all have specific places now.  Everyone knows where to get what they need.  It's also easier for me to keep track of inventory and ordering.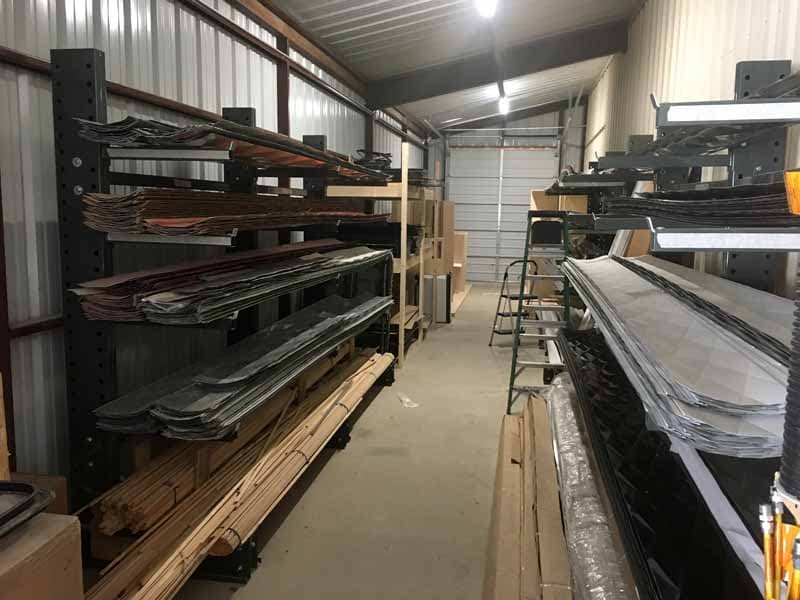 The new space has actually allowed us to increase production.  When we took the parts out of the main production area we were able to open up more bays to build more campers.  The next part, which we haven't finished, is organizing the wood and paneling.  Then we'll be able to add even more space for production.  We've also hired two more workers since you were here in April.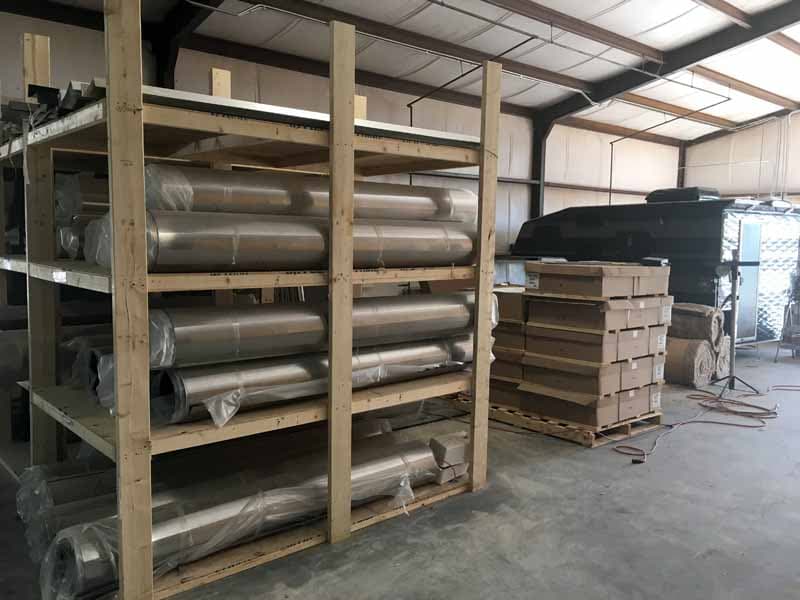 TCM: Any changes to your camper pricing for 2018?
Pete: Prices are going up November 1, 2017 to cover rapidly increasing material and appliance costs.  All of our camper appliances, like water heaters, have jumped significantly.  Our aluminum supplier has raised prices on us twice this calendar year. Both Hurricane Harvey and Hurricane Irma have all southern builders and manufacturers concerned about price increases and inventory availability, especially lumber, as Texas and Florida begin rebuilding.
Tyson: A loaded Retreat with the works is still only $18,590.  I don't know of another hard side camper out there with all those options in that price range.
Above: A video walk through of a Capri Retreat truck camper
TCM: Any new models or floor plans in development?
Tyson: I am going to send you a video walk through on a new rearrangement of a long bed floor plan.  The shower is on the right, and the refrigerator is behind the shower, sink, stove and closet area.
The middle is a sitting area.  The top bed is cut off to 40" wide (40 X 80) and the other 15-inches in the nose was converted to cabinets.  It was designed to sleep two adults taller than 6' in two separate sleeping areas, one above and one below.
Pete: This customer and his wife are now on their third Capri.  Since he's 6'4", he wanted two 40-inch wide beds in the camper.  One is in the nose and is one below so the husband and wife both have room.
We put the refrigerator on the driver's side wall towards the door.  They loved it.  Then we mounted the television where the refrigerator used to be located.  It was a perfect set up for the two of them and it looks good.
TCM: Is there anything else you want folks to know about Capri Campers or your plans for 2018?
Tyson: We now have new interior cushion options including faux gator skin and ostrich.  They're vinyl reproductions of the real thing, and they look neat.
For more information on Capri Campers, visit their website at CapriCamper.com.  For a Capri Camper brochure, click here.