Almost everybody wants electric jacks and two five gallon propane tanks.  We put these popular options into the Wolf Pack.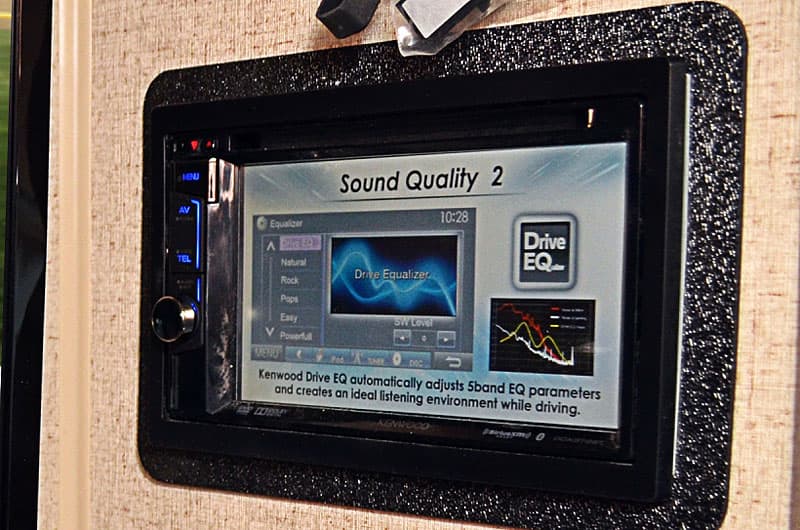 Above: The new optional touch screen Kenwood stereo system is Bluetooth capable
TCM: Is the optional double DIN Kenwood AM/FM/CD/DVD player being introduced for the 2017 Wolf Creek line the same as the stereo system available in the 2017 Arctic Fox line?
Doug: Yes it is, and it's also Bluetooth capable which is an Absolute Northwood feature.
TCM: For folks who are just now learning about Northwood, what is Absolute Northwood?
Doug: Northwood Manufacturing is the manufacturer for both Arctic Fox and Wolf Creek truck camper brands.  We also make travel trailers, fifth wheels, and toy haulers under the Nash, Arctic Fox, Fox Mountain, Snow River, and Desert Fox brands.
Absolute Northwood is a quality construction standard and/or feature that we feel is so fundamentally important that we implement it across all of the brands we manufacture.  The standards and features that are Absolute Northwood are built into everything we do.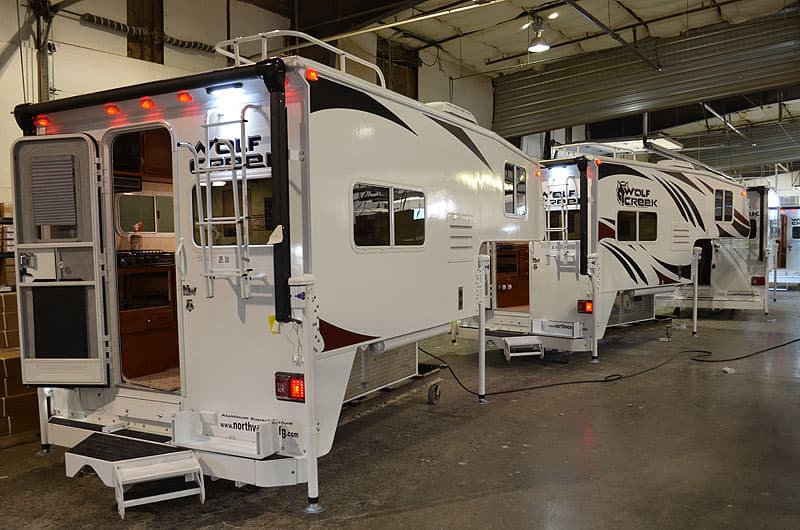 Above: Wolf Creek campers on the Northwood truck camper production line
Donald: Absolute Northwood is our own self-imposed quality standard.  For example, we have wood stuffed aluminum framing and lamination so our construction is strong.  Even the way we insulate our tanks becomes our standard.  That's what we do and it is the only acceptable way for us to do it.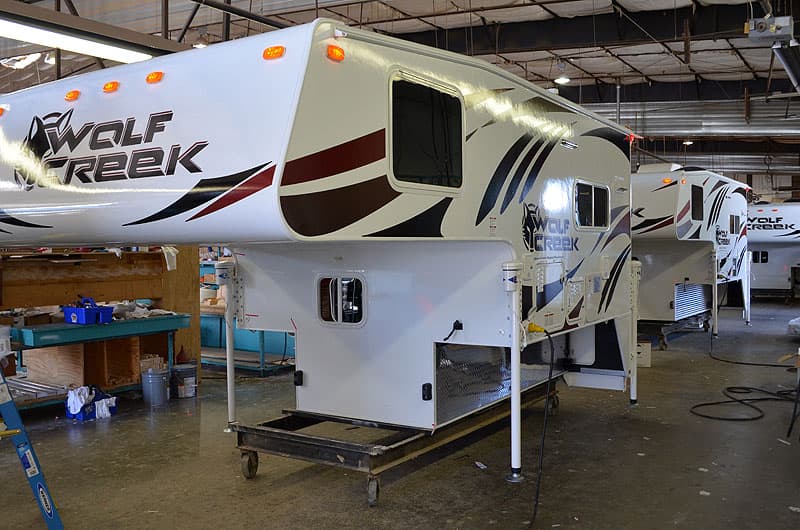 Absolute Northwood is a great advantage to a product like Wolf Creek.  Because of our buying power, even a value oriented product gets a high-end build quality and feature set.  It makes sense to put those features into Wolf Creek truck campers because we can.
TCM: There are currently only two Wolf Creek models, the 840 and 850.  Will we see another Wolf Creek model debut for 2017?
Donald: Wolf Creek has been successful with the 840 and 850.  We are building as many of these popular models as production can handle at our high quality standards.
We look at new floor plans constantly.  Doug has about six plans he'd love to see, and two are right around the corner.  Maybe you'll see a new Wolf Creek next spring.
TCM: That would be exciting.  Will it be a half ton model?
Donald: To be honest, that's not where our expertise is.  We are focused on making our truck campers durable and strong.  That's what our customers want them to be.  I can't give you more information on the new Wolf Creek at this time.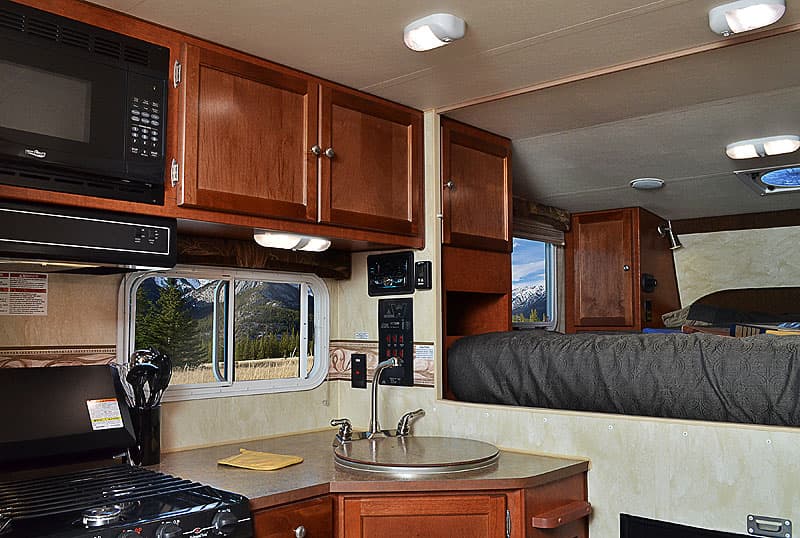 Above: All LED lighting is part of Absolute Northwood