Northwood Manufacturing announces the 2017 updates to their popular Wolf Creek truck camper line and teases not one, but two new Wolf Creek models currently in research and development.

Since launching as a sister truck camper brand to Arctic Fox in 2011, Wolf Creek has established itself as Northwood Manufacturing's lighter and more affordable non-slide truck camper line.
Along side of Arctic Fox's premium truck camper models, Wolf Creek offers an option for truck camper enthusiasts looking for something closer to entry-level.  As Northwood representatives have explained to us, not everyone wants the luxury features – or their associated weight and cost – of a high-end Arctic Fox truck camper.
For 2017, Northwood has made incremental updates to Wolf Creek's list of standard features (called the Wolf Pack) and matched the interior options to mirror the Arctic Fox line.  While none of these updates are Earth shattering, these upgrades continue to refine Wolf Creek while improving the feature list and value of the campers.  In the end, that's what the Wolf Creek brand is all about.
To dive deeper into the how and why of the 2017 Wolf Creek announcements, we talked to Donald Cochran, National sales Director for Northwood Manufacturing, and Doug Karr, Northwood's in-house truck camper expert.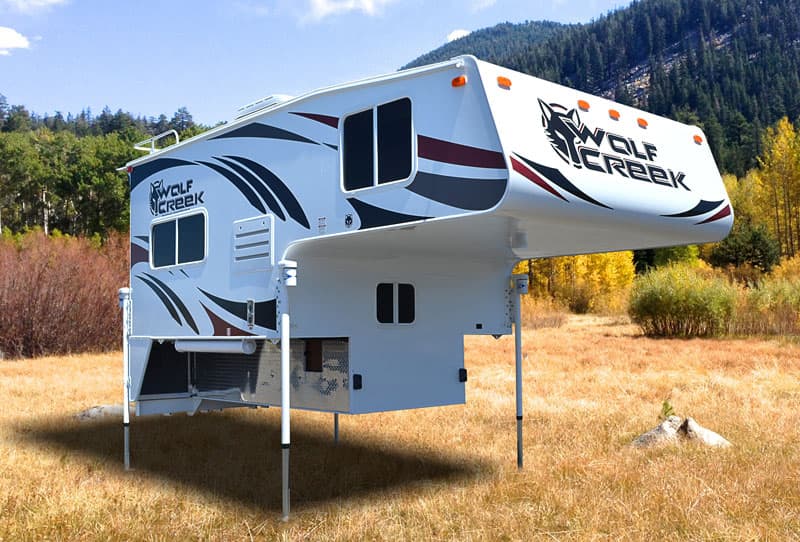 Above: The 2017 Wolf Creek 850
TCM: Are there any Wolf Creek models being discontinued for 2017?
Donald: No.  The two Wolf Creek models, the 840 and 850, will remain in production.
TCM: Wolf Creek made a significant update to its graphics for the 2014 model year.  Tell us about the enhanced exterior graphics for 2017.
Donald: For 2017, Wolf Creek has the same style of aggressive graphics and color scheme that has identified so well with the Wolf Creek brand, and definitely the same logo.  The Wolf Creek wolf head and logo text has become enormously popular.  Wolf Creek has become instantly recognizable because of it, much like our Arctic Fox head and Nash geese, so we knew we did not want to change it.
I would guess we will be seeing some version of that wolf in all future models for quite some time, if not indefinitely.  As I said, we kept a very similar color palette with the black and a little richer shade of red, but also added a touch of deep bronze to change it up in a subtle way.
Above: Notice the black, three-piece element on the sides that hints at a wolf's paw scratch
Some of the distressed-looking graphics were sharpened up a bit and for a couple of unique touches.  There is a black, three-piece element on the sides of every coach that hints at a wolf's paw scratch as well as the word "Roam" on the back of every coach – a tip of the hat to our popular "Roam Where You Dare" tagline for Wolf Creek.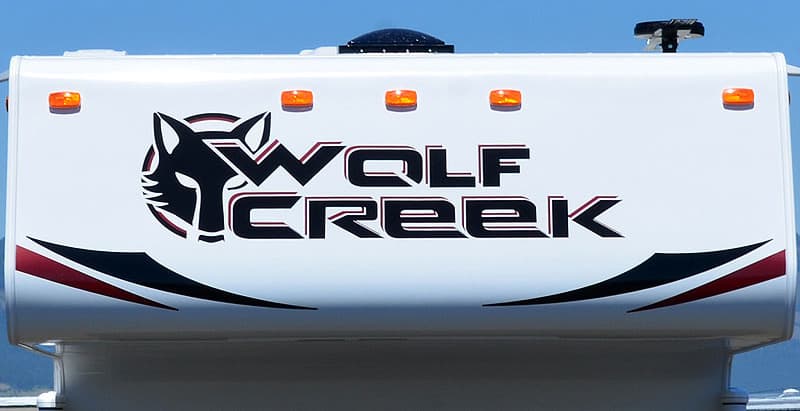 Above: The graphics on the nose cap of 2017 Wolf Creek Campers
We love adding fun, personality touches to all of our coaches.  The new 2017 Wolf Creek campers definitely have that same edgy, "Roam Where You Dare" feel, but there are changes, no matter how subtle.