And while we're looking, note how well coordinated the light grey floor, dark brown cabinetry, dark brown carpeting, and lighter walls and seat back cushions materials are.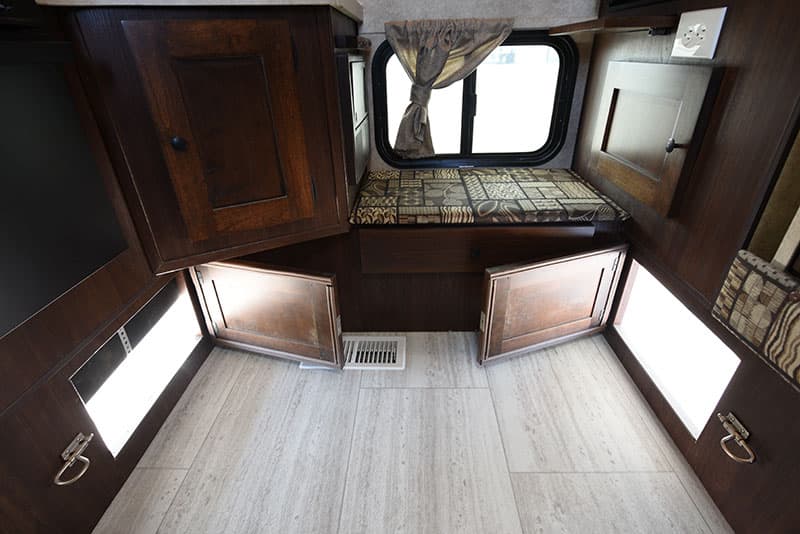 One of the main things we miss from the non-basement truck campers we've owned and borrowed are truck bed access doors.  Using truck bed access doors, we stored gallon water jugs, shoes, and even a laundry bag in the truck bed area.  It's amazing how much you can store in the truck bed using these doors.
Somehow the folks at Rugged Mountain figured out how to get truck bed access doors on their basement model campers.  Naturally these doors are higher up, but you can still store water jugs, shoes, and laundry – with a bit of a reach.  This is a very welcome addition to the Polar 860.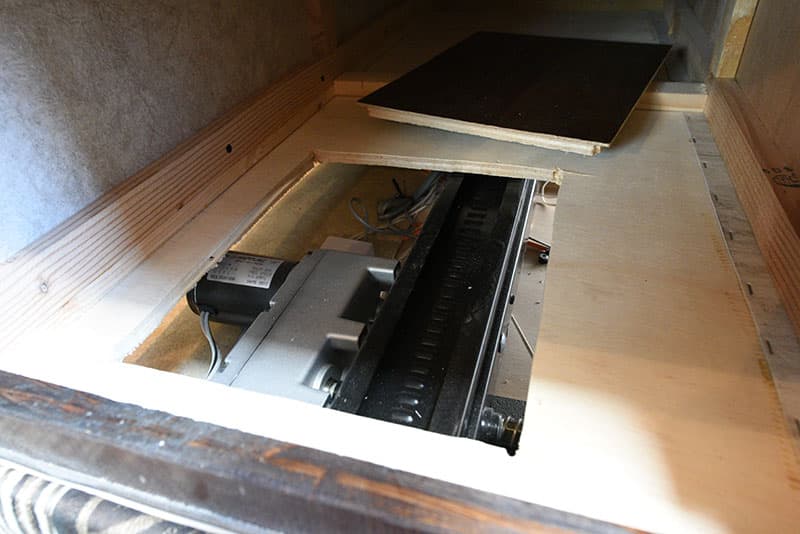 Another home run feature discovery was an access door to the dinette slide mechanism under the rear facing dinette seat storage area.  This is the kind of design feature that happens when someone who uses and services campers says, "Hey, why don't we just put an access door under the dinette so I don't have to cut another hole in someone's camper?"  Whoever said that, thank you!
We really enjoyed our time with Jesse, Anca, and the Rugged Mountain RV team.  This is a very energetic and enthusiastic company with an extremely audacious product vision.  When their new camper is announced next year, it will be the talk of the industry and community.  We can't wait.
For more information on Rugged Mountain RV, visit their website at ruggedmountaincustomrv.com.  To request a free Rugged Mountain RV brochure, click here.