Truck Camper Magazine visits Rugged Mountain RV, checks out a 2017 Rugged Mountain Polar 860, and discovers something new and exciting is about to launch from Caldwall, Idaho.  Hint: It's big, and tiny.

We had been looking forward to visiting Rugged Mountain RV in Caldwell, Idaho ever since first talking to Co-Owners, Jesse and Anca Collinsworth last summer.  Their unique and compelling start-up story with deep roots in both the truck camper industry and tiny home industry set this young and ambitious company apart in the truck camper marketplace. Put simply, their introduction story in Truck Camper Magazine is an absolute must read, "Introducing Rugged Mountain Truck Campers".
The original intent of our visit was to produce a Rugged Mountain factory tour story as well as a Rugged Mountain truck camper review.  What we didn't know – because it's still top secret – was that Jesse, Anca, and the entire Rugged Mountain RV truck camper team are hard at work on something completely new for 2018.
When they revealed what they were working on with us, we were blown away.  This is a radical departure from what they have been producing, and will spark tremendous excitement when it debuts early next year.  Best of all, Rugged Mountain is studying the 2018 Ultimate Camper Survey hard side results to make sure their designs are in-line with what Truck Camper Magazine readers want.
With so many changes afoot, a factory tour was premature, as was a formal in-depth truck camper review.  Our plan is to return to Caldwell, Idaho once the new camper is announced and all changes are in place and humming.  Then we are going to really dig in.
In the mean time, we had our first opportunity to check out a Rugged Mountain truck camper in person.  The Rugged Mountain production team had just completed a unit and wheeled it outside for us to inspect and photograph.  Overall we spent about three hours going through the unit and giving our feedback to management.  What follows is the resulting photography, and comments.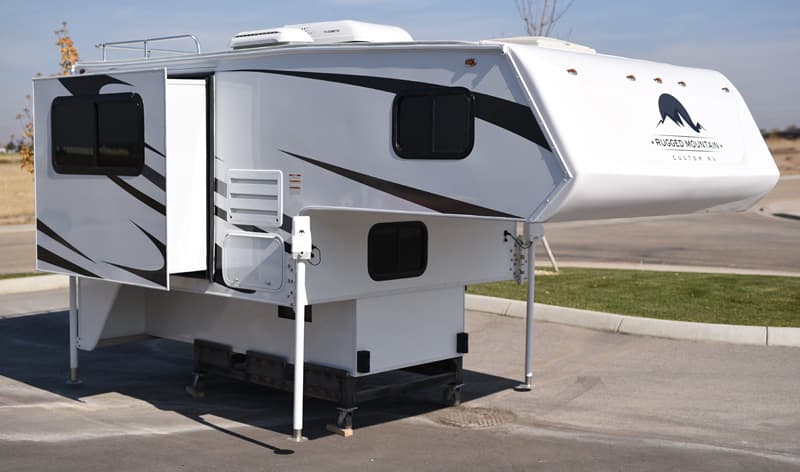 Right off the bat, the 2017 Rugged Mountain Polar 860 was an attractive modern camper.  The laminated fiberglass exterior and fiberglass nose cap were bright white.  The decals were tastefully understated and added a sharp curb appeal to the unit.  I even like the logo design on the nose.  This is one good looking unit.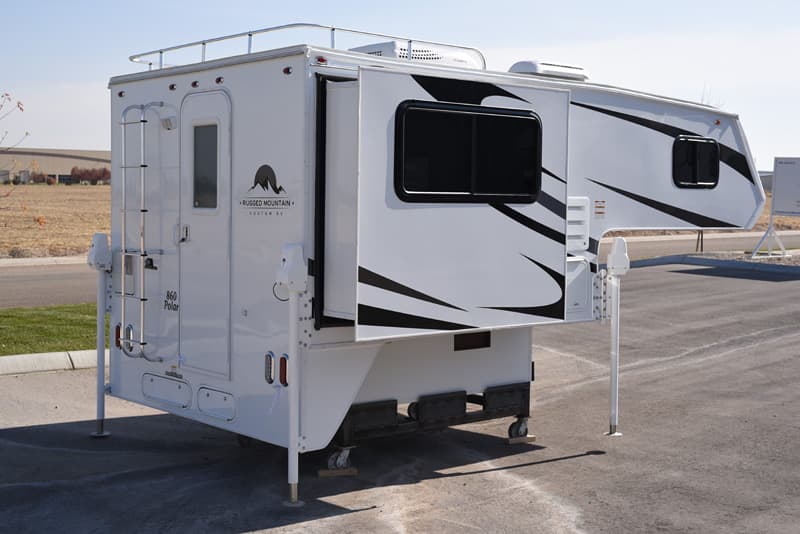 This aesthetic carries over to the rear of the unit with LED tail and marker lights.  The logo makes another welcome appearance and there's a ladder to ascend and inspect the roof.  All high marks.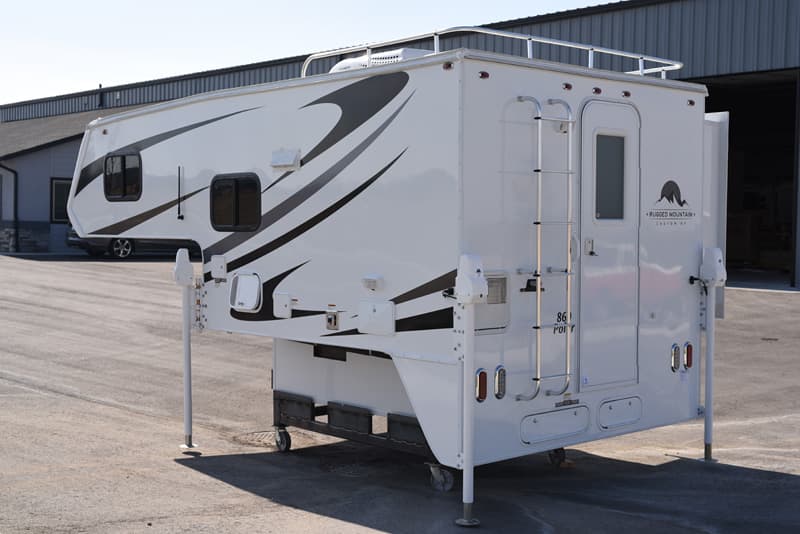 It would be easy to assume that a truck camper brand that's just six months old couldn't build a high quality camper.  One look at this unit changes that perception.  Of course the team that builds Rugged Mountain truck campers has been building truck campers for decades.  It really shows.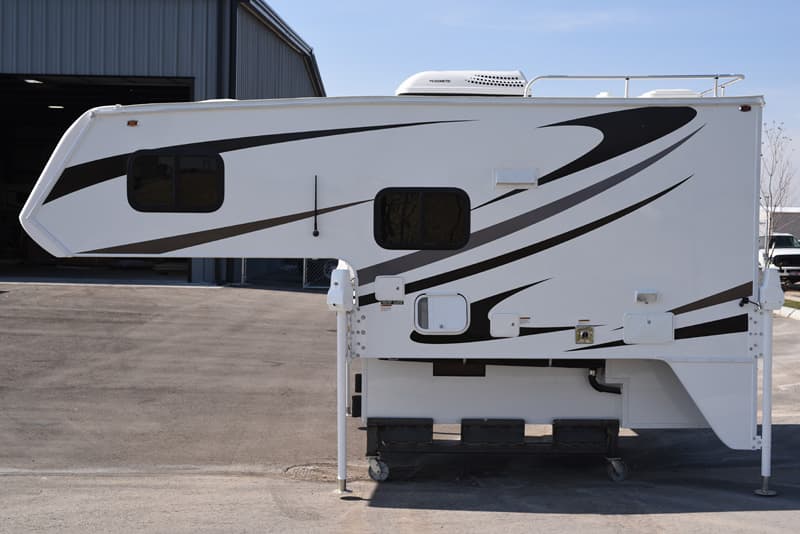 The driver's side features the 36-gallon fresh water fill, battery compartment, power cord, heater vent, exterior shower, and exterior light.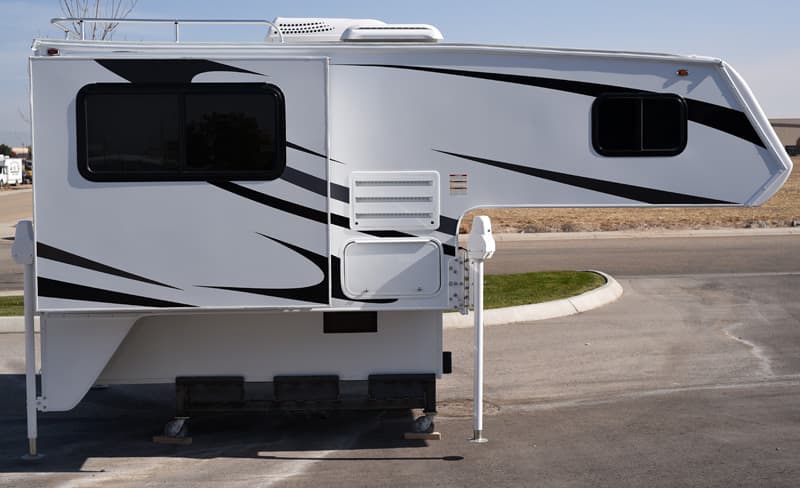 The passenger's side features the dinette slide-out, refrigerator vents, and propane compartment.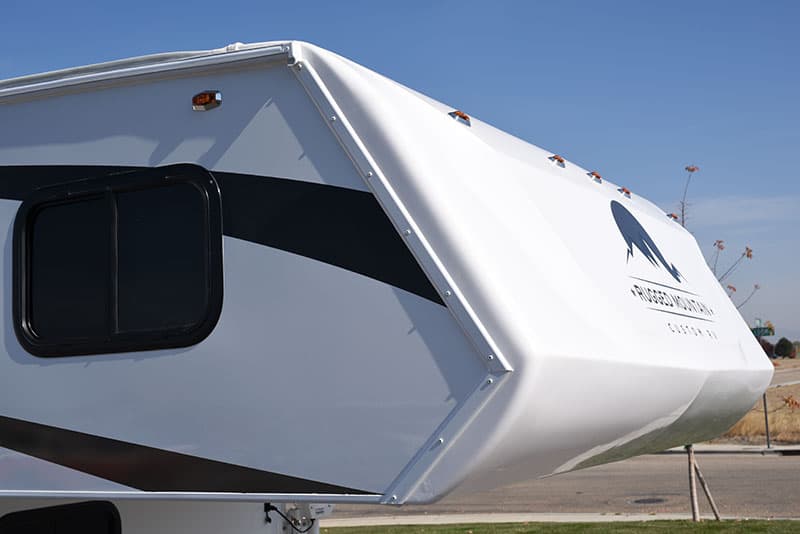 All Rugged Mountain truck campers come standard with a molded fiberglass front nose cap.  The cap wraps around the roof, sides, and under the cabover for an improved seal and provides additional impact protection with the inevitable tree branch or hail storm.  I sure wish we had a molded fiberglass nose cap on our project camper.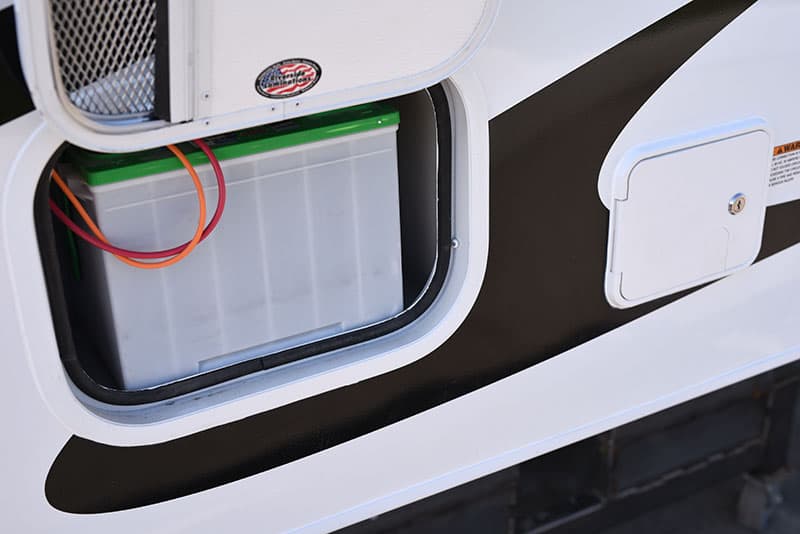 I'm always pleased to see an easy-to-access exterior battery compartment, but it's disappointing to see capacity for only one Group 27 battery on a slide-out truck camper.  A possible solution to this is to install something like Torklift International's Hidden Power under your truck.  In my opinion, slide-out truck campers need at least two Group 27 batteries.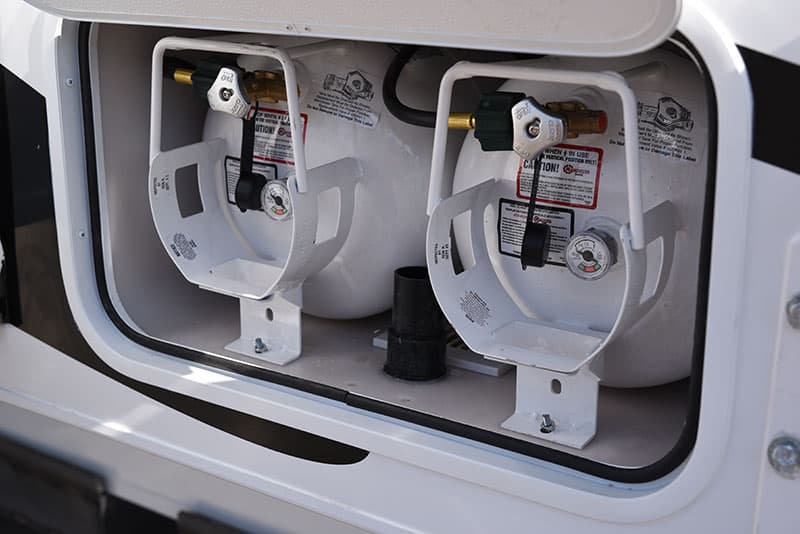 The majority of truck camper manufacturers have switched to the common vertical 20-pound propane tanks.  Not only are 20-pound vertical tanks easy to exchange, but they're also relatively easy to lift and install.
The Rugged Mountain Polar 860 has two 20-pound horizontal tanks.  These will not be exchangeable requiring the owner to locate propane filling stations as they travel.
We have 20-pound horizontal tanks in our project camper and have had minimal issues locating propane on the road.  Sometimes a propane station is a bit out of the way, but that's something we are accustomed to.  We also prefer having control over the quality of the propane tank (we bought ours from Manchester Tank) compared to the exchanged tanks.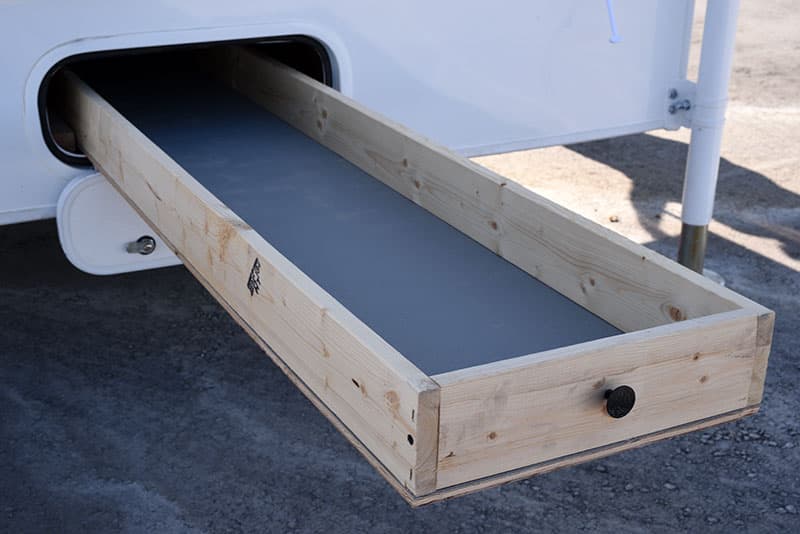 Under the entry door is a pull-out drawer that pulls out, and out, and out.  It darn near runs the length of the basement making it perfect for fishing polls, skis, and other long items.  Seriously, this drawer is long!
We have a plastic drawer in our camper basement we call the "Toboggan".  We use the toboggan for all kinds of things including caulking supplies and exterior camper cleaning tools.  It's a fantastic and highly useful storage space.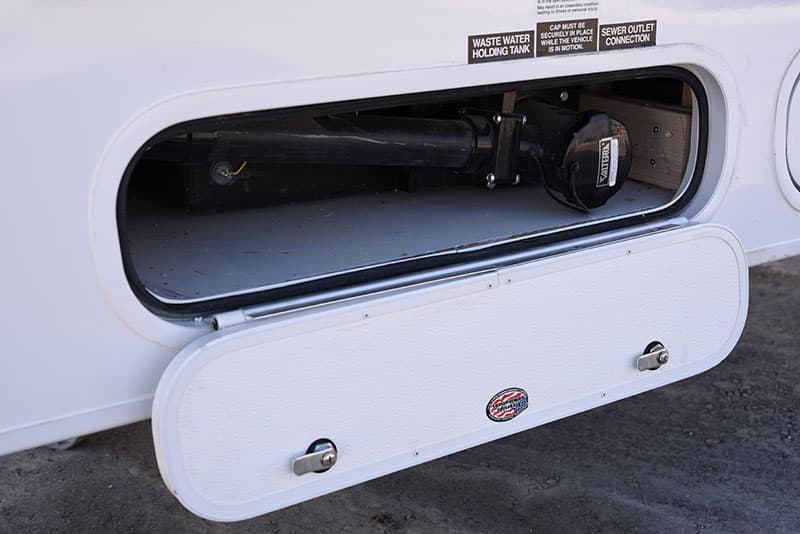 The sewer compartment on the 860 Polar is located on the rear of the camper behind a compartment door.  This area is heated for four-season camping, and convenient to access.
With the mouth of the sewer located inside the unit, owners will need to make sure the sewer hose is tightly installed before pulling the handle.  We made that mistake once and now we always check the hose fitting twice and pull the black tank valve.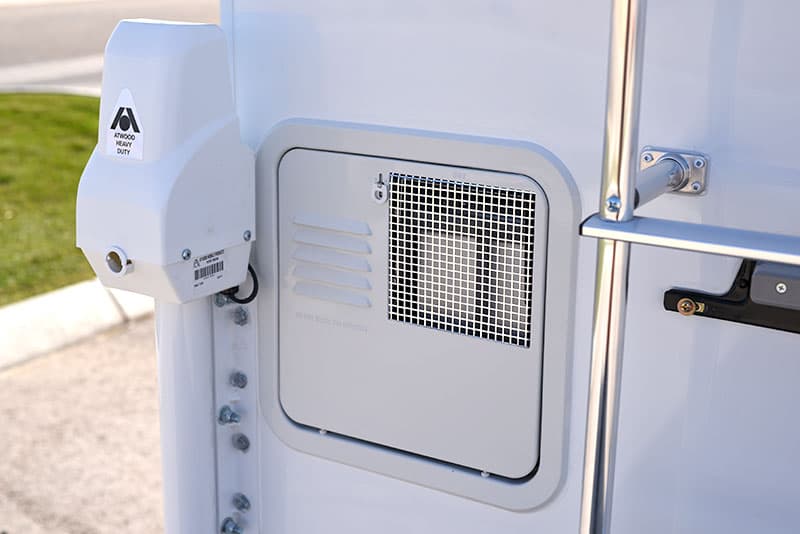 Well look at that!  The water heater is located in the rear driver's side – right where the shower is located.  This means it won't take fifteen-seconds of wasted water before the hot water shows up.  Seeing the water heater located with the bathroom is pure poetry.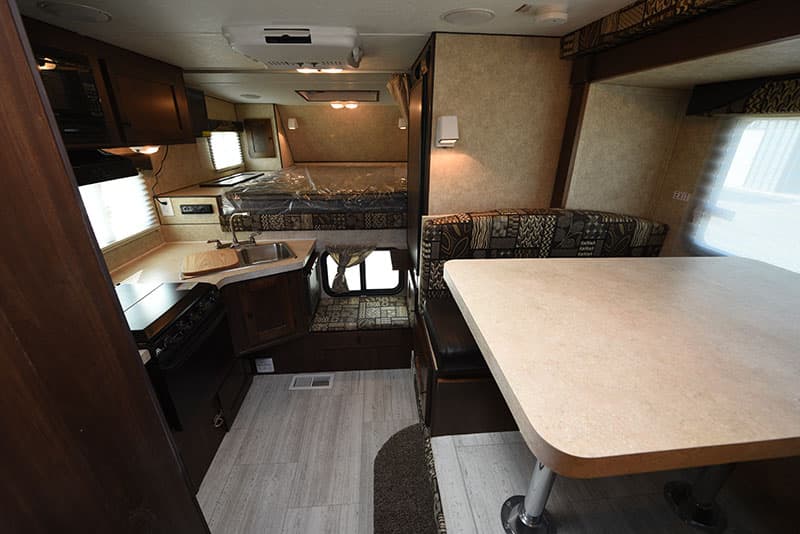 Inside the camper continued to impress.  The floor plan isn't anything we haven't seen before, but materials, fit, and finish were very good for a value-priced unit.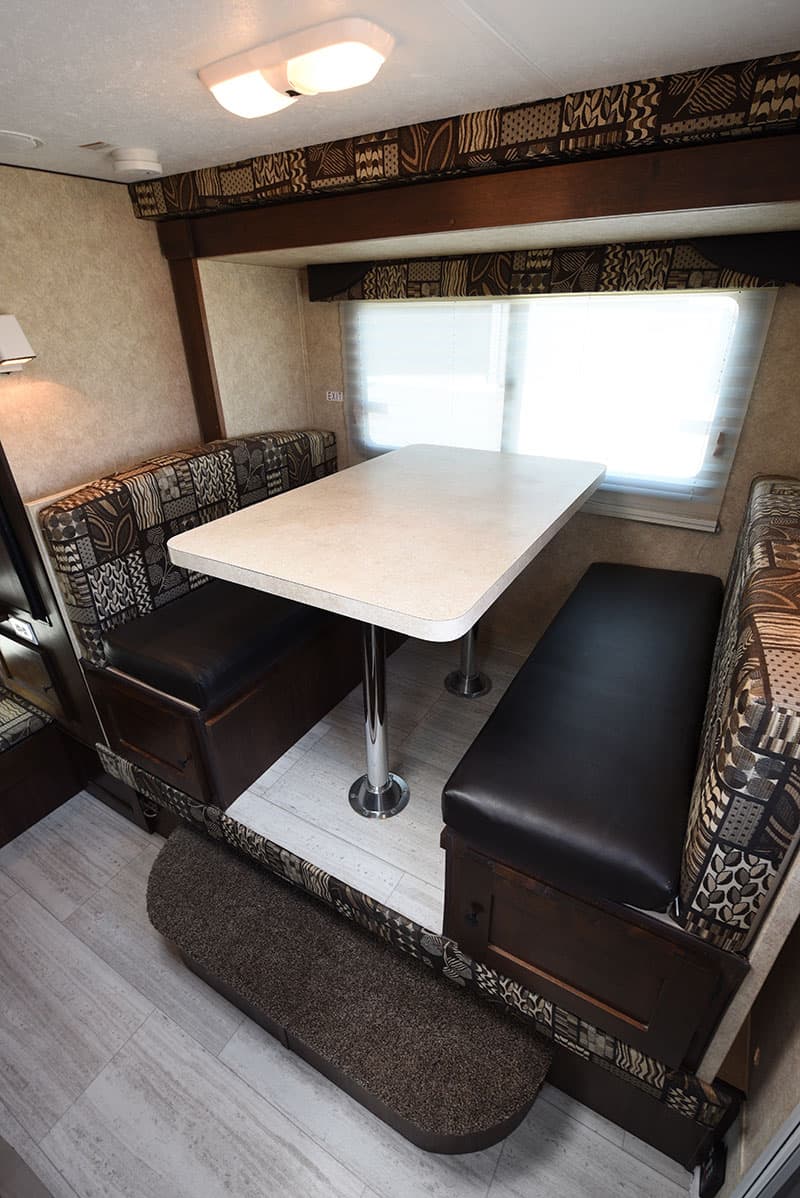 The full-booth dinette featured attractive fabrics, sturdy cushions, and strong stitching.  The seat cushions were a tad stiff, but should become more comfortable over time.
The table size was excellent for meals, map work, and dueling laptops, but the leg room was somewhat restricted by the two-post table.  The inside of the slide was also a tad low for me to sit, so I sat towards the middle, and moved my feet away from the table's legs.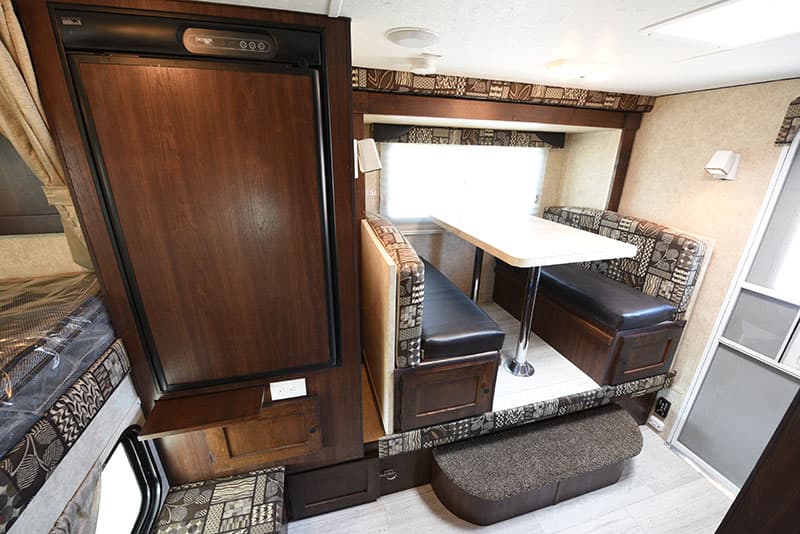 Rugged Mountain has chosen not to have a full-wall slide-out.  This means the dinette is on a slide, but the refrigerator is not.  Personally, I like this approach as the refrigerator can ventilate through the camper's sidewall and roof (as designed), and will not require noisy fans.
The smaller slide-out is lighter in weight and presents less structural challenges compared to a longer and heavier slide room.  On balance, you don't get the wide-open feel of the full-wall slide, which might be a deal breaker for some.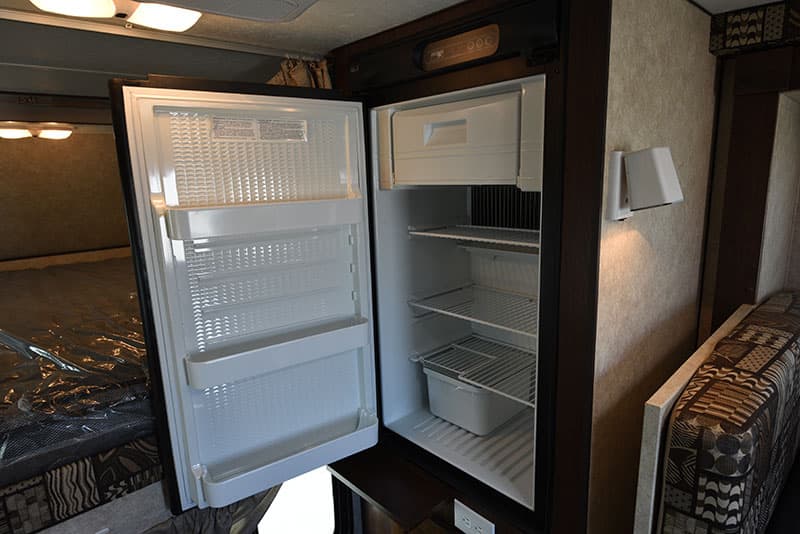 The Norcold 5-cubic foot refrigerator is a good size for this 8'6" camper.  Some might prefer a 6-cubic foot refrigerator with a directly accessible freezer door, but this refrigerator offers a useful amount of storage and takes up less weight and space than its 6-cubic foot cousin.
Under the refrigerator is a slide-out counter extension, 110-volt outlet, and a compartment.  All of these features would go away if they switched to a 6-cubic foot refrigerator.  Which would you prefer?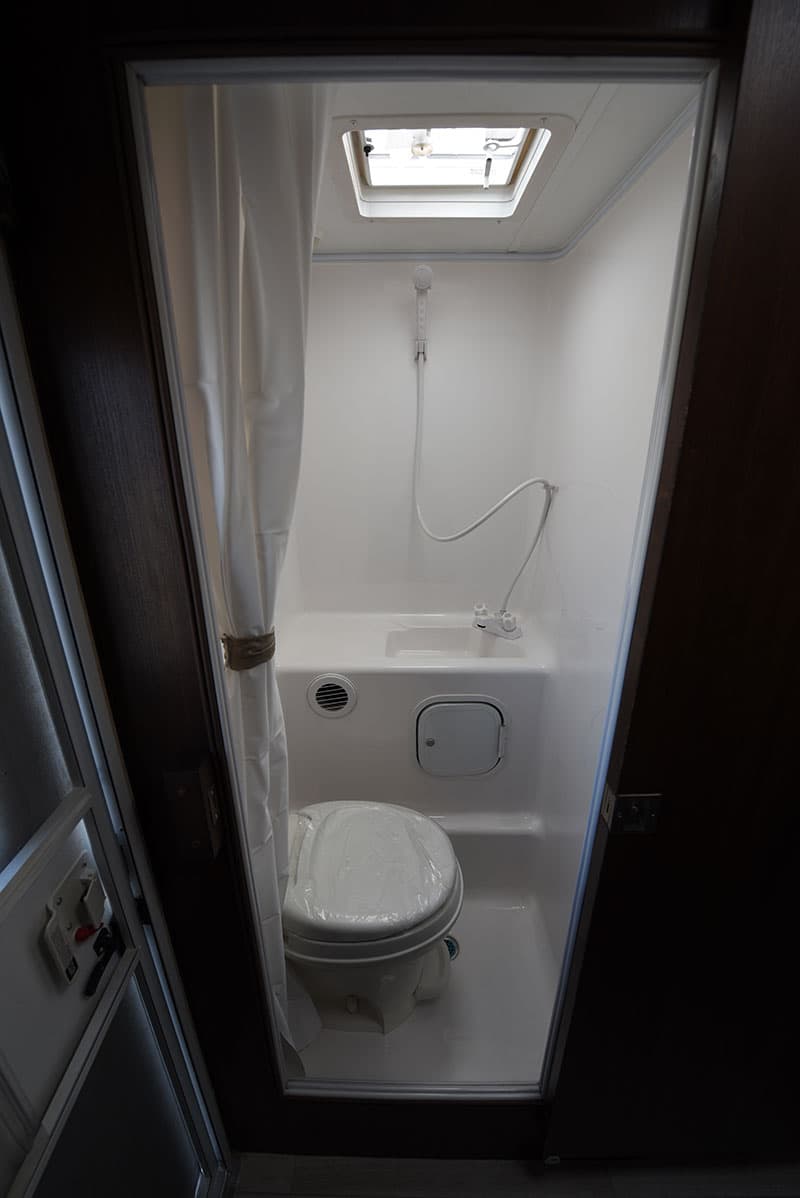 Directly across from the cabover is the wet bath. The Rugged Mountain wet bath is a high-quality one-piece molded fiberglass design with a flush-toilet, sink, shower, light, and fan.  There's even ducted heat into the bathroom, but it's pointed right at the person sitting on the throne.  Talk about a hot seat.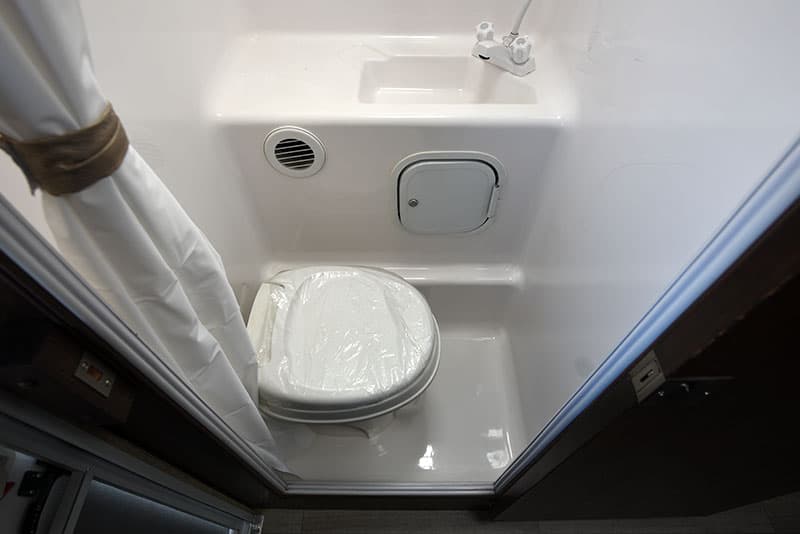 Leg room is a bit tight here so I recommend sitting on the toilet to make sure it's comfortable before purchasing the camper.  Too many folks forget or are too embarrassed to sit on the toilet and stand in the shower at a dealership.  For goodness sake, have a seat.  This isn't something you want to discover after the purchase.
Unless you're over 6-feet tall, this toilet and stall should be just fine.  The quality of the fiberglass stall is top notch.  The only thing in the bathroom I didn't quite get was a the lock on the toilet paper door.  Talk about a mean trick to play on your spouse.  No potty paper for you!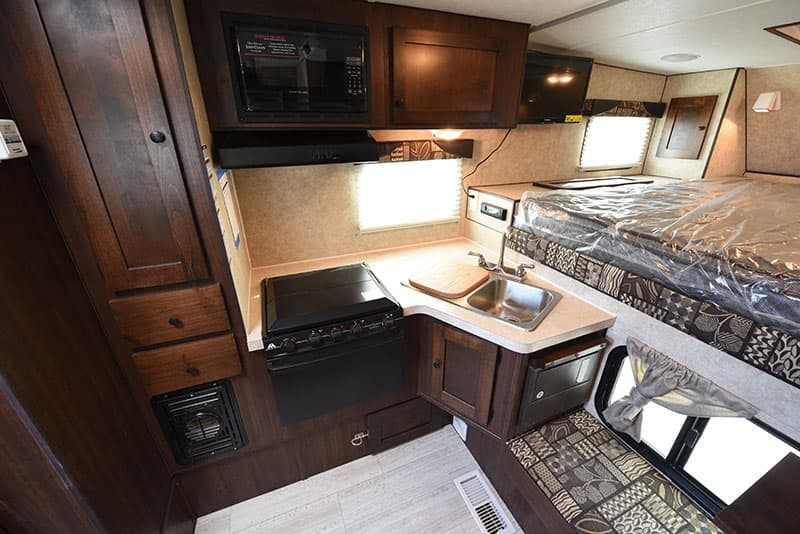 Look at all the storage.  Yes, the counter space isn't exactly gourmet heaven, but there's enough to get the meal prep and dish washing done.  Overall, this is a nice old-school kitchen design.  Very functional and attractive.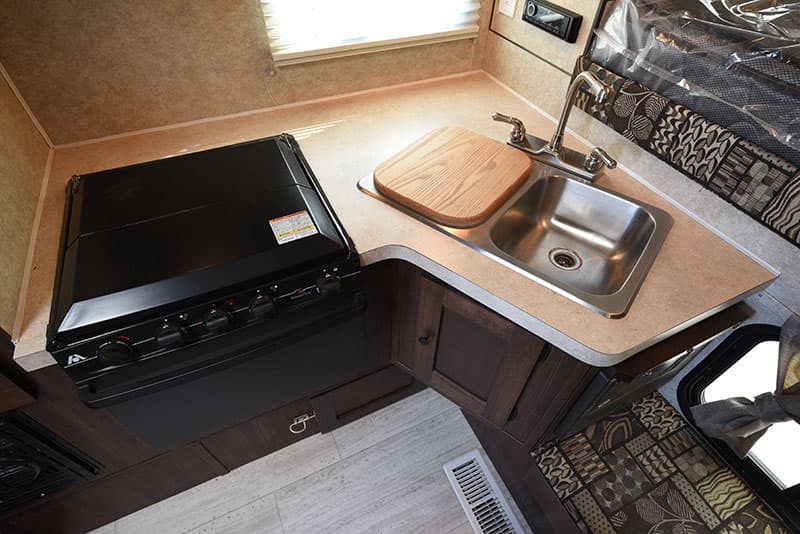 This is one of those meal prep or dish washing counter spaces.  If the range oven is closed, there's plenty of surface area for washing dishes.  If the range oven is open for cooking, meal prep space is tight.  That is if you're unaware of the countertop trick the Rugged Mountain has tucked under the refrigerator.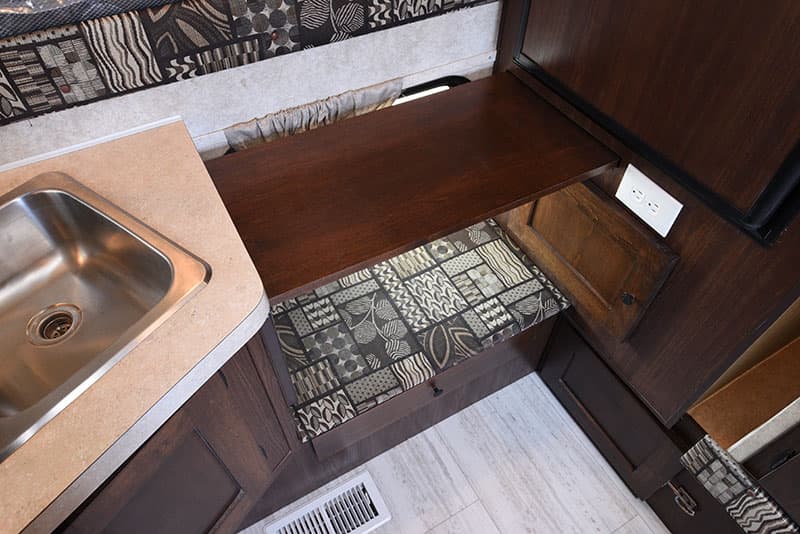 Under the sink is a pull-out counter extension that pulls across to meet the kitchen counter.  Neat trick!  This is something we haven't seen in any other truck camper.  Very clever, and useful.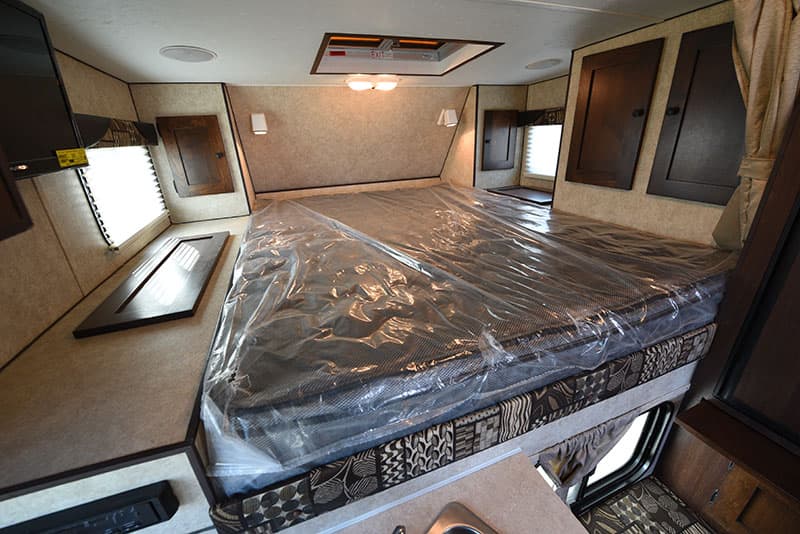 The cabover continues the themes; old-school layout, lots of storage, and clever touches.
I was bowled over by the quality of the mattress.  This might be the best standard mattress I've ever seen in a truck camper.  When crawling up to turn the reading lights on, I darn near took a nap.  Between you and me, maybe I did.  No one was there.  And I am the Publisher of this magazine, right?  I can nap when and where I want to.  Just don't tell Angela, or Harley for that matter.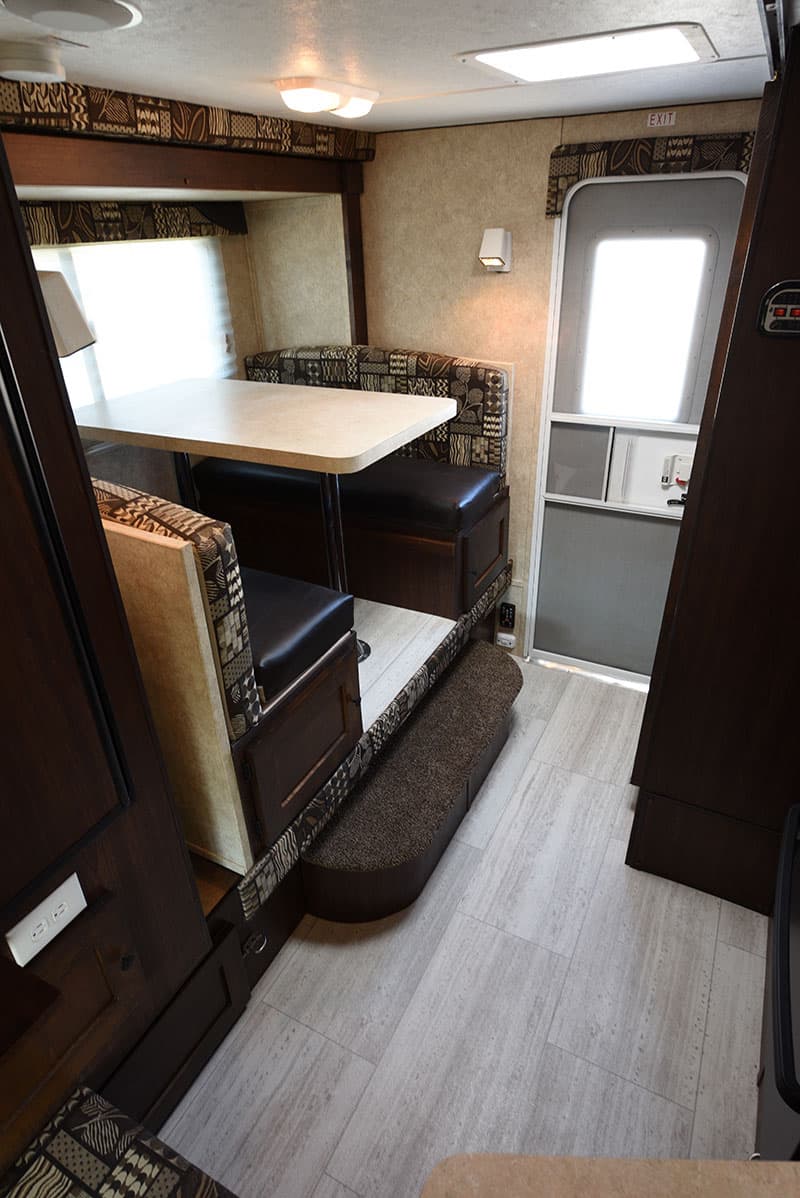 Turning from the cabover and looking back towards the entry way, I was impressed at how much floor space this camper offered.  In this photograph you can see why dinette slide-outs were such a hit when they launched about 20 years ago.
And while we're looking, note how well coordinated the light grey floor, dark brown cabinetry, dark brown carpeting, and lighter walls and seat back cushions materials are.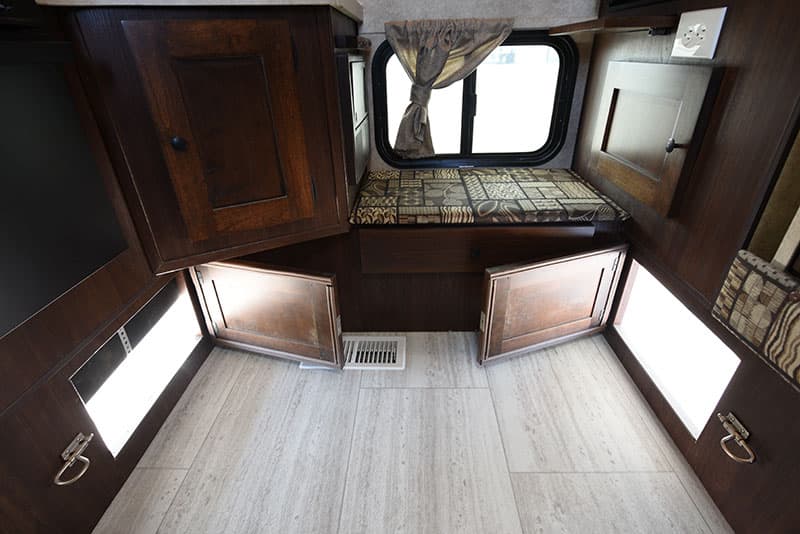 One of the main things we miss from the non-basement truck campers we've owned and borrowed are truck bed access doors.  Using truck bed access doors, we stored gallon water jugs, shoes, and even a laundry bag in the truck bed area.  It's amazing how much you can store in the truck bed using these doors.
Somehow the folks at Rugged Mountain figured out how to get truck bed access doors on their basement model campers.  Naturally these doors are higher up, but you can still store water jugs, shoes, and laundry – with a bit of a reach.  This is a very welcome addition to the Polar 860.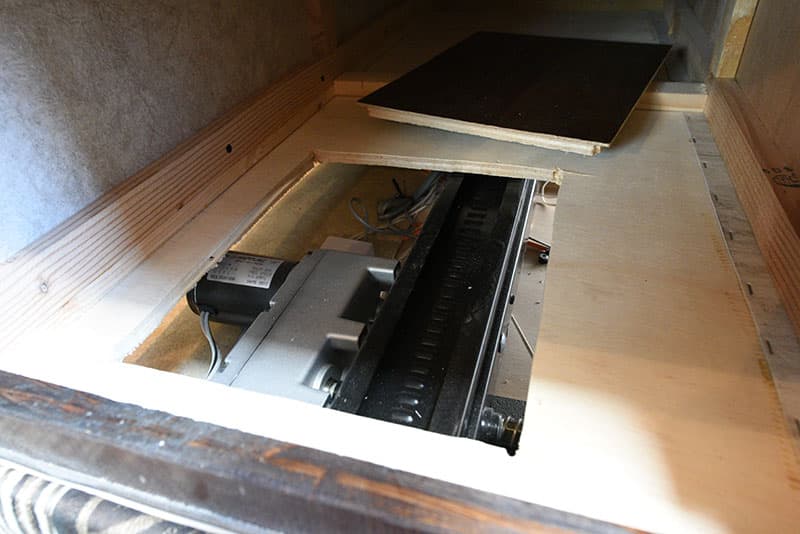 Another home run feature discovery was an access door to the dinette slide mechanism under the rear facing dinette seat storage area.  This is the kind of design feature that happens when someone who uses and services campers says, "Hey, why don't we just put an access door under the dinette so I don't have to cut another hole in someone's camper?"  Whoever said that, thank you!
We really enjoyed our time with Jesse, Anca, and the Rugged Mountain RV team.  This is a very energetic and enthusiastic company with an extremely audacious product vision.  When their new camper is announced next year, it will be the talk of the industry and community.  We can't wait.
For more information on Rugged Mountain RV, visit their website at ruggedmountaincustomrv.com.  To request a free Rugged Mountain RV brochure, click here.