Truck Camper Magazine visits Rugged Mountain RV, checks out a 2017 Rugged Mountain Polar 860, and discovers something new and exciting is about to launch from Caldwall, Idaho.  Hint: It's big, and tiny.

We had been looking forward to visiting Rugged Mountain RV in Caldwell, Idaho ever since first talking to Co-Owners, Jesse and Anca Collinsworth last summer.  Their unique and compelling start-up story with deep roots in both the truck camper industry and tiny home industry set this young and ambitious company apart in the truck camper marketplace. Put simply, their introduction story in Truck Camper Magazine is an absolute must read, "Introducing Rugged Mountain Truck Campers".
The original intent of our visit was to produce a Rugged Mountain factory tour story as well as a Rugged Mountain truck camper review.  What we didn't know – because it's still top secret – was that Jesse, Anca, and the entire Rugged Mountain RV truck camper team are hard at work on something completely new for 2018.
When they revealed what they were working on with us, we were blown away.  This is a radical departure from what they have been producing, and will spark tremendous excitement when it debuts early next year.  Best of all, Rugged Mountain is studying the 2018 Ultimate Camper Survey hard side results to make sure their designs are in-line with what Truck Camper Magazine readers want.
With so many changes afoot, a factory tour was premature, as was a formal in-depth truck camper review.  Our plan is to return to Caldwell, Idaho once the new camper is announced and all changes are in place and humming.  Then we are going to really dig in.
In the mean time, we had our first opportunity to check out a Rugged Mountain truck camper in person.  The Rugged Mountain production team had just completed a unit and wheeled it outside for us to inspect and photograph.  Overall we spent about three hours going through the unit and giving our feedback to management.  What follows is the resulting photography, and comments.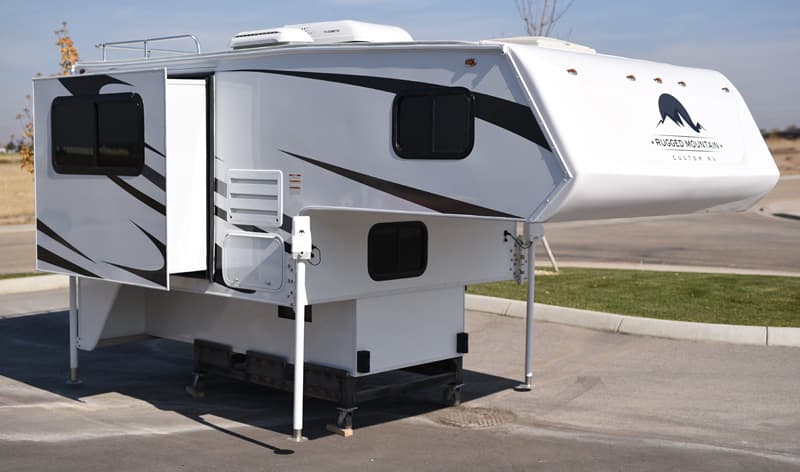 Right off the bat, the 2017 Rugged Mountain Polar 860 was an attractive modern camper.  The laminated fiberglass exterior and fiberglass nose cap were bright white.  The decals were tastefully understated and added a sharp curb appeal to the unit.  I even like the logo design on the nose.  This is one good looking unit.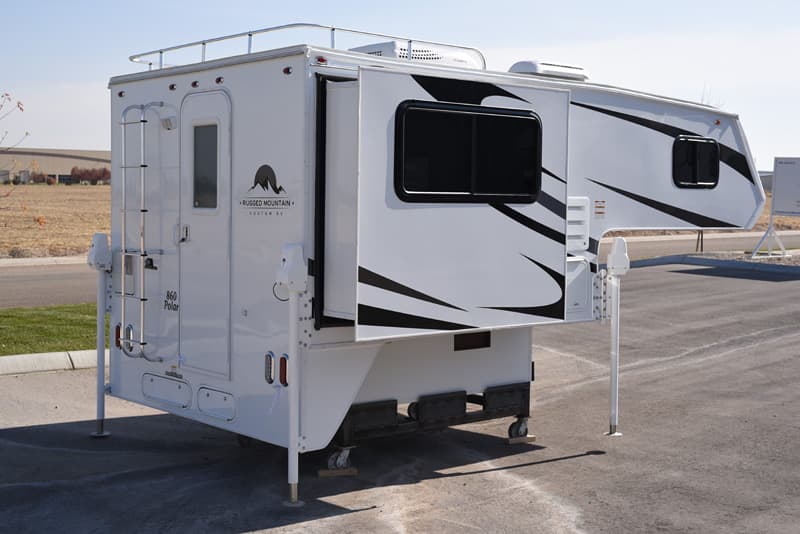 This aesthetic carries over to the rear of the unit with LED tail and marker lights.  The logo makes another welcome appearance and there's a ladder to ascend and inspect the roof.  All high marks.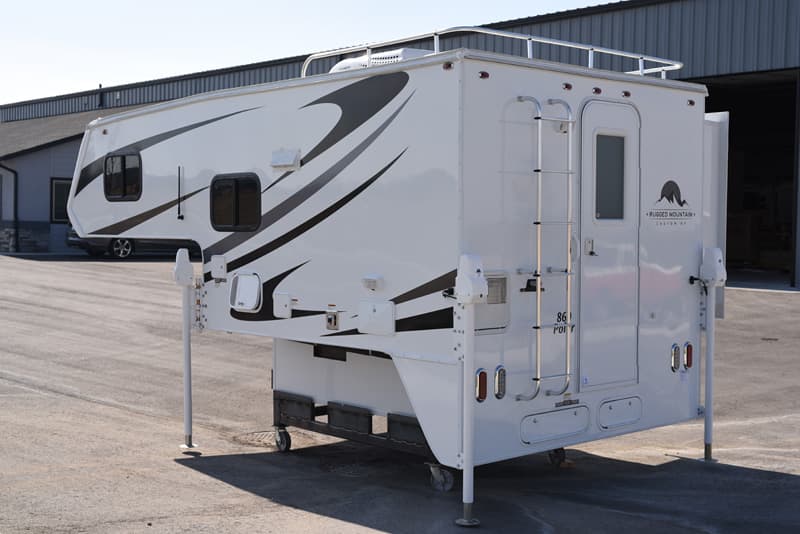 It would be easy to assume that a truck camper brand that's just six months old couldn't build a high quality camper.  One look at this unit changes that perception.  Of course the team that builds Rugged Mountain truck campers has been building truck campers for decades.  It really shows.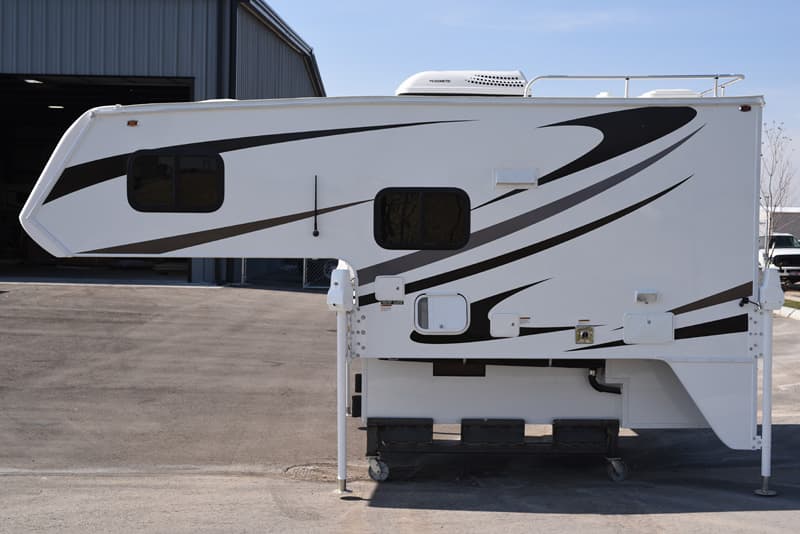 The driver's side features the 36-gallon fresh water fill, battery compartment, power cord, heater vent, exterior shower, and exterior light.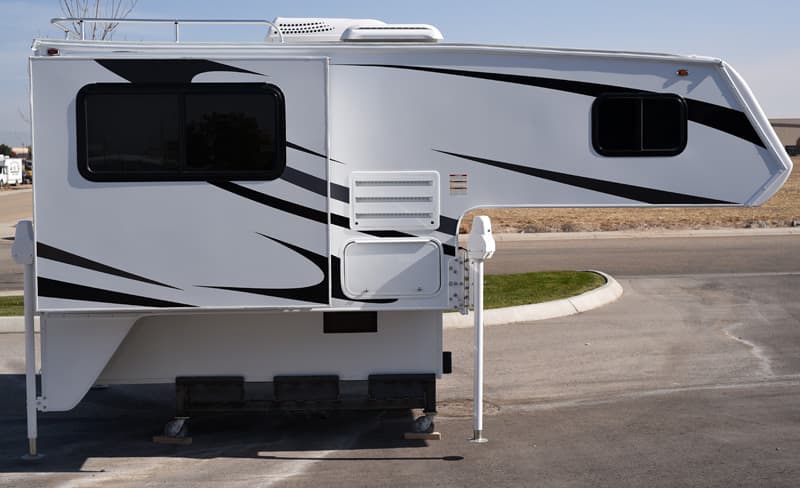 The passenger's side features the dinette slide-out, refrigerator vents, and propane compartment.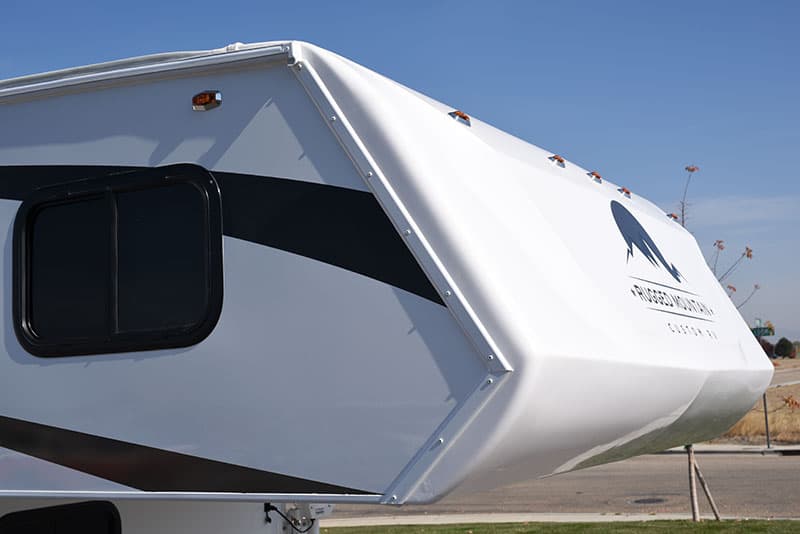 All Rugged Mountain truck campers come standard with a molded fiberglass front nose cap.  The cap wraps around the roof, sides, and under the cabover for an improved seal and provides additional impact protection with the inevitable tree branch or hail storm.  I sure wish we had a molded fiberglass nose cap on our project camper.