Above: Including the jacks, the Northern Lite 10-2 RR was 7'10.5″, the Lance 1191 (center top) and Lance 1055 (center bottom) both measured in at 8'3″, and Northstar pop-up was 7'1.5″ widths were measured at the 2014 Mid-Atlantic Truck Camper Rally.
Truck camper rig width is probably the least important dimension to know, but it's still important.  Pay particular attention to the width added by your side mounted awnings.  When passing through narrow spaces – like a toll booth – you will not be able to see your awnings in your mirrors.  Knowing your awning on the passenger's side comes out five inches will let you know to give that side a little more space.
Knowing your height, length, and width can save you a lot of trouble.  Having this critical information will also be handy for the next, "How tall is your rig" rally conversation.  Publicly admitting you don't know could send half a dozen guys running for their tape measures and climbing on your rig.  Don't let this happen to you.
Even if you know your rig dimensions, always use the GOAL method (Get Out And Look) when dealing with campgrounds and other potentially tight situations.  Many camper corners, awnings, ladders, and air conditioners have been destroyed because we just get in a hurry.
The Driving Experience: Unloaded Truck
Above: At the 2014 Mid-Atlantic Truck Camper Rally, Gary wanted to show the height of the truck's bed.  Billy Warner unloaded his camper at the rally, so we measured his 2006 Ford F-350, four wheel drive, dually at the rally.  Gary reminded us that suspension products could potentially raise the height of your truck by a couple inches.
Many of us in the community and industry take the experience of driving a pickup truck for granted.  We forget that many newbies to truck campers are also newbies to trucks.  They have driven cars, minivans, or SUVs their entire lives and, until now, had never considered owning a full-size pickup truck.  For some, this is an exciting proposition.  For others, it can be intimidating.
Driving an unloaded and empty pickup truck is both similar and very different than driving a regular sized automobile.  An unloaded truck will have a similar vehicle reaction time, brake lag, and stopping distance compared to a car.  This is accomplished with larger tires and brakes designed to handle the increased size of the truck.  The ride and overall driving quality of late model trucks is also very similar to an automobile.  New trucks don't drive like old trucks, they're quieter, smoother, and more refined than ever.
There are some important differences between driving an empty truck and a car.  You will immediately notice that you sit higher giving you improved visibility to see over traffic.  That height can also mean blind spots right in front of your vehicle where shorter automobiles can be harder to see.  Just keep in mind that your truck hood may be hiding the better part of a Smart Car, Mini Cooper, or Fiat 500.  Despite what you learned from playing video games, there are no points for driving over small foreign cars.
If you opted to drive a dual rear wheel truck, it can take additional time to get used to the increased width of your truck.  As always, use your mirrors, and take your time getting used to driving a wider vehicle.  The dually fenders are almost never wider than your truck camper rig.  Time behind the wheel of your truck will result in increased confidence.  Soon you'll be able to relax and enjoy the ride.  And then you'll know the secret; driving trucks is fun!
Driving Experience: Loaded Truck
The experience of driving your truck will change dramatically with the weight of a wet and loaded truck camper.  The weight of the camper will engage the trucks suspension system often resulting in an even smoother and more comfortable ride than when the truck was empty.  This is especially true for heavy duty trucks with suspension systems designed for several thousand pounds of payload.
The width of a loaded truck camper should always necessitate fully extending your tow mirrors or, if you don't have them, installing extendable tow mirrors should be a priority.  Don't drive a truck camper rig if your side mirrors don't allow you to properly see.  On the road, side mirror visibility is critical to your safety.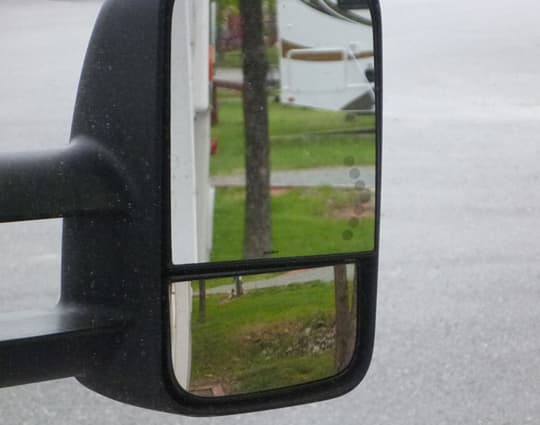 Above: Passenger's side mirror; when adjusted properly you can see the camper's jacks in the left side of the mirrors.
I touched on this subject for my first article, "Truck Camper Driving Safety 101: The Basics", but it's worth repeating here.  While sitting in the driver's seat, find your natural seating position and adjust your mirrors.  You should just be able to see the front corners of your camper in your right and left side mirrors.
If adjusted properly, the side mirrors will allow you to see if a vehicle is passing you.  It's equally important to mitigate blind spots as much as possible and know where your blind spots are.
Higher, Longer, Wider, Heavier
With the truck camper loaded, your rig is now higher, longer, wider, and heavier.  All of these changes require adjustments to your driving.
The increased height raises the center of gravity of the rig which can result in body roll and sway.  Body roll is when the rig leans towards the outside of a turn.  Sway is when the rig feels like it's moving from side-to-side while driving.  Sway can occur when you're driving around corners, during strong crosswinds, or when a semi truck passes.