Okay, there's one more moral to the story; pay close attention to overpass height signs.  Unless it's otherwise posted, federal and state highways are all designed to accommodate a minimum of 13 feet 6 inches.  What will catch you are railroad bridges and other side street overpasses that are usually located away from major highways.  Some railroad bridges on the East Coast can be as low as 10 feet.  If they've paved the road, it can even be less than what's marked.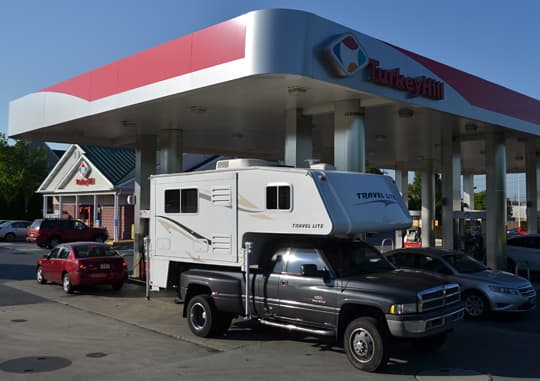 Above: Most fuel stations are within height requirements of a truck camper, but it's still important to pay attention to clearance signs
Other height considerations include drive-throughs, balconies, roof eaves, electrical wires, tree limbs, and the occasional low service-station canopy.  Know your rig height, and pay attention.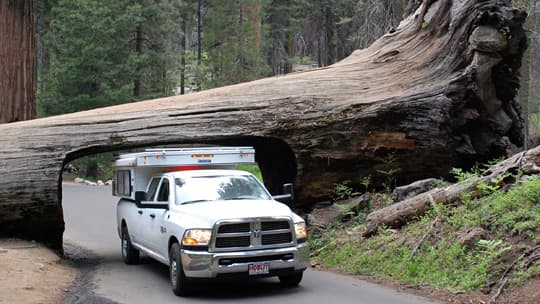 Above: Height may even be an issue with pop-up campers.  This tree tunnel in Sequoia National Park is 8'0″.
Length In Numbers
Above: Northern Lite 10-2 RR was 24'10", Lance 1055 was 23'4″, and Northstar pop-up was 22'8″ lengths were measured at the 2014 Mid-Atlantic Truck Camper Rally.
While nearly everyone knows the importance of measuring the height of their rig, too many overlook the need to measure the length as well.  If you ever plan on taking a ferry with your truck camper rig, they almost always charge by the foot – and yes, your tow hitch will count.  If you have pre-measured your rig, there will be no expensive surprises before boarding.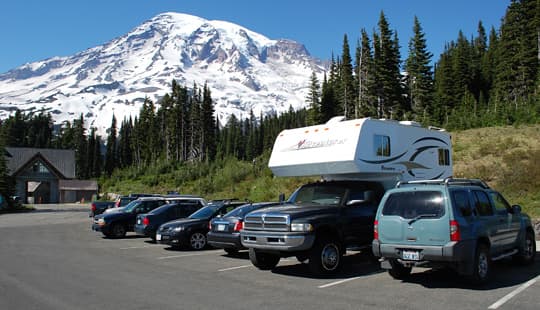 Above: The spaces are few at Mt. Rainier, but with a truck camper, you can fit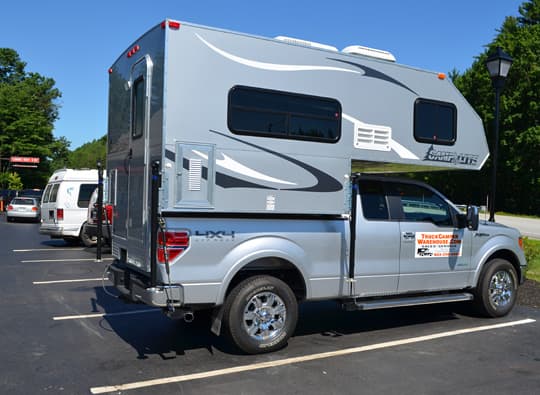 Above: With a Ford F-150 and CampLite, you'd be even shorter than a parking spot
It's also good to know if your rig will fit into an average parking space.  Most parking spaces in the United States are between 18 and 20 feet deep.  The DOT standard is 19 feet.  If you have an eleven foot hard side on a four door long bed truck, chances are you will pushing into the low 20 foot range.  This might be important to know before you pull into that parking space in down town Main Street.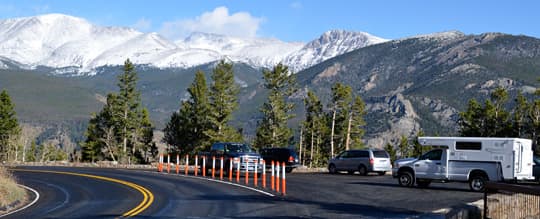 Above: Parking in a scenic pull-off in Rocky Mountain National Park, Colorado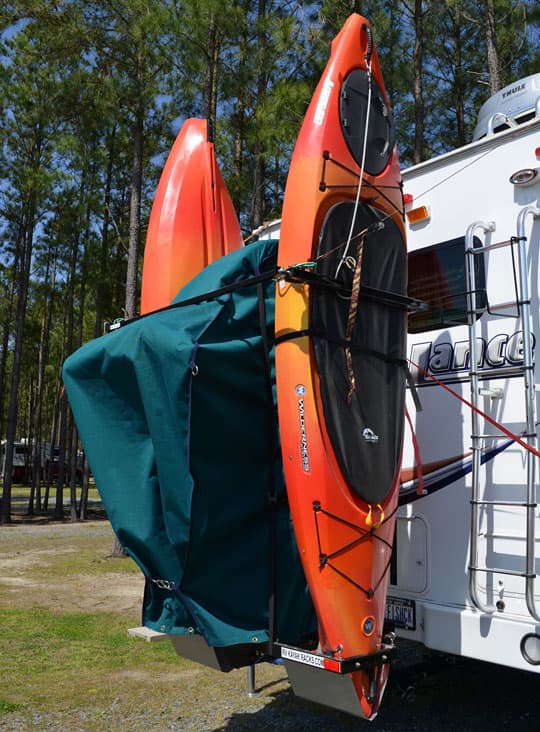 Above: If you are towing or have a hitch with bikes or kayaks, make sure you measure with the full length of your rig.
Above: With Carol Ann and Bob Lawrence's Lance 1191, they have kayaks and bikes on the back.  We ran out of tape at 25'0″, so we had to put our finger down at the sticker and add the two lengths together.  The first measurement was 24'5″ and the second was 6'0″, for a total length of 30'5″.
Wide Do You Ask?