After years of dreaming, months of planning, and a few tense moments, Truck Camper Magazine debuts what could be the most carefully matched truck and camper in history.

"That's impossible," said Angela.  "No one is going to believe that," I exclaimed, utterly confounded with what we were looking at.
We had just weighed our brand new 2013 Chevy Silverado 3500 and 2013 Lance 855-S at a CAT Scale.  "Let's weigh it again," I said. "It has to be wrong."  We would weigh the rig two more times before the day was over.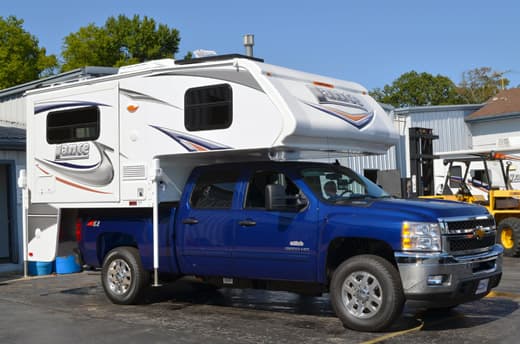 Above: This photograph was taken moments after our 2013 Chevrolet Silverado 3500 and 2013 Lance 855-S finally met at Parkview RV in Smyrna, Delaware
Four Months Earlier
Moments like this always have a good back story, and this was no exception.  Back in May, Angela and I committed ourselves to finally achieve a vision we had been dreaming about for years; a truck and camper that honestly and accurately accounted for every conceivable weight variable; every camper option, every gallon of water, every person and pet on board, every tie-down and turnbuckle, and all the real-world cargo and personal effects necessary for true go anywhere, camp anywhere adventure.
In the six years we have been publishing Truck Camper Magazine we had never seen a truck and camper matched to that degree.  We wondered, often out loud, "Is it possible?"  Can a truck and camper be properly matched if everything is honestly and accurately accounted for?
As the self appointed Chief of the Weight Police, it was imperative that I find out.  After all, I can't tell others that they need to be within payload if I can't do it myself.
The Challenge: A Payload Matched Truck and Camper
Before we proceed with our project, let's clarify the challenge we set out for ourselves.  Our challenge was to assemble an honest and accurate truck and camper match based on the payload and GVWR (Gross Vehicle Weight Rating) of our truck.
When our final rig is weighed on a certified truck scale, the camper should be wet with full fresh water, full propane, and batteries.  Additionally, our calculation needs to include all camper options, cargo weight, people weight (including pets), tie-down and turnbuckle weight, and any suspension enhancement equipment weight.

  Cargo weight should include food, clothing, kitchen supplies, toiletries, pet supplies, camping supplies, towels, bedding, cameras, computers, books, and everything else we pack into our camper.
For the final certified truck scale weigh, we would load the rig for a typical trip.  The truck fuel, fresh water, and propane tanks should be full, our grey and black tanks empty, and Angela, Harley, and I would be in the truck.
If the resulting certified truck scale weight ticket is on or under the payload and GVWR of our truck, we will have met our challenge.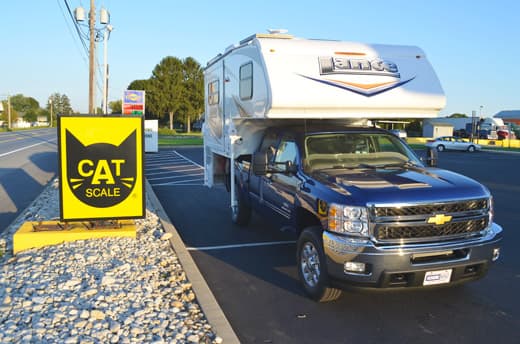 Above: This rig is ready to go anywhere and camp anywhere, but the first place we took it was a CAT Scale
Step 1: The Truck
As you're about to read, we threw our own "camper first" advice out the window and designed our rig backwards.   Why do we have to make life so difficult?
The answer is another important vision for our new rig.  Not only did we want to design and assemble a payload matched truck and camper, but we also wanted a rig based on a short bed truck.  Once that decision had been made, I contacted GM corporate to help us design a short bed truck with the most payload possible.