We had a huge response to the article, "10 Ways To Beat Fuel Prices". Here are some stand-outs, and an important correction about Costco.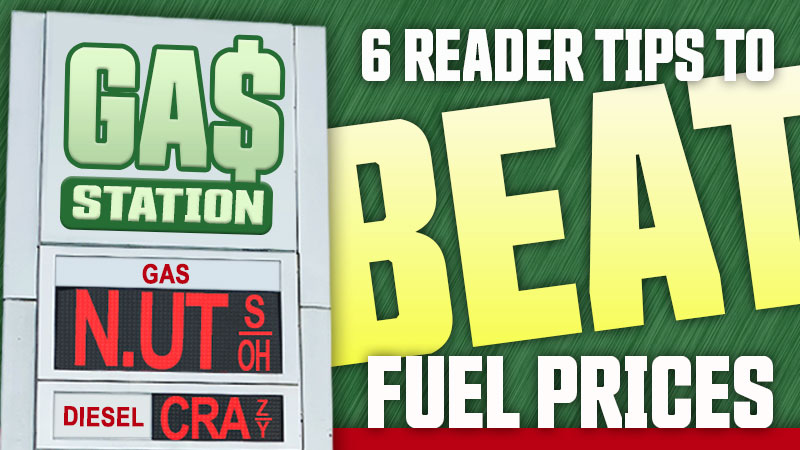 As I write this, fuel just hit another all-time high. For most of us, this isn't a problem we can easily ignore, nor is it something that's going to stop us from enjoying our truck camping hobby.
What follows are reader tips and responses to our recent article published on Tuesday, "10 Ways To Beat Fuel Prices". If you have more helpful tips, hit reply on your Email Alert and let us know. First up is a Costco correction, or two.
Correction: Some Costco locations offer diesel
Evidently, my research on Costco fuel stations not having diesel was dated. Of all of the responses, we received the most from readers reporting the availability of diesel at their local Costcos. Not every Costco has diesel, but many do.
Dave Riddle wrote, "Although Costco doesn't have diesel in many of their older locations, they are adding it to newer Costco locations. I have purchased diesel at the Medford, Oregon and North Spokane, Washington Costco locations."
Steve O. sent in a link where you can check which Costcos have diesel. Check out Costco.com/gasoline-diesel.html. Thank you, Steve! That's an awesome tip.
TIP 1: Consider an aftermarket fuel tank
Steve O. also suggested adding an aftermarket fuel tank to avoid high price areas. He stated, "We went to Death Valley in April.  I fueled up in La Pine, California, and then drove hundreds of miles through and all around Death Valley and didn't fuel up again until Twenty Nine Palms.  Diesel was $9.22 in Death Valley, and north of $7 in all surrounding towns.  I paid under $6 in Twenty Nine Palms, because I didn't need fuel until then.  I'm sure that savings more than made up for the weight of fuel I carried."
If diesel was $9.22 in Death Valley in April, I can only imagine what it is now. This is why it's so important to use GasBuddy (or equivalent) and plan your fuel stops carefully.
TIP 2: Try different grades of fuel to maximize the price per gallon
Reader P. Tron wrote us to suggest testing your truck with different grades of fuel. He said, "It's common for the highest price per gallon to provide to lowest price per mile." Naturally, this only applies to gas trucks, which we happen to have. We will test this theory out on our summer travels. We'll report back if our Ram 3500 6.4L gas truck scores better fuel mileage with premium gas.
TIP 3: Choose a fiberglass camper with better aerodynamics
P. Tron also recommended purging your rig of unnecessary books, trash, and clothing you don't use to reduce weight. I made this point in the article, but it bears repeating. Tron goes on to recommend a rounded camper, aka clamshell fiberglass design. We have heard many reports from Northern Lite and Bigfoot owners who rave about the improved aerodynamics of those designs.
TIP 4: Travel in the off-seasons
Another reader, John, recommended waiting until fall. "I know that doesn't help now," he added, "but fuel prices are almost always less in the off-season." Campground prices are also frequently lower, sometimes dramatically so, in the non-peak spring, fall, and winter seasons. Not to mention, everything is less crowded and the weather is often better in the shoulder seasons.
John also supported the camp local theme. "Like, you, I would also rather be in my camper, anywhere, than sit at home watching TV. In fact, I live in my camper behind my six-bedroom house for part of the year because I have a great backyard complete with a creek and orchard. I sit on my fold-out patio and listen to the burble of the creek and the birds." Sounds perfect.
TIP 5: Skip a meal or two out and fill your tank
On our Facebook page, Rich Bain wrote, "We have not, nor will we slow down on how much we go out with the camper. We simply skip going out to dinner once or twice. The offset from a $60-$100 dinner (dinner for two) being skipped does a good job of getting more fuel in my truck. The camper has a fridge, ability to cook food…so not a big deal really."
Melissa Malejko also commented on Facebook saying, "As Richard said, balancing out other costs to "subsidize" fuel is important: we almost never eat out, we don't even have a generator in our TC, we don't stay at campgrounds that charge more than $25/night, and we're frugal in other areas, too. Unfortunately, the price of fuel is not going to go down and electric trucks aren't a good option yet for many reasons (including the cost to buy new), so we just suck it up. Great article!"
TIP 6: Try the Upside App
Two readers (and a manufacturer) wrote in recommending an app called Upside. Rayne B. wrote, "Upside covers both diesel and gas. It has not been as helpful in some areas as it has in others, but I have still used it many times over the years." Beth wrote, "I looked at Upside last month and it showed me three stations in town where I could get 40 cents off (or back) per gallon."
We had not heard of Upside until Rayne and Beth's recommendations were shared. If anyone else has had a positive experience with this app, please let us know. I read a few reviews and it seems to be helpful to some people, some of the time. In our quest to save fuel money, it's worth a look.
A Perspective Hits Home
Dave Riddle offered his heartfelt take on the, "How many summers do you have left" perspective presented in the article.
"I've had too many friends leave this world at a much younger age, and without warning. The last was a good friend who died from a blood clot in his lung and was gone instantly, at age 62.  For myself, not knowing or being able to predict the future means acting responsibly in the present and living in the moment.  So, short of total financial collapse… we're going truck camping!"
Well said, Dave. Let's go.
And finally, our good friend Ramblin' Ralph commented, "I'm 80, so I can't delay ramblin' until gas prices go down.  I'm even going if it goes to $10 a gallon".
Thank you, readers, for your valuable feedback. We appreciate it.
If you have more helpful tips, hit reply on your Email Alert or, if you are not a subscriber (it's free!), contact us to share your ideas.