Here are ten proven techniques to ease the impact of high gas and diesel prices and keep on truck camping. Don't waste your summer or your wallet. Stack these cash and fuel saving strategies and go.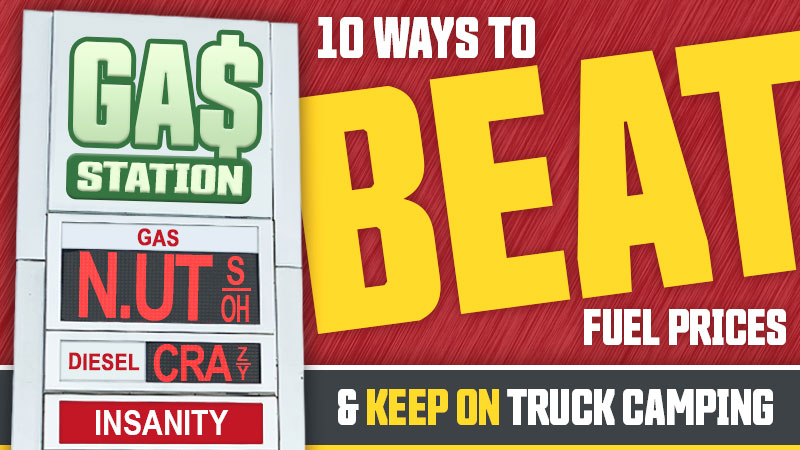 Reading about how fouled-up the fuel price situation has become makes my blood boil. I don't care about the pointless political finger-pointing. I don't need another wandering editorial about the unpredictable outcomes of the pandemic, Russia's disgusting invasion of Ukraine, the FED's too-late interest rate hikes, and the oil industry's apparently insatiable greed. Go ahead and play that tired tail-chasing no-win spin if you must. I want fuel prices to come down now. I want to go truck camping.
Stepping off my soap box, the truth is the high fuel prices have impacted our truck camping plans. We have just completed a 1,100-mile trip from Florida to see family in Maryland and Pennsylvania. For months, we have been planning to continue north to Maine and then Nova Scotia. Our Google Map is filled with researched destinations and camping areas and bucket list items. The truck and camper are in good working order. Everything is a go, but…
Our 2018 Ram 3500 6.4L gas truck averages about 11-miles per gallon.  At the time of this writing (late-May), gas in Nova Scotia is at around $2.03 CAD per liter/$7.69 CAD per gallon. Converting that to US dollars, it's $6.07 per gallon USD. That's 55-cents a mile.
If that's not a gut punch, you're a higher roller than us, or you've found a way not to care about money. That's not my world.
Perspective A: Adjust For Inflation
Economists are eager to pound the table and explain that fuel prices were actually higher in 2008; adjusted for inflation. While this is true (at least for the time being) it doesn't seem to soften the psychological impact of paying $141 to fill our fuel tank when we were paying $90 this time last year; a 56-percent increase. Perhaps another perspective would work better.
Perspective B: How Many Summers Do You Have Left?
It's moments like this when I hear the wisdom of Rex Willett, President of Northstar Campers. One of his favorite lines, when a potential customer would vex about purchasing a camper at an RV show was, "How many summers do you have left?"
The reason this line works (and it does) is because it's true. None of us knows how many summers we have left, and would hate to waste our last summer because fuel prices have gone up. If this was your last summer, would you really care about high gas or diesel prices? Hopefully not.
10 Ways To Beat Fuel Prices
Even with these perspectives, I think it's too much to suggest that we all just throw cash and caution to the wind and ignore these absurd fuel prices. I also think it's foolish to park a rig with the hope that prices will come down in the near future. They might, but the snow and sleet might be blowing by then. Or something else might impede. Life happens. That "How many summers…" thing.
So here's the deal. We have come up with ten proven and specific ways to spend less at the pump, use less fuel overall, and generally cut costs while truck camping. Combine these strategies and maybe you can spend less and have at least as much fun truck camping this summer. Put on your positive pants and pragmatic hat now. Let's begin.
1. Tune Your Rig For Peak Efficiency
Before setting out, incremental fuel-economy improvements can be gained by maintaining proper tire pressure, changing oil and air filters, changing oil, removing excess items (weight) from your truck and camper, removing any unnecessary items from the exterior of your truck and camper (wind resistance), and minimizing the use of air conditioning.
While none of these individual items will likely offer a significant improvement, together they are critical. At a minimum, the associated costs should pay for themselves in incremental fuel economy improvements and the longevity of your truck. Once completed, you'll also know that you're not sabotaging your fuel economy with low tire pressure, a clogged oil filter, or that roof-mounted kayak you rarely use. Start here.
2. Drive Less. Camp Longer.
Yes, this one deserves the collective forehead-slapping "duh" chorus (and ensemble) it undoubtedly will get. And yet, it really pays to drive less and camp longer. Even better, find places to camp for free and offer more things to do within walking or biking range.  If you need some pointers, we have an article on this subject cleverly titled, Free and Safe Places to Park Overnight In An RV.
To drive less, consider a "nearcation". As humans, we often overlook the camping and adventure opportunities close to home. Maybe this year you challenge yourself to stay closer and experience what's on tap within a 100-mile radius. Or you could drive to a more distant location where there's a lot to do within a 100-mile radius. Whatever your approach, plan for fewer miles.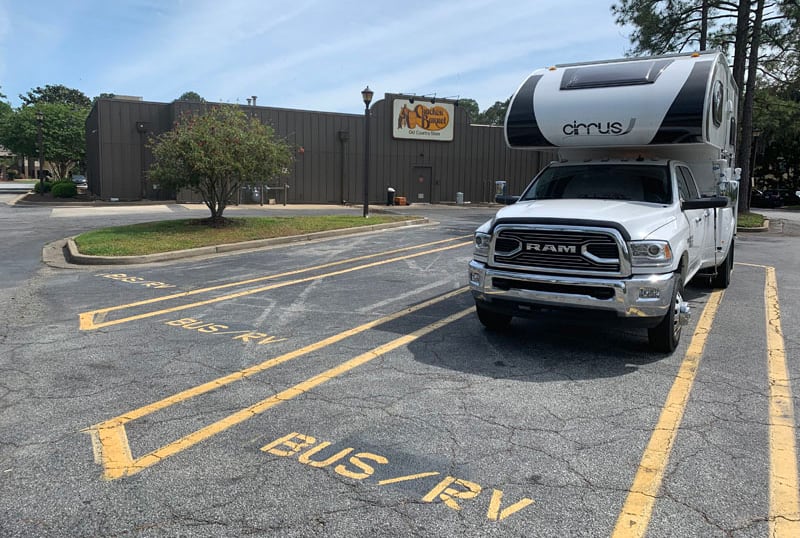 Above: We have parked overnight in hundreds of Walmarts, Cracker Barrels, and Cabela's
If the idea of a "nearcation" isn't inspiring, consider a theme you're passionate about. For example, Angela and I would love to go to every thrift store and antique shop within 100-miles of our Florida residence, and then stay at Walmarts, Cracker Barrels, and Cabela's overnight. It's not Yellowstone or Yosemite, but it sure beats staying home.
You might have a different hobby or interest that could keep you camping and exploring closer to base, and camping on the cheap. No hobbies come to mind? How about moochdocking with family and friends?
3. Camp For Free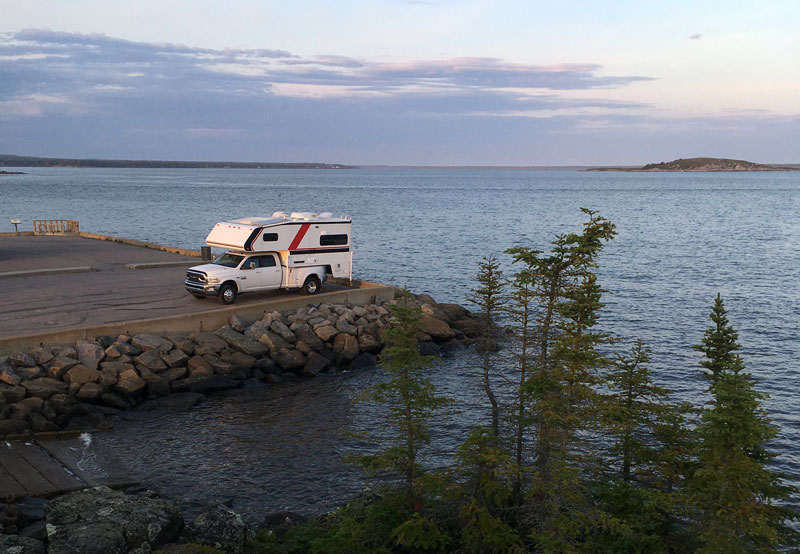 Above: Some free campsites are better than anything we've paid for
One of the reasons we prefer truck campers is that they're boondocking machines. We can reach and fit into smaller camping locations and stay longer with larger holding tanks and onboard power options.
This moment is the perfect opportunity to flex these, "Go Anywhere, Camp Anywhere" capabilities, and maximize free camping to offset high fuel prices. The best place to start here is with apps like Campendium (free), iOverlander (free), and Harvest Hosts and Boondockers Welcome (membership fees).  We use them all.
4. Plan Ahead: Plan A and B
We've been truck camping for the past 17 years. For the great majority of that time, our travel plans have been loosely sketched out allowing for maximum flexibility day-to-day. Campground reservations? No thanks. We did everything we could to stay spontaneous and wide open to road magic.
This year we're taking a different approach to saving fuel and cost. First, we're making specific plans to drive less, camp for free more, and stay in locations longer. We're also making sure to have backup plans for overnight camping; Plan B. We can still be spontaneous if something comes up along the way, but this year we have a more detailed plan to avoid that unnecessary 20-mile out-of-the-way drive to an overnight camping spot.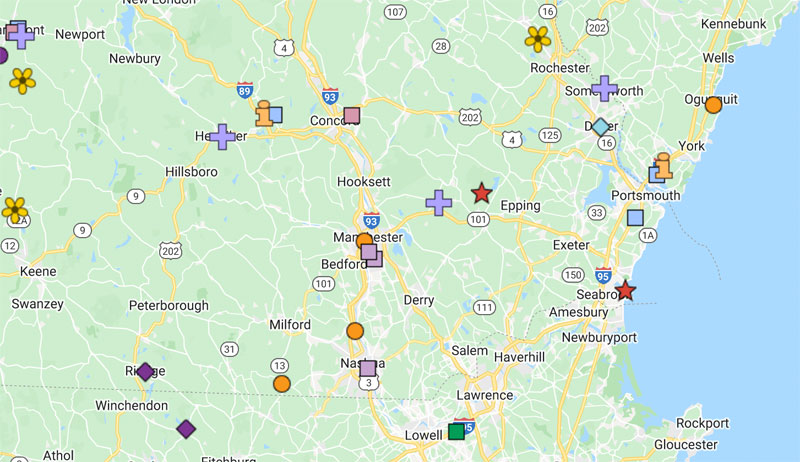 Above: Our personal Google Map has thousands of locations with different pins indicating free campsites, points of interest and the homes of friends and family.  On the map above, there are moochdocking spots of readers and family members who have invited us over (blue squares/purple diamonds), Harvest Hosts (flowers), Boondockers Welcome (blue diamonds), Information Centers (i symbol), campgrounds (red stars), Cabela's (green squares), quilt shops (+ symbol), thrift shops (purplish-pink squares), touristy spots (orange circles), etc.
As a side note, creating a Google Map can be essential to this type of planning. Angela wrote an article about how to set up a Google Map, and mark it with destinations. She also wrote an article about how we plan our trips.  If you're not using Google Maps, it's a game-changer.
5. Fuel By Price
Most of us know the expensive gas stations in our hometowns and avoid them. Many of us again use GasBuddy to find the least expensive gas – when we need to fill up. If you care about paying less for fuel, this is common sense.
On our way north, Angela took this approach to the next level. She looked at the entire route from Florida to Maryland on GasBuddy and noted the best fuel prices and stations. We then stopped at the cheapest gas stations that were right off the highway; not when we were low in fuel, but when we were close to the low price fuel stations.
Sometimes we were topping off only a quarter of a tank. Other times we were half-empty or more. The point is that we kept tabs on the prices on our entire route, and made sure not to pass cheap fuel. We stuck to major brands and quality stations, but that didn't limit the opportunities to save. It became something of a game for us.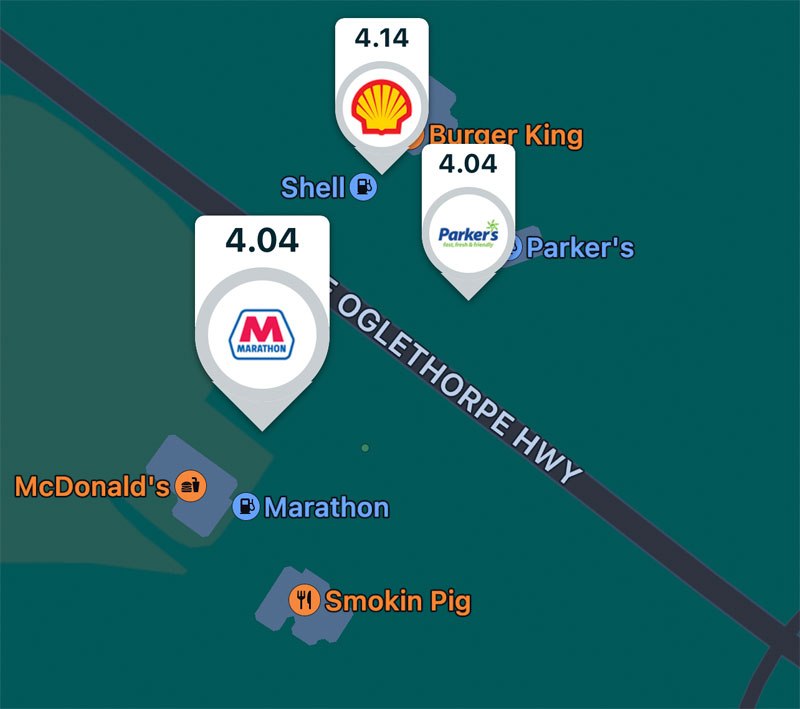 What's amazing is that fuel stations can be 10 to 20-cents different in a given area (see above). And between areas inside of the same fuel range, they can be even more different. By looking at the entire route on GasBuddy, and stopping for lower prices before we needed to, we saved at least 10-cents per gallon, often more. A lot more.
As we were developing this story, we discovered that GasBuddy has a Trip Cost Calculator that automatically shows the lowest priced fuel stations between two points.  It even takes into account your fuel mileage and fuel type.  This tool has become a key component of our fuel saving strategy.  Highly recommended!
6. Slow Down
Drive down the highway right now and you'll wonder if anyone else either cares about high fuel prices or realizes that pressing their right foot down is absolutely destroying their fuel economy.
The fuel-saving sweet spot for our truck is right around 61 miles per hour (on the highway). On our way north, we stuck to 61 miles per hour and saw a one to two mile per gallon improvement in fuel economy. That's hand calculated and legit.
Are you willing to gain 20-percent better fuel economy by slowing down? Find the fuel-saving sweet spot for your truck (it's usually in the low 60s) and stick to it. Yes, you'll be passed on the left countless times, but who cares? We achieved approximately 20-percent better fuel economy just by slowing down. 20-percent!
Our jury is still out about the impact of cruise control. While it's great for long flat straightaways, it can accelerate too much on hills. We still use cruise control on flat pavement, but immediately turn it off when the road begins to rise and fall. The point is to experiment, hand-calculate your mileage and adapt to maximize your efficiency. What are the maximum miles per gallon/liter your rig can get? For our answer, keep reading.
7. The Egg Under Your Accelerator
Most modern trucks have some kind of meter that shows how fuel-efficient the vehicle is operating at any given time. I think these meters are mostly garbage, but they are a helpful indication of how fuel-efficient you are driving overall. Press the fuel pedal on a hill and watch the meter plummet. Take your foot off the fuel pedal on a downhill and watch it rise. Basic? You bet, but we use this information to maximize our fuel efficiency.
The best fuel economy we reached on our way north was 11.92 miles per gallon. That was hand-calculated after the most gentle accelerations, most steady speeds (up to 61 mph or less), and doing our best to anticipate slow downs and coast on hills. As Angela kept reminding me, "Imagine there is an egg under the fuel pedal". I did, and it worked. No yoke!
Approaching 12 miles per gallon is no small feat for a gas dually loaded with a 5,000-pound camper, itself wet and loaded for a multi-month trip. Chances are you could add one to two miles per gallon (or more) by slowing down and pretending there's an egg under your pedal. It sure beats staying home and watching Netflix.
8. Warehouse Club Membership Discounts
In 2016, we asked Truck Camper Magazine readers what discount fuel programs and strategies they used to save money. Nearly every respondent suggested joining at least one fuel station discount program while another large percentage belonged to a warehouse club for the fuel discounts.
Annual warehouse club membership fees typically run from $50 to $120 USD per year. In return, you can often find fuel between 5 and 25-cents off per gallon. Most warehouse club fuel discounts are closer to 20-cents per gallon and are often slower to increase prices compared to a stand-alone gas station.
If your truck camping route has enough warehouse club locations, you might do well with a membership. Just be aware that these warehouse club gas stations are quite popular and there might be long lines at the pump.
Here's a breakdown of the more popular warehouse clubs, their membership fees, and fuel benefits.
Costco
Costco's Gold Star membership is $60 per year and includes fuel station privileges. Costco only sells, "Top Tier Gas" (no diesel), and requires a VISA card. To maximize the fuel savings, Costco offers its own Visa with an additional 4-percent back on fuel up to $7,000 per year.
Sam's Club
Sam's Club membership is $45 per year and includes fuel station privileges. Sam's Club offers regular, premium, and diesel fuels and accepts most credit cards. In addition, Sam's MasterCard offers 5-percent cash back up to $6,000 per year.
Walmart+ Program
The Walmart+ program includes up to 10-cents off per gallon at ExxonMobil, Murphy and Walmart stations, plus member pricing at Sam's Club fuel stations (over 14,000 locations in total). The downside is the $98 per year fee.
BJ's Wholesale
BJ's Wholesale membership costs $55 and includes fuel station privileges. BJ's Wholesale offers regular, premium, and diesel fuel. BJ's requires in-store purchases to get their 10-cent per gallon fuel discount. BJ's also offers a MasterCard for 10-cents off per gallon and 3-percent cash back on club purchases.
9. Fuel Station Discount Programs
Every major fuel station brand offers a discount program. These programs typically offer 2 to 5-cents off per gallon, and often offer additional incentives. Some of the programs are free while others have upfront or monthly costs. And a number of the plans require you to use their fuel stations a certain number of times to maintain your discounts.
Here's a breakdown of some of the more popular programs. Please click on the links for details about the programs as the discounts and requirements can change.
Pilot Flying J Preferred Customer Rewards
Pilot Flying J Preferred Customer Rewards and the myRewards Plus app are designed for RVers. The myRewards Plus app earns a 3-cents per gallon discount, plus points for in-store purchases, special discounts on your birthday month, and more discount programs on a monthly basis. Perhaps the best part of this program is that it's free.
Shell has a two-level discount program (both are free); Silver Status for 3-cents off per gallon, and Gold Status for 5-cents off per gallon. Fortunately, Shell offers the Gold Status and discount for your first half-year of membership. After that, you are required to use Shell stations a half-dozen times every six months to maintain your Gold Status and discount.
To compound the savings, you can apply for the Shell Fuel Rewards MasterCard for 30-cents off per gallon through June 30th, 2023, and 10-cents off after that (Shell stations only of course). Even more interesting, the Shell program is partnered with grocery food chains across the United States for more fuel points applicable at Shell stations.
BPme Rewards program offers 5-cents off per gallon at BP and Amoco gas stations. The program works for one month, and then requires spending $100 per month at BP or Amoco stations to continue the discount.
A bonus to the BPme Rewards program is a unique Price Match guarantee (99-cents per month) that works through the BPme app. If there's a fuel station with a lower price within a half-mile (or 2-miles to the nearest competitor), you get a discount.
Exxon Mobil Rewards+ awards 3-cents per gallon on fuel purchases and 2-cents on anything else you buy at the fuel station store; food, drinks, etc. To qualify, you need to pump at least 8-gallons of fuel three times per month at Exxon Mobile stations.
AARP membership bumps the Exxon Mobil discount up another 1-cent per gallon and 1-cent in the store. Pump over 100-gallons per month and you get a Frequent Filler discount for another 1-cent per gallon and 2-cents in the store.
10. Credit Card Fuel Discount Programs
While far too numerous and complex to detail here, the credit card opportunities for cash back and/or points towards purchases are considerable. Many cards offer bonus points after spending defined thresholds (for example, $1,500 earns 15,000 points), and offer additional opportunities for grocery store and restaurant points and discounts.
Be aware that many credit card programs exclude fuel purchases from supermarkets and wholesale clubs like Costco, Sam's Club, and BJ's. Before you use these programs, check to see what qualifies as a fuel station. They don't let you double dip.
Also, be aware that many of these credit cards have an annual fee. For example, the Citi Premier Card offers unlimited points for every dollar spent at fuel stations but charges a $95 annual fee. In contrast, the PNC Cash Rewards Visa offers 4-percent cash back at fuel stations and has no annual fee. Like fuel stations, it pays to shop credit cards and programs.
Combine To Win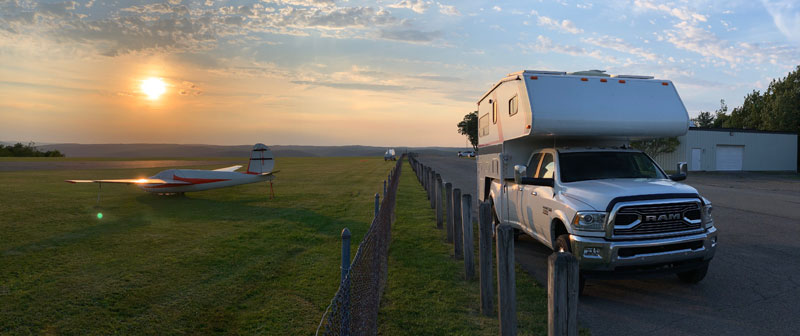 Above: A Harvest Hosts location in New York
Tune your rig for peak efficiency, drive less, camp longer, camp free, slow down, drive with an imagined egg under your fuel pedal, and use a combination of memberships and discount cards and you could save hundreds of dollars this summer. Heck, you might end up spending less than you would have with lower fuel prices, and have more fun. Yes, that's a challenge, but one worth taking.
If it's any consolation, the above strategies are exactly what we're doing this summer. Angela and I are treating this situation as a game; searching for money-saving opportunities and coming up with new ideas as we go. I bet we learn things this summer that serve us well even when fuel prices (knock on wood) come back down.
One Last Idea
As I was researching this article, I read numerous blog posts and forum threads from fellow RVers who have needed to change their summer RVing plans due to the high fuel prices. Maybe the above strategies will help, but they might not make enough of a difference.
If you find yourself in such a position, I have a suggestion; camp extremely local. It's better to camp at a local park, moochdock at a friend or family's house, or even free camp at the local Cabela's than to not take your camper out at all.
Angela and I love being in our camper even when it's in our storage lot. I know a lot of you enjoy being in your camper when it's parked at home. With a single tank of fuel, you could get behind the wheel, explore your area, camp overnight for free, and go home. If that sounds ridiculous, forgive me. I love being in my camper, no matter where it is. Walmart or Yellowstone, I'd rather spend an evening in my camper than my house. Don't waste the summer. Camp in your driveway if you have to. Why not?