Suburban or Atwood, here's how to flush, winterize, and complete RV water heater maintenance.  Ever experienced that rotten egg smell?  Here's how to solve that, too.

Have you ever turned on the hot water faucet in your camper and smelled rotten eggs?  This stinky sulfurous experience has happened to us with many campers, especially if the camper hasn't been used for a month or two.
When we picked up our new-to-us camper at Truck Camper Warehouse last summer, we were immediately greeted with that horrible rotten egg smell when we turned on the hot water.  We knew exactly what the problem was; our water heater needed to be flushed.  The rotten egg smell had to go!
Suburban and Atwood Water Heaters
The two major suppliers of water heaters in the RV industry are Suburban Manufacturing and Atwood Mobile Products.
No matter which brand of water heater your camper has, we recommend visually inspecting your water heater at least twice a year.  To keep things simple, we inspect our hot water heater when we winterize in late fall and de-winterize in early spring.  It's a good habit to visually look at your entire rig at these times.  Make sure you inspect your camper's seals.
Of course, even babies know that you can't play with your belly button if you don't know where it is.  Since we're fairly sure you all know where your belly buttons are, we'll start with locating your water heater.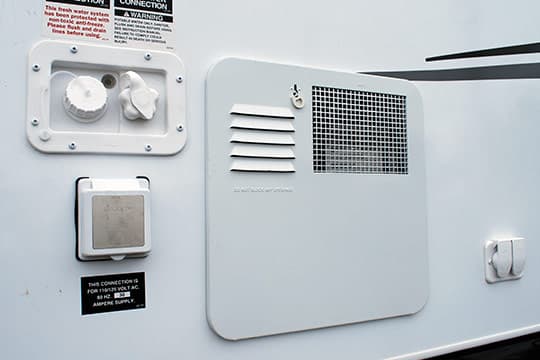 In the photos above are the two most common water heater access panels found on truck campers; the Suburban (above), and the Atwood (below).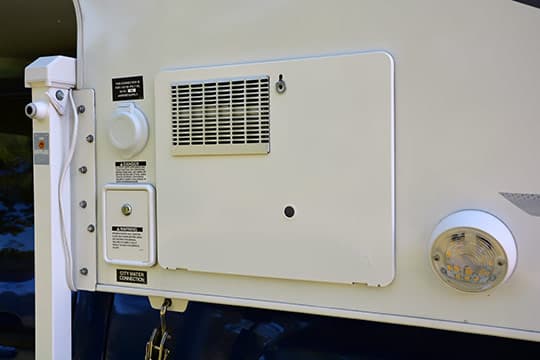 If your camper is equipped with a water heater, you will find one of these two access panels on the driver's or passenger's side of your truck camper.
Once located, you need to open your water heater access panel to being the inspection and maintenance.  To do this, twist the metal or plastic latch at the top of the water heater access panel, and lower the panel door.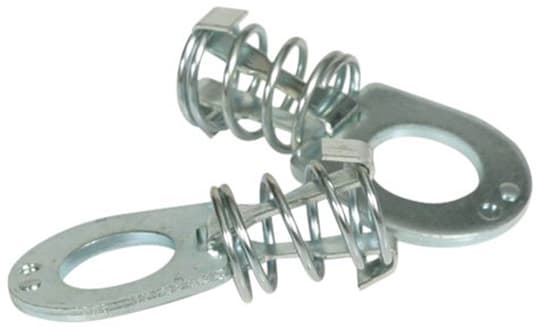 Access Panel Latches Can Be Replaced With Metal Latches
If your access panel has a plastic latch, or has a rusting metal latch, you can upgrade or replace that latch with a
new metal latch
that will be more resistant to breaks.  A broken latch can result in a lost water heater access panel, an expensive item to replace.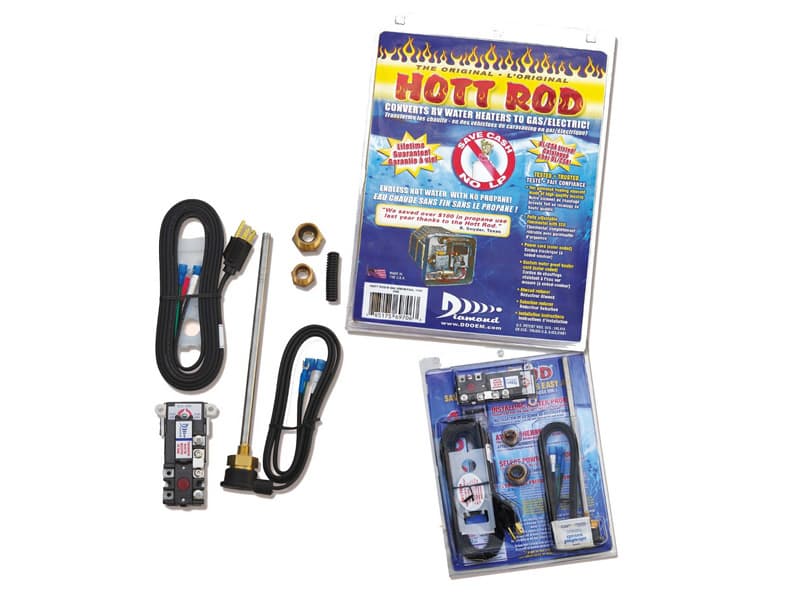 Adding Electric Heating Elements
Most RV water heaters run on propane gas.  Some water heaters also feature an electric element that heats the water if you're plugged into shore power.  This is a fantastic option as it saves propane when you're plugged in.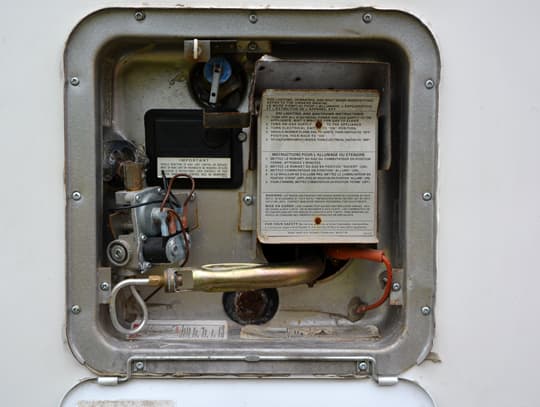 We have a Suburban Manufacturing gas-only water heater installed in our camper, model SW6D (shown above).  Like the rest of our truck camper, it's eleven years old and shows signs of age.  In a future article we will be replacing this unit with a Suburban SW6DE.  The "E" at the end of the model name indicates that the new water heater features an electric element.
If you have an Atwood water heater, it will likely look like the image below.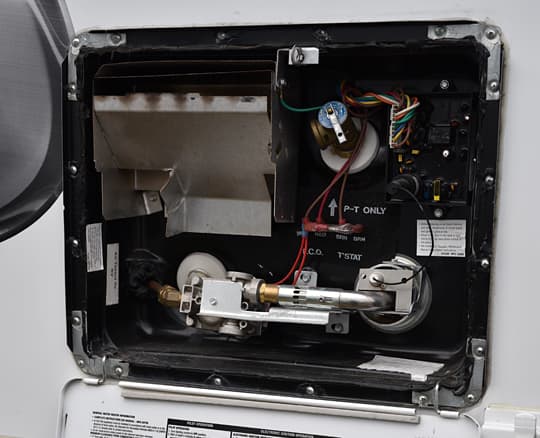 During your twice a year routine RV water heater maintenance, it's important to look carefully for loose connections, corrosion, insect intrusion, and insect nest building.  Any of these issues can prevent a water heater from working properly and may require service.
If you find dirt, dead bugs, or a wasp's nest, remove this debris carefully (especially if the wasps are still home).  If there are potential electrical or propane gas issues with the water heater, those repairs require certified RV repair service.
Why You Need An Anode Rod  |  Eliminate The RV Water Heater Smell