Mark Hellwig, President of Hellwig Products, compares and contrasts the capabilities and ownership experiences between his truck camper and fifth wheel toy hauler.

Whenever we meet someone who is considering the purchase of a motorhome or towable, we present the many economic and lifestyle benefits of owning a truck camper.    We tell personal truck camping stories of how you can go anywhere and camp anywhere.  We explain how you can do more, and spend less with a truck camper.  Then we'll talk about how wonderful the truck camping community is and invite them to a truck camper rally or two.  By the time we're done, some folks can't believe they ever considered anything but a truck camper.
In 2010, we went on a cross country tour of every truck camper and truck camper gear factory.  When we visited Hellwig Products in Visalia, California, Mark Hellwig, President of Hellwig Products, showed us his fifth wheel toy hauler.  While we admired his rig, we couldn't help ourselves to pitch the advantages of a truck camper.  In all honesty, we didn't think we had made much of an impression on Mark's fifth wheel preference.  It turns out we may have had more influence than we thought.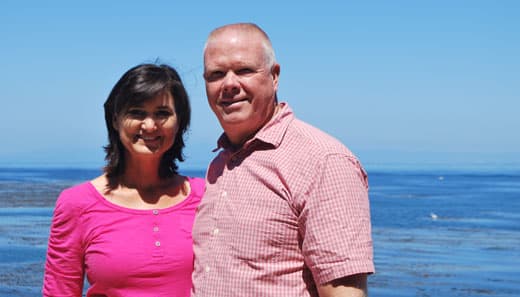 Above: Rosemary and Mark Hellwig in Monterey Bay
TCM: Your daughter Melanie likes to say that it was our visit in 2010 that had you considering a truck camper.  How would you tell the story?
Mark: As with everything in life, family activities change and needs change.  As our family got older, our kids went in different directions and have their own RVs.  From an empty nester's perspective, we made a choice to look at the slide-in camper market.
Two years ago we ended up with a ten and a half foot camper that we can haul with the same vehicle that we tow the fifth wheel with.  In the last two years we've used it more than the fifth wheel, and it has shifted the way we travel.
Your influence has also had an impact on us.  When you two were here, it was really neat to see you back your truck camper rig into our driveway.  Your home was right there.  With a truck camper, you had a lot of mobility, and we picked up on that.  A truck camper is so much easier than manipulating a big RV or fifth wheel.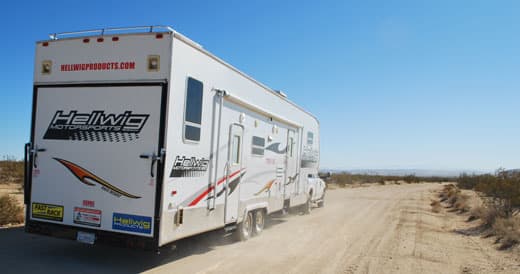 Above: Mark's fifth wheel toy hauler and Dodge truck
TCM: Very true.  Do you still have the fifth wheel?
Mark: Yes, I still have the fifth wheel.  It serves the purpose for certain types of travel; mainly family events in the desert where we use our motorcycle.  The fifth wheel accommodates a lot of people and allows for inside gatherings in inclement weather.  If it's just Rosemary and I, we look to the camper.  If we have a larger group, we shift over to the fifth wheel.
TCM: Are you able to use the same truck that you use with your fifth wheel?
Mark: Yes, the truck worked out well.  The fifth wheel tongue weight is not as heavy as the slide-in camper.  Based on the truck's capacity, I had to make a decision on the size of the camper I purchased.
When I bought the truck, I had a long term plan that we would wind up with a slide-in camper.  I did extra homework on what this truck would accommodate in gross towing capacity and the weight of the camper I could end up with.
TCM: Has your fuel economy changed with your truck camper compared to the fifth wheel?
Mark: Yes, there is a considerable difference.  I'm running about thirty percent better with the truck camper than the fifth wheel.
I've never really put too much weight on the added cost of fuel.  My view is that I have a large investment in the truck, the fifth wheel, and the camper.  I don't let one hundred or two hundred dollars in fuel stop me from using my sizable investments.  Fuel economy doesn't cause me to make a decision to use the camper or fifth wheel.  That's my way of thinking and others may have a different outlook or budget.