Living full-time in our truck camper, we are all about making our go anywhere, camp anywhere home as comfortable as possible.  Here are our Top 5 low-cost tips to make your truck camper more comfy and cozy.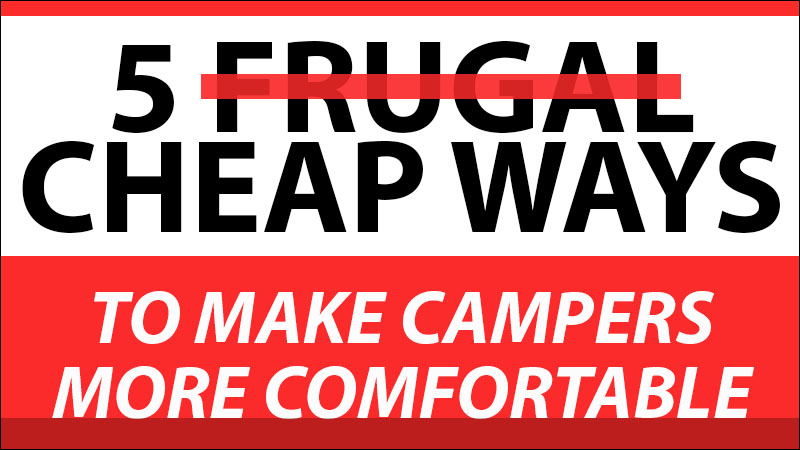 For many of us, being more comfortable was one of the key reasons for choosing in a truck camper.  No more cold nights sleeping on the ground.  Truck campers have beds, heat and an actual roof.  Your tenting days are over.
What follows are some basic and extremely valuable tips for making a truck camper as comfortable as possible.  I would not want to go camping without any one of these items, changes or modifications in place.  They simply make day-to-day life on the road better.
These suggestions are all easy to source, easy to install and affordable.  We even include a "Cheapster Trick" with each tip to take the total tab down a buck or two.
For readers who are looking for recliners and lounge chairs, we have another article titled, "5 Recliner Style Chair Solutions For Campers".  Why not start here, and then kick back there?
1. A Hallway Runner Carpet Is A Must
Most truck campers come standard with a linoleum or vinyl floor.  Linoleum is commonly made from linseed oil, ground cork dust, wood flour and other natural fillers.  Vinyl flooring is 100-percent synthetic and made from PVC.
Over the past decade or so, many truck camper manufacturers have moved to vinyl flooring for its durability and more modern texture and look.  Some have even moved to more sophisticated marine-grade flooring, but that's the exception to the rule.  Both linoleum and vinyl can be quite cold in the morning.  Neither is very soft underfoot.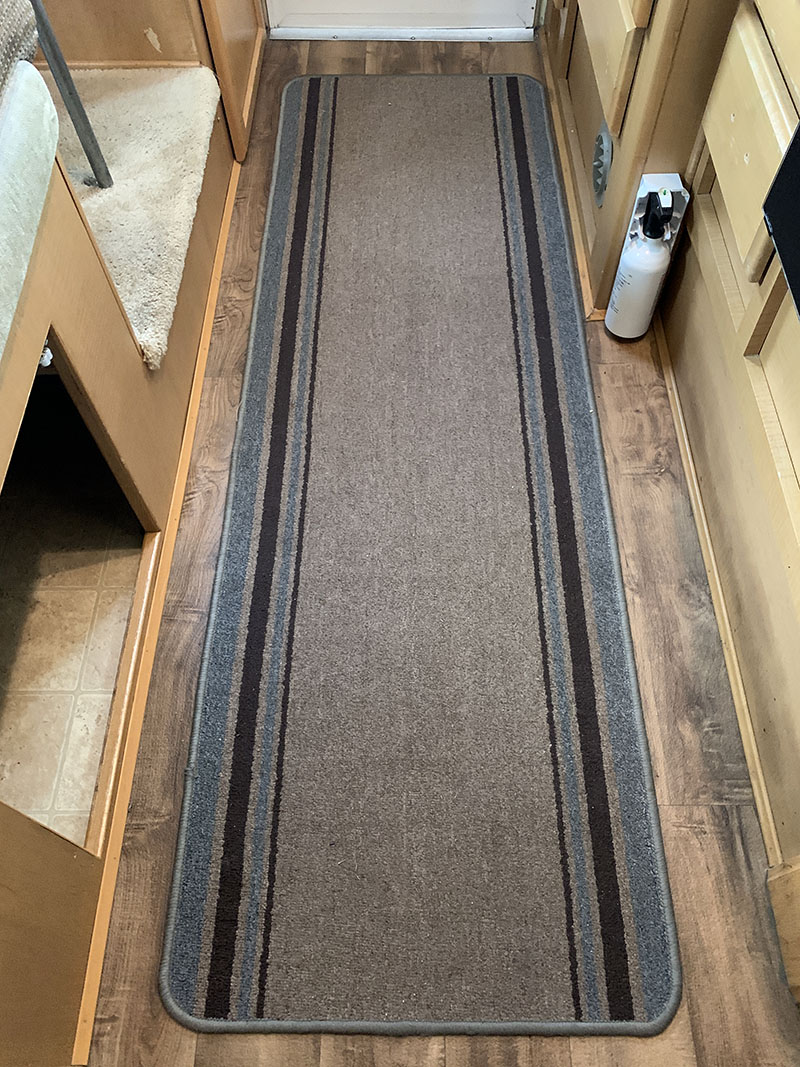 To make our floor warmer and softer, we use an affordable 2'7″ x 6'0″ carpet runner.  Carpet runners also take the abuse of daily foot traffic and help to spare your factory linoleum or vinyl flooring.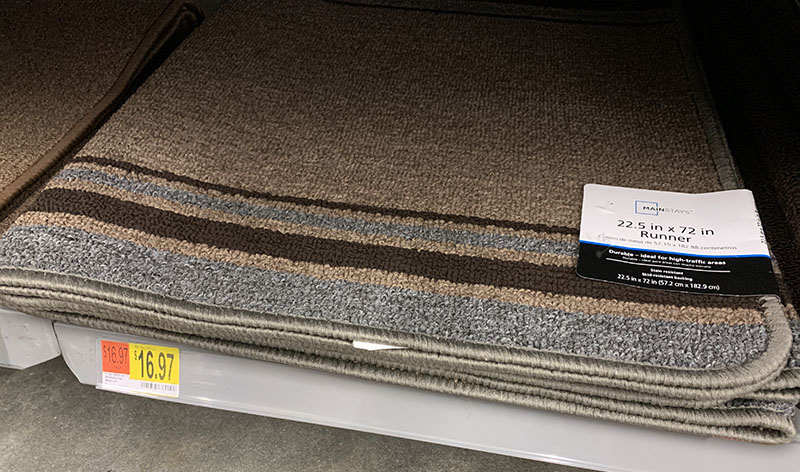 Above: The carpet runner we use is currently $16.97 at Walmart
From experience, carpet runners wear out every 3 to 5 years, depending on how much you go truck camping.  The good news is that carpet runners are inexpensive to replace, and easy to find.  You can't say that about factory-installed carpeting.
Cheapster Trick: Carpet Runners Machine Wash
We have put our carpet runners in a washing machine or two.  They can only be washed in this manner about a dozen times before starting to disintegrate, but they hold up well in the meantime.  If only residential wall-to-wall carpeting could be so easily washed.
2. Re-Foam Your Dinette Cushions
About a year ago, our then 14-year old project camper had some very tired dinette cushions.  To their credit, they were the original factory foam and had seen a lot of use, abuse and caboose.  Get it?  Butt of course you do.
After a bit of research, Angela found BuyFoam.com.  The company offered multiple densities and thicknesses of foam cut to any size you needed.
She measured our dinette cushions and selected XL-38 (firm), their most popular foam density.  For two cushions, the total cost was about $66.35.  The foam was custom cut, shipped and delivered in about two weeks.
Getting the new foam into the old dinette covers took some effort, but it was a relatively easy and straight-forward project.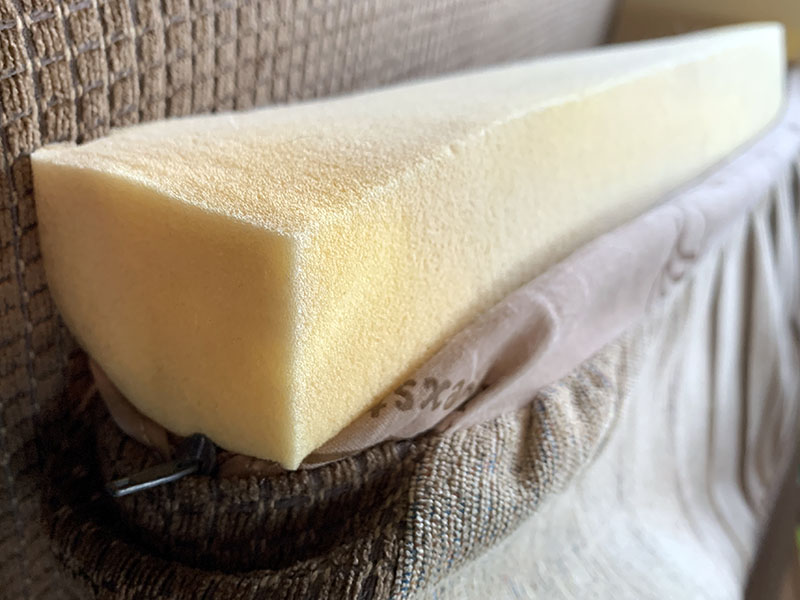 The new foam (shown above) is definitely more comfortable, but it could still be better.  The main limitation is the limited thickness of our dinette covers.  In an ideal world, we would have a new set of thicker seat covers made and use thicker foam.  Another possibility is to put another layer of foam underneath the lower cushion.
Cheapster Trick: Start With Egg Crate Foam
We have seen a number of fellow truck campers put egg crate foam under their dinette seats.  If you're feeling particularly cheap, try starting with the egg crate foam under your existing cushions and see if that does the trick.  We can confirm that the egg crate foam makes a noticeable difference.
3. Upgrade Your Factory Mattress
A couple decades ago, finding a mattress that would fit a specific truck camper cabover was quite a challenge.  To make matters worse, back then truck campers were shipped with some of the least comfortable mattresses possible.  Honestly, it's as if the RV manufacturer had a deal with the American Chiropractic Association.
Thankfully, it's a lot easier now.  After a Question of the Week on camper mattresses, we bought an internet-direct memory foam mattress from Amazon.com.  We read the reader feedback, checked the reviews, selected our size, selected our height and had it delivered.
If you're worried about how you're going to get a new foam mattress into the cabover, don't be.  The mattresses are shipped vacuum compressed and plastic-wrapped in an insanely small box.  Seriously, you'll be saying, "How in the heck did they put a mattress in that small box?"
After you remove your old mattress, take the opportunity to clean your cabover's floor.  Then cut the plastic, and stand back.  The mattress will expand to full size in about 5-minutes.
I would strongly recommend allowing the mattress to air out (without sheets) for at least a day.  Ours was good to go after a day of open windows and running the Fantastic fan.  No big deal.
Cheapster Trick: Excellent Mattresses Are Cheap Now!
We have all been to mattress stores and seen new mattress sets selling in the thousands.  I remember the first time I saw a Stearns and Fosters mattress set and thinking, "Did they stuff money in it?"  The set was selling for something close to $5,000 and didn't seem that different, or comfortable.
Obviously, the mattress industry has been ripe for disruption for decades.  Their purposefully confusing brand, model and pricing structures have left consumers baffled for long enough.  Enter Casper, Purple, Nectar, Bear, Tuft & Needle, Leesa and a dozen more internet-direct foam mattress brands.
And you know what?  Today's internet-direct foam (latex and memory) mattresses are exceptionally comfortable, exceptionally affordable, and offer none of the bed-and-switch games of the bed-peddlers.  Unless you just don't like foam mattresses, they're the way to go for a truck camper set up.  We sleep on a Linenspa memory foam mattress every night that cost $175.  That's not a typo folks.
Freeze warning: From reader reports, some foam mattresses are not designed to freeze.  If your camper freezes over the winter, a foam mattress might not be for you.  We have not had a problem with our foam mattress, but living full-time in our camper, it is never allowed to freeze.
Height warning: One thing we did not think about when ordering our mattress was its height.  We ordered the 10″ mattress.  Since our project camper is from 2004 it does not have high ceilings.  If we were to redo our mattress purchase, we'd go with the 8″ or 6″ height mattresses from Linenspa.
Editor's Note: Since this article was written, we have changed our mattress again to the foam mattress that comes with a Cirrus Camper.  Combined with the Froli system, it's firm, comfortable, and gives me more cabover height.
4. Multiple Lighter and Thinner Comforters Are Better
The first time we went to San Francisco we packed for summer.  We were going to California, where it's always warm and sunny, right?  Well, we flew in and immediately realized our mistake.  By the time we reached Pier 39 and Fisherman's Wharf, we were shivering.  Even the sea lions were laughing at us.
Thankfully we had each packed a pair of jeans and a sweatshirt, but we were still jumping around like frozen chickens.  It's no wonder that they sell an absolute ton of San Francisco sweatshirts on that pier.  And yes, we bought one.
The lesson from that lapse in packing was to wear layers.  Due to the fact that truck campers often camp in wildly changing weather, having layers on the bed is also a good idea.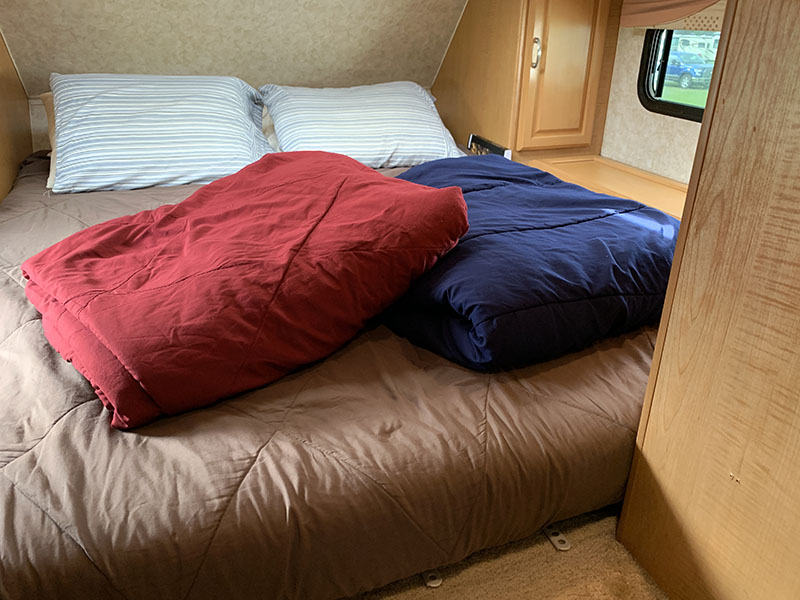 Our favorite solution is one, two or three thin comforters.  One comforter is perfect for summer nights when it gets chilly by morning.  Two comforters are perfect for fall when it's chilly at night, and cold in the morning.  You get the idea.
The best part is that we keep our thin comforters at the top of our bed, ready to deploy when it's surprisingly chilly at 5:00am.  Always knowing where the comforters are is fantastic.  No light necessary.  No risk of waking up the wife – or cat.
Cheapster Trick: Mainstays Comforters
Believe it or not, our thin comforter of choice is a Mainstays Down Alternative Full/Queen.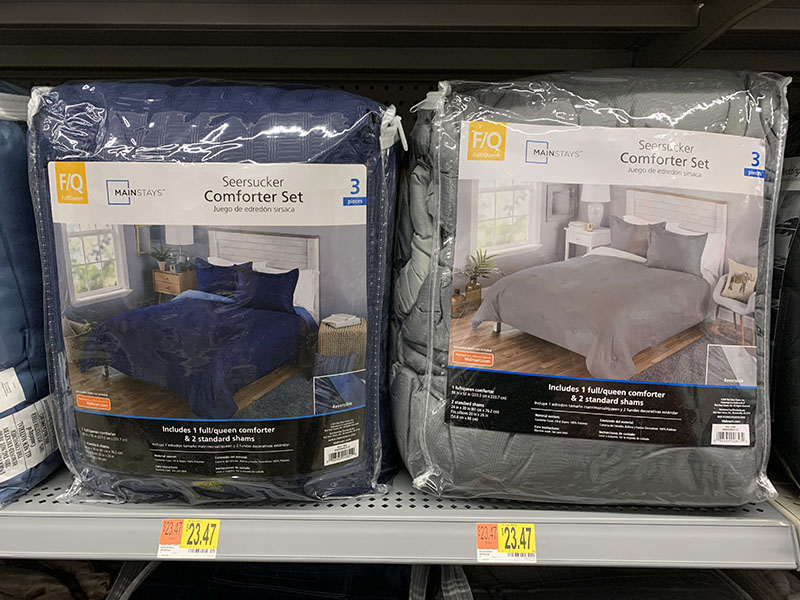 They are currently $23.47 and are available in neutral colors.  And they're comfortable!  Did we mention that they're under 24 clams?  Now that's a cheapster trick!
5. Portable Heater: Stay Warm
A big part of being comfortable in a truck camper is being warm when it's cold outside and cool when it's hot.  The first must-own comfort product in this category is a small portable electric heater.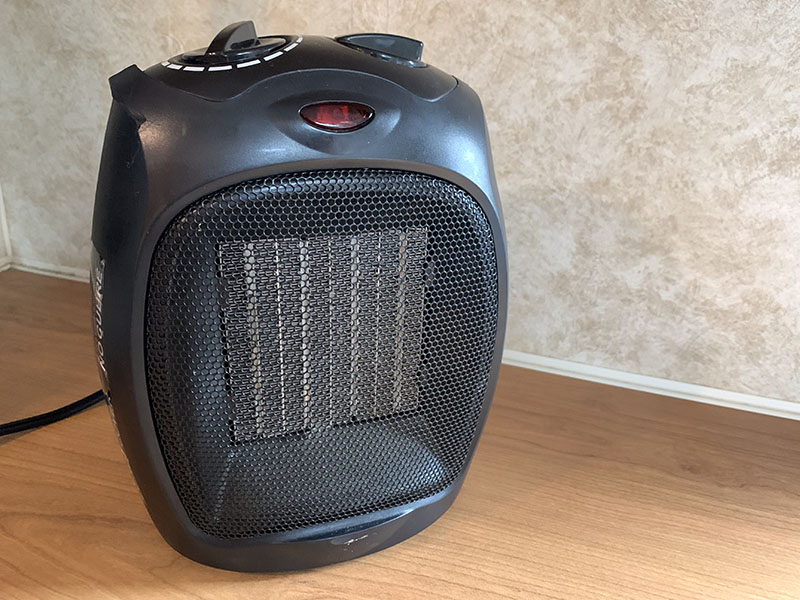 Above: Note the battle damage our poor heater experienced during a recent fall.  After years of service, this poor fella may be ready to retire.
When you're camped with shore power, a portable electric heater is absolutely essential.  Not only will it crank out enough heat to warm most truck campers, but you'll save a ton on propane.  Just be sure to run the propane heat for your holding tanks now and then.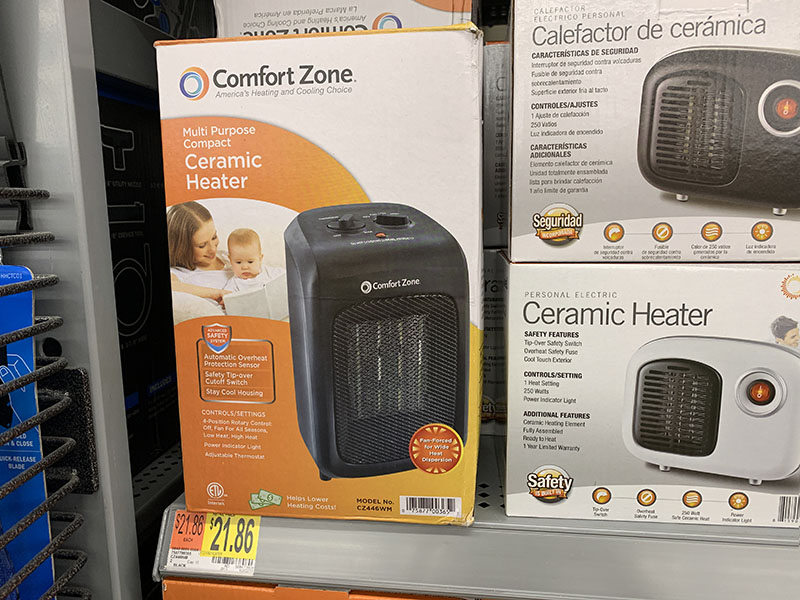 Above: A similar ceramic heater at Walmart for $21.86
We bought our electric heater about five years ago from Home Depot.  It was literally $20.  That was easily one of the best purchases we ever made for our camper.  When it's cold and we have electric, Angela goes straight for the electric heater.
If it's really cold, her next step is to plug in our electric mattress pad.  There is nothing better than an electric mattress pad when temperatures dip.  Be sure to turn it down or off before you fall asleep as you can wake up sweltering hot.
Cheapster Trick: More Mainstays
When it gets cold, I put one of our Mainstays comforters over the bed.  We sleep on top of it and it makes our bed even warmer.  Sleeping between these comforters is heavenly.  Too bad I have to get up at 6:45am to work on some internet magazine thing.  Ugh!
6. Battery Powered Fan: Keep Cool
This past Spring our friends, Carl and Kay Goode, showed us a fantastic USB powered portable multi-speed fan that runs wired or wireless via an onboard lithium battery.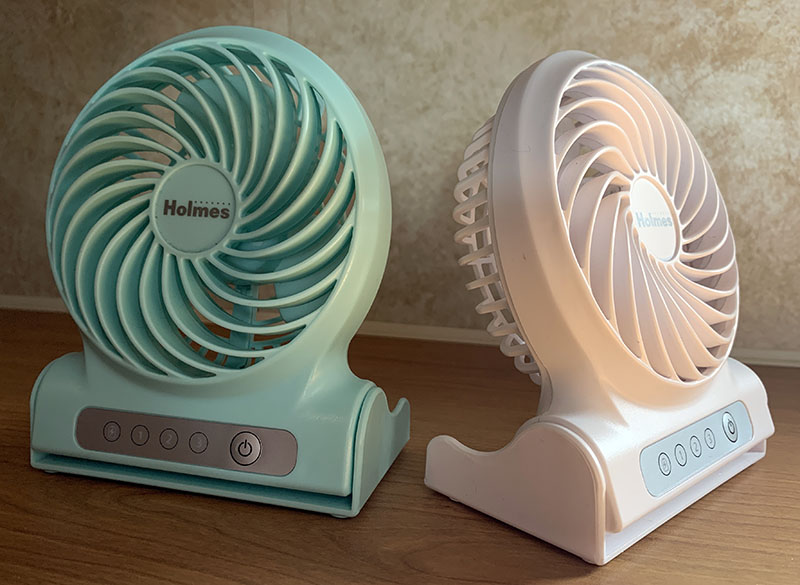 Amazingly, the fans charge and run via USB.   That means you can charge them and run them from a USB outlet or a 12-volt outlet with a USB adaptor.  That alone made us fans of this new fan, but that's not the best part.
Using this powerful little fan wirelessly is fantastic.  For up to 6-hours, it puts out a considerable amount of air just about anywhere you need it.  We have used it to cool Harley sitting under the dinette, on the kitchen counter to cool us sitting in the dinette, and even in the cabover for those hot summer nights off-grid.  They're great.
We were able to pick one up for $10 at Walmart (now discontinued, but now on Amazon).  That's ten bucks!  Unfortunately, they aren't available everywhere, but I expect that to change.  I also expect to see more products like this come to market as fan motors and batteries become more efficient and cheaper.
Cheapster Trick: $10 Is Cheap Enough!
What?  You want a cheapster trick better than a $10 fan?  They charge Eskimos more for ice these days.  Seriously, buy the fan.  You'll love it.  We have two.
Don't Underestimate The Comfort Factor
If just one of these ideas is helpful, the added comfort will go a long way to improving your truck camping experience.  I know when we're too warm or too cold we're not having fun.  Comfort is essential to enjoying the truck camping lifestyle.
Besides, there's something amazingly fun about being comfortable in a truck camper.  Warm and dry in your truck camper when it's cold and raining outside?  Beyond awesome.  Cool and collected in your truck camper when it's hot and sticky outside?  Love it.  Hot chocolate and propane heat in your camper while it's freezing outside?  Is there anything better?  I think not.