When Seth is done, he has two nearly-completed sidewalls ready to be attached on the production line.  The decals are on.  All the windows are in.  All the cabinet doors are attached.  Everything is sealed.  From the right perspective, these finished sidewalls look like inch-thick Cirrus truck campers; two-dimensional truck campers!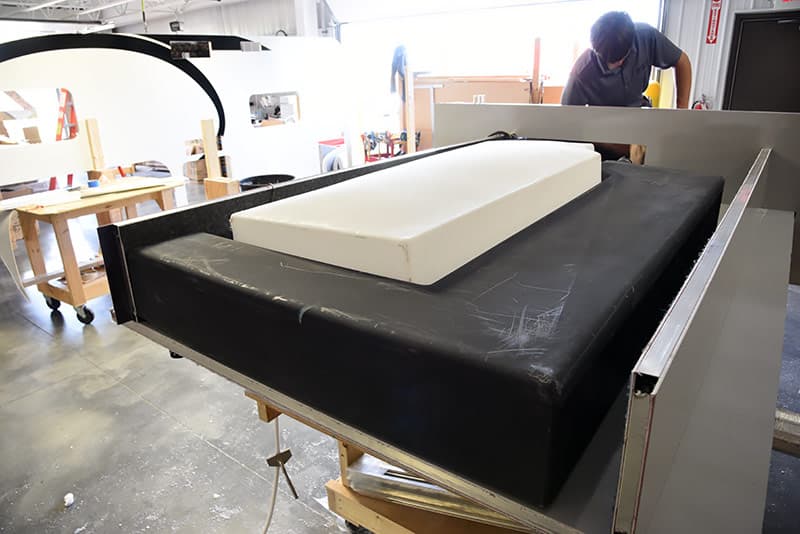 At the very next station, we met Keith Miller building Cirrus basements.  In the above photo you can see the fresh (white color) and grey (black color) holding tanks.  These tanks are shaped and angled to improve drainage, maximize capacity, and help with weight distribution.
With the holding tanks installed, Keith checked the integrity of the tanks and their connections by pressurizing the tanks.  In the above photo, you can actually see the fresh tank bulge under the pressure Keith has applied.  To pass the tests, the tanks and their associated fixtures and plumbing are required to maintain pressure for several minutes.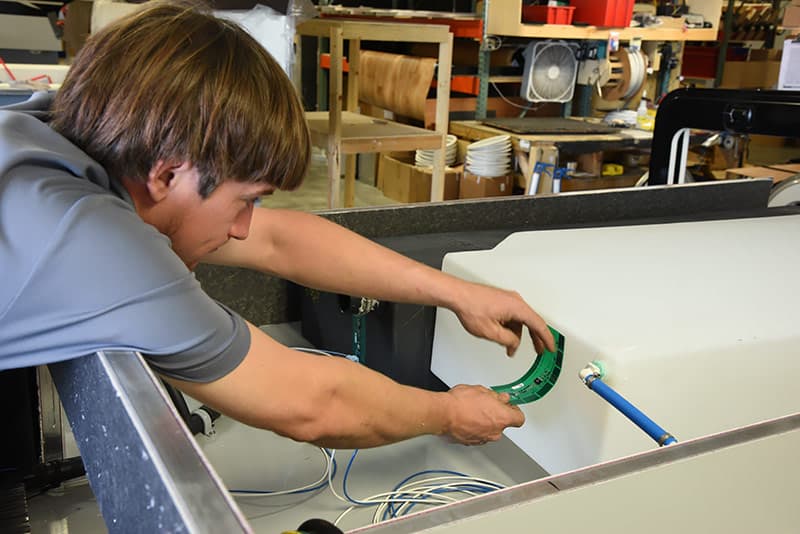 With the basement upside down and easy to access, Keith attached the SeeLevel gauges to the holding tanks.  These strips send the SeeLevel monitor inside the camper a much more accurate reading than traditional tank monitors.  NüCamp RV spared no expense when selecting the technology and components for their Cirrus truck camper line.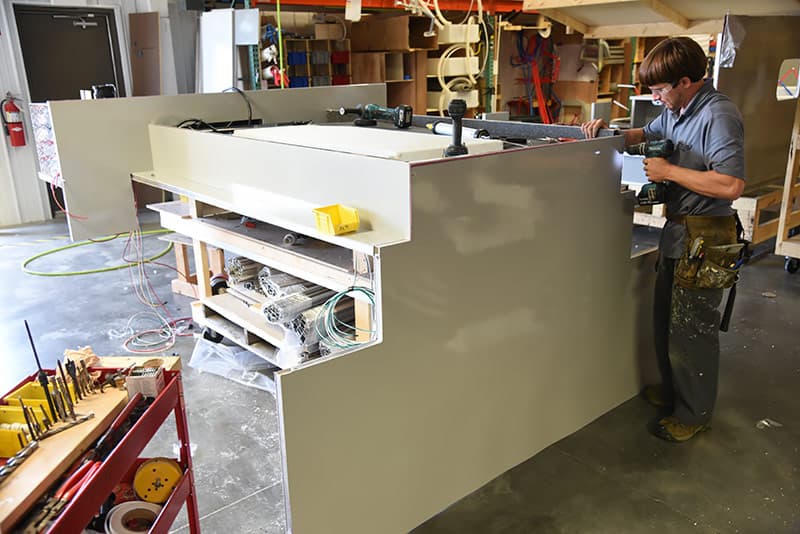 Here Keith is attaching the front wall of the camper.  Like the sidewalls, the front wall is another outsourced element that's been prepared for the production line.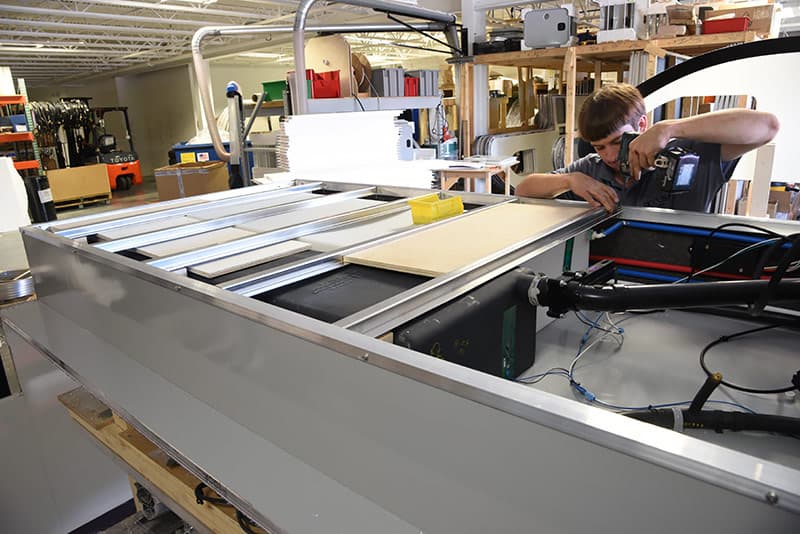 Once Keith completed the basement plumbing and wiring, he installed the aluminum cross members, additional insulation, and camper underbelly.  This unit is almost ready to flip.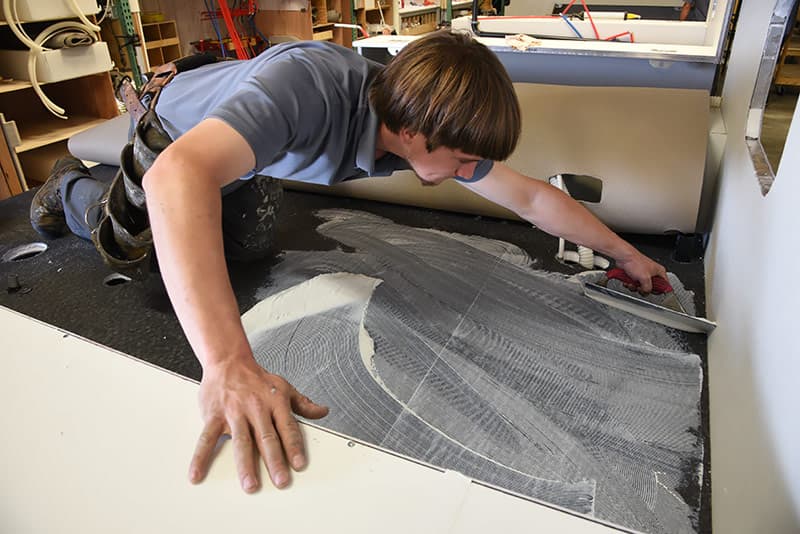 The basement has now been turned right side up.  Keith is applying a layer of adhesive over top the aluminum framed Azdel composite floor.  The grey material receiving the adhesive is Azdel.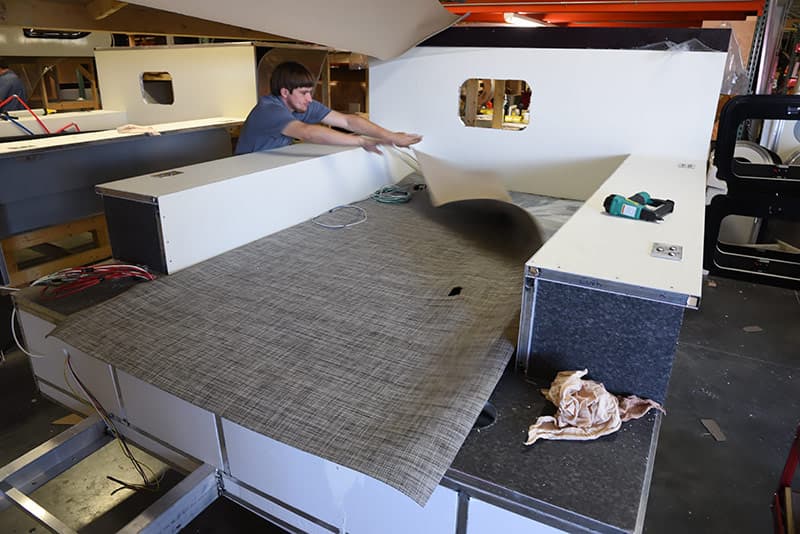 Adhesive applied, Keith then installs the woven vinyl Infinity brand flooring material.  Unlike most linoleum or faux-wood truck camper floors, this marine-grade material is luxuriously soft under foot.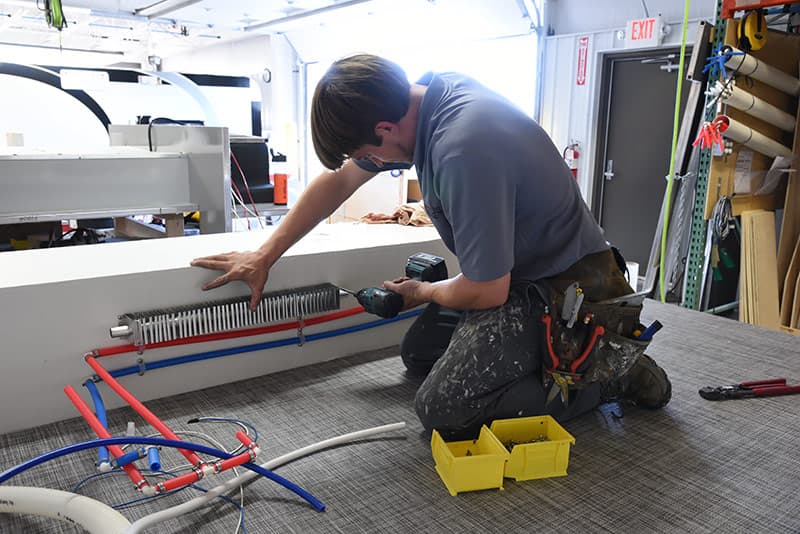 With the flooring laid, Keith begins to install the convectors for the Alde hydronic heating system.  These convectors provide silent radiant heat throughout the camper.
The next station on the production line takes us back up to the cabinetry shop.  Once Al has completed a Cirrus cabinet set, he lowers the cabinets from his second floor cabinet shop to Nate Yoder.  This is done either by sliding the cabinets down a large chute to be caught by Nate, or by lowering the cabinets at the end of a large pole and hook.