Andreas "Viking" Kirsch, Editor In Chief of Pickup Camper Magazin, has submitted a seriously fast report with a demo Four Wheel Camper Wildcat. As in 90-mph on the Autobahn… then 95. Evidently, this is how they evaluate campers in Germany!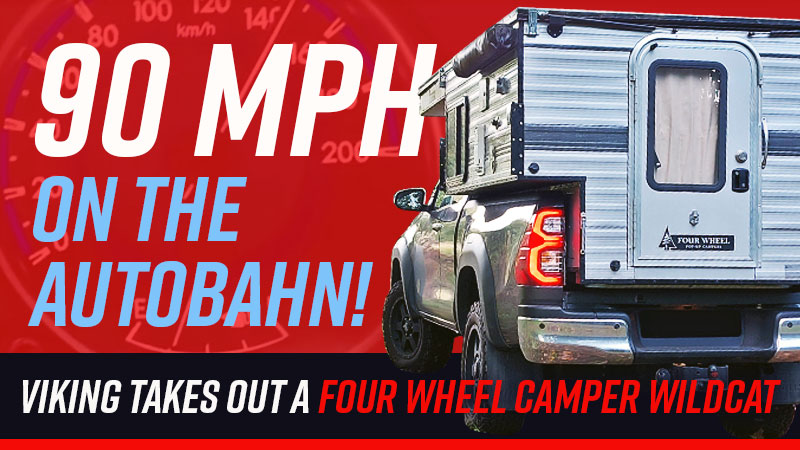 In early 2022, Truck Camper Magazine was honored with an amazing feature article in Germany's Pickup Camper Magazin. Editor In Chief, Andreas "Viking" Kirsch, had translated our 10 year anniversary article, "The Never Before Told Story" and shared it with his European audience. Then he "printed it". I know, crazy.
Fast forward to the end of 2022. Viking has submitted a hair-raising adventure he recently took in a Four Wheel Camper Wildcat. As part of this experience, Viking took the Wildcat onto the Autobahn to see how his diesel Toyota Hilux and this borrowed American pop-up would handle 90 miles per hour (140 kilometers per hour). According to Viking, this is simply part of his standard test for any camper under his evaluation.
Now, why didn't we think of that? Oh yeah, because it's completely illegal anywhere on the North American continent. Even Texas State Highway 130 caps you at 85 miles per hour. After that, it's Smokey and the Bandit Time.
Viking also shares a distinctly European perspective on some of the ways American campers are designed and built. Not all of it is flattering, but that's what makes this a fascinating read. How do Europeans view our trucks, campers, and overall truck camping and overlanding culture? Viking gives us a unique view.
The American Wildcat, Four Wheel Campers Wildcat Practical Test
Photos and text: Andreas "Viking" Kirsch, Editor In Chief of Pickup Camper Magazin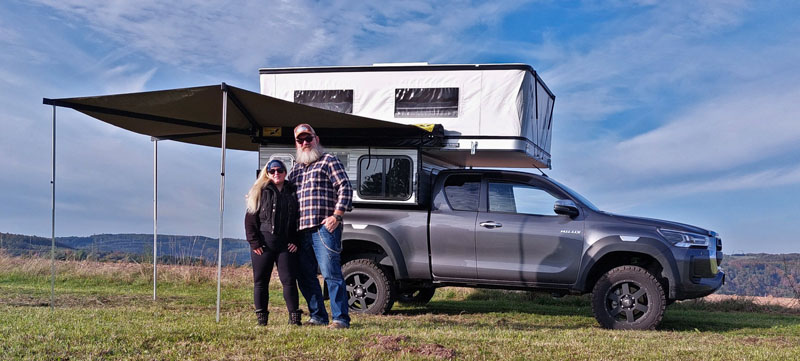 This year the American pop-up company, Four Wheel Campers, turned 50 years old. Companies don't last that long unless their products deliver stellar performance. That was enough of a reason to saddle up a Four Wheel Camper ourselves for their anniversary.
I picked up the 2021 Four Wheel Camper Wildcat at Wohnkabinencenter. Jens Heidrich is the general importer for Four Wheel Campers in Germany and always has a selection of three or four different equipment variants on display in his shop in Gevelsberg, Germany. Before my demo camper could even get into the hall, we loaded her up. She had been on the premises for three days.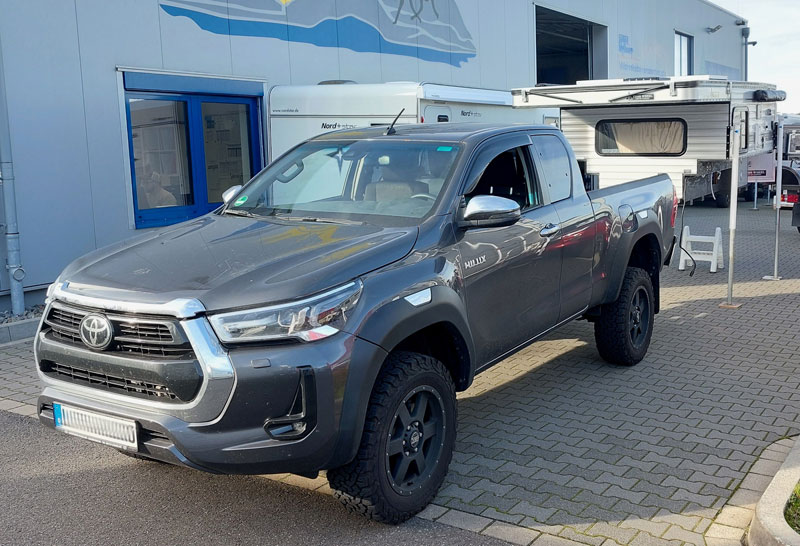 Moritz and René helped me load it on my truck. The tie-down points in my truck bed were installed in the corners where they work well with standard campers. For the Four Wheel Camper, they are not quite optimal. A more centrally installed tie-down point would be better here. I wasn't going to take the Wildcat on heavy terrain, so for normal operation and dirt roads, the tie-down position was sufficient. In my case, it was just a little fiddly to attach through the lower access doors inside the Wildcat.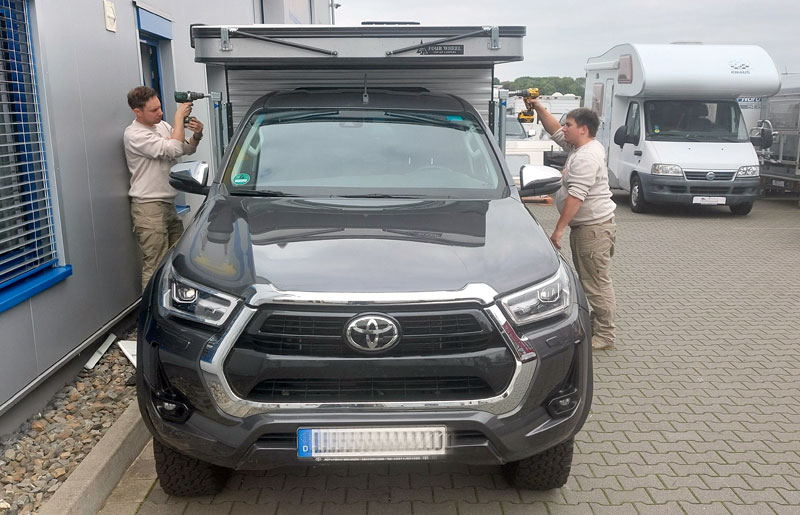 In general, some things are different on the shimmering silver American.
Of course, the tailgate has to be removed. The Wildcat is built for the American market and fits into the tailgate opening with exceptionally little clearance. Nevertheless, driving underneath to load the camper is unspectacular for the experienced, and very easy with a guide. You can also live in the Wildcat off the truck, and sleep in the cabover without any problems; preferably with the four Rieco-Titan jacks cranked down.
Within twenty minutes, the camper was firmly supported from the pallet truck onto our Hilux. Moritz gave me some short technical instructions and I rolled out of the yard.
Driving Performance
Manni, our Toyota Hilux 2.8-liter turbo diesel, 204-horsepower, four-wheel drive truck, can carry about 1,350-kilograms (2,976 pounds) loaded. I didn't notice the Wildcat included water and a propane bottle. Wet and loaded, the camper weighed barely 450-kilograms (992-pounds). The Ironman Comfort Load suspension did a great job. It didn't even sink in noticeably when I loaded the camper.
Exterior of the Four Wheel Camper Wildcat
At home, I parked outside the front door and started loading the travel gear. I had to smile during the first detailed lap around the camper. After all, I originally come from the United States car and bike scene. The Americans are said not to be very serious about ornamental solutions. And so there are clearly American genes in the camper.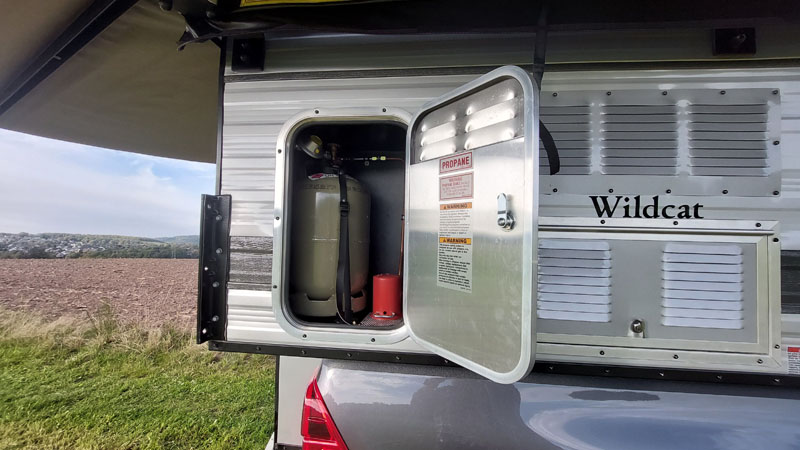 On the right side are compartments for a 5-kilogram (11-pound) propane bottle and a flap with the venting/cooling of the compressor refrigerator. In the case of my demo camper, both flaps were not lockable but equipped with sturdy turning handles. A multi-slotted plate for the refrigerator exhaust was simply screwed to the camper's skin. Sure, this is functional and very well sealed, but by European design standards, it's not pretty. It's just right for me, but I also like removable doors on Jeeps.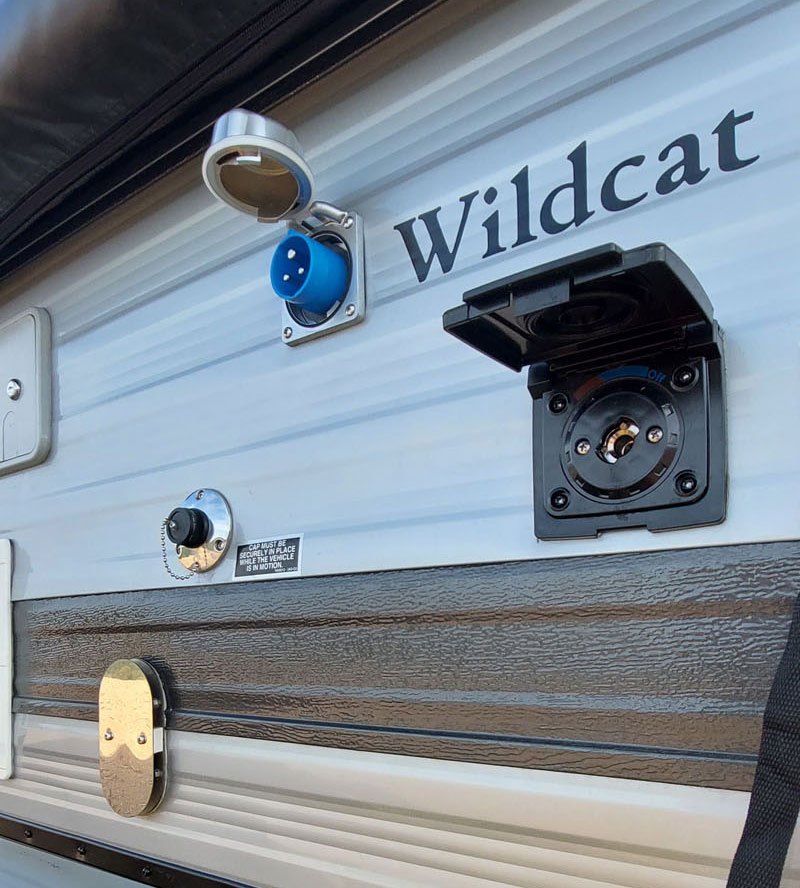 On the left side is the heater's chimney, a connection for an outdoor shower, a water filler plug mounted quite high, the shore power plug, and the supply air grill for the heater. All of these components are also mounted where they fit best. There is no pattern to the layout that might satisfy an inner Monk. Again, it is pragmatic functionality that is certainly appreciated in Alaska. The "German Hymer" customer turns to shudder. His fault…
Interior of the Wildcat and Pop-Up Operation
In order to live in the Four Wheel Camper Wildcat, it is mandatory to pop up the roof. You can't really live in it when it's closed. Tough people could crawl onto the lower transverse bed, and could also operate the refrigerator and the heating. Except for bear attacks or when you don't trust the roof foil, you really don't have to.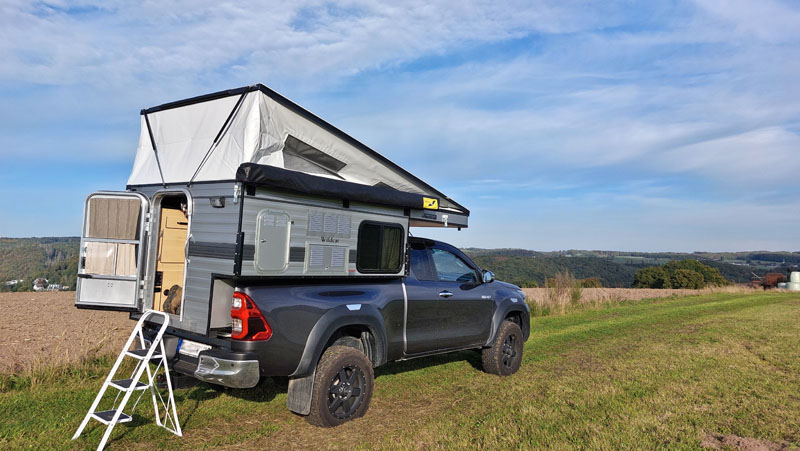 To put the roof up, you first make a lap around the camper and loosen all six snaps. After that, the roof is amazingly easy to put up. Sitting or kneeling in the camper, you first lift the rear wall by the support of a proven mechanism and then push up with little effort the front wall. Done. Yes really. There's nothing else to do.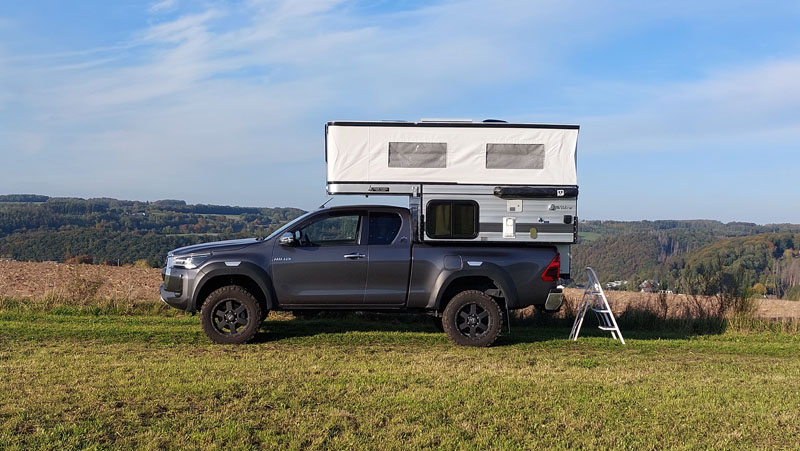 The four gas struts not only assist in lifting the roof, they also work together with the front and rear wall mechanisms to keep the roof up. Very simple. There it is again, that American outdoor pragmatism. I like it!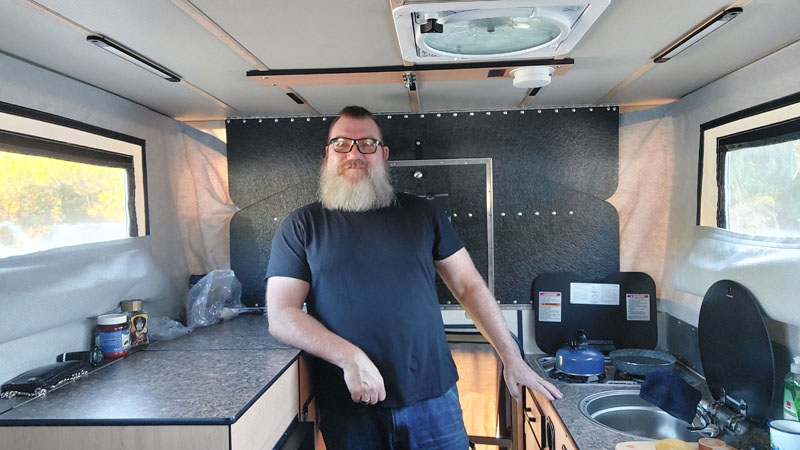 The result was a generously sized interior that offered comfortable headroom even for me at 1.92 meters (6'3") in height. Weather-appropriate, my Wildcat featured an additional light grey inner fleece all around the tarp wall. This fleece can be removed completely with velcro. In cold weather, the fleece additionally insulates and prevents the formation of condensation. This moisture is always formed when warm humid air settles on cold surfaces. With the help of air flow, there is no cold surface on the tarp and it also absorbs the moisture without feeling wet. With sensible ventilation and heating, the camper stays dry and warm.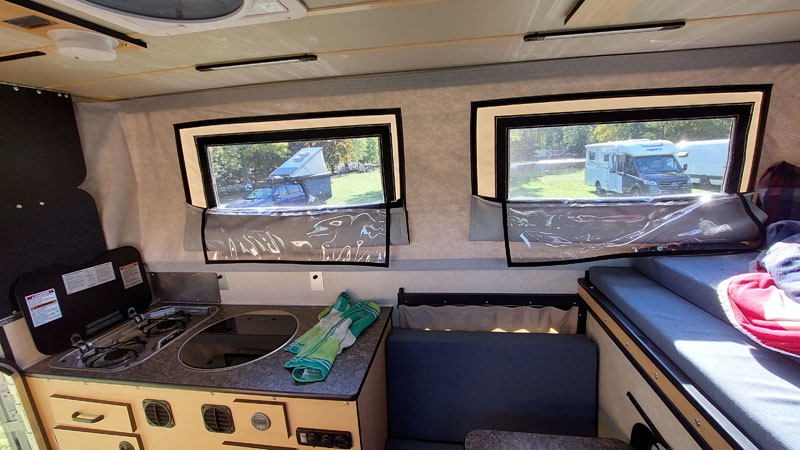 When I brought my clothing, kitchen utensils, and other equipment into the camper for this practical test, the sun was on the roof. I opened all four upper windows. They are made up of four layers: inner fleece, opaque tarpaulin, transparent window foil, and fixed mosquito net. All of them can be closed and locked with a circumferential velcro frame. Additionally, I opened the roof hatch above the bed.
For the technically minded, there is an important-looking remote control. This sets the mechanism of the ceiling fan in the second skylight above the kitchen area in motion. With the push of a button, I can open and close the hatch, turn the fan on and off, change its direction, and more. Honestly, a button for the motor in the ceiling and a small crank for the hatch would have done the trick, despite all the pragmatism. Though, I mark the rain sensor that automatically closes the hatch as a positive feature.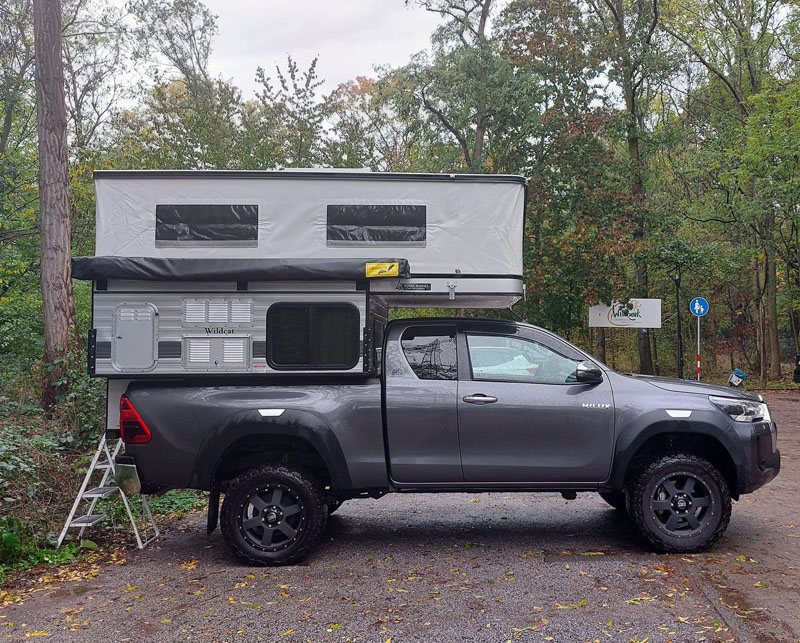 This Wildcat has three windows in the lower aluminum body. At first, I didn't understand the sense of these windows because in front of two of them are the backrests of the seats and in front of the third is the driver's cab. All three are classic American sliding windows made of real glass. They can be closed by massive levers. The mechanism looks extremely sturdy, as do the windows themselves. Remember, bear country.
Storage Space
I'm quite amazed that I could fit everything in for my short trip to the Offroad Open Air; a meeting in the town of Ohrdruf. This was my first little trip with the Wildcat, to the OTTO in Thuringia, a good 300-kilometers (186-miles) away.
The refrigerator is large and functional. I like the top loader storage compartments very much. I also like the large compartment under the kitchen and generally the space that can be found in the compact camper.
Incidentally, the Four Wheel Camper Wildcat is the camper that has caused the most interest with my neighbors in our village-ish living area so far. I had more visitors in the few days while I was working in and around the Wildcat than any test camper before it.
Driving Behavior
My trip finally got underway. I live only a short distance from the next Autobahn exit. On the way there, I noticed interested glances from fellow drivers. I collected appearance points with the Four Wheel Camper setup on my Hilux.
On the Autobahn, I did my usual thing. At first, I took it easy at 115 kilometers per hour (70 miles per hour), but after a good 20 kilometers (12 miles), that's no longer enough, and my cruise control is set at 140 kilometers per hour (90 miles per hour). The wind noise was still not too bad. It was tolerable, but I felt the wind resistance when accelerating. From 140 kilometers per hour (90 miles per hour) it takes a bit, and I want to drive 150 kilometers per hour (95 miles per hour) or more. I always do this for test purposes for a few kilometers. As a rule, I always level off between 120 and 140 km/h (around 85 mph) depending on the camper.
"From 140 kilometers per hour (90 miles per hour) it takes a bit, and I want to drive 150 kilometers per hour (95 miles per hour) or more. I always do this for test purposes for a few kilometers."
In Thuringia, I switched from the highway to the country road early on. The cosmopolitan town of Ohrdruf (joking, it is really small and not well known) is not so well connected. That resulted in a mixed operation of about 200 kilometers (124 miles) of highway and 100 kilometers (62 miles) of country road between 80 and 100 kilometers per hour (49-62 miles per hour) automatically.
For fuel economy, I needed almost exactly 15 liters per 100 kilometers (15.6 miles per gallon) of diesel with the 2.8-liter, 204 horsepower, four-cylinder engine. In view of the long express sections, this is extremely good. The normal user would probably get by with 13 liters (18 miles per gallon).
Living In The Box
I rolled up to the campground in Ohrdruf in a light drizzle. Quickly I found a campsite and, just as fast as at home, put up the roof. So easy, baby. This is really fun.
I put the bedding in the cabover. In principle, the bed pulls out and then protrudes over the seating area. For smaller people, I recommend a small step to get up there because, in this position, the bench will not work as an aid.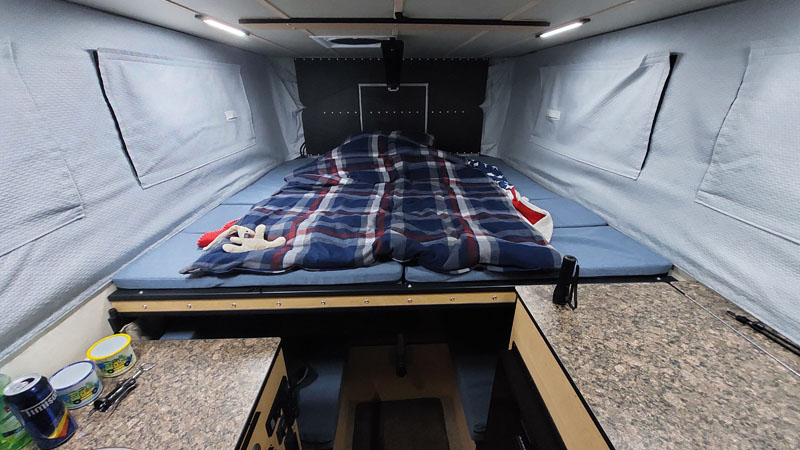 As a sole sleeper, or for people around and under 1.80 meters (5'10"), even transverse (east-west) sleeping offers itself. There is enough space for that.
By the way, I did not see a problem that the bedding does not fit under the lowered roof. You can just put it on the benches before departure. But it should be mentioned that this is necessary. Also, I found the good 80 centimeters (31.5") height above the cabover is pleasant. I could sit almost upright on the bed. For leaning reading or watching the NFL on my tablet, it absolutely sufficient (Goooo Jimmy G.).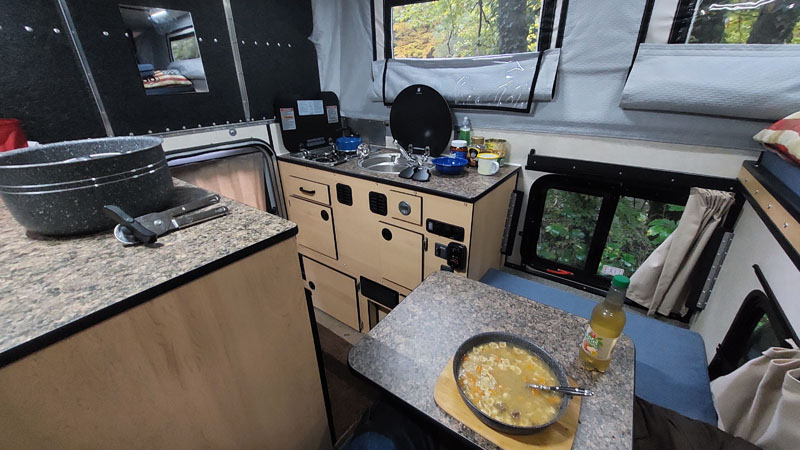 Speaking of reading and the like, for those who just want to chill during the day, the lower windows suddenly make sense. Within a few moments, I converted the seating area with the table into a very cozy lounge area. From here I could see well through the lower windows and was happy about the extra light while reading. All of the downstairs windows, as well as the two-piece back door with pet and screen door, can be closed with curtains.
Overnight, I left the heater running only slightly. Outside it was 0-degrees Celsius and it never stays as warm behind tarpaulin walls as it does behind hard walls. I set the thermostat to 12°C / 53°F and went to sleep. Later, I was almost startled when the heater fan started. It has the peculiarity of first shoveling a lot of very warm air into the interior with a lot of pressure before it soon continues to run at a much lower level until the room temperature is reached. The initial surge is quite loud. I hadn't expected it to be. You certainly get used to it after a few days, but it woke me up three times the first night. A lot helps a lot. American pragmatism here, too.
Editor's Note: "Viel hilft viel" is a German expression that translates to, "A lot helps a lot". It's meant to be ironic, a bit like saying, "Overkill will fix it."
Wildcat Accessories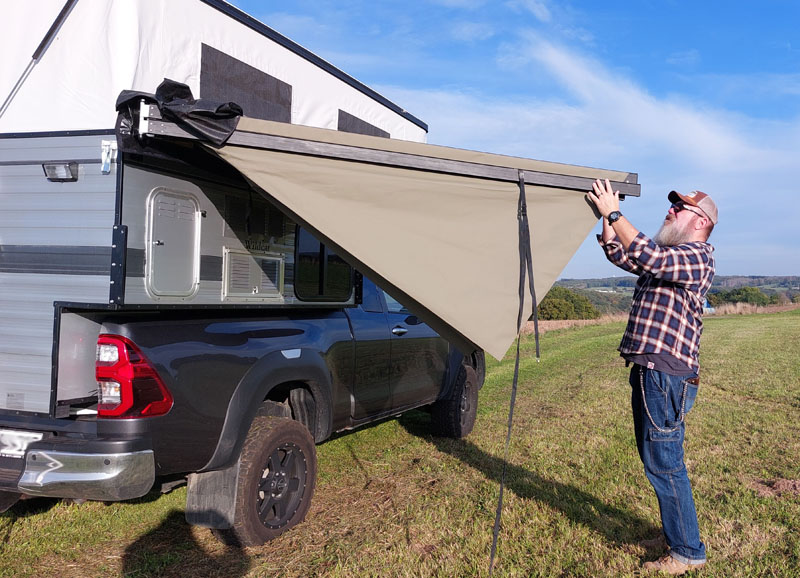 My test camper had a Batwing 270-degree awning; a familiar system to me. You open the zipper of the bag and three buckles and swing the four arms with the awning fabric to the pick-up angle on the rear cabin wall. The support legs rest in three of the arms. Clicked up, lowered, and set down, one does well to secure the awning with pegs through the support legs on windy days.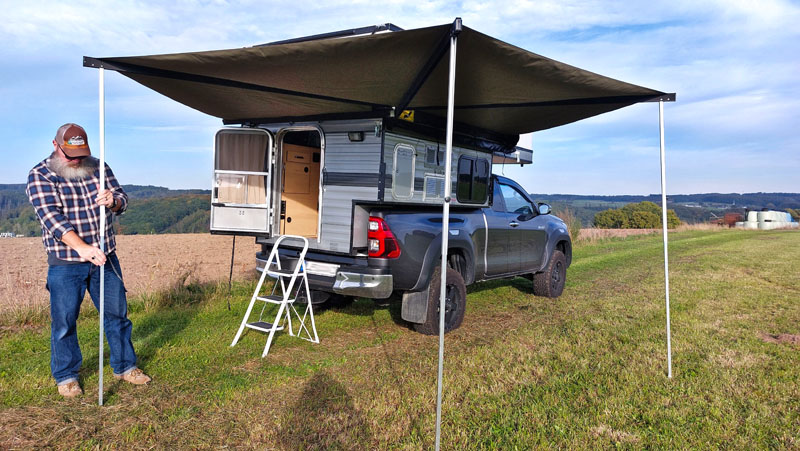 On stormy days, you should extra-brace the relatively light, albeit sturdy awning. It is very practical against rain and sun, super fast to set up, and should actually be used on every camper.
As a special feature, a shower tent was attached to my cabin. That was also a breeze to set up. Roll out the cabin fabric and fold out two arms.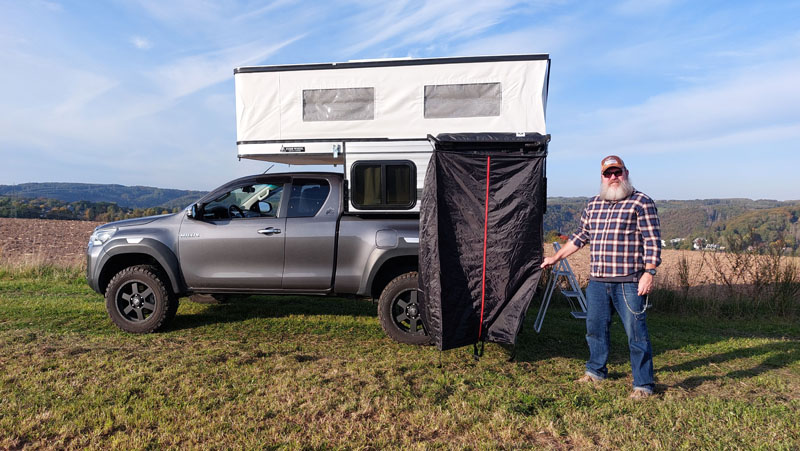 Incorporated rods in the lower fabric hem immediately give the basic square shape. The cabin is black and warms in the sun. It is opaque and has a front zipper for entry and exit. Here, too, it is advisable in windy conditions to secure the generous loops at the lower corners with pegs. Otherwise, the lightweight construction flutters like a flag in the wind. It fits very well with the outdoor shower attachment and certainly ensures pleasant life in the field.
Variants of the Wildcat
As I saw in Ohrdruf, one Wildcat does not have to be equipped like another Wildcat. There are variants with windows below, only one or none.
The furniture can be like the standard in mine or, with overlander equipment, with more than 400-liters (105-gallons) of storage space in mobile Euroboxes. I also met a couple in a Four Wheel Camper Eagle, which was designed quite differently from the Wildcat inside. Even on the Wildcat section of the Wohnkabinencenter's website (German main dealer) five different variants are specified. In addition, you can order various colors and equipment such as the Batwing, upholstery, and outside shower. In the USA, there are even more different designs, but not all of them are offered in Germany.
Conclusion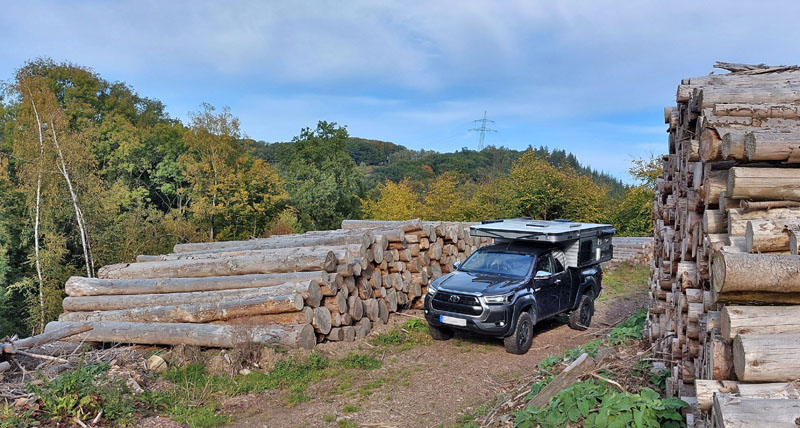 I spent a few more nights in various places, mostly in hiker areas or forest alcoves. Although I had contact with local residents, I was met in a friendly manner and wished them a pleasant night. Be nice and communicative, it will always pay off. I was never sent away.
The Wildcat is, like the other Four Wheel Campers, a real overlander camper.
Compared to canopy campers, it has the advantage of comfort and de-mountability. It offers storage space, a large double bed, and some comfort.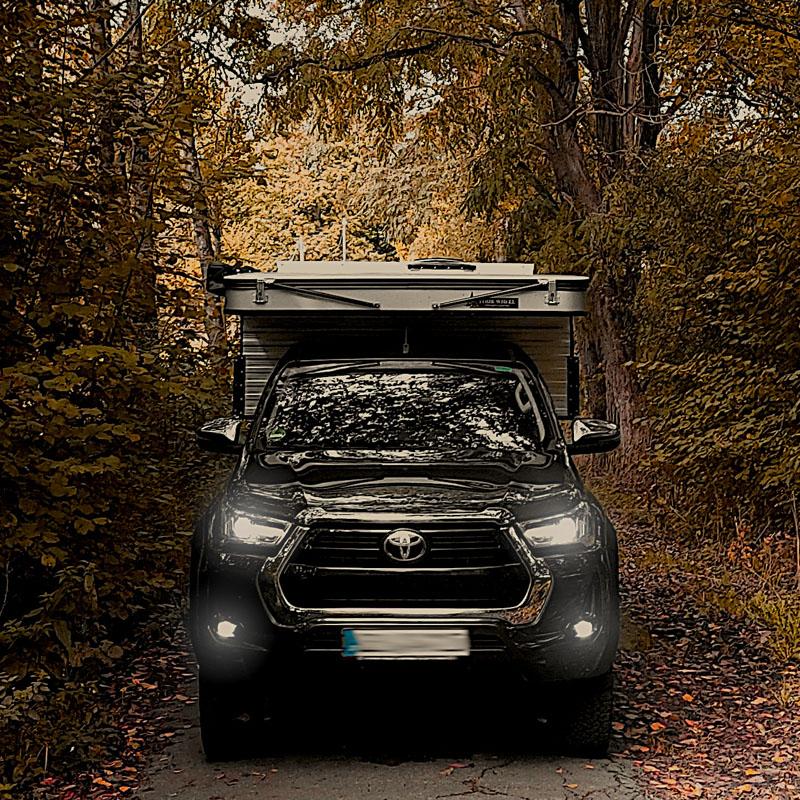 Nevertheless, it is really tough due to its extremely sturdy aluminum frame and weighs barely 500 kilograms (1,102 pounds) fully loaded. The web is full of videos of American trucks taking Four Wheel Campers into rough terrain with ease. It is definitely designed for very different climates from Alaska to Florida. It's lightweight and very practical. All in all, no wonder this design stands up so well today after 50 years of consistent improvement and experience.
"All in all, no wonder this design stands up so well today after 50 years of consistent improvement and experience."
Epilogue
Currently, the delivery time of Four Wheel campers is immensely long and the prices have stepped up. Both are due to the general world situation. However, those who order a Four Wheel Camper can look forward to a rather special camper. I liked mine very much. And I would quickly get used to the heating volume.
Click here to see the original article in Pickup Camper Magazin.  To visit the Four Wheel website, go to fourwheelcampers.com.  Click here for a free Four Wheel brochure.