Working a full-time job doesn't give you much flexibility. You can hardly ask your employer to pay you less if that will allow you to only show up for work a few months each year. Companies need someone sitting in your chair five days per week. So what do you do? Jump off the cliff with both feet first.
We decided to take the leap: one spring, we quit our jobs and sold our house in Austin, Texas. The real estate market had rebounded nicely and we were able to get some equity from the sale of our house: this became our piggy bank that allowed us to say goodbye to the rat race (for a while at least).
At first we traveled around in the U.S. and Canada: we drove from Texas all the way up to the Arctic Circle in Alaska.  We headed back south with the winter fast approaching and we had a decision to make: do we settle down somewhere and re-enter the rat race or … do we continue to travel? The piggy bank still had some money left. But, where could we go during the cold winter months?
Having lived in Austin, Texas for ten years, we always regretted not being able to take a road trip into Mexico and Central America. That is, we didn't think it was possible because of safety issues. Everyone you know, and their mother, frequently remind you that people get killed in Central America. As if no one is getting killed or car-jacked in the U.S. But still, what if it's really bad down there? Will we make it out alive or are we idiots for even considering such a trip? Didn't they recently have revolutions and all kinds of drug killings happen in those countries? We decided to go for it. After all: how dangerous can it be?
We didn't regret it! As Ferris Bueller says: "Life moves pretty fast.  If you don't stop and look around once in a while, you could miss it."
Travelers
Above: Local buys say hello to our dog, Sophie, in El Remate, Guatemala
I, Jorn, celebrated my fortieth birthday on this road trip in San Miguel de Allende, Mexico. Born in Belgium, I moved to Austin, Texas in 2003 for work. Besides having a degree in Computer Science, I graduated as a photographer and my passion is wildlife and travel photography: a passion that is perfectly aligned with an overland trip.
My wife, Haichong (or Hannah as she calls herself, since few foreigners seem to be able to pronounce her real name), was born in South Korea and relocated to San Antonio, Texas in the late 90s to study music at the local university. Since graduating, she has written five books to teach beginners how to play piano. She loves to travel and to try new foods: also two passions that are well suited to an overland trip.
Sophie, our rescue dog, joined us on this trip. She's a Chesapeake Bay retriever mix and she loves to run and explore. She's been face to face with moose, elk and both grizzly and black bears on our road trip up to Alaska: she even chased a black bear into the forest in Alaska! Doing a great job at marking her territory wherever she goes, at age two she must have one of the largest doggy territories in the world: it spans from Texas up to the Arctic Circle and from California all the way south to the Panama Canal!
Budget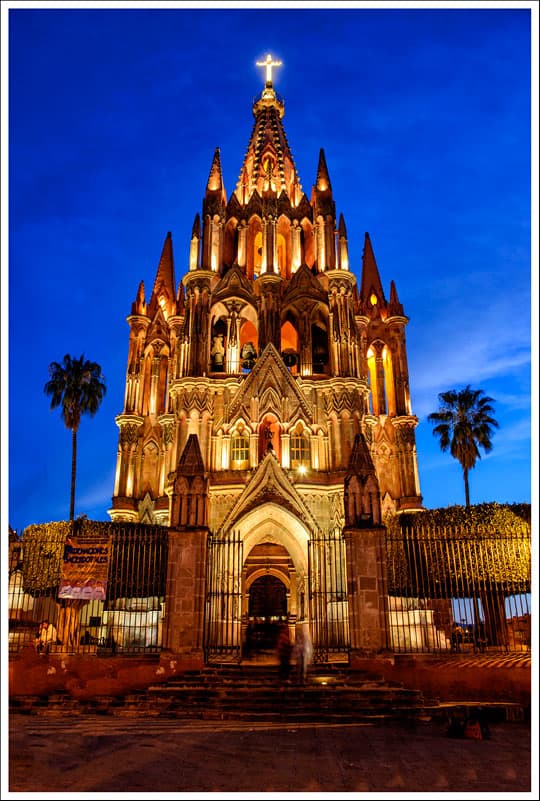 Above: San Miguel de Allende's beautiful Parroquia at night
How were we able to afford this? Did we have a trust fund or rich parents who sponsored us? How can you do this?  It's hard to imagine such a great leap when a short vacation squeezed into a full-time work life means airfare, car rentals, hotel stays – great expense for relatively short return.
We met a surprising number of long-term overlanders; people who travel mainly over land as opposed to by air; on our trip up to Alaska and down to Panama who had chosen this lifestyle. Some are retired and receiving enough retirement income to support their traveling habit until the day they die.
Others have enough income from investments such as rental homes to support their dream. We, however, fell into the category of most other travelers we met: we saved some money, quit our jobs and took the plunge into the unknown.
But, no matter the situation, all long-term travelers we met stick to a strict budget.
Traveling by air, renting a car, staying in hotels and eating out for every meal is about the most expensive way to travel.  Traveling overland by car however allows you to carry your bed and kitchen with you, thus keeping your money in your piggy bank for that much longer. The same applies to backpacking, but overland travel in your own car provides you with more freedom than being restricted to public transportation to get you from A to B.

How much does it cost to travel by RV?
It depends. You can travel in a luxury RV, stay in full service campgrounds and eat out regularly. Some RV parks in the U.S. charge the same nightly fee as a hotel stay! Travel more wisely however and you can easily spend an entire month of traveling through Central America on a minimum wage salary. This includes all of your expenses, from car insurance to health insurance and from gas to food expenses.