Jorn Vangoidtsenhoven (aka Vango) has just published Follow Your Bliss: Road Trip Into Central America, a 304 page book full of inspiration, photography, and overlanding tips.

Truck Camper Magazine interviewee and 2015 TCM Calendar Cover winner, Jorn Vangoidtsenhoven (aka Vango) has just published a spectacular 304 page book documenting his truck camping experiences in Central America with a 2008 Ram 3500 and a 2014 CampLite 8.5.
What follows is an exclusive sneak peak into Vango's new book.  It's a must read, but be careful.  First, it may entice you to sell everything and live free as a bird on the road.  And second, you'll probably want to read the whole book when you finish the intro.
Follow Your Bliss: Intro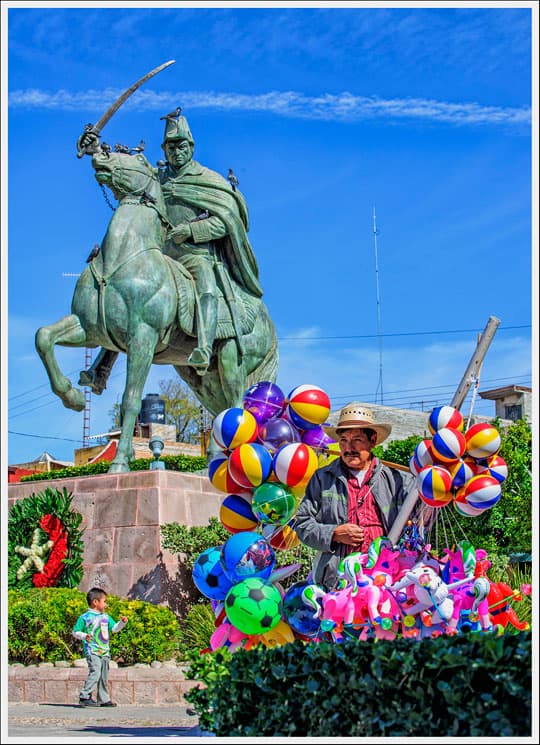 Above: A colorful scene unfolds in San Miguel de Allende, Mexico
This is our story: a thirty-something couple who quit their jobs, sold their home and hit the road in search of adventure. Mid-life crisis you say? Heck yeah.
January 15, 2014 at the Dodge dealership in San Antonio, Texas: "You're going where? My family lives in the border area with Mexico and I don't visit them any longer: it's too dangerous! There are lots of problems with drugs and violence in Mexico. People get killed on a daily basis; it's not safe to drive there. Be careful!"
We had brought our truck to the dealer for a final check-up when one of the mechanics inquired where we were heading and freely offered his advice. And so it began: our 150-day adventure into Mexico and Central America.
We used to sit in front of our computer and daydream about visiting all these remote locations. Free email subscriptions promise escapes to exotic locations. Travel websites dangle low price vacation packages in front of you like carrots. Most of us don't bite however, or at least not as often as we would like. We live our lives by promising ourselves that we'll go on that vacation sometime in the future.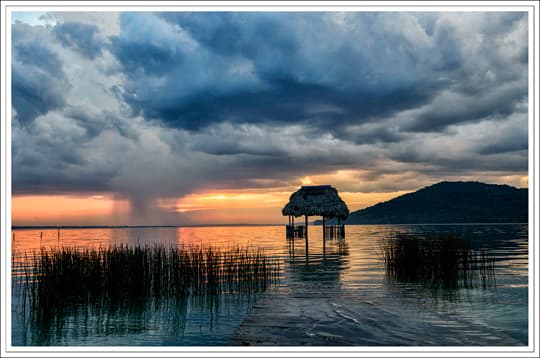 Above: Thunderstorm over lake Peten Itza in northeastern Guatemala
For some people, wanderlust expresses itself by taking a one-week backpacking trip and not shaving during the entire trip. Yet, there are some who take control of their lives in the here and now: they quit their jobs and go off into the unknown. It was time for my wife and me to do just that. Our dog didn't have a choice: she was dragged into this without being asked for her opinion. Neither did our cats: they were going to spend some obligatory sleepovers at my in-laws' house.
Don't get me wrong: it's not an easy thing to do. First, we needed to save the money to make it possible. We have five mouths to feed: two humans, one dog and two cats. Second, and definitely as important as the money thing, we needed to build up the courage to actually do it.
I mean, what will happen if you quit your job: will you end up on a street corner with a 'We are hungry' sign? The fear of ending up a beggar is what makes many of us show up to work, each and every Monday morning.
Growing up in the western capitalist world is perhaps best described as a long brain washing session: to live your life how society expects you to. Go to school and get good grades until you're 18; followed by college or university to get a degree that will lead to a decent career (if it doesn't bankrupt you in the process). Then, a job that consumes your time for the better part of your week. Don't forget to put in some overtime so the boss likes you, and hopefully you'll get that well-deserved pay raise which will promptly be spent on the latest cool phone, jacket, upgrade to a bigger house or more luxurious car.
Until the day you get lucky and retire, and may finally have the money and time to go on all of those dream vacations that have been dangling in front of your eyes the last thirty or forty years. The big problem is: what if you never make it to retirement age? What if a financial setback happens along the way and retirement day never comes? What if you don't have the energy or physical health required to hike to that great photo opportunity on top of the volcano?
It is so easy to get comfortable in your daily routine that most of us never leave it. Comfortable, not 'happy'. And that's a damn shame.
Working for The Man means that you have to show up for work 49-50 weeks out of 52. If you are bitten by the travel bug, that is as good as a death sentence. Wouldn't you be happier if you had a little less money but a lot more freedom? Wouldn't life feel more like living if you had more than just the weekend to enjoy the days in each week? Wouldn't life be more fulfilling if you had more than just two weeks every year to go out and explore the big and interesting world we live in?