Vinicius Maranhao assembled a 19-ton Iveco rescue and firefighter truck with a MotorTrailer truck camper to create a one-of-a-kind expedition rig.  Prudhoe Bay to Tierra del Fuego, this unique rig is ready.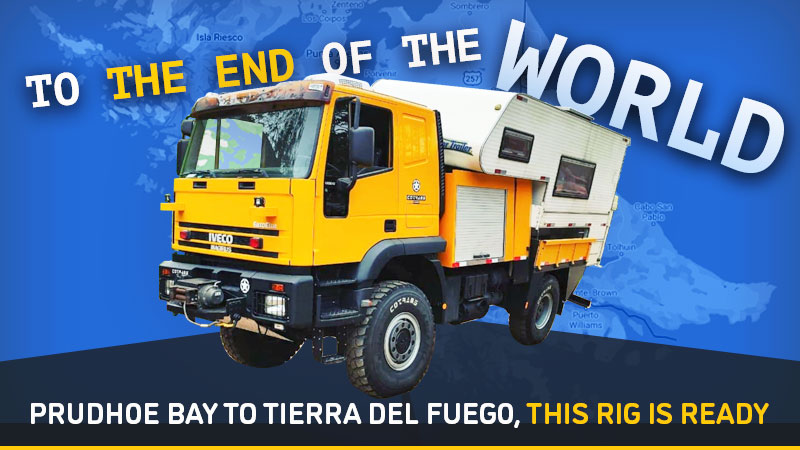 After a decade-and-a-half of living and breathing truck campers, we are still discovering new-to-us truck and camper makes and models from around the world.  There seems to be no end to the combinations and their origins.
Speaking of new-to-us camper makes and models, Vinicius Maranhao reached out to us from South America with a brand we had never seen before; MotorTrailer. As Vinicius explains in his interview, MotorTrailer is one of three truck camper manufacturers in Brazil, and he believes the market is growing.  Now on his third truck camper, Vinicius himself may have something to do with that.
Unsatisfied with the capabilities of one-ton trucks and truck campers, Vinicius decided to create a big expedition truck and camper.  After seeing large-scale expedition rigs in South America, there was no turning back.  When a 20-year old Ivasco rescue and firefighter airport truck went to auction, the dream became reality.  Of course, nothing this custom and unique happens that easily.
Beyond the striking truck and camper combination, Vinicius offers insights into what it's like to travel and camp in South America.  It is not a trip to take lightly, but if what Vinicius says is any indication, the rewards are well beyond the adventure itself.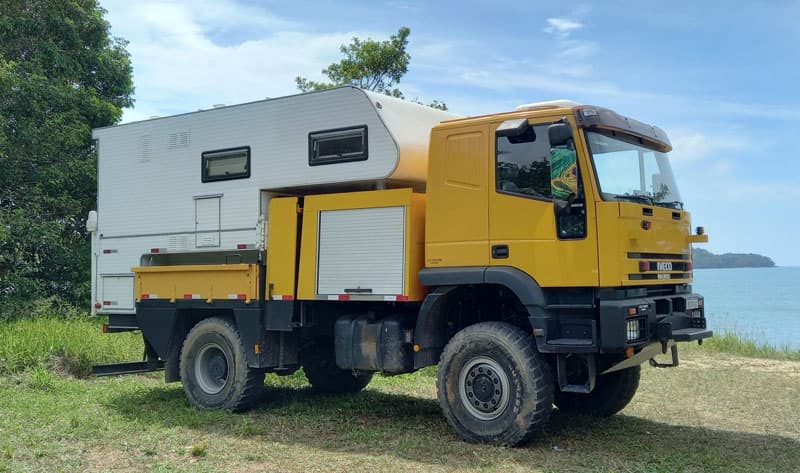 How did you get into truck campers?
We have camped for over 60-years.  In 1959, I went camping with my father in a Volkswagen Kombi (Microbus in the US).  Then, I went tent camping by myself from 1968 to 1980.  Later, with my family, we adapted a Toyota LandCruiser for weekend trips, holidays, and vacations from 1983 to 1990.
We traveled from 1991 to 2003 on 30-day vacations each year.  They were not RVing trips.  We have traveled all over the world, and still need to visit Australia and its Islands, Antarctica, and the Arctic.
In 2003, we decided to calm down with the plane rides.  We spent weekends, holidays, and vacations in a 15-foot tow trailer until 2005.  My family enjoyed it, so a bigger 21-foot entered our life from 2005 to 2015.
When the nest emptied, we re-evaluated the universe.  My kids were grown and we were accustomed to small spaces.  A truck camper was the perfect choice, in theory.  They are light, four-wheel drive, easy to take care of, easy to clean, and gave us a lot of flexibility.
We thought, "Let's give a truck camper a try".  And we did. Since then, we have had three.  Each one has been better than the previous one.  Nowadays we are happy with two truck campers.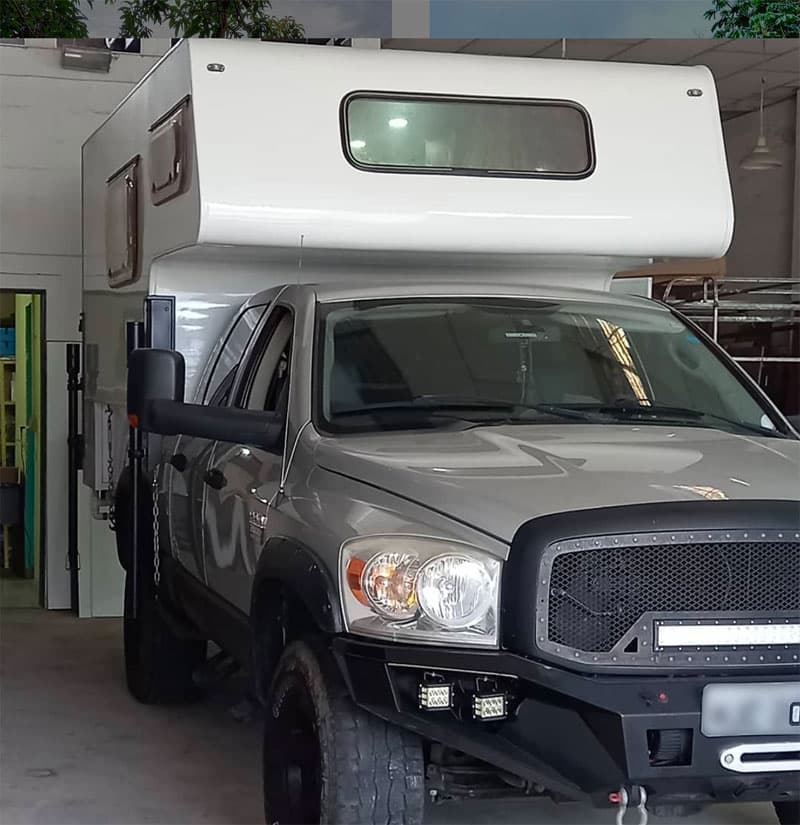 You have two truck campers?
Yes. We have a 1987 Larturist Tahiti (pictured above and below).  It's a small and light truck camper that's no longer being built.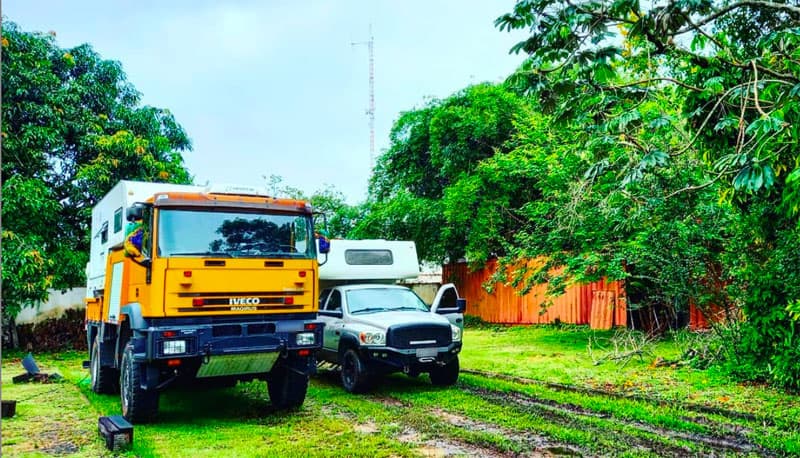 We also have a 2009 MotorTrailer MTB 215 that is our heavy-duty truck camper.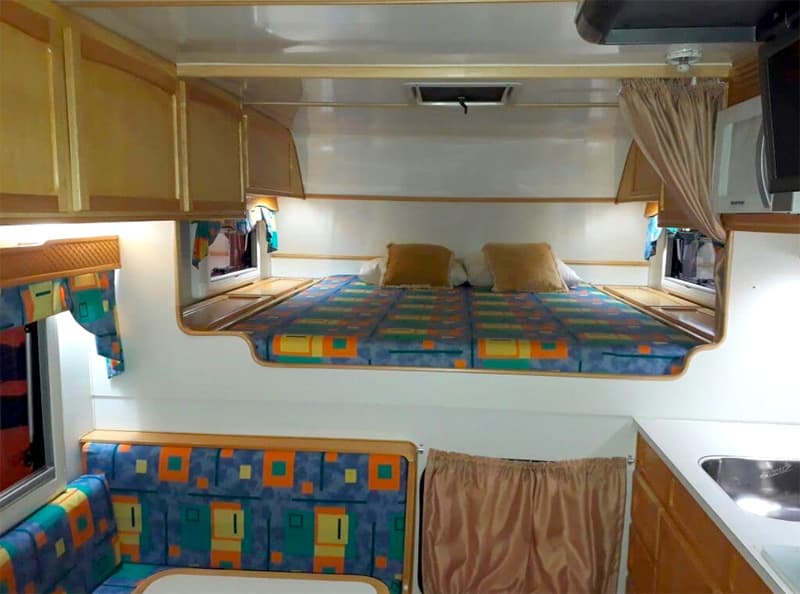 The MotorTrailer MTB 215 is comfortable.  We have a longitudinal queen bed and a dry bath which were non-negotiable requests from my Queen.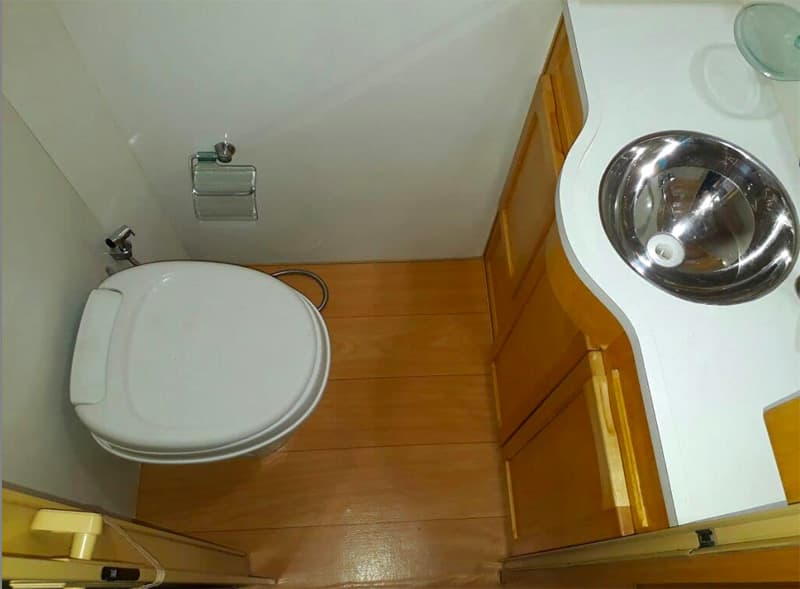 It's been perfect.  We have also done a few modern improvements.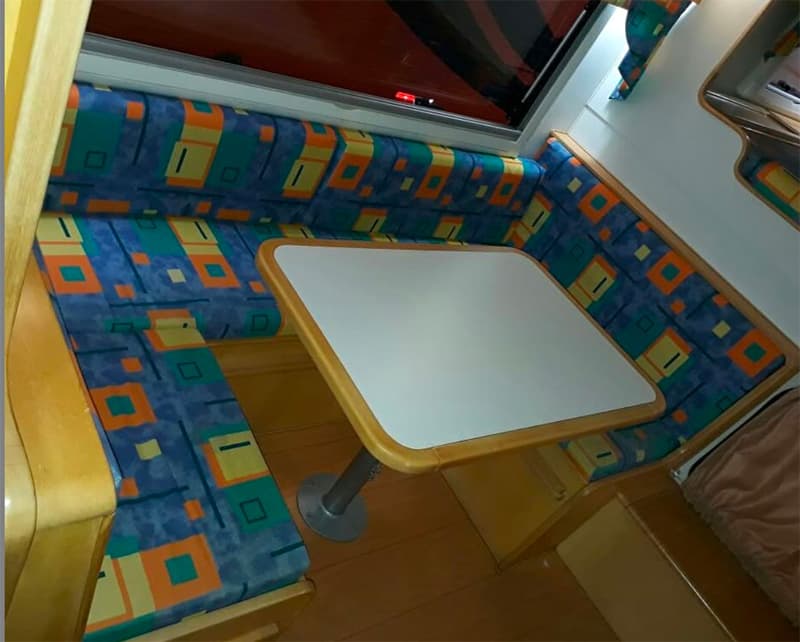 In addition to the two we have now, we also had a 1996 Larturist Tahiti camper.  We decided to sell our 1996 camper to support the acquisition of the MotorTrailer.  Three truck campers were too much, so we decided to sell one.
There are three truck camper manufacturers here in Brazil; MotorTrailer, Camper Duaron, and TurisCamper.  Most of them manufacture on-demand, which results in very few built a year.
As of now, it's very rare to meet truck campers here.  We have RV gatherings that are not specific for truck campers.  If we have a group of one-hundred, there may be three or four truck camper rigs in attendance.  That said, I do think the market for truck campers is growing.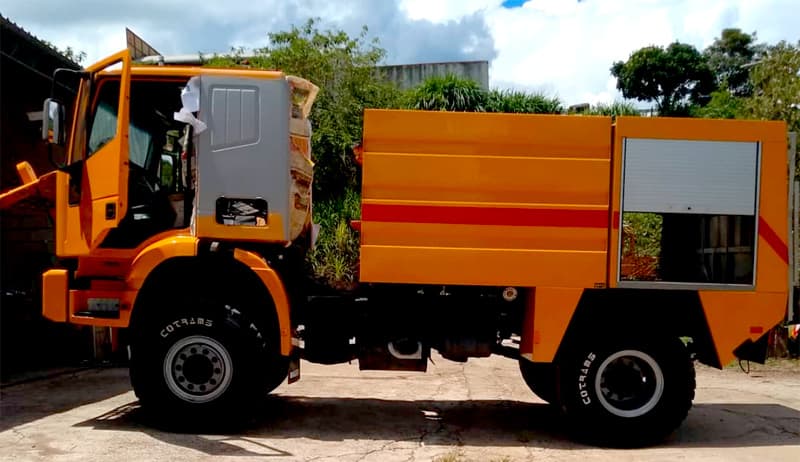 Tell us about your truck.  It's a brand we don't see in the United States or Canada.
My truck is an Iveco 190E42 extended cab with an automatic transmission.  It's a 19-ton diesel with 16,000-pounds of payload capacity, 300-liter fuel capacity, four-wheel drive, rear, front, and central differential locks.  This particular Iveco was built by Magirus in Germany as a heavy-duty, 4×4 rescue and firefighter airport truck.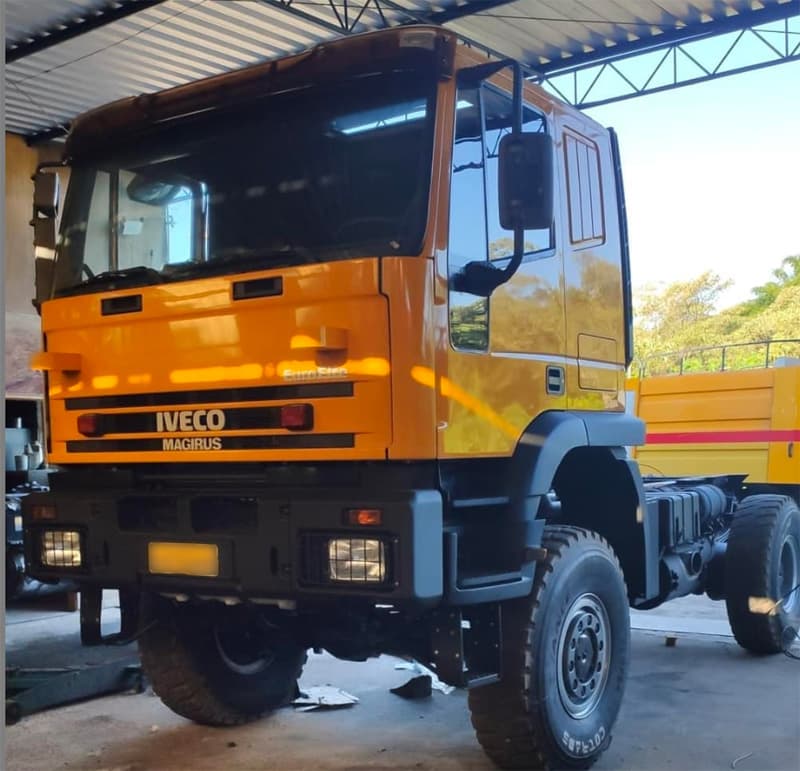 That's a lot of truck for a truck camper rig.  Why did you choose a 19-ton truck instead of a 1-ton pickup?
We traveled South America with a one-ton pickup truck and camper in the past.  During those trips, we encountered big expedition trucks from Europe on the way to Ushuaia; the southernmost city in Argentina.  Seeing those big trucks was love at first sight.  Soon after we started dreaming, planning, and working to assemble an expedition truck of our own.
During our research, this Iveco Magirus heavy duty, 4×4, automatic (because sometimes my left leg is lazy) appeared.  It had been used as a rescue and firefighter truck at the airport for 20-years and was going up for auction.  We had the opportunity to acquire it with just 16,000-kilometers.  That's less than 10,000-miles.
That's crazy low miles for any truck, especially one that's two decades old.  Did you need to do anything to make the Iveco suitable for your truck camper?
Yes, we worked with Emerson and Glauber from Cotrams Veiculos.  They are known as the best military truck refurbisher in Brazil.  They took a recycled 6×6 military truck bed from the Army Engineering Corps and adapted it to our Iveco.  We also adapted the aluminum pump compartment.  It's under the pickup bed.
What do you keep in that storage area?
We typically store tools, chairs, tables, and a generator.  We could change to carry an extra diesel tank, water tank, or both depending on where we go and what is more difficult to obtain.  We normally have 300-liters (79.2-gallons) of diesel, which gets us approximately 1000-1200-kilometers (621 to 745-miles) depending on the road.
We also take with us 240-liters (63-gallons) of clean water.  We can carry extra tanks and transfer that water to the original tank.  That approach helps more remote areas of South America.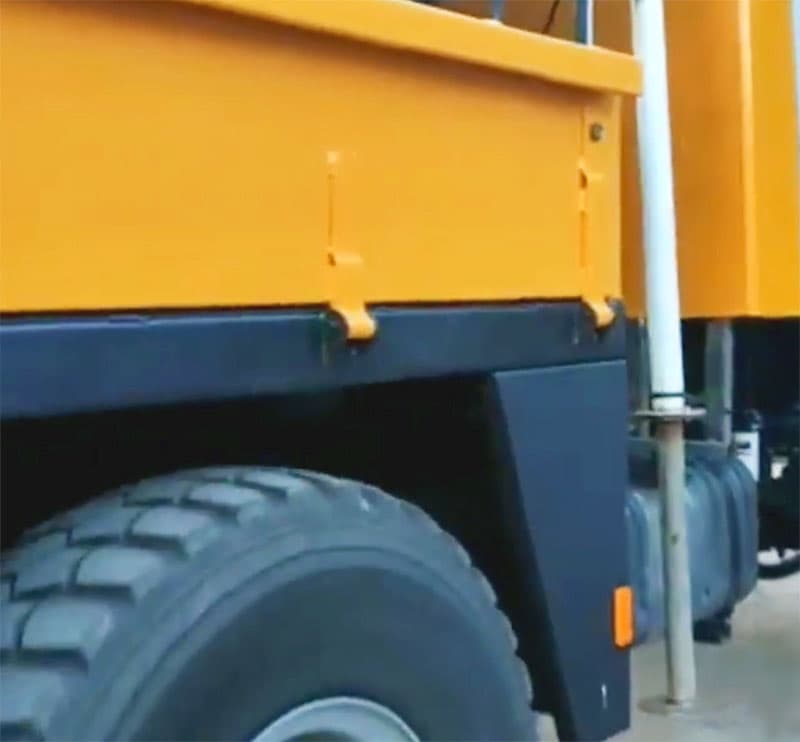 Your truck bed looks significantly higher than a pickup truck.  How do you load and unload the camper?
It's 1.4-meters (4.59-feet) from the ground to the bottom of the truck bed.  Jack extenders were built to load and unload the camper.  Most of the time the camper stays on the truck.  We only unload for maintenance.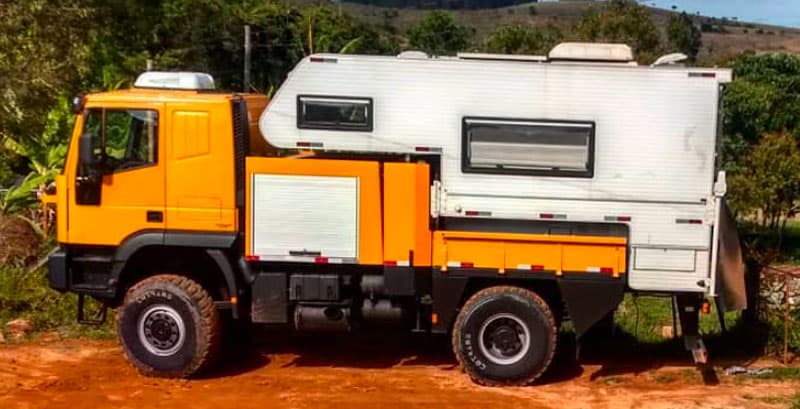 How tall is the rig when the camper is loaded?
Overall the rig is 3.83-meters (12.5-feet) in total.  We are always navigating around trees.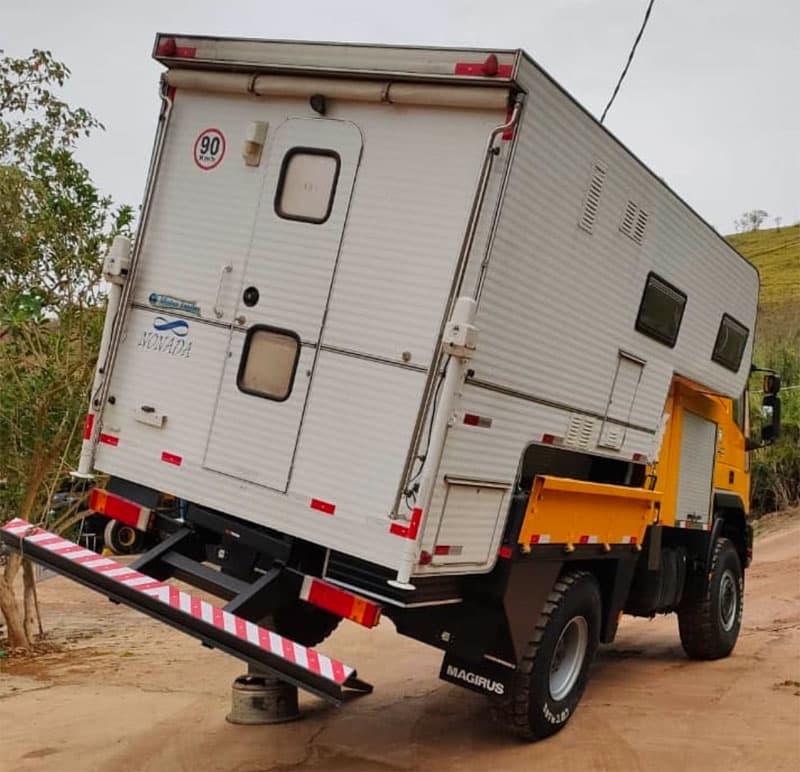 In some of your pictures you show your rig leaning heavily to the left or right for, "testing".  What are you testing in those photos?
Our truck bed is tied above a torsion-free sub-frame for off-road conditions.  This is a common set-up with European overland or expedition trucks.  In the photos you see us testing the system.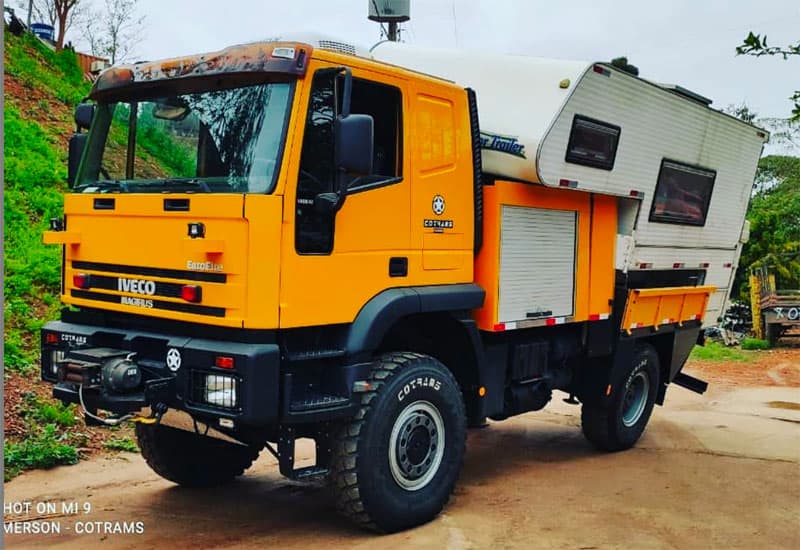 What it's like to travel and camp in South America?
It varies by country.  For example, in Uruguay, I can recommend the national parks and historical places.  Also in Uruguay, the main square within the small villages offers organized camping, fuel stations, and boondocking.
Argentina has some camping areas along the main routes.  There are also natural parks to visit.  Almost all municipalities have a natural park and accept camping.  There is no common standard for campgrounds, so there's the full range in terms of quality.  Some are safe, cheap, and close to the small cities.
Chile has natural parks, some camping areas, fuel stations, and lots of boondocking areas.  We had great support from tourist office information centers.  There is a very receptive and supportive local government administration in the small villages.  Paraguay has a few camping areas close to the attractions, but you can find support.
Brazil has a camping app you can download called MaCamp.  With MaCamp, you can search by location with a list or a map.  I also recommend Brazil's natural parks and boondocking locations.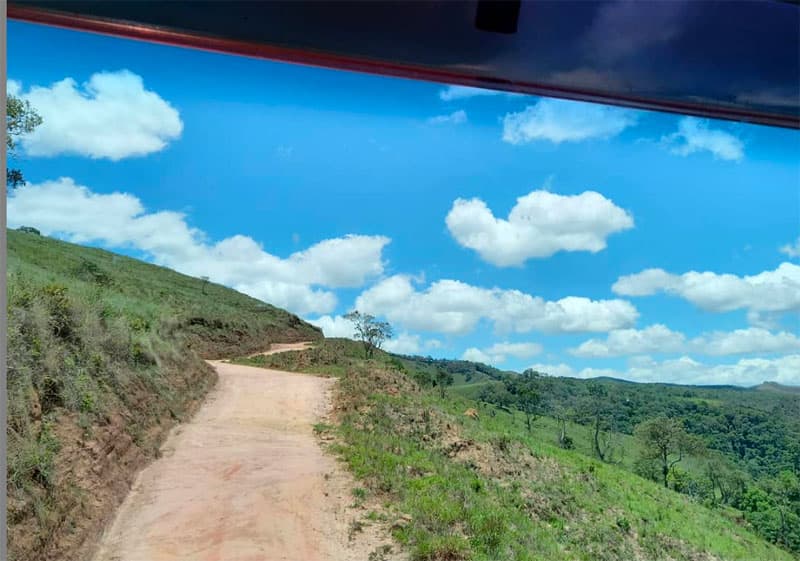 Traveling to these beautiful countries is an adventure of a lifetime, each with their own history.  Normal routes cover most of the attractions.  Along the way, there are different qualities of asphalt, infrastructure, fuel stations, and grocery stores.
Organized camping is not common, but it exists in natural parks, municipal parks, at fuel stations, and boondocking.  Small places are more flexible and people, in general, are receptive in all South American countries.
Remote routes do exist.  We recommend doing your homework.  Be prepared and, if you are traveling solo, we recommend grouping with other travelers from all parts of the world for support.  The chance for grouping happens especially during the summer at the camping areas, boondocking locations, fuel stations, and small villages.  By the time this mutual support network splits, you have created friendships.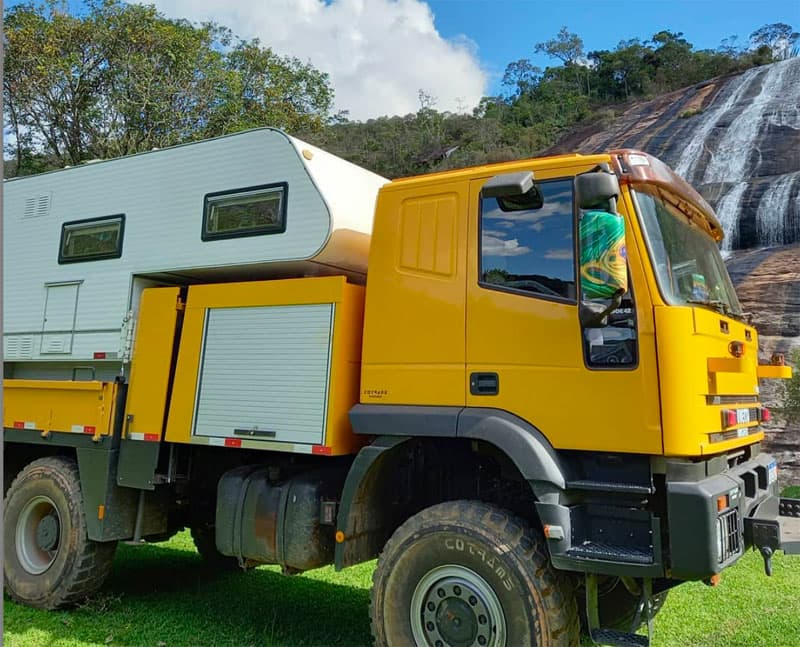 You mention the small villages.  Is the Iveco hard to drive in South America?
Not at all.  It is hard in some of the smallest and oldest cities, but the biggest problem is the height of my rig.  We were always watching our height.
As a side note, there are Iveco Service Centers in Uruguay, Argentina, Chile, Brazil, Paraguay, Bolivia, Ecuador, Peru, Colombia, and Venezuela.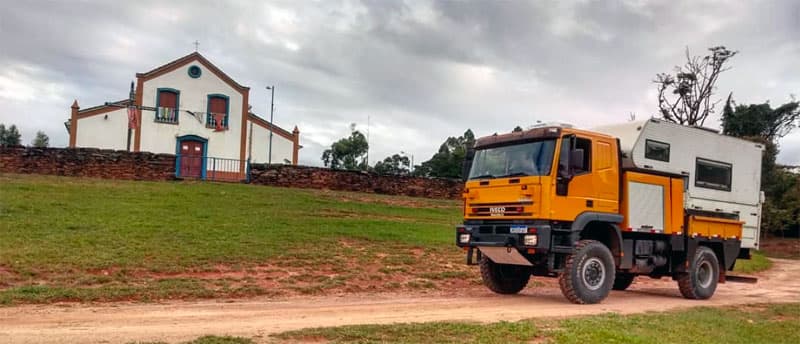 That's reassuring.  What are your truck camping plans for the future?
We are focused on the south cone of South America; Brazil, Uruguay, Argentina, Chile, and Paraguay.  There are so many beautiful places to go.
The goal of many travelers in South America is to reach, "The End of the World" in Ushuaia via the Pan American Highway.  We did.  That's one less item on our bucket list.  That same legendary route stretches to Alaska.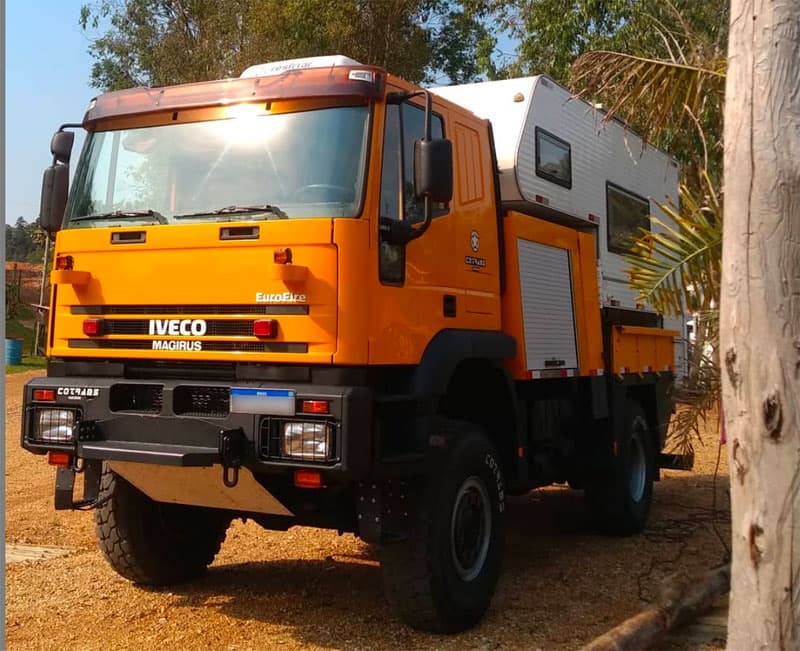 Any advice for fellow truck campers that might be interested in a trip to South America?
Truck camper travel and camping in South America are part of the adventure of traveling abroad.  A dream for many.  A reality for some.  People are going there every day, even with the situation the world has been in.
One common denominator to this kind of travel is being in harmony with the people and cultures of South America.  Keep an open mind to the differences.  Differences do exist, but we are all simply human beings living on this Earth.
Thank you for the opportunity to share one voice from the South Cone of the Americas.  Truck Camper Magazine has helped us and a lot of other truck campers from around the world.
To see more awesome international rigs, check out Rigs Around the World 2.