When a fellow Brazilian returned with a Lance Camper, Marcos Gadaian bought it, quit his job, rented his apartments, and hit the road full-time with his wife and newborn son.  That's where this incredible story really begins.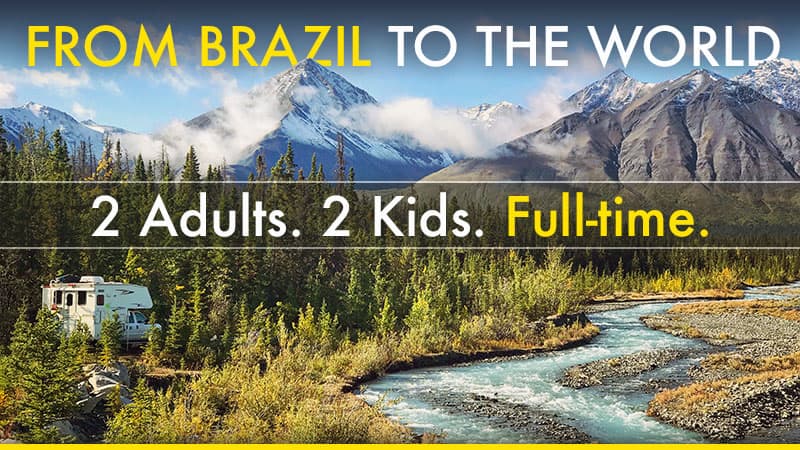 The leap into truck camping varies in distance.  Some have close friends or family who introduce us to truck camping directly from a young age.  Their leap is relatively short.
Others discover truck campers at a local RV show, or in the campsite next to them as they tent camp on a stormy night.  That's a much longer leap, but still within the confines of one's beaten path.
In this context, Marcos Gadaian's leap is one for the record books.  Living in Brazil, he not only hadn't seen a truck camper, but he didn't know they existed.  All he knew was what he wanted to do and started searching for the most efficient solution.
Even after he found truck campers online, the closest models for him were 1,500-miles away in a different country.  And yet, Marcos had locked on to his solution.  He was determined to get a truck and camper.
It turns out that determination is a critical ingredient for Marcos's journey.  With that essential force, he found his truck and camper, quit his job, and rented his two apartments for income.  Then he and his wife and newborn son got on the road full-time in their truck camper.
Two months later, their truck broke down (for three-months) and they found out they were pregnant with their second child.  Did this stop Marcos and his growing family from achieving their dream?  What do you think?
What follows is not only an incredible story about a young family living and traveling full-time in a truck camper, but also resilience and adaptability.
There are also amazing stories within this story.  How their children are becoming multi-lingual world-travelers with cultural perspectives and experience that you can't teach in a school.  How they were stranded in a foreign country for months when the pandemic struck and how they are learning about themselves.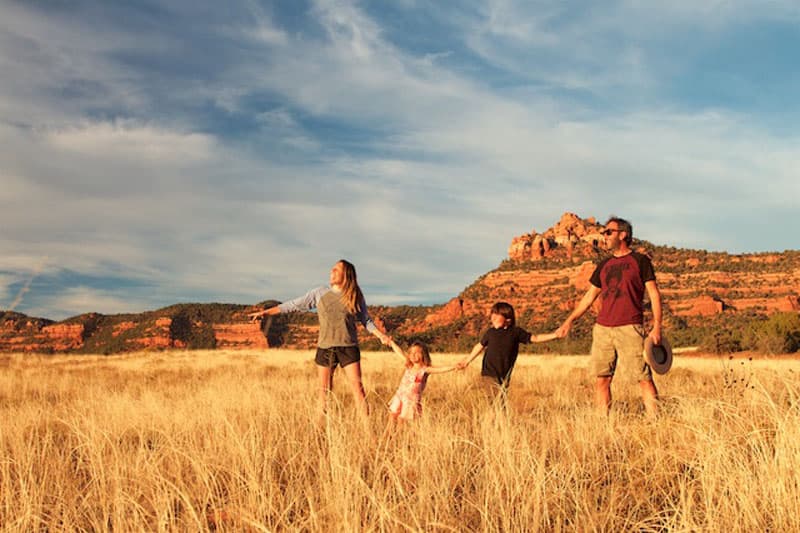 Above: Cristina, Teresa, Caetano, and Marcos live full-time on the road in their Lance Camper
How did you get into truck campers?
It all started in 2014. We lived in São Paulo, Brazil, which is the biggest city in South America. I worked hard and earned a lot of money, but we also spent a lot of money.
I didn't have much time to play with my son. His first year went by so fast. I was happy when I could bathe my baby before he went to sleep.
After working so hard, we decided to take a sabbatical year and enjoy our family. At first, we thought about traveling with a backpack. Then we considered putting a roof tent on our SUV.
Our initial plan was to go to Patagonia. Friends told us that the winds there could easily reach 100-kilometers (62-miles) per hour, so a tent was not a good option. We needed something more solid.
Cristina suggested a motorhome. I didn't like the idea because I like to travel off-road trails that need four-wheel drive. All of the motorhomes I knew were heavy and wide.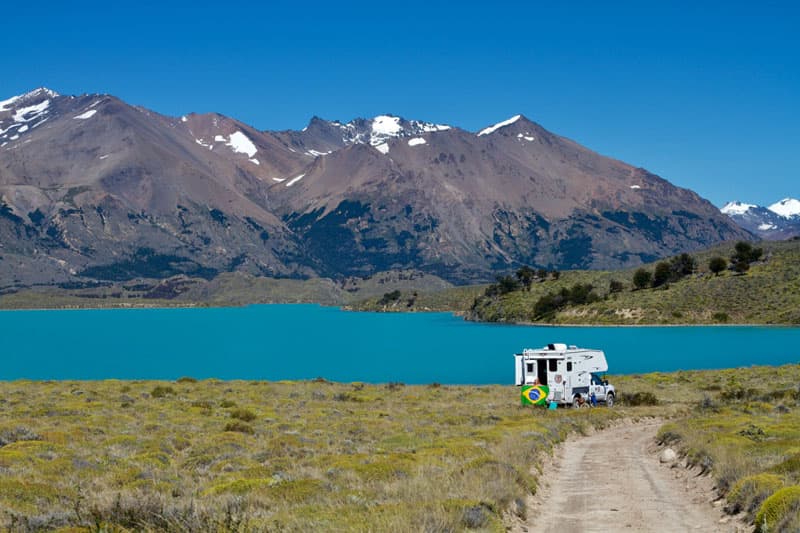 Above: Their 2005 Ford F350 and 2006 Lance 881 rig in Perito Moreno National Park, Patagonia, Argentina
We spent nights researching options. One day I saw a truck camper on the internet. I had never seen one before! At that time, we didn't have truck campers here in Brazil.
The possibility of having a strong and resistant truck and camper that could go anywhere was an ideal choice. I looked to see if any were for sale close to where we lived but only found a few in Argentina over 1,500-miles away.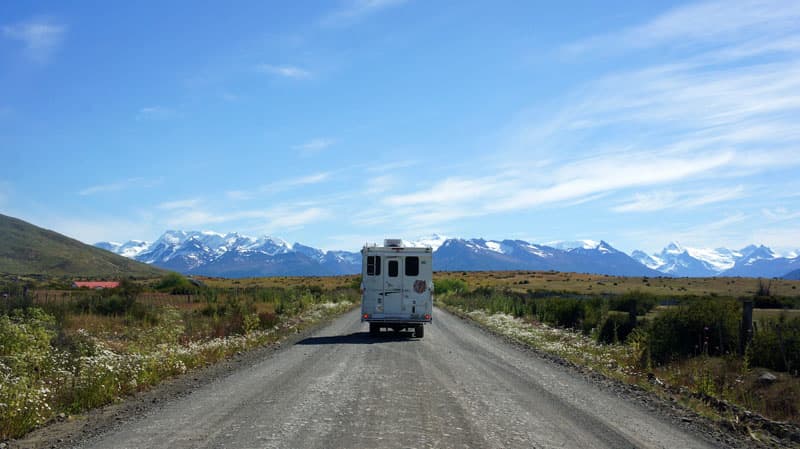 Above: Los Glaciares National Park, Argentina
That's quite a distance. How did you find your truck camper?
My brother-in-law moved to Ottawa, Ontario. He called and asked if we wanted to visit him over the summer. He had just moved into a big, comfortable house.
I replied that we would go, but we would be driving there. He couldn't believe it. At first, it really was a joke, but then I found a Lance truck camper for sale online.
Another Brazilian was driving from Canada and wanted to sell his truck and camper when he arrived in Chile or Argentina. I contacted him and he came to São Paulo. We ended up buying it.
A month later, in October of 2014, we were on the road heading south to Patagonia. After Patagonia, we would be driving north until we reached Canada.
We made a very detailed itinerary on Google Maps. We planned to drive about 100-kilometers (62-miles) per day. In nine months we would be in Canada. We would spend three months there in the summer, sell the camper, and return by plane to our normal life. Simple, right?
Two months later everything went wrong. First, our truck broke down. We stayed in Chile for three months fixing our truck. It was not a complicated problem, but there were no parts available. Importing the parts took a long time, and it was stopped at the Chilean customs. It was a nightmare! We would not be able to arrive in Canada that summer.
At that point, we decided to let life choose for us. During this time, my wife got pregnant and we had a daughter! She is now four years old.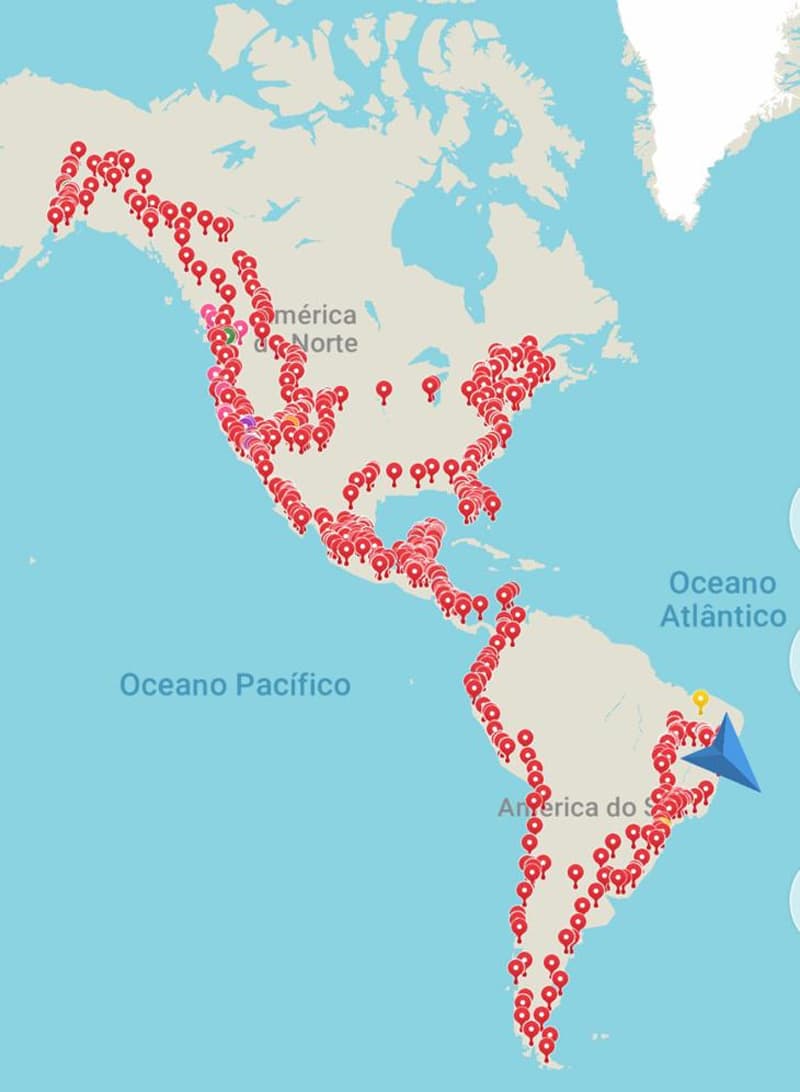 That's quite a turn of events. When did you start living full-time on the road?
My family has lived full-time in our Lance camper since 2014. In 2014, we were only three people, but then as we're traveling on the road, Teresa was born in 2016. After our daughter was born, we continued our trip in 2016 and reached Alaska in 2018. We eventually visited my brother-in-law in Canada in 2019. Now we are back in Brazil again. We are still living in our camper full-time.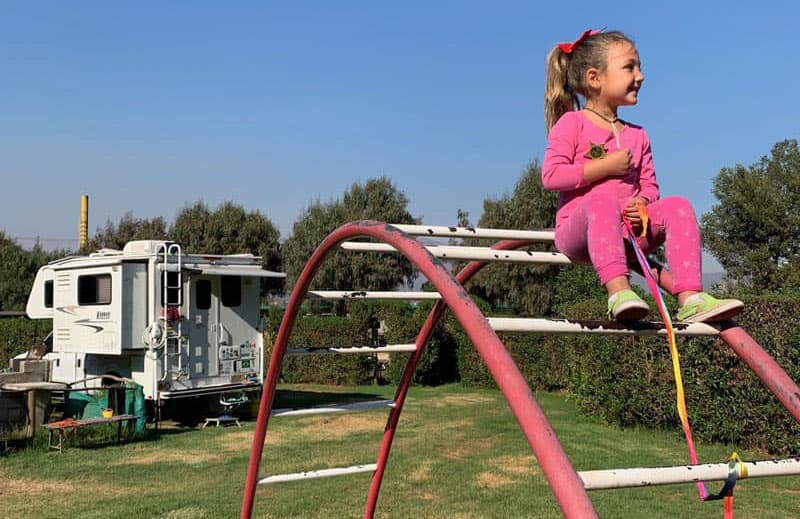 Above: Teresa during the pandemic's lockdown camping near Santiago, Chile
How did you get yourself and the rig back to Brazil?
We were originally going to ship the camper from Miami to Guyana and go down all over the Amazon, following the Atlantic coast to Rio de Janeiro.
Two weeks before the ship left, the company informed us of changes. We would have to leave the keys to the truck and camper as they would transfer the rig to another ship in Jamaica, and customs would ask for them. We didn't like that idea.
Our American visa was almost expiring, so we decided to spend Christmas and New Year's Eve in Mexico. In February we shipped our rig from Mexico to Chile and then we flew to Santiago, Chile.
We arrived on March 14th. On the 15th all borders were closed due to the pandemic. We were locked in a campground, which was closed, but they made an exception because we had nowhere to go.
There were other Brazilians in the same situation. We all needed permits to be able to cross into Argentina and go to Brazil.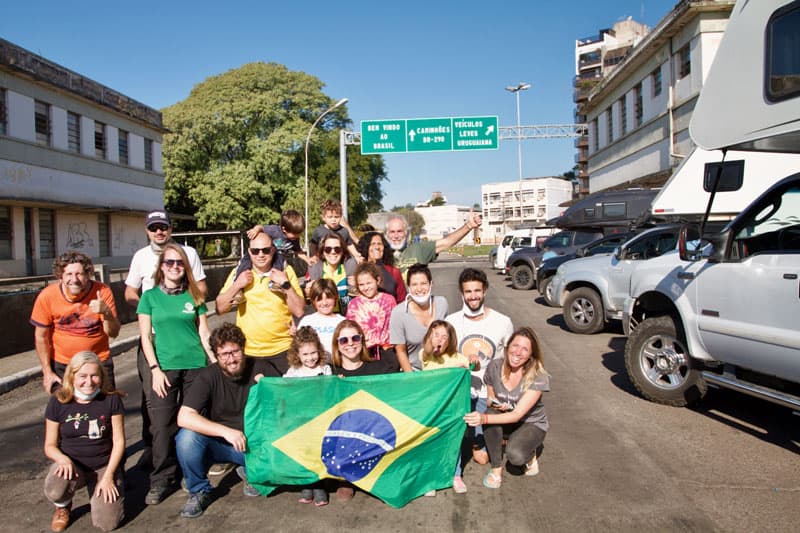 Brazil, Chile, and Argentina finally entered an agreement. On May 27th, we were part of a police-escorted convoy driving fifteen hours a day for four days until we entered the south of Brazil. It was an adventure.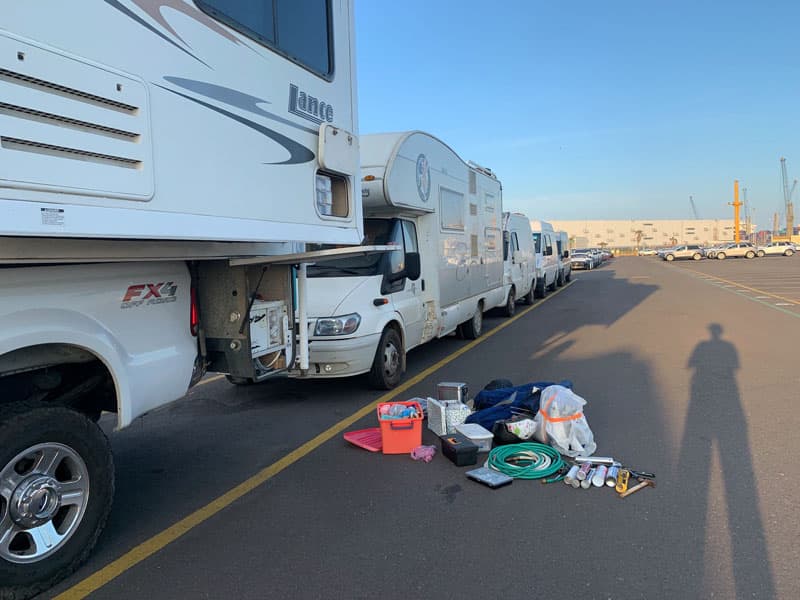 Above: At the port of Veracruz, Mexico, conducting a police inspection, before embarking
It must have been. How has Covid impacted your full-time lifestyle?
Our life in the camper itself has not changed much. What has changed is the fact that we are more isolated.
We were isolated for three months in Chile. When we entered Brazil, we spent more time isolated in the middle of nature. We hardly went to the big cities. We have not yet gone to our hometown to see our friends and family because of the pandemic.
Traveling, more than knowing the places, is tasting flavors, traditions, and talking to local people. We love making new friends, so our full-time lifestyle really is more complicated right now. We hope that soon everyone can embrace again.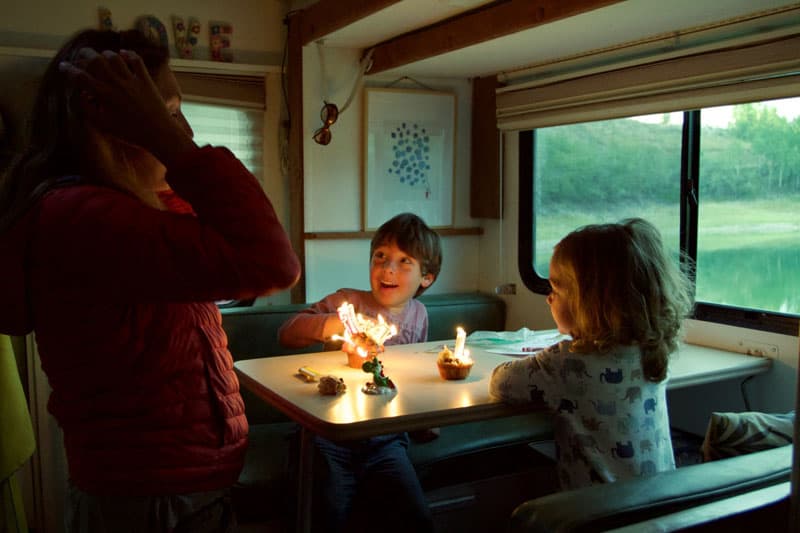 Above: Singing happy birthday somewhere in the Yukon
What's your day-to-day life like now that you're back in Brazil?
Since we did not return to our home city, our days are more or less like they were in any other country. We basically have days on the road and days when we stop somewhere to stay for a while.
Before the pandemic, how did you plan where to go and what to do?
In the beginning, we planned more. Then we started visiting places that locals told us to see. For example, we were in central Brazil heading north to the Amazon. We were delayed because there are so many interesting villages to visit.
We also had another mechanical problem and spent twenty more days waiting for truck parts. With all of this, it started to rain in the Amazon, and many paths became impassable. So we decided to go east to the beaches. We have learned to be malleable. We understand that not everything goes as planned and changing plans is no problem.
Next year we will continue along the coast to the north and then we will enter the Amazon from above.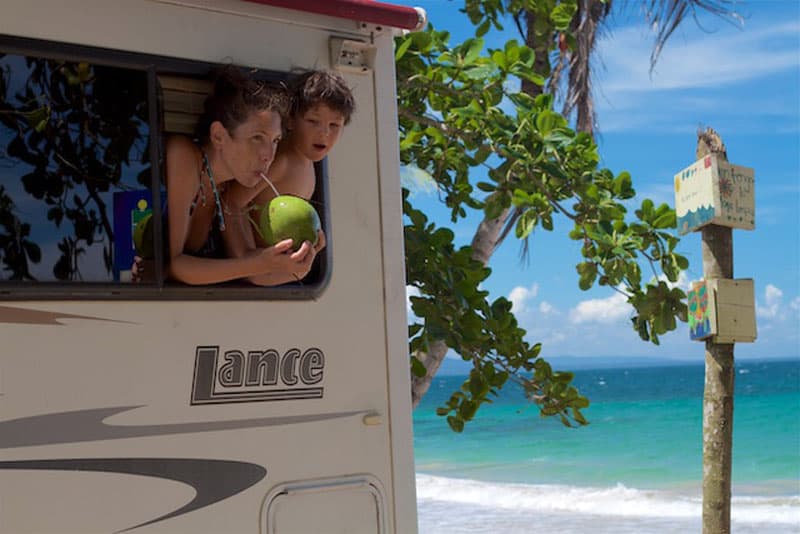 Above: Camping on the beach, Costa Rica
Are you going to continue living full-time in the camper?
Our camper is getting a little small for us as our two children grow up. We have a temporary import on our truck, so can't keep it in Brazil forever. We will likely sell it to another traveler looking to travel back to the United States.
Eventually, we will come off the road somewhere in Brazil for a while, and do something related to campers and motorhomes. We are also considering moving onto a boat, perhaps in Europe. 2021 will certainly be a year of decisions.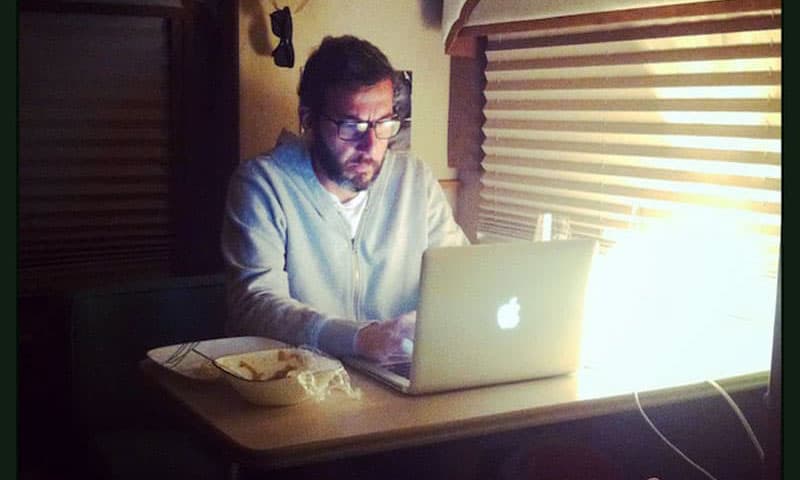 Let's back up a bit. How did you know you could afford to live full-time in a camper and travel?
We own two apartments in São Paulo. With the rental income we are able to buy food, diesel, and go on our way.
I am a professional video editor and Cristina is a professional cook. I can easily work remotely. However, while we are traveling with two children, it is difficult to dedicate myself completely to video editing work.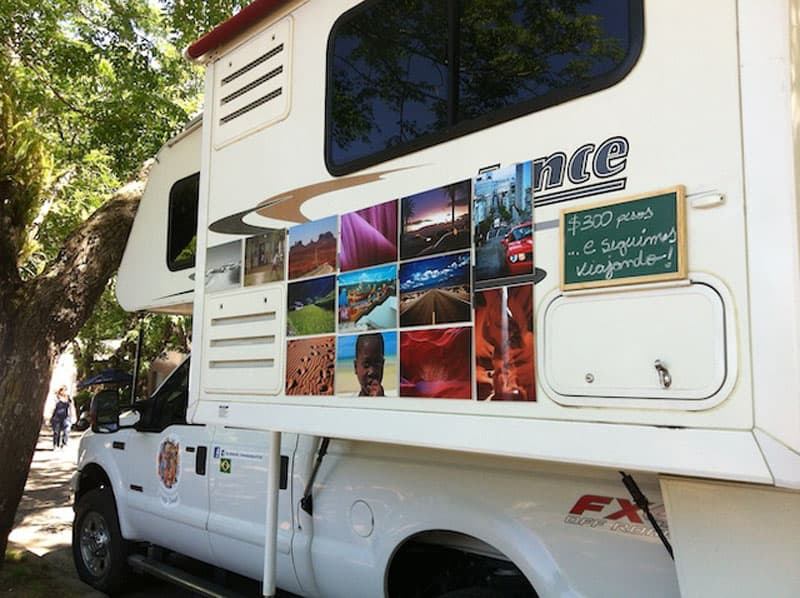 Above: Selling photographs, Colonia del Sacramento, Uruguay
At the moment we live off the rent money, but we also sell sweets, drinks, photographs, and postcards to help with the bills. Our children also have fun when we sell something.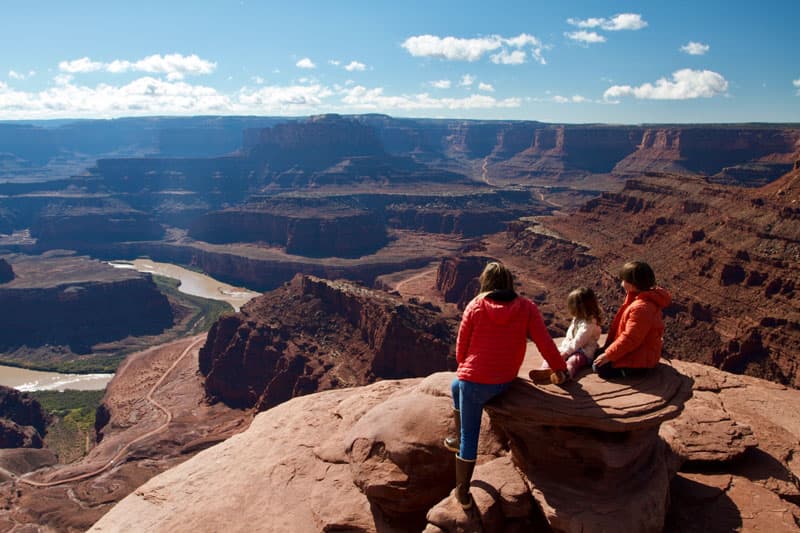 What has it been like traveling with your children?
Traveling with children is much easier than being with them in a small apartment in a big city. We see different things every day.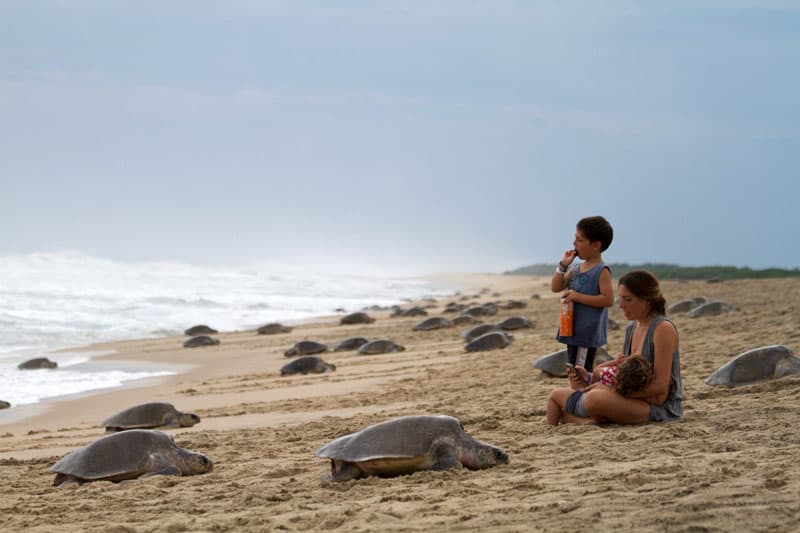 Above: Incredible experience with thousands of sea turtles coming out of the sea, Playa Escobilla, Mexico
Everything becomes a reason to go deeper into teaching. Life passes through the window and our children can enjoy and savor every moment. It is not a television screen.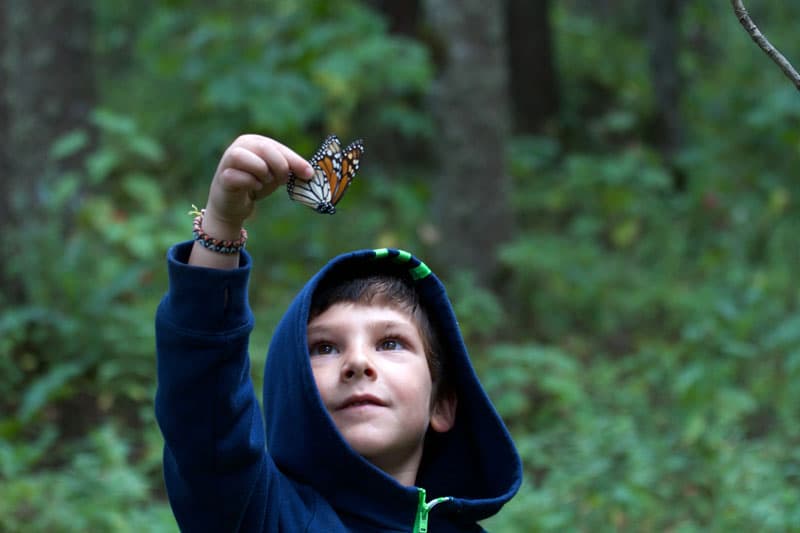 Traveling with them I realized how imperfect I am. When you spend the whole day working and then only have an hour or two with the kids, it's easy to keep the father's image of being fun and calm. When you spend 24 hours together for years, there is no way to hide who you truly are. Sometimes we don't quite like who we are.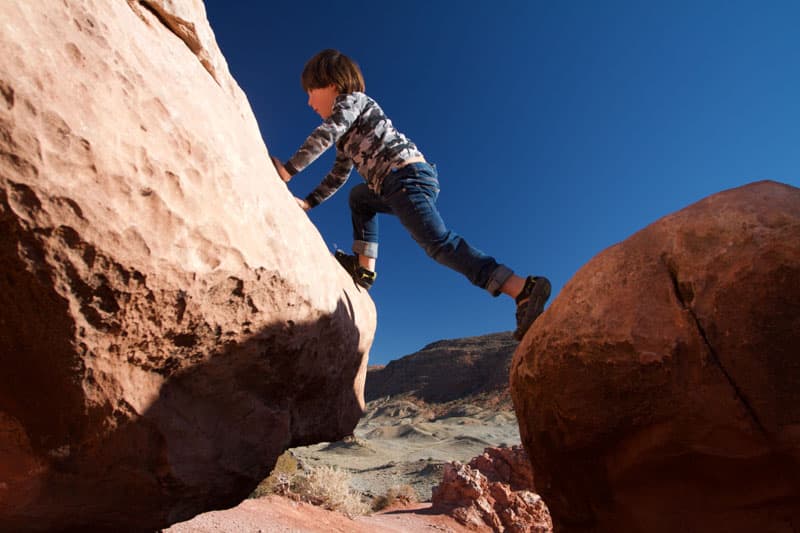 Through the eyes of my children, I have learned, and I am still learning, that I need to improve a lot as a person.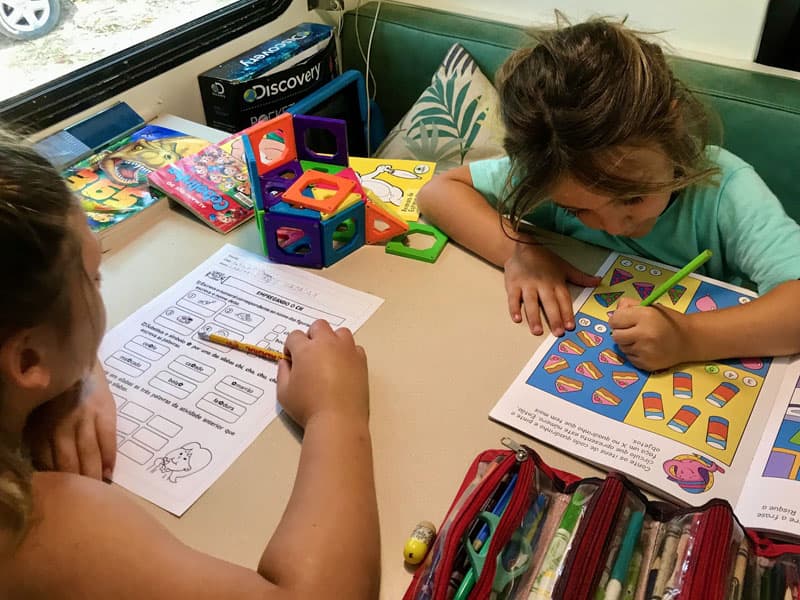 Do you home school your kids from the camper?
Yes, we teach our children about everything. We have textbooks and activities. Every day in the morning we do some activities with the children. Then, we are either on the road or we visit some attraction.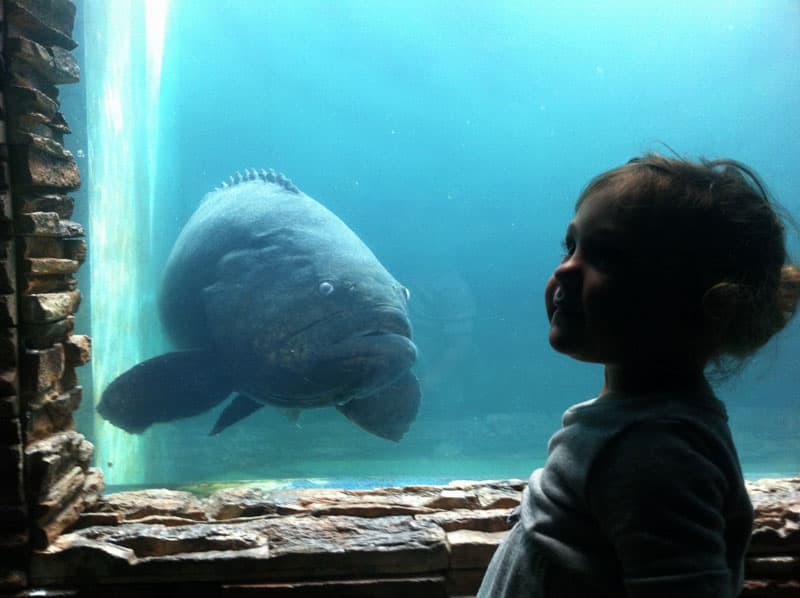 We go to libraries, museums, and anything that happens on that day becomes a class.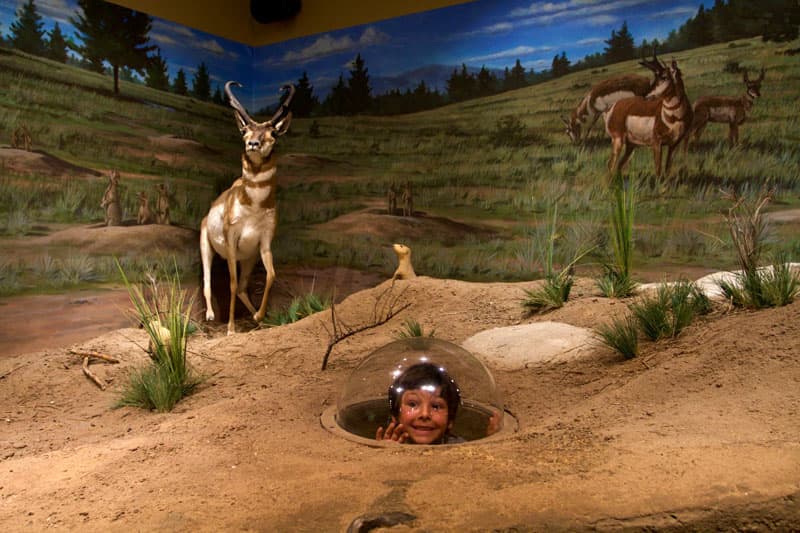 Above: Playing in a visitor center
In addition, we go to the supermarket, laundry, and library, etc.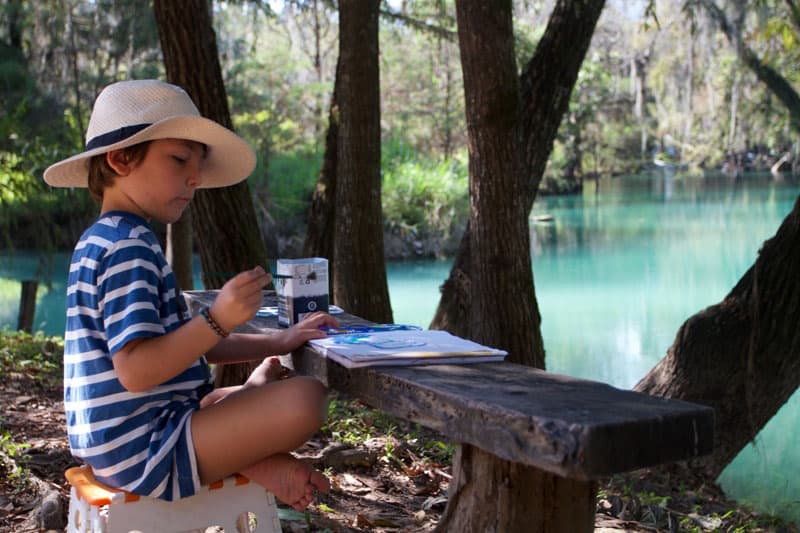 Above: Homeschooling in a beautiful spot in Mexico
Caetano, age 8, reads, speaks, and writes in Portuguese, English, and Spanish. Teresa, age 4, is learning by osmosis because we are always together in the camper.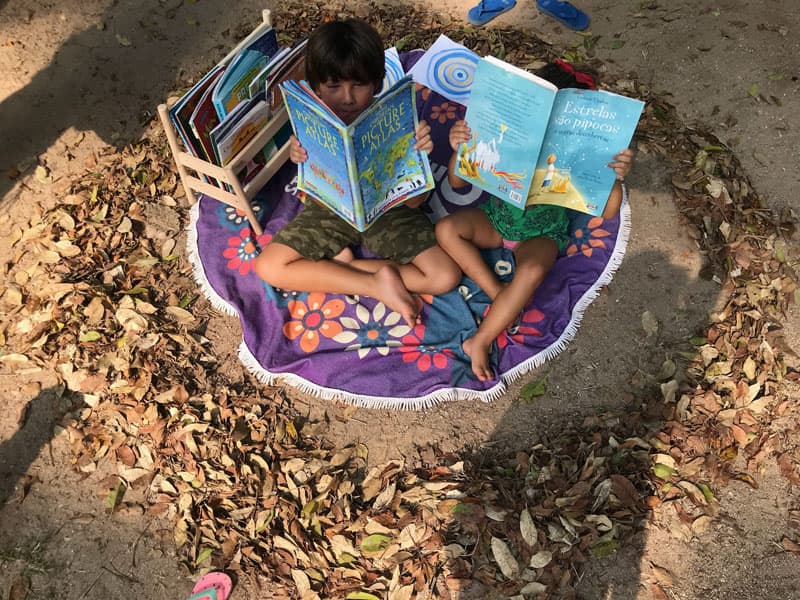 Above: Homeschooling on the beach, Lo de Marcos, Mexico
Have you had to adapt the camper to fit their needs?
There have been a few changes. We removed the carpet. We also replaced the upholstery with a waterproof material. We made a small library and we have boxes of toys.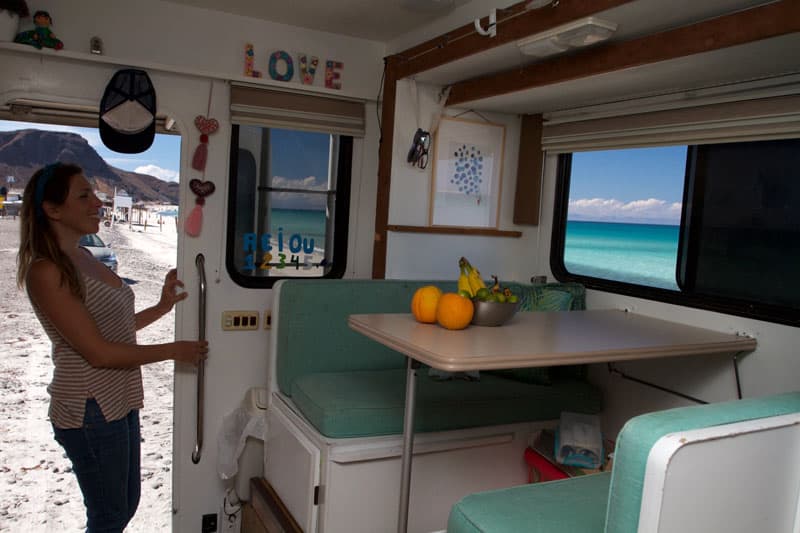 When we meet other children who have never camped, our children invite everyone into our camper.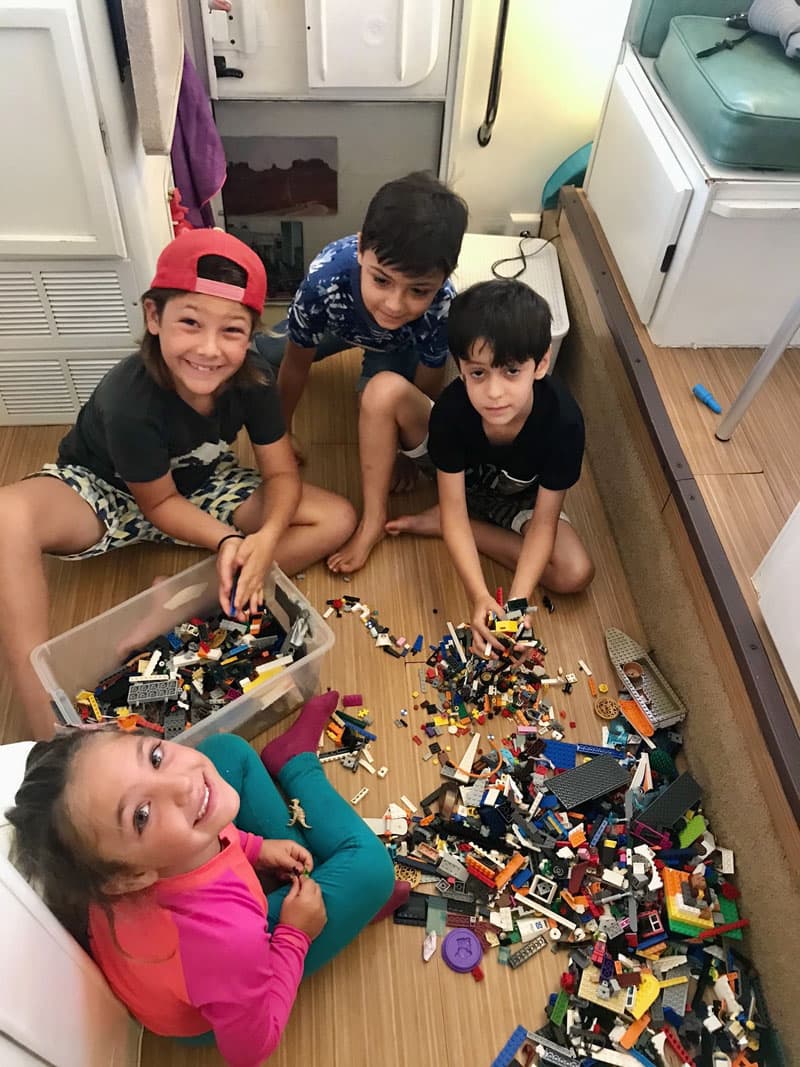 It is like a small world, full of hiding places that our children love to show to others. Our children have fun.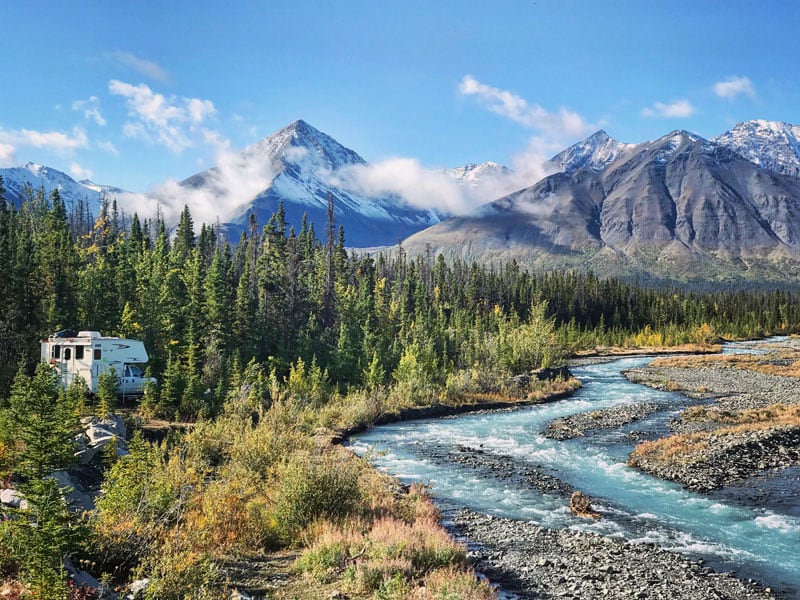 Above: Marcos' winning photo from the 2019 calendar, taken outside of Kluane National Park, Yukon
You've now won the annual Truck Camper Magazine Calendar Contest twice. What's your take on taking two winning photos?
I must say winning the TCM contest has made us very happy!
When I take photos, I like to give space in the frame. I do not place the camper in the center of the image, nor does it fill the entire space. I prefer it when the photo is in nature, not in a campsite or a city.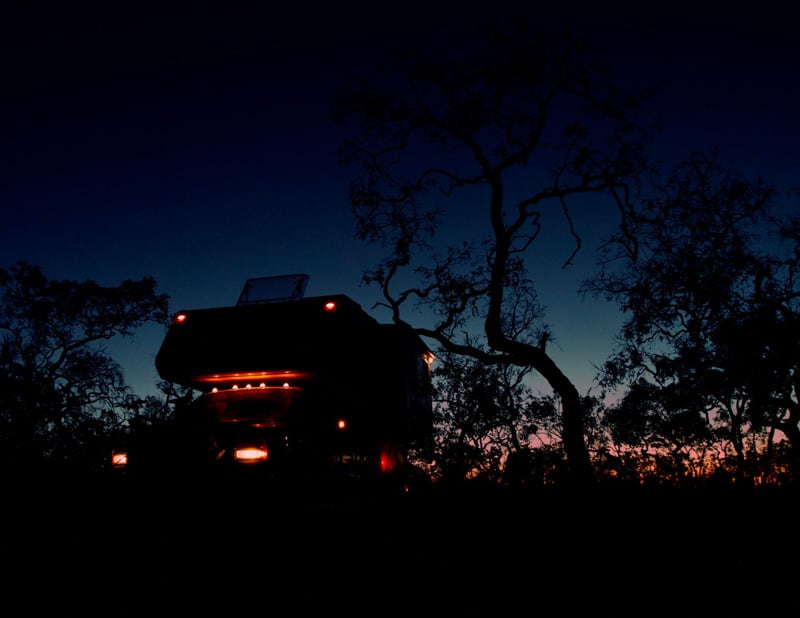 Above: Marcos' winning photo from the 2021 calendar, taken in Chapada dos Veadeiros National Park, Brazil
I also think photos with visible hoses and cables take away the feeling of freedom. Those items give me an idea of being fixed, which is not what I want with my camper.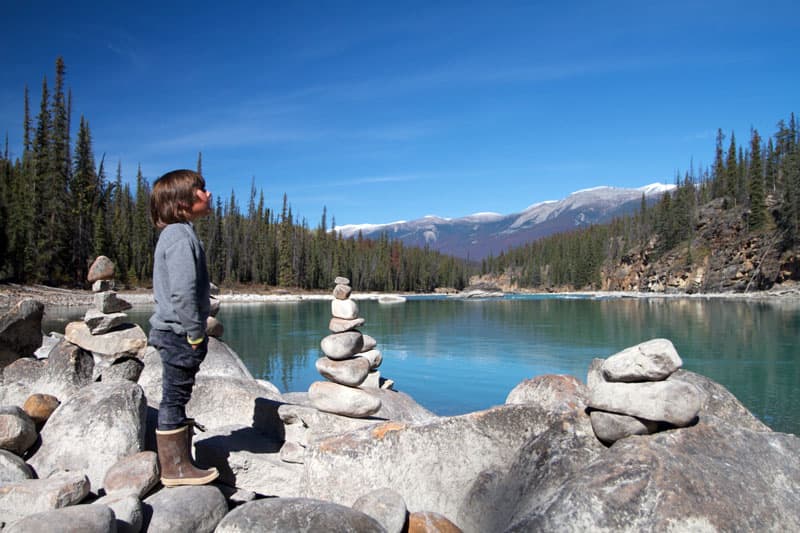 Is there anything else that you'd like to share?
Most people find it impossible to live in a truck camper. We didn't even believe it would be possible. We have managed to live full-time for six years with four people, and it is incredible.
We do not live like this to save money, but because we live a free life with no outlined routes. Many people on the road have opened their doors to us. We have connected with their lives, their stories, and they have changed our history.
It would not be possible to experience this if we were living in a normal house. Our story, our dream that we are fulfilling is the dream of many people. It is not a perfect life, and there are many obstacles in the way, but we feel that we are living and not just surviving.
Your work with Truck Camper Magazine is wonderful, not only for the truck camper community but for everyone who enjoys life in nature. Congratulations and keep getting better! Thank you!
Feel free to follow the Gadaian's journey on Facebook and Instagram.