The 2021 TCM Calendar is ready to order for the low-low price of just $14.95. Click to see who made the cover, who made which month, and how these inspiring truck camping images happened.  Order your 2021 TCM Calendar today!
CLICK HERE TO ORDER A 2021 TRUCK CAMPER CALENDAR
Well, it wasn't a normal truck camping year, but we still managed to put together one heck of an amazing calendar.  We have a copy here at TCM HQ and it's a beauty.  If you need something to regularly remind you how awesome truck camping is, put this stunning calendar on your wall.
Thank you to everyone who participated in this year's calendar contest.  We have all of our truck camping fingers and toes crossed that next year is a bit easier going, and has a lot more fun and adventure in store.  Inspired by the calendar entries and winners, we have already put many new places on our must-see bucket list.
Look out, 2021.  We can't wait.
Cover – Treve Johnson
Mono Lake, California
2017 Toyota Tacoma
2017 Four Wheel Camper Fleet
For the past fifty-plus years I have been a photographer with a passion for the outdoors and nature. For much of that time, my adventures were on foot and my camera gear traveled in my backpack, traveling a variety of places around the world.
Three years ago, my wife and I decided it was time to consider another mode of transportation. Our search led us to a Four Wheel pop-up camper shell on a Toyota Tacoma.
Needless to say, our rig has taken us to many places in California and throughout the Southwest. We are looking for many adventures in the future. On occasion I'll find myself traveling solo when I'm out looking for photo opportunities.
Whenever I set up camp I have in mind the idea of capturing an image that might be worthy of the Truck Camper Magazine Calendar. So here we are.
This photo was taken on a solo trip returning to the Bay Area after visiting family in Big Pine in the Eastern Sierra. Rather than just capture the rig, I like to capture pictures that include people and that create a sense of the place.
This image is essentially a selfie with Mono Lake in the distance. What I'm looking at is an iPad that's showing the image the capture sees. Have fun and be safe out there.
January – Marc Rosseneu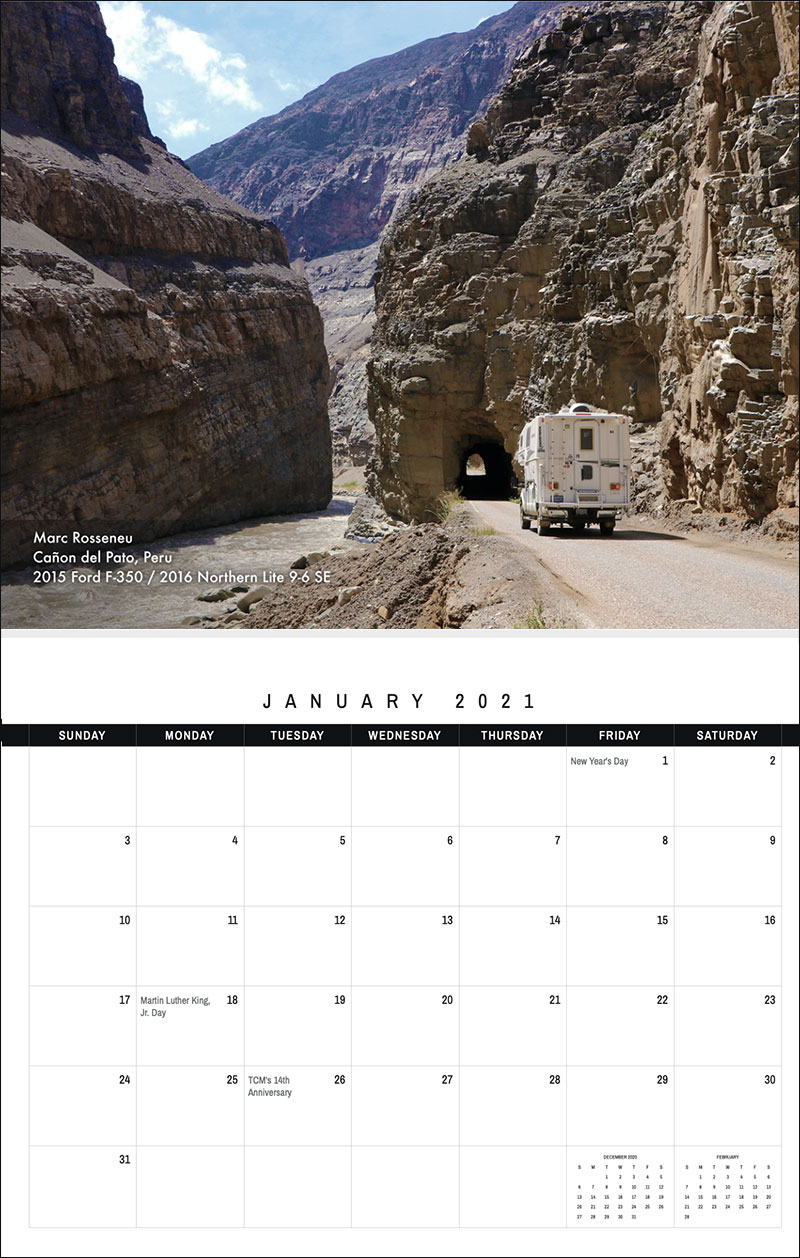 Cañon del Pato, Peru
2015 Ford F-350
2016 Northern Lite 9.6 QSE
Through the spectacular Cañon del Pato (or Duck's Canyon) runs one of the most exciting roads in Peru. This 65-mile long road passes through 47 tunnels and winds through this impressive canyon. It has narrow stretches of only 20-feet wide that are between up to 13,800-feet high cliff walls.
Some tunnels are long and winding. At their entrance, traffic signs demand to sound the horn in order to warn oncoming traffic that cannot see you coming. Twice a vehicle didn't hear us coming and had to back up. We enjoyed this ride a lot and camped at two perfect overnight spots that were at the border of the wild river.
For sure we will do this again on another occasion!
February – Matt Nelson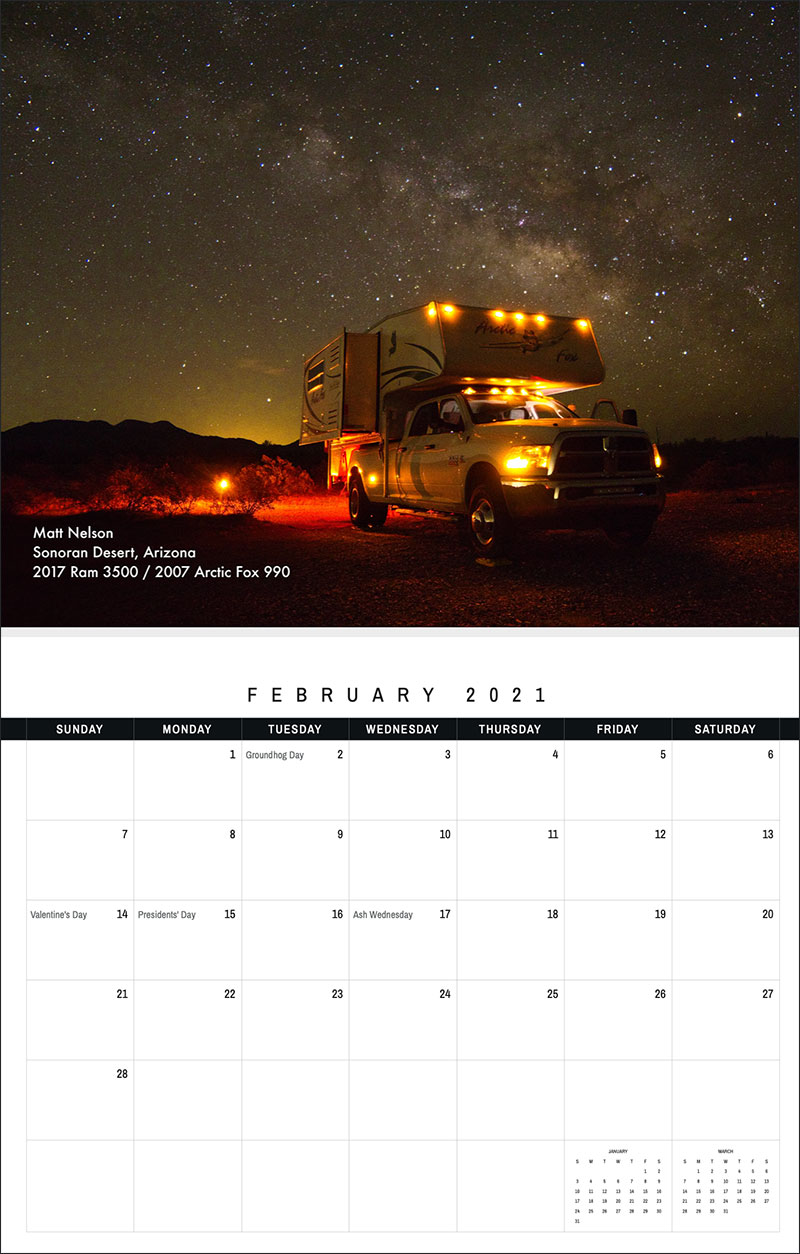 Sonoran Desert, Arizona
2017 Ram 3500
2007 Arctic Fox 990
I spent a long time weighing the pros and cons of what type of camper to get before deciding that a truck camper setup was what I wanted.  I'm almost three years in now, and I don't regret it at all!
As I'm sure most of you already know, truck campers are incredibly versatile.  I can almost always get further off the pavement than the average camper. That leads to finding some incredibly dark skies for astrophotography, which is one of my hobbies.
I have to get up very late (or is it early) in the morning to get a good picture of the Milky Way in the spring. The Milky Way doesn't rise until 3-4am.
Luckily I had a nice warm bed only a few feet away to jump back into after taking some epic shots. The glow on the horizon behind my camper in this picture is light pollution from Gila Bend, Arizona. This spot in the Sonoran Desert has become one of my favorite spots to disperse camp. It's only a few miles off the highway. You can see a string of headlights in the distance from car traffic at night, but you can't hear the highway at all.
As I still work full time in IT, I'm very fortunate to have the luxury of being able to work from anywhere as long as I have reliable cell/internet service, and this was one spot that had blazing fast internet cell service for me to be able to work during the day from this area.
Typically when traveling, I will set up in an area for the week to be able to work from there, and then spend my weekends exploring the local area and traveling on to find a new area to explore.  I've spent my past two winters staying nice and warm in the desert southwest before heading back to my home base in the northeast in the spring.  There's not nearly as much dispersed camping on the east coast, so I definitely take full advantage of it out west.  There's nothing better than waking up and heading outside in the morning with no neighbors around!
March – Bryan Burgess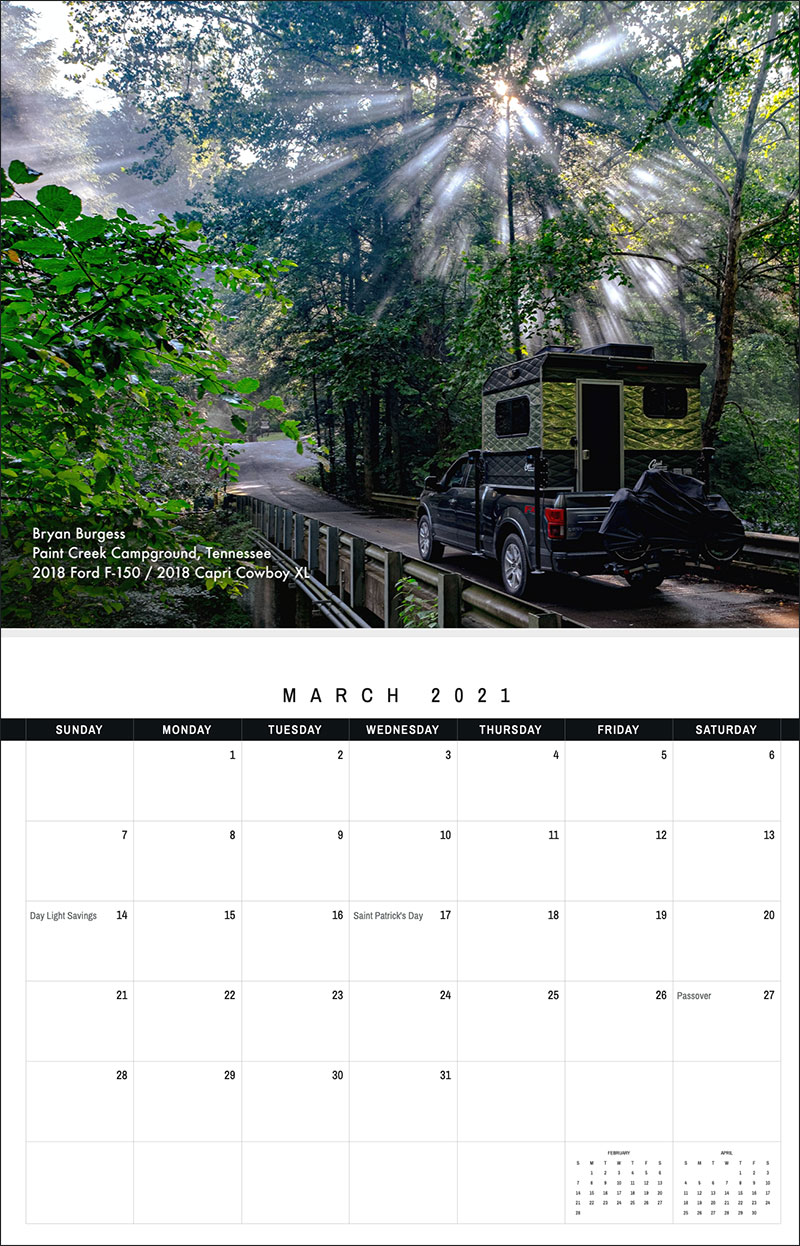 Paint Creek Campground, Tennessee
2018 Ford F-150
2018 Capri Cowboy XL
Surfing the internet in the Fall of 2017, I luckily stumbled on to Truck Camper Magazine. Duly inspired and instructed, I ended up with a unique little space capsule to support my goals of going far, fast and anywhere.
My camper is a basic and comfortable cabin with a bed, table and no kitchen or bathroom per se. A propane tank cabinet is accessed from the rear exterior. I use the F-150's integrated step on the tailgate. The tailgate also provides a porch and table.
The fantastic Capri Camper team accommodated all of my whims like installing motion detecting lights on three sides and custom building the Cowboy to 6'2" height so I can stand inside.
From my home in Florida, the rig has taken me on big loops out to Devil's Tower to South Dakota, and all around Texas; Big Bend, Canyons, Hills, and iconic BBQ. I've also been up to Michigan to the Upper Peninsula to Wisconsin and Lake Superior.
Covid blew up a planned May venture to Arches, Canyonlands, and the four corners area, so I bided time by putting an aerodynamic appliance, called a Nose Cone, on the front wall of my camper.
I broke loose in late July for a socially distant jaunt to the Blue Ridge Mountains to road-test the Nose Cone in hopes of seeing comet Neowise during the new moon.
In research for this trip, I discovered Paint Creek Campground in the Cherokee National Forest of southeast Tennessee. It is just across the border from Hot Springs, North Carolina.
This idyllic 20-site campground is nestled in a pine-shaded mountain cove along the banks of Paint Creek. It has no hook-ups, but there are a couple of bathrooms and drinking water pumps. There are picnic tables and lantern posts at each site. Most sites are stream side.
The narrow, winding road into the park would be perilous for larger RVs, and the campers were mostly in tents, trucks and vans. Campsites can be reserved through rec.gov and the friendly camp host told me the place stays full all season. The campground has a couple of double-sized spots that would be perfect for a group or family reunion. The constant babble of the creek sure made for a soothing night's sleep.
I found a couple of cool extras at Paint Creek. First, there is a five-mile creek-side paved road that goes from the campground to Paint Creek's joinder with the French Broad River. This Paint Creek Corridor is awesome for hiking, trout fishing, and biking (I rode my fat-tire e-bike). It has picnic areas, rapids, waterfalls and swimming holes along the way.
Second, where Paint Creek meets the French Broad River, there is a 100-foot tall rock outcropping named Paint Rock. American Indians created pictographs on the cliff face circa 2500 BC. This special place near the Tennessee and North Carolina border was a landmark for early explorers and travelers, but sadly has been tagged by modern graffiti artists.
You can also continue to drive or bike from here on a gravel road along the French Broad River to Hot Springs, North Carolina.
My photo was taken on the morning of my arrival at Paint Creek Campground and exemplifies one of my favorite things about truck camping adventures. Sometimes you round the bend and are surprised by a beautiful fleeting moment. I was gobsmacked by the misty morning light at Paint Creek Campground!
April – Angie Scott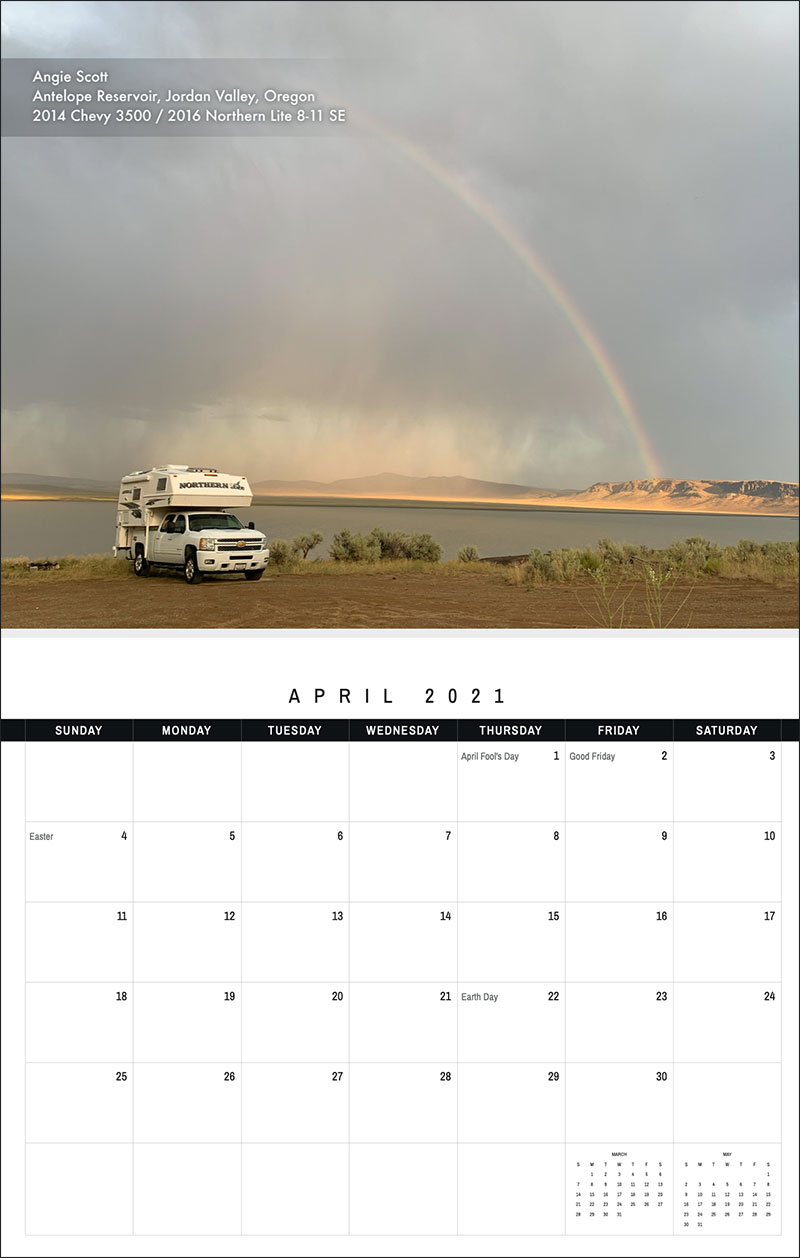 Antelope Reservoir, Jordan Valley, Oregon
2014 Chevy Silverado 3500
2016 Northern Lite 8-11QSE
Ever since our good friends moved to Idaho, my husband and I make frequent trips there. We live in the foothills of California. It's a long drive and we like to break it up into two or preferably, three days.
On one of our first trips to "The Gem State" we discovered Jordan Valley, off of Highway 95 in southeast Oregon. We found a spot on BLM land, not too far off the road, and camped for the night. It was very tranquil. The wide open grassy fields, the rolling hills and the afternoon clouds with their shadows were mesmerizing. We even saw a herd of wild horses. This was in 2017.
The next year on our way to Idaho, we drove the same route. We were in Jordan Valley and came across Antelope Reservoir; a short drive down a dirt road off of Highway 95. It was the same type of terrain except there was water, birds, and antelope. A few weeks later on our way home, we chose to stay at Antelope again. We were not aware of the entertainment in store for us.
The water had receded quite a bit (seasonal drainage) and the shoreline was very muddy. After setting up camp we sat down with a cold one to enjoy a peaceful afternoon. Soon, we heard a couple of trucks on the road. We figured they were checking out fishing spots for the morning. Not long after, we saw those same trucks on the other side of the water. They started driving fast and creating a lot of noise. Our peaceful afternoon vanished!
Pretty soon, one of the trucks abruptly stopped. A few seconds later, the other truck did the same thing. Both trucks were stuck in the mud! After trying for hours to get their trucks out of the mud, one of the drivers climbed a hill to make a cell phone call.
A little while later, after we had gone inside our truck camper, we could hear a tractor that had come to pull the trucks out of the mud. We heard many noises that night. We could only imagine what was going on. In the morning we saw the two trucks still stuck as well as two tractors in the mud, and one was flipped up.
As we were leaving, a huge tow truck drove by, obviously there to perform the rescue.
Fast forward to August of 2020, and we stayed another night at Antelope. Every time we have been there we see plenty of antelope grazing in the fields on the opposite side of the lake. This day, however, there was a storm brewing close to the hills. There were ducks and geese on the water, but no larger wildlife to be seen.
The sky was full of beautiful, majestic clouds and the storm was moving fast. We hurried inside our truck camper, shutting vents and windows not a minute too soon; thunder, lightening, extreme wind, and rain were upon us. It did not last long; maybe 20-minutes.
The storm had passed and the sun was peeking through the clouds, so we ventured outside to survey the landscape. It was gorgeous! The water was calm and very dark, and there was even a rainbow.
Antelope Reservoir never disappoints us!
May – Kami Golembeski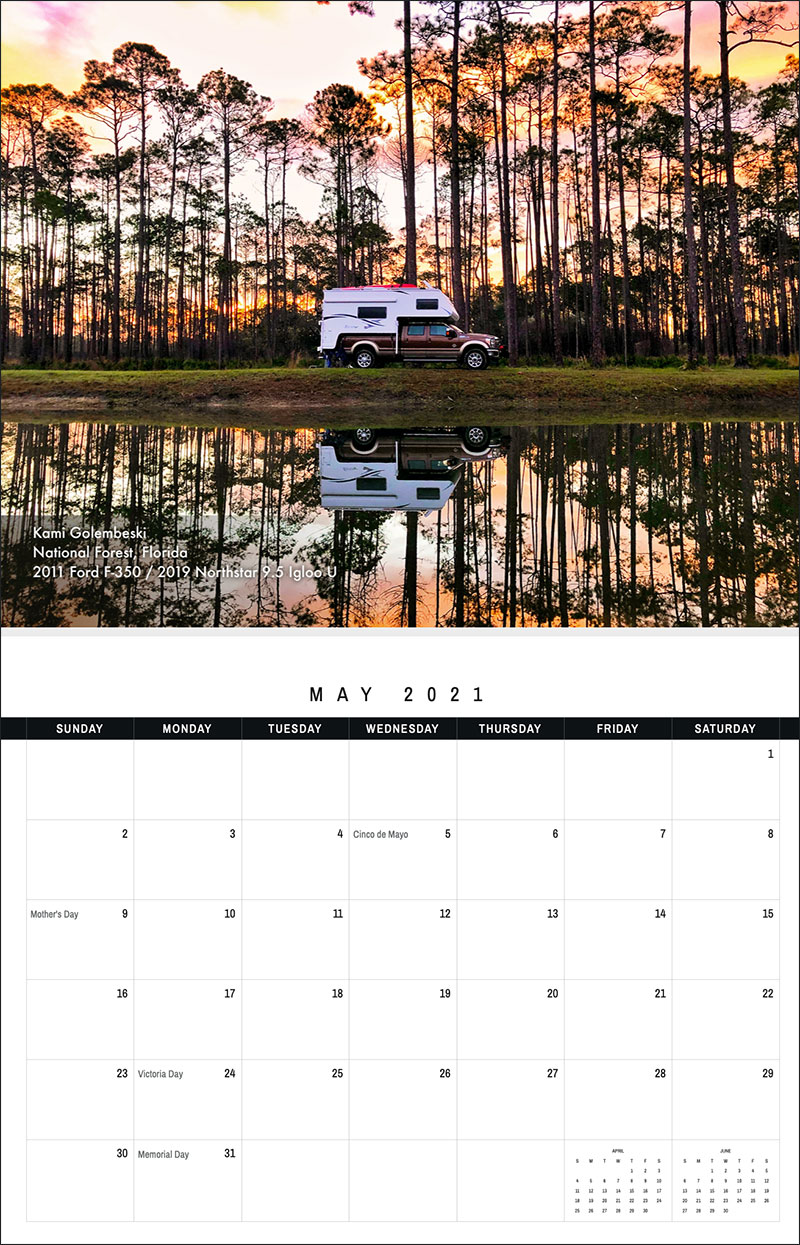 National Forest, Florida
2011 Ford F-350
2019 Northstar Igloo U
We lovingly call this photo Rosie's Reflection. It was taken as the pandemic started.
We found this wonderful area to camp in the Apalachicola National Forest in the panhandle of Florida. We had stocked up with enough provisions to last us at least a month. Like the rest of the world, we were unsure what the future held.
Yet with our home on our back, we knew we could go where we needed, to be safe. This lovely spring fed pond, bird songs and the morning sunrise gave us pause from the panic we were secretly holding inside.  This, along with many wildlife sightings were among many of the gifts that Mother Nature graciously gave us each day, communicating to us all, that there is always hope in challenging times. It was time to pause, to slow down and reflect.
We live full-time in our truck camper, living a nomadic life, yet there was so much uncertainty.  Where do we go? What do we do? When is this going to be over?
After a few days of reflection, we knew what we needed to do and where to go. We carefully drove our home on wheels to be closer to family, where we could help support others that needed it.
We are so grateful to have our home on wheels, to be free of sticks and bricks and all the financial stresses that can come with it.  We are grateful to live a simple life, free of the need to consume.  We are grateful for the beauty of Mother Nature and direction from Spirit. Sending wishes of good health and safe travels!  Love, Kami and Kevin Golembeski and Rosie the Big Brown Truck.
June – Francois Mathieu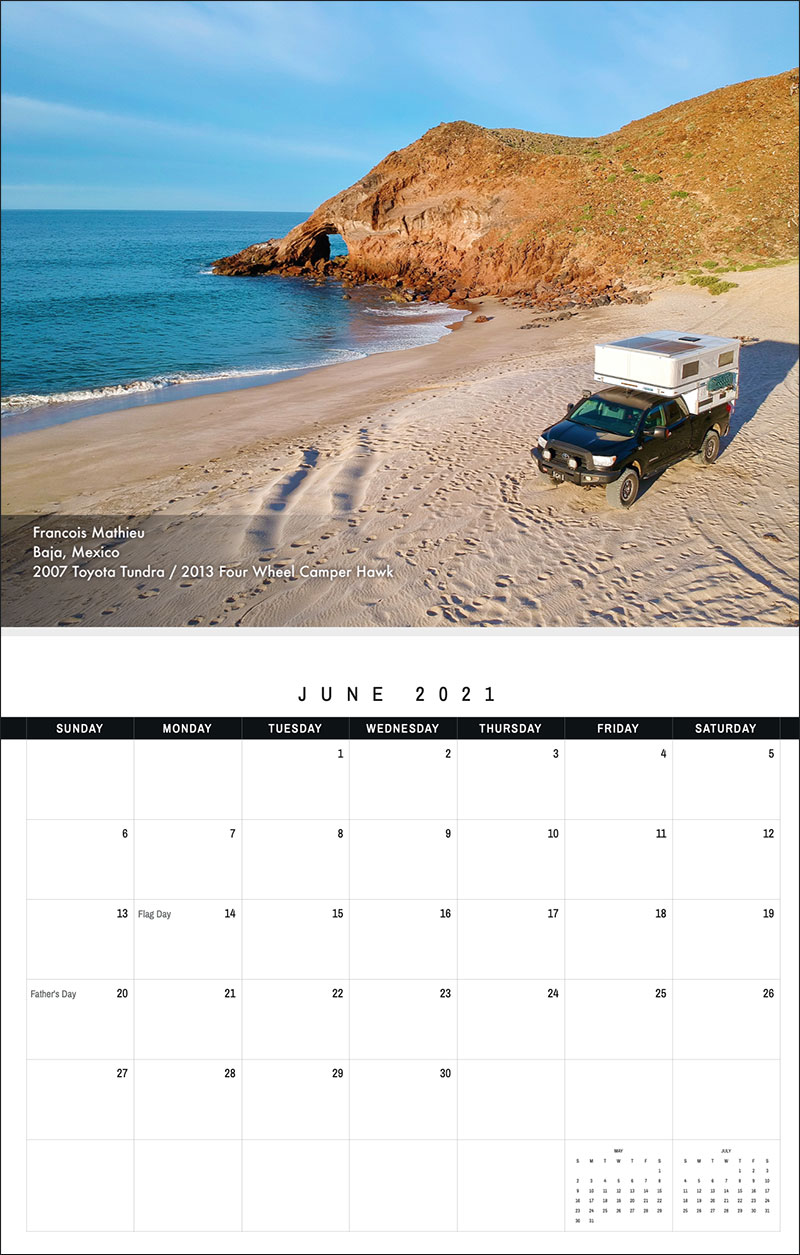 Baja, Mexico
2007 Toyota Tundra
2013 Four Wheel Camper Hawk
For this trip I decided to take three-months to take time off.
My departure from Quebec was in December. I went to Florida to spend the New Year there with friends in Key West. Once sober, I drove west through Louisiana and made a short stop in New Orleans and visited some plantations, which were quite interesting.
To continue my trip, I went to Saint Antonio, Texas to see the famous River Walk and to stay a day in Big Bend National Park to do a little exercise.
Then I made a small detour to New Mexico to visit Carlsbad Caverns with all its splendor. The temperature started to get chilly, so I headed to Arizona to go do a little mountain biking to stretch the paws.
Once satisfied, I return to Baja, Mexico by the Tecete border. I went to Ensenada to go see the beautiful La Bufadora. Then, I crossed on the west side to get to San Felipe to see the Baja 1000 rally car. I continued to descend south to spend a few days in Loreto, which is a rather charming little town.
In the following days I camped on sublime beaches as far as the eye could see. I had to make a short stop in La Paz to do some refueling. Not far away there is a beach, Playa Balandra, which is very beautiful with an atmosphere with all the locals.
As I was starting to lack sports then, I went to La Ventana to do a little kiteboarding and there is also a great mountain biking network.
However, time was advancing and I wanted to visit a friend in Los Cabos. I took the trail between La Ventana and Los Barriles which was very rough. I love the small town because it has a very nice atmosphere, the fishing is good, and once again it has a nice mountain biking network.
Once I picked up my friend we went snorkeling in Cabo Pulmo National Park. There we were the furthest south and we started to go up north again, traveling the Pacific coast from beach to beach. On our way to Todos Los Santos we were treated to the superb whale show and in Bahia Tortugas we saw baby turtles going out to sea. Subsequently, Covid-19 forced us to return home, and you know the rest.
In conclusion, this photo is not by far the most beautiful, but what an adventure it has been.
July – Heiri Hafner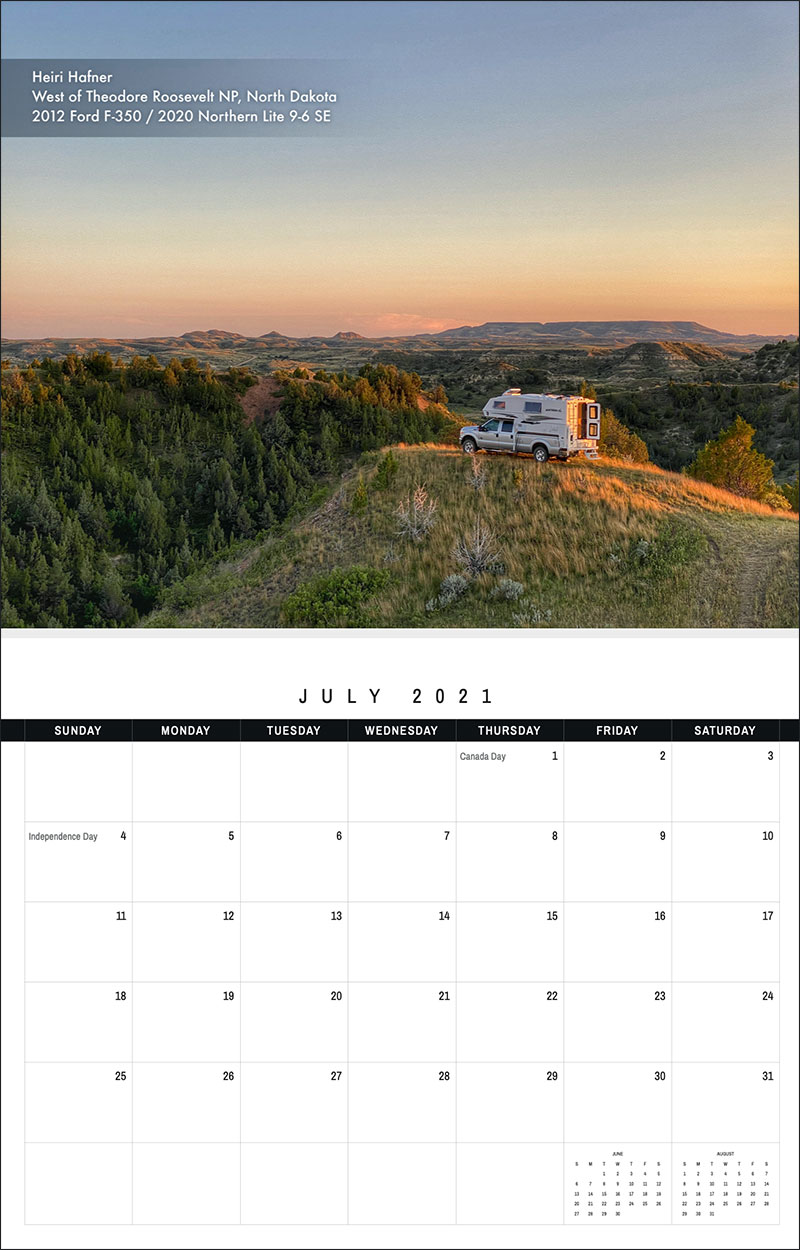 West of Theodore Roosevelt National Park, North Dakota
2012 Ford F-350
2020 Northern Lite 9.6SE
After going to Alaska the previous years, Covid hit the world and changed everything. Luckily, the Lower 48 in the United States offers so much beauty as well, so we just went out of our house and hopped into to camper, with only a rough direction in mind.
Going from south the north, seeing a lot of not well known beautiful places, we arrived at Theodore Roosevelt National Park. Since we boondock whenever possible, we found an almost perfect spot west of the national park. After checking out the spot by foot, we decided it was doable with the truck. Here we are.
Nobody was around, so we enjoyed the silence, and just hung around with our dog. When the sun went down, the light was right for this shot.
August – Derek Hansen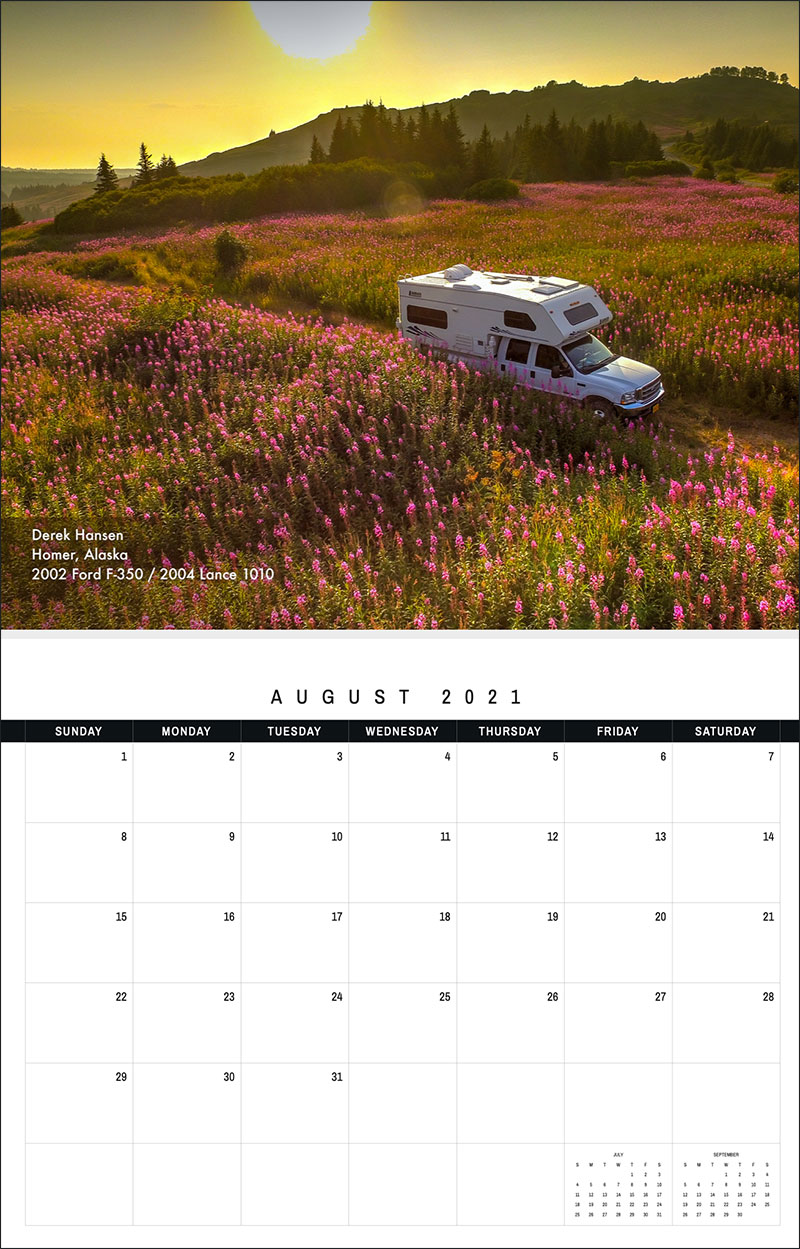 Homer, Alaska
2002 Ford F-350
2004 Lance 1010
We enjoy taking road trips on the weekends with our three kids to explore various corners of Alaska from our home in Anchorage.  In mid-August, we headed down to Homer on the Kenai Peninsula for a weekend of hiking, playing on the beach, and seeing the sights.
It was the height of fireweed season and we passed many fields of fireweed in full bloom along the highway from Kenai to Homer.  Fireweed is an interesting plant; a hardy colonizer that is often the first to grow in an area devastated by wildfires.  It would be my pick for the state flower.
After a long, sunny day on the Homer Spit, we decided to drive up into the hills north of town to look for more fields of fireweed as the sun went down.  We chanced upon this spot where the fireweed grew thick and close to the road.  It was a beautiful sight, with the thousands of blossoms lit up by the setting sun.
There is a saying in Alaska that when the fireweed blossom reaches the top of the stem, the short Alaskan summer will be over.  By the end of August, the blossoms are gone, and turn into cotton filled with seeds that float away on the breeze.  Summer will be over as well with the leaves changing color and darkness returning at night.  A sight like this is thus one of summer's last hurrahs before six-months of winter sets in.
September – Todd Smith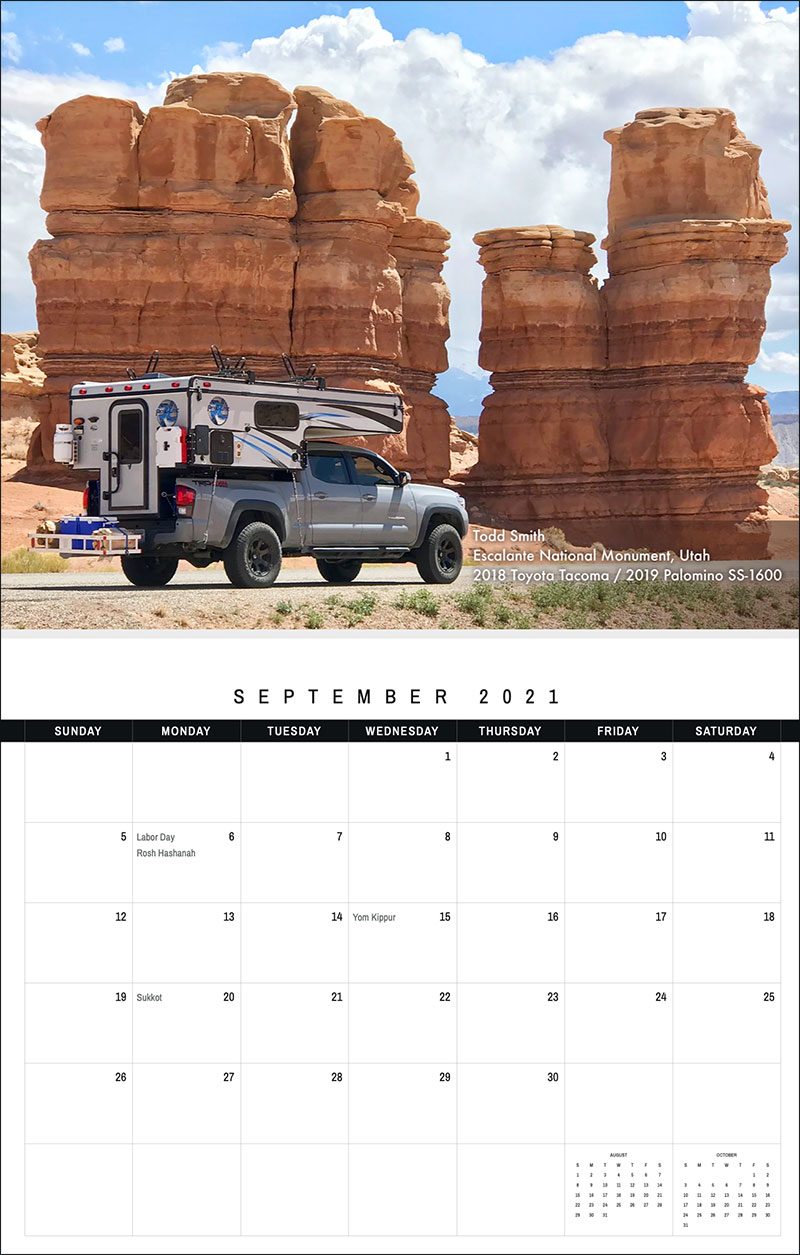 Escalante National Monument, Utah
2018 Toyota Tacoma
2019 Palomino Real Lite SS-1600
After months of setting up our new Tacoma truck camper combination we were on our maiden voyage to southern Utah to to spend 17-days in the backcountry.
We managed to find some spectacular country that simply blew our minds. The beauty was everywhere we looked, exceeding all of our expectations that we had been dreaming about for months.
Every night we managed to set up camp in a different location with a different backdrop to enjoy. We cooked some amazing meals over the campfire and sat looking at the stars for hours. This us time was just what we needed to reconnect with Mother Nature and to be reminded how lucky we are to enjoy this lifestyle of chasing our dreams and looking for adventure.
October – Marcos Gadaian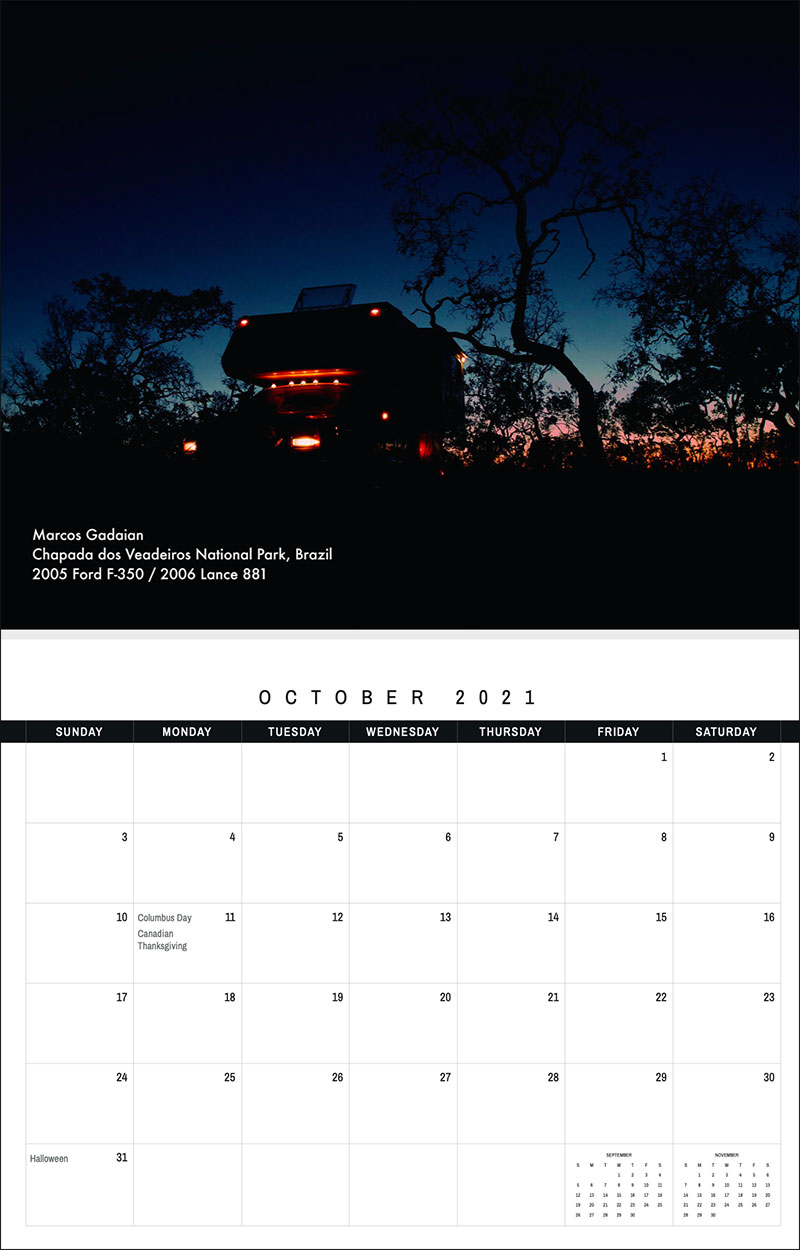 Chapada dos Veadeiros National Park, Brazil
2005 Ford F-350
2006 Lance 881
Currently, we are in the center of Brazil. It's a region that's still wild, beautiful, and full of surprises. This photo was in the Chapada dos Veadeiros National Park which is one of the most beautiful national parks in Brazil.
This national park is full of waterfalls, rivers, walls, caves and trails. It's a jewel yet to be discovered. It is rarely visited by foreigners, so it is very safe to visit and camp.
This picture is when we went to visit the wonderful Couros waterfall. The day before we arrived, but we were tired, so decided to sleep and visit the next day.
We ended up staying three-days there, just listening to the noise of nature. We also went swimming, relaxed, played, and hiked.
Our life goes on asphalt. You can follow us on Facebook and Instagram, @onossoquintal.
We've been on the road for more than six-years. We've traveled many miles, have many stories, many smiles, cries, hugs, meetings, and goodbyes.
"O Nosso Quintal" means, our backyard is the world.
November – Darcy Senft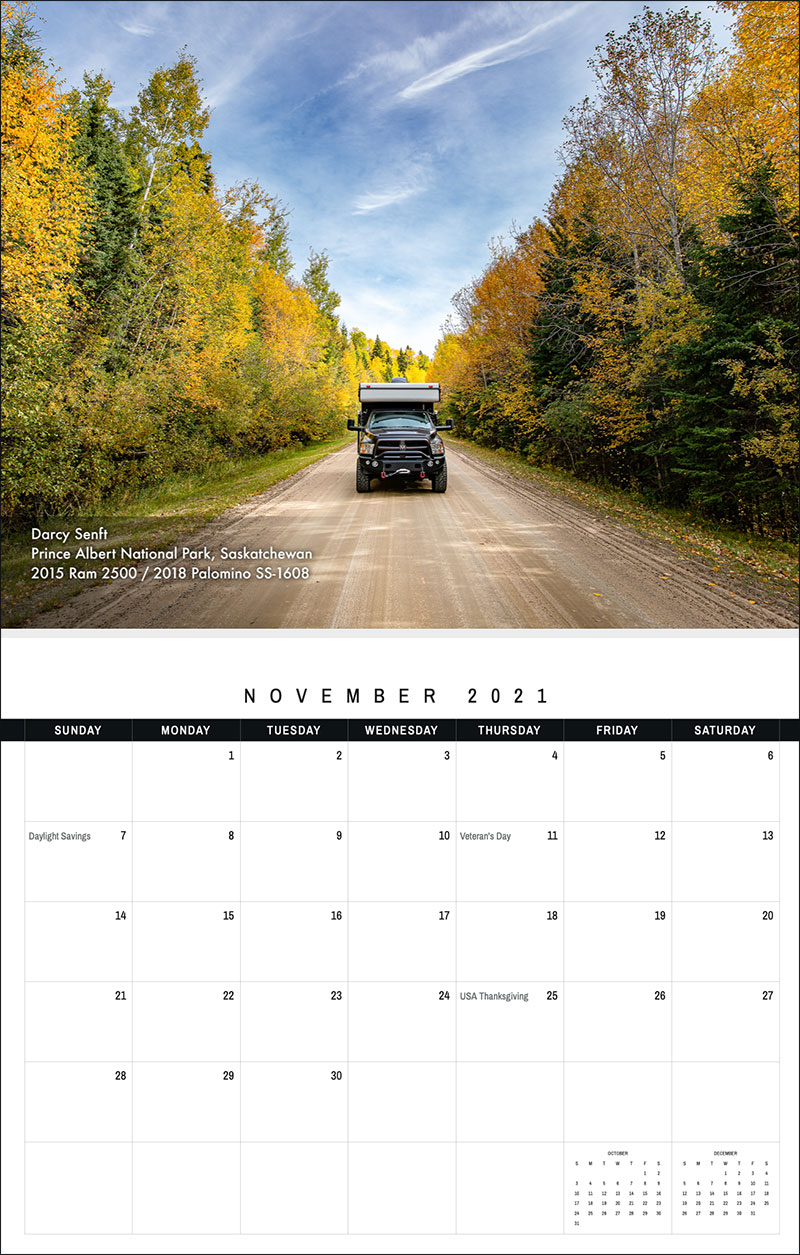 Prince Albert National Park, Saskatchewan
2015 Ram 2500
2018 Palomino SS-1608
In late 2019 we decided to get a pop-up truck camper. The plan was to use it for short trips and do a bit of exploring.
We also owned a fifth wheel for those family vacations.  Over the 10-years of ownership, we camped about six-nights a year on average in the trailer.
After the first trip in the truck camper, we were sold! With the truck camper's freedom to access just about anywhere, paired with its amazing comfort, we ended up selling the fifth wheel.
During the winter of 2019-2020, lots of travel plans were made and many modifications to the pop-up. Unfortunately when Covid-19 hit, most of those plans quickly vanished with everything being shut down in March.
In late June, the parks in our area started to open in limited capacity. Having this rig allowed us to pick any site or area and not be constrained to a certain length, which was unlike the fifth wheel. Because of this freedom, there were several opportunities to camp over the summer and late into the fall. We took advantage of this every chance we could.
In the province of Saskatchewan, Fall can be super short. Some years we have had snow as early as the first week of September. Fall camping was extra special this year since we had some amazing weather throughout September and into early October with no snow.
This picture is from a trip to Prince Albert National Park, one of Canada's 48 national parks. We have been to Prince Albert National Park several times in the Fall, but never have been able to time our trips to catch the Fall colors. This year was incredible. The trees were exploding with color and the weather was perfect, which made for a truly fantastic experience!
December – Nolan Sturgeon
Sequoia National Park, California
2001 Ford F-350
2015 Wolf Creek 850
We had reservations at Upper Pines Campground in Yosemite National Park over Thanksgiving, 2019 in anticipation of the snow that was predicted. We left San Diego with all our winter gear but, when we reached the south entrance gate, the ranger informed us they shut down the campground and evacuated the remaining campers due to the prediction of too much snow!
An advantage of a truck camper is the ability to easily change plans and head somewhere else on a moment's notice.  We called the ranger station at Sequoia National Park and they informed us that Azalea Campground, which is first come, first serve, was still open.  We turned around and headed back to Fresno and then east into Sequoia National Park.  We arrived just before dark with the first flakes of snow starting to come down.
When we woke up the next morning I snapped this shot of our camper.  It continued to snow on and off for the next three-days. The rangers ended up closing the front entrance to the park on day two, so we had the park to ourselves.
We enjoyed snowshoeing, sledding and, on Thanksgiving night, we hiked to the Grant Grove restaurant for one of the most memorable Thanksgiving feasts ever!
The total snow accumulation for the trip was four-feet in the three-nights we stayed.  Even though we got a bit more snow than we bargained for, this was one of the most memorable and special trips with our family of four.
Having a truck camper allowed my family a tranquil and serene camping experience in a normally busy national park without any other campers around.  It's times like these that bring us closer together as a family and makes us appreciate this amazing country we live in.
CLICK HERE TO ORDER A 2021 TRUCK CAMPER CALENDAR