Ten fellow truck campers share their specific experiences, camping accommodations, and critical tips for navigating, staying, and enjoying major cities.  Think you can't take a truck camper to a big metropolitan area?  Think again.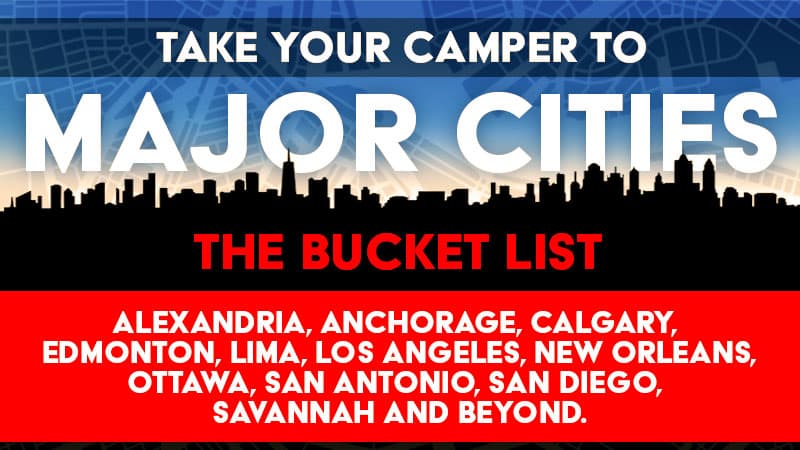 Many of us have dear family and friends who live in major cities and densely populated suburbs.  These same folks may be high on your list to visit as the pandemic subsides.  The homes of our families and friends are certainly our top destinations.
In a broader context, you may not be planning a trip to New Orleans, San Antonio, or Ottawa (to name a few of the featured cities), but the suggestions from the following truck campers may illuminate solutions for the metro areas you do.  We certainly gained a few excellent ideas and added a number of bucket list destinations to our truck camping Google Map.
New Orleans, Louisiana
Celina Binns
2014 Ford F350
2014 Arctic Fox 1150
We stayed at French Quarter RV Resort which is actually inside the French Quarter. The rates are expensive and change depending upon what is going on in the city. They can be as high as $250 per night during Mardi Gras.
We spent about $100 per night when we were there in April. It was still cheaper than staying in a hotel and we got to sleep in our own bed every night.
The resort has paved sites surrounding a central area with a swimming pool, restrooms, and showers, plus a lounge area. The campground is surrounded by a high wall and has a locking gate for pedestrians. It sits under I-10 so traffic noise can be an issue, but it was a great location to explore from.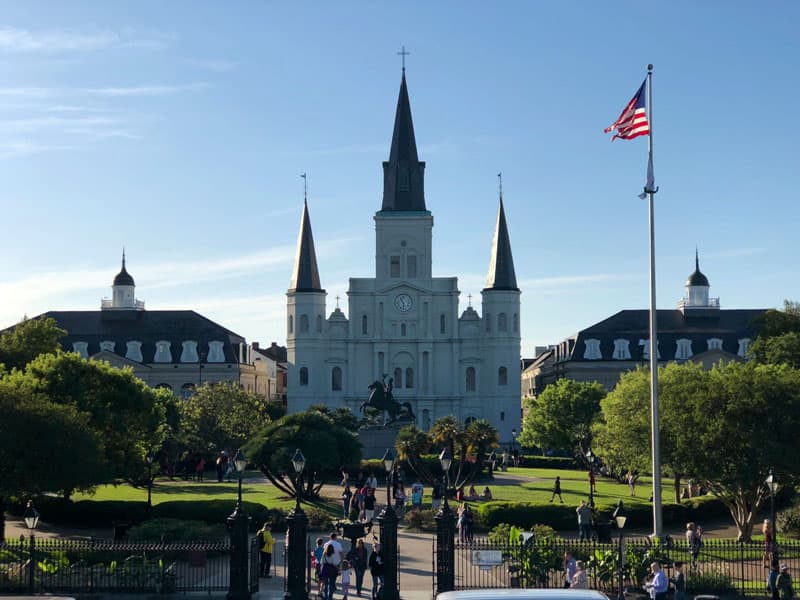 Above and below: Looking across Jackson Square to St. Louis Cathedral and the interior of the St. Louis Cathedral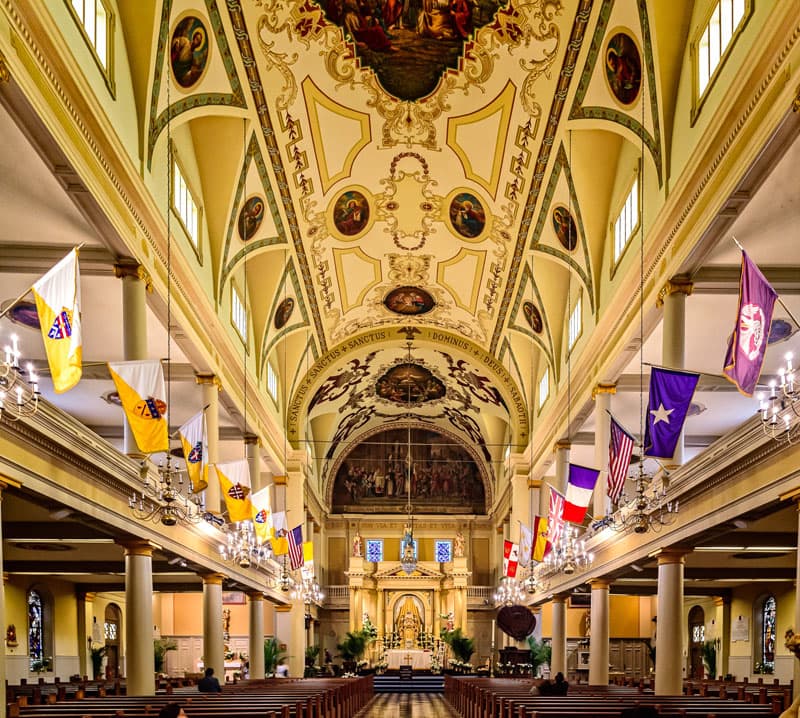 During our visit, we took a private walking tour with New Orleans Architecture Tours of the Garden District and the French Quarter. I think it was about $100 per person. It was a great way to learn about the history of New Orleans.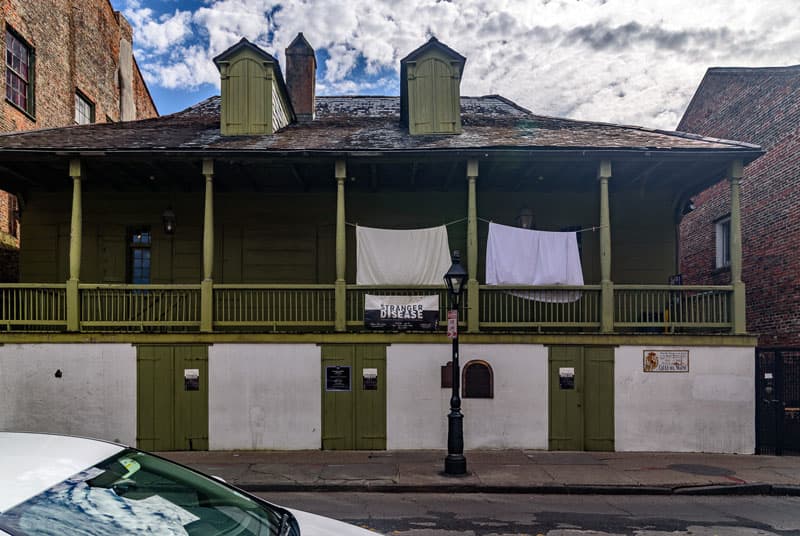 Above: Madame Johns is believed to be the oldest existing building in the Mississippi Delta.  It is dated as 1788, but it existed well before the fire of that date.  It is located on Dumaine Street in the French Quarter.
Another must is Bourbon Street. It can be a bit crazy, but there are so many venues with live music of all types. Buy a Hurricane in a take-out cup and walk down the street. Stop at the bars and listen to blues, jazz, or rock.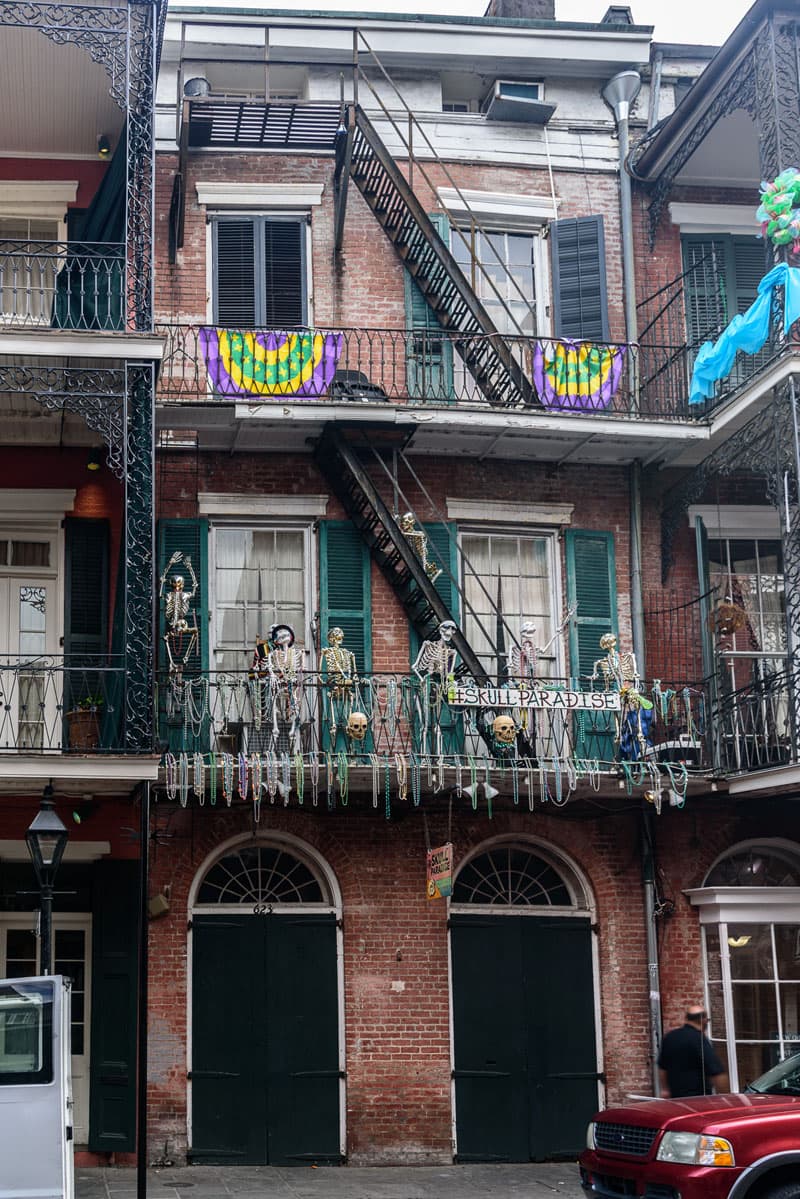 Above: Skull Paradise is a fun decorated house we saw in the French Quarter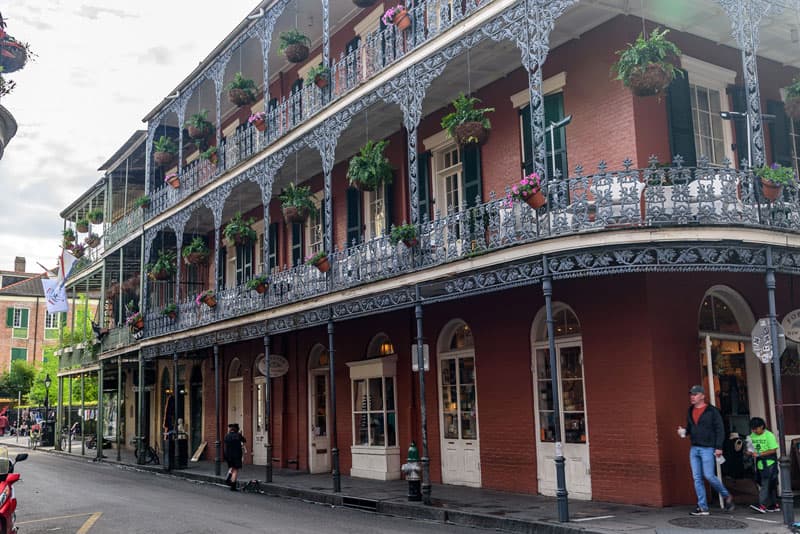 Above: A classic view of a French Quarter street
We were able to walk or take the trolley to almost any place we wanted to visit, although we did use Uber a couple of times when it was raining.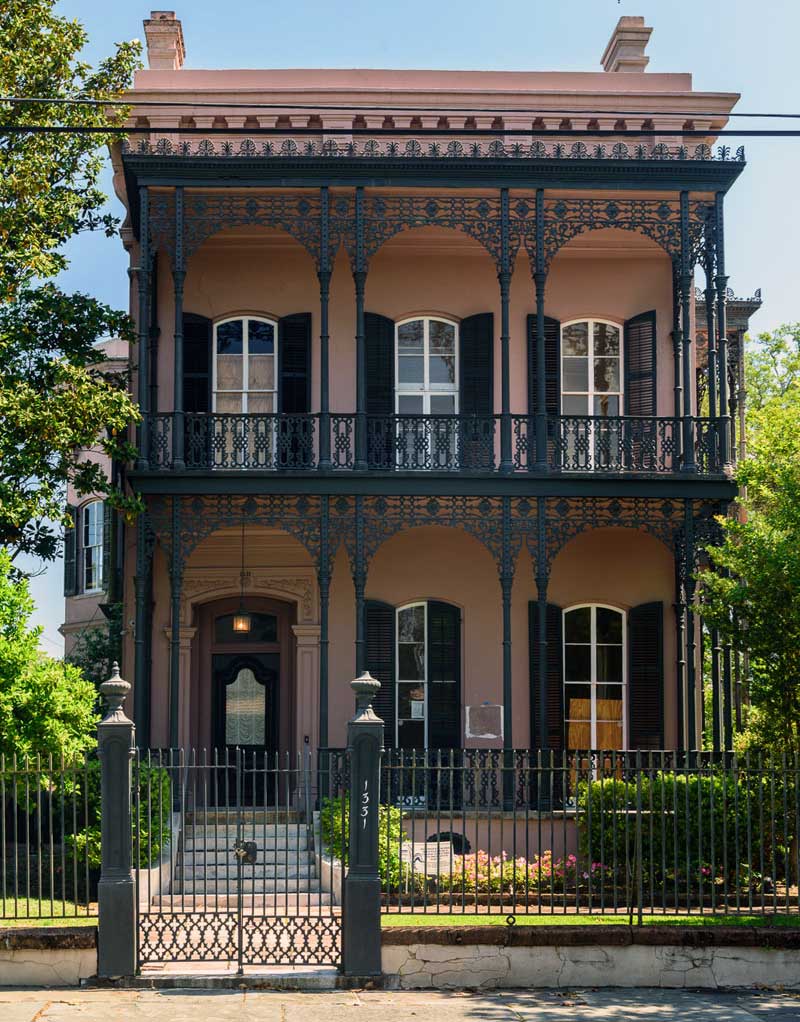 Above: The Morris Israel House in the Garden District
In some major cities, we were able to safely parallel park along the streets. Others have large above-ground parking areas that work for a truck camper. Make sure you check out parking options before you get there. I would also check into security (some places would not be safe) and check for any low clearance overpasses.
Above: Lafayette Cemetery No. 1
Savannah, Georgia
Sylvain Robin
2015 Ford F450
2018 Lance 1172
We visited downtown Savannah, Georgia. By request, the tourist information center has parking passes for RVs.

For $8 you can stay for 24-hours, including overnight. From the parking lot, it's just a short walk to see Savannah.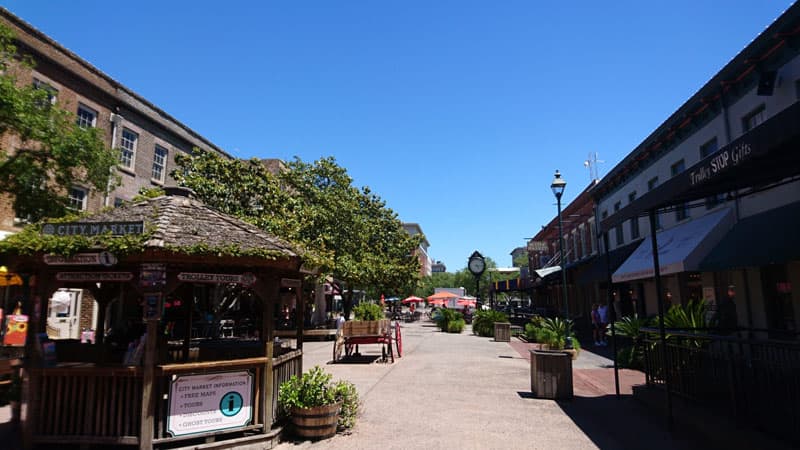 Location of Photo: Downtown street in Savannah, Georgia
When we visited Savannah we walked around the streets near the dock and saw many beautiful parks.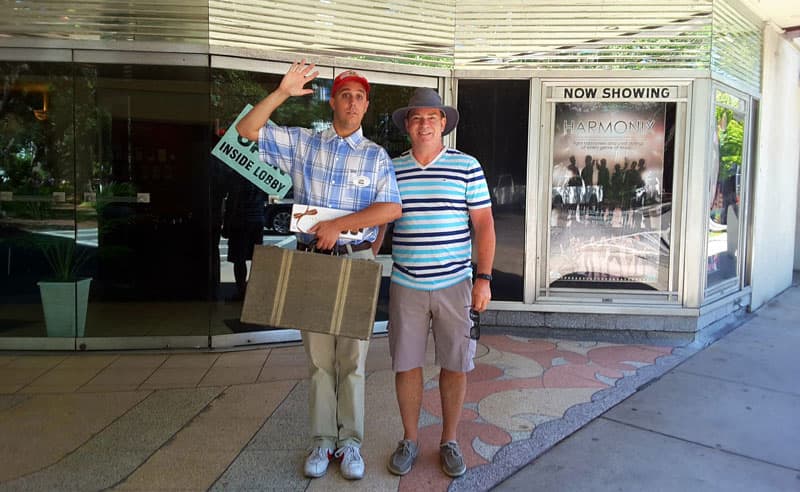 We saw the cinema where Forrest Gump waited for the bus and went to many restaurants.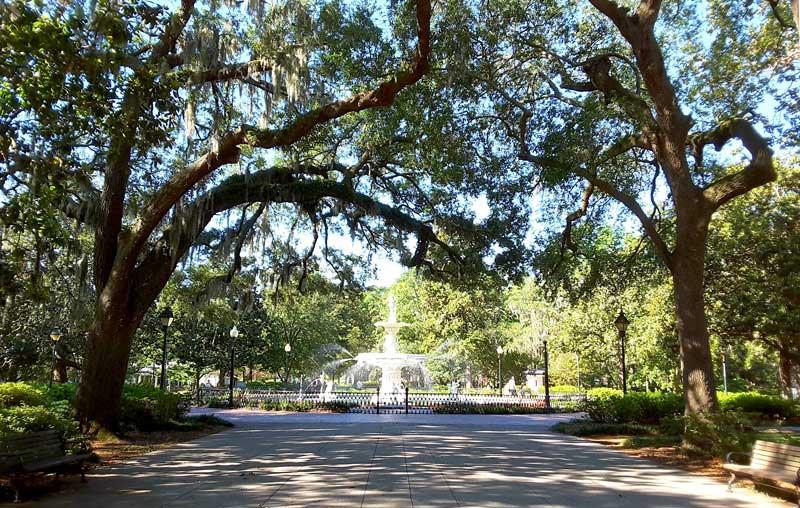 It's a very quiet place to stay and near everything in Savannah. My advice is to arrive as early as possible so that you have a good place to park. We arrived around 3pm.
San Antonio, Texas
John Dorrer
2013 Ford F250
2014 Four Wheel Camper Grandby
We stayed at the Riverwalk RV Park in San Antonio. I believe we paid about $45 per night. We took an Uber from the RV Park to Pearl Brewery.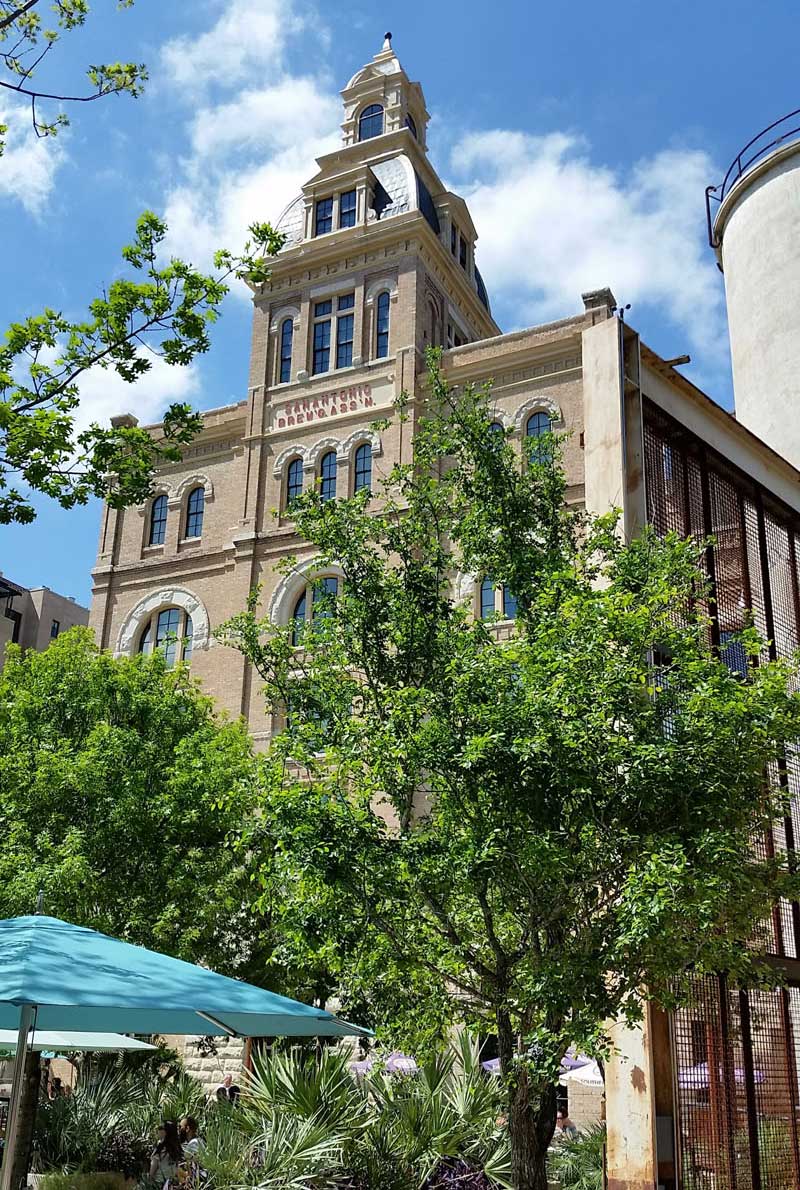 Location of Photo: Pearl Brewery
While we were in San Antonio we visited the Old Pearl Brewery on the Riverwalk. The complex has approximately twenty restaurants, a culinary school, condos, and apartments. Many of the establishments and residences are in old brewery buildings.
In San Antonio, we have eaten at the Boiler House Restaurant and La Gloria three times each. We sat outside at La Gloria.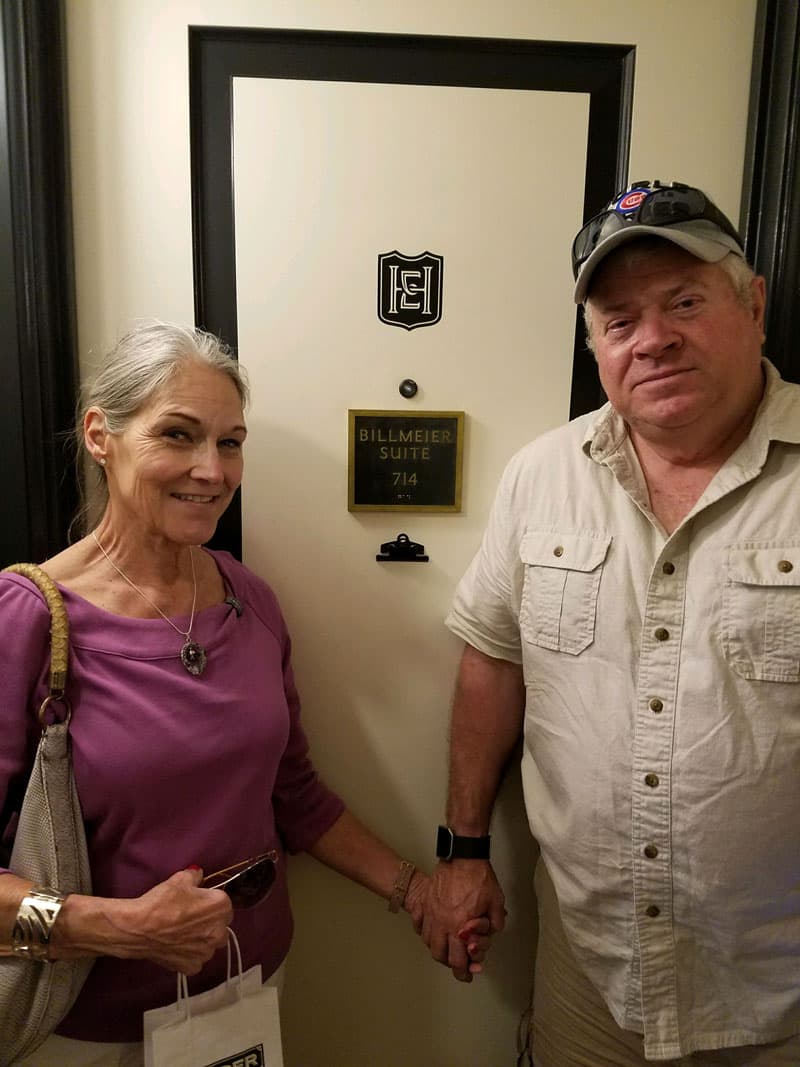 Hotel Emma is a five-star boutique hotel that was built in a brewhouse. My wife's father was the head brewmaster in the 60s and early 70s. They named the honeymoon suite after him.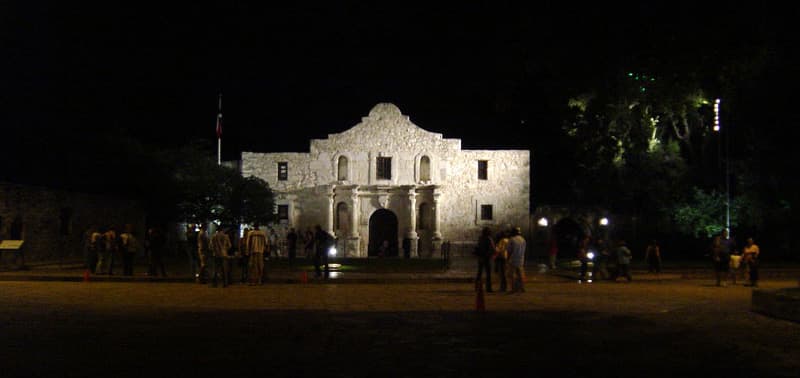 You could spend a full day in San Antonio riding the river barges downtown, visiting the Alamo, and visiting the many missions all run by the National Parks.
Alexandria, Virginia
Bryan Kerns
2008 Ford F350
2013 Eagle Cap 850
I had some business in the Alexandria, Virginia area, so I used my truck camper as my mobile office. I felt much better sleeping in my own bed and cooking my own food than going to a hotel. In late October, the temperatures were in the 60s during the day and 40s at night, so it was the perfect time to boondock.
Alexandria, especially Old Town, is a great city to walk with many old historic places to see and pubs to visit. I've stayed in hotels throughout the area for work on many occasions, but this was my first visit driving my truck camper.
Since I have a short-bed, crew cab, single rear wheel truck, it was really no problem to drive the streets. My only real challenge was watching for overhead lines, but I was probably overly concerned since there are many tall delivery trucks around the town.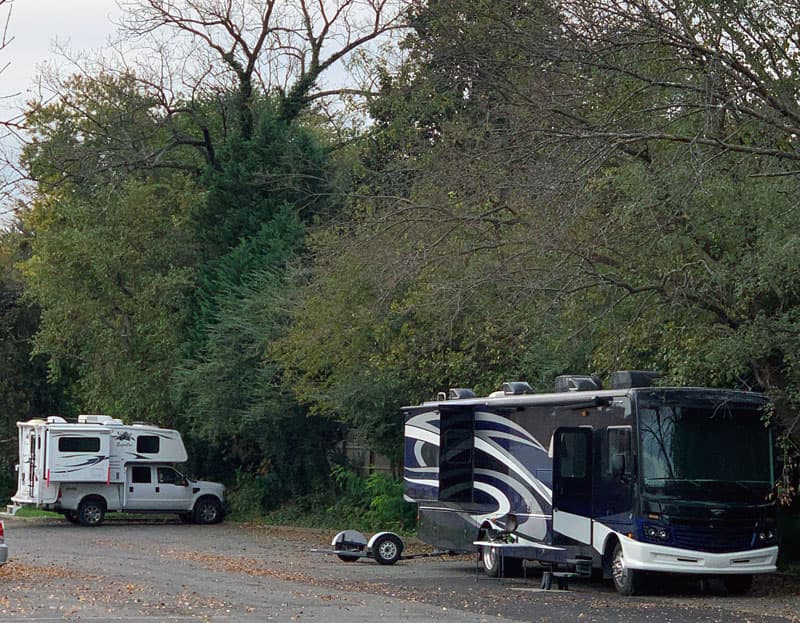 I enjoyed a quiet night in the parking lot of a nice brewery thanks to Harvest Hosts. While I'm not advertising for them, I really have enjoyed several one-night stays during the year of social-distancing.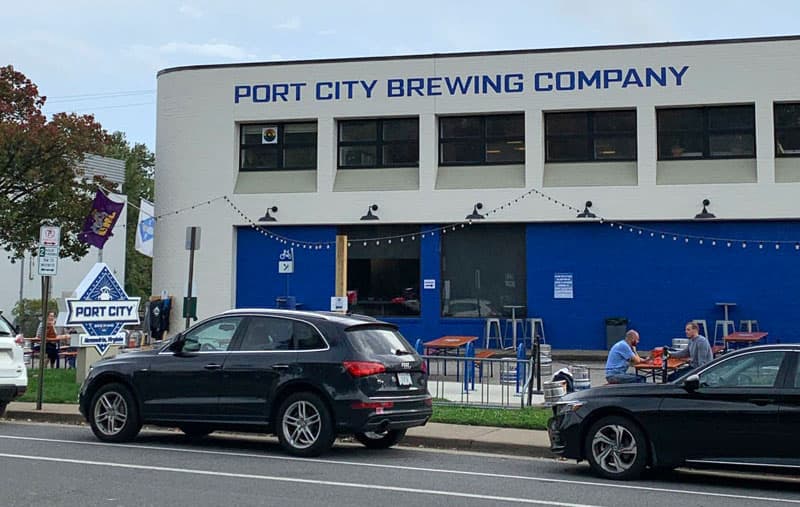 Location of Photo: Port City Brewing, Alexandria, Virginia
This one, at Port City Brewing, offered a nice flat parking lot with plenty of room. I also had been on the road for a couple of days from Asheville, North Carolina to Frederick, Maryland, and then over to Alexandria, Virginia, so I needed to refill my 49-gallon water tank.
The brewery's manager provided water from their filtered brewery supply with my supplied water hose.  For their generosity, I sat out on their patio and enjoyed a nice draft beer, some snacks, and bought a six-pack of their seasonal ale to go.
Alexandria is a great place to stay if you're visiting DC. You can walk the waterfront park and take a ferry up the Potomac River to see the monuments. There's even a replica tall-mast continental navy ship, Providence, that you can board for a sailing cruise.
Ottawa, Ontario
Sylvain Robin
2015 Ford F450
2018 Lance 1172

Location of Photo: Ottawa sign, downtown Ottawa near the market
We parked our truck camper outside the city of Ottawa and took the bus to downtown. From the casino, you can take bus #400 downtown to Ottawa. Using the rapid bus line, it takes about 30-minutes. If you want a free place to stay for the night, there is a casino at 1 Blv du Casino in Gatineau, Quebec.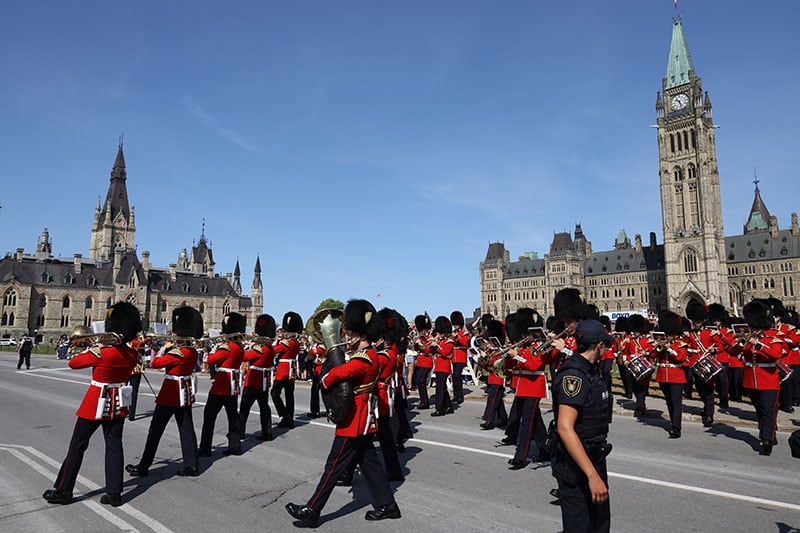 Ottawa, Ontario is a beautiful city to visit. While you're there, make sure to visit Parliament Hill to see the changing of the guard. They have this ceremony daily in the morning from late June to late August.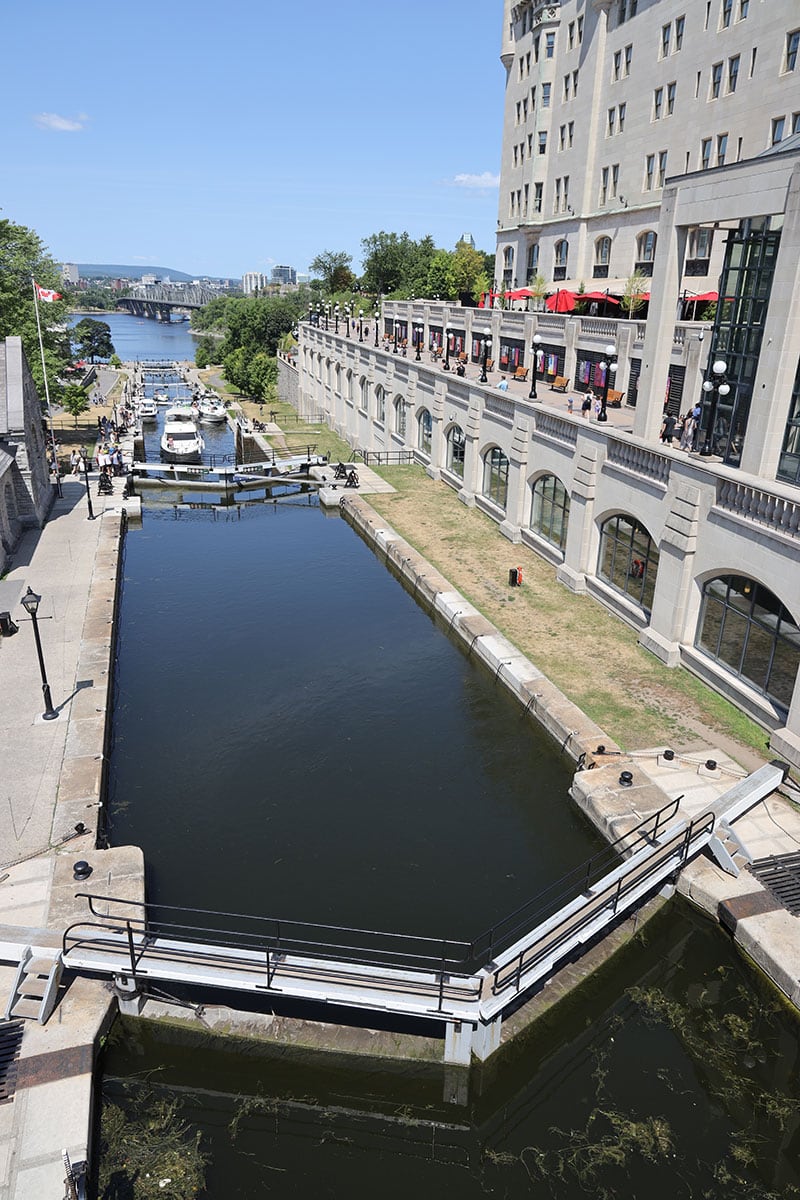 I also encourage you to walk across the Rideau locks, take a tour of the Canadian Mint Museum, and eat at the public market. While you're there, you've got to try a Beaver tail!
Los Angeles and San Diego, California
Vince Kurpan
2014 Ford F150
2010 Panther Camper
While we were visiting Los Angeles, we stayed at Hollywood RV Park in Van Nuys and rented a car for a day. We were visiting my wife's son who does not have a car, and our truck does not have a back seat.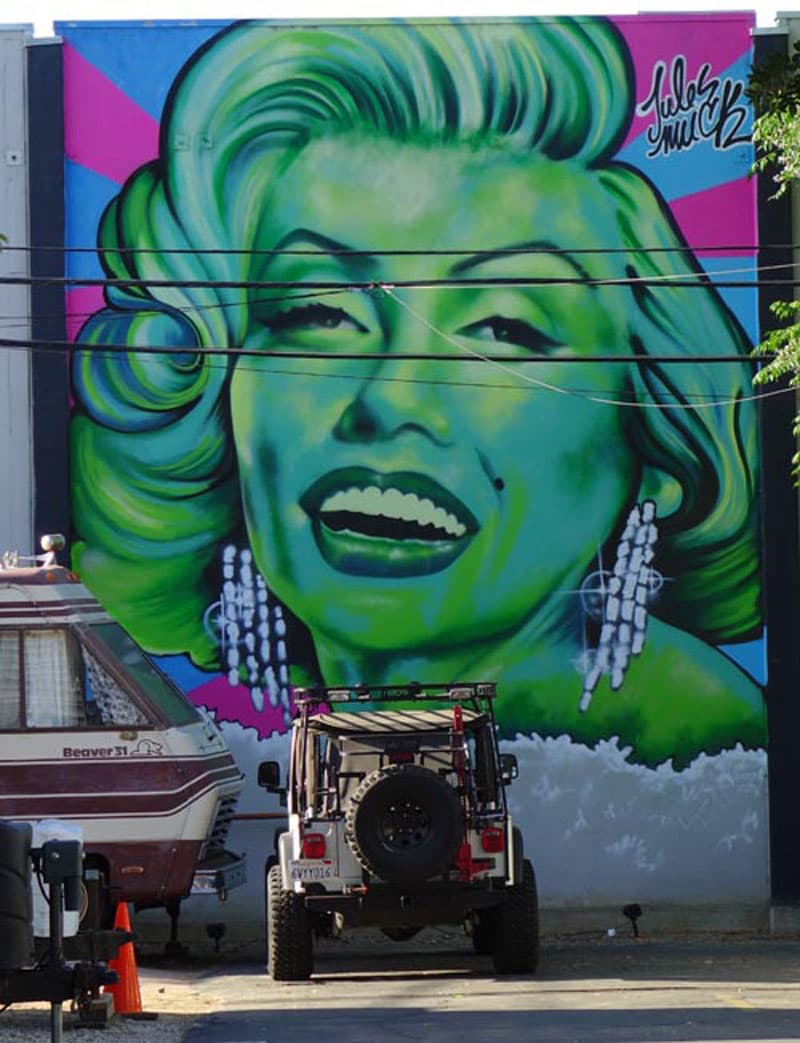 The park was originally an army campground for the Van Nuys Air Station. Marilyn Monroe was discovered there by photographer, David Conover. In 1944, Conover was sent to photograph women contributing to the war effort by U.S. Commanding Officer (and future President), Ronald Reagan.
In San Diego, we stayed at Mission Bay RV Park which is right on the bay and a good place to camp overnight. We drove the camper everywhere in San Diego. Most places in San Diego are okay with an average size truck. Larger campers may find parking tight in some places, but many are okay.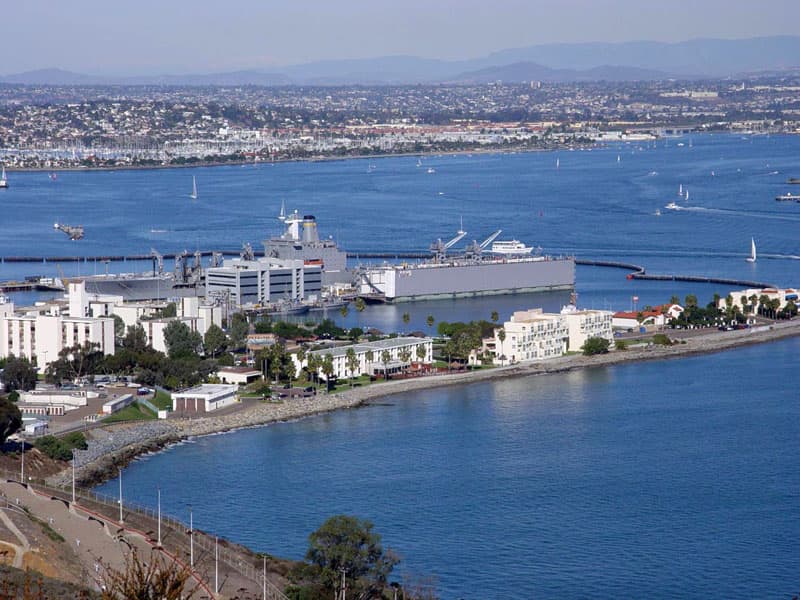 Location of Photo: View from Point Loma with Shelter Island in the background
I recommend that you visit Point Loma in Cabrillo National Monument. It is amazing. The harbor cruises are also fun and Seaport Village is nice.
The USS Midway aircraft carrier is also right there. Parking is not too bad, but I do advise you to get there early or take public transportation.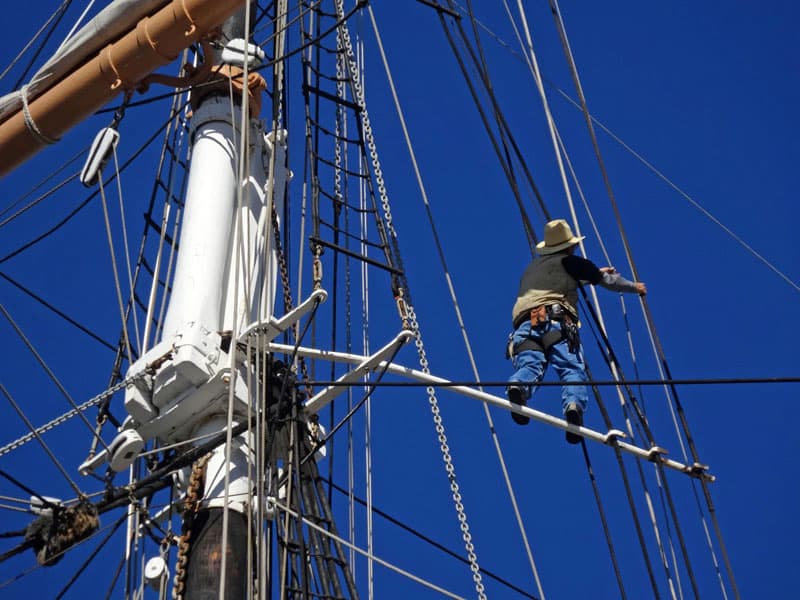 At the San Diego waterfront, a tall ship and steamer both offer tours.  The ships are across the way from Shelter Island.  If parking is a problem you could park on Shelter Island and take a bus or bike over to the waterfront.
The Torrey Pines Glider Port is also a lot of fun and a great view. There is easy parking there as well.
Old town can be nice, but parking is often tight. Of course, there is Sea World and Balboa Park as well.
Right across the water from downtown San Diego is Coronado Island.  The Del Coronado Hotel is quite a landmark and very visible from Point Loma.  Everybody calls it the "hotel del".  The Island is sort of a beach resort community.  It's okay to just go and look around even if you're not staying there. There is a shopping mall of sorts on the lower level of the hotel.
There is actually even more to see around the San Diego area.  You can go sailing on one of the old America's Cup racing yachts.  Carlsbad, just north of the city, has the flower fields in spring, Lego Land, and the Museum of Making Music.
To the east, the town of Julian is a fun day trip.  Anza-Borrego Desert State Park is also a good side trip in early spring.  Northeast of San Diego is Mount Palomar Observatory, which is another place not to miss.
Other San Diego camping options include Campland on the Bay and Mission Bay RV Park. These RV parks are right next door to each other in a good location. You can pick up the bike trail right there. The surrounding neighborhood is mostly okay, but some homeless are there as there are in any big city. There are state parks on the coast further north, but they are very popular.
I suggest that you plan well and research public transportation options for places with tight parking. Always have a Plan B. Cities can throw you all kinds of surprises. Crime is always present in large cities. Stay in a good RV park with security.
Edmonton, Alberta
Melissa Malejko
2002 Chevy Silverado 2500HD
1981 Okanagan
When we visited Edmonton with our truck camper, we stayed at the Devon Lion's Campground. The campground has a bicycle park next door but, unfortunately, it had been raining and we couldn't go.
Devon Lion's Campground is outside the city, so we drove in with the camper to do two adventures. Since we live in a larger city, driving in Edmonton with the truck camper isn't an issue for me. Just make sure any map or GPS data is up to date. Knowing how big you are is really important for driving in a city.
Location of Photo: Snow Valley Aerial Park
Edmonton is well-known for West Edmonton Mall, Galaxyland Amusement Park, and World Water Park. A very interesting attraction that many might not know about is Snow Valley, Aerial Park.
The aerial park consists of a three-level, 15-meter (50-foot) high aerial trekking tower. Climbing and navigating the tower was an adventure unlike I've ever done before. It was exhausting and thrilling. It's extremely safe and there was staff everywhere to help if you got stuck. It was worth the $35-ish CAD (approximately $28 USD) per person.
When we're in a major city, we always keep our entire vehicle in our lane and leave more room than we think is necessary. Yes, we get cut off by locals. We also have an idea of where we're going in advance so we don't have to make sudden lane changes.
Anchorage, Alaska
Scott Williamson
2011 Ford F450
2011 Northern Lite 10-2CD SE
We live in the Yukon, and we typically visit Anchorage annually to get our car serviced. We call this a glamping trip since most of our truck camper time is in the wilds of the Yukon. Having the car makes it easy to stay 15-minutes outside of the city.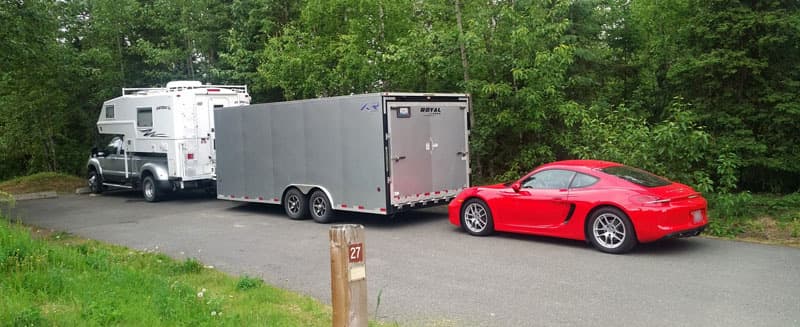 Location of Photo: Eagle River SRS Glamping
Anchorage is a unique city to explore. Our trips to Anchorage are more typically focused on shopping than tourist activities. Anchorage is the closest big city to us (we live in Whitehorse, Yukon) so it is usually about the opportunity to get to Costco, Home Depot, etc. That said, I would add a few suggestions.
First, the drive to and out of Anchorage is spectacular regardless of direction.
Second, about a half-hour from Anchorage is a community called Girdwood. There is a ski resort called Aleskya with a grand hotel as well as a tram to the mountain ski area. There is a great restaurant at the top overlooking the Girdwood community as well as views out to the ocean. This is open year-round, so it's worth a visit in the summer as well as for skiing in the winter.
Third, even in very urban areas with cars and people around, we have never gone to Anchorage and not seen moose right in the city. We once exited a restaurant near a busy intersection of two four-lane roads surrounded by office buildings and had to wait for a moose to move away from our truck. He proceeded to cross the intersection and all the traffic simply stopped and waited for him to wander off.
There are two good SRS campgrounds within 20 minutes of Anchorage. Both are $10-$15 per night. Eagle River is north of the city and Bird Creek is east on the Seward Highway.
We are fortunate to live in what I consider truck camper heaven. We set up our camper with all the basics at the beginning of the season (mid-May for us) and then it is simply a matter of the grocery store for the fresh food and a look at the forecast to determine the direction on the weekends. We usually get out two to three weekends per month.
I also set up our enclosed trailer with all the toys. We call it the toy box. Depending on our destination we also bring it along. Inside are two quads, two kayaks, a 14-foot inflatable boat, a 20hp motor, and all associated gear. Usually, sometime in October, we put it away for the winter though, with the Northern Lite, we can push the shoulder seasons a bit.
Watch for height restrictions in rural areas. We have been caught a few times with treed streets not cleared for the height of a truck camper. We try to stick to truck routes when possible.
Calgary, Alberta
Orian Hartviksen
2011 Ford F350
2010 Northern Lite 8-11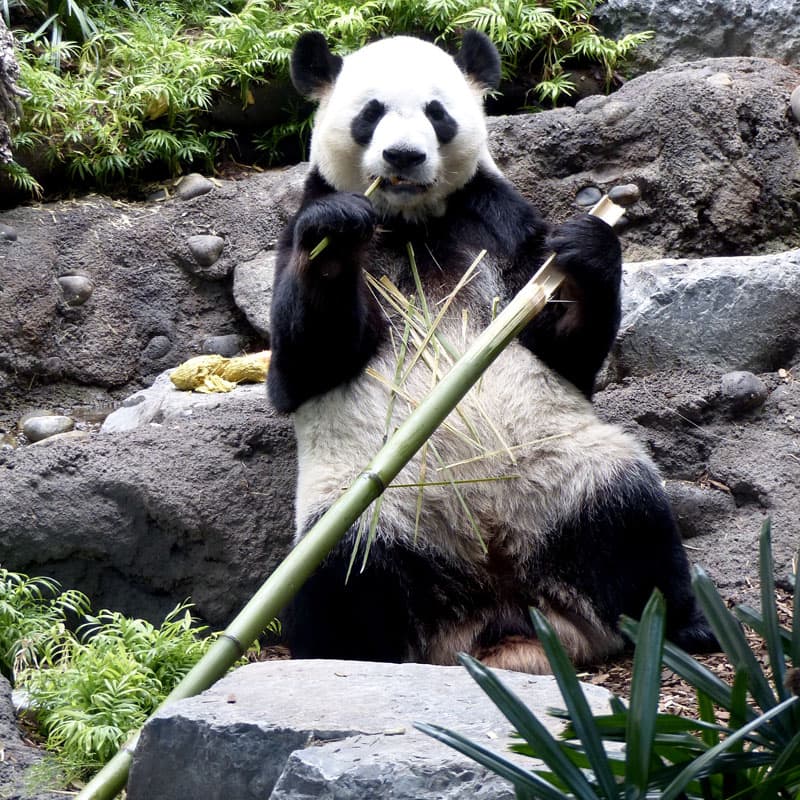 Location of Photo: Calgary Zoo, Calgary, Alberta
We arrived in Calgary early in the day were able to take our rig around the city with no issues. There was no need to take public transportation in Calgary.
At the Calgary Zoo saw the pandas and cubs. We purchased tickets online, which was easy. We had a wonderful day there. We were able to park in the Calgary Zoo parking lot, but it was confusing to find.
The most scenic driving in Calgary was spending 30-minutes trying to find the parking lot. Otherwise, we had no trouble driving through downtown or anywhere else.
We selected to camp at Wyndham-Carseland Provincial Park. We were coming from the Drumheller area, so it was the closest place to Calgary without going to a commercial RV park.
The park is about 60-kilometers (37-miles) southeast of downtown Calgary. It's on the Bow River, with a number of trails for walking. It was also sheltered from the wind. We were able to walk along the river and saw pelicans.
Overall, the park was lovely, but there were mosquitoes when we visited in June. If we wanted to stay longer we would have found another place for a second night.
The sun goes down late in June, so we had a lovely evening. Since we were going to spend only one day in Calgary and then head towards Kananaskis and Banff, we planned our route for the zoo and shopping with that in mind.
When we visited Kensington Market we parked on the street. Later we parked in the Cosco parking lot. We bought cheap booze and propane at Costco and shopped for scotch at Kensington Market.
The next night we stayed at Bow River Park east of Canmore. In both cases, we arrived in the early evening and had no problem getting sites. It was June 4th and 5th, so fairly early in the season. However, in Banff and Jasper, it was a lot tighter, especially Jasper since it was Father's Day weekend. On that night, we got the last spot in their main campground, and only because we were small and didn't need utilities.
Lima, Perú
Geneva and Mike Saint-Amour
2013 GMC 2500HD
2008 Northstar Arrow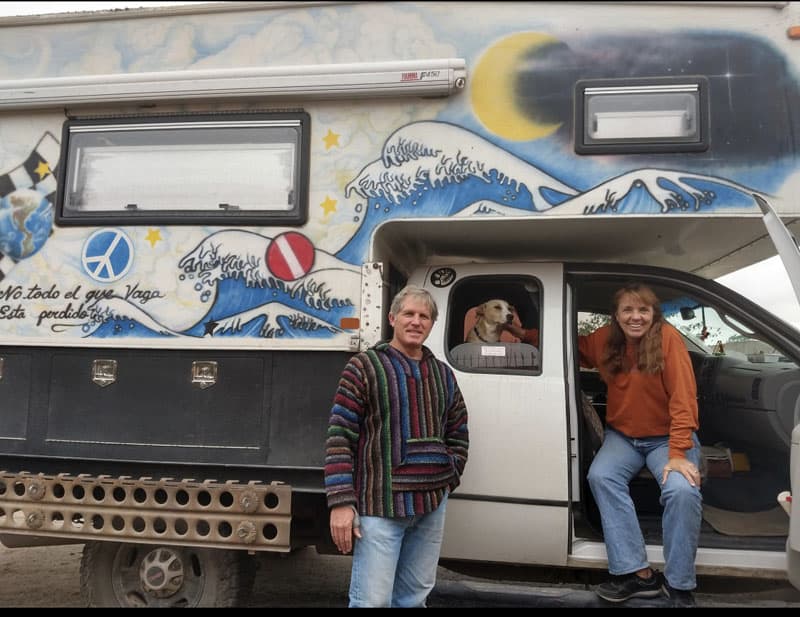 We went to Lima, Peru with our truck camper. As the capital of Peru, Lima is a major city with a population of over 10.7-million people.
Our rig was parked next to a small, city park in the heart of town. Once we were parked in a good space, we left our rig in that spot for a week.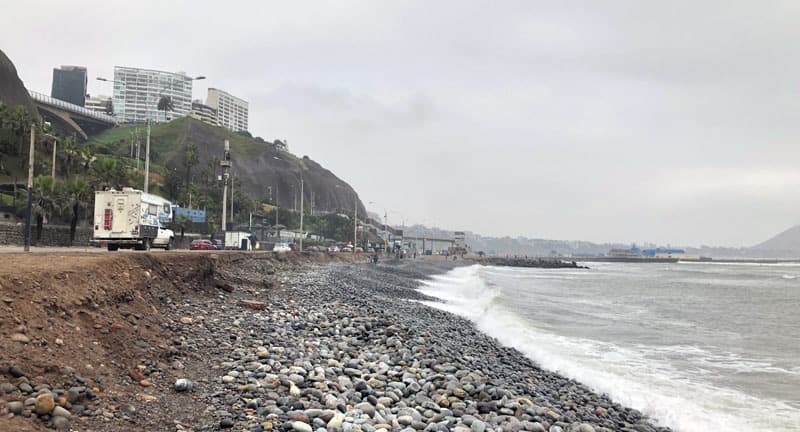 Everything was within walking distance from the city park, so we dropped off laundry at a service, bought groceries, went to a school flea market, and ate from street food stands. We also enjoyed the many great restaurants in the area.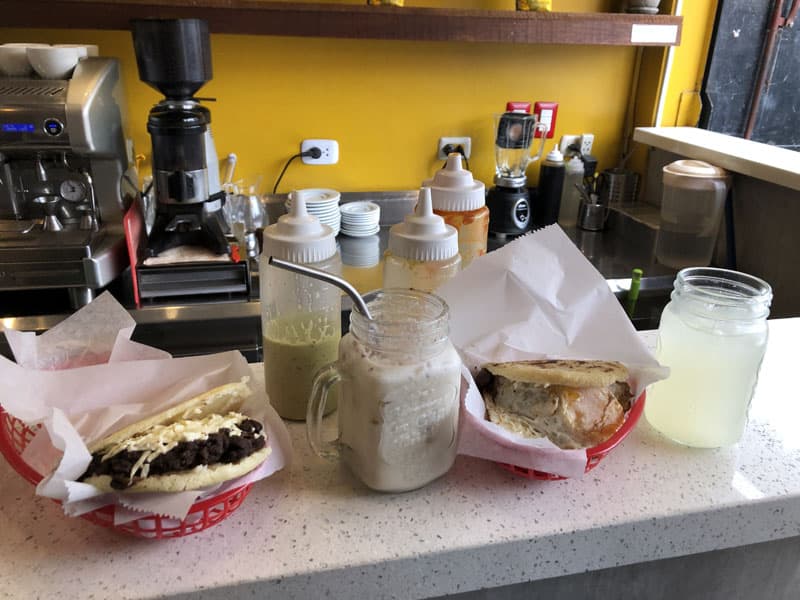 Lima has several beautiful museums. We particularly enjoyed the auto museum called the Museo de Autos Nicolini. You can read more about it in our blog.
When we arrived, we were prepared for about a week of dry camping. We had a large potable and non-potable water supply. We also have a cassette toilet which has been perfect for South America. We have adequate solar to run everything, even on cloudy days.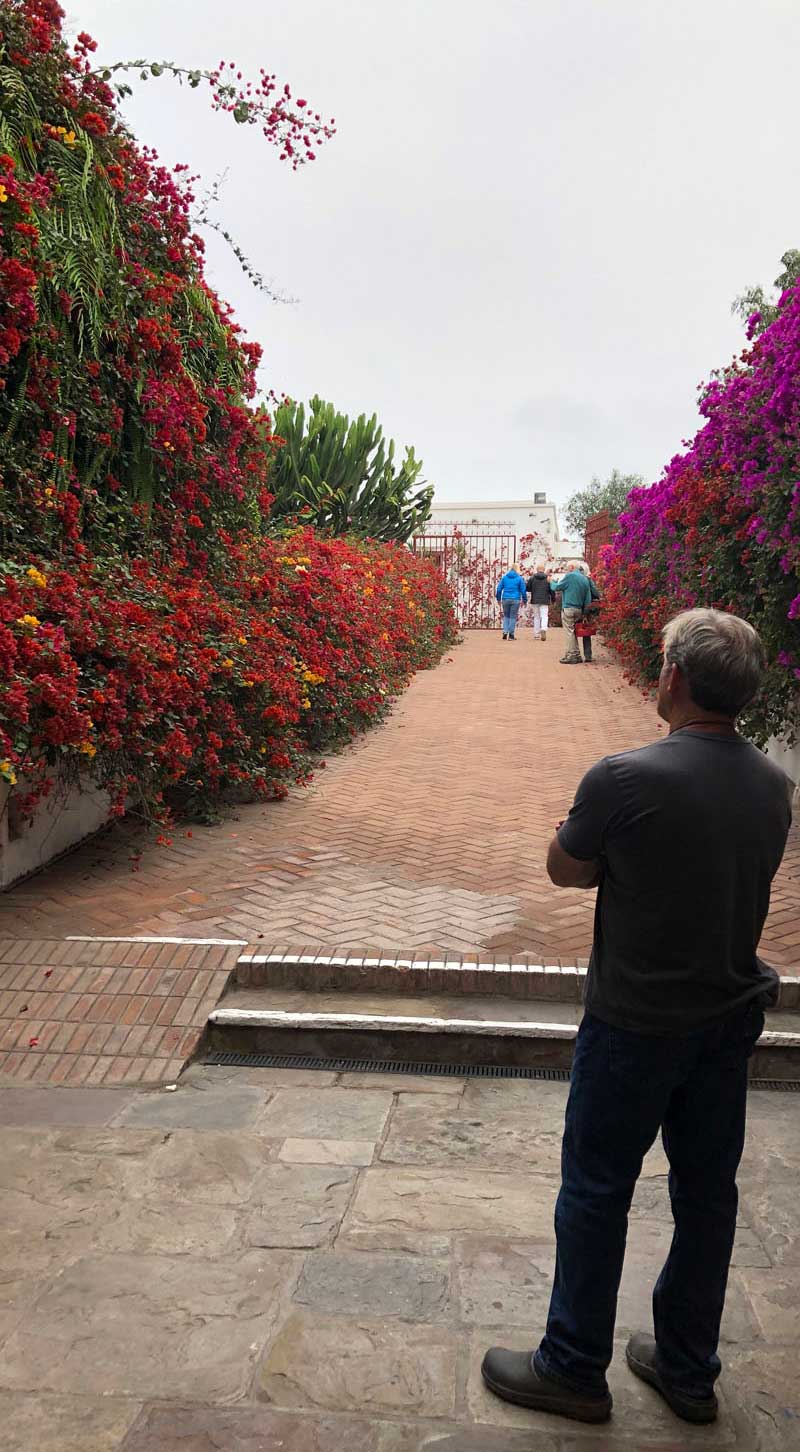 Our advice for camping in a major city is to make sure you feel secure with your location. For us, being in the right climate helps because our dogs can stay in the camper and alert us to mischief while we're sleeping.
We recommend stocking up on water before you set up. Wave to the police when they pass by. Speak to the neighbors and even the homeless folks. If they think you're friendly, they are more likely to look out for you. Mostly, if you don't feel right about it, move on!