Guttormur Thorarinsson takes us truck camping across Iceland.  Step one: Check the weather.  Step two: Steer clear of quicksand.  Step three: Lookout for grazing sheep!  Stunning photos ahead.

Guttormur Thorarinsson bought his Alaskan Camper from Alaskan Camper's then-Owner, Don Wheat. Don just happened to be in Europe with his personal Alaskan Camper rig when Guttormur was in the market.
That's right folks. While some of us can't get a pizza properly delivered from down the street, Guttormur got a tricked-out Alaskan Camper personally delivered to Iceland by the then-Owner of Alaskan himself. Some guys have all the luck.
With the only known Alaskan Camper in Iceland, Guttormur and his wife have traveled and explored much of the exotic island. From volcanoes to iceburgs, Puffins to rock trolls, and Thorsmörk to Snæfellsnes, the Thorarinsson's story and photography reveals a country rich in history, natural wonders, and unique wildlife encounters.
Guttormur also warns would-be Icelandic explorers about narrow gravel roads without guard rails, weather that can send rain and sleet piercing into your camper, and hordes of grazing sheep that keep your eyes ahead and focused. And don't forget a long stick to test for quicksand. Don't just drive across that stream bed.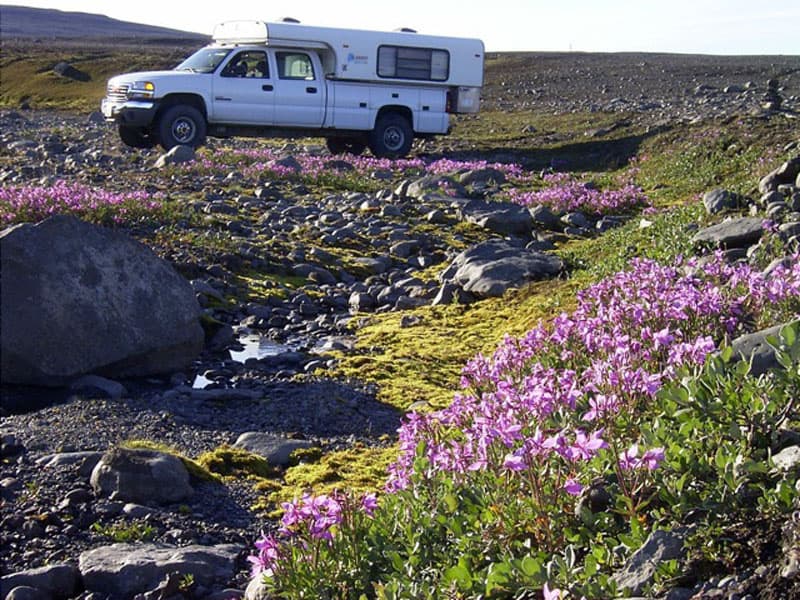 TCM: How did you get into camping and then truck camping?
Guttormur: Camping is kind of in my blood, like most other Icelanders.
I was born 1956 when the Icelandic economy was booming. Fishing was good, factories were being built, and rivers harnessed for electricity. And Icelanders made businesses east and west. The climate here in Iceland was relatively warm at the time.
My parents bought a new Willy's Overland to explore further than the end of the road. They introduced me and my siblings to outdoor life and camping.
When I grew up my first vehicle was a 1965 Jeep CJ5. When I met my wife I had geared up and was driving a Jeep J10. The J10 was no longer a pickup and looked more like an extended Jeep Wagoneer. It was a pure luxury and power on wheels.
After one summer camping in a tent, with everything literally on the ground, changes had to be made. That's when we started looking for a pickup truck and a camper.
TCM: How did you put your first rig together in Iceland?
Guttormur: I worked for an insurance company and drove around the city a lot visiting customers. All of a sudden, from a distance, I spotted a good looking four-wheel drive Ford crew cab. As I looked closer I saw that it had stripped off license plates and tires were flat. It had been abandoned.
When I reached the owner he was most happy to sell it. That is how I got my 1979 Ford F250 four-wheel drive, crew cab truck. It was running with a 5.7 Oldsmobile diesel from GM. This engine was a bit too lazy for the truck.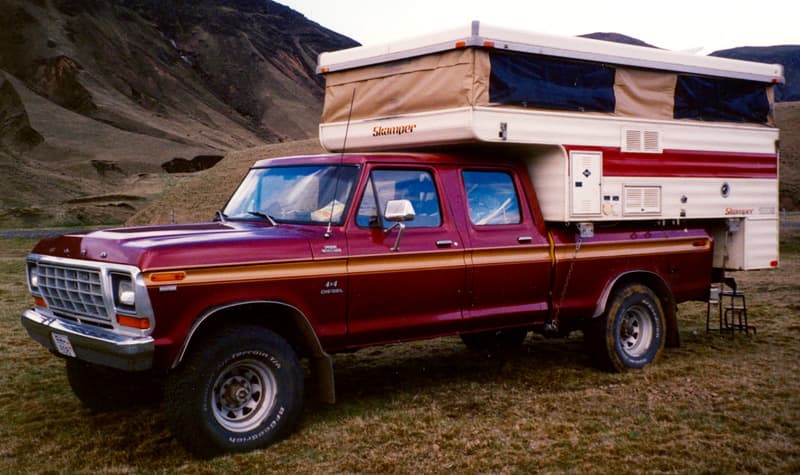 Above: The Skamper with their Ford truck
I managed to swap out the engine for 6.2 GM diesel and 400 turbo transmission. With new tires and many other things being fixed, the truck was ready and served us well for many years.