Readers reveal their favorite Nevada truck camping experiences including Great Basin National Park, Valley of Fire State Park, ghost towns, prehistoric Ichthyosaurs, and free BLM campsites galore.  Bonus story: Vegas Truck Camper Drag Race Madness!

Last year Angela and I decided to drive a good portion of Route 50 through Nevada; aka The Loneliest Road in America.
The idea of several hundred miles of two-lane through the infamously barren Nevada desert somehow appealed to me.  I was particularly intrigued with the idea of not seeing another soul during the journey.  "Well," I said to Angela, "that's something we haven't done before.  Let's go!"
We dropped down from Jackpot, Idaho on Route 93 passing through Wells before finally reaching Route 50 at Ely.  As we progressed out of town, there was a sign that said, "The Loneliest Road In America".  Five seconds later we were passed by several cars.  How disappointing.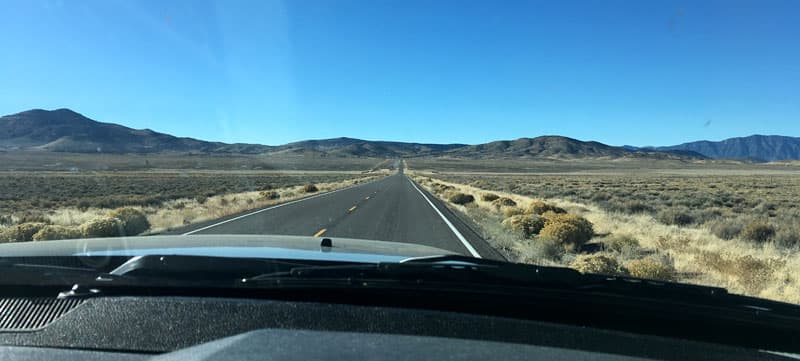 Over the many miles that followed, we actually saw a surprising number of vehicles; perhaps one or two cars in opposing traffic every few miles.  The occasional knucklehead even passed us on the left.  Yes, Route 50 in Nevada is very quiet, but there were definitely other humans on this roadway.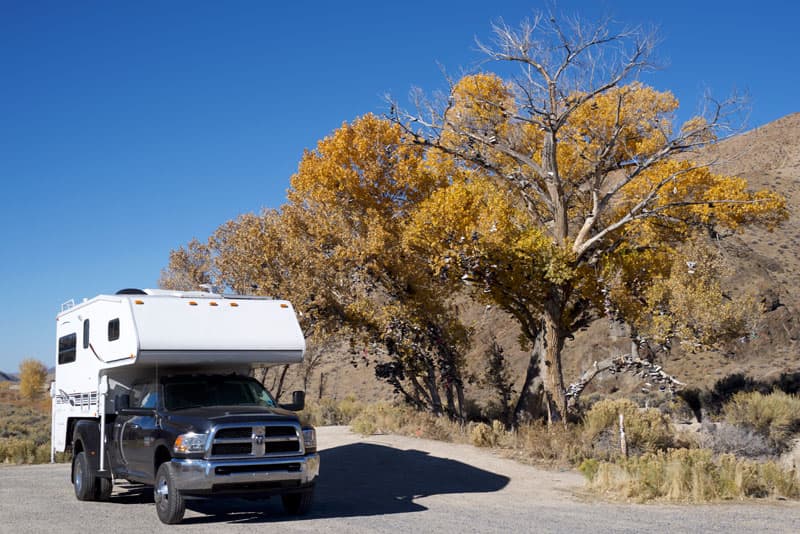 One of the main attractions for Route 50 is something called the shoe tree (shown above).  If the name doesn't describe it well enough, it's essentially a tree that people have covered with shoes of every possible description.  Why?  I have absolutely no idea.
Here's how you find the shoe tree; somewhere near the sprawling single-building town of Middlegate, you'll drive right past something weird and say, "Hey, I think that might have been the shoe tree!"  It was, and you need to turn around.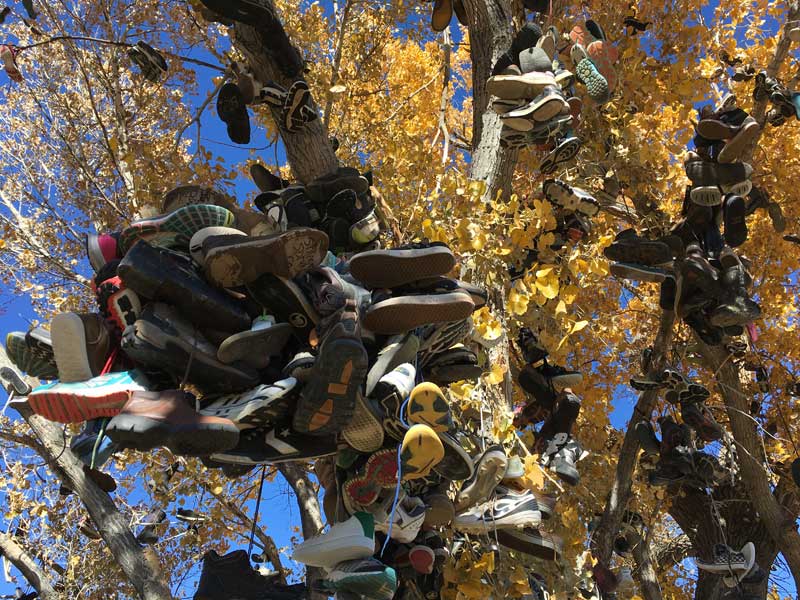 We spent about ten minutes taking pictures of the shoe tree and head scratching at the absurdity before us.  Then again, some folks would be head scratching at our decision to (a) willingly drive The Loneliest Road in America, and (b) stop at a shoe tree.  It was a nice place to have lunch.
At Fallon we turned south off of Route 50 and onto 95.  About an hour and fifteen minutes later, we stumbled onto Hawthorn Army Depot, the largest ammunition depot in the world.
Imagine hundreds of identical window-less concrete bunkers lined up like dominoes as far as the eye can see.  It's a totally surreal landscape; like something out of a science fiction movie.  I would have taken pictures, but it's not the kind of place you want to be found taking pictures.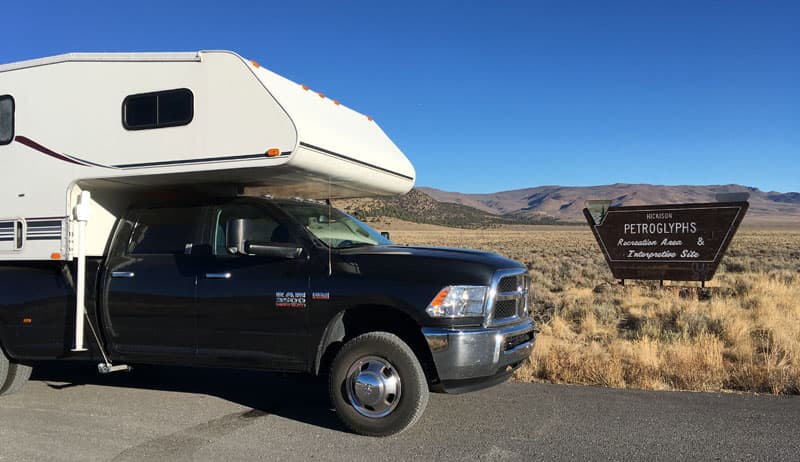 Above: Hickison Petroglyph Recreation Area, just east of Austin, Nevada.  It's dry camping, but it is free!
We were on a tight two-day schedule to reach California, otherwise we would have visited Great Basin National Park and Valley of Fire State Park.  Those two are high on our list for our next Nevada visit.
Chris Baird
2014 Ford F250
Four Wheel Camper Grandby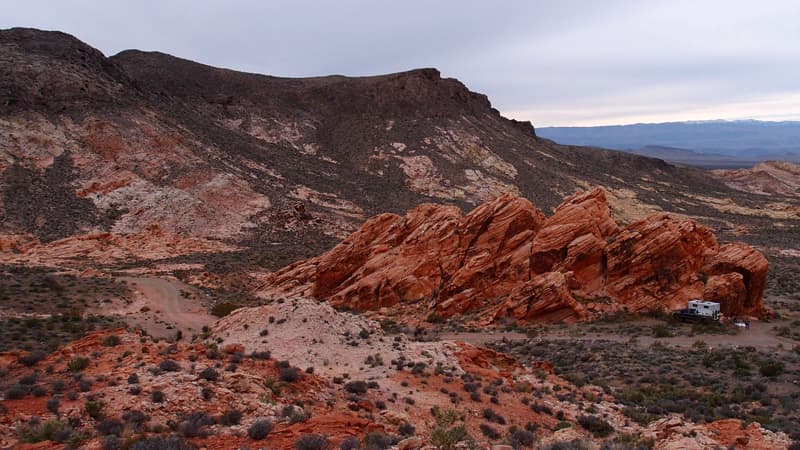 Above: Valley of Fire State Park in Overton, Nevada
Since we live close to Las Vegas, we have some favorite campgrounds in Nevada.  A campground that can't be beat is Valley of Fire State Park in Overton, Nevada.
There are numerous sights and hikes within Valley of Fire State Park including The Beehives sandstone formations, petrified logs, Mouse's Tank basin, and Elephant Rock.
The Valley of Fire State Park campground is surrounded by red rock, offers showers, and the campsites are clean.  The park is about an hour of Las Vegas and can get busy during the weekends. For non-residents the campground is around $20 a night for camping and park fees.
If your truck camper is self-contained and you enjoy red rocks and quad riding, check out the Logandale Trails System in Logandale, Nevada.  This area is free to use and fairly easy to access.  If you are lucky there are about ten camp areas just off the main trail that are used for overnight camping.
The Logandale Trails System is not an official campground so, during busy times, the quads can stir up a lot of dust.  You have been advised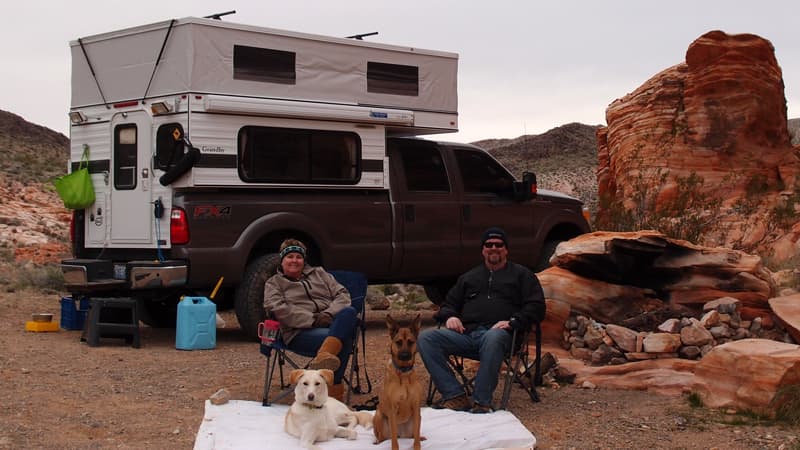 Above: Bitter Springs Trail, BLM
If your truck has four-wheel drive and you have good ground clearance, another freebie is along the Bitter Springs Trail.  Bitter Springs Trail is BLM land, so the camping areas are numerous – just look for fire rings.  As a general rule, if you're on BLM land and you find a fire ring, camping is allowed.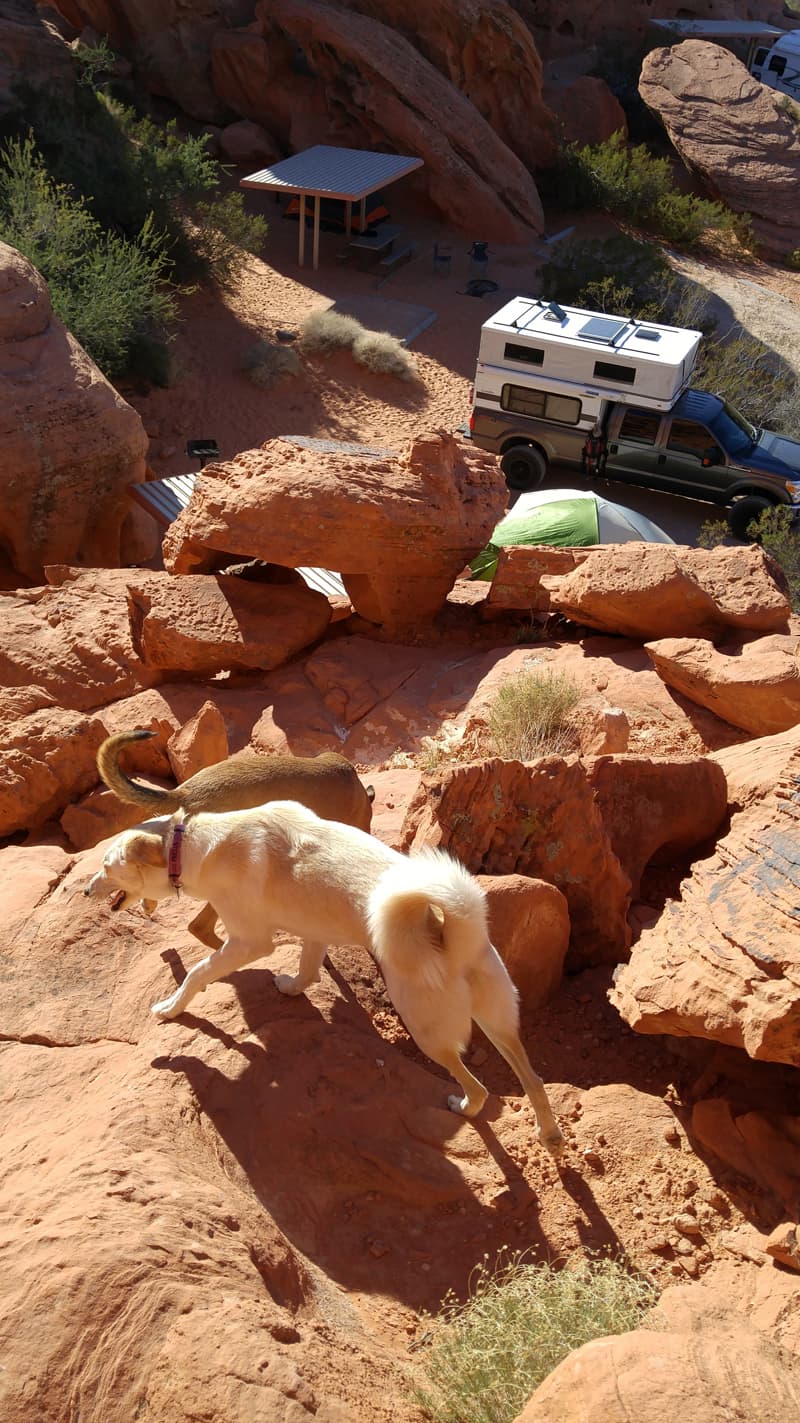 All of these recommended camping areas are in a desert environment.  It's best to avoid them in the summer months unless you have a good air conditioner and generator and really like the heat.
Since our truck camper does not have an air conditioner, we head for the mountains in the summer.  The closest is Mount Charleston with three campgrounds.
The campground we have tried is called Hilltop Campground.  There are no services except for pit toilets, but it's much cooler at 8,500 feet.  There are a few sites with long desert views.  The night sky is always amazing.
Nevada is great for exploring in a truck camper!
Marc Wilde
2017 Ford F250
2017 Adventurer 89RBS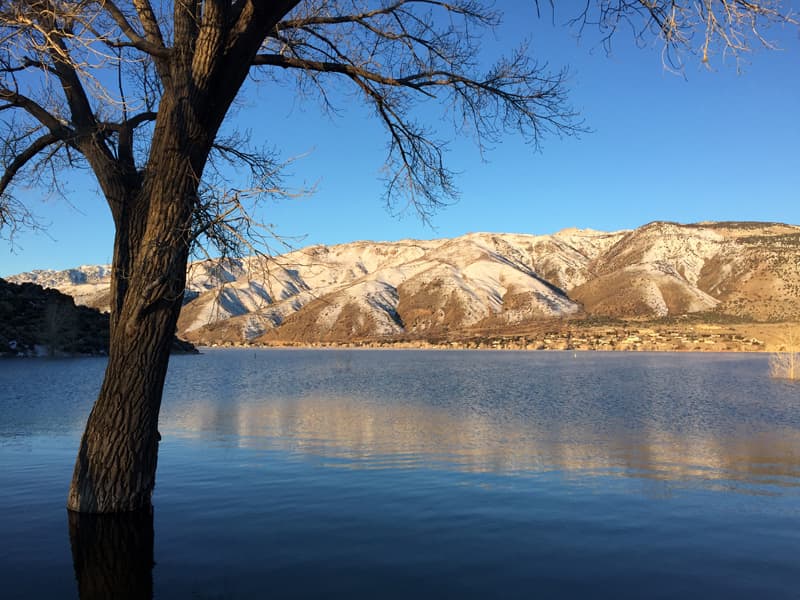 Topaz Lake is on the Nevada and California border.  If you are on Highway 395, Topaz Lae is a nice overnight stop.  We were headed to Tahoe from LA County and stopped at Topaz Lake to take our time and learn a little about Nevada.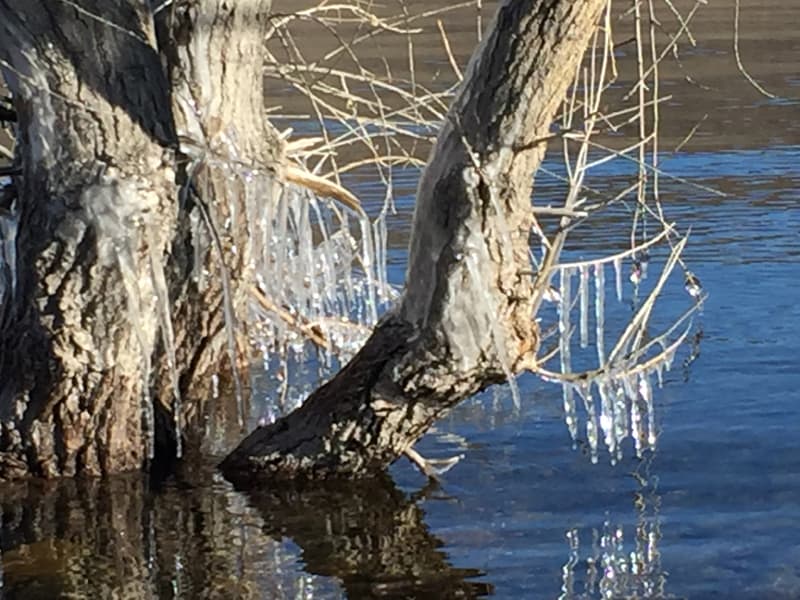 Topaz Lake Campground is the first campground across the border.  In the winter it's open, but deserted.  We were the only ones there on a Monday night in February.  We dry camped, although hookups were available.  We were grateful, as we always are, for a bathroom with running hot water and showers.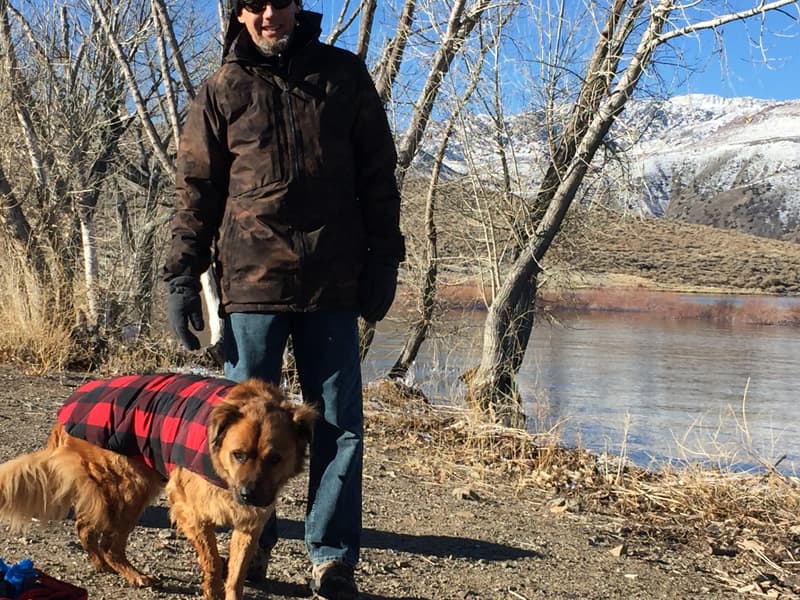 We arrived in the evening and left in the morning after a brisk and beautiful hike around the lake.  Topaz Lake County Campground is $25 for dry camping with access to bathrooms and hot showers.  It's $35 for full hookups.  No are reservations necessary in the winter.
John Bull
2004 Dodge 3500
2015 Arctic Fox 990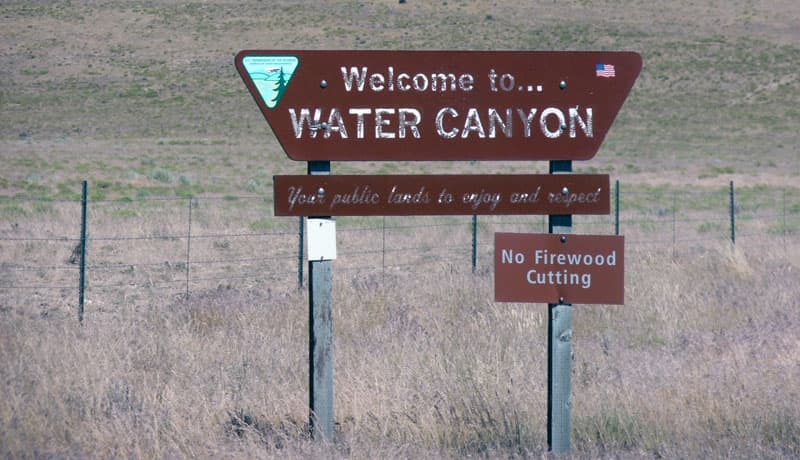 We were traveling through Nevada on the way to California and needed a place to stay the night.  My camping app showed there was camping at Water Canyon just outside Winnemucca, Nevada.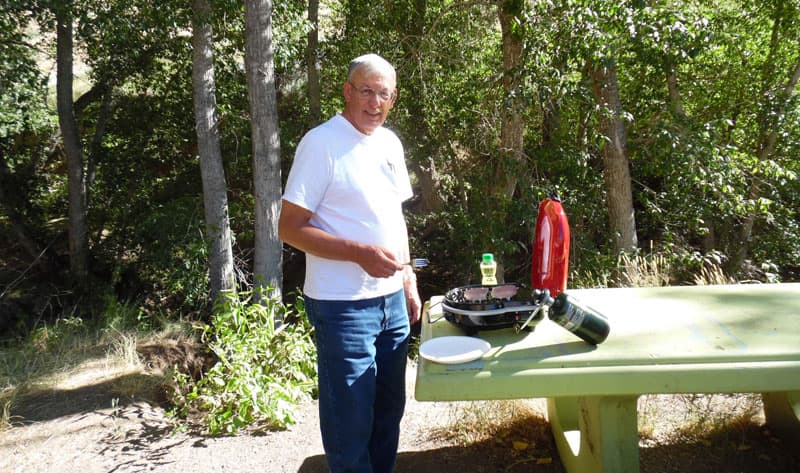 We decided to take a look see and found a nice boondocking site just inside the entrance with a cement picnic table.  I got out the grill and fixed a couple pork chops for supper and then enjoyed the peace.  This is BLM land, so the camping was free!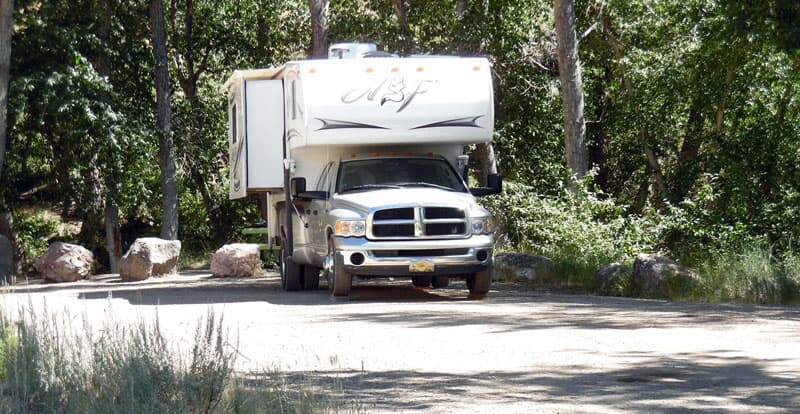 I regret not going further into the canyon to see what it was all about.  There is a small stream that runs through the canyon and there is supposed to be a seven mile hiking trail.  To get there, take Water Canyon Road out of Winnemucca.
George Visconti
2016 GMC 3500 HD
2016 Arctic Fox 990
We visited Great Basin National Park because it has these 5,000 year old Bristlecone Pine trees and it was on the way to Sequoia National Park.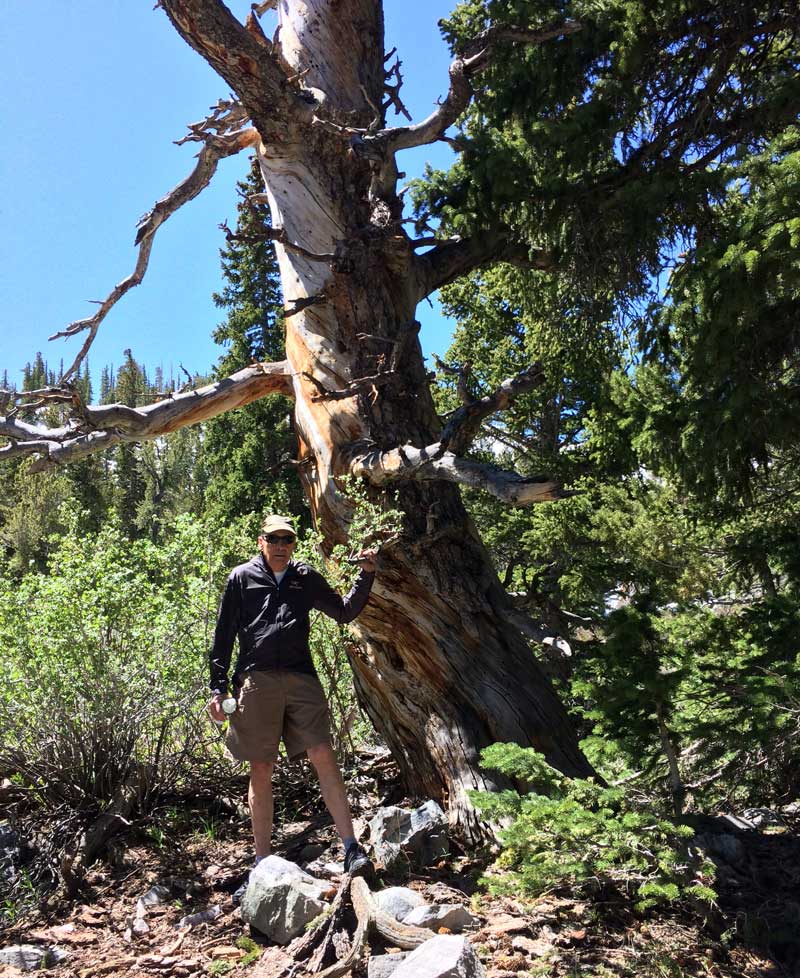 We drove up Wheeler Peak, which is at 10,000-feet in elevation.  It's a steep winding road to see the Bristlecone Pine trees.  The peak parking lot was just cleared of snow, so we trekked through the snow to the trees.  They are impressive.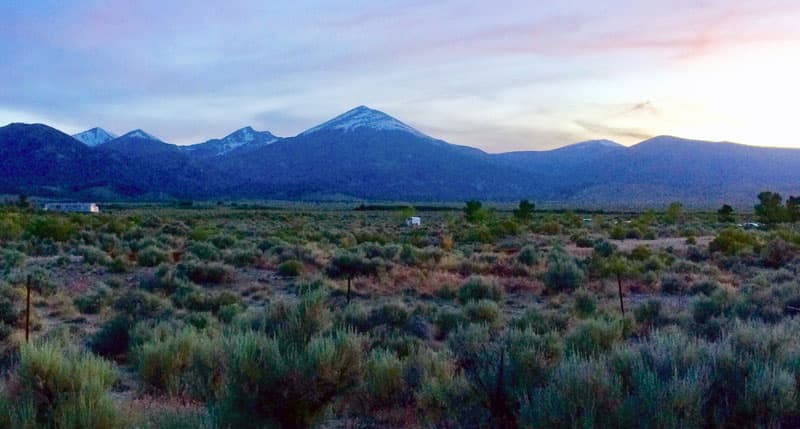 You have heard the expression, "the middle of nowhere".  Well, that is precisely the feeling you get while you're on the top of Wheeler Peak.  The ride back down was slow and easy.  My brakes still were smoking at the bottom.  We also visited the Leman Cave, which was okay.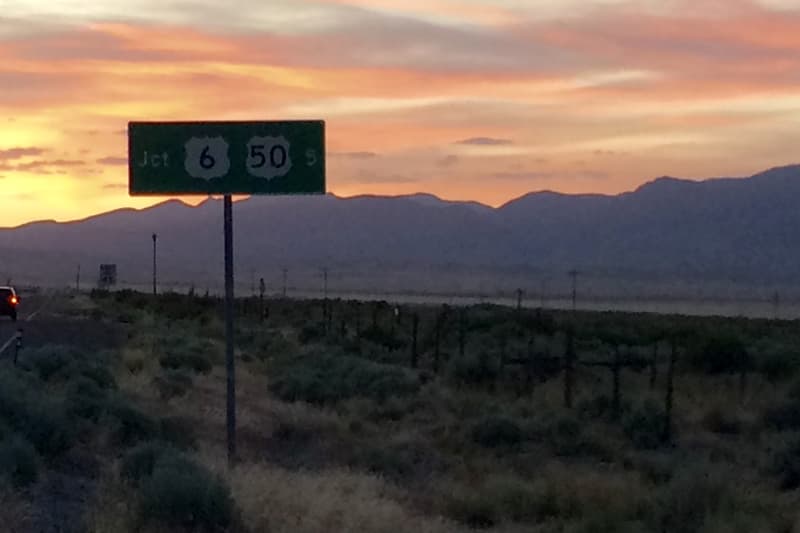 The Loneliest Road, Route 50, is exactly that.  We felt that you could have slept in the middle of that road and never been hit.  There seems to be so little traffic.
Editor's Note: Please don't do this.  It would be a shame to lose a reader as a fellow truck camper – inspired by this very article – runs you over.  Besides, truck camper cabovers are generally more comfortable than asphalt.
If you are heading west from Baker, Nevada to California, do not listen to your GPS.  Do not take Route 168.  It's an awful road!
On our way to Great Basin National Park on Route 6/50, I had a taste for some good Mexican food.  We stopped in the town of Delta, Utah at the El Jaliscience Mexican Restaurant and were not disappointed.  If you need food and supplies, there is a Jubilee Foods supermarket right across the street.
When coming across the desert we watched these dust devils swirling across the desert and thought how neat they were, until one hit us.  It moved our truck and camper into the other lane.  They are quite powerful.
We camped at The Whispering Elms in Baker, Nevada.  It was a place to park with water, sewer and electric for $36 a night.  Unfortunately, the property is pretty run down.  The showers are very dirty and the garbage was piling up.  There are campsites in the park but they were busy and none that worked for us.  There are not a lot of choices in Baker, Nevada.
Rick Johnson
2004 Ford F350
2007 Lance 1181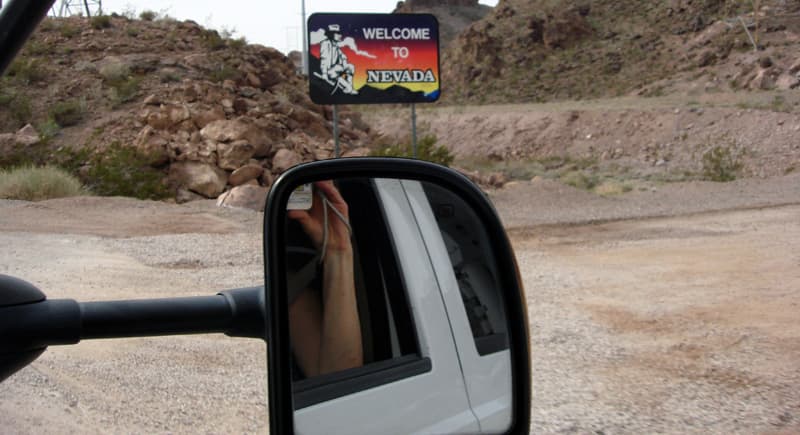 When you had the article about staying at one park for the rest of your life, I surprised you by choosing Great Basin National Park.  Being practical rather than emotional, I noted that Great Basin is remotely located, livable year-round, and has lots to do; Lehman Caves, hiking, and two campgrounds at widely different altitudes.  Great Basin is highly recommended for truck campers.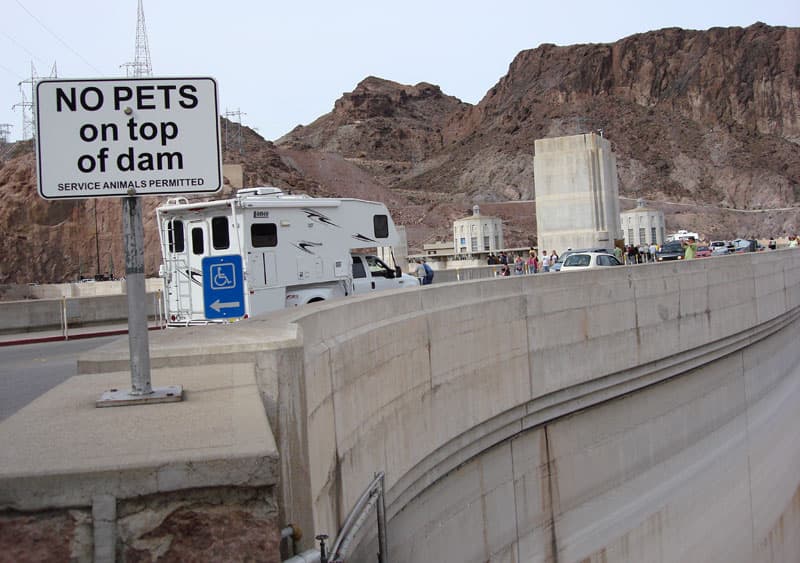 Technically, only half of the Hoover Dam is in Nevada.  We visited on the way to Death Valley National Park in February of 2009.  Bypass bridge was under construction.  Hoover Dam should be visited at least once in your life.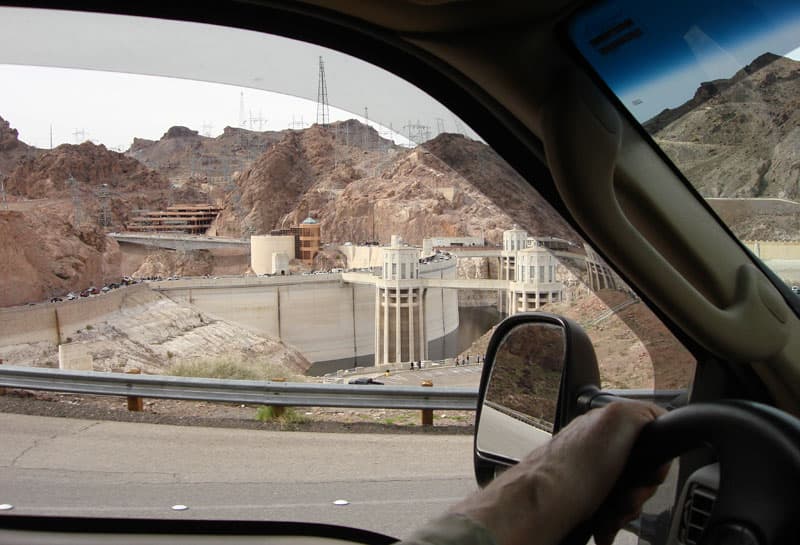 When traversing Nevada to get somewhere else, it can be a challenge to find camping.  Almost everywhere in Nevada is in the middle of nowhere.  We did find two places to camp that we can share.
On the way to Death Valley, we boondocked in the Rhyolite area west of Beatty, Nevada.  On the way back fro Crater Lake, Oregon, we stayed at the Bob Scott Campground on Highway 50 (GPS 39.457136, -116.996279).  It is not fancy, but a step above boondocking for about $5 a night.
I recommend binoculars for observing UFOs.
Cliff and Susie Kellogg
2006 Chevy 2500HD
1999 Apache popup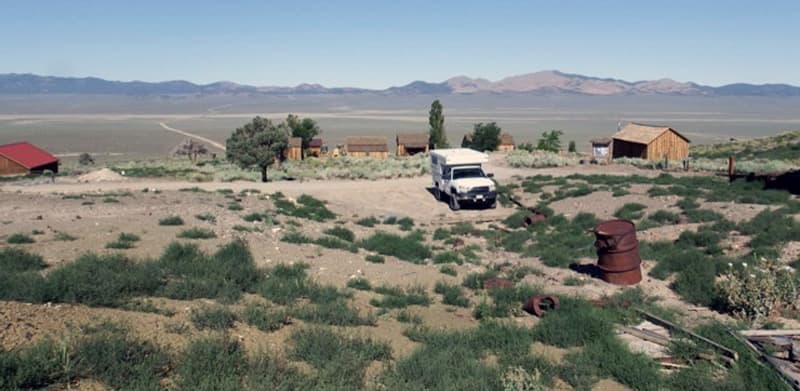 For a different kind of place to take your truck camper check out the Berlin-Ichthyosaur State Park in the Humboldt-Toiyabe National Forest in Nevada.  There are two ghost towns, some giant fossilized dinosaur skeletons, and a nice little campground all in one place.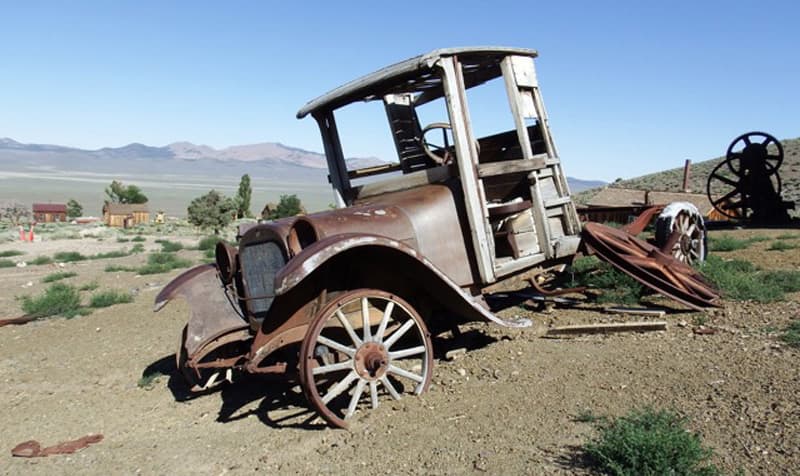 In July of 2015, we returned for another visit to the Berlin-Ichthyosaur State Park. Located south of Ione and east of Gabbs, Nevada, this 1,540-acre park has the remains of the town of Berlin preserved in arrested decay.  It's similar to California's Bodie ghost town, only on a smaller scale.  At its peak, in the first decade of the 20th Century, Berlin had between 200 and 250 residents.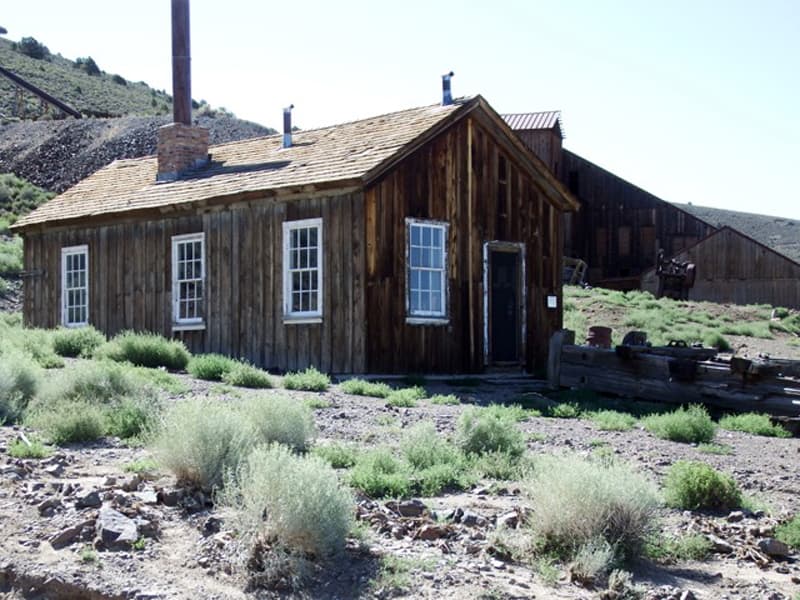 Shacks, a stamp mill, foundations, and the town cemetery are spread on a hillside of the Shoshone Mountains.  A self-guided tour takes you to points of interest in the town and the interpretive displays tell the story of Berlin, its residents, and the adjacent Diana Mine.  The entrance fee to the park is $5 per day, per vehicle.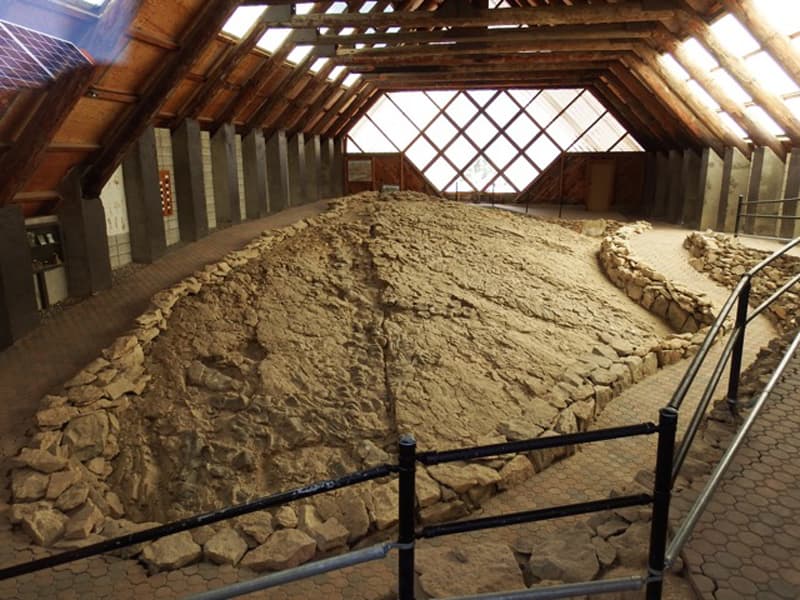 A short drive from town, past the ghost town site of Union, is a display of the largest concentration of Ichthyosaur fossils ever found, housed and protected from the elements in a glass-walled building.  Tours are offered but, if you happen to miss the tour, you can still see the remains of these ocean-dwelling monsters that swam the seas over 250 million years ago.  It is well worth checking out.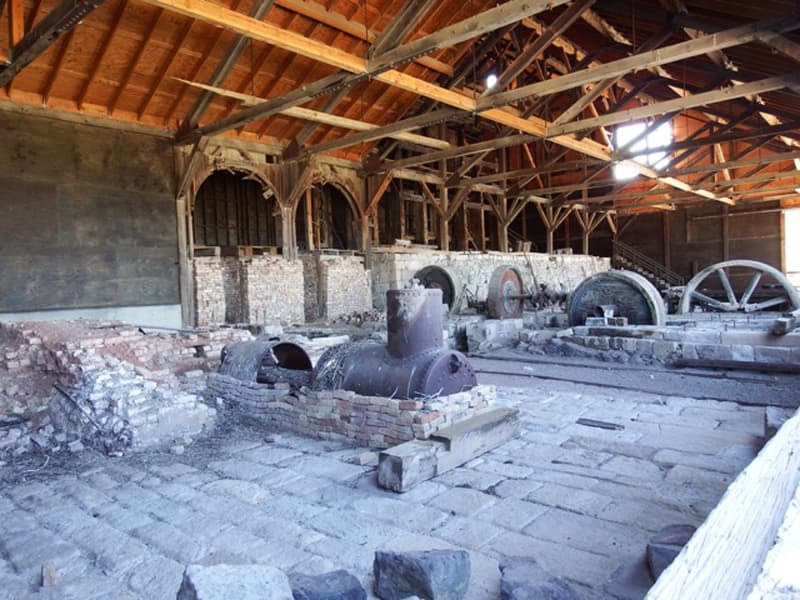 The park campground has fourteen sites that are well dispersed, with water available from mid-April through October.  Restrooms are also available and a dump station is provided.  The camping fee is $15 per night.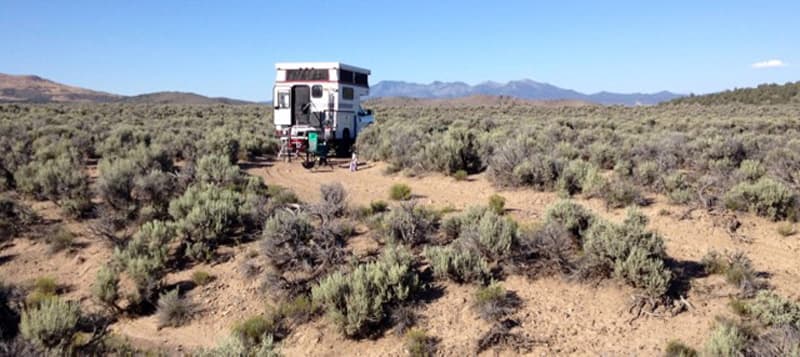 When we were there, the campground was temporarily closed due to a flash flood the day before.  Since we prefer boondocking, we just drove out of the park and, utilizing a Delorme map of Nevada, found a small two-tract dirt road to a remote campsite on BLM land.  Nevada has a lot of open land to camp, so it's pretty easy to find a spot.
If you visit Berlin-Ichthyosaur State Park be prepared for possible high winds, warm summers, or cold winter weather.  Elevations run from over 6,000 feet to nearly 8,000 feet.  This area is pretty remote.  Services are available in the small town of Gabbs.  Be sure to take your camera!
Tony Giovannoni
2015 Chevy 2500
1995 Lance Lite
Lehman Caves in Great Basin National Park is definitely worth seeing.  As long as you're there, it's worth driving up Wheeler Peak for the expansive views, the short hike through the bristlecone pines, and to see the southernmost glacier in the United States (if it's still there).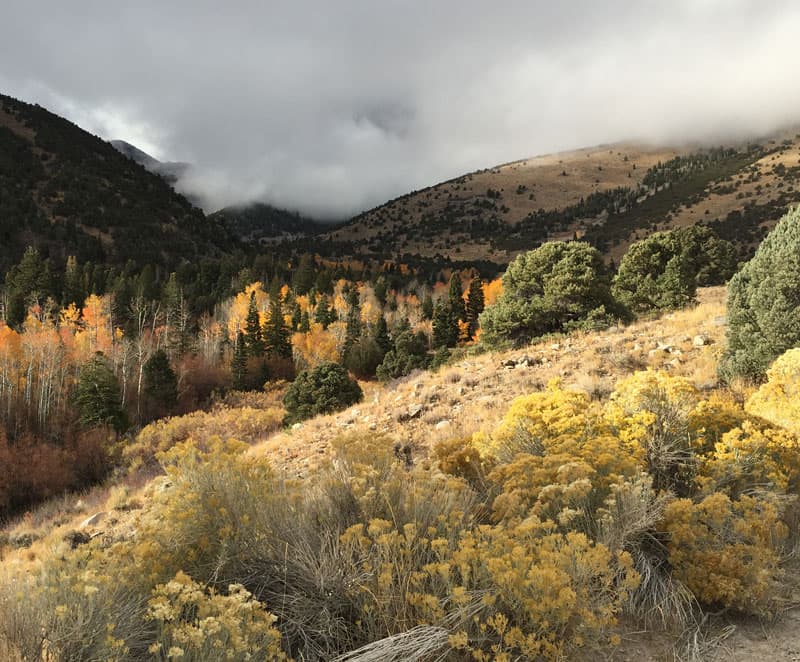 Wheeler Peak Campground at $15 a night sits at nearly 10,000-feet in elevation.  It's a steep road up with sharp turns.  Larger rigs may not be advisable.  While we were there my refrigerator would not stay lit due to the thin air!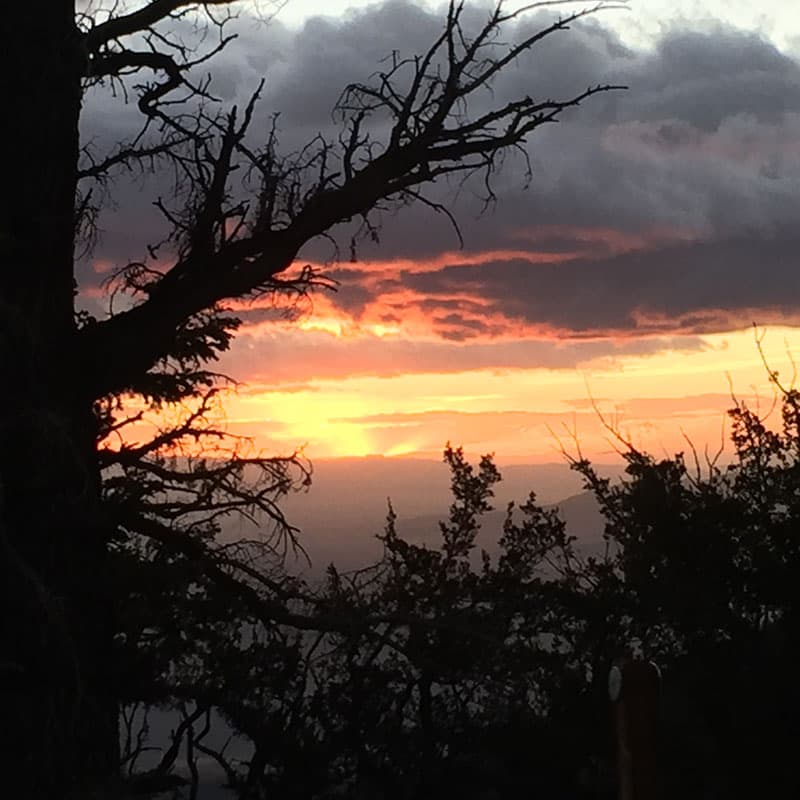 On the return trip through on Highway 50 we boondocked at the Illipah Campground west of Ely.  It's just a short distance off the highway on a decent gravel road.  We arrived and left in the dark, so I can't add much.
Highway 50 lives up to its loneliest road reputation and services are far and few between.  After gassing up in Ely, we had half a tank left as we passed through Austin.  It didn't cross my mind (maybe there were signs I didn't see) that we needed to make it all the way to Fallon before the next service station.  We wouldn't have made it if I didn't have an extra fuel can.
Charles Coushaine
2001 Ford F350
2012 Chalet DS116RB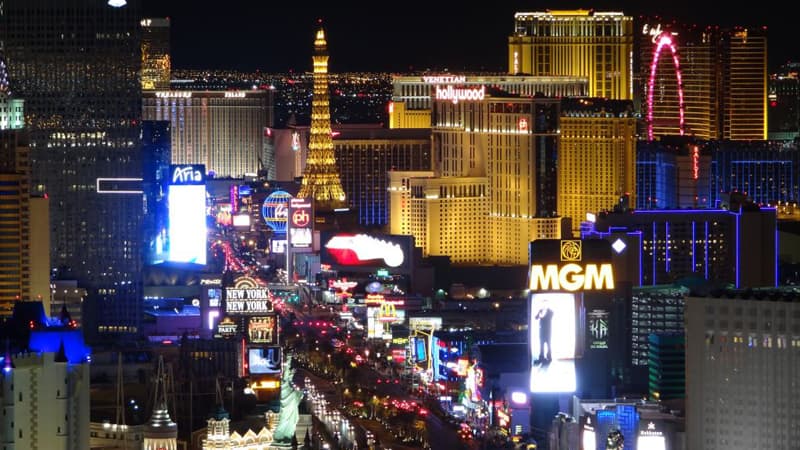 Although Nevada has many nice places to visit, the highlight to me was seeing the Las Vegas Boulevard lit up at night.  You have seen it many times on television and in the movies but seeing it in person is spectacular!  While there we traveled the Las Vegas strip both during the day and at night just to get a different perspective.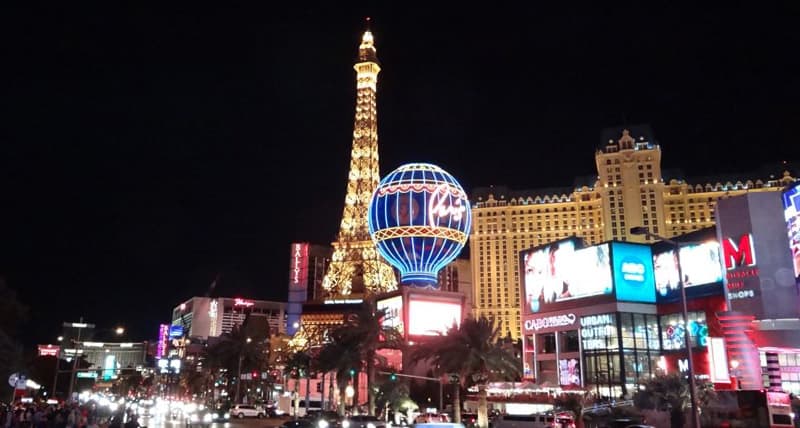 The best place for photography of the entire strip is on top of the Mandalay Bay Resort Casino.  They will not let a good camera up on the roof because they own the rights to the pictures.
We also had a great time visiting the Pawn Stars and Ricks Restorations shops especially after seeing them on television.  We camped at the Circus Circus KOA right on the strip.
Erwin Greven
2002 Chevrolet 2500
2002 Lance 921
We are train buffs so we really liked the Northern Nevada Railway museum in Ely, Nevada.  We went inside the buildings and looked through the shops.  We were too early in the morning for the train rides.  Note that they are closed on Tuesdays except in July and August.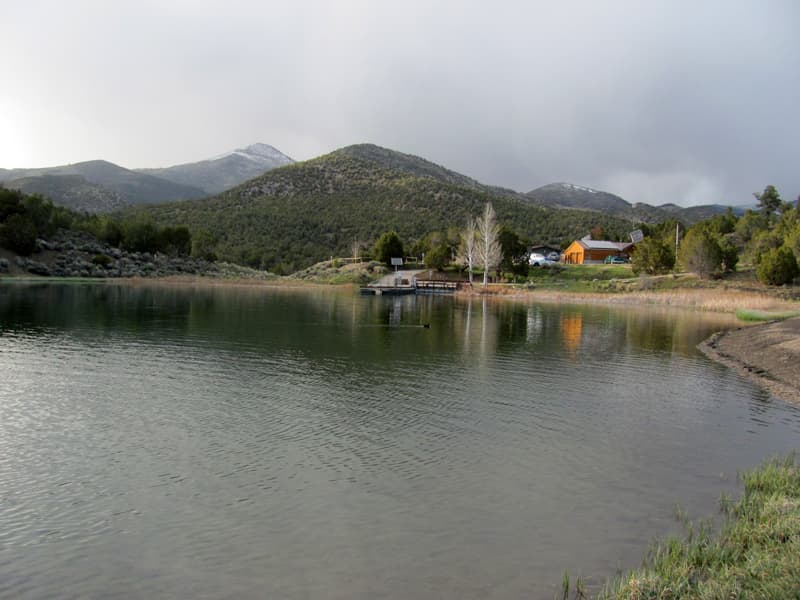 We camped at Cave Lake State Park.  We were on our way to Medford, Oregon from Moab, Utah and found Cave Lake State Park by accident.  It was a beautiful park up in hills east of Ely.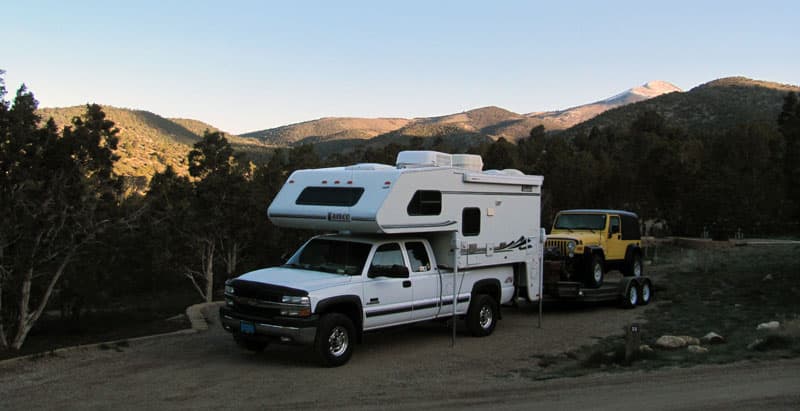 We stayed in the Lakeview Campground within an easy walk to the 32 acre lake.  The elevation at 7,300-feet was high enough that it snowed on us right after we set up camp.
The campground is a first come, first serve.  The campsite was $17 per night with no hookups.  There is a bathroom building with showers that was very nice.
Frank Poole
2016 Ram 5500 HD
2016 Arctic Fox 990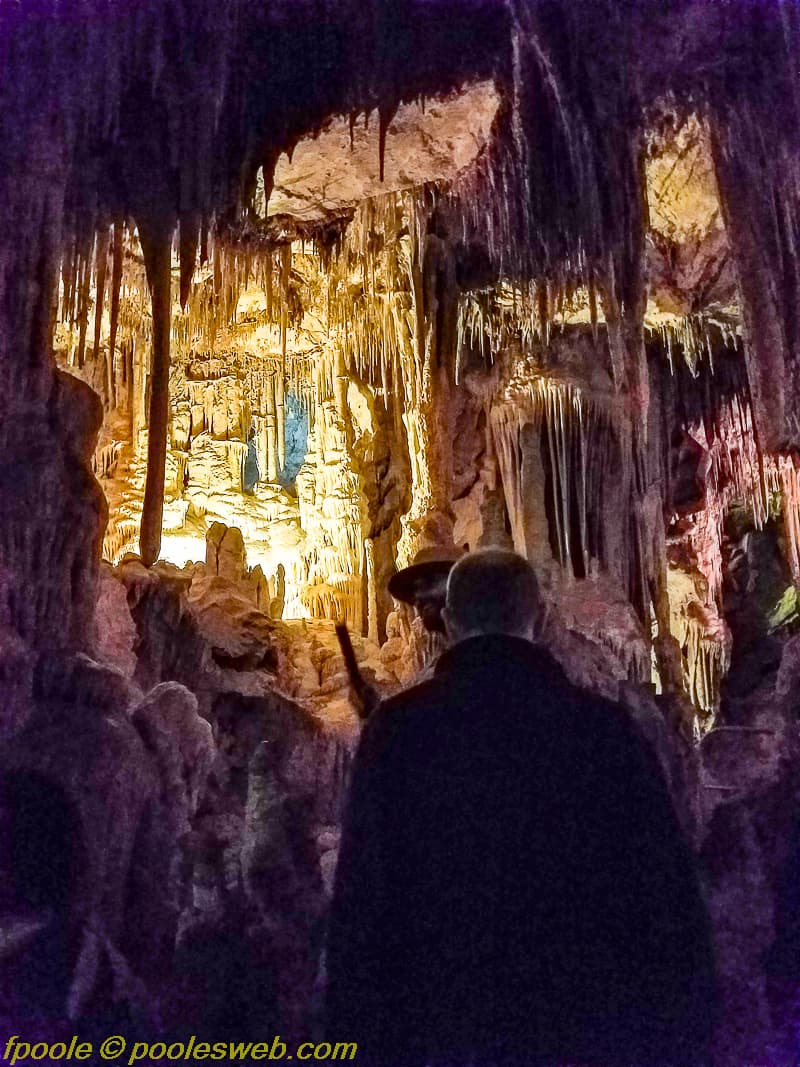 Lehman Caves in Great Basin National Park was pretty cool.  Take the longer cave tour if possible.  A reservation is probably needed.  It gives a great idea of caves in general.  It is a short walking path and definitely worth doing.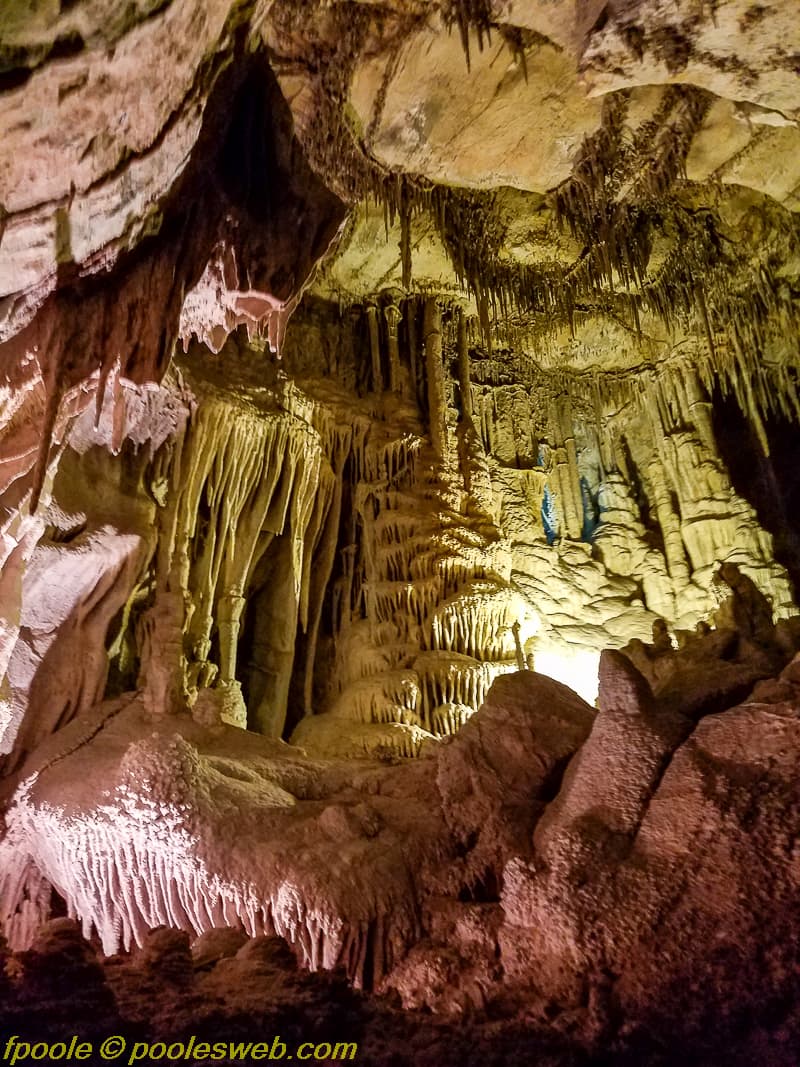 Make sure you haven't been in any caves for past few years due to the bat disease that can transfer from cave to cave.  Check with the rangers.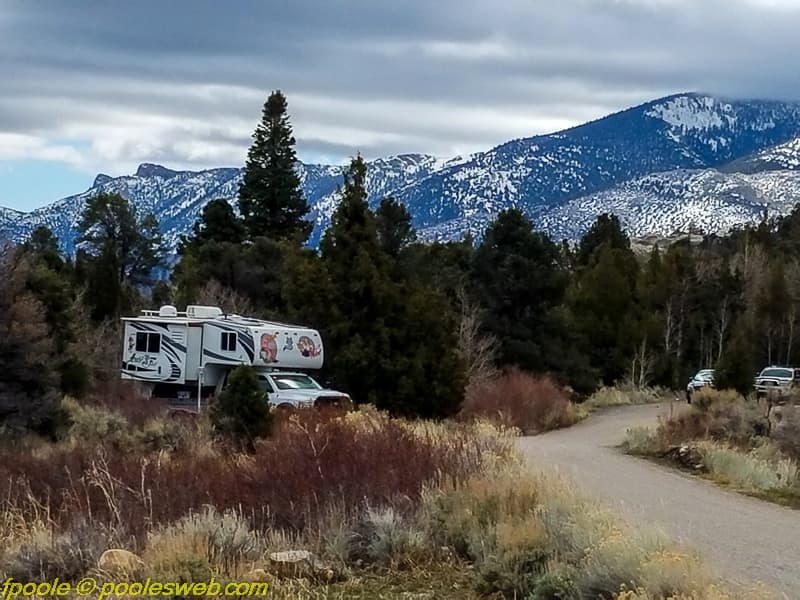 Lehman Caves has several campgrounds.  Lower Lehman Creek is located on the smaller, uneven side of the park area at $15 for dry camping ($7.50 with the OGP, aka Old Geezer Pass.  Some were camping areas were closed or full.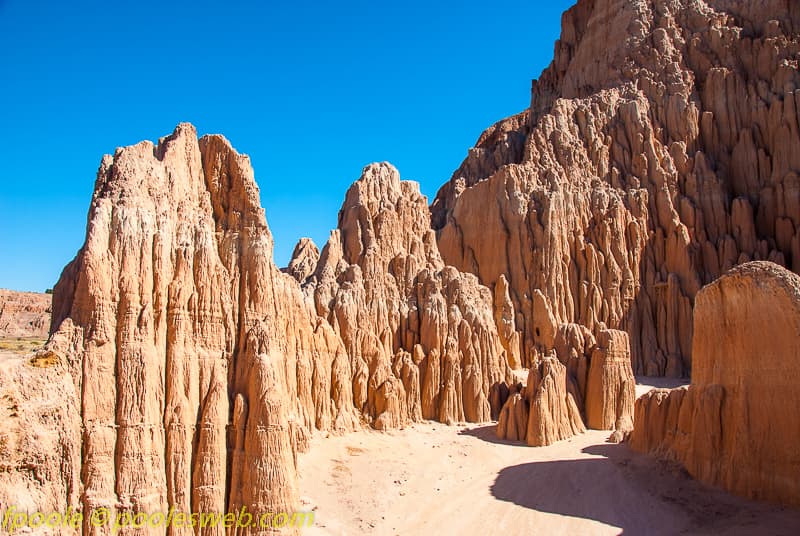 Cathedral Gorge State Park in Lincoln Country, Nevada was pretty cool with the formations.  There are two hikes in the park.  The shorter one up through the gorge is the better of the two and has a view from above.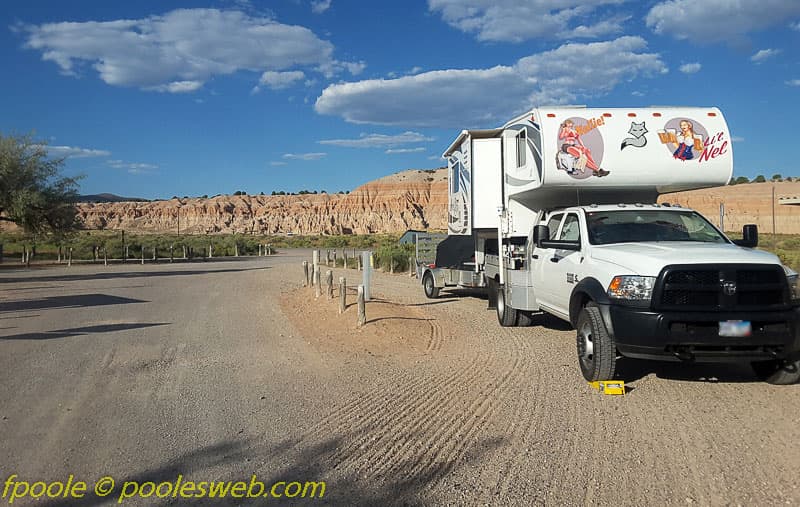 There is one campground at Cathedral Gorge that is well groomed (raked gravel) and within walking distance to the formations.  It was $15 to $25 with hookups.
Christine Dyer
2012 Chevy Silverado
2016 Four Wheel Camper Hawk shell model
I drive between northern Utah and southern California once or twice each year and usually stop overnight somewhere in Nevada.  I stay anywhere but Las Vegas.
If I'm not in a hurry, I find it hard to resist the "don't fence me in" wide open spaces of the backroads on the west side of Nevada.  I have found some good spots for overnight camping – basic camping, no hookups.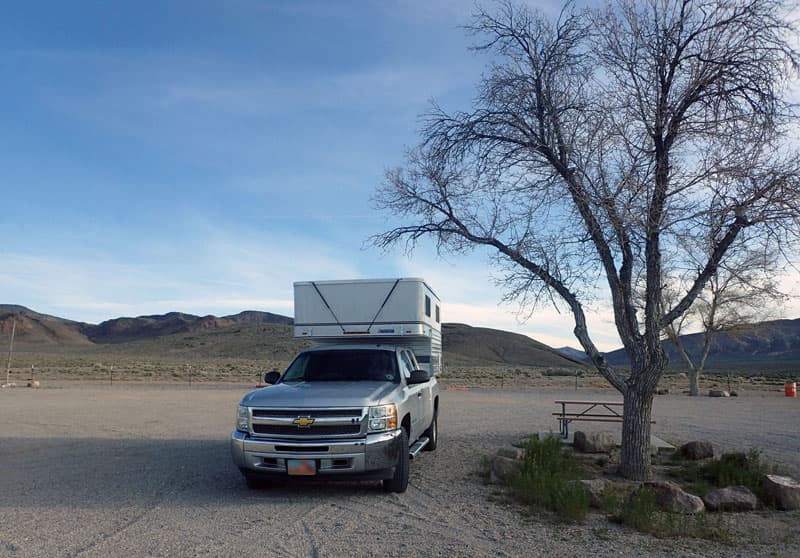 Saulsbury Wash Rest Area on US-6 near Tonopah has a large open space that gets you clear of the road.  It has some shade and it has basic campground amenities and a toilet.  It's free.
I recommend Little A'Le'Inn near Rachel off US-375.  Little A'Le'Inn is kitchy, quirky, and has an alien-themed bar and restaurant.  They will let you boondock.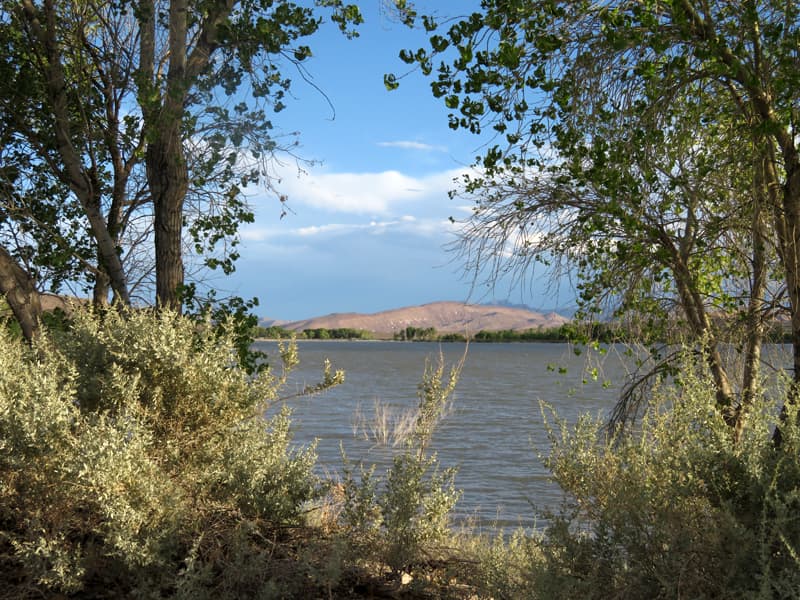 Pahranagat National Wildlife Refuge on US-93 south of Alamo is a first come, first served pleasant campground by the lake.  You will see a lot of birds.  It has basic campground amenities and a toilet. Again, it's free.
Great Basin National Park's Wheeler Peak Campground is nice.  It's a spectacular drive up to an unexpectedly lush oasis for when you're tired of the desert.  There is a campground fee.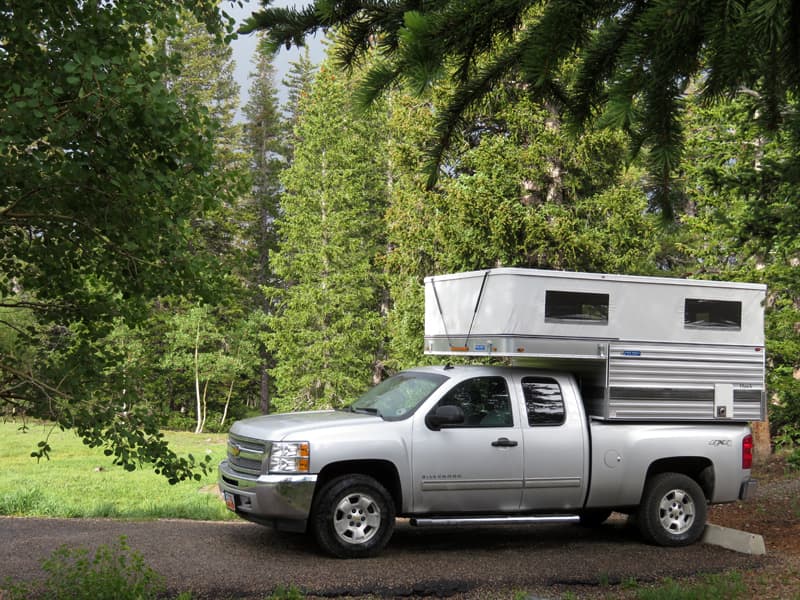 Pioneer Saloon at Goodsprings, US 161 south of Las Vegas.  It's a historic location with a lot of character that will let you boondock in the parking lot across the street.
When you travel Nevada, I recommend you have an inflated spare tire!
Dennis DiLaura
2013 Chevrolet Silverado HD2500
2017 Lance 825
Valley of Fire State Park is a must for truck campers.  It's located only about 50 miles northeast of Las Vegas.  The beauty of the red sandstone formations is a photographer's delight.  The warm color from early morning or late afternoon sunlight gives the park its well deserved name.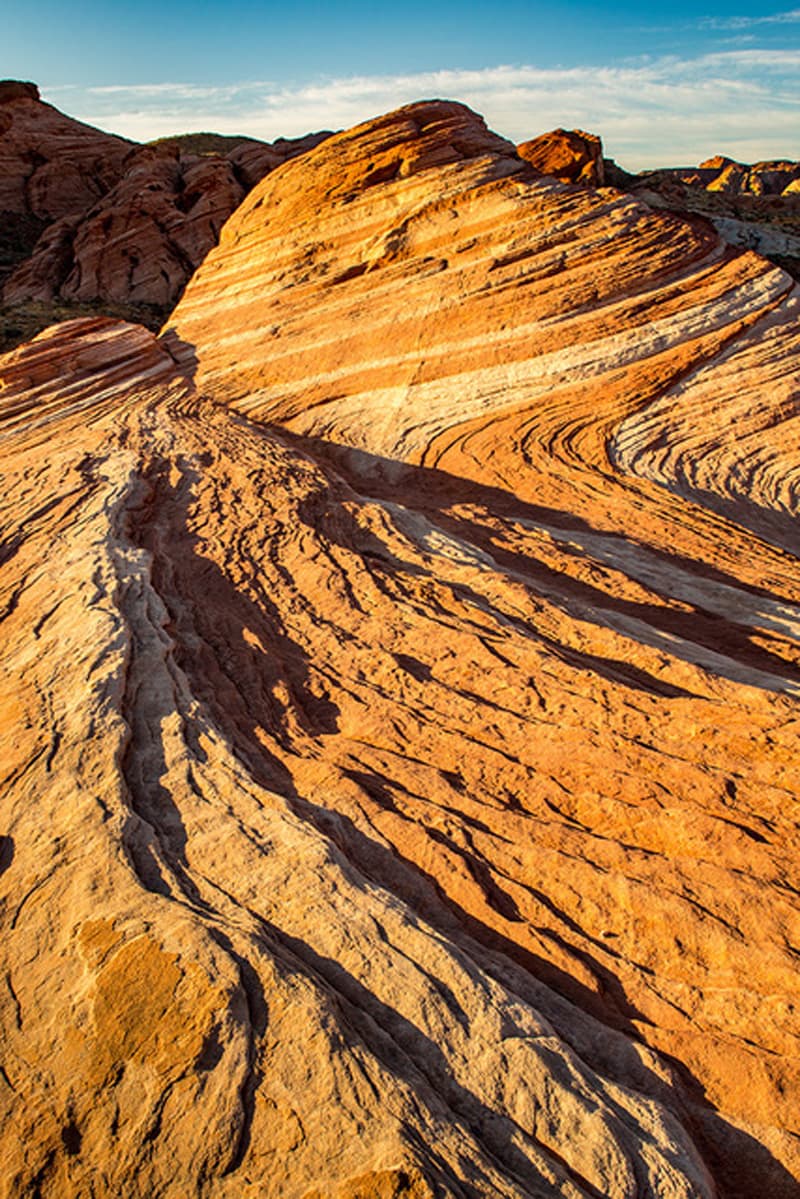 As a landscape photographer, among the many areas to photograph my favorite has to be Fire Wave.  Head north from the visitors center 4.6 miles to a small parking area.  Fire Wave is a relatively easy 1.4 mile hike.
The White Dome Trail is also a relatively easy three mile hike with beautiful views of the colorful rock formations.  The drive there, which is just past the Fire Wave parking area, also displays amazing vistas.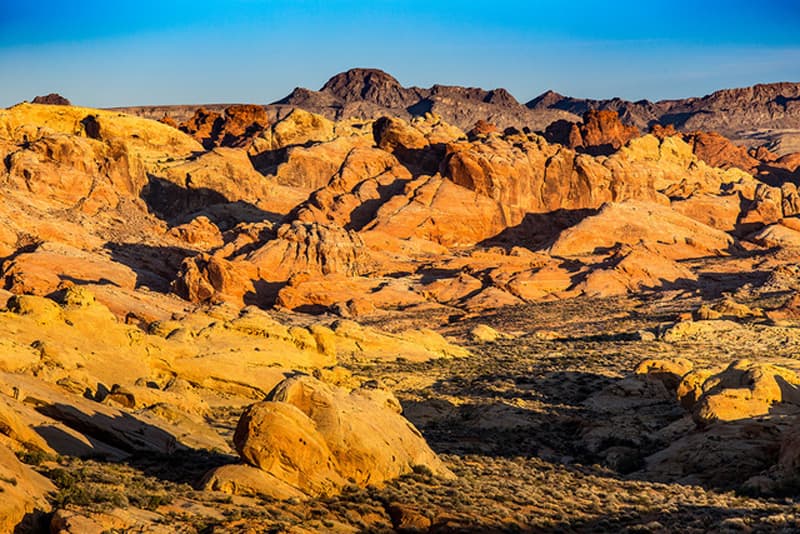 There are two campgrounds in Valley of Fire State Park with a combined total of 72 campsites.  All are first come, first serve at $20 per night.
The main campground is Atlatl which has water and electric hook-ups for an additional $10.  We stayed at the Arch Rock Campground which is more primitive.  That was fine by me.  Our truck camper fulfilled all our needs for a couple of days.
I suggest going to Valley of Fire State Park the fall or spring since the summer is usually extremely hot and the winter temperature can be near freezing.  Weather in the spring and fall can be unpredictable and can change rapidly.  Early mornings can be very cold and afternoons can be hot.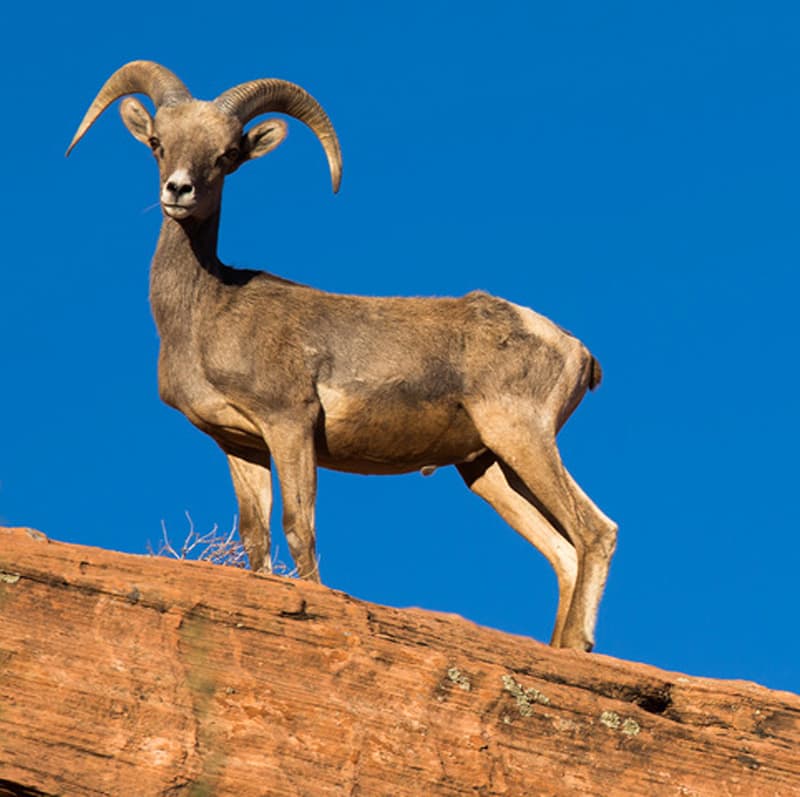 Good boots are helpful although some may feel they are not necessary since most hikes are short.  And of course, don't forget your camera!
Mark Gentry
2003 Ford Ranger
2000 Four Wheel Camper Eagle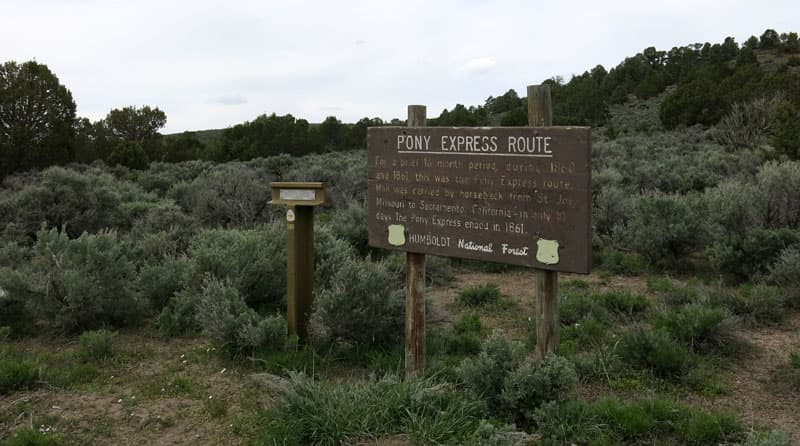 Starting from Elko, Nevada, I made a very pleasant two day loop around the Ruby Mountains. There's a large wildlife area on the east side.  It was surprising how much snow was on the peaks.  I stayed at South Ruby Campground above Ruby Lake.  It's a simple, clean campground.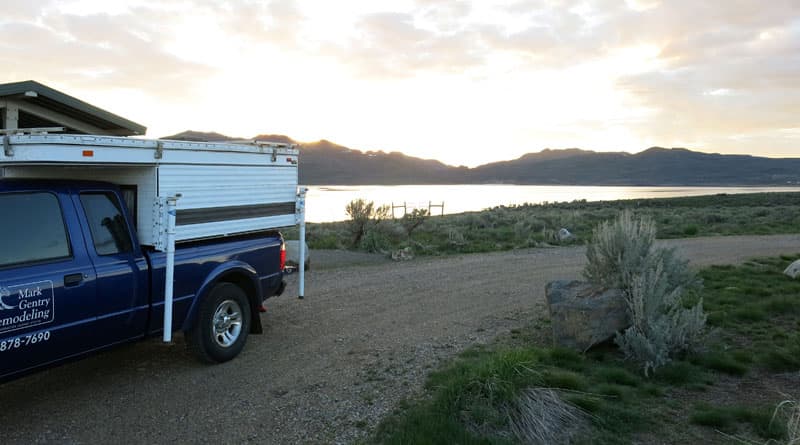 Wild Horse Campground was a nice campground that's 66 miles north of Elko.  There are hot showers and flush toilets for $15 a night.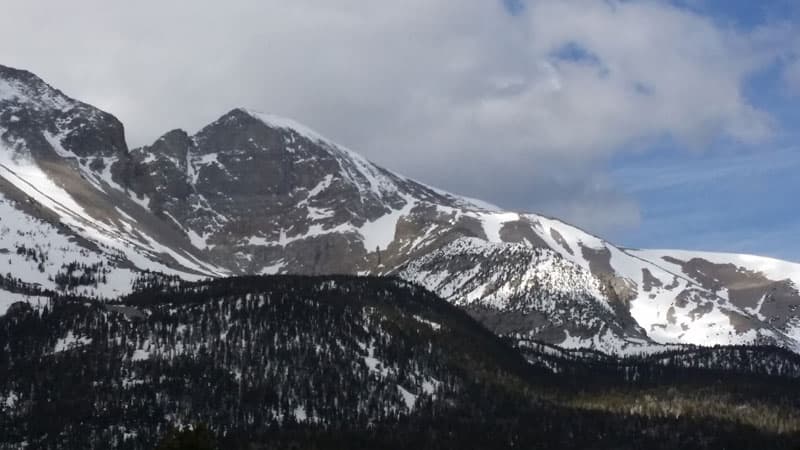 I visited Great Basin National Park last year.  I was surprised to find a mountainous area with tall trees and snow in a state known for deserts.
Always have binoculars and bird book handy.
Ronald Ramos
2003 Dodge Ram 3500
2017 Arctic Fox 990
We drove all around Great Basin National Park and toured the cave.  I love the park and there's good handicap access.
If you like old trains, you will love the Museum in Ely and the train ride.  That and Great Basin National Park will get me back, maybe in the late spring.
We stayed at the Ely KOA.  They have a friendly, helpful staff.  I loved it and will stay there again when I return.
Mike Shippy
2016 Ram 3500
2017 Adventurer 89RBS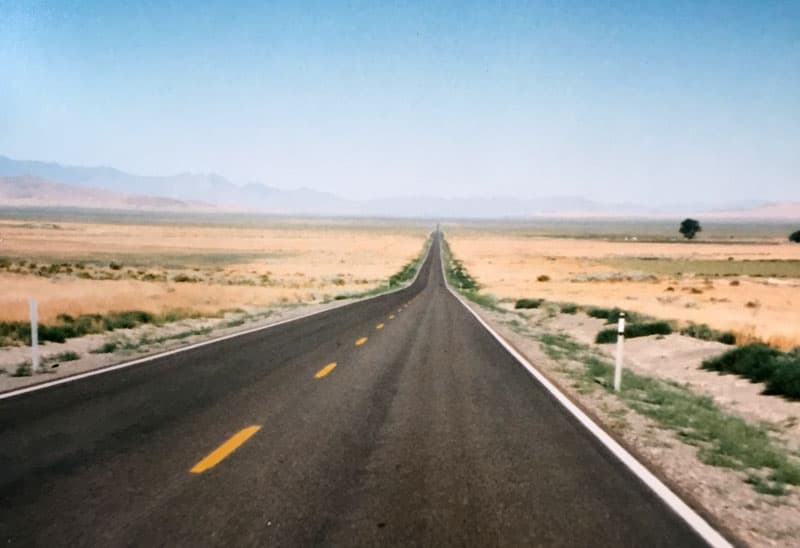 We believe the loneliest road in America should actually be State Road 140.  Take Route 95 north out of Winnemucca, Nevada.  There is great wide open scenery and it's "a road that goes forever" (Chris Rea song).
There is one point in the highway where the road is so straight in a flat valley that you can't see the end.  This is at the intersection of 95 and 140.  It's a great experience because you don't see anyone for miles and miles.
If you leave in the morning, after the drive out of Nevada, you can stop for lunch at Goose Lake State Park in Oregon although it is a shadow of its former self since the water is gone.  One warning is that the last time we went through Denio, Nevada, there were no services.  Make sure you fuel up in Winnemucca because you won't see any fuel until Lakeview Oregon, which is 180 miles later.
We stayed at the Winnemucca KOA.  The surrounding mountains and hills are unusual.  Winnemucca is a laid back town in the desert.
Dave Keating
2005 Silverado 2500
2014 CampLite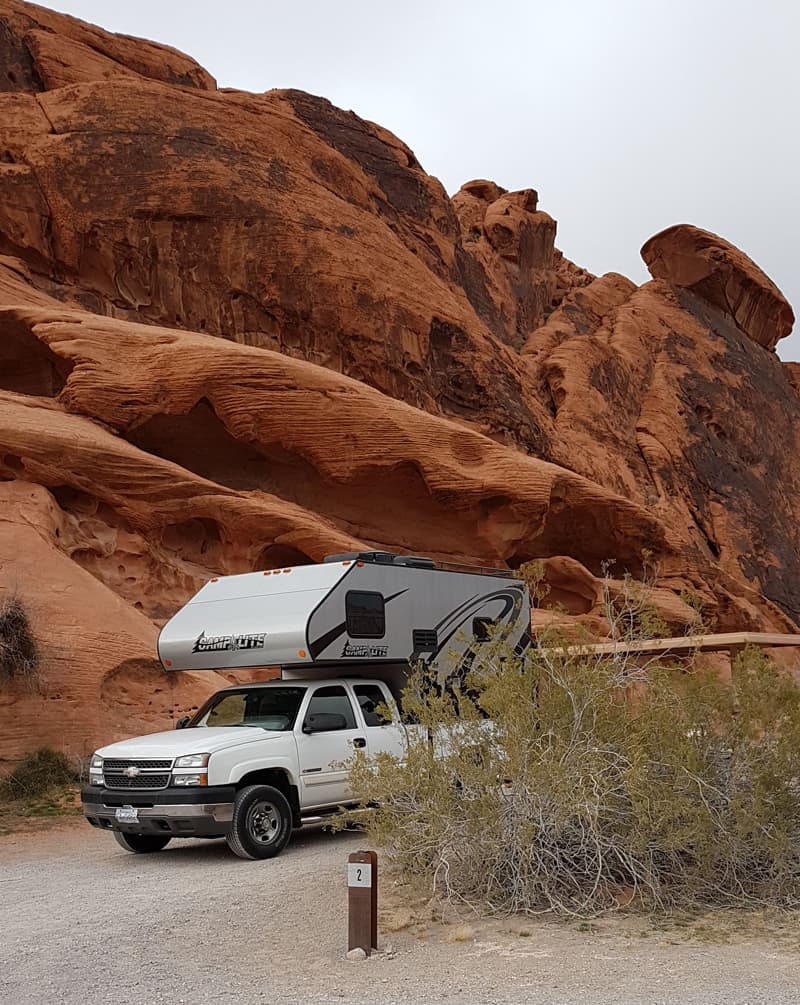 A great area to visit is Valley of Fire State Park.  We just spent a couple of days there.  There are nice hikes, lots of Bighorn Sheep, and great photo opportunities.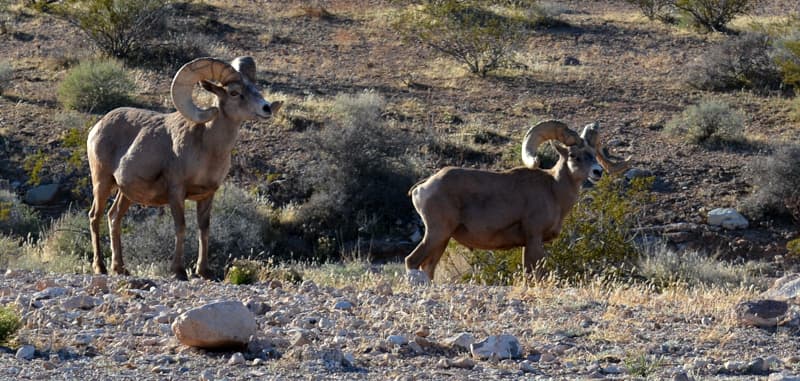 The Atlatl Rock Campground is $20 per night, or $30 with electric. The park entrance is fee is $10, but is credited to your first night of camping.
Ralph Goff
2006 GMC 2500HD
2001 Lance 845
I've been through Nevada in most of my 12 years of ramblin'.  My favorite part of it is not a specific location, but is highway US50, the Loneliest Road in America.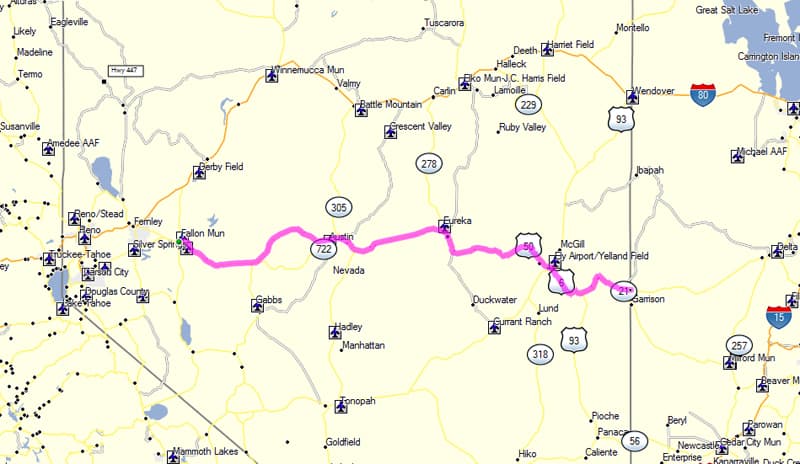 US50 goes all the way across the state, from the Utah border to California.  The 300+ mile stretch between Utah and east of Fallon is the loneliest part.  You can drive for quite a while without seeing anyone.
The only town of size is Ely, population 4,000+.  Ely has a well known railway museum.  Two other small towns west of Ely are Eureka and Austin, old mining towns with populations under 1,000.  The road is good with little traffic.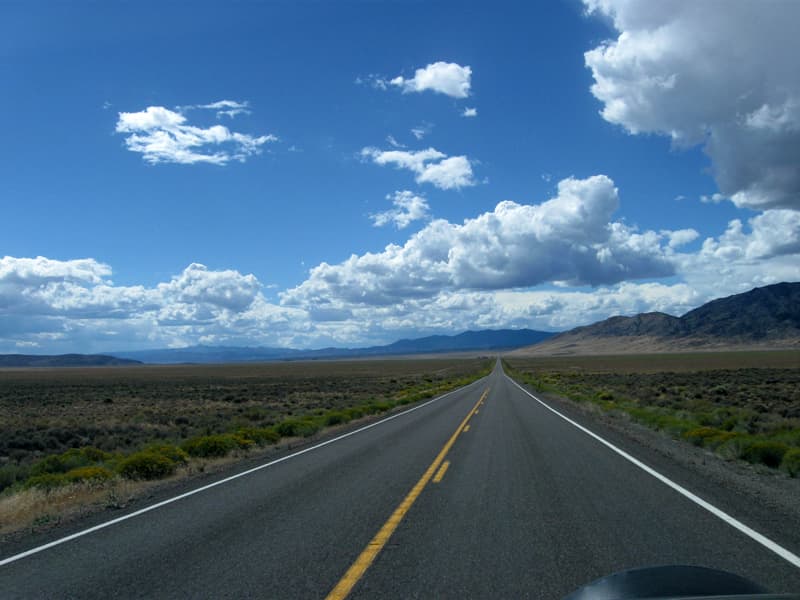 Straight stretches are periodically interrupted by mountain ranges, so there is a variety of driving.  Even in summer it is relatively cool, as the elevation is above 5,000 feet much of the way.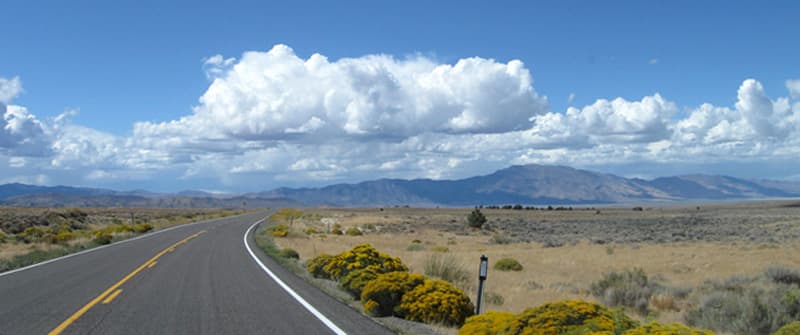 My second favorite area in Nevada is Lamoille Canyon in the Ruby Mountains, southeast of Elko.  You think Nevada is all desert?  Wrong!  At the end of the canyon, I thought I was back in California in the beautiful Eastern Sierra Mountains.  There is also a very nice USFS campground there called Thomas Canyon.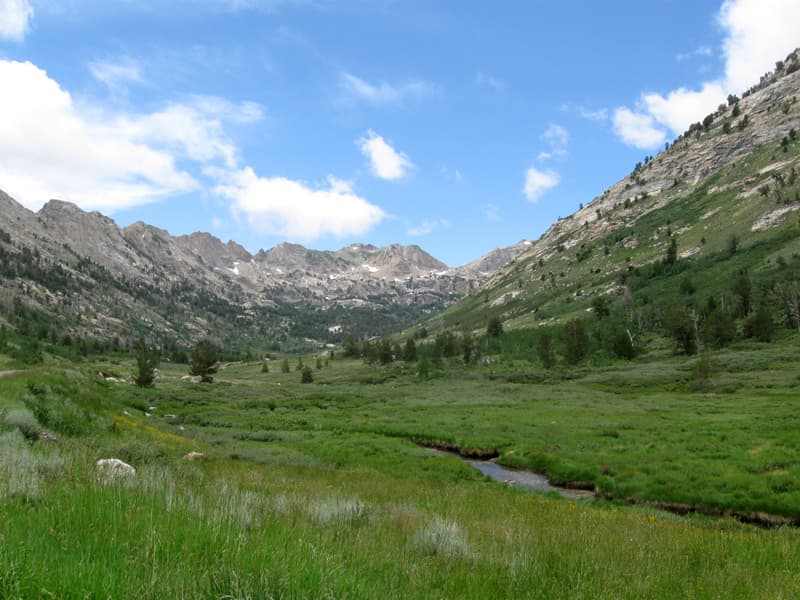 I've camped in about 20 different places in Nevada. Here are my favorites:
Thomas Canyon (USFS): About 28 miles southeast of Elko, Nevada on NV227 and FR660.  There are 40 paved sites on level land in three loops.  You'll see lots of aspens.  A nice creek flows through the campground, making music.  There is good privacy and some shade in most sites.  Absolutely spectacular scenery is 360 degrees all around.  Lots of hiking trails are in the area.  Vault toilets are available.  It was $17 a night in 2015.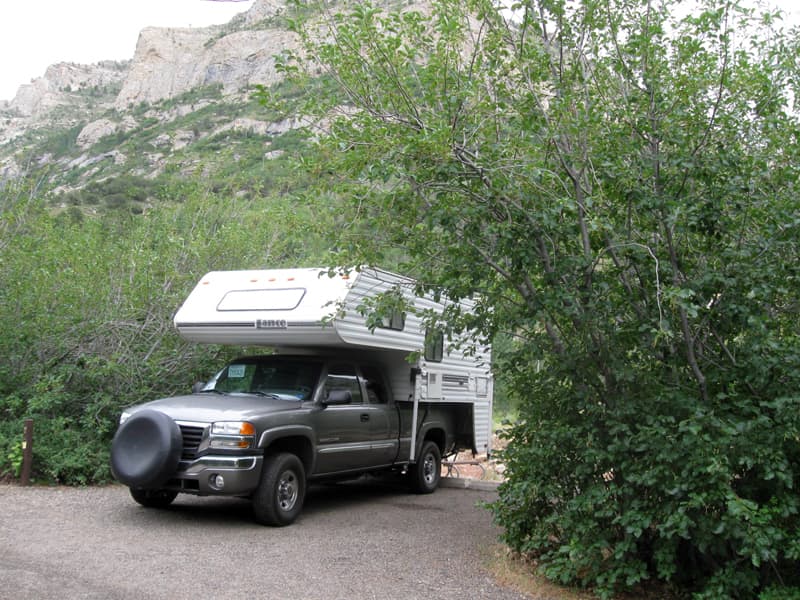 Ward Mountain (USFS): 7 miles southwest of Ely, Nevada on US6.  This is a very nice campground with very well developed and equipped sites.  30 gravel sites are on level ground in two widely separated loops and another area is signed as "for RVs".  There are also two group areas.  There are plenty of pinyon pines and junipers.  You'll hear some slight highway noise, but it's not bad.  Less noise will be in Loop B farther from the highway.  There are various trails nearby.  It was $8 a night in 2017.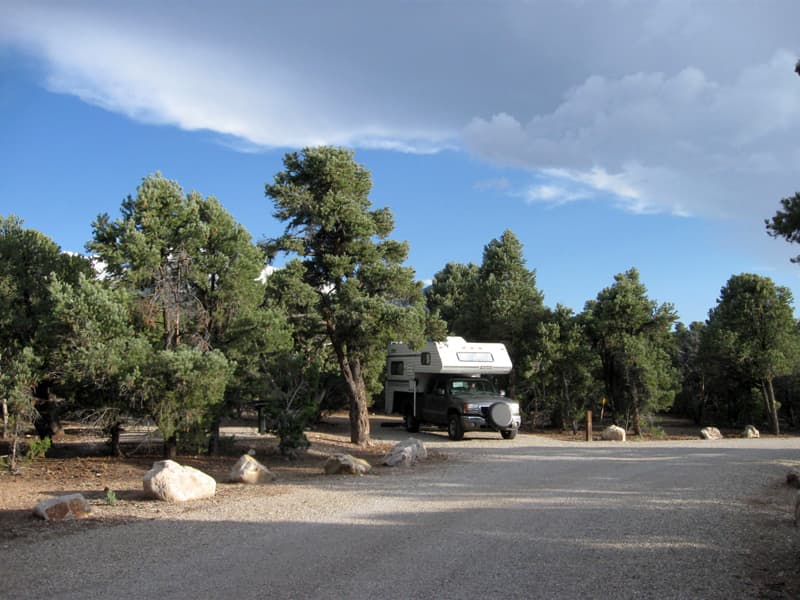 Bob Scott (USFS): 6 miles southwest of Austin, Nevada on US50.  There are 10 paved sites (one for groups) on sloping land.  Many sites are not level.  There are lots of small trees, including pinyon pines.  It's very convenient to US50 travelers, but also results in some primarily daytime noise, but it's not really that busy of a highway.  There were flush toilets.  It was $10 a night in 2017.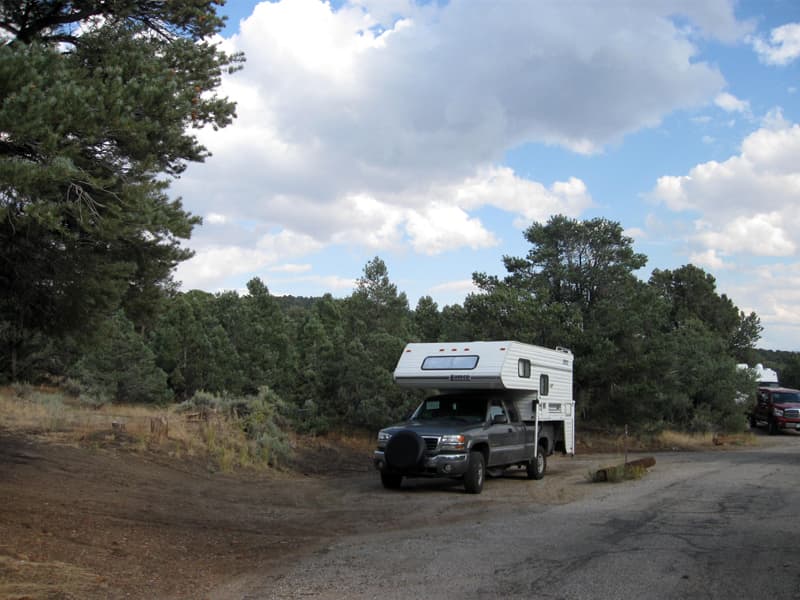 Wildhorse Crossing (USFS): 73 miles northeast of Elko, Nevada on Highway 225.  There are 20 gravel sites on level land among scattered aspen groves and small pines. Several sites have no shade.  The Small Owyhee River is alongside and it's in a beautiful canyon.  There were a few skeeters when breeze stopped.  Some ATVers cruised the campground, but they were not obnoxious.  I really enjoyed it here!  It was $5 a night in 2010.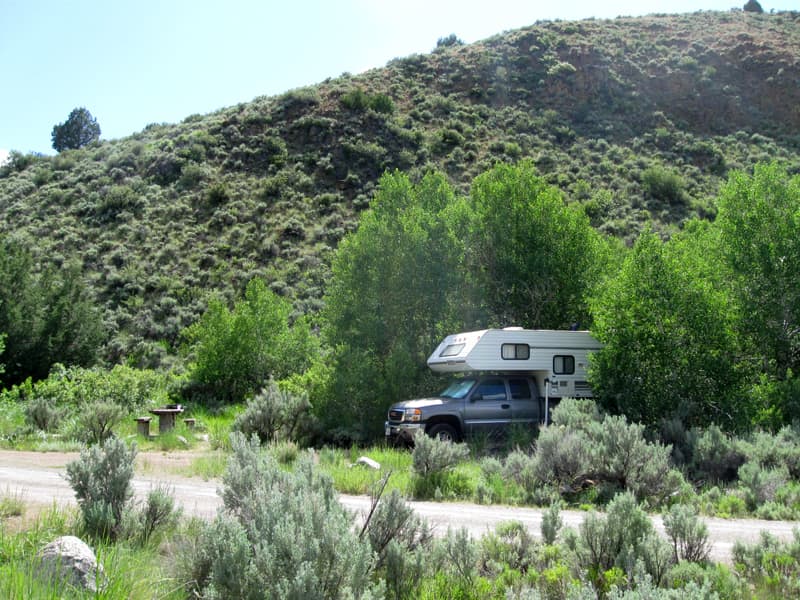 Dave and Roby Pracht
2015 GMC K3500
1987 Lance LC900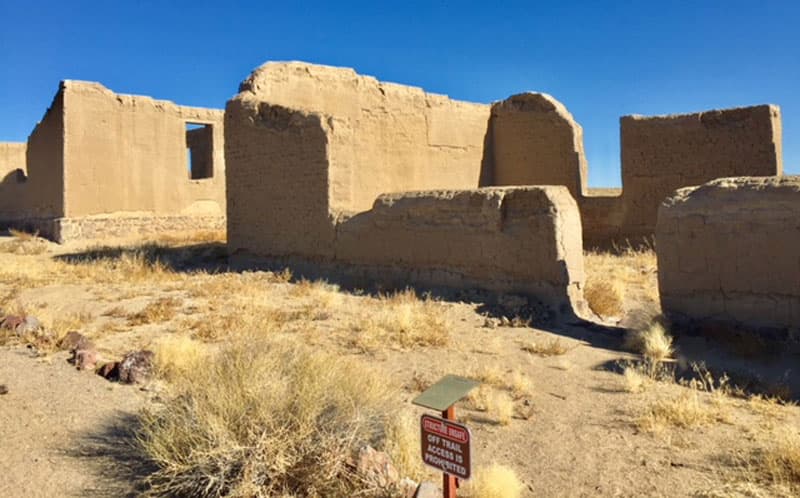 Fort Churchill State Park is located off Highway 95 about 35 miles from Fallon and 10 from Highway 50.  This historic fort was built in 1861 to provide protection for settlers using the Pony Express.  It became a supply depot for the Union during the Civil War and was abandoned in 1869.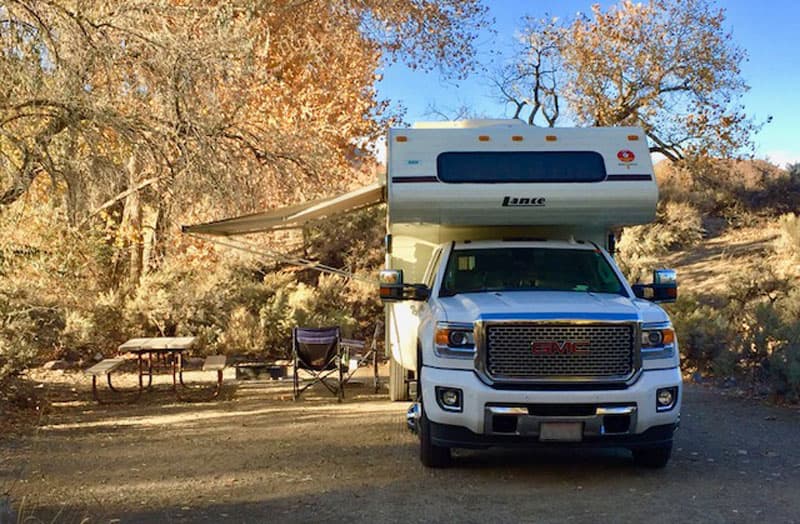 There are approximately 20 campsites located in a grove of cottonwoods by the Carson River.  There's a lot of history here with interesting sites to see and trails to hike.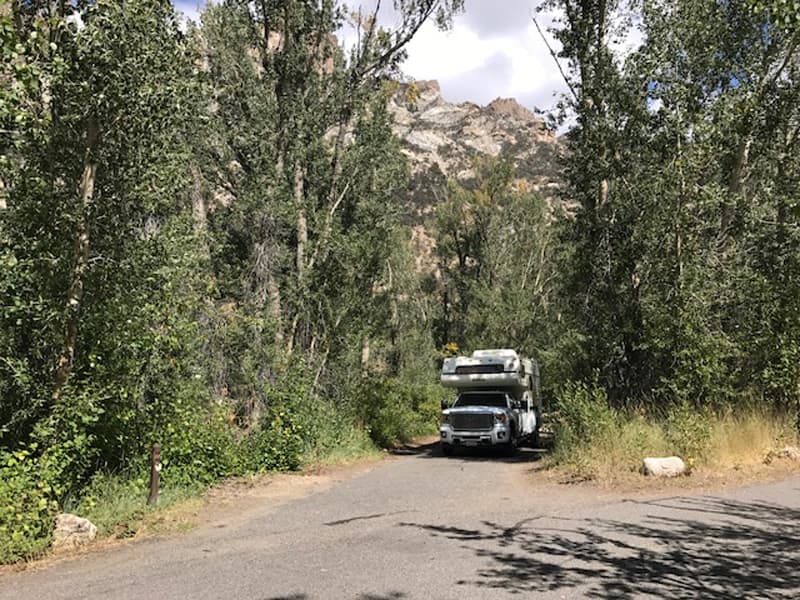 Spring Creek Campground has approximately 25 developed sites.
It's a part of the Southfork State Recreation Area and located in the Ruby Mountains south of Elko off I-80.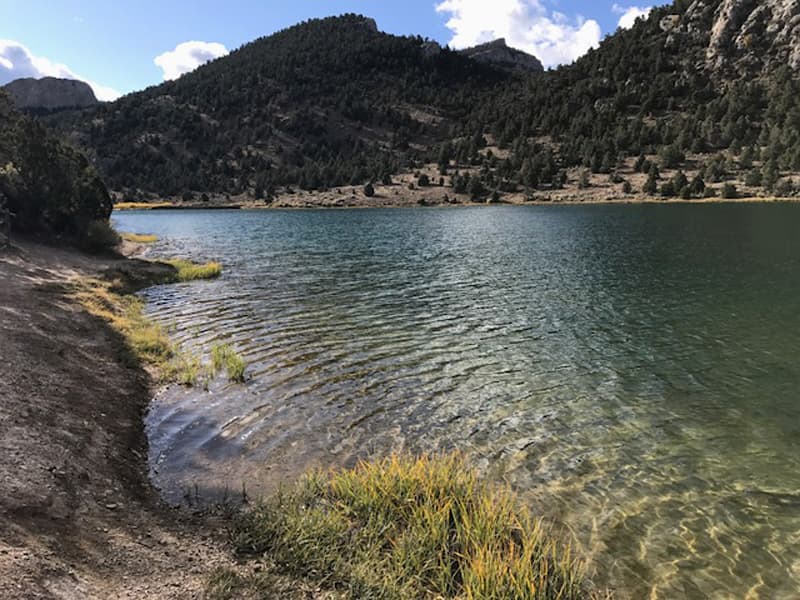 Cave Lake is a part of the state recreation area of Highway 93 outside Ely.  My wife will not be too happy that I've sent this one since it's one of our favorites.  From here you can go hunting and fishing.
The lake is less than 50 acres and can freeze over in really cold winters.  No motor boats are allowed, but float tubes are fine.  I've been lucky and done quite well, but I've seen others catch goose eggs.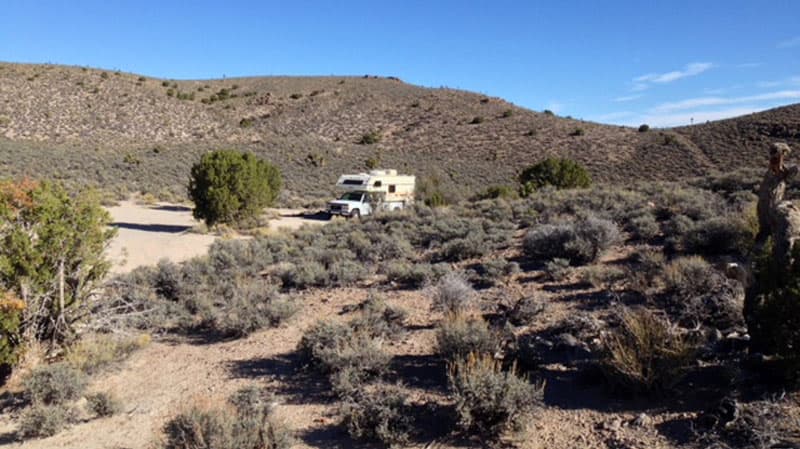 The photos are from 129 miles out of Tonopah, Nevada.  It is a small cluster of primitive campsites.  There might be six in total.  It's on BLM land off Highway 375.  If you were looking at a map it would be where you see Tempiute on the north side of the Highway.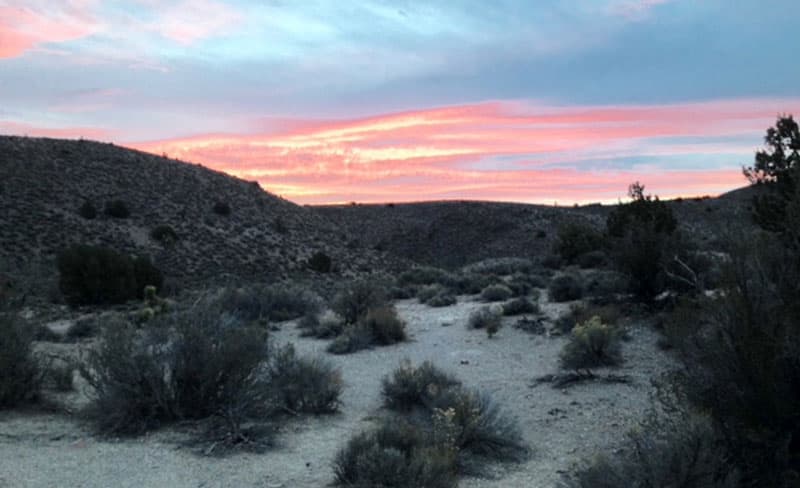 The dirt road goes way back in, but this location is about half a mile off the very lightly used highway.  It's a great rest point if you're heading to or from Cedar City, Utah.
David Goodman
2015 Ford F250
2004 Lance 835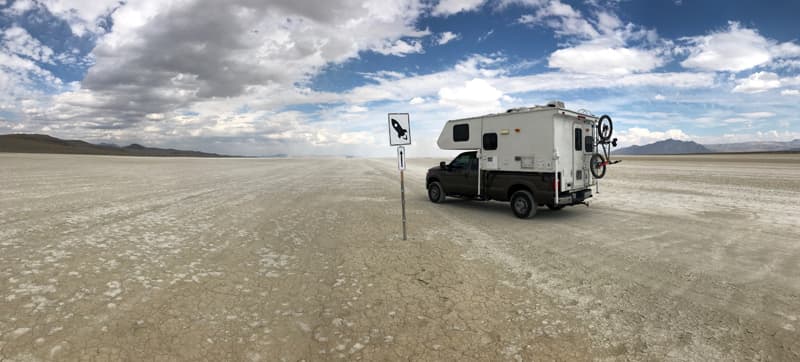 I enjoy Amateur Rocket Launching.  It is just fun to see what happens when children grow up to adulthood, but stay young at heart.  I don't fly rockets.  I just enjoy others having fun.  I bring my fun to round out the trip; bicycle, HAM radio, firearms, and a remote control glider.
I go to the Black Rock Desert.  It's the same desert as Burning Man, but some miles away.
Karen Ulen
2016 Ford F350
2017 XP Camper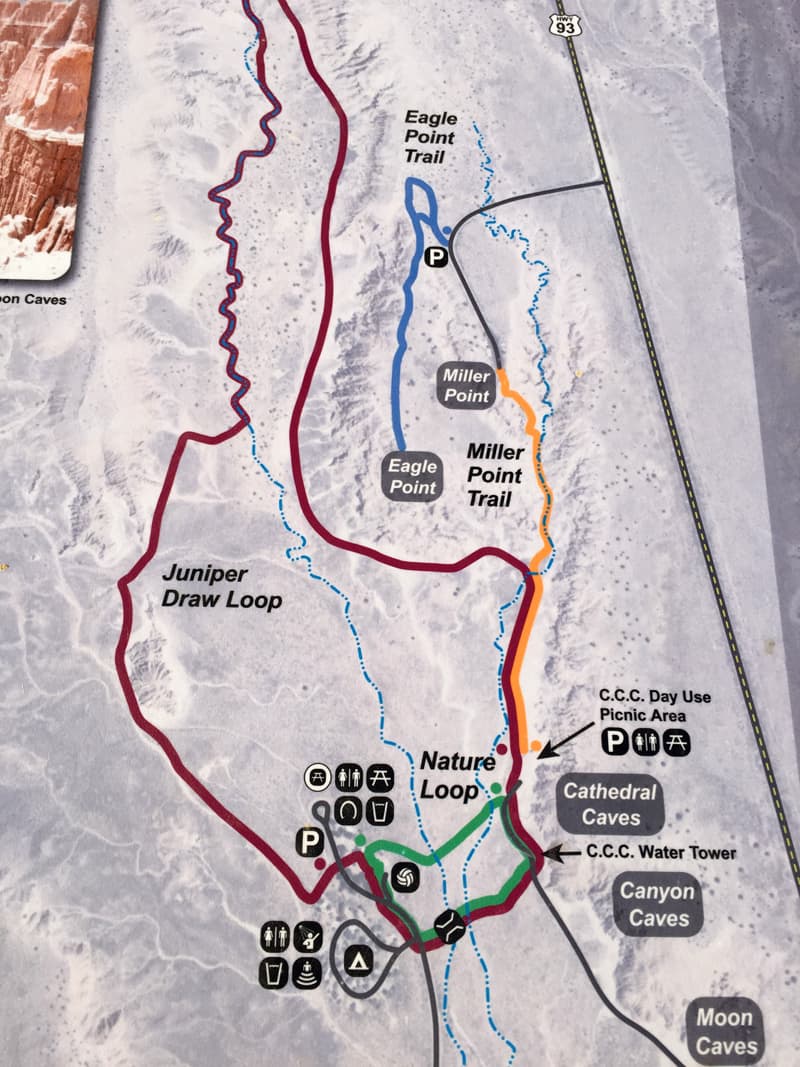 Cathedral Gorge State Park was a wonderful place to stop and camp.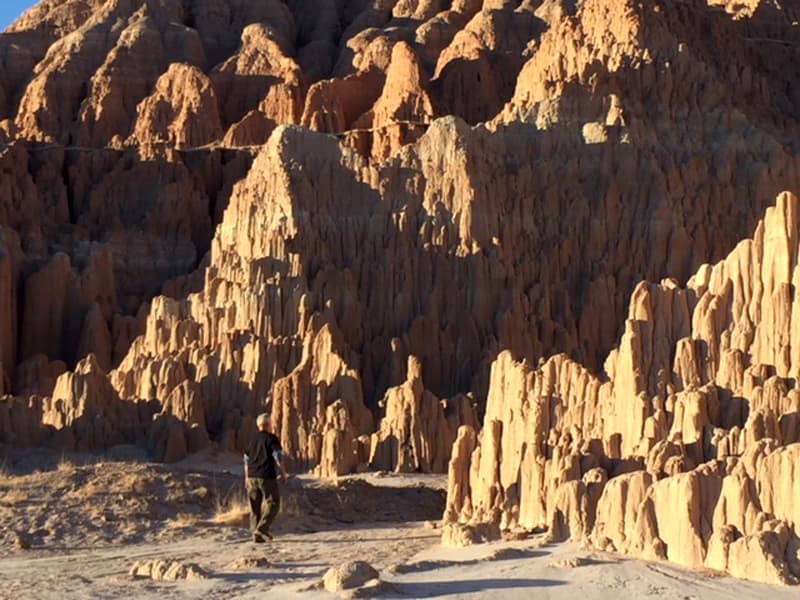 The scenery reminded us of a mini-Bryce canyon.  It has small slot canyons and caves to meander through.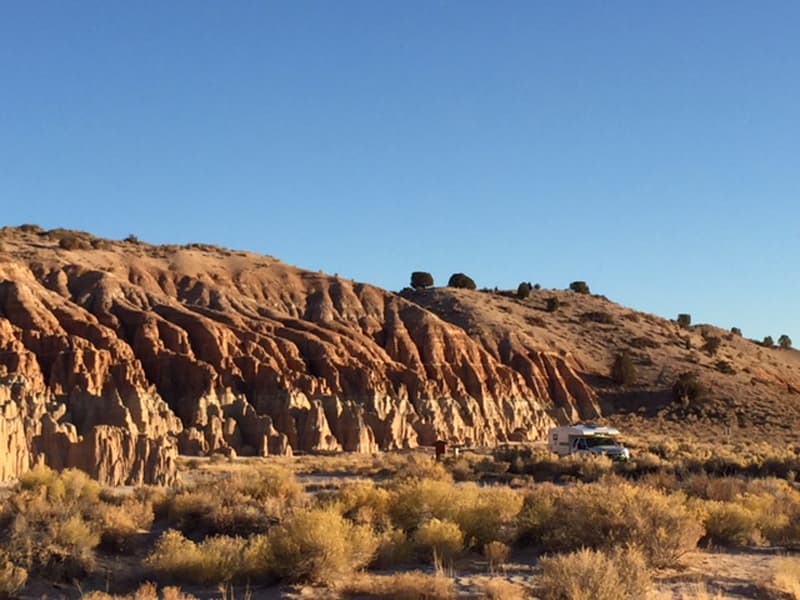 The campgrounds were nice and spacious, and the showers were hot.  There are several short hikes in the area, and a very complete picnic area.  The prices were very reasonable.
Gary Crawford
2015 GMC 3500HD
2018 Arctic Fox 811
I recommend Gold Butte near Mesquite, Nevada.  There is dry camping in several different locations.  You can go ATVing and hiking.  It's an old town with old mines.  I also recommend Valley of Fire State Park.
BONUS STORY: Vegas Truck Camper Drag Race Madness
Jon Schewe
1966 Dodge 2500
Unknown Camper
Sorry, I have no photos, no favorite places, and know nothing about truck camping in Nevada except an anecdote about a truck camper versus a Minnie Winnie on the Vegas strip.
Between 1981 and 1983 my wife and I had a traveling gig with a company that was marketing graduate school study aids to university students.  In roughly 26 months (with four months off each year for summer break and another month or so for winter break) we drove 85,000 miles and visited literally hundreds of schools in 42 states.
Our rig was a 1966 Dodge 2500 Camper Special and an 11-foot truck camper of similar vintage and unknown manufacturer.
The rig weighed just over 11,000 pounds with 52 gallons of fuel in three tanks, 20 gallons of water, 20 gallons of propane, a few hundred pounds of marketing materials, our personal effects, and the two of us.
I replaced the stock engine, transmission, and rear end with a 440 Six Pack motor, headers, a 3/4 race cam, Cherry Bomb mufflers, a Mallory dual point distributor, yellow jacket plug wires and, of course, the three two barrel carbs that identified the Six Pack appellation.
In addition, I replaced the stock radiator with a four row core from a commercial vehicle, and added a 727 TorqueFlite transmission and a 4:11 Posi rear end.  The camper special suspension was stock as were the sixteen inch split rims that wore 7.50 x16 eight-ply tube rubber.  The tires worked well, but over the course of a year I broke two rims due to the excessive weight.  I did all the mods and maintenance myself.
Anyway, sometime in late January or early February of 1983 we were cruising up the interstate toward Vegas, minding our business in the right lane when a mid-to-late 1970's Minnie Winnie went flying by.  I could tell by the tone of the exhaust that there was more than stock power under the hood.
So, I rapped it up, caught the Winnie and passed it.  About twenty miles later here it came again, blowing past us at maybe eighty-five to ninety.  So we played tag until twenty miles or so south of Vegas where we took an exit to fuel up.
Once in the city of Lost Wages, we cruised the strip, parked and visited some dens of iniquity until the wee hours of the morning.
Back in the rig we were waiting at a light on the far north end of the strip in the right lane when, lo and behold, who should pull up next to us but the very Minnie Winnie we had played with for fifty miles or so that afternoon.
My wife was at the wheel.  I looked over to the Winnie.  He gave me the drag racer's signal; right arm extended, index finger pointing ahead.  "Hmmm", I said to my wife, "He wants to go for it."  She was a bit unsure about the strategy.  The 1966 Dodge had the shift lever on the dash, so I reached over and shoved the lever down to the low position.
"Put your left foot on the brake, and your right foot on the gas," I said. "I'll watch for the opposing light and cross traffic.  Keep your foot on the brake and rev the engine to about 3,000 rpm.  As soon as the light turns green, slip your foot off the brake and put the pedal to the wood and don't back off until I say so."
One thing I have to say about my wife's driving ability is that she's the only woman I've ever driven with that I felt comfortable taking a cat nap in the passenger's seat and could be reassured that I'd be alive when I woke up.
Anyway, when the light flipped to green, we got busy and within a car's length left the Winnie eating our smoke.  It was no surprise.  I raced a friend's Alpha Romeo about a year earlier with the same rig and weight with similar results.
That Dodge was a real runner.  It liked Texaco Premium and bitched and moaned until it got up to about 70 or so.  Above 70/75 it just purred.  I got it up to 110 on the road between Brownsville and Laredo before the front end started to float because of the wind pressure on the cabover, but I still had a quarter pedal left.  If I could have kept the front end on the ground, I could have done 125 easily, even with an 11,000 GVW.
Keeping those three carbs tuned and synched was an all day job, but the 440 Six Pack block was just about bulletproof with four bolt mains and sodium valves.  Basically, you could take that block, bolt a blower to it and head for the track.  It was seriously that robust.
Anyway, you asked for a "Cruising the Vegas Strip" story.  Not that it will ever see the light of day because it's obviously too irreverent.  But here it is anyway.  From me to you.