Readers reveal their favorite Maine truck camping experiences; rustic fishing towns, coastal lobster shacks, stunning lighthouses and sea side campgrounds. Oh, and L.L. Bean, Acadia and Bar Harbor. Did we mention the blueberry pies?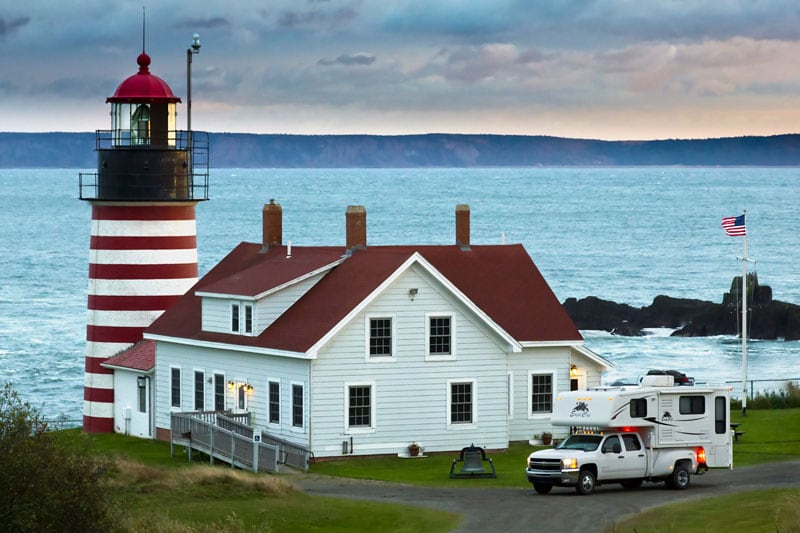 Maine absolutely dwarfs the other New England states. Massachusetts, the second largest New England state, would fit into Maine 3.3 times. Rhode Island fits into Maine a whopping 22.9 times. Heck, Maine's Aroostook County is bigger than Connecticut and Rhode Island combined.
More importantly, Maine's 3,478 miles of coastline, 32,000 miles of rivers and streams, 6,000 lakes and ponds and 542,629 acres of state and national parks offer a bounty of truck camping possibilities. And that's before you consider the lobster rolls and blueberry pies.
If you have even the slightest inkling of exploring Maine in a truck camper, the following bucket list recommendations might just turn those inklings into action. As Angela compiled this article she kept saying (out loud), "Oh, we are going there" and, "There's another one!" Our Google Map now has at least a dozen or two fresh pins in Maine.
Guess where we're going this summer.
Mike Johnson
2008 Chevrolet 3500
2008 Eagle Cap 1160
I recommend visiting the Cribstone Bridge. We were there in 2010 when the bridge was undergoing renovations.  The bridge is quite unique.  Plus, the area is incredibly beautiful.
The coastline of Maine is incredible.  It looks really similar to Oregon. Quoddy Head lighthouse is the easternmost point in the United States and worth a visit. I won a TCM calendar contest with a photo taken there (see photo above).
Brian Roark
2015 Ford F-350
2018 Lance 1172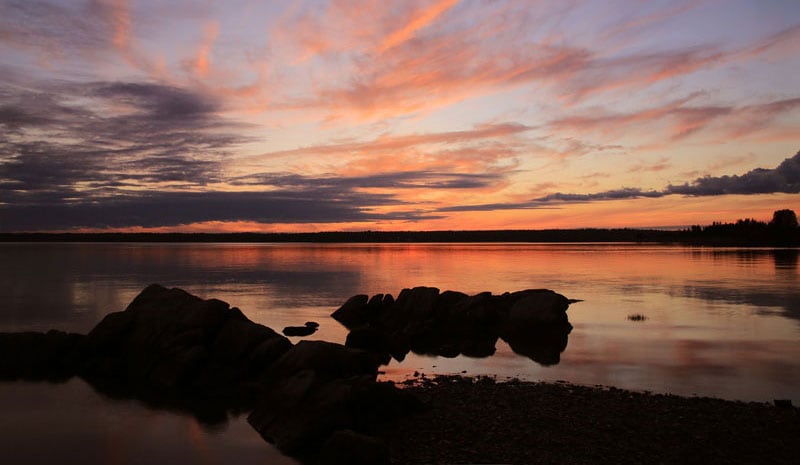 Above: KOA Western Bay sunset
Do not miss the homemade fresh blueberry pies at the Bar Harbor KOA campground. The pie man would drive through the campground daily ringing his bell and selling them out of the back of his minivan.  I think he visited several campgrounds every evening and baked the pies every day.  They were truly some of the best blueberry pies I have ever eaten. I believe they were about $17 each, but what's not expensive on vacation? I managed to eat a couple while we were there and brought one home with me.
The Bar Harbor Oceanside KOA is $86 a night. They are back-in sites with 30 or 20-amps, water, and electric. It's expensive, but I could see the bay from our camper.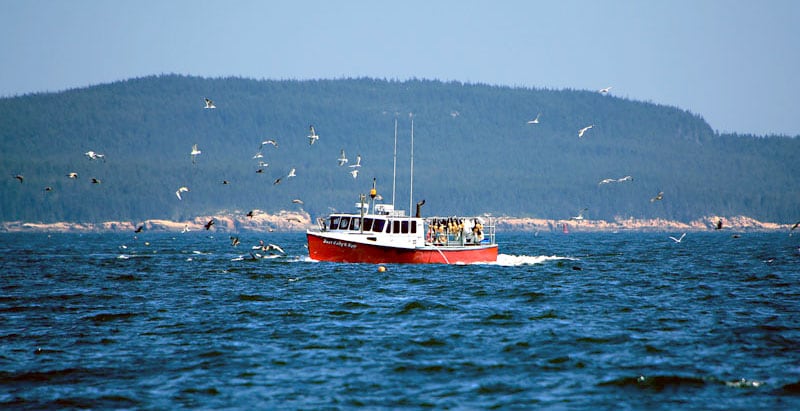 If you don't feel like eating in the camper or venturing out to forage, there is an outdoor café that has a lobster boil nightly right at the KOA.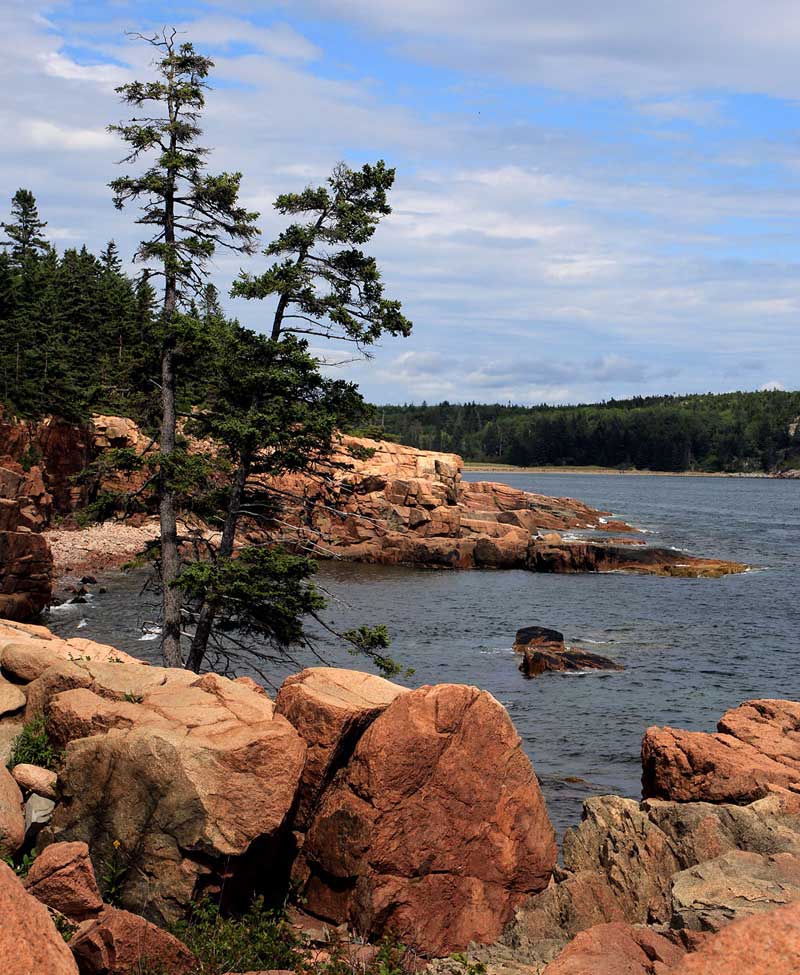 Above: Schoodic coastline, Winter Harbor
The loop through Acadia National Park on Mount Desert Island has some great sightseeing and hiking. Do not miss eating, at least once, at one of the lobster shacks on the side of the road. We did not have a single bad experience.
Susan Merrill
2009 Silverado 3500
2007 Lance 992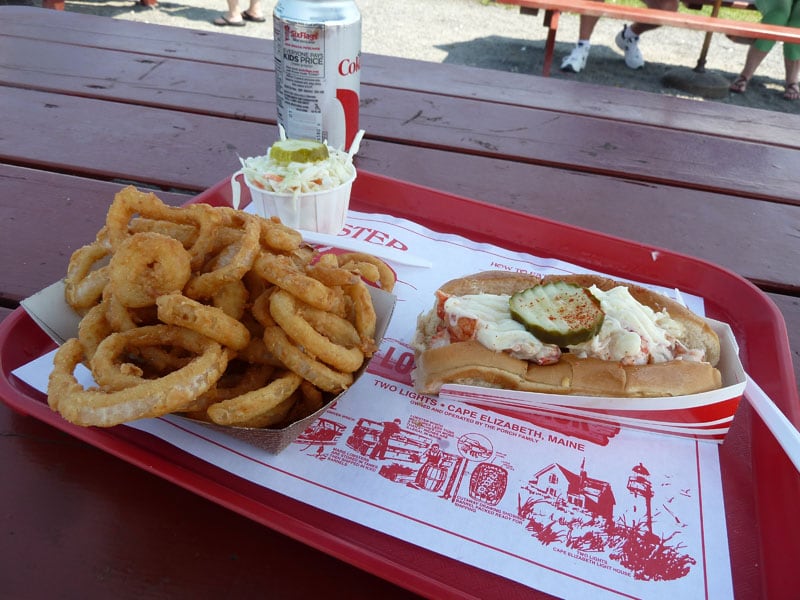 The Lobster Shack at Two Lights in Cape Elizabeth is the very best place in Maine to go for lobster rolls! They have all kinds of seafood and the lobster rolls are fabulous.
The scenery is also great. It is right on the shore of the Atlantic Ocean just south of Portland. There are loads of outdoor picnic tables. If it's rainy there are seats inside.

While you wait for your food (and you will) there are gardens and a wide open rocky ocean front that has breaking waves at high tide and ships going by.
We always make a special side trip when we are in Maine to eat there. On our way to Newfoundland and Labrador this summer we will stop there again.
Brett Burguard
2017 Ford F-350
2012 Northstar Igloo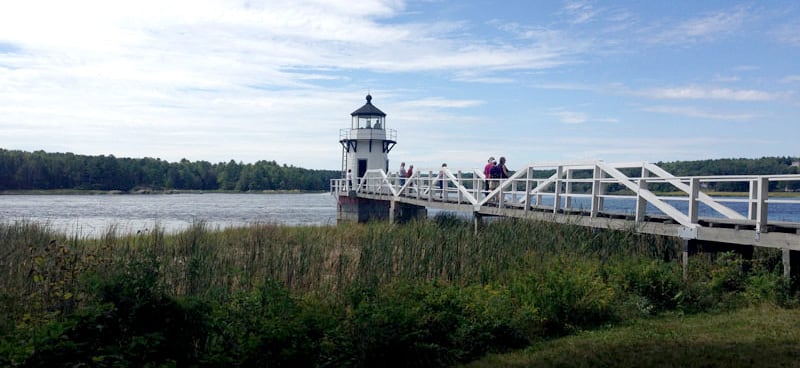 Above: Kennebec River near Bath, Maine
Maine Open Lighthouse Day is the one day a year you can get inside lighthouses that are normally closed to visitors. You might also get to meet former keepers.
This year Maine Open Lighthouse Day is September 14, 2019. Go to lighthousefoundation.org for details. Some lighthouses involve a boat ride.
I think September is the best month to visit Maine. There are fewer tourists and beautiful weather.
Penobscot Narrows Observatory is a 42-story bridge observatory. It is unique in North and South America and one of only four in the world. The observatory is located in Fort Knox and is from the mid-1800s. It's very interesting to explore with a scenic riverfront location.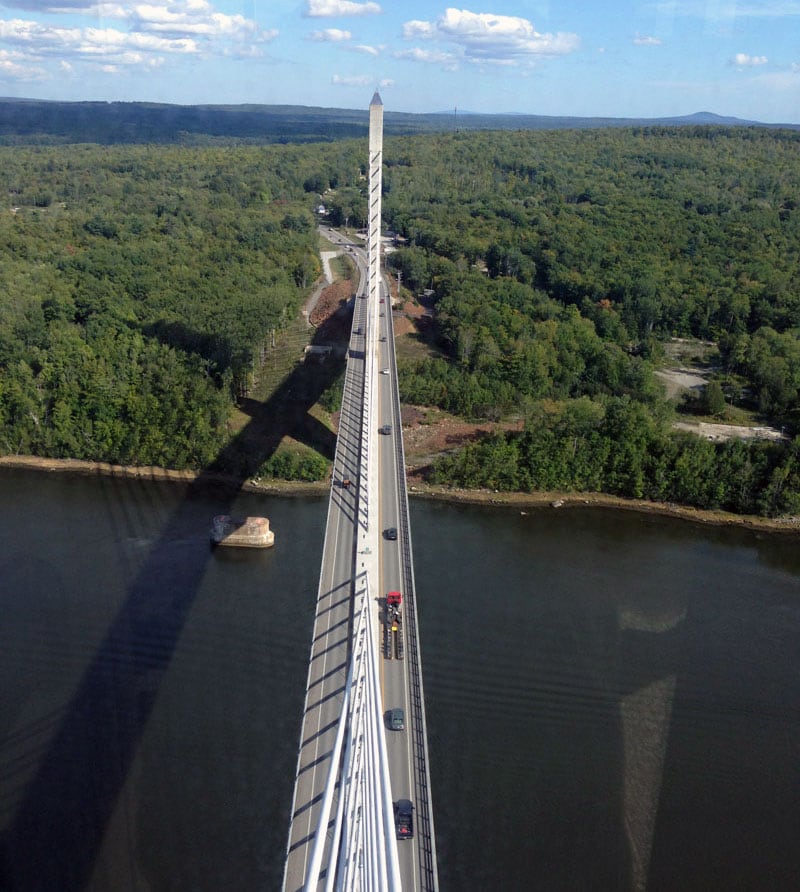 Above: Picture taken from the PNB Observatory
I've been to Maine several times to different parts of the state and I have never stayed more than one night anywhere. I have stayed at lots of Walmarts and a few of the state parks, which have all been nice.
Near Reversing Falls in Pembroke is Cobscook State Park, a couple private campgrounds, and Herring Cove Provincial Park on Campobello Island. There are great places to visit in this area.
You should also visit Eastport, Lubec, and the Quoddy Head State Park and Lighthouse, which is the easternmost point in the United States.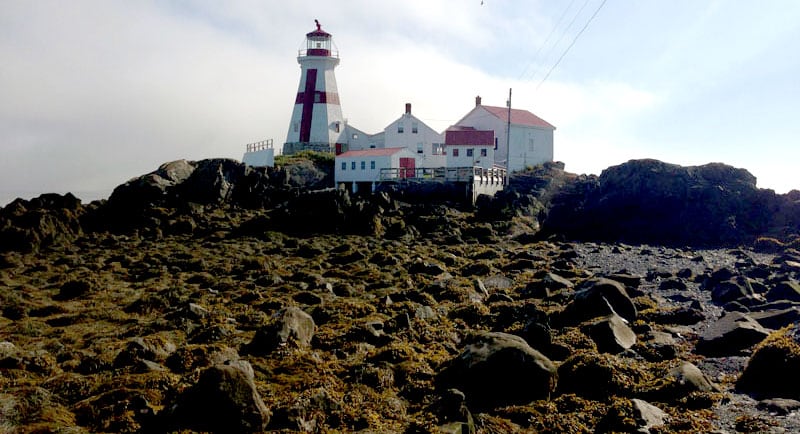 Above: Campobello Island, East Quoddy Head Light, Roosevelt Cottage
Nearby in New Brunswick is Campobello Island and the Roosevelt Campobello International Park. You can also visit East Quoddy Head Lighthouse that is open to visitors, and only accessible at low tide.
Robert Wallen
2013 Chevy 2500HD
2015 Northstar 850SC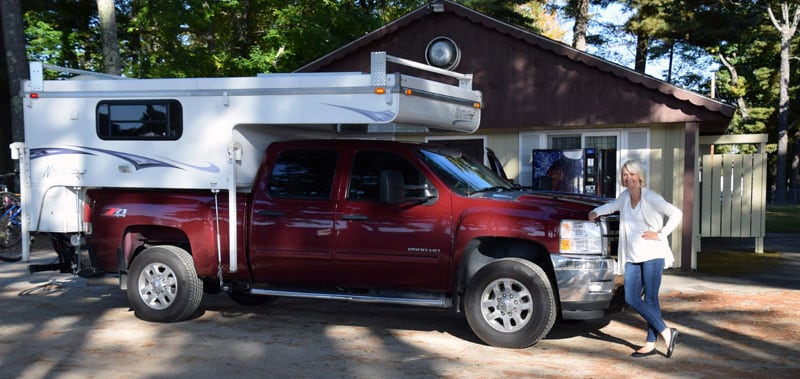 This was a bucket list trip. Neither my wife nor I had been to New England for the fall colors, even though we grew up on the East Coast.
We went through Maine, Vermont, Massachusetts, and Rhode Island. A special treat was Prince Edward Island's Charlotte Town. The fall colors where every bit as we had hoped.
On our way to Acadia we stopped in Portland, Maine at DiMillo's On The Water. If you like fresh seafood, DiMillo's is a must.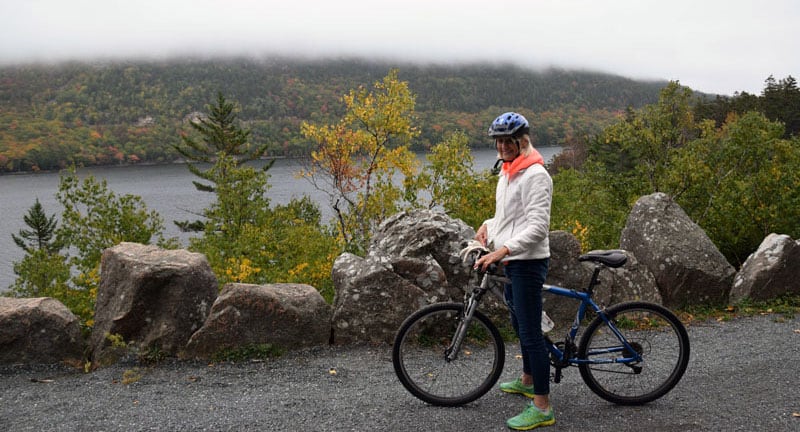 Above: Bike ride on the Carriage Road in Acadia
While it is not a rare find, Acadia is certainly not to be missed. The Carriage paths built by John D. Rockefeller, Jr. are a great way to see the park without a lot of people. The bridges that were built for the paths are very pretty.
Make sure to spend some time wondering along the rocky Maine coast. For another culinary treat, Sweet Pea Cafe has excellent food and great beer.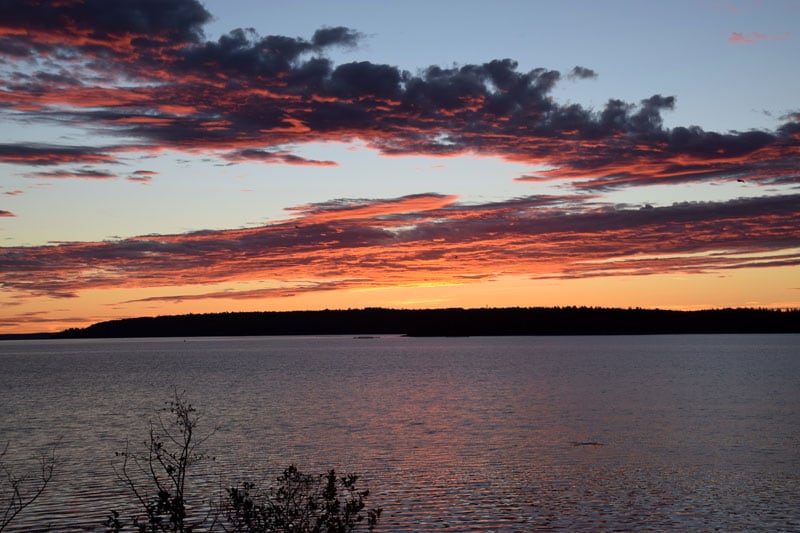 Above: Sunset At Narrow Too RV Resort
We also stayed at Narrows Too RV Resort on Bar Harbor Road in Trenton, Maine. The Sam Club rating is a 9/9/9. We had a spot next to the water. The morning and evening views were great. Sunsets could be spectacular. The cost was $65 a night due to our proximity to the water and full hookups.
Ron Ross
2017 Dodge Ram
2018 Northstar 850SC
Schoodic Point is located inside Acadia National Park. It's a popular sightseeing destination and an excellent opportunity for taking pictures.
Sitting on the rocky coast and gazing out on the ocean was is inspiring. Bar Harbor is quaint, but busy and not parking friendly. Parking is parallel on the street.
We were extremely lucky and found a spot (two unoccupied in a row). There were parking lots, but nothing I wanted to try. The upside of Bar Harbor was that the lobster rolls were to die for!
Driving to Schoodic Point you pass by Blueberry Hill parking area. Right across the street is the start of the Schoodic Head trail. It's only 442-feet above sea level and about 1.5-miles of a challenging hike to the top. This trail goes up, down, back and forth and the pay off view is nothing short of spectacular.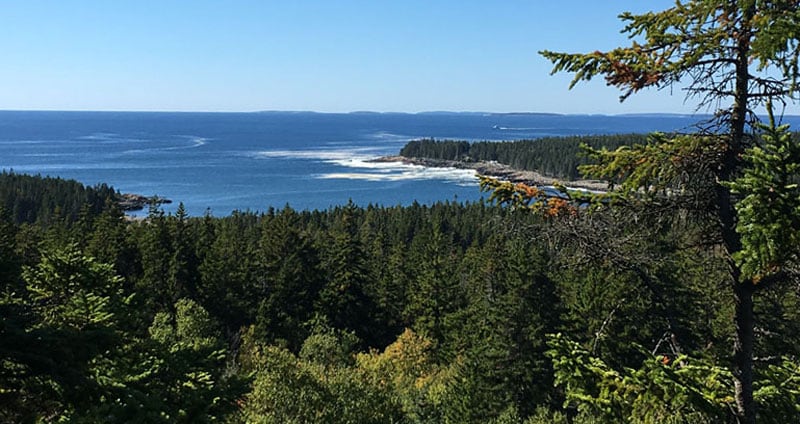 Above: From the peak of the Schoodic Head trail hike. The peak allows for picture taking that you will remember for a lifetime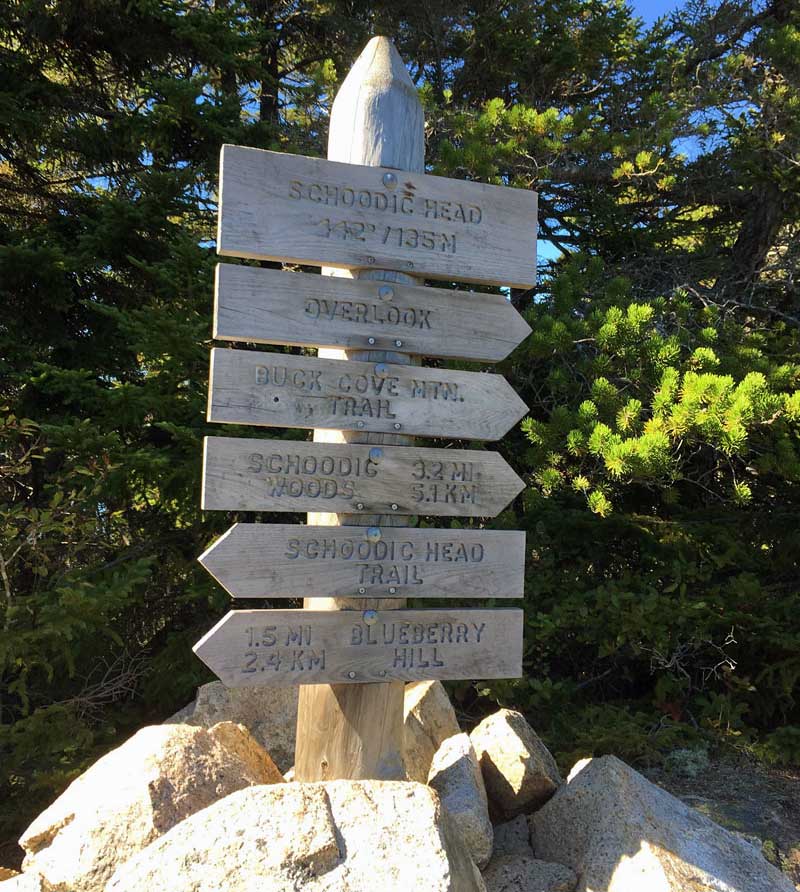 Above: The sign showing several different trails going down which can take you to a different place from where you started.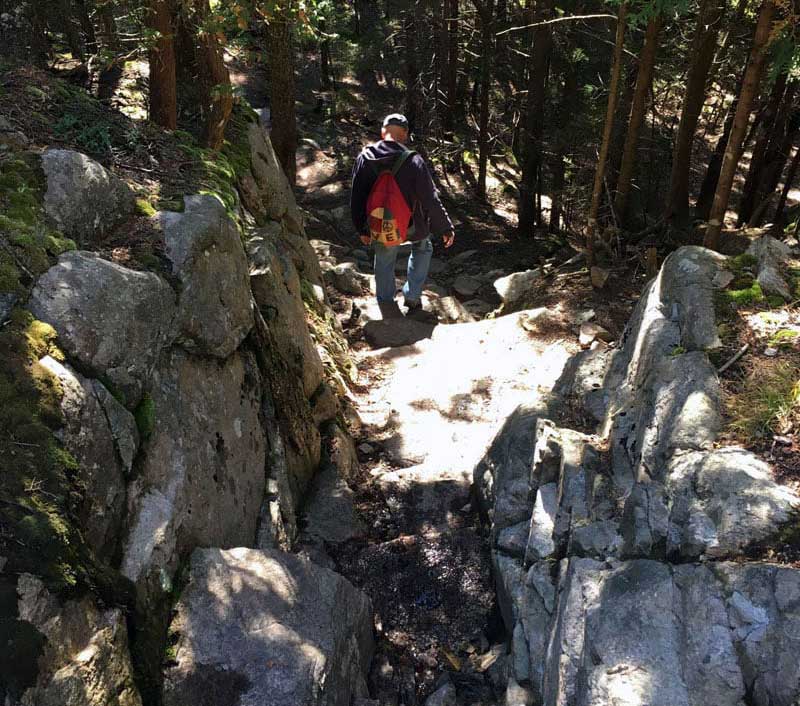 Above: The trail can be a bit challenging, but it's worth it!
Another 1.5-miles back to the parking lot and we were done! It's a piece of cake for younger folks, but we are retired seniors. It took us about three hours total with lunch at the top.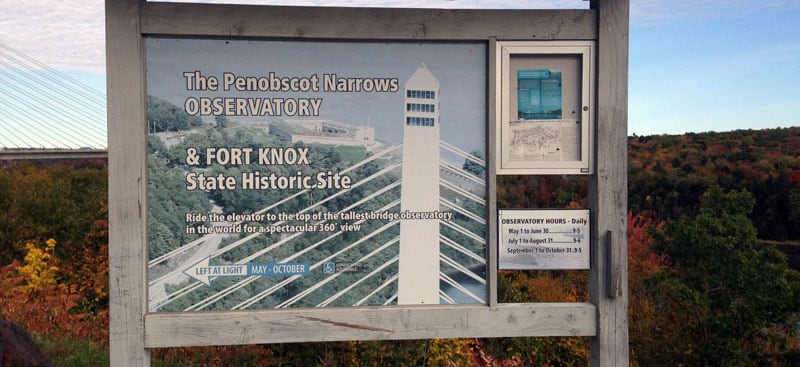 Penobscot Narrows Observatory is another place worth a look.
The observatory is the tallest in the world! This was located near Bucksport, which is a short drive from the Acadia. There was easy parking for a truck camper, but it wasn't busy when we went. Fort Knox is also located there.
When we camped at Acadia National Park we stayed at Schoodic Woods campground. We made reservations in August for our October 4th arrival, which was a Thursday.
Schoodic Woods is in a relatively newer part of the park. I think this campground is around five years old. Staying at the park provided us with free shuttle bus service around the park.
We had electric and water at our site. All the campsites were very nice with plentiful trees and privacy. It's $30 a night with a senior pass. There are very clean restrooms and all of staff was very helpful.
The only complaint was that the 30-amp outlet was installed upside down. Think of the receptacle with hole on top and slanted slots on the bottom causing the cord to be facing up hitting the box lid.
If you look down at Acadia from 30,000 feet it has two parts; the main park on the left and Schoodic Point (across the bay where we stayed) on the right. This is the newer section of Acadia National Park. You leave the main park and drive about one hour to get to Schoodic Point.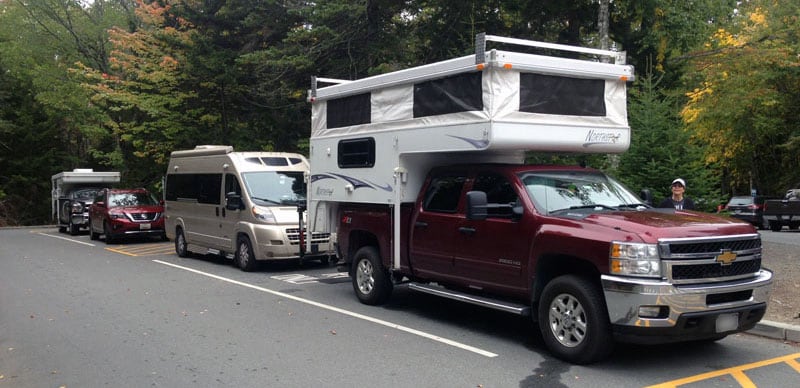 There was no problem driving to the main park. However, the picture showing the 'park and visitor center up ahead on the right' was on a Thursday. The picture of the two truck campers was not far from that entrance. If you drive a couple hundred yards further it opens up to a very large parking area for all size vehicles.
We came back to this exact same spot on Sunday to do some shopping and got caught up in traffic that was unbelievable. There was no place to park and it was a real hassle just to drive through. Avoid that area if possible on weekends. The weather that day was gorgeous, so everyone was out.
Jodie and Chuck Ramsey
2012 Chevy Silverado 3500
2014 Adventurer 116DS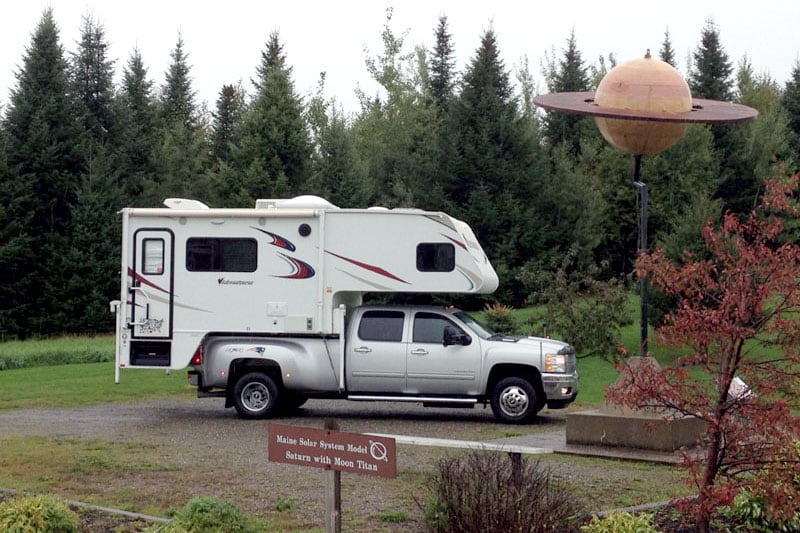 Above: Saturn in the Maine Solar System Model, Bridgewater, Maine
The Maine Solar System Model, built at a scale of 1:93,000,000, can be found between the communities of Houlton and Presque Isle along Route 1. At 40-miles (64.4 km) from Pluto to the Sun, this is one the largest complete three-dimensional scale models of the Solar System in the World.
Home to a world-class operating collection, the Owls Head Transportation Museum features more than 150 antique automobiles, aircraft, motorcycles, bicycles, engines and more. It's located in picturesque midcoast Maine. The museum offers something for everyone with award-winning exhibit halls, community education programs and a full event season. And since you're just a few miles away, stop by the Keag General Store for their version of a Maine Lobster Roll.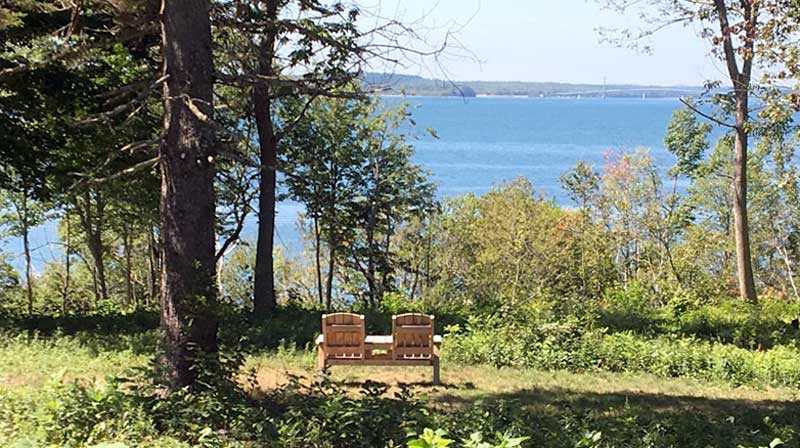 Above: Oceanfront camping, Reach Knolls, Brooklin, Maine
There is oceanfront camping at Reach Knolls in Brooklin, Maine. It is rustic camping along the coast near Blue Hill. The cost is $39 a night for electric with water spigots throughout park and a dump station. You'll get welcoming hugs from the campground owner.
Mark Garofano
2013 Ford F-250
2004 Alaskan 8'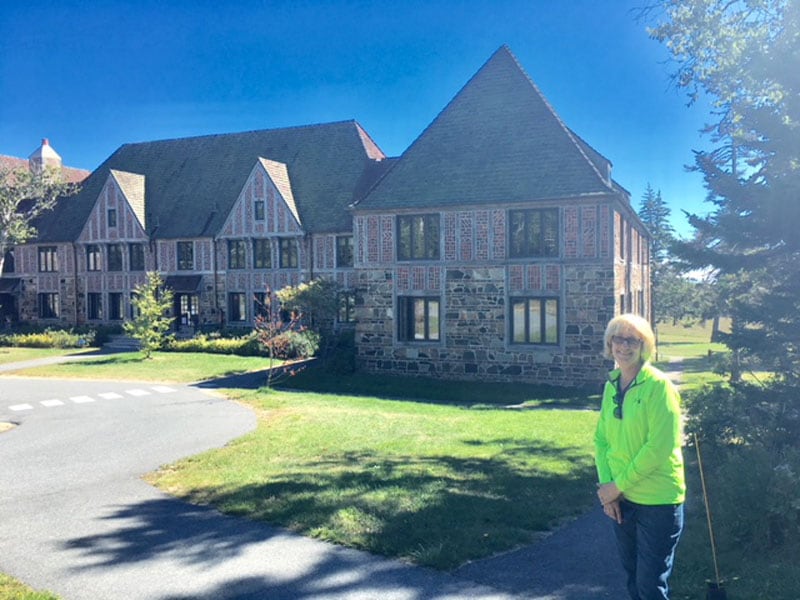 Above: Schoodic Institute at Acadia National Park, Winter Harbor
I traveled to Acadia National Park in the fall of 2016. My wife was between cancer treatments at that time. We stayed at the brand new Acadia Schoodic Woods Campground just outside of Winter Harbor and took the ferry from there to Bar Harbor, Maine.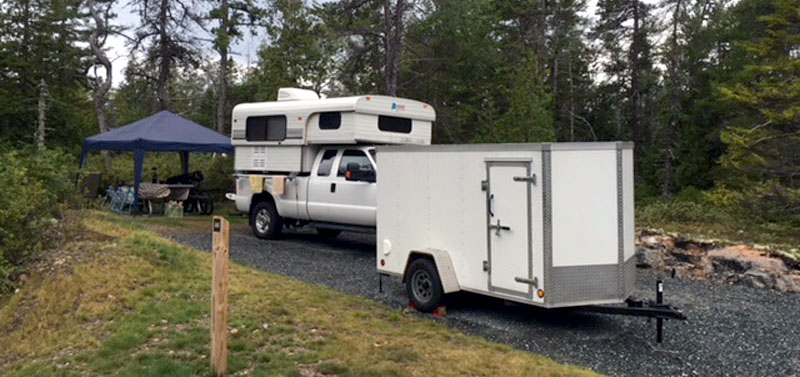 Above: Campsite at Acadia Schoodic Woods Campground
A must see at the park is the sunrise from Acadia's Cadillac Mountain where the sun is first seen in the United States each morning at that time of the year.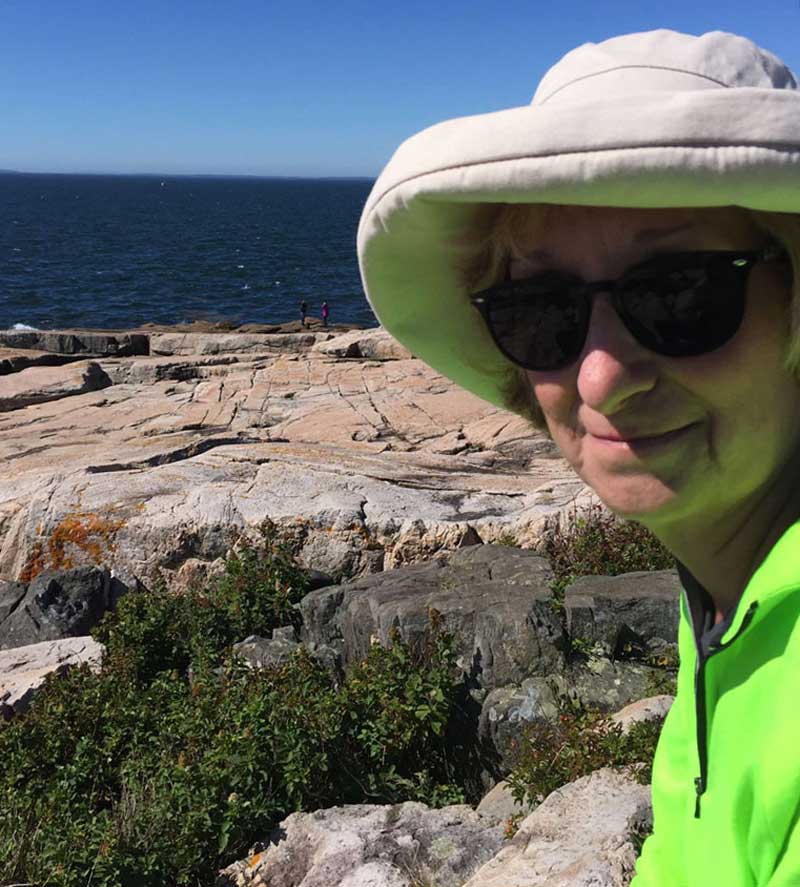 Above: Sheryl at Acadia's Schoodic Peninsula shoreline
The former Naval Intelligence Base on the Schoodic Peninsula is also a must see. The base is just south of the campground.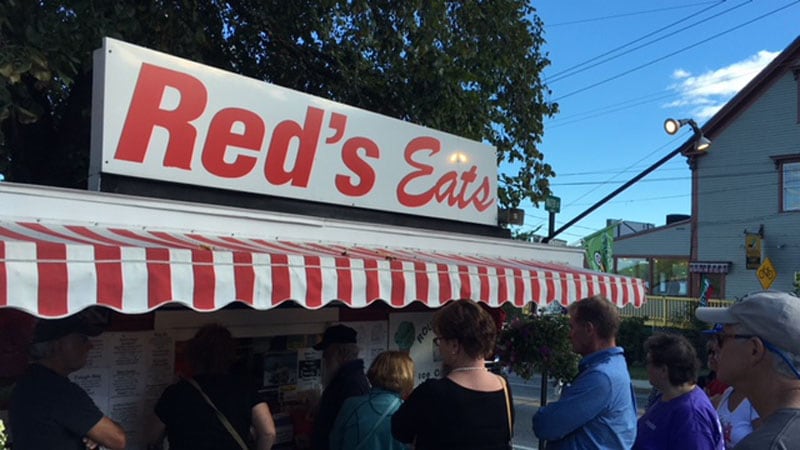 Above: Red's Eats Restaurant in Wiscasset, walk up and take out (or eat there under canopy)
On the journey home we stopped at Red's Eats, home of Maine's #1 lobster roll. Red's Eats is located in Wiscasset, Maine and was more than worth the stop!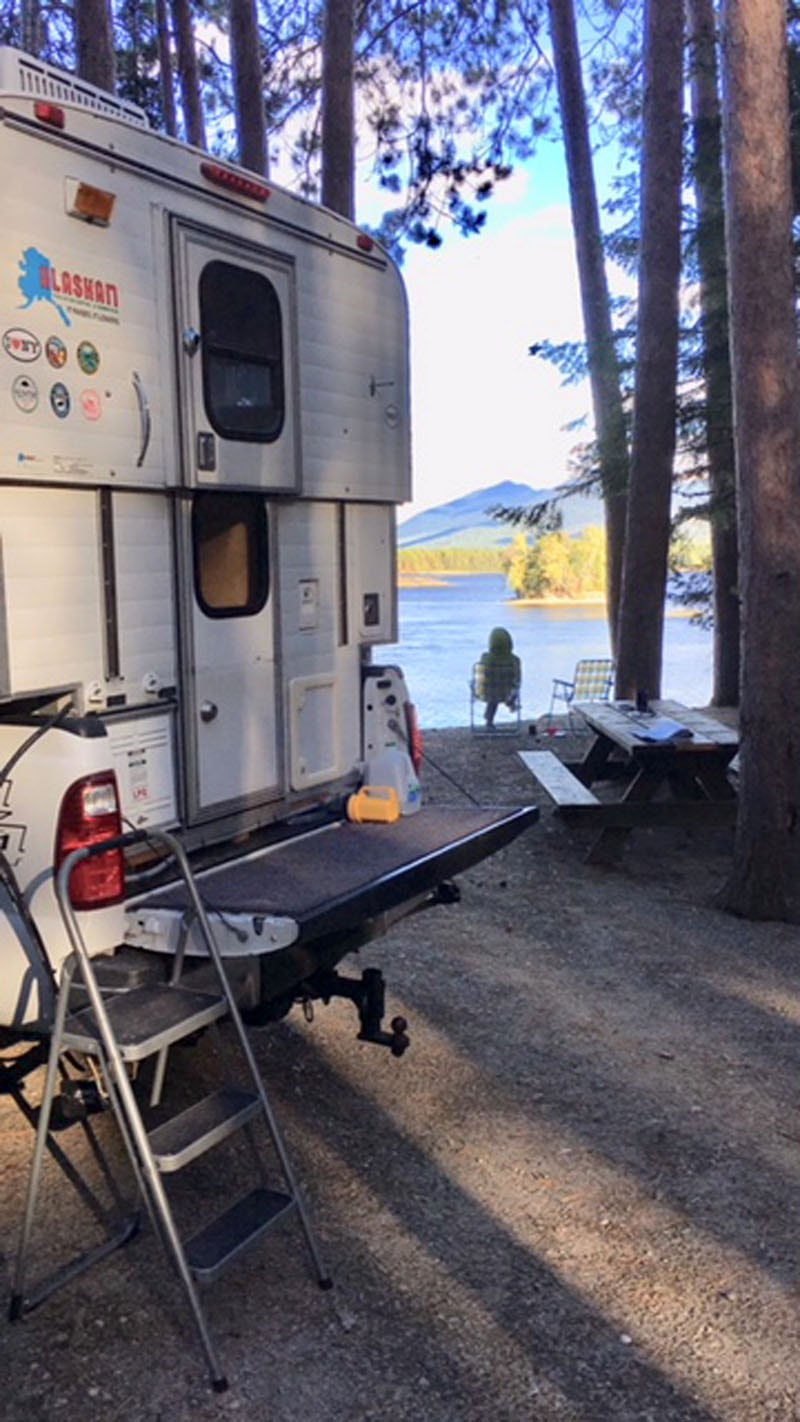 Above: Cathedral Pines Campsite looking across Flagstaff Lake, Camper in foreground and Sheryl at shoreline
Also in Maine, and a true surprise and treasured memory for us, was us stumbling upon Cathedral Pines Campgrounds. It is located in Eustis after crossing over from Iles De Boucherville National Park just outside of Montreal. It's an amazing gem of a campground!
There were massive tall pines that were once used for sailing ship masts on every site. We were fortunate to get a site for our few nights there right along Flagstaff Lake for $40 per night. We were greeted each morning by the loons along the shore line.
Kent Leboutillier
2018 Ford F-250
2015 Palomino SS-550
I moved to Maine in 1986 and lived there for almost 30-years. I camped from early spring to late fall every year.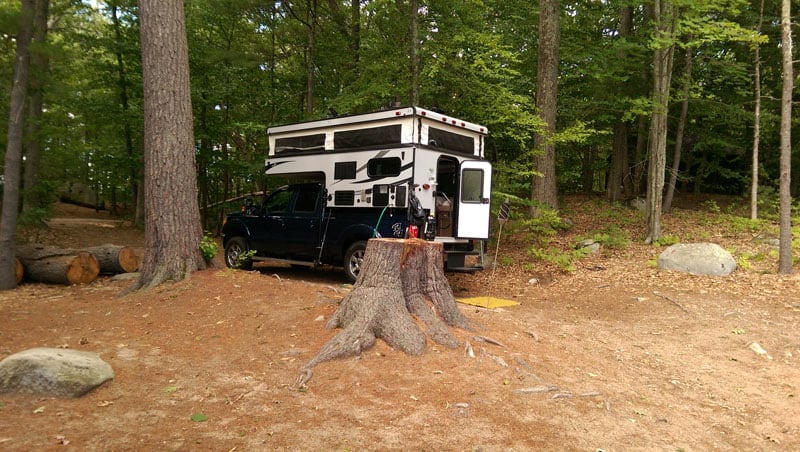 Above: Pawtuckaway State Park
If you are coming to Maine from the south, you have to go through New Hampshire. My favorite campground in all of New England is Pawtuckaway State Park. There are no hookups and it is beautiful there. It's the way camping should be.
Sebago Lake State Park and Wolfe Neck Farms near Freeport are nice established campgrounds. If you are looking for no frills, Swans Falls Campground in Fryeburg is right on a river. It is used by canoe paddlers. There are no big campers there. It's mostly for tenting, but a standard size pickup is fine.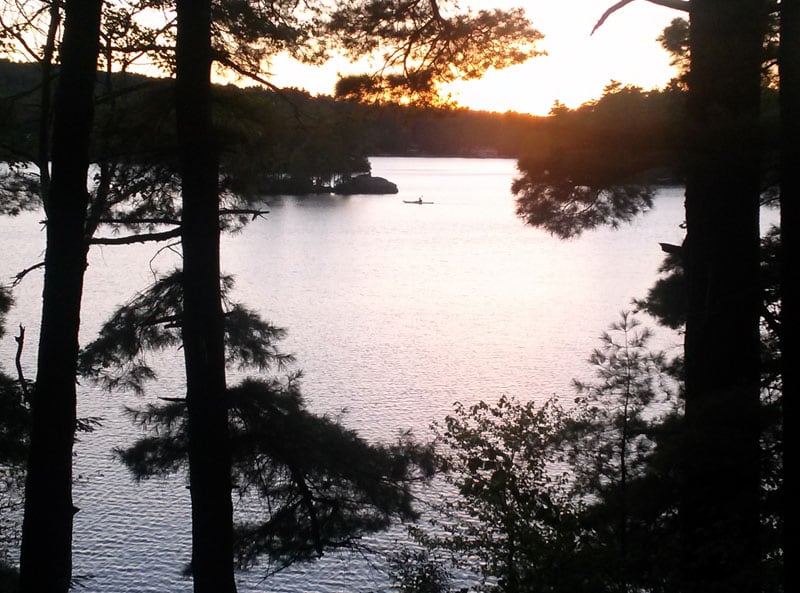 Above: Sebago Lake State Park
My favorite campground near Acadia National Park is Mt. Desert Island Campground at the north tip of Somes Sound. The Cadillac Mountain sunrise is awesome! The carriage trails for biking are also worth the ride.
Another great campground is Hermit Island campground near Bath, Maine. Good luck getting a spot. If you can, it's well worth the stay.
Camping isn't cheap in Maine! If you want it to be cheaper you have to go in the off season, which is before Memorial Day and after Labor Day. Then some of the parks don't charge.
Andrew Yurchuck
2015 Ford F-350
2016 Rayzr FB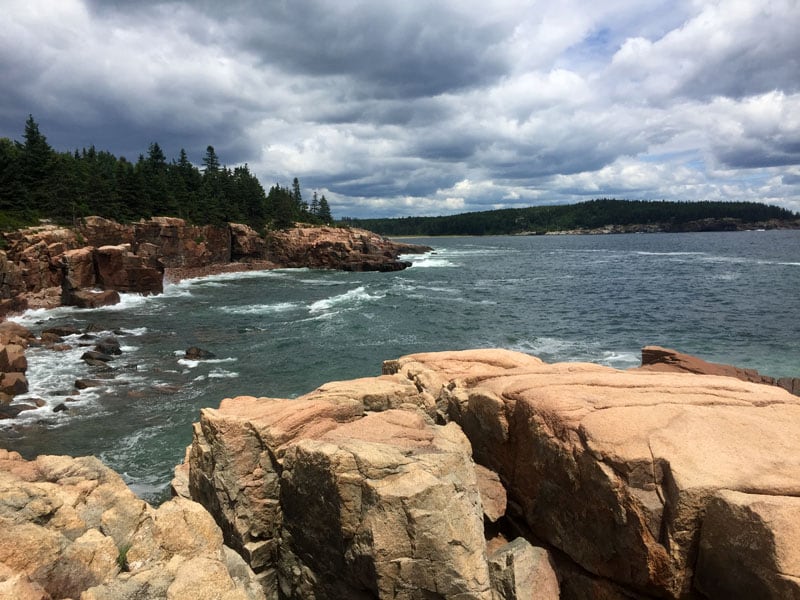 Acadia National Park is a must see in Bar Harbor. Also visit some of the Maine State Parks. We stayed in the Narrows II campground. It was about $60 per night.
Ray Steinmeyer
2007 GMC Sierra 3500
2007 Host Yellowstone
The one area not to miss is downeast, Maine. It's from Route 1 east from Belfast all the way to Eastport. Make sure to include Lubec. The best campsites in Down East are at Cobscook Bay State Park.
In my opinion, Cobscook Bay State Park is as good as it gets. All the campsites are very private. In most sites you can't see or hear the adjoining campsites. There are many waterfront campsites. The good ones are quite far off the campground road. There is plenty of room for truck campers.
With a camper it is best to walk in first to scout for overhanging limbs. Trailers make out fine, but our taller camper has a problem now and then. I've mentioned this to the Park Rangers. This campground puts you in the best position to explore the best of what Down East has to offer.
Cobscook Bay is never full except for maybe on July 4th. It's too far away, I guess. I'm always afraid the state will shut it down because of underutilization. I sure hope that doesn't happen.
As for ease of finding available campsites, June is best. Nobody has gotten this far north yet. Coastal areas and the lakes districts can be quite busy during July and August. It is best to plan ahead for those areas during those two months.
Acadia National Park is nice, but we stay away during peak season. It gets crowded and pricey.
Another hidden gem is a little town-owned campground in Freeport (home of L.L. Bean) called Winslow Park. There are campsites on the water and they have reasonable rates.
Up north spend some time in Greenville and the Moosehead Lake region. The best camping in that area is Lily Bay State Park. I don't have much experience with private campgrounds since we only use state parks.
For a really neat coastal hiking trail, go to Cutler. There is lots of opportunities for boondocking along the Golden Road north of Moosehead Lake. The Rangeley Lakes, and Oquossic (Mooselookmeguntic Lake) are also great areas for truck camper exploration.
Curt Carter
2014 Ram 3500
2016 Cirrus 800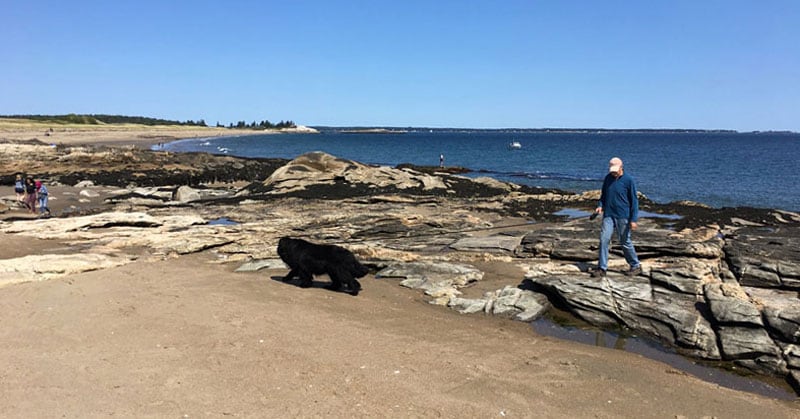 Reid Point State Park has two beautiful long sandy beaches. Like all beaches, they are closed to dogs, but the rare thing is that the area between the two beaches is open to dogs. That's the best place we have found to let your dog experience the ocean. Tell them not to drink. Park there all day on the shore with a view of the sea.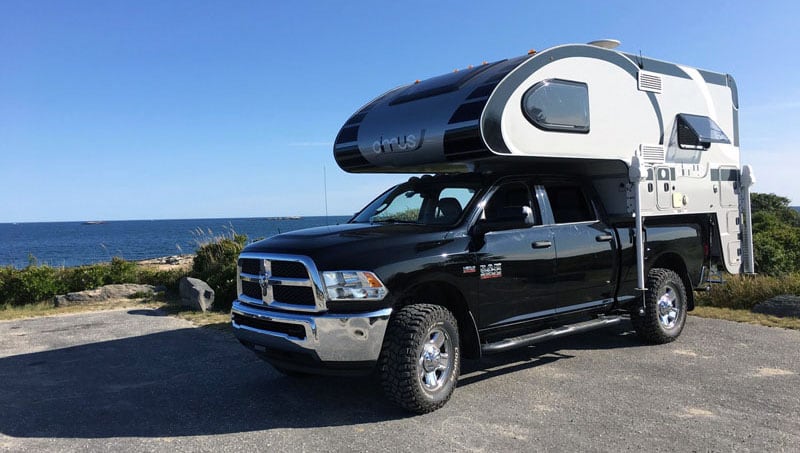 Russell Thompson
2014 Ford F-350
2011 Palomino HS-2902
If you want or need hook-ups, Megunticook by the Sea Campground is right on the coast in Rockport, Maine.
If you are near the Rockland area on the first weekend of August, have a lobster at the Maine Seafoods Festival. The lobster is local and the little town of Rockland is a gem.
A couple of weeks later there is the Maine Blueberry Festival just a few minutes away. Who doesn't like fresh warm wild blueberry pie?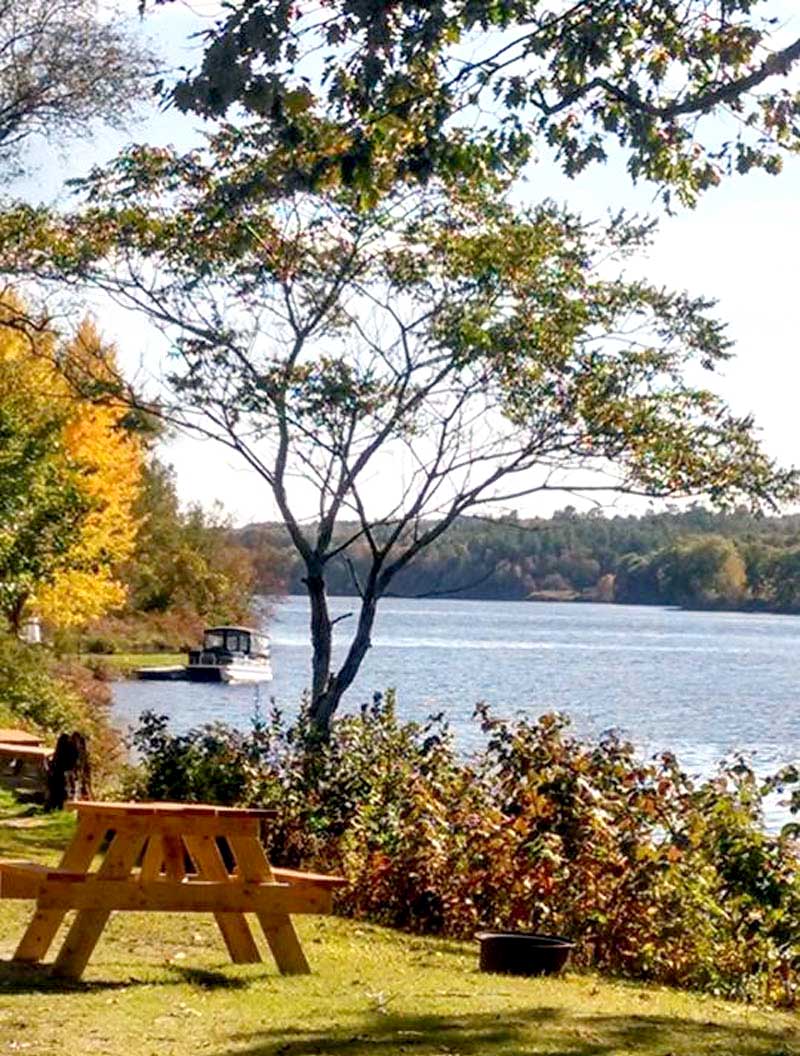 Above: Two Rivers Campground in Skowhegan, Maine
Two Rivers Campground in Skowhegan, Maine is $45 a night with 30-amp electric and water. Various discounts are available with AAA, the military, etc.
I also recommend Riverbend Campground in Leeds, Maine. It's $30 a night for electric and water. It's also very clean and quiet with no bugs.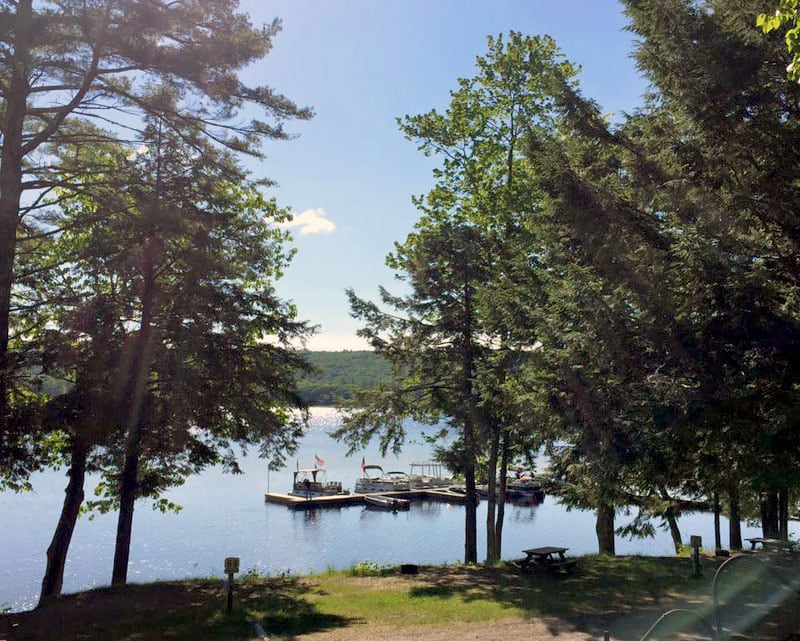 Above: Sennebec Lake Campground In Union Maine
Sennebec Lake Campground in Union, Maine is $35 a night for electric and water. It is just down the road from the blueberry festival I mentioned above.
Bob Walsh
2013 GMC Sierra 3500
2003 Bigfoot C25 10.6E
Southport Island, just south of Boothbay Harbor, is my favorite place. Robinson's Restaurant is our favorite place to eat on Southport Island. Last summer we were having lunch there and lobster boats tie right up at the dock and unload lobsters that were just caught that day. Now that's fresh seafood!
I also recommend the Cabbage Island Lobster Bake. Tickets are available at the Boothbay Harbor town docks. Last summer the tickets were $65 per person and included a round trip boat ride to Cabbage Island. It also included a guided tour on the way there looking at several area lighthouses, two fresh lobsters, steamers, baked potatoes, fresh corn on the cob, and homemade blueberry cake for dessert. A cash bar is on the island for beer, wine, or cocktails.
Gray Homestead Campground is the only campground on Southport Island. It only has 42 sites and half of those are seasonal. We are one of the seasonal campers.
The campground has some oceanfront sites and other sites with ocean views and wooded sites. There is a small private beach for the campers staying there. Prices vary depending on the time you go. Gray Homestead Campground and Robinson's Restaurant have active websites.
The Boothbay Harbor area has lots of summer activities. Each summer there is a Tall Ships gathering for a week. Various activities in town including a boat tours and rides are available during that time. There are also several sport fishing charters available for half days or full days.
Lighthouse tour boats are also very popular and fireworks happen weekly. The 4th of July has a boat tour throughout the harbor area with all the area boats lit up and decorated to the max.
My wife and I have toured all over Maine over the years. Bar Harbor is worth visiting, but it can get very crowded. This summer, for the first time, appointments will be required to tour Cadillac Mountain which is part of the National Park Service. In years past, roads had to be closed due to the traffic jams. It's a beautiful area, but I try to avoid huge crowds.
If you do happen to head to Bar Harbor, another restaurant that is truly a landmark Maine experience is the Trenton Bridge Lobster Pound. That place should be on everyone's bucket list if you happen to be headed to Bar Harbor.
Enjoy Maine, where the ocean meets the mountains and pine trees!
Cathie Leslie
2004 Chevy Silverado
ARE camper shell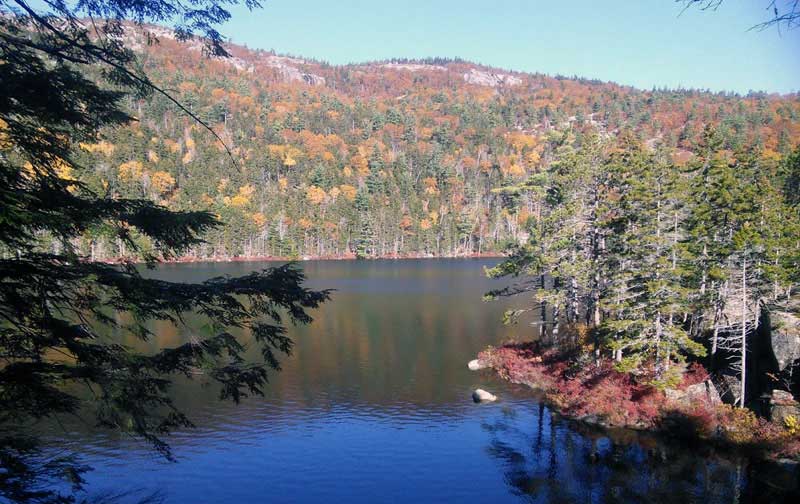 Above: The Hidden Ponds Trail
We did a house swap in Maine, and wanted to share places most people don't visit. We recommend Washington County and coastal Maine up to Eastport. There are no big cities; just a lot of fishing villages.
We were only 45-minutes from Acadia but only went once. Who wants to go where everyone else does? We stayed local, partaking in local fish fries, local hikes, and local breweries. The biggest town we frequented was Ellsworth with a population of about 7,000. I also recommend the reversing falls near Eastport.
Harrie Ashley
2018 Ford F350 SD
2005 Lance 1030
Don't miss the seafood. Maine's coast is rugged, beautiful and a bounty of some of the best seafood eating anywhere.
If you're like us and would rather avoid the crowds, the real Maine starts north of Augusta. Pick up Route 1 in Brunswick and head north.  The small community of Grand Lake Stream is off the beaten path in Down East Maine. It's full of old sporting camp history and is a pretty spot.
From there you keep going west into the woods on well traveled logging roads. You will find many boondocking spots in maintained forest campsites. Most are waterfront.
Jacks Snack Shack is at the head of Nicatous Lake and has the best fried clams I have ever eaten.
Tom Clancy
2017 Ford F350
2018 Northstar Arrow U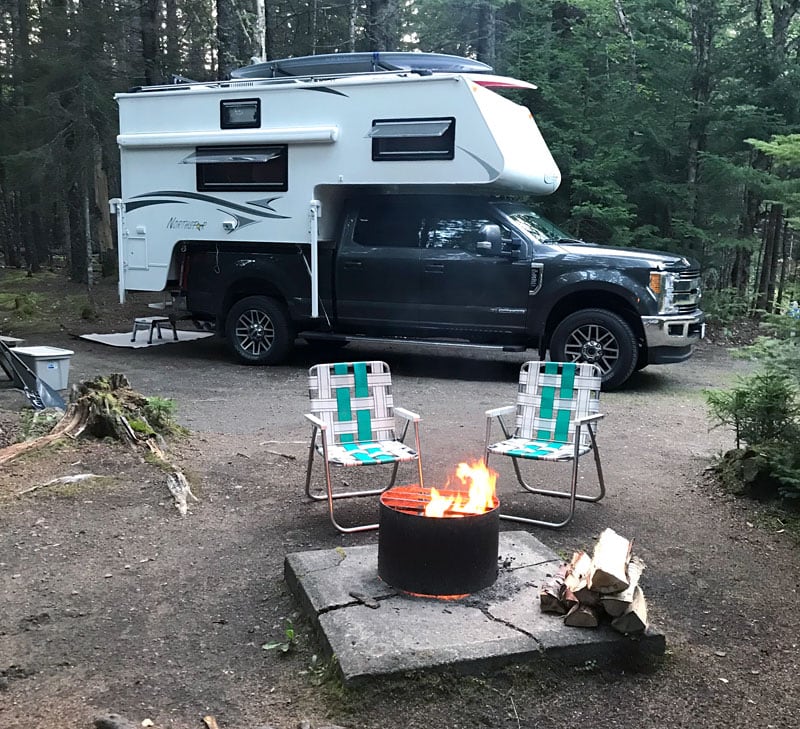 Above: Campsite On Montabella Island
Greenland Cove Campground in Danforth, located just south of Houlton off Route 1, is roughly $35 a night. We had a waterfront campsite with electrical and water on beautiful East Grand Lake.
This is the third largest body of water in Maine and was the best paddle boarding we did all week. We found this place totally by chance driving south on Route 1. The fishing is supposedly some of the best in Maine.
Schoodic Island is a real treat. As part of Arcadia National Park, it is accessible by truck camper – unlike Mount Desert Island. First, you need a pass from the ranger station. Then you can hike, take photos of the coastline, and visit the old Navy Sonar Base, which is very interesting. We were there on the last day of our adventure, but you shouldn't miss it.
For Campobello Island off of Lubec, you need a passport and a rabies certificate if you are hauling a dog. The island has the summer home of Franklin D. Roosevelt, which is free to visit. There is also whale watching, a beautiful lighthouse, and a campground run by the government of New Brunswick.
The campground was $25 US/$35 Canadian. There were free hot showers. Campsites had picnic tables and fire rings. The firewood was $7. There is a golf course on the island as well. There was plenty of beach walking.
Steve Kernik
2012 Ford F-350
2016 Northstar 850SC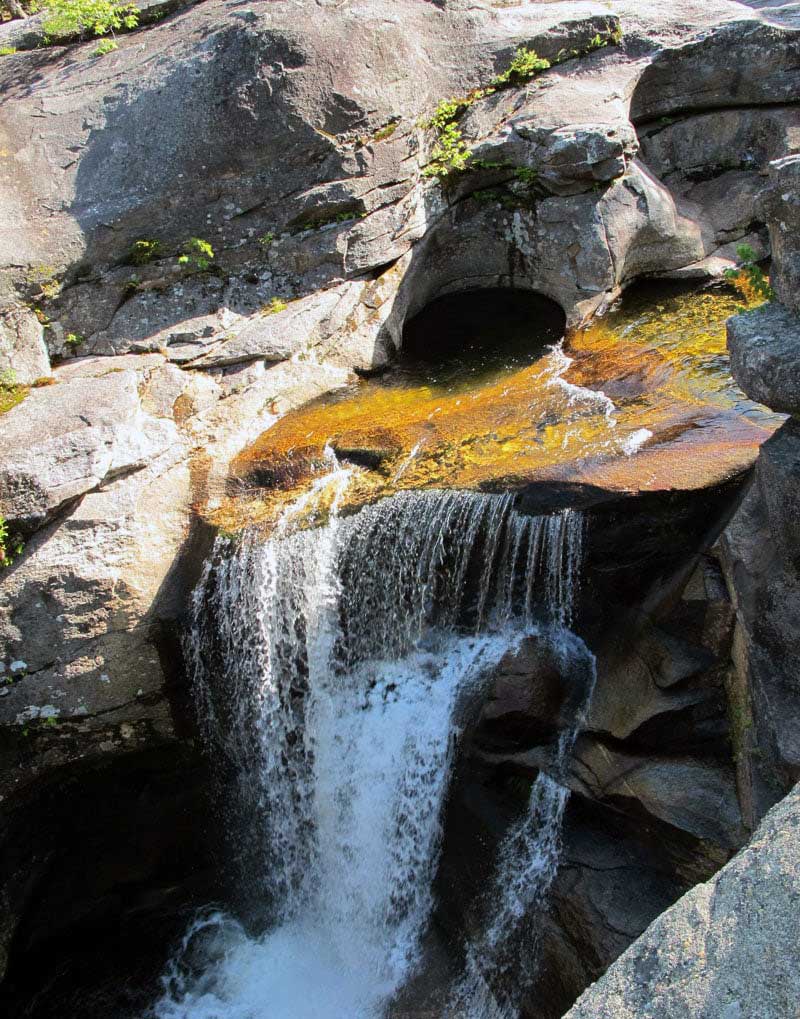 One pleasant surprise on our trip to Maine was Grafton Notch Campground in Newry, Maine. It is a private campground that was designed by a retired state park employee.
Unlike the typical private campground where they pack you in like sardines, the campsites are spacious and very private. The bathroom facilities are also very nice. Last year the cost was $28 per night for two people.
The combination of it being a nice campground and the very scenic state park made this one of our favorite parts of our trip. Check out the Grafton Loop Trail, which has a section of the Appalachian Trail that runs though the park.
We also visited Grafton Notch State Park. There are lots of hiking opportunities in this park, but no camping facilities.
Bucky and Kathy Hydal
2012 GMC Sierra 1500
2004 Four Wheel Campers Hawk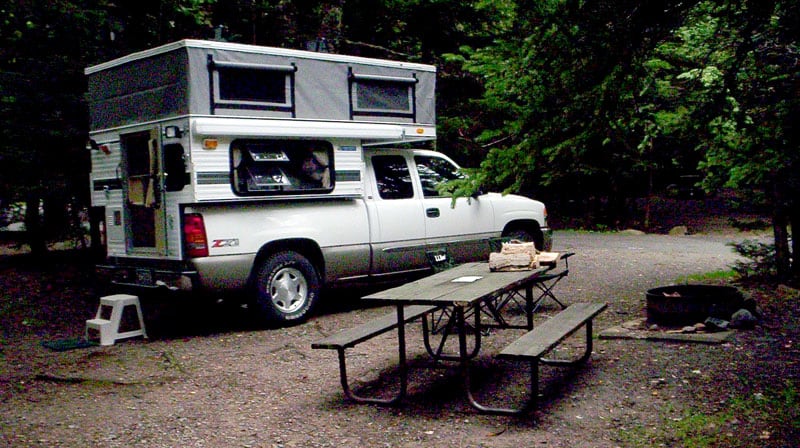 Above: Camping in Acadia National Park Campground
Acadia National Park has beautiful scenery and vistas. The highest point, Cadillac Mountain, is on the eastern seaboard.  The bridges, built by one of the Rockefeller boys, are impressive.  There is camping in the national park or at the commercial campground just across the causeway.  Bar Harbor is fun with good restaurants.
Cobscook Bay State Park in Dennysville is a treasure.  Besides some of the highest tides in the world, you'll see bald eagles and great blue herons fishing.  We recommend campsite 8U, which is on the water. It sits by itself at the end of a short forest road. Maneuvering a 23-foot trailer is tough on that site, but a truck camper should have no problems.
When we were there, the nearby town of Eastport had a good restaurant with excellent seafood. It is near the customs and border patrol station.
Don't miss Quoddy Head Light in the state park of the same name.  The walk along the rocky shore is breathtaking even when shrouded in mist with a light rain, which was magic for us.
The little town of Lubec will provide you with the earliest sunrise of the continental U.S.
Not far from there you will come upon a border crossing that takes you into Canada and to Roosevelt Campobello International Park. The house and exhibits will take you back to the time when FDR and his family vacationed there.  Close your eyes, and you can imagine his daughter, Anna, cycling on the grounds.
Another place off the beaten path you might consider is Rangeley Lake State Park on the highest lake in Maine.  Watch out for moose!
Neal Kellogg
2016 Ford F350
2016 Northern Lite 8-11
If you are going to Acadia National Park, I recommend that you camp in Ellsworth and drop your camper to drive the loop road and Cadillac Mountain. There are low bridges on loop road.
The park has a new campground on the mainland on Schoodic Peninsula east of Mt. Desert Island called Schoodic Woods. It's very nice with hookups. It's a 45-minute drive to the main part of Acadia. There are no shuttle buses from Schoodic to the Mt. Desert Island. We have not camped at Schoodic Woods but, since we live nearby, we have walked it in the off season.
Probably beginning in 2020, Acadia National Park wants to require reservations for busy times to drive the Park Loop Road along the ocean and/or to drive to the summit of Cadillac Mountain. The park is struggling with congestion. Fellow truck campers should be aware.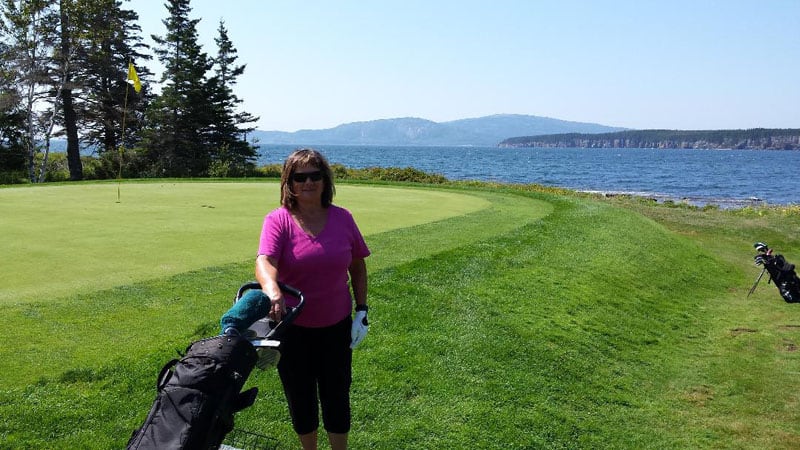 For golfers, Grindstone Neck Golf Course is memorable. There are nine holes on the ocean. It was built in 1891.
Patsy Leavitt
2013 Toyota Tacoma
2018 Four Wheel Camper Fleet Shell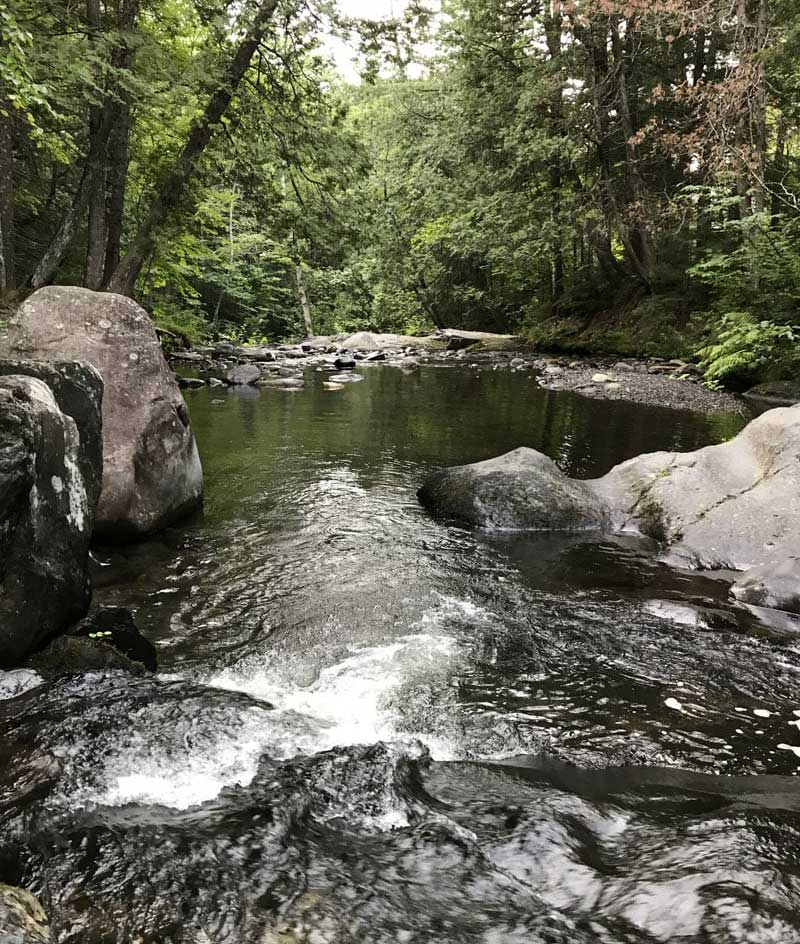 Above: Gulf Hagus, The Grand Canyon Of Maine
One of the best kept secrets in Northern Maine is Gulf Hagas, located in the 3.5 million acre North Maine Woods. The Gulf Hagas hike intersects part of the Appalachian Trail and takes you to the "Grand Canyon of Maine", a beautiful remote gorge.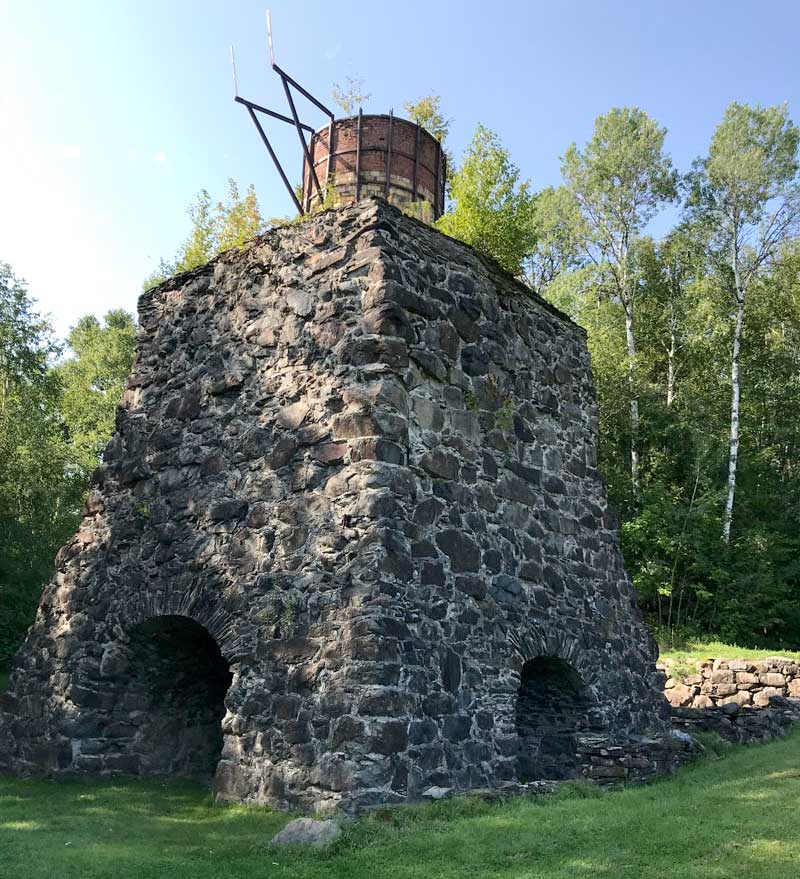 Above: Old blast furnace and kiln that was used in the 1800s at this site for working iron
The Katahdin Iron Works historic site at the KI Jo-Mary Gate is very interesting.
Steve English
2014 Dodge Ram 3500
2013 Lance 1172
We were one of first campers and certainly first truck camper to stay at the newly opened north section of Acadia National Park. It's called Schoodic Woods. That section just opened as we were there to check it out.
A truck camper can drive around the perimeter where larger campers could not. A bus is available to also pick you up at different spots. The bus is especially useful if you are bike riding, which we highly recommend.
I also recommend that you find the locations of the Maine Prison Stores. There are two. They have great handmade items at very reasonable prices.
KJ Livermore
2018 Ram 3500
2018 Arctic Fox 1140
Helen's Restaurant in Machias, Maine has been in business for over 60-years. They specialize in pies. Need I say more.
Highway 1 from Acadia to Calais is beautiful. There are high cliffs along the coast and part of the way is along the Bay of Fundy. It is a tidal river with roads to islands that cross the river bed. The roads are only crossable at low tide.
In New Brunswick, just over the border from Calais, is a beautiful little town called St. Andrews. It is complete with a port, fish and chip stands, and a wonderful old wool mill with beautiful local wool yarn.
Colin Althen
2000 Dodge Dakota
Looking for a Camper
My favorite place in Maine is Cutler. It's a tiny fishing village in a remote part of the coast. It is pretty much undisturbed except for a military communications facility on the south end (not visible in the actual town). There are wonderful hiking trails just north of town that have great views with the forest meeting the ocean on top of cliffs.
Since we're going for rare, I would also recommend visiting Eastport and Lubec, Maine. Again this is the Maine the way it was 50-years ago. I would also recommend going to at least one Maine island; Portland or Monhegan.
I have camped at Cobscook State Park. Mt Desert Narrows near Acadia and Bar Harbor is very popular and, in season, quite pricey. Seaview Campground in Eastport is a nice spot right on the water.
If you are staying in southern Maine, Portland is an awesome city for culinary opportunities. The beach towns I mentioned are very cool, but touristy.
Karen and Alan Bebka
2016 Ram 3500
2016 Northern Lite 8-11Q SE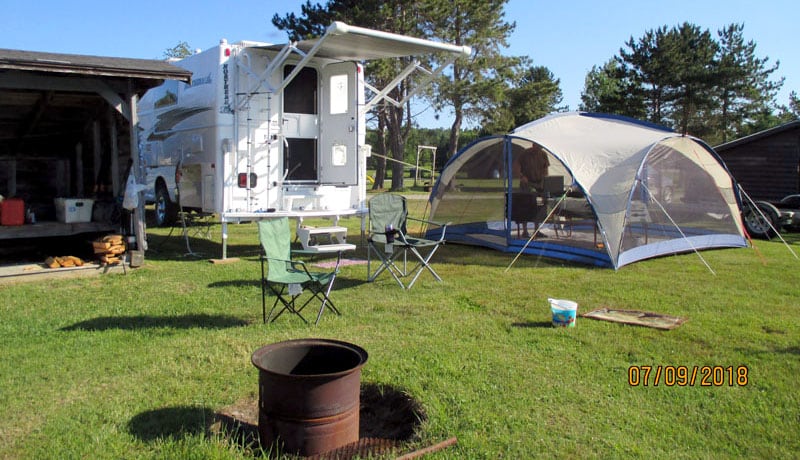 Above: Seeboomok Wilderness Campground
Seeboomok Wilderness Campground is right on the northwest cove of Moosehead Lake. You leave the paved road half way up the west side of the lake and travel the maintained logging roads for the next 25-miles to get there.
For $30 a night it includes water. You get electric when they are generating power several times a day. The sites are clean, all grass and right on the lake shore with a lean-to for storing your extra gear.
There is great boating. The cove is two-miles long to get to the lake that is forty-miles long.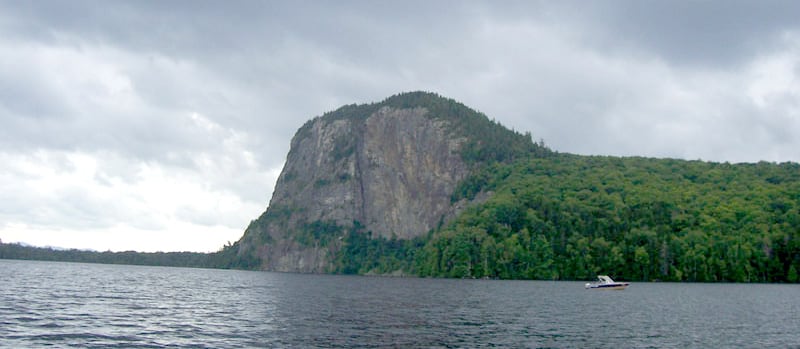 There are magnificent views of the lake and mountains right from your campsite. It is far enough away from civilization to get a full view of the sky every night. Sit by the campfire and you can see satellites crossing overhead!
We've been tenting there for years, but now have a truck camper. It is the most relaxing place to be.
Mount Kineo is in the middle of the east side of the lake. It is made of flint. Flint from Mount Kineo has been found all over the world. We also bring our kayaks to paddle the stream right next to the campground.
Anne Brown
2013 Ford F-450
2018 Host Mammoth
Maine is huge! It is as big as all of the other New England States put together. Here is a good website for Maine; visitmaine.com.
We find driving through Hartford, Connecticut to be akin to torture. North of Hartford isn't too bad, but driving in on I-84 from the west is horrendous. The road is old, always under construction, and has a massive amount of traffic. It has taken us four-hours to get through there. We never go that way anymore.
We go to Newburg, New York, and get on I-87 north. It is a divided highway through very pretty country with usually no traffic. Go up to Exit 21A which is the New York State Thruway over the Hudson River.
Once that road crosses over into Massachusetts, it becomes I-90, the Mass Pike. Going this way is 40-miles further than going through Hartford, but so much easier on the driving, time, and the nerves. Stay on I-90 to Exit 11-A which goes to I-495 North. New England is the land of highway tolls. We have EZ Pass, so it's faster.
I-495 joins I-95 at Newburyport, Massachusetts. About five-miles after this joining, there is a huge New Hampshire Liquor store on the right side off its own exit. Stop there if you want any form of alcohol. Prices are the lowest anywhere we've seen and the variety is huge. It's an easy off-on into the parking lot and there's lots of room for RVs. It's not a toll off-on, just a ramp into the parking area.
We stay on I-95 to Exit 52 which will be marked Falmouth/Freeport. Some people get off south of Portland and take I-295, but we find it easier not to drive through Portland.
The Falmouth spur joins I-295 north of Portland. If you stop in Freeport, use Exit 20. Go to the police station on your right, turn right on West Street beside the station and then a left onto Depot Street. The large L.L. Bean RV parking lot will be on your left. All of the L.L. Bean various stores are easy walk from the lot. You can see the outlet from the lot. L.L. Bean allows overnight camping in the RV lot.
We tend to go north more than south from the Freeport area as we don't like crowds. We have also travelled the coast on a quest to see all the Maine lighthouses driving the Maine Lighthouse Trail. That was lots of fun.
Acadia National Park is a must. The carriage roads through the park are amazing for bicycles or walking. There are several national park campgrounds, but they fill up fast.
We stayed at Seawall once but would not suggest that it is far from everything. This would be one of the times to stay in a commercial park and catch the National Park Service bus into the park.
Bar Harbor is a major tourist trap and looks like Times Square if two to three cruise lines pull in at the same time. It is impossible to park even a small truck camper in town.
The park itself is amazing, especially the drive along the shoreline and the view from the top of Cadillac Mountain. We walked across Sand Beach and out onto the rocks for a mile or so. Stunning scenery.
Visit Maine.com has a good article.  I'd skip 5, 6, 7, 9 as very touristy.
Portland is a fantastic walking city with world class restaurants from take out trucks to high-end. The Old Port area has great architecture and fun to explore fishing wharves. A ferry ride out to the islands is fun.
Maine state parks are old, and relatively inexpensive. They are clean and usually in scenic areas. Our favorite two are Camden Hills and Coobscook.
Camden is a tiny town with views that are amazing from top of Mount Battie. It's a summer tourist town. It's fun to see the two to three masted wooden sailing ships and a trip out in one for the day is well worth it. Coobscook up by Lubec is Downeast, meaning way up the coast.
Maine roads are rough once you get out of the high population areas. Tides off of Cobscook are 25-feet. Bring your passports.
In Lubec you can cross into Canada to see Campobello, Roosevelt's summer home. We've also stayed cheap at Sunset Point RV Park. There is nothing to the camp, but it's an easy walk into town to see the amazing sunsets.
Rockland is also a town with a lot of beautiful architecture, fun small restaurants and the Wyeth museums. All three Wyeths are there and worth the visit.
Click here to get more destination ideas from around the World, Canada, Alaska, and around the lower 48.