Readers share their must-see destinations and recommended camping locations for the legendary U.S. Route 66.  Looking for a travel plan?  Take it easy…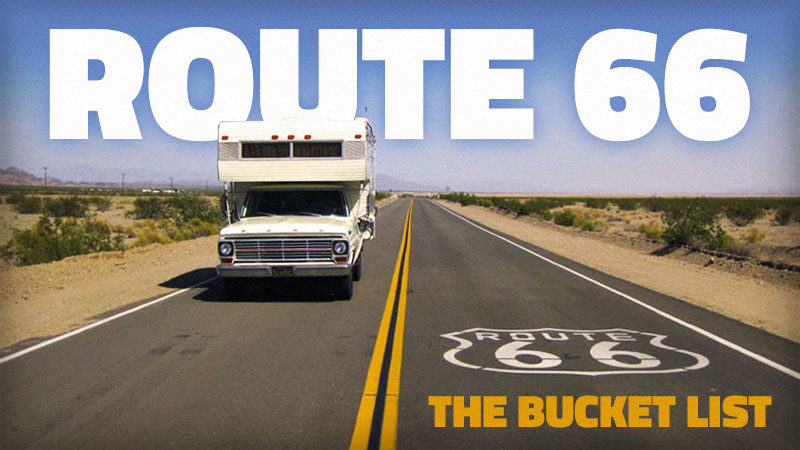 Above: Jack Purdy's 1970 Roll-A-Long Sportster 9.5 on Route 66
U.S. Route 66 was officially removed from the United States Highway System in 1985.  By that point it had been bypassed by the Interstate Highway System for decades.
From a purely practical perspective, what's left of Route 66 today is a relic.  You certainly wouldn't choose it as the most efficient way to drive from Chicago to Santa Monica any more.  Those days are over.
So what's the big deal about Route 66?  Why do folks to this day still plan trips around this obviously defunct roadway?
Get Your Kicks
Bobby Troup's, "Get Your Kicks On (Route 66)" debuted with Nat King Cole and was later covered by Bing Crosby, Chuck Berry, Glen Frey, the Rolling Stones (among many others).  Just by reading the song title, you can probably hear a version or two in your head.
In the early 1960's, Route 66 was also popular CBS television show.  Inspired by Jack Kerouac's novel, On the Road, Route 66 was filmed on location and starred two young wanderers (played by Martin Milner and George Maharis) traveling in a 1960 Chevrolet Corvette convertible.
Route 66 has also been in dozens of popular feature films from Pixar's Cars to Rain Man with Tom Cruise and Dustin Hoffman.  Route 66 also plays a prominent role in John Steinbeck's great American novel, The Grapes of Wrath.
Then there are the beautifully decaying buildings and attractions of Route 66's heyday; classic service stations, art deco and neoned restaurants, teepee motor courts, and road sculptures that defy categorization.  What the heck is the Cadillac Ranch?  Something you have to experience, with spray paint in hand.
This is how we get our kicks on Route 66.  Put your truck tires on this Historic Route, drive where our forefathers chased The West, and travel back to much simpler times.  I don't know about you, but that sounds just about perfect; runnin' down that road…
Charles Coushaine
2001 Ford F350
2012 Chalet DS116RB
Winslow, Arizona
Recently we traveled to a couple of places on historic Route 66 that some of you might have heard of.  One was the Wigwam Motel where each room is a large Wigwam, or Teepee.  That is the motel the animated movie Cars was influenced by.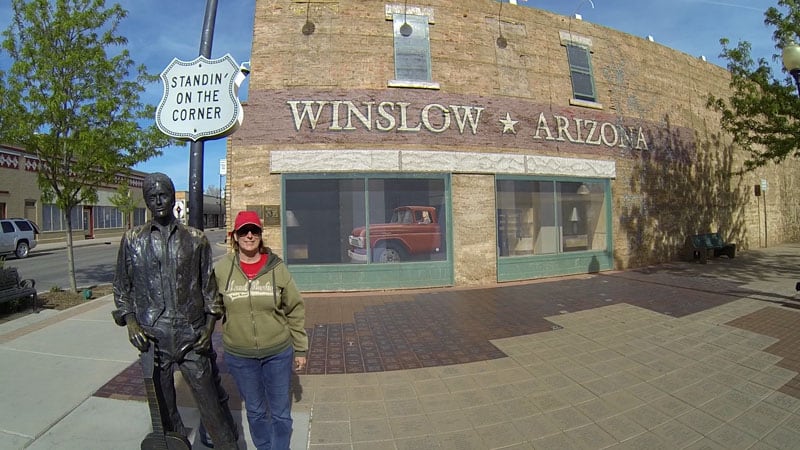 Then we traveled to Winslow, Arizona to stand on the corner made famous by the 1970's Eagles song 'Take it Easy'.  I actually had this song in my video, but YouTube made me remove it!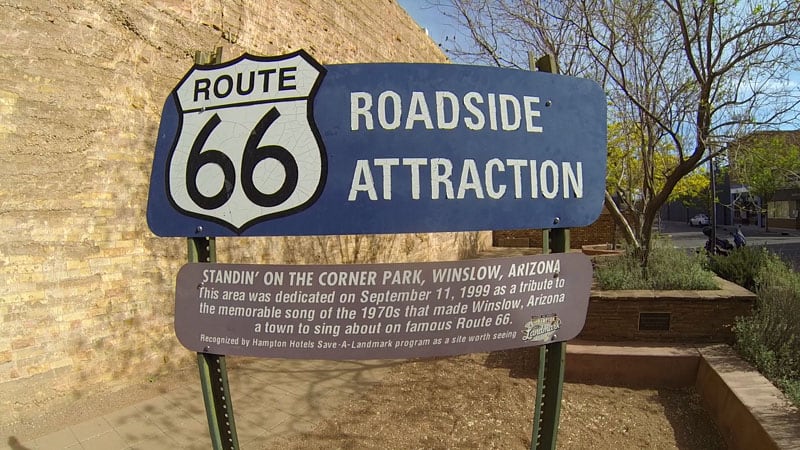 We also visited Winslow's 9/11 Memorial.  While we were there we also visited the La Posada motel and its unique train stop heritage.
Bill Billyard
2000 Dodge Ram 3500
2008 Palomino Winter Creek 115RS
Throughout Oklahoma
We drove Route 66 from Oklahoma City, Oklahoma to St, Louis, Missouri.  There are so many neat stops on that stretch that it took three days to do a one day trip.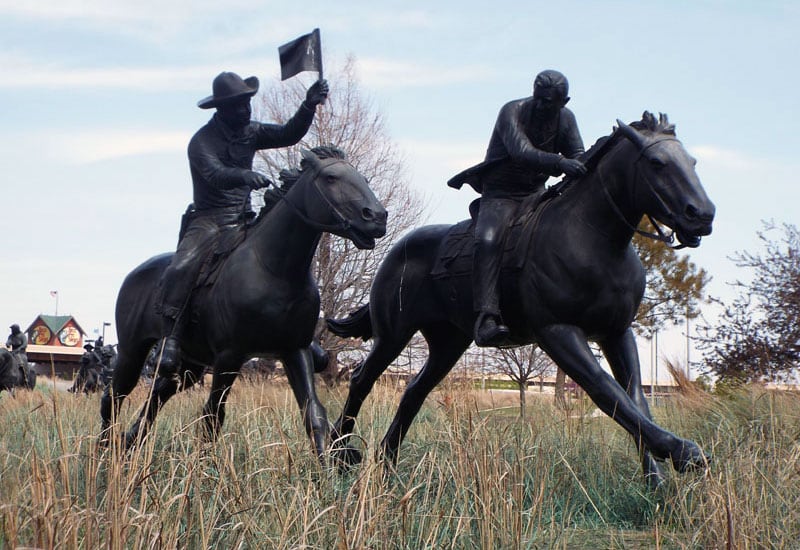 We enjoyed the Land Rush Bronzes in Oklahoma City.  These bronzes are full size reflecting the people, horses and wagons engaged in the land rush of 1893.
To stand in the middle makes you feel that you can hear the sound of the horses hooves and wagon wheels with the drivers encouraging their horses to go faster and faster to get the best land.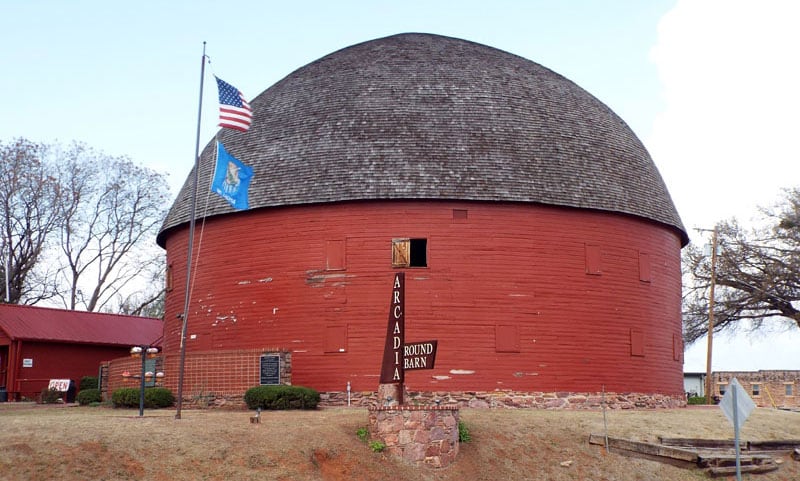 The Round Barn in Arcadia, Oklahoma was built in 1898.  It fell into disrepair until a group of volunteers restored and reopened it in 1992.  It now houses a gift shop and a lot of local memorabilia.  It is strange to stand in a building this big (approximately 60-feet) with no corners.
The Route 66 Interpretive Center in Chandler, Oklahoma has a lot of the history of Route 66 with pictures and displays.  Among other things, you can watch videos while lying on a bed or sit in old car seats.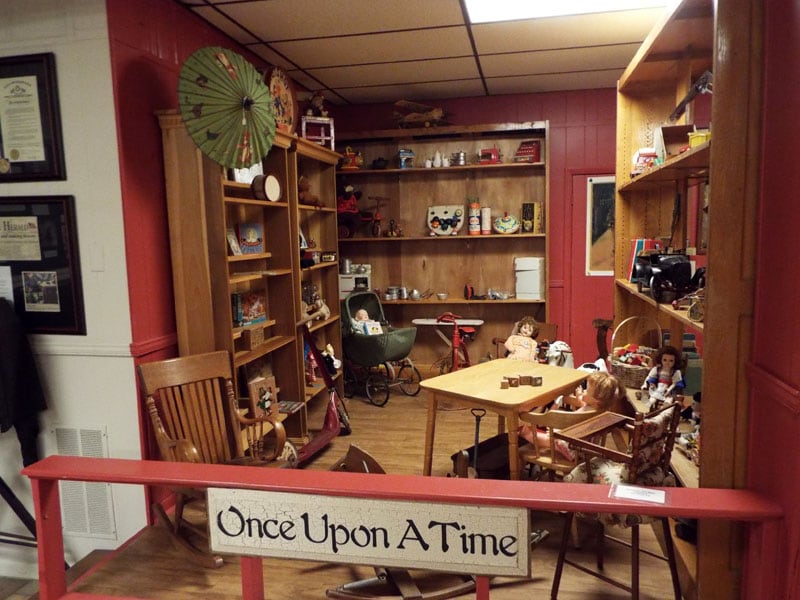 The Sapulpa Historical Museum in Sapulpa, Oklahoma was a real surprise.  From the outside it looks like a fairly plain small town museum.  However, inside it is full of full size dioramas depicting life in the late 1800s and early 1900s.  There is also a large HO gauge model railroad layout.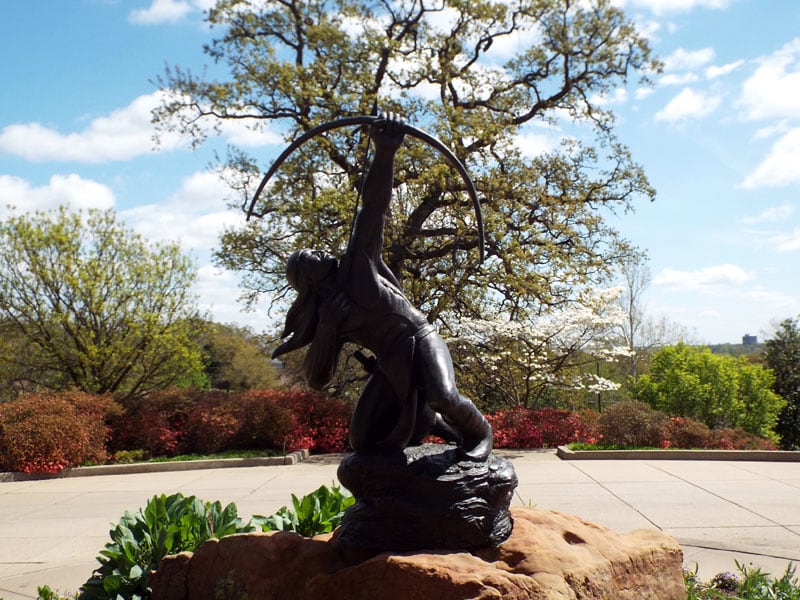 In Tulsa, Oklahoma there is the Gilcrease Museum.  The museum has displays of the American West including indigenous peoples and the affect of Western expansion.
While not enthusiasts of wall hung paintings, we found many here that were very worthy of close examination.  There also were many beautiful bronzes, which we always enjoy.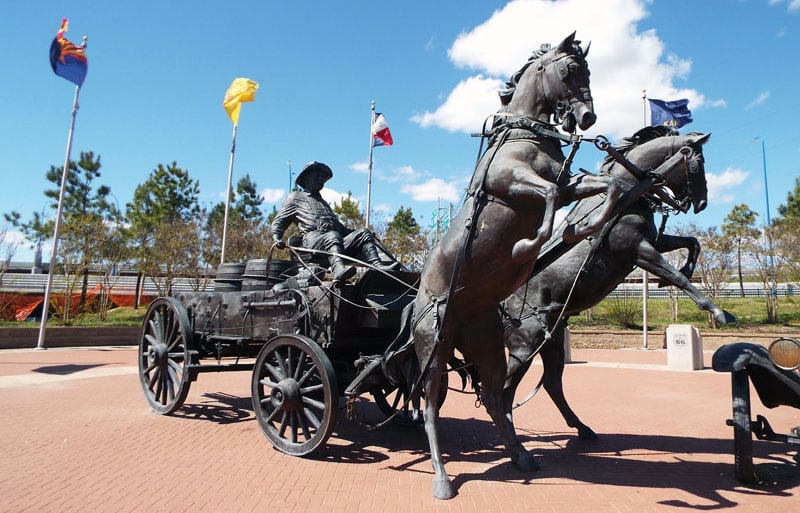 The bronzes depict life in the early 1900s.  It demonstrates the conflict between horses and cars, and the military going to World War I.  Bridges and steam engines show memories of the early 20th century.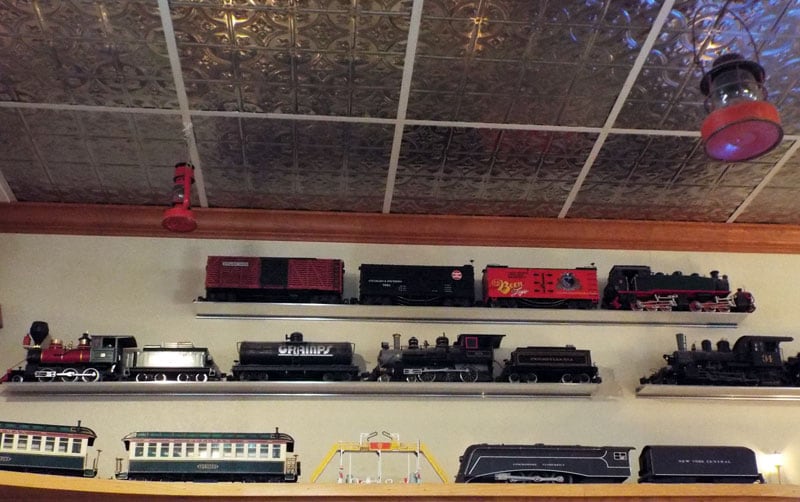 Ollies Restaurant and Railroad Museum in Tulsa is more of a model train museum than a restaurant.  I like trains, particularly steam trains, and this place is full of them.  Some are running, and some are just on display.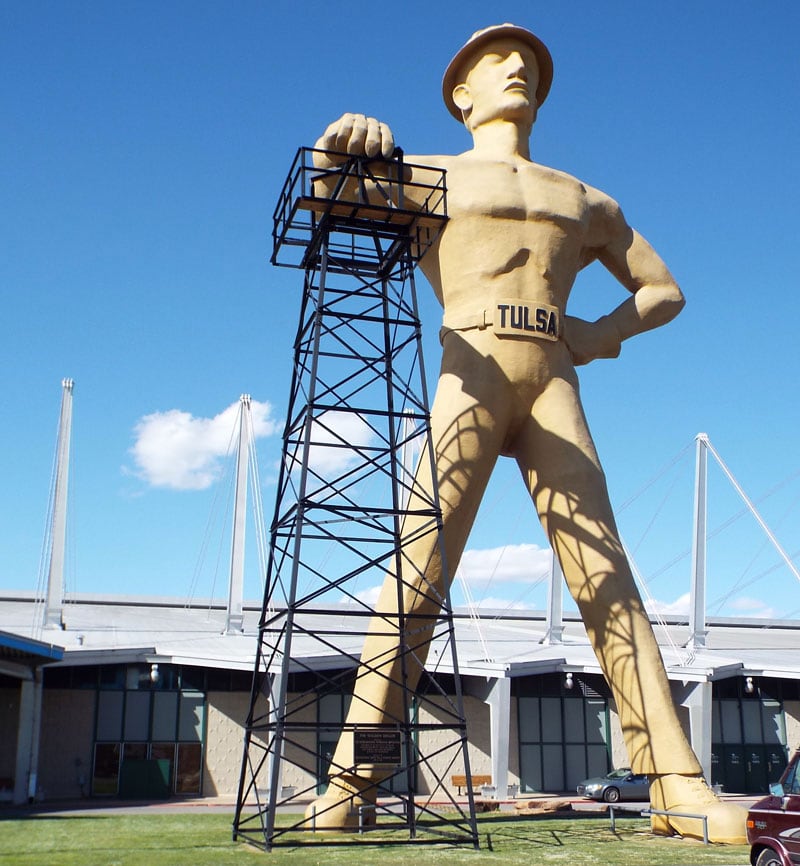 The Golden Driller, also in Tulsa, is a 75-foot high statue dedicated to the petroleum industry in Oklahoma.  While you're in Tulsa, it is worth a short stop.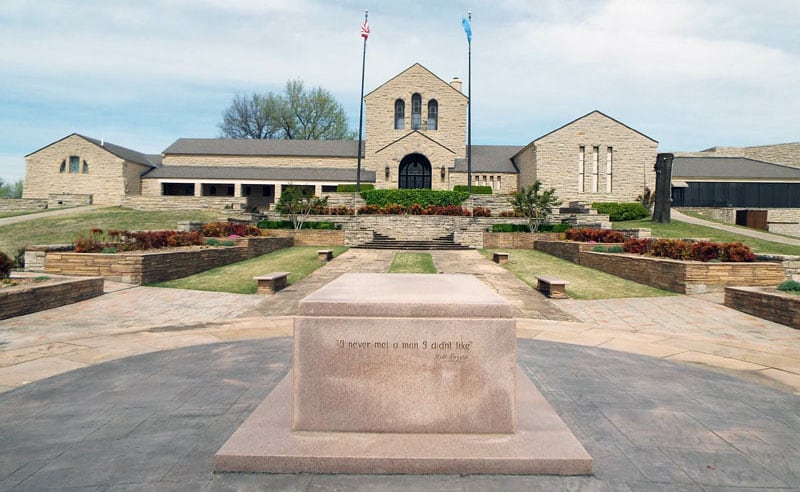 In our opinion, the Will Rogers Museum is a must do.  Will Rogers is known as a cowboy philosopher and humorist.  When I told Sue this was a must do she replied, "Who is he?"  Considering he was born in the late 1800s, this time was way before Sue.
However, his folksy humor and down home sayings endeared him to many in the early 1900s.  As did his roping tricks, which he learned as a working cowboy.  His roping tricks earned him a place in the Guinness Book of World Records.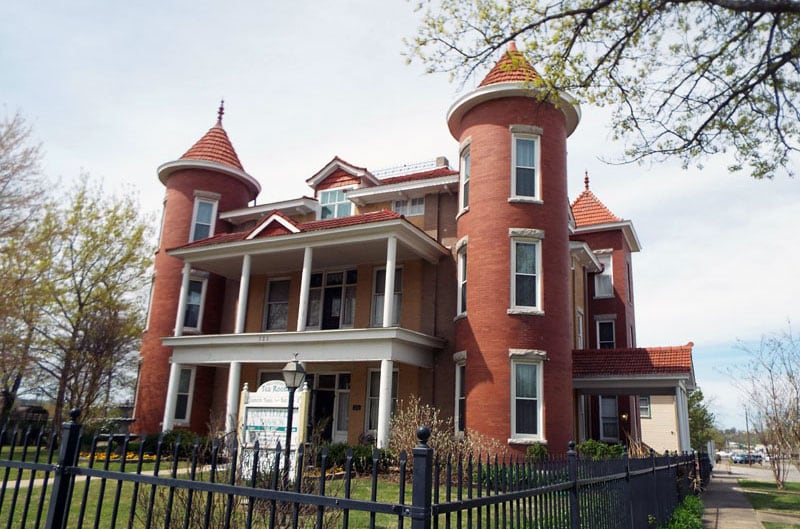 The Belvidere Mansion in Claremore, Oklahoma was built in 1907.  While it has a restaurant, more of interest to us was the historically furnished living quarters.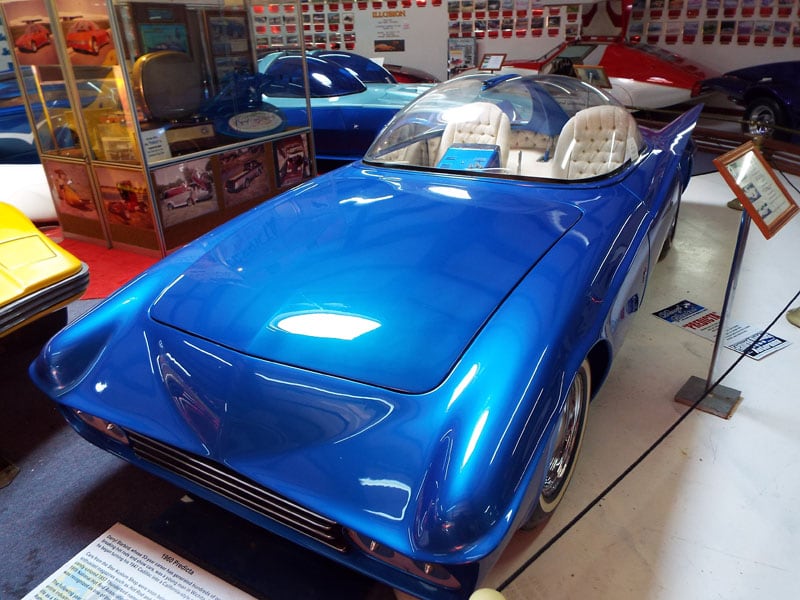 If you like cars, as I do, Daryl Starbird's Custom Cars is in Afton, Oklahoma will make your mouth water.  Daryl has built, modified, created many cars over the years.  This displays many of his own creations as well as others.  Many cars started as a factory built car or truck but, by the time Daryl finished with it, you may have trouble figuring out what it started life as.
Janet and Jim Manis
2014 Ram 2500HD
2015 Travel Lite 960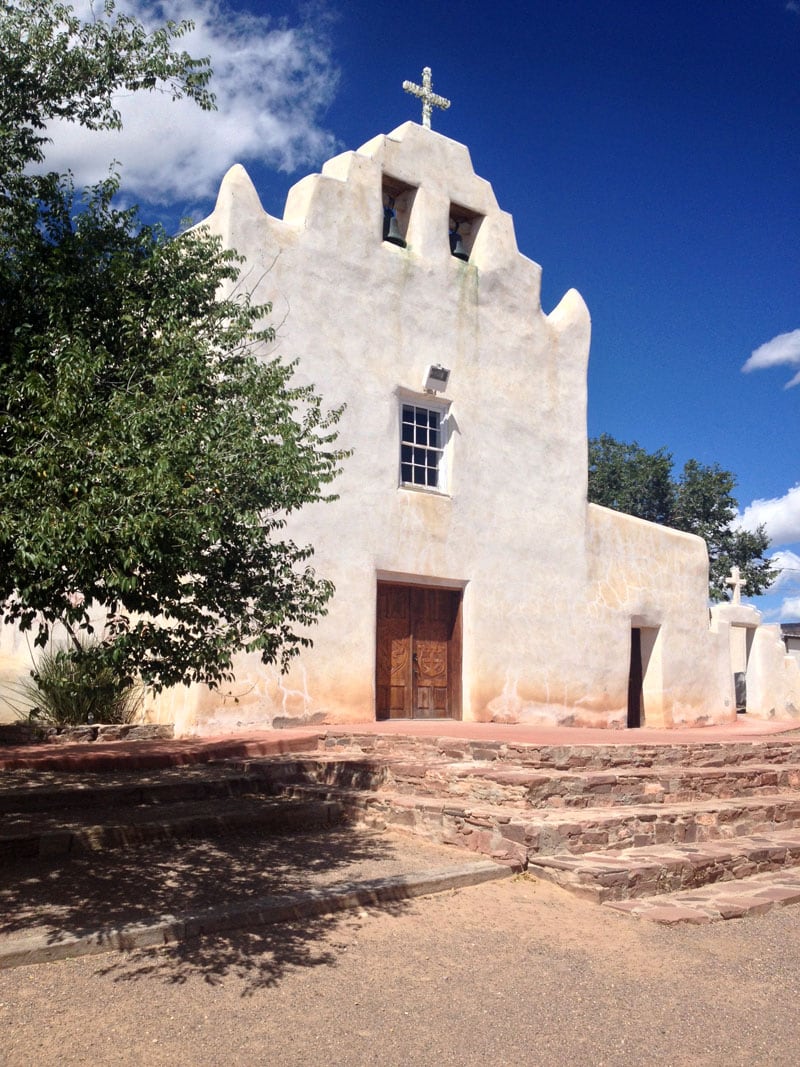 West of Albuquerque, New Mexico
While exploring Route 66, visit the San Jose Mission, which is also known as Laguna Church or St. Joseph's Church.  It is located in the old Laguna village on the Laguna Pueblo just west of Albuquerque.
When we saw the mission on the map, it seemed to draw us, so we took the exit.  The church was built in 1699.  It's beautiful inside with huge beams and twigs in geometric designs, and amazing paintings.  It's a very spiritual and impressive church to visit.  We highly recommend it.
Bruce Van Aken
2016 Ram 3500
2019 Northern Lite 10-2 EX CDLE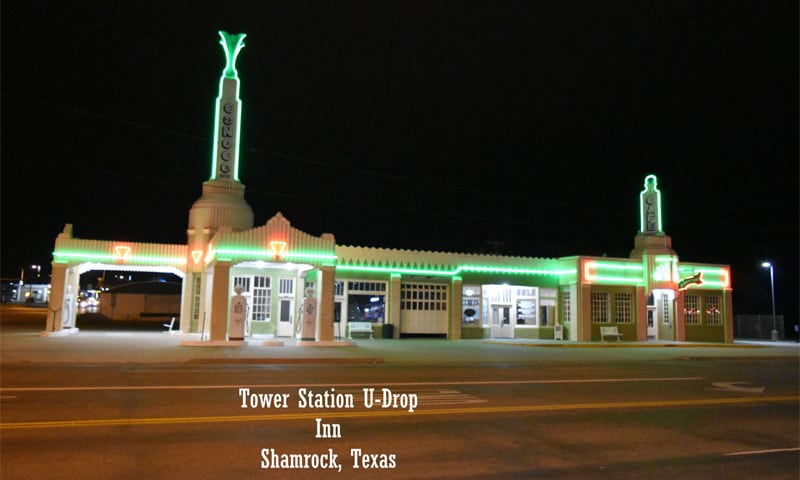 Shamrock, Texas
Tower Station U-Drop Inn Cafe is a restored Route 66 gas station/cafe built in 1936.  It is now a museum and visitor center.  It is a Texas historic landmark and is a really cool example of art deco styling of the time.
Elvis had a meal at one of the booths in the cafe.  The movie Cars used the station as inspiration for part of their animated set.
The cafe provides free coffee and we learned about the area from the nice lady working there.  They also sell Route 66 souvenirs.  It's a fun place to take a break.
We camped at the Mesquite Canyon Steakhouse located just north of town.  They have full hookups for $20 and the food in the restaurant is good.
Amarillo, Texas
Cadillac Ranch is an interesting place with ten Cadillac cars buried nose first in the ground.  They were originally buried in 1974.  In 1997, the cars were moved to their present location on private property.
All are welcome to take the short walk out to the cars and are even encouraged to add some of your own graffiti.  They are visible from I-40 on the south side.  You can park along the access road.
Church Rock, New Mexico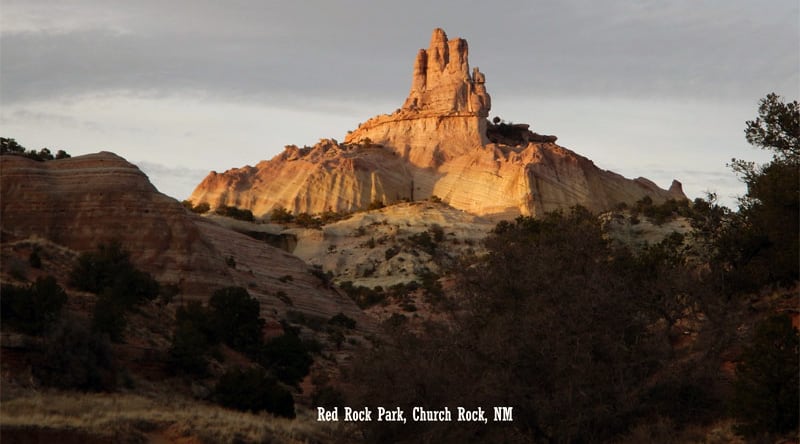 Red Rock Park is a city run campground in Church Rock, New Mexico.  It is a quiet campground that's $22 a night with electric.  There are modern restrooms with showers that have security access to allow only campers to use them.
Larry Pearson
2017 Ford F-450
2017 Lance 850
Winslow, Arizona
From our campsite in Homolovi State Park outside Winslow, Arizona, we could see I-40 and the Flying J where we bought fuel.  Along Interstates 10 and 40, spring winds in Texas, New Mexico, Arizona and California can be intense.  April 2018, when we visited, was typical.

The day we arrived, wind blowing dust and smoke filled the air robbing us of the distant layered mountains across the valley.  Each afternoon during our three day stay, the winds literally rocked our truck and camper.  We also experienced a downpour and hail.
Railroad tracks run parallel to I-40 through Winslow.  Even though trains regularly passed through, we only heard them outside our camper in the dead of night when the air was still.  It was the same with the 18-wheelers.
At Homolovi State Park, the bathrooms and showers were clean.  Most campsites were level, including ours.  Most sites also come with a picnic table, fire ring and tent pad.
We put up our tent the first day but took it down the second day when the afternoon winds started howling.  With all the dust and smoke in the air, the sunsets were amazing.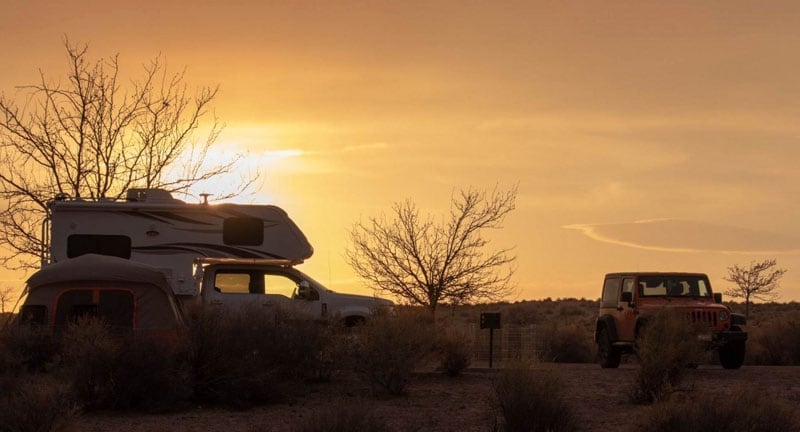 Being close, but not too close, to the Interstate makes this a good place to overnight.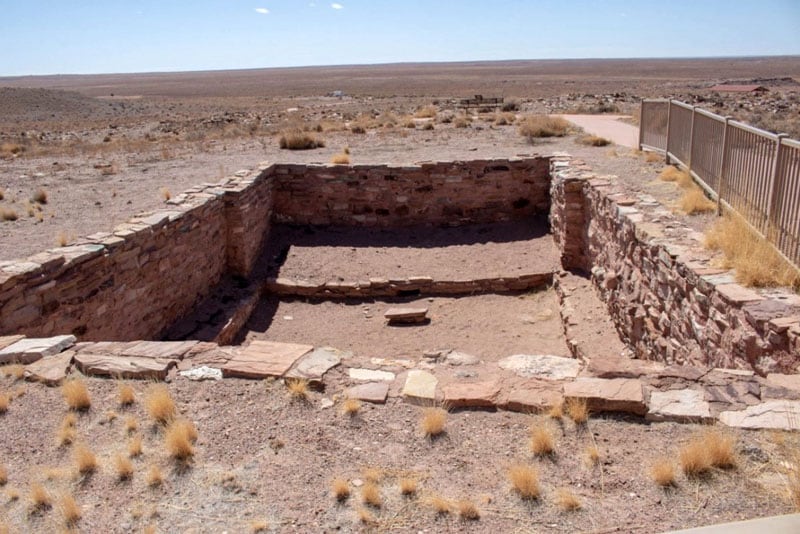 The park protects ancient archeological sites inhabited by pre-Columbus Americans called the Homolovi, precursors to the Hopi civilization.
After telling friends we were going to stay in this park, their response was, "You won't like it there.  There is nothing to see."  I disagree.  Deserts make for beautiful places.  Below, the camera is pointed north from the Homolovi II archeological site.

When we reached Winslow, Arizona, we needed a laundromat.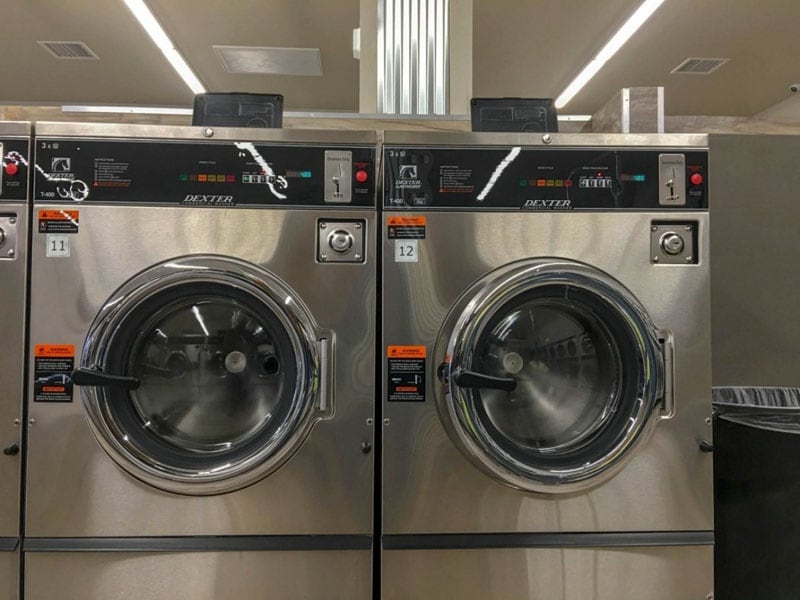 Fortunately for us, Winslow has an excellent laundromat; Handee II (also known as Leisure Laundromat on Google and Apple Maps).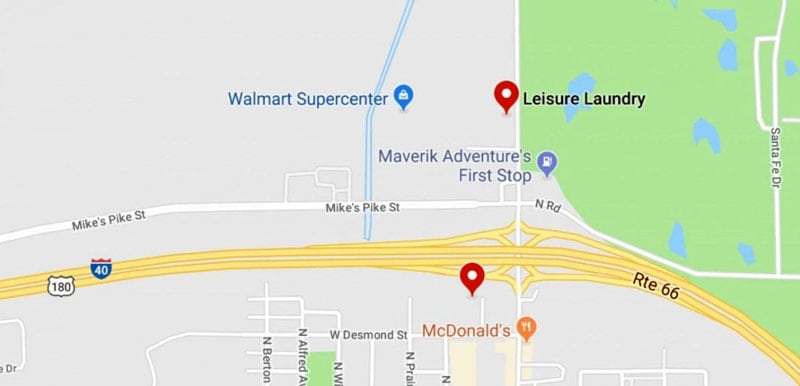 As nice as the laundromat was, it doesn't hold a candle to Winslow's main attraction; Standing On The Corner.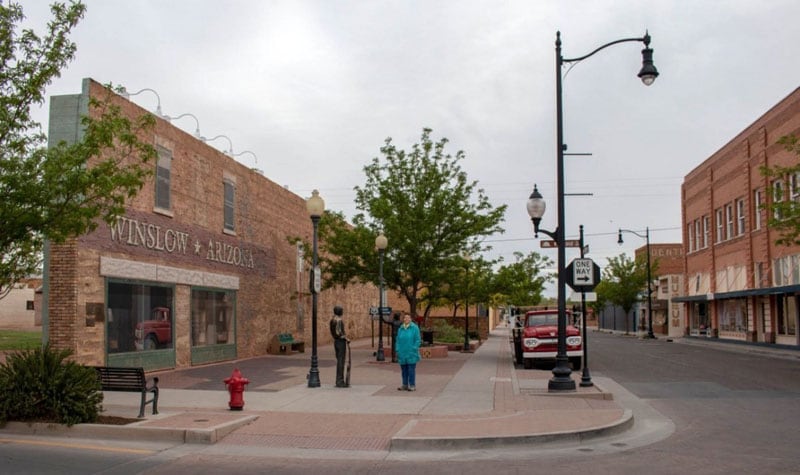 In 1972, at the impressionable age of 14, the Eagles iconic song Take It Easy rocketed to the top of the charts.  The song is embedded deep in my psyche.  I still ramp up the volume whenever the song comes on the radio (and yes, I listen to oldie stations).  The song is on my iPhone favorite playlist.
If you aren't familiar with the song's lyrics, the narrator is standing on a corner in Winslow, Arizona and describes a woman in a flatbed Ford who slowed down to check him out.
Before our April, 2018 trip, during my research, I was taken by surprise by the existence of the Standing On The Corner Park in Winslow.  Seeing the park and standing on the corner in Winslow, Arizona went straight to the top of my bucket list.

Standing On The Corner Park was easy to find using Google Maps.  We parked behind the red flatbed Ford truck.  The flatbed Ford's reflection is in the store window.
Walking around the building, expecting to see the building front, I was surprised by the realization that the building was just a facade.  Walking back around to the window reflecting the truck, I realized that there was no reflection at all. The truck was painted on the window to look like a reflection.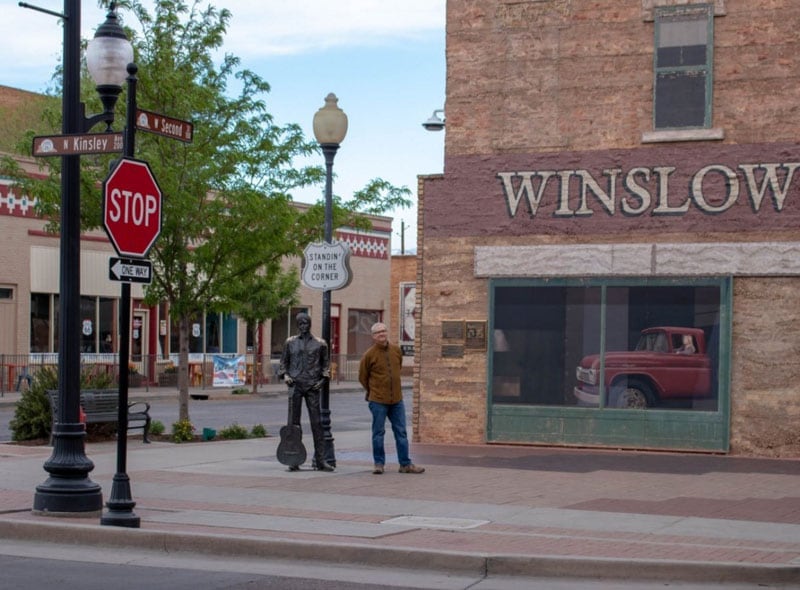 There were two statues.  One statue was of a man with his guitar.  The other statue was more of a hippie looking dude.  The hippie dude must have been the one standing on the corner from the song.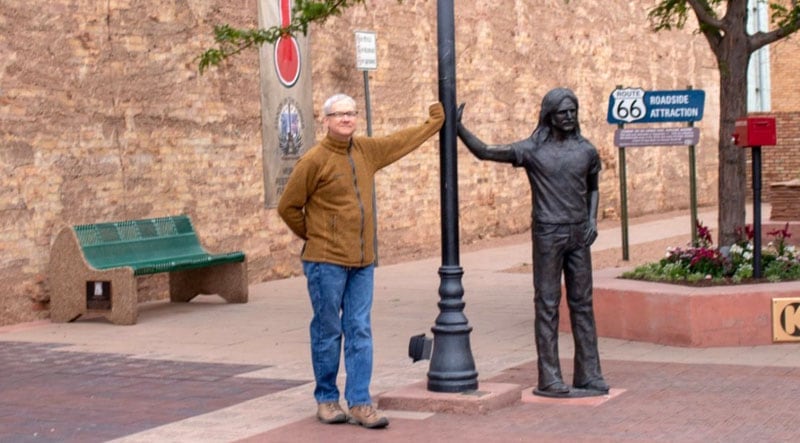 As I imagined he would be dressed, the hippie dude had long hair, jeans and a t-shirt.  Hanging out on the corner with my hippie dude buddy satisfied the bucket list.
Song lyrics are a funny thing.  I heard the song lyrics mention a flathead Ford slowing down.  Linda, my wife, heard the lyrics as a red Ford.  We ended up listening to the song over and over.  I ended up thinking the lyrics said flatbed Ford.  Linda still thinks it was a red Ford.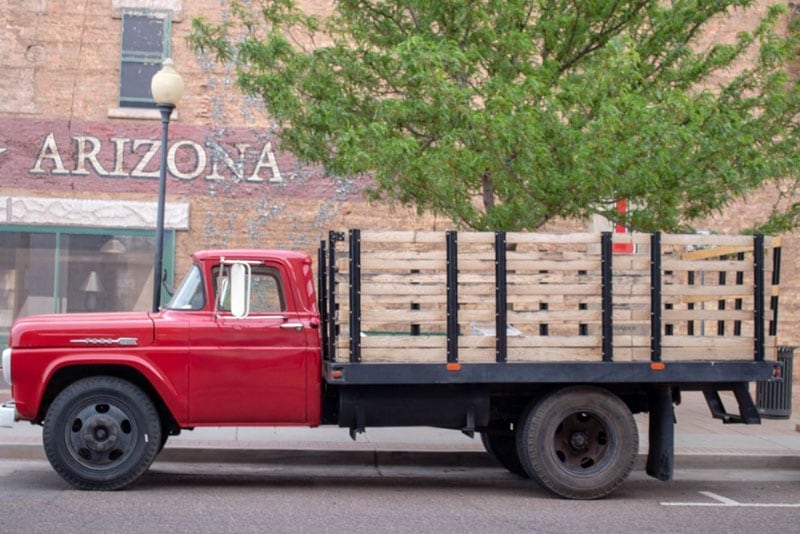 Linda was happy the park's truck was red.  I was happy it was a flatbed.  Universal alignment would be achieved if the engine under the hood was a flathead straight six.  All would be right in the world.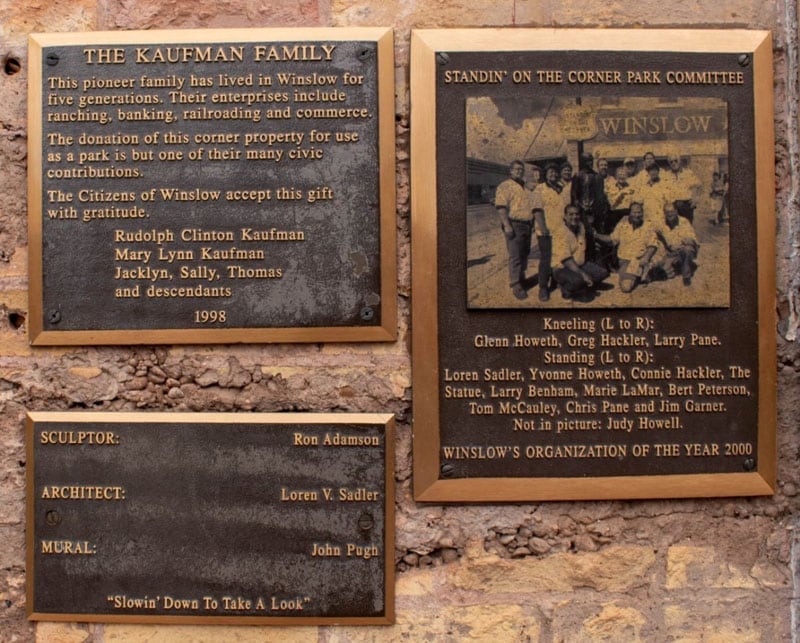 Thanks to all those who made this park possible.  It makes a great bucket list item to cross off.
Sue Carstens
1998 Dodge Ram 3500
1990s Okanagan
Arizona
We took a southwest tour in February 2018 and decided to drive through Petrified Forest National Park.  The park actually contains part of Historic Route 66.

The hours we spent that afternoon driving, getting out and exploring, visiting the visitor center and the old hotel are some of the most memorable of our trip.  Unfortunately, no overnight camping is allowed at the park.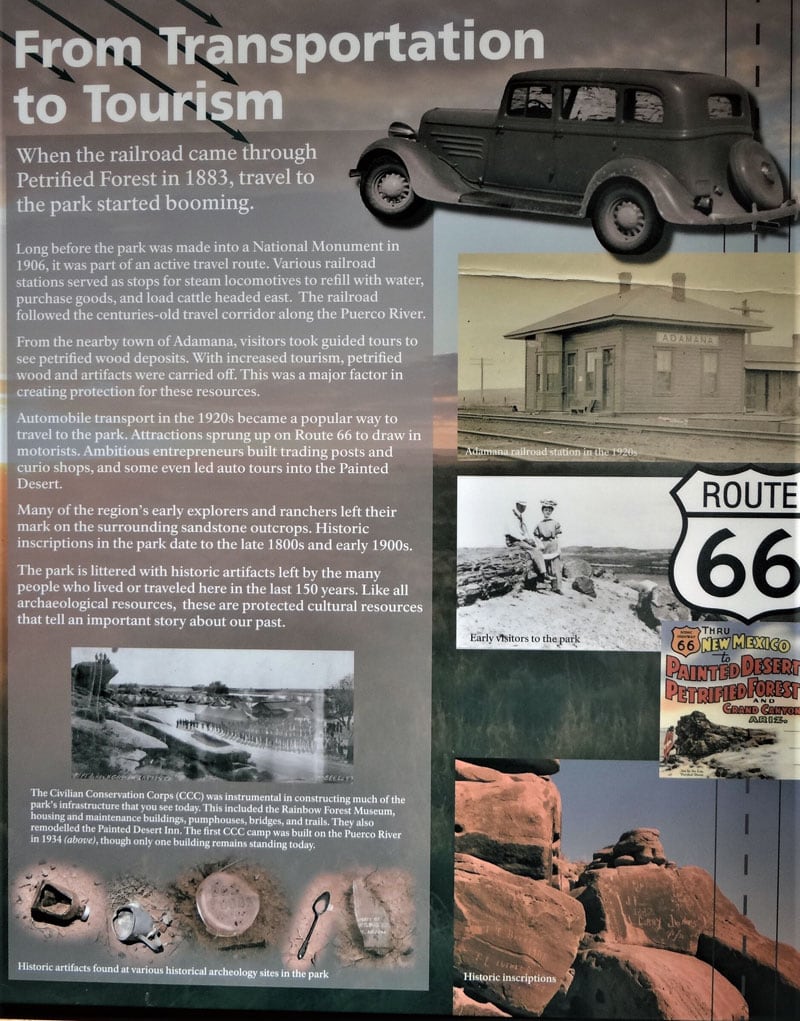 Mary Newkirk
2014 Dodge 2500
1993 Starcraft
PICS
Oklahoma
Yankee legend, Mickey Mantle's childhood home is in Commerce, Oklahoma.  In Commerce, there is a tiny Conoco filling station built from the side of a large building.  The former Route 66 gas station was made into a Dairy King across the street.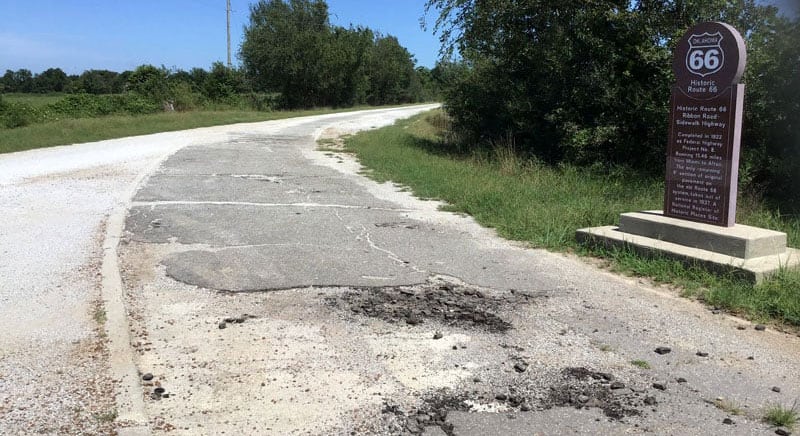 Above: Ribbon Road section, Route 66
The Ribbon Road was paved between 1921 and 1922 as OK Highway 7.  It became part of Route 66 in 1926.  The original road is south of Miami, Oklahoma, and had gravel shoulders, concrete curbs and base with asphalt overlay. It was only 9-feet wide.  To my knowledge, this section, and one further south, are all that remains that is still driveable.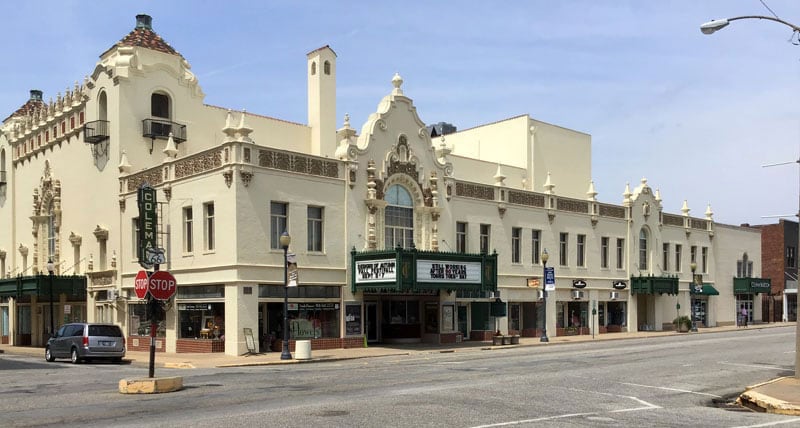 Above: Coleman Theater in Miami, Oklahoma
Coleman Theater opened in 1929 and still has the original Wurlitzer organ.  Acts like Will Rogers, Tom Mix, Sally Rand, Bing Crosby and Jim Thorpe appeared on its stage.  The Coleman Theatre has free tours Tuesday through Friday from 10:00 am to 4:00 pm and Saturday 10:00 am to 12:00 noon.  Coleman Theater was listed in the National Register of Historic Places in 1983.
I believe the last Ku-Ku Burger is still open in Miami.  The bird is awesome.  I live in Miami, so camping places are not something I need.  Family and friends have stayed at Miami RV located at 2001 East Steve Owens Boulevard, Miami, Oklahoma.
You can also stay at Quapaw Casino, 58100 East 64 Road, Miami, Oklahoma.  And there is Twin Bridges State Park, 14801 OK Highway 137, Fairland, Oklahoma.  The state park is about ten miles off Route 66.
As you continue on south you will pass Buffalo Ranch. It was a great tourist stop along Route 66 back in the 50s and 60s.  The Interstate system was the death of many attractions.
John Lawrence
2014 Ram 3500
2008 Palomino Bronco pop up
Oatman, Arizona
Oatman, Arizona is an old western mining town.  Feed the Borros right on the Main Street, or watch a gunfight.  It is nestled in the mountains and it is a really amazing part of Route 66.  It is the surrounding area of Kingman, Arizona.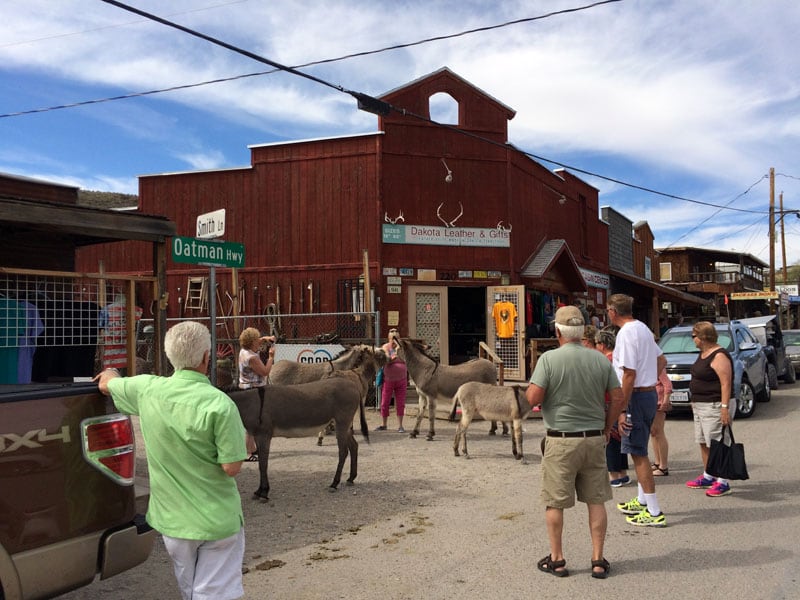 The closest towns are Golden Shores or Bullhead City, Arizona.  Over into California there is another historic town on Route 66 called Needles which was depicted as the crossing into California in the Grapes of Wrath, by John Steinbeck.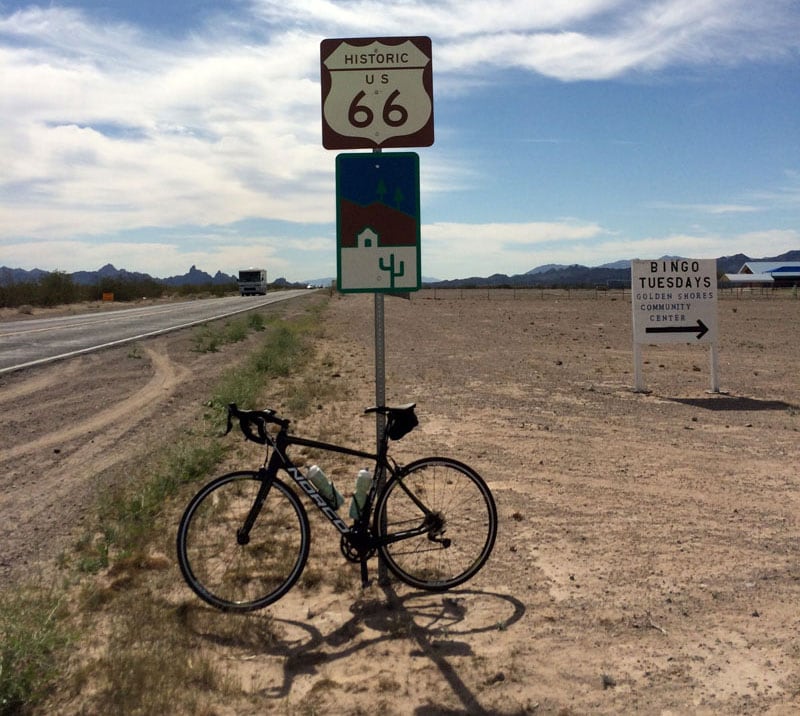 Before going to Oatman, I had cycled from Needles, all the way over to Topock Gorge.  The picture of my bike against the Route 66 sign was taken in Golden Shores heading to Topock.
That was my second day in the area, and my first view of the Needles Mountains.  I had attempted to ride up to Oatman one day after that ride, having come from the AVI Casino area, across the Colorado River in Nevada.  I'm no kid, and found the constant elevation to be challenging.  I never did make it, and no regrets for trying.
Oatman is there waiting to amaze you.  It is the destination of many snowbirds, tourists, or those who want to ride their hog on old Route 66.  Located in the Black Mountains, and sitting at 2700 feet, an old mine sits where two prospectors struck gold!  In them thar hills was $10,000,000; a fair strike in the early 1900s.  The population then erupted, and 3,500 miners were located there.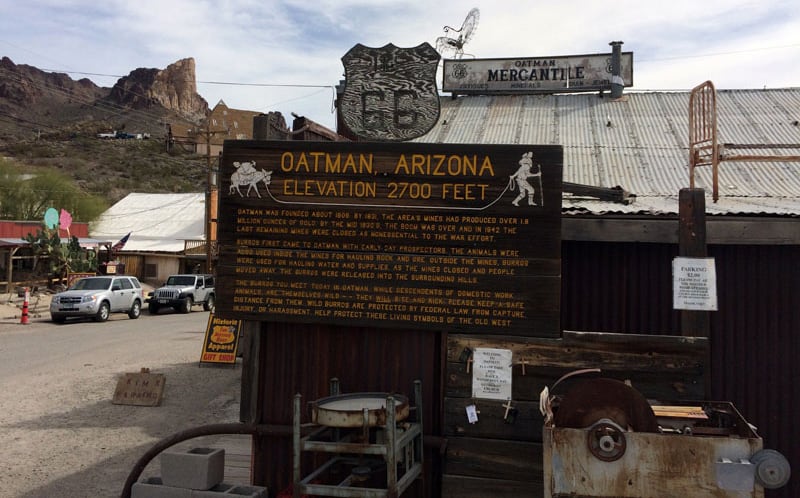 Oatman was named after Olive Oatman, kidnapped by the Apache in 1857, and then sold on to the Mohave tribe who treated her well.  She was tattooed under her bottom lip which looks like a chin beard today.  This tattoo was depicted by a, "lady of the night" in the TV series, Hell on Wheels.
A hotel opened in 1902, a two story adobe building that has been used in movies, one was How the West Was Won.  It is the oldest two story building in Mohave County.  Add the wooden sidewalks and the old jail, and put yourself back in time.
The Burros of Oatman were employed to haul mine workers in or out of town.  When it was abandoned they were left to fend for themselves.  A white Burro can be seen on the outskirts of town heading over the twisting, winding road that leads to Kingman, Arizona.  Sightings of this white burro are rare and the road can be dangerous.
Carrots are a major currency in town though.  The Burros will appear every morning, ready to entertain but, care is needed when feeding them, although we never saw any animal-osity.  Watching the interactions amongst so many can't be overlooked.  Funny to watch is the occasional entry by one or so burros into a store.  No doubt they are just inquiring about carrot delivery times.
A tourist trap?  Not in our view.  It's a look back at what was, perhaps a wee bit elaborated.
Packs of Harley Davidson motorbikes, the two-wheeled cowboys, from all over America and the world come to Oatman.  Heading southeast they hit Golden Shores, and then Topock Gorge, which is a half mile from the I-40.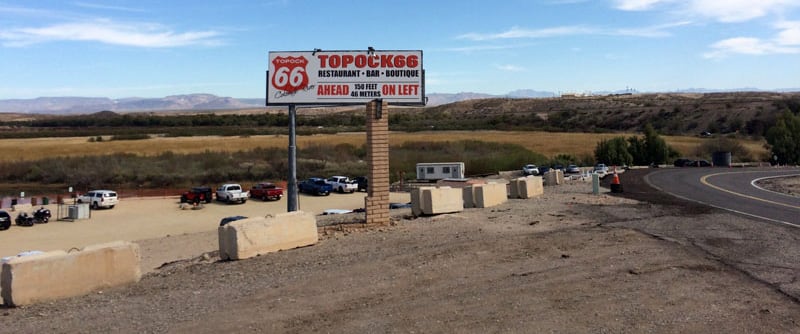 The bridge on the I-40 crosses the Colorado River, as it winds down into Lake Havasu, and onto the Parker Dam where you'll see more burros.  That same bridge across that amazing river was one of the first sightings in the classic film Easy Rider with Fonda and Hopper heading into California.  Born to be wild, indeed.  RIP Peter Fonda.
That same area has the Needles Mountains that are spiky, jagged, and hard to miss.  Overall, the Oatman area deserves a visit as it offers a history of mining, Route 66, and so much visual splendor.
Goffs, California
It's an unincorporated town in San Bernardino County that is now a near-deserted little enclave with a past.  The area is within the Piute mountains.  As a cyclist, I was drawn there based on the quiet road options, but was amazed by this ghost town existing with trains never ending, and goods moved to and fro.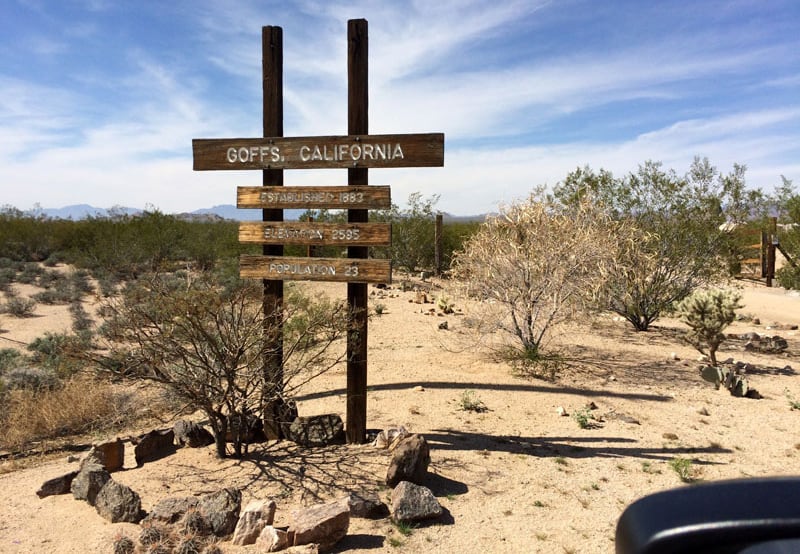 Goffs was a railroad stop located on a high point of Route 66, some 2,595-feet above sea level.  It was first known as Blake from the original founder, Isaac Blake.  It was considered part of the rail sidings along the Atchison, Topeka and Santa Fe railroad.
The Goffs schoolhouse is now a place that is loaded with artifacts of older times.  It opened in 1914 and closed in 1934 when a bigger railroad town Essex, California took the kids.
Temperatures average over 100-degrees, until that cool 35 to 65-degree time in the California winter.
On one of our winter visits, we walked in the desert in search of the desert tortoise because Goffs is the world capital of the desert tortoise.  Unfortunately, they were still hibernating in the early months of the year.
As we rolled up to begin the search a song played on the radio by a now sadly defunct Bullhead City radio station.  Bob Dylan's Romance in Durango, "Hot chili peppers in the blistering sun… dust on my face and my cape".  If ever a song seemed to fit a moment in time, this did it.
At the end of that day we found ourselves in a great Mexican restaurant in Bullhead City.  Perfect day.  Perfect locations.
Goffs at one time was the sole supplier to the now famous town, which was known then as a small outpost – Las Vegas.  A rail line through the desert is big business, and today trains thunder on through, sidings still exist.  Hiking into mine shafts is waiting for you, if that is your thing.
Desert scenery abounds, and off in the north is Las Vegas and Barstow, California to the west, and Yuma, Arizona to the south.  It was hard to imagine life in those days, but they did it.  Railroads and Route 66.
Amboy, California
The Amboy Crater was the attraction, but turned out to be only one part of another place that has become a California ghost town.  Roy's Motel and Cafe is for sale, if anyone wants to make an offer.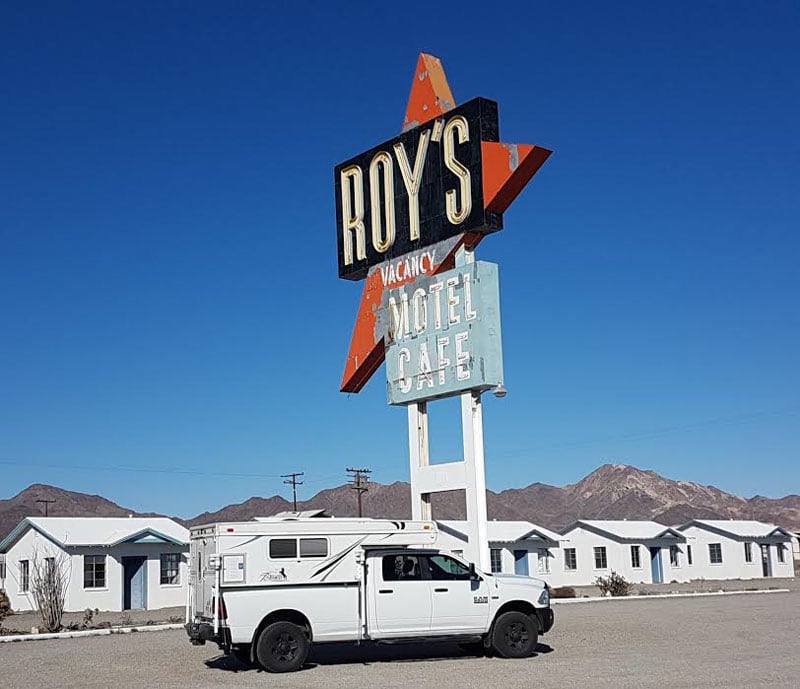 As parts of that old 66 were under repair, we reached Amboy, from Kelbaker Road, having driven over from Needles, California.  As we headed down into town a rolling desert greeted us to the south away from the mountains, and climbing along the I-40.  Unknown to us was the Bristol Dry Lake.  Salt is the only thing on their menu.  Beyond the lake, you will end up in Joshua Tree which has rock formations that are astonishing.
Off in the west you can't mistake the cinder cone volcano.  It is a black mass, rising out of the desert.  It is a hiking local, but beware because two people from Orange County died there within the last few years.  Hiking in the late afternoon, they became separated, and were found days later.
More recently, a 60-plus male met the same fate, becoming disoriented, succumbing the desert heat.  Climbing the crater, and walking onto the cone itself, is outer space-like; rising up and onto the edges, looking over the flatness of town and the mountains up on I-40.  It is remote indeed, and worth the hike.  You need water.  It's a must.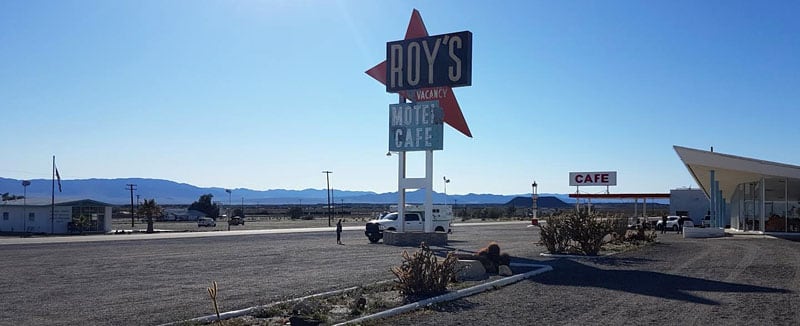 Back into town, Roy's Motel and Cafe is a mid-century modern marvel.  There is a still open post office with a zip code of 92304.  The Motel reception, with the front desk, and 77 sunset strip decor, you can visualize Ford Thunderbirds with their roofs down, Chevy Bel Airs, Harley Davidson riders, and truckers all rolling past.  Some stopping, others rolling on by.
A cafe is still open.  There are no shakes, fries or burgers, but you can still get a coke!  There is a large flat open court yard.  The massive sign was erected in 1959 with the towering neon boomerang that is visible for miles.  Roy's is impossible not to be amazed at.  A walk to the cabins, which are little houses, some with better amenities than others, are open, and ready to visit.  Think of who was there.
Today, written comments exist in many cabins, and show that some strange force exists in the area.  Words written in one of the cabins begging to be interpreted, or ignored.
If you want to overland, use that Jeep or your four-wheel drive, and camp out under the night skies.  The Mohave Trail is close by, and it stretches all the way from the outskirts of Laughlin, Nevada to Barstow, California.  There are so many places to boondock.  It is out there for you, wild and inviting.
Steeped in history, remember the old days, and the older days in this area.  Get your kicks on Route 66.
Jodie and Chuck Ramsey
2012 Chevy Silverado 3500
2015 Adventurer 116DS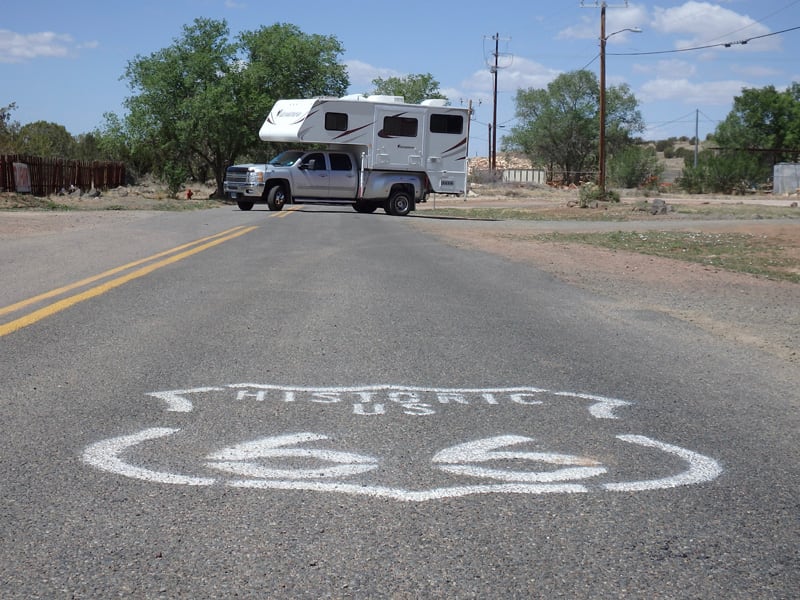 Our travels along Route 66 have taken place in New Mexico and Arizona when we found route markings along Route 40.  The first time we passed that way, we had a hard time finding the exits when Route 66 would split off, but on another year's journey, we had travel guides that helped us stay the course.
Oatman, Arizona
Among our favorite stops was Oatman, Arizona.  We were driving along and saw a highway sign warning of donkeys and burros for the next six or so miles.  Just over the next rise on the road there was a solitary animal.
The next corner revealed another two or three burros and at the subsequent rise, we saw a large gathering of animals heading toward one car which had pulled over to the side of the road.  By that time we had seen a sign that said ,"Do Not Feed Burros".  The driver of the vehicle opened his window and passed carrots to the burros.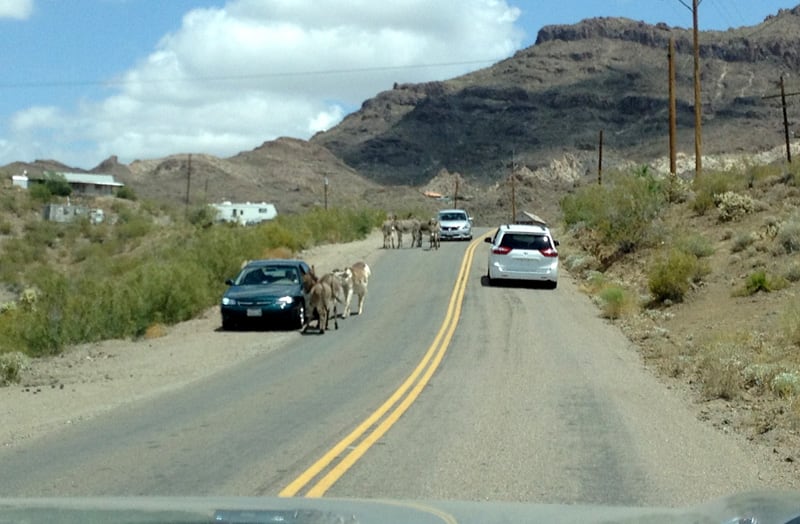 Burros roam the town and rule the road.  The town of Oatman was a fun, old frontier-style community.  We got the impression that it was there for the tourist industry.  We watched a western shoot out, dined at the hotel where Clark Gable and Carole Lombard honeymooned, and enjoyed our own leisurely stroll around town.
Holbrook, Arizona
The Wigwam Motel in Holbrook was another favorite stop of ours during our drive along Route 66.  There were a number of antique and unique vehicles parked in the parking lot of the teepee shaped motel rooms.
It was an interesting stop and we were glad to see some businesses along Route 66 had been able to survive the building of the Interstate.  There were so many areas that we drove through that are now ghost towns.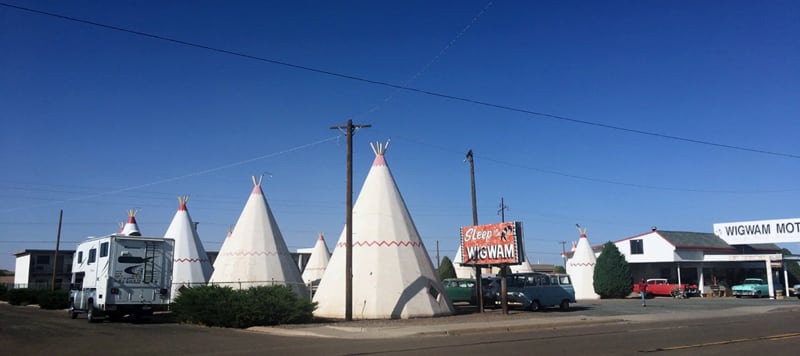 We stayed at a Passport America campground in Williams, Arizona called Grand Canyon RV Park.  With Passport America you get half price camping.
Albuquerque, New Mexico
One of our ultimate dining experiences was in the Old Town of Albuquerque, New Mexico.  While walking around, we saw a sign that led us down a side street toward the Art Museum and a large parking lot.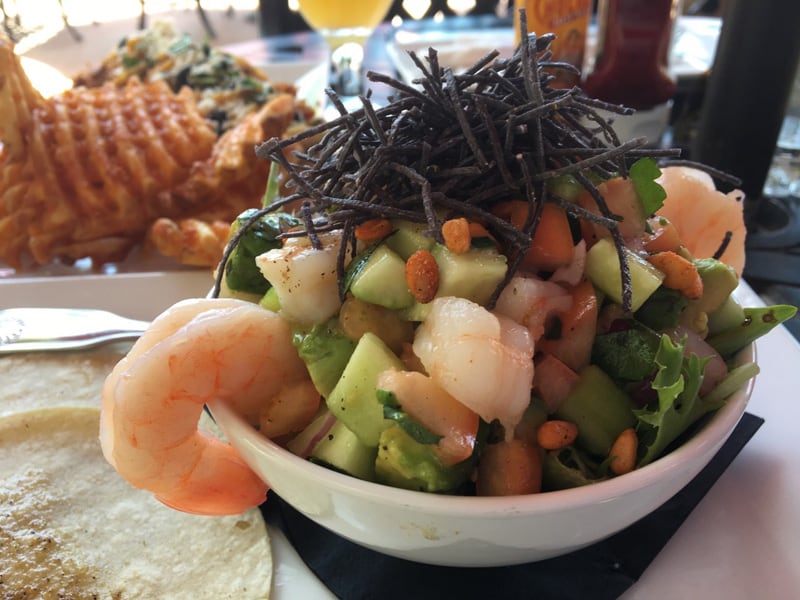 There we found the Back Street Grill.  We had a delicious lunch and put it on our return to list.  Three years later we did return and again had a fabulous meal.  As an extra bonus, we walked along the street near the Art Museum and saw several museum sponsored outdoor sculptures in a pubic garden and courtyard.  In Albuquerque we stayed at Enchanted Trails and used our Passport America membership.
A Google Map is a great way to organize all the places you want to go on your truck camping trips.