Ron Neimann has set an ambitious goal with his 2014 Ford F350, custom flatbed, 1972 Alaskan, and Aluminess bumper system; 49 states and 7 provinces in three years.

The first time we crossed the United States and explored Canada, everything was new to us.  The feeling of never-ending discovery was pure magic.  It was the kind of wonder and joy that most of us remember from childhood.  Ten years later, we still talk often about that life-changing experience.  Nothing else in our time here on earth quite compares.
The second time we crossed the United States and ventured into Canada, some of that wonderment was gone.  In all fairness, we were on what we call a factory-tour tour, visiting every truck camper factory for Truck Camper Magazine; not exactly national parks if you know what I mean.  Still, the feeling of being far from home, on the road, and relatively free to let the road take us to new places was amazing.
The lesson we learned on that second trip was profound.  We returned to a good number of the places we enjoyed on the first trip, and they were different.  It would be easy to point to the different time of year and weather for this change, but it was more than that.  What was once completely new, was now somewhat familiar.  That familiarity allowed us to see deeper into what was before us, and appreciate what we had overlooked the first time.
Talk to folks who have traveled cross-country for many years and they often have the same advice; slow down.  Take the time to actually absorb what's in front of you.  It's the old adage of quality over quantity.  As experienced travelers, we often learn to savor the moments rather than rush to the next one.
Ron Neimann's story reminded me of this important road lesson.  Although he already experienced every state and many of Canada's provinces years ago, he's going back.  This time he's slowing down to smell the roses, or eat a Maine lobster as it may be.  May we all be lucky enough to follow Ron's lead and go back to the places we have been before, and experience them anew, one state and province at a time.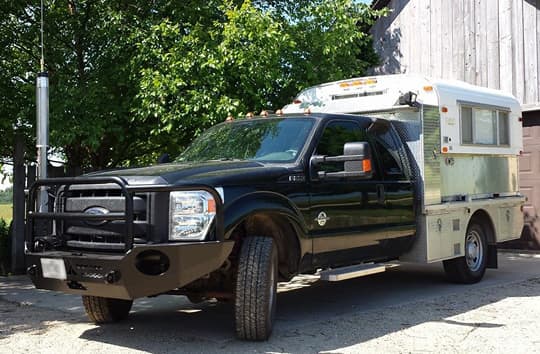 Above: Ron's 2014 Ford F350, refurbished 1972 Alaskan, and Aluminess front bumper
TCM: How did you get into truck camping?
Ron: I grew up on the Mississippi River as a kid and went on many camping and canoeing trips.  As I grew older, I continued with tent camping.
After I started making decent money, I started flying, bought a plane, and enjoyed flying for a number of years.  Then I got transferred to Chicago area, and had no interest flying there.  So, I bought a farm in Wisconsin, designed and had built an Aluminum plate boat.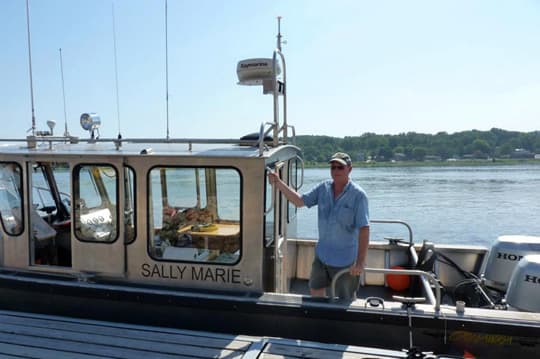 Above: Davenport, Iowa on the Mississippi River, 650 miles into a 750 mile trip from Lake Superior though Chicago and down the Illinois River
I had always wanted to travel the Mississippi River.  With my boat, I went on a 1,800 mile Mississippi River trip.  The problem with long distance boating is getting picked up at the other end.  I wanted something more versatile, so I started looking for a truck camper.
TCM: That's the first time we've heard of someone going from planes to boats to truck campers.  Why was a truck camper the right fit for you?
Ron: I travel solo, so a camper is the perfect size.  I like to do easy off-road four-wheel overland trips, so I started looking for a used Alaskan.  I eventually found a 1972 Alaskan non-cabover model with no water damage.
I took the lower portion off the camper, gutted it, and built it out to fit a flatbed.  I built new cabinets, a counter top, a bench/bed, and left the rest of the camper open.  It gives me plenty of room.  Plus, I have room for a comfortable chair.
My truck camper rig fits anywhere a car does and fits my travel goals nicely.  The use of an older camper unit and modifying it gives me a camper that meets my needs at a cost of under $3,000.  When I'm home, the truck gets used on the farm.