Ron Neimann has set an ambitious goal with his 2014 Ford F350, custom flatbed, 1972 Alaskan, and Aluminess bumper system; 49 states and 7 provinces in three years.

The first time we crossed the United States and explored Canada, everything was new to us.  The feeling of never-ending discovery was pure magic.  It was the kind of wonder and joy that most of us remember from childhood.  Ten years later, we still talk often about that life-changing experience.  Nothing else in our time here on earth quite compares.
The second time we crossed the United States and ventured into Canada, some of that wonderment was gone.  In all fairness, we were on what we call a factory-tour tour, visiting every truck camper factory for Truck Camper Magazine; not exactly national parks if you know what I mean.  Still, the feeling of being far from home, on the road, and relatively free to let the road take us to new places was amazing.
The lesson we learned on that second trip was profound.  We returned to a good number of the places we enjoyed on the first trip, and they were different.  It would be easy to point to the different time of year and weather for this change, but it was more than that.  What was once completely new, was now somewhat familiar.  That familiarity allowed us to see deeper into what was before us, and appreciate what we had overlooked the first time.
Talk to folks who have traveled cross-country for many years and they often have the same advice; slow down.  Take the time to actually absorb what's in front of you.  It's the old adage of quality over quantity.  As experienced travelers, we often learn to savor the moments rather than rush to the next one.
Ron Neimann's story reminded me of this important road lesson.  Although he already experienced every state and many of Canada's provinces years ago, he's going back.  This time he's slowing down to smell the roses, or eat a Maine lobster as it may be.  May we all be lucky enough to follow Ron's lead and go back to the places we have been before, and experience them anew, one state and province at a time.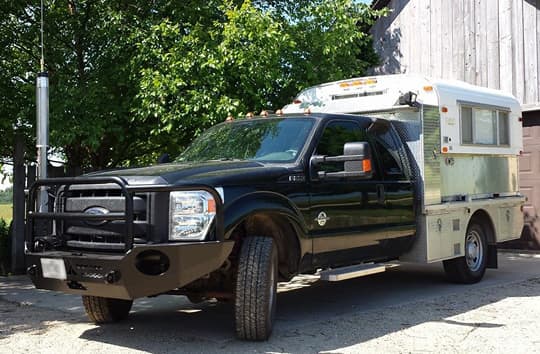 Above: Ron's 2014 Ford F350, refurbished 1972 Alaskan, and Aluminess front bumper
TCM: How did you get into truck camping?
Ron: I grew up on the Mississippi River as a kid and went on many camping and canoeing trips.  As I grew older, I continued with tent camping.
After I started making decent money, I started flying, bought a plane, and enjoyed flying for a number of years.  Then I got transferred to Chicago area, and had no interest flying there.  So, I bought a farm in Wisconsin, designed and had built an Aluminum plate boat.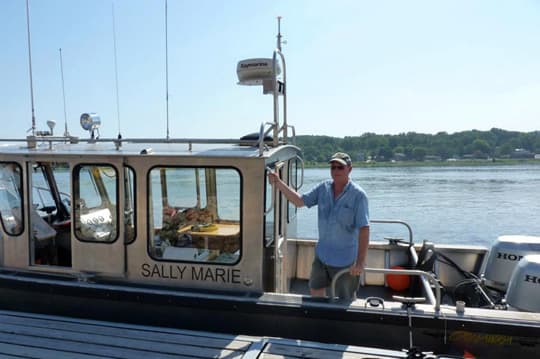 Above: Davenport, Iowa on the Mississippi River, 650 miles into a 750 mile trip from Lake Superior though Chicago and down the Illinois River
I had always wanted to travel the Mississippi River.  With my boat, I went on a 1,800 mile Mississippi River trip.  The problem with long distance boating is getting picked up at the other end.  I wanted something more versatile, so I started looking for a truck camper.
TCM: That's the first time we've heard of someone going from planes to boats to truck campers.  Why was a truck camper the right fit for you?
Ron: I travel solo, so a camper is the perfect size.  I like to do easy off-road four-wheel overland trips, so I started looking for a used Alaskan.  I eventually found a 1972 Alaskan non-cabover model with no water damage.
I took the lower portion off the camper, gutted it, and built it out to fit a flatbed.  I built new cabinets, a counter top, a bench/bed, and left the rest of the camper open.  It gives me plenty of room.  Plus, I have room for a comfortable chair.
My truck camper rig fits anywhere a car does and fits my travel goals nicely.  The use of an older camper unit and modifying it gives me a camper that meets my needs at a cost of under $3,000.  When I'm home, the truck gets used on the farm.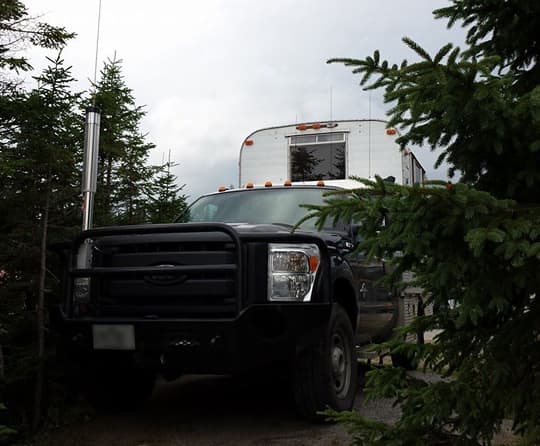 Above: Les Escoumins, Quebec, Ron could watch and hear whales from the camper
TCM: How do you fit a chair in a cabover-less Alaskan Camper?
Ron: The chair is a comfortable folding chair.  My camper is eight feet long front-to-back, and seven feet wide side-to-side.  There is a front cabinet across the front with a counter that has the stove and sink.  That accounts for 18-inches of the camper's inside length.
Above: The six foot long bench bed on the driver's side
Along one side is a bench seat/bed that goes to the back door.  The bench bed is six feet long, so I just fit.  There is a porta-potty under the bench seat.  There's about fifteen gallons of fresh water, and grey water is handled with a portable tank.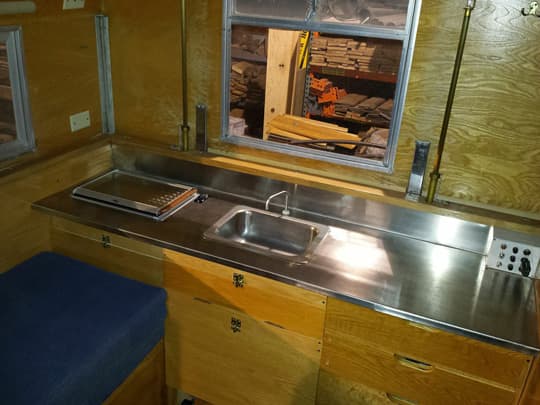 Above: Stainless steel countertop on the front wall of his Alaskan
Something unique about my camper is the stainless steel countertop.  I had stainless left over from a project that I was working on and I was looking for a place to use it.  I also have a diesel stove, the kind that are typically used on boats.  I had a diesel stove on my boat.  When I sold it, the new owners didn't want it.  I don't have any LP on my camper.  I can burn the same diesel fuel as my truck for the stove.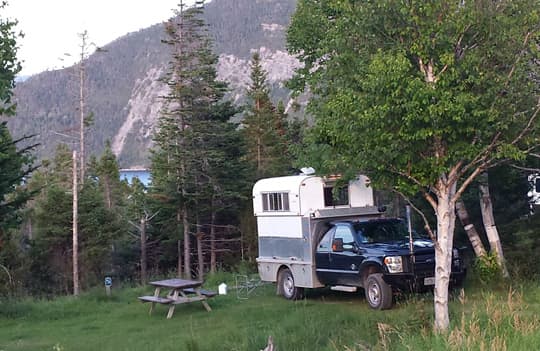 Above: There are no camper jacks on his camper, so Ron uses a forklift to load and unload. Gros Morne National Park, Newfoundland
TCM: From the photos, you don't have any camper jacks.  How do you dismount the camper to use your truck at the farm?
Ron: I set up the camper to be mounted and removed with a forklift.  The base of the camper has two tubes from one side to other for pallet forks.  I hate the camper jacks.  The forklift is a more secure and safer loading option.
TCM: I bet it is.  Of course most of us don't have forklifts.  Actually, no one else we've talked to, other than manufacturers or dealers, has a forklift.  Tell us about refurbishing your 1972 Alaskan Camper.
Ron: I got the camper three years ago.  It took a winter to refurbish it.  My shed isn't heated.  I'd work on it until I got too cold, and then I'd retire to the heated wood shop.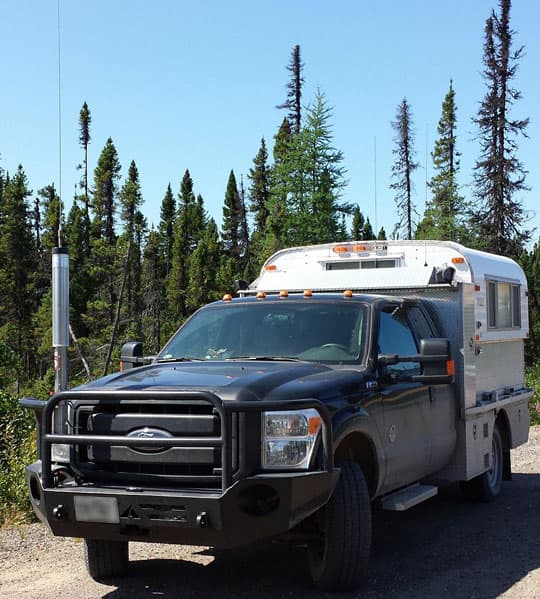 Above: Aluminess front bumper with custom Ham Radio bracket on the Trans-Labrador Highway, Labrador
TCM: I see you have an Aluminess bumper.  What do you use it for?
Ron: My previous F- 350 had a Warn heavy duty front bumper made of steel.  In Wisconsin, they use massive amounts of salt on the roads in the winter, so everything rusts.  I wanted an aluminum bumper because it won't rust.
Plus, aluminum weighs less.  I could actually move the Aluminess bumper around by hand when I was installing it.  With a steel bumper, I needed a lift for the install.
I don't like to mount the winch on the front.  Since I travel solo, I wanted the versatility of using the winch in both the front and the back.  The Warn 10K Zeon winch is on a receiver mount.  This also allows me to store the winch inside, away from the salt.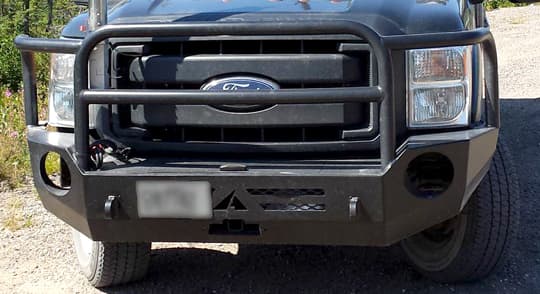 Above: There is storage space in Ron's Aluminess front bumper
This also leaves space in the front bumper for storage.  I can put things like tow straps and tree savers in there.  The bumper also provides me with protection from wildlife and, aesthetically, I think it looks really nice.
I went to the Overland Expo last year and met with the Aluminess folks.  I asked if they could add a bracket for my Ham Radio antenna.  The Scorpion Screwdriver 10-80 Meters antenna weights over eighteen pounds, so it had to be a bracket that was installed at the time of manufacturing.
Typically you'll see the larger ham radio antennas on the back of trucks but, with the camper, it isn't practical.  With the Aluminess bumper I am able to mount it on the front.
Aluminess was really accommodating.  They made a couple of notes of how to modify it with the bracket, built the bumper to my truck's specifications, and shipped it to me.
Above: The mods Ron has made inside his truck, including adding an Engel refrigerator
TCM: Are there any other modifications to your truck?
Ron: I also made some mods on the inside of my truck.  I took the back and center seat out.  I built a center console that holds HF, VHF, UHF and CB radios, USB outlets, power outlets, and an inverter.  I carry a lot of electronics.
After removing the back seat, I built a platform.  On the passenger's side I have an Engel refrigerator.  I put the refrigerator in the truck as opposed to the camper because I have it available all the time.  In October, I went to Colorado and didn't take the camper, but I still had the use of refrigerator.  I store my winch on the driver's side of the platform.  Under the platform I store the long part of my handyman jack, a shovel, and camping chairs.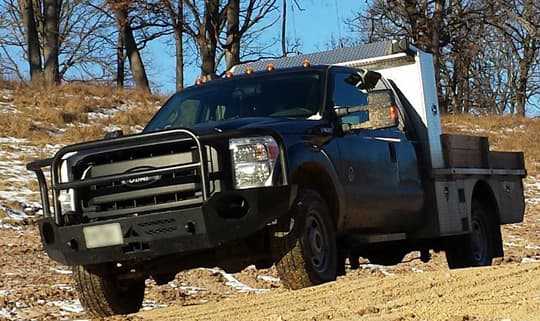 Above: Ron's flatbed truck is used around his farm
TCM: Tell us about your aluminum flatbed and compartments.
Ron: I bought the truck without the box and I had the eight foot flatbed built by a local fabricator.
I designed the aluminum bed and took the design to the fabricator.  I knew what I wanted in each compartment so I sketched it out for him.  The fabricator does this for a living, so I gave him dimensions and talked about the aluminum bed for a little bit.  He took it from there, so no detailed drawings were necessary.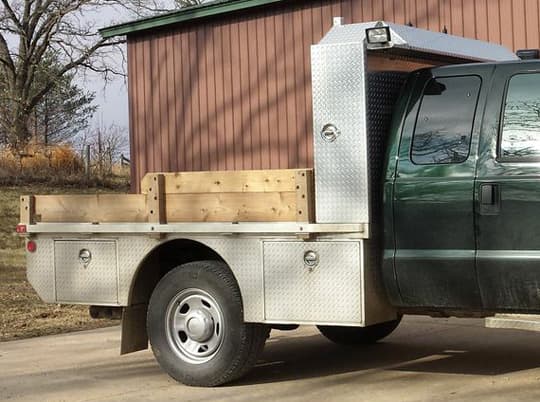 Above: The passenger's side of Ron's aluminum flatbed
The flatbed has seven boxes.  I can get to the headache rack from each side.  On the right side is an extra spare tire, and on the left is a thirty gallon diesel tank.  I drive on gravel a lot, so I carrying two spares and the thirty gallons of extra diesel gives me peace of mind.
On the front lower driver's side box I carry an air compressor, DEF (diesel exhaust fluid), and gasoline for the generator.  On the front passenger's side I carry a 2,000-watt generator.  In the back two boxes I have tools, blocks for leveling, the handyman jack head, and some ratchet straps.  In the far back is a flat box for a camping chair.
I have a gooseneck hitch in the bed in addition to the receiver hitch.  We use a number of gooseneck trailers on the farm.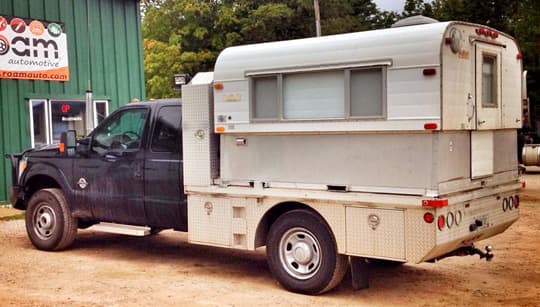 Above: Ron's flatbed truck has many compartments and lots of storage
TCM: That's impressive.  Your flatbed and compartments are a proverbial Swiss Army knife of functionality.  Other than the Overland Expo, where have you been with your Alaskan Camper rig?
Ron: Although I have already been through the drivable forty-nine states, and some of the Canadian provinces, I decided it would be fun to see all the drivable states and provinces again.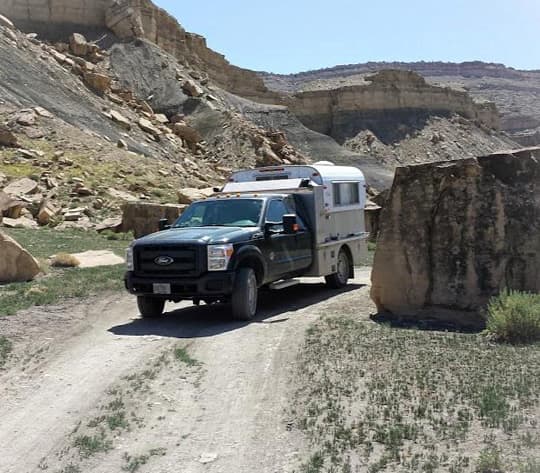 Above: Cottonwood Canyon, Escalante National Monument, Utah
Starting in 2014, I have traveled to twenty-seven states and six provinces with the Alaskan.  I also want to visit the four geographic corners of the lower forty-eight.  I went to Madawaska, Maine this summer.
It is too easy to go back to the same place, so I have set this goal for myself.  This also gives me reasons to take at new trips.
Above left to right: Upper Arkansas River valley north of Salida, Colorado, Cottonwood Pass, Colorado, and Great Sand Dunes National Park, Colorado, coming in from the east over Medano Pass
TCM: That is an ambitious goal, with some impressive distance covered in a very short period of time.  With all of those miles behind you, are there any spots you would recommend to fellow truck campers?
Ron: I highly recommend the four corners area of Colorado, Utah, New Mexico, and Arizona.  There are a lot of neat national parks and monuments there, as well as a huge amount of BLM and Forest Service land where you can do dispersed camping.  There are also many small forest service campgrounds with minimal services.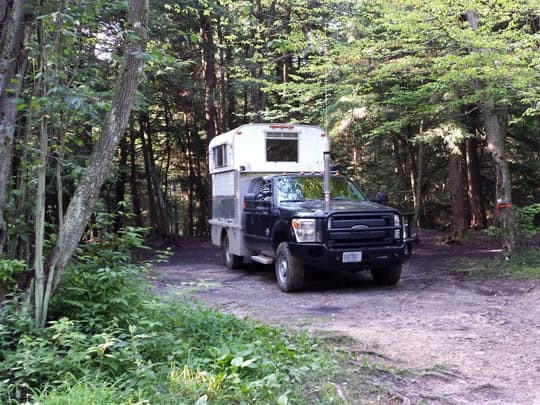 Above: Alleghany National Forest, Pennsylvania, dispersed campsite
The reason I like the dispersed and Forest Service campgrounds is that there is a interesting group of people that like that style of camping.  There are usually tents, small pop-up trailers, and truck campers.  You don't get Class A motorhomes, long fifth wheels and large travel trailers with their generators and televisions.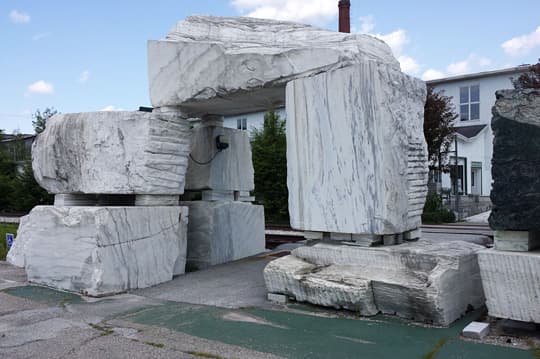 Above: Proctor, Vermont's Marble Museum
Maine and Vermont were also nice.  In Vermont there was a marble museum.  As a professional geologist, I enjoyed that.  There was a boating museum on Lake Champlain that I also enjoyed.  The wooden boats are fascinating.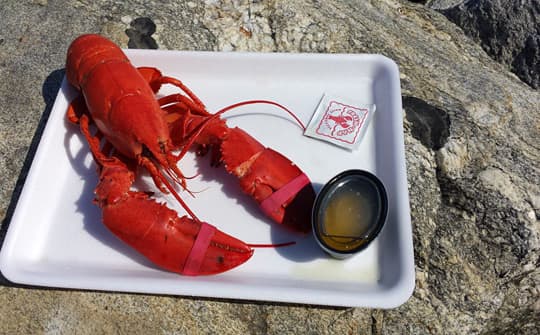 Above: Belfast, Maine; lobster from a shed on the water
Maine is mostly private forest, so it's a little harder to camp there.  When I got to the northern part of Maine, there weren't many people up there.  It was quiet, so I camped on a lake, and enjoyed the loons.  I did get to the Maine coast to have lobster.  That was a little too crowded.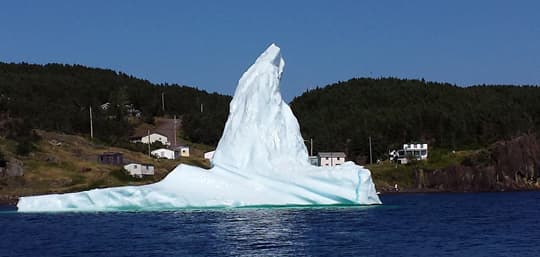 Above: Leading Tickle, Newfoundland; iceberg grounded in the harbor
I would go back to Newfoundland and spend a few more weeks there.  In western Newfoundland there is a lot of interesting geology with three plus million year old rocks.  The icebergs and whales are great, along with the friendly people.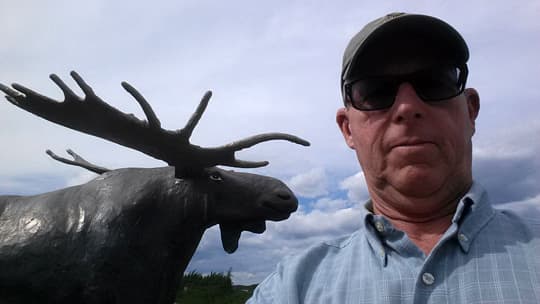 Above: Highway 1, central Newfoundland, after hundreds of "watch out for Moose" signs this was the best Ron saw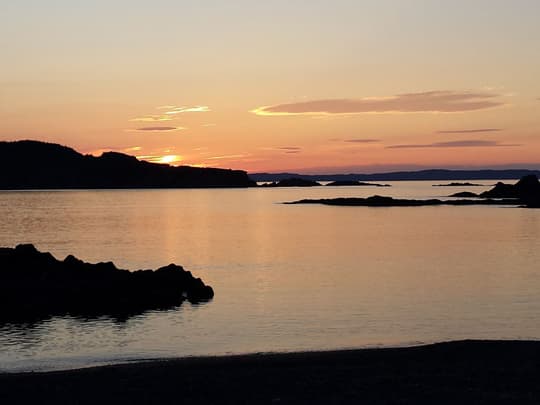 Above: Leading Tickle, Newfoundland; view from the camper at municipal campground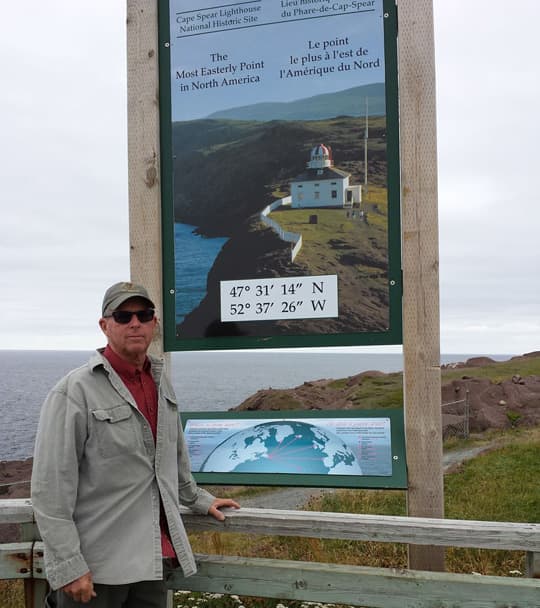 Above: Ron at the easternmost point in North America, Cape Spear
In the east is Cape Spear, which is the easternmost point in North America.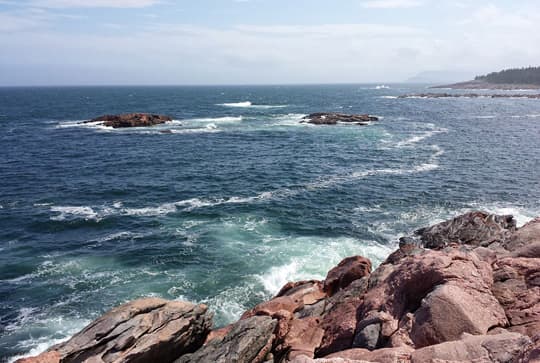 Above: Cape Breton on the east side of Nova Scotia, Atlantic Ocean
Cape Brenton in the north of Nova Scotia is rugged.  It's Scottish kind of territory.  I liked Labrador, but it was mostly 500 miles of gravel roads.  I saw sixteen campers in 500 miles.  There's little development up there, and almost no campgrounds.  There is nice camping along the highway in rock quarries.
I also like the Upper Peninsula of Michigan and northern Wisconsin, particularly along the east part of Lake Superior.  There is a lot of public land, so there are a lot of options for camping.
I'll go to Key West in February, and pick up four or five new states.  I'm planning on an Alaskan trip that will hit the northern states that I haven't reached yet.  I'll be driving through Minnesota, the Dakotas, Montana, Idaho, Oregon, Washington and then the rest of the Canadian provinces along with Alaska.  It's the big trip for 2015.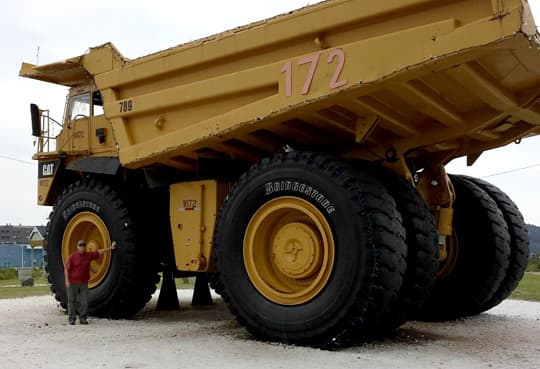 Above: Ron in Labrador City, Labrador, large iron ore mines in the area
TCM: Will you be done with your goal at that point?
Ron: When I finish Alaska, I will still have ten states or so left; Nevada, California, Texas, Oklahoma, Louisiana, New Jersey, Delaware, Maryland, Virginia, and West Virginia.  I'll take three more trips to travel to those states.  That will probably be in 2016.
TCM: Three years to hit every state and province is an incredible goal, and one many of our readers, including us, envy.  Is there anything else about your truck camping lifestyle that you would like to share?
Ron: My wife is also a Ham Radio operator, so we use the ham radio stay connected.  It is fun and since I prefer to camp out of cell coverage, it is also useful.
She has horses so she doesn't want to leave the farm.  Camping or horses?  In her mind, the horses win.  In my mind, it's truck camping!
Truck: 2014 Ford F350 flatbed, extended cab, single rear wheel, diesel, 4×4
Camper: 1972 Alaskan non-cabover, 8 foot long modified for flatbed
Tie-downs/Turnbuckles: Four bolts that are connected to the stake pockets on the flatbed, two back are fixed and two front have  spring loaded bolt arrangement
Suspension: Factory, will probably upgrade rear springs to F450 and lift front 2 inches
Gear: Aluminess front bumper, Warn winch, Engel refer, Wallas diesel stove/heater, Viair compressor, Honda 2000 generator, Go-lite remote control spot light