14 experienced truck campers reveal a list of must-see roads, trails, and attractions in the spectacular Canadian Rockies.  Warning: Amazing overload ahead.

Two full years before starting Truck Camper Magazine, Angela and I explored the Canadian Rockies in a 2004 Lance 1030 and 2005 Chevy Silverado 3500 dually.  We were following the suggestions of a post on RV.net, and knew little of what to expect.
I will always remember the first time we saw the Canadian Rockies.  By this point in our trip we had already seen plenty of mountains in the American West, but these were something else entirely.  The Canadian Rockies were more dramatic, with sharper peaks, deeper valleys, and more brilliant colors.
The drive from Banff to Jasper has to be one of the most spectacular drives we have ever done.  In fact, something funny happened about a week into our trip.  I said to Angela, "It just one stunning mountain, vista, or lake after another.  Somehow I'm no longer appreciating it like I should be."
We had inadvertently discovered what we now call "amazing overload".  Amazing overload is what happens when you see too many incredible things in too short a time.  You may have experienced amazing overload during your own travels, or in a particularly good museum.  There comes a point where the mind hits saturation, and you become immune to the wonders in front of you.
The lesson for us has been to slow down, do less, and plan to return to amazing places.  The world is full of much less interesting experiences to rush through the incredible ones.  These places are to be savored, and then repeated.
The Canadian Rockies are definitely an experience that will give you amazing overload if you try to see it all in a few days.  The best advice is simple; do less, take more time, and plan to go back.  The mountains will wait for you.
Jim Salyerds
2011 Ford F350
2015 Lance 1050S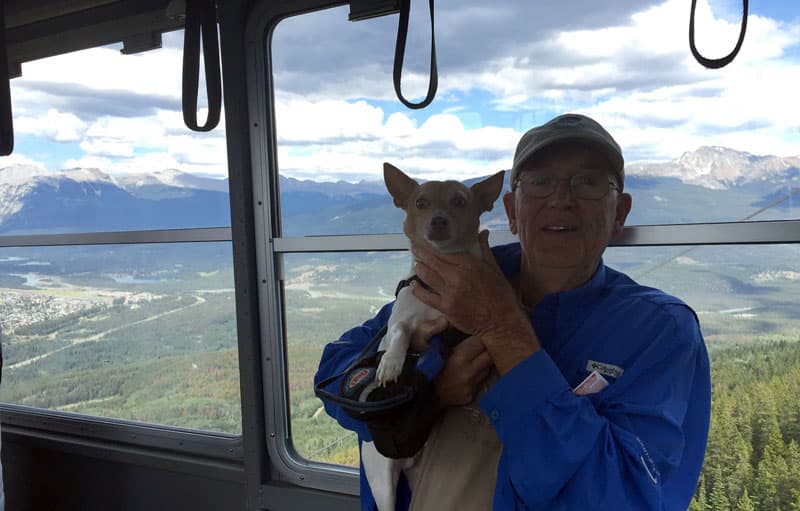 Above: Buddy and Jim on the Whistlers Summit tram.  Dogs are allowed on every tram.
I recommend Lake Louise and Lake Moraine in Alberta because they are so beautiful, especially Lake Moraine.  Between Lake Louise and Jasper, visit every site you can on the Icefields Parkway.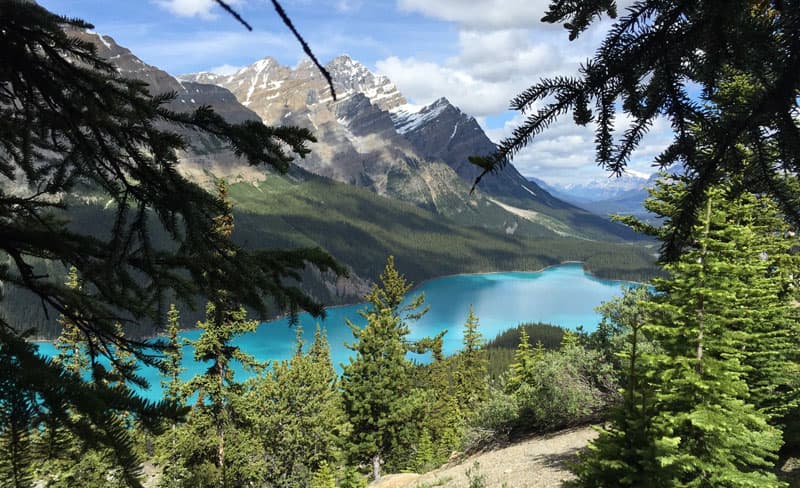 Above: Peyto Lake from Bow Summit.  Bow Summit is at 6849 feet, which is the highest point on the Icefields Parkway.  Peyto Lake is a glacial melt water lake several hundred feet below the summit.  The brilliant turquoise is created from suspended glacial sediments.
Highlights for me were the Bow Summit lookout to see Peyto Lake, Athabasca Glacier, and Athabasca Falls.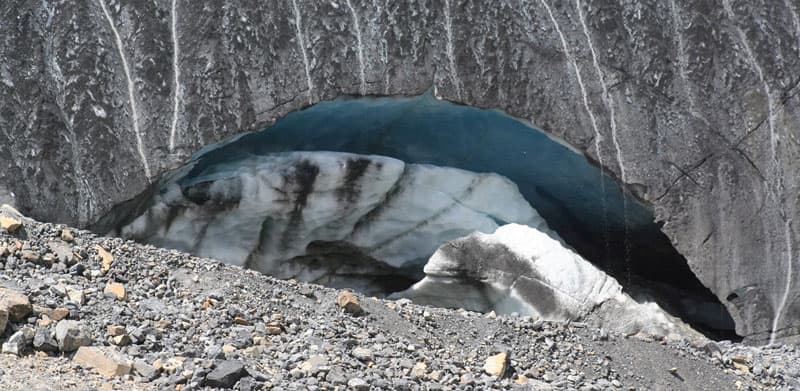 Above: This cave-in under the Athabasca Glacier was fascinating. The icy roof of the cave was a fantastic blue.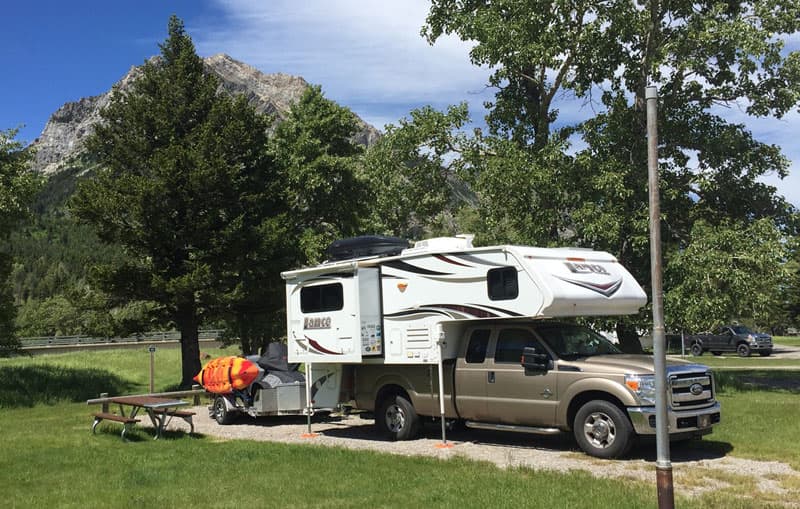 Above: Townsite Campground in Waterton Lakes National Park
I camped at Townsite Campground in Waterton Lakes National Park for $25 a night.  It is a short walking distance to the small town of Waterton.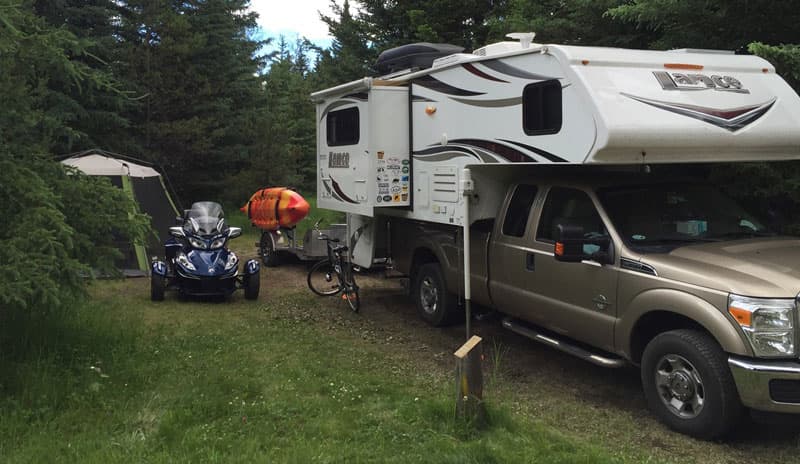 Above: Whistlers Campground in Jasper National Park.  One of the highlights of Jasper is the hike to Whistlers Summit.  My dog and I loved it.
I also stayed at Town and Country Campground in Banff National Park for $30 a night and Whistlers Campground in Jasper National Park for $23 a night.  They had the best showers of any US or Canadian National Park so far in my travels.  I made advance reservations at all these campgrounds and was very glad I did.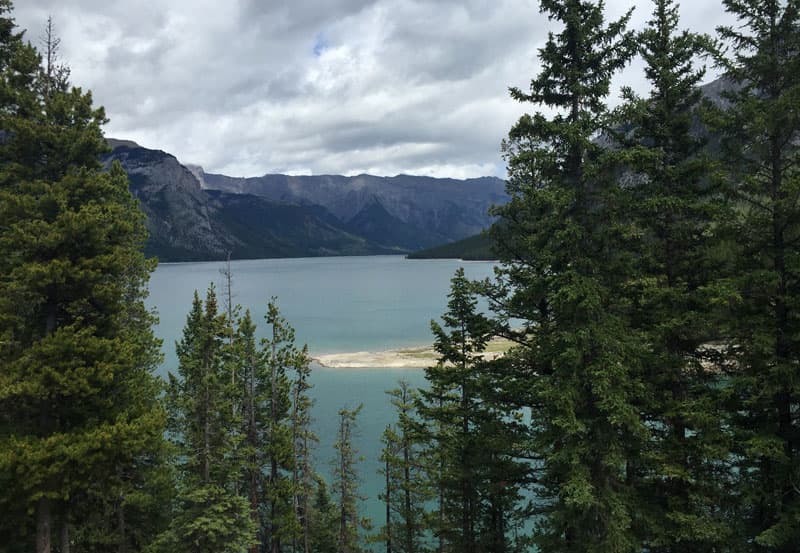 Above: Lake Minnewanka in Banff National Park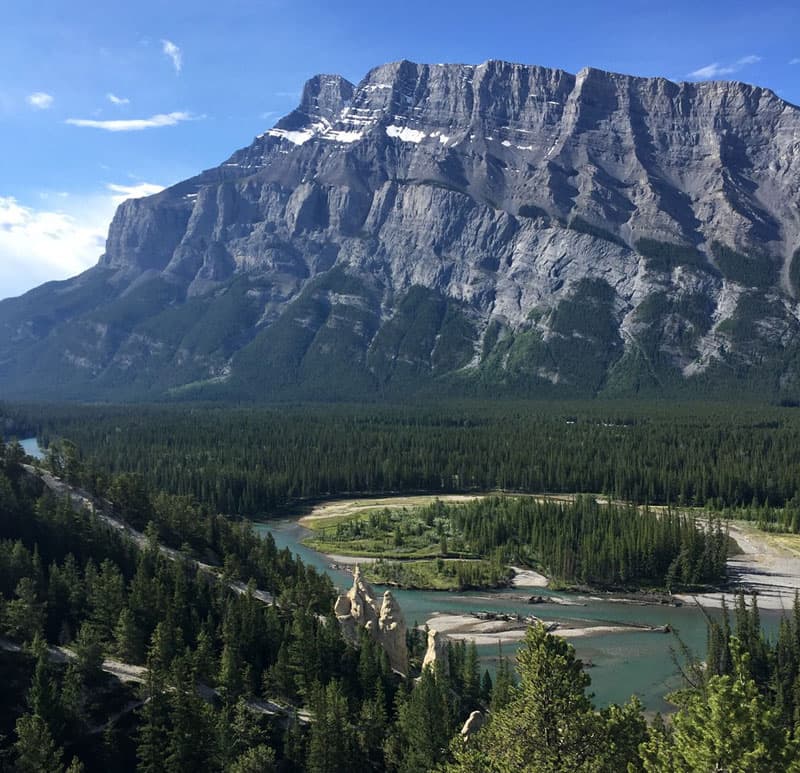 Above: Hoodoos in Bow Valley, pack good hiking shoes as some trails are steep with loose rocks.
The current edition of The Milepost is very valuable in the Canadian Rockies.  I also recommend good hiking shoes because some trails are steep and slippery.
John Goins
2015 Ford F150
2003 Northstar TC800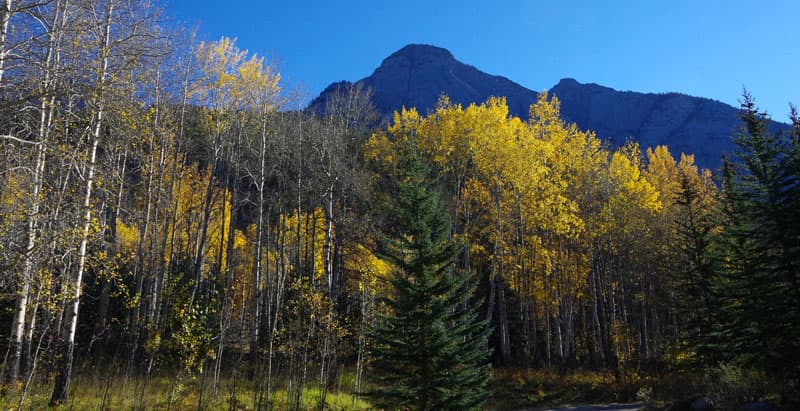 Take your time and use the Bow Valley Parkway between Banff and Lake Louise.
There are plenty of pull-offs and trailheads to keep you busy.  Unfortunately, for us, the Johnston Canyon area was closed for repairs when we were there.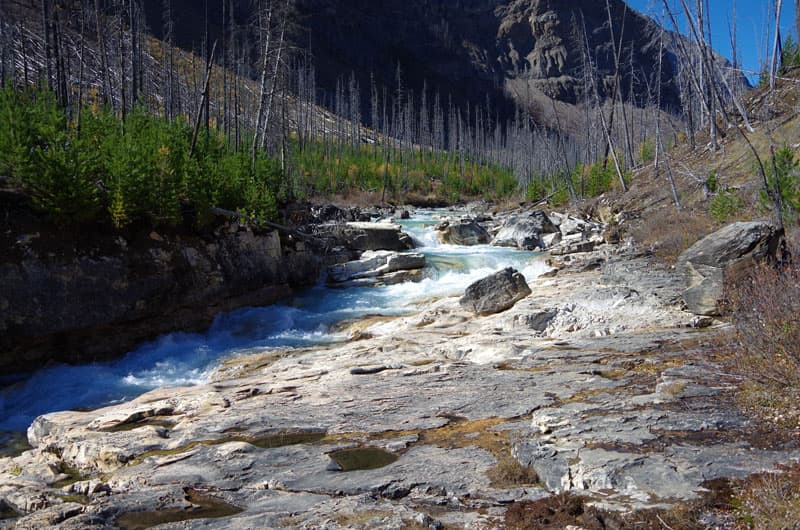 Above: Kootenay National Park
About halfway up, Castle Junction, is a good place to top off the tank and fill the cooler.  From there take 93 into Kootenay National Park and hike Marble Canyon.  You will not be disappointed.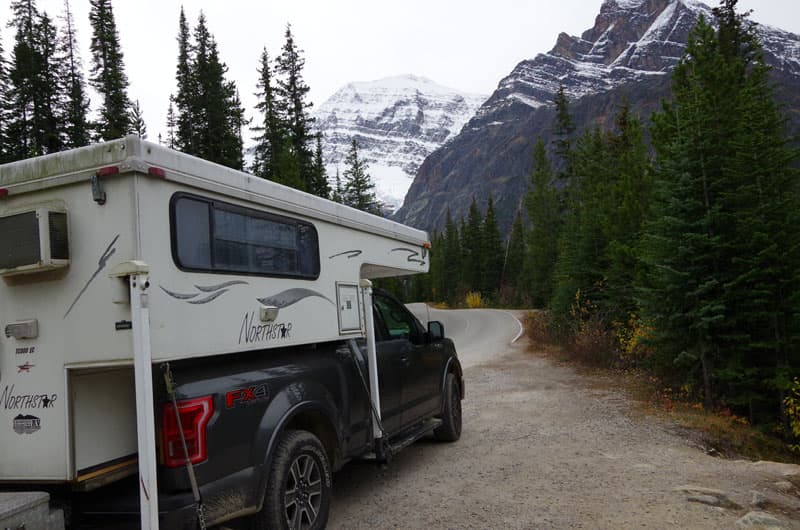 Heading south out of Jasper take 93A to Mount Edith Cavell.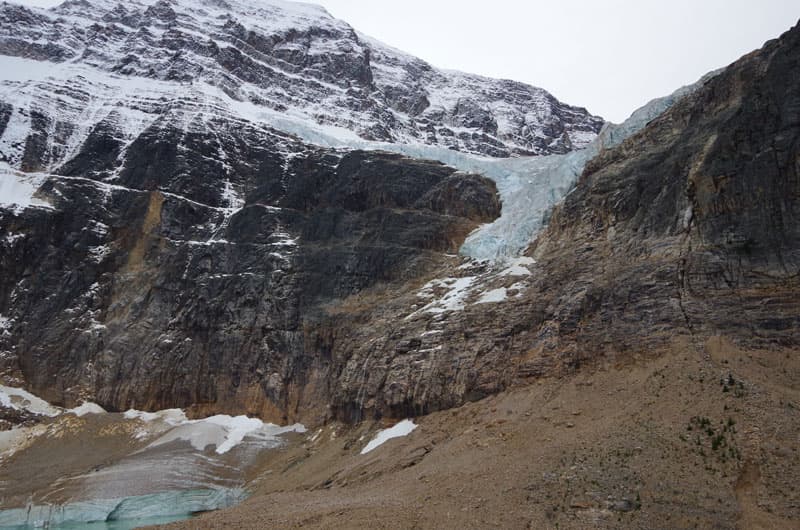 We sat there for awhile listening to the glaciers cracking hoping to see one calf.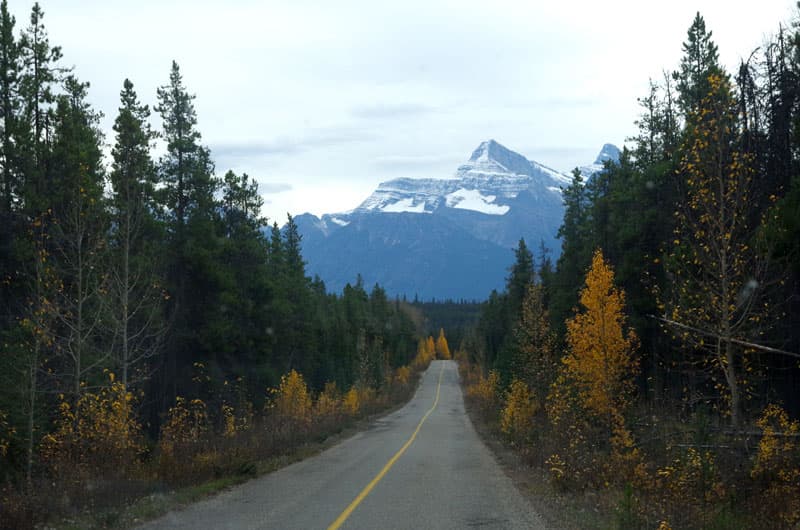 93A joins back onto the Icefields Parkway at Athabasca Falls.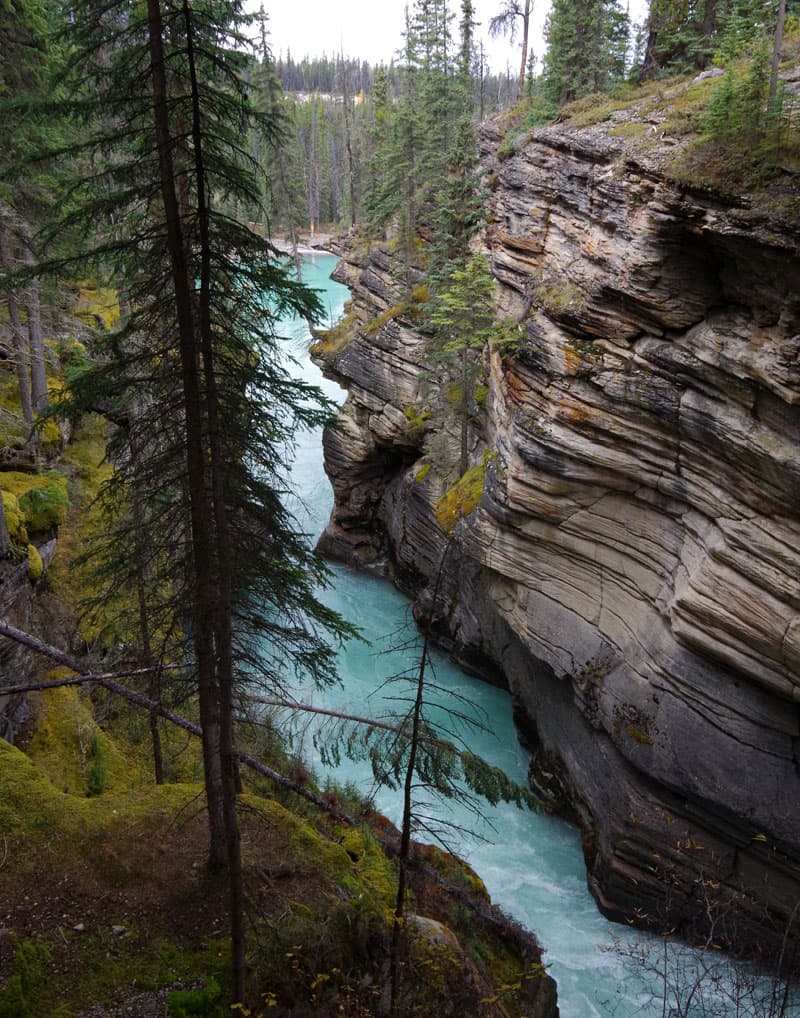 Above: Icefields Parkway at Athabasca Falls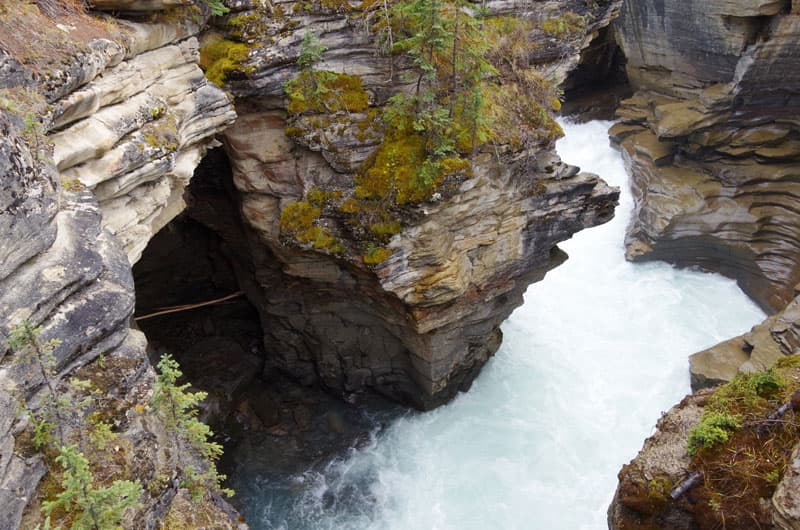 While in Banff, we used Tunnel Mountain Village as our base and day tripped out from there.  For about $30 a night, we were near a restroom and within walking distance to showers.  They supply firewood if you opt for the fire permit.
In Jasper we stayed in Whistler's Campground and used that as our base.  It is the same price and has the same services.  Heading back home we stopped at Redstreak Campground on the southwest end of Kootenay National Park, thus putting another province into our travel portfolio.
While in Jasper, have lunch in the Whistle Stop Pub and order the Poutine.  Sure, you can have it in most any restaurant in Canada, but that's where I tried it.
Garry Wood
2015 Ram 3500
Northern Lite 8-11 Q SE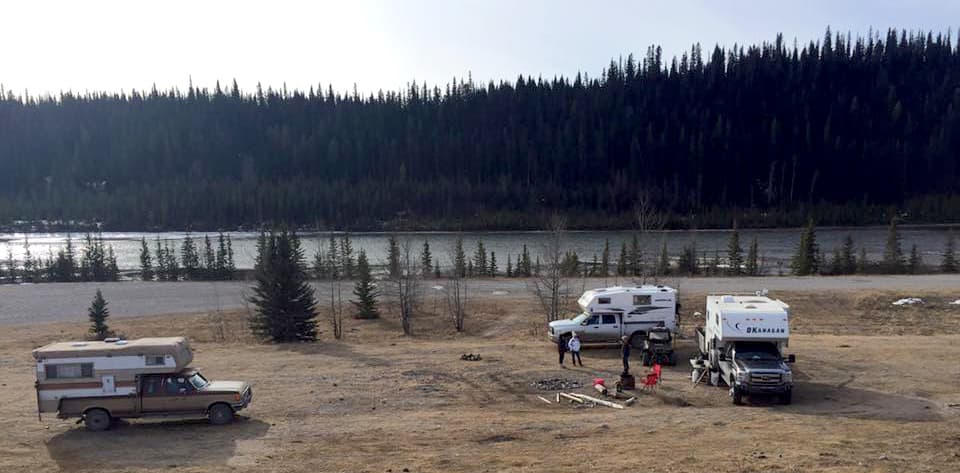 I love the beauty of the Canadian Rockies and their peacefulness.  Bighorn Backcountry Recreational Area is on the northern part of Abraham Lake in Alberta, Canada at N52 18.562 W116 19.293.  All possible areas to camp are free and most have rock fire pits.  It's a great area for off-road vehicles.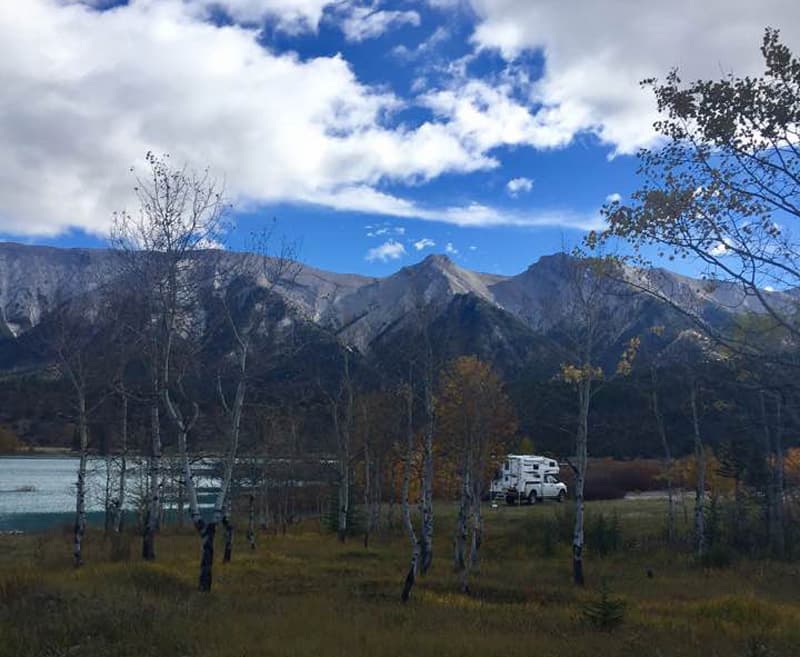 The Bighorn Backcountry site has information and printable maps.
I also recommend the Preachers Point Staging Area, which is at the southern part of the lake at N52 05.468 W116 25.43.  Again, all possible camping areas are free and most have rock fire pits.  No off-road vehicles are allowed.
Philip Tron
2009 Chevy 3500
2012 Lance 1050
Banff, Alberta will have the first real glaciers many of us will see.  The whole Icefield Parkway is dramatic and the Chateau Lake Louise hotel is a gem.  The hotel's lobby is open to the public and photos can be taken if it's not full of people.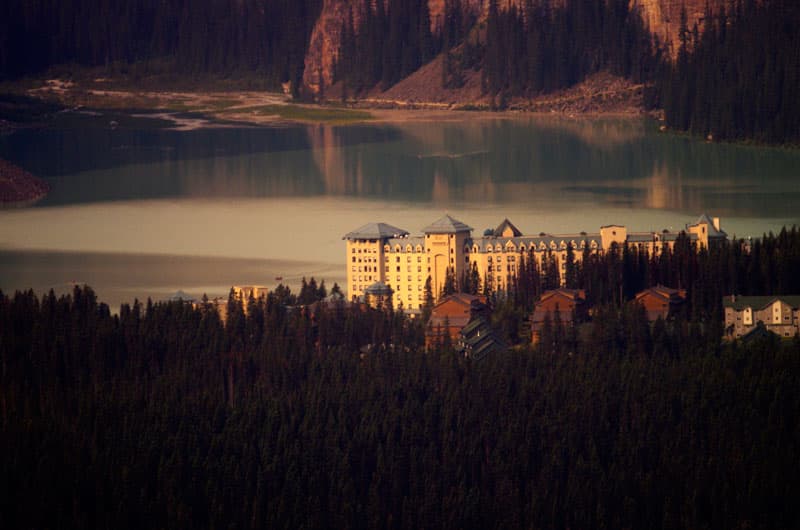 Above: Picture of the Lake Louise Hotel from the ski resort
Be sure to visit the Lake Louise Ski Resort outside of Banff.  Take the lift chair to the top and see Lake Louise and the famed hotel from above.  Wild grizzlies are up there, too.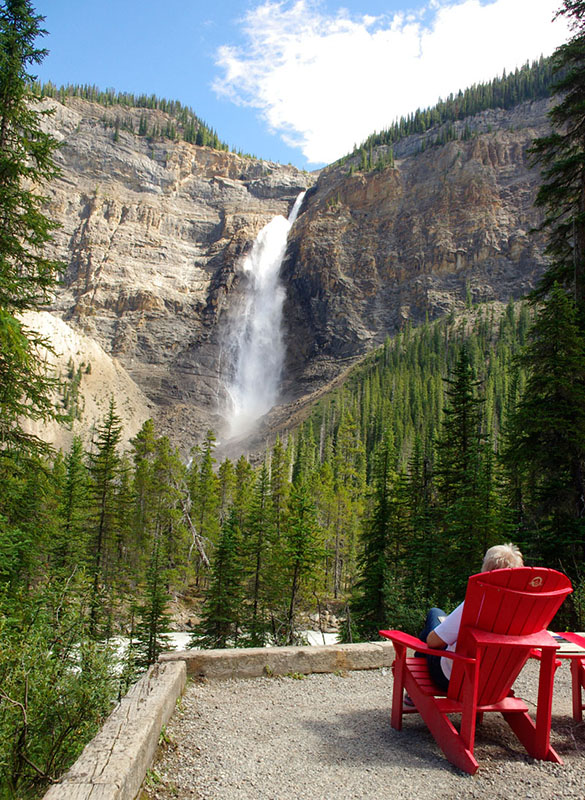 Above: Takakkaw Falls in Yoho National Park
The mountains in Yoho National Park are spectacular, and there you will learn about the Burgess Shale fossil beds.  Takakkaw Falls is not only a Yoho landmark, but the road to it involves a real switchback (not a hairpin curve).  Hey, if tour buses can make it, my truck camper could.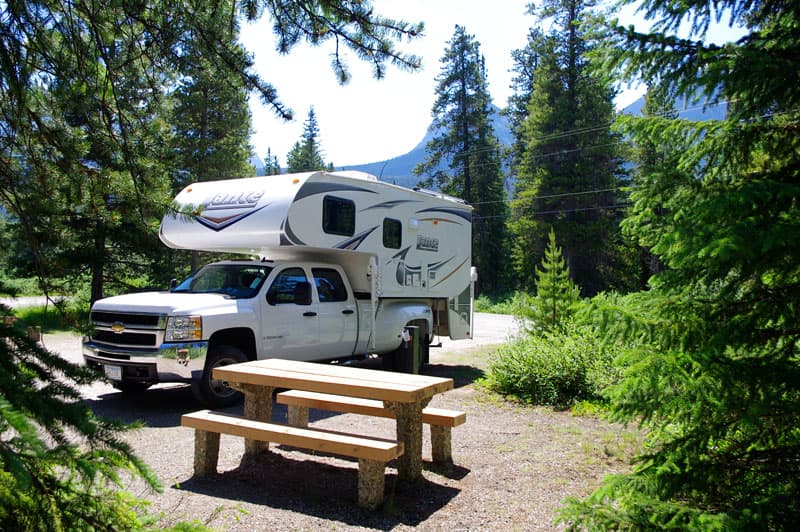 Above: Camping in Banff National Park
In June of 2014 we camped with bears at a remote campground in Jasper National Park.  In August of 2016 we camped in the overflow area in Banff National Park and a small commercial campground outside Columbia Flats, British Columbia.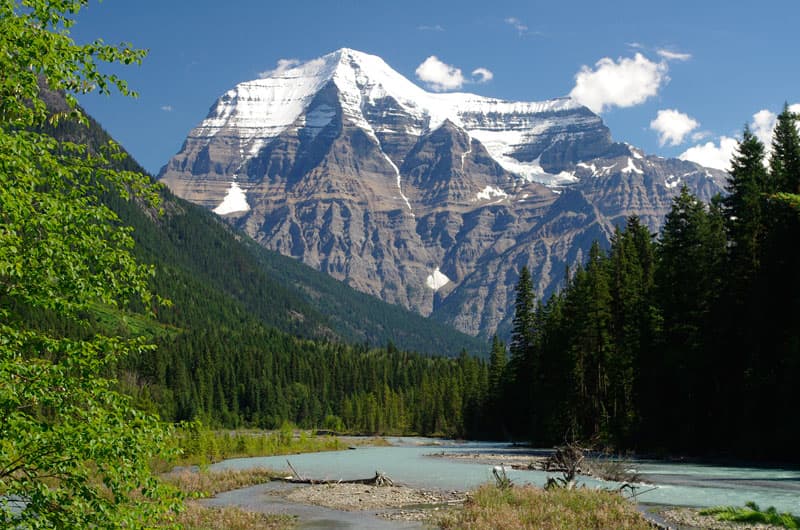 Above: Mt Robson, highest point in the Canadian Rockies
I recommend taking binoculars or a spotting scope, and a camera with both wide angle (for landscapes) and 10x telephoto (animals and close-ups).  For most people, a super zoom camera is more convenient than a DSLR with lenses.  I have a DSLR and my wife is accustomed to holding lenses as they are changed.
I also recommend avoiding the Rocky Mountain parks on Canadian holidays.  Banff and Jasper are the most popular parks in Canada and can get overrun during these times.  Finally, bear spray should be carried on any hike beyond a parking lot.
Melissa Malejko
2002 Chevrolet Silverado 2500HD
1981 Okanagan
I'm from Calgary, Alberta, so the Canadian Rockies are my next door neighbor.  Kananaskis Country, an Alberta provincial park system, offers free entry and is amazing in every way.
In the summer, Kananaskis offers golf, amazing hikes, tons of biking (even on paved paths), and it's significantly less busy than nearby Banff National Park.
In the winter, there's four season camping at Kananaskis, if you're into that.  During the winter it can get down to -30*C (-22*F).  Or you can stay at Nakiska, an extremely family-friendly ski resort.
There is no free camping in Kananaskis and you may want to reserve a campsite ahead of time.  Camping at Kananaskis has become very popular and sites fill quickly on the weekends.  Sites are about $25 for no services and the reservation fee is $15.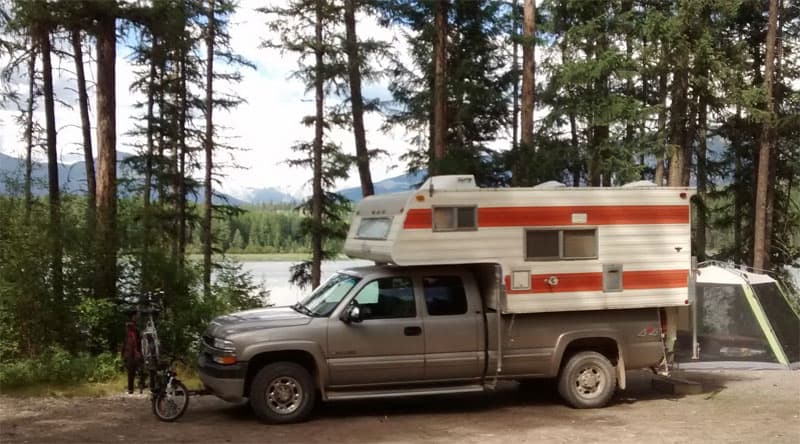 Above: Suzanne Lake, free forestry campsite
Crossing over into British Columbia, there's tons of amazing camping including lots of free spots.  There's hiking, biking and beauty near the town of Fernie, which also has an excellent ski resort.  Near Fernie, we stayed at a free forestry site at Suzanne Lake that was unbelievably gorgeous.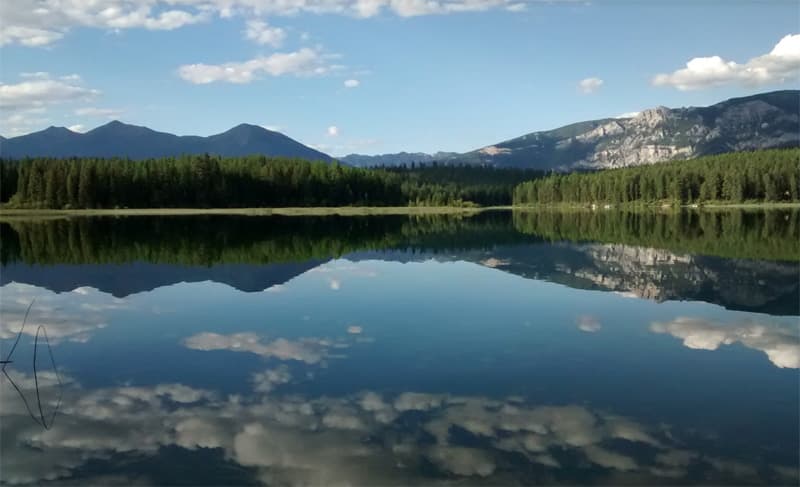 Above: Suzanne Lake near Fernie
I would also be remiss if I didn't tell you about the southwest part of Alberta; the Crowsnest Pass area.  There are a few provincial parks, but not a ton of campgrounds.  The area is amazingly gorgeous.  A couple places worth seeing in the area are Frank Slide and Castle Mountain.  There are many hiking and biking trails, old mining operations, mountains, and wildlife.
We were just at Chinook Provincial Recreation Area last weekend.  It's a cute little lake between two mountains.  There are lots of cross country ski trails to use for biking and hiking in the summer.  On the trail beside the lake where we went fishing there was a great big (grizzly likely) bear poop.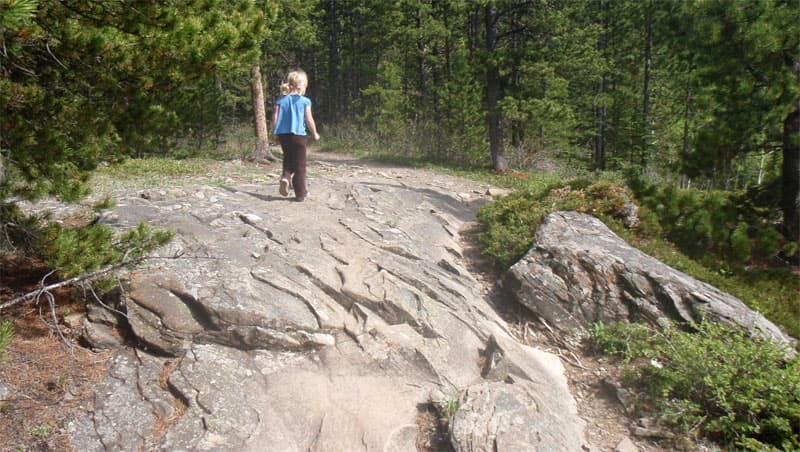 Above: Hiking at Bluerock Campground
Elkwood, Interlakes, Boulton Creek on the north side and Bluerock on the south are our favorite Kananaskis area campgrounds.
Hiking and biking maps are a good idea.  Please be aware that this is bear country.  Pack bear spray with you, know how to use it, and keep your campsite bear safe.  It's recommended to travel in groups of four or more and dogs need to always be on a leash.
Wes Hargreaves
2016 Ford F450
2006 Snowbird 108DS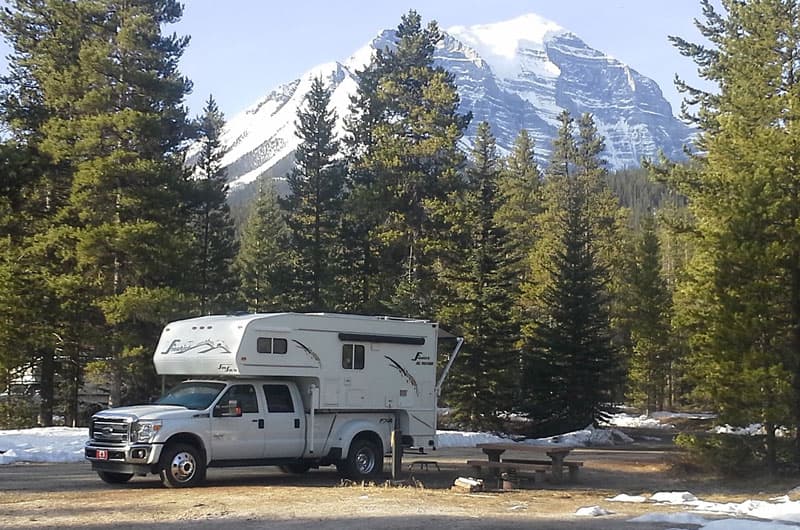 Meandering the Icefields Parkway (the highway between Banff and Jasper) is an amazing scenic trip.  There are plenty of stops, hikes, and photo opportunities of wildlife.  There are beautiful blue lakes and a decent highway.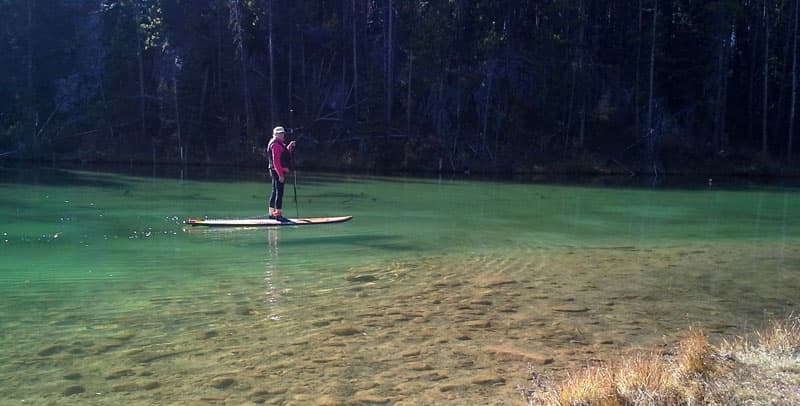 Above: Paddling on Herbert Lake, Banff National Park
The Icefields Parkway is a regular trip for us since we live only three hours away.  Once there, we love to get out for a hike and my wife enjoys paddle boarding.
The highway is open year round, so we prefer to travel outside the high season.  You will need heat in your rig as the nights can get very cold at the high altitudes.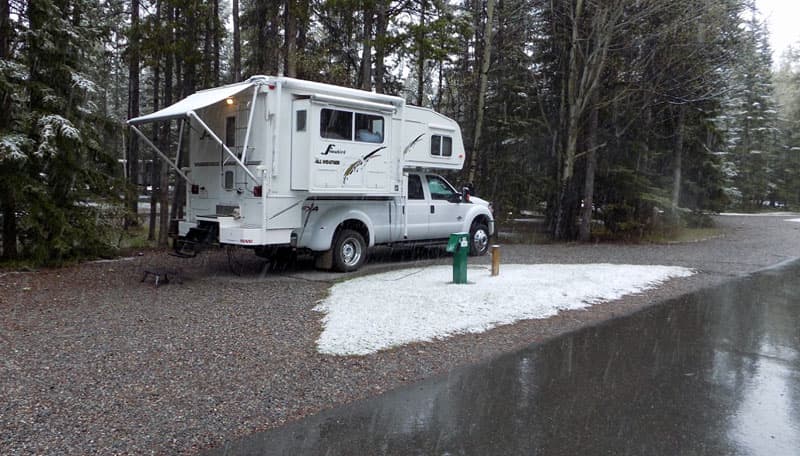 Above: Tunnel Mountain in Banff
Tunnel Mountain in Banff is a full service park campground.  It's close to Banff so you can walk to town.  Jasper has Whistler and Wapiti Park campgrounds.  They are well kept campgrounds offering whatever level of services you require.  You can make reservations if you plan to visit in high season.
Don Closson
2014 Dodge Ram 3500
2013 Adventurer 950B
I live in Calgary; a stone's throw from Banff.  Banff National Park is beautiful with many different campsites, hot springs, a lifetime of hiking trails, world class skiing, and wildlife of all sorts from martins, to grizzlies, to elk.  The National Park includes the town of Banff itself.
About 45 minutes from Banff is the tiny village of Lake Louise.  The lake is beautiful beyond words and a must see.  Also check out Moraine Lake, which is a short jaunt from Lake Louise.  Its picture used to grace our twenty dollar bill.
From Lake Louise, take the Icefields Highway to Jasper.  This four hour drive has been rated in the top 10 drives in the world.  Stop at the Columbia Icefields.  It's smaller than what it used to be, but it's still amazing.
Between Calgary and Banff lies Kananaskis Country, a park system in the foothills and front ranges of the Canadian Rockies.  Kananaskis is another huge and beautiful area, and not as controlled as the national parks.  Camping can be a little cheaper and you can quad, dirt bike, and snowmobile in designated places where you can't in the national parks.
For these activities, check out McLean Creek, Cataract Creek, or Waiparous Creek.  These areas are about 45 minutes to 1.5 hours from Calgary in the foothills.  This is just a quick overview, with a few highlights, and does not even get into the other national parks in the area.
The mountain parks are huge.  There are tons to see, do, and there is camping all over.  And the exchange rate on the American dollar is in your favor these days.
Margaret Dey
2017 GMC 3500
2017 Northern Lite 9'6″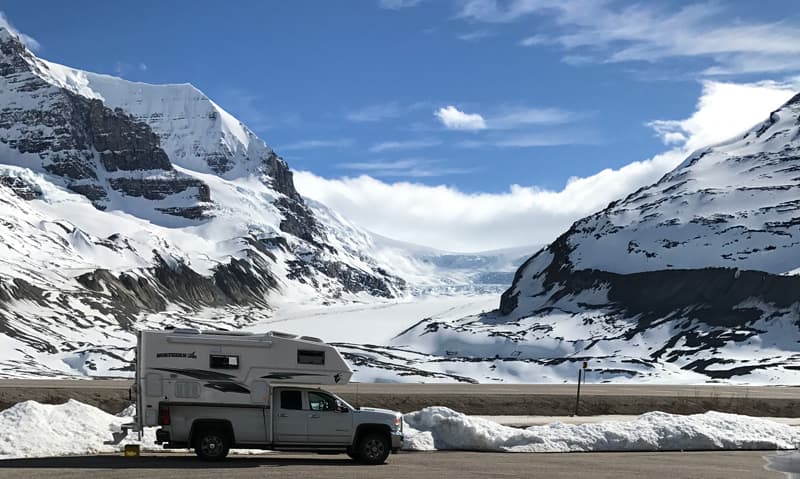 I prefer going to the Canadian Rockies in the fall and spring due to crowds in summer.
The Iceline Trail in Yoho National Park is a full day for experienced hikers.  For experienced backpackers, Mount Assiniboine is two days each way.  I would suggest that hikers carry bear spray on any trail in this area.
All campgrounds are good, but I prefer off-season year round spots like Tunnel Mountain in Banff.  If you go to Lake Louise in the winter, bring extension cords to reach the power and a shovel to clear a path.  Washrooms are open and heated!  The prices are around $32 to $38.
In the summer, ask to be placed in tent camp at Lake Louise.  There are no hookups, but you get a nicer site.
Ron and Hilda Burbee
2011 Chevy Silverado 3500
2013 Adventurer 980RDS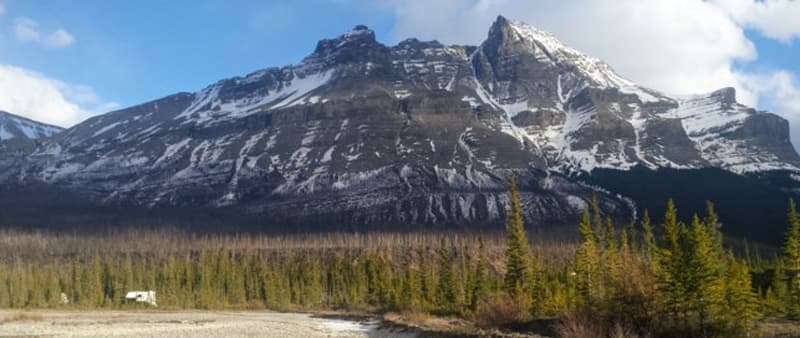 There is remarkable scenery nestled in the Rocky Mountain range of Canada.  You are surrounded by majestic mountains; a natural, serene, yet rugged setting.  Wherever you look new natural surprises catch your eye.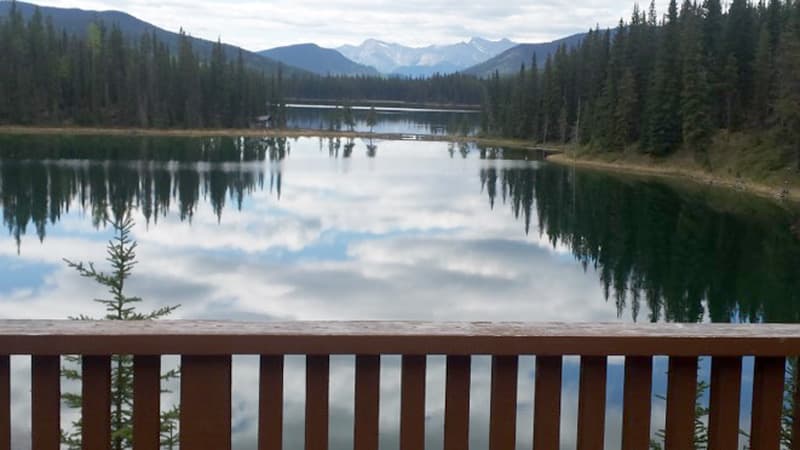 Above: Kelly's Bathtub in the Canadian Rockies
On a gorgeous day in April of 2016, my wife and I drove from Grande Cache to Jasper where we experienced Kelly's Bathtub, Sulfur Gates, and Paradise Lake.  Those are areas that are all within Canada's amazing Rocky Mountains.

Above: Castle Falls
The scenery is breathtaking.  With every visit to this mountain range, we never tire of the endless, stunning beauty.  New amazement greets us every time we visit the Rockies!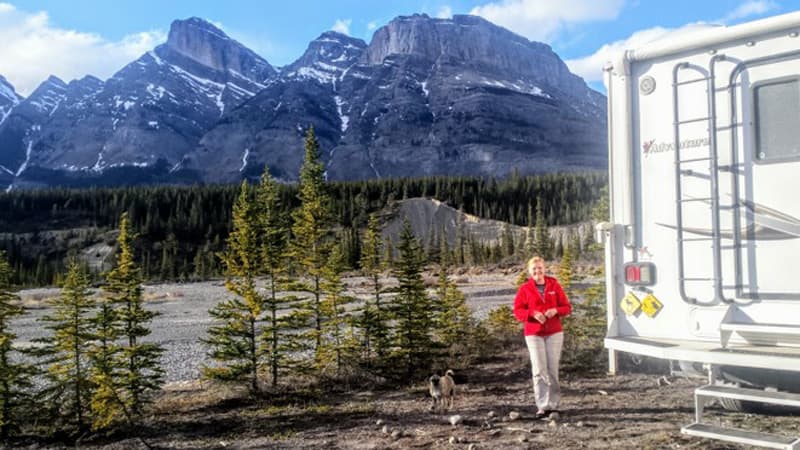 After the day of driving, we just happened upon a spot to camp.  It was a trail head off the main highway, a perfect home for the night.  We were surrounded by mountains that towered above and around us.  The Athabasca River and river bed were on one side of us and a lush forest on the other.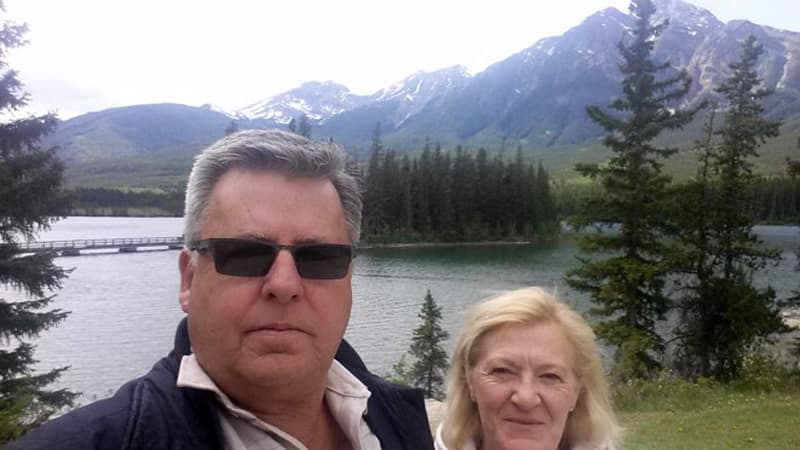 While we prepared supper, we saw a snow storm pass over the mountains to the west while the sun shone on the mountains to the east.  We were connected to one of the most beautiful regions in Canada that day.
The Canadian Rocky Mountains have so much to offer; fresh air, nature and new adventures!
Jim Loy
2016 Ram 2500
2014 Four Wheel Hawk
I recommend a visit to Lake O'Hara.  Reservations are required for accommodations at the campground, Lake O'Hara Lodge, backcountry huts at Alpine Club of Canada, and for the bus ride.  Make reservations well in advance.
You can also day hike in and then ride the bus out.  No reservations are required for the one-way out bus ride.
Don't miss the drive from Banff to Jasper.  I also recommend hiking the Highline Trail in Yoho National Park.
My favorite is Mosquito Creek campground between Lake Louise and the Icefields.  My least favorite campgrounds are Johnston Canyon and Lake Louise due the close quarter campsites.  Tunnel Mountain is good if you camp on the outside perimeter.  Purchasing a campfire permit often gets one a bit more privacy.
There are many good guidebooks but make a point of visiting the visitor centers in Banff, Lake Louise, and Jasper.
Patty Kennedy
2001 Ford F550
2002 Lance 1161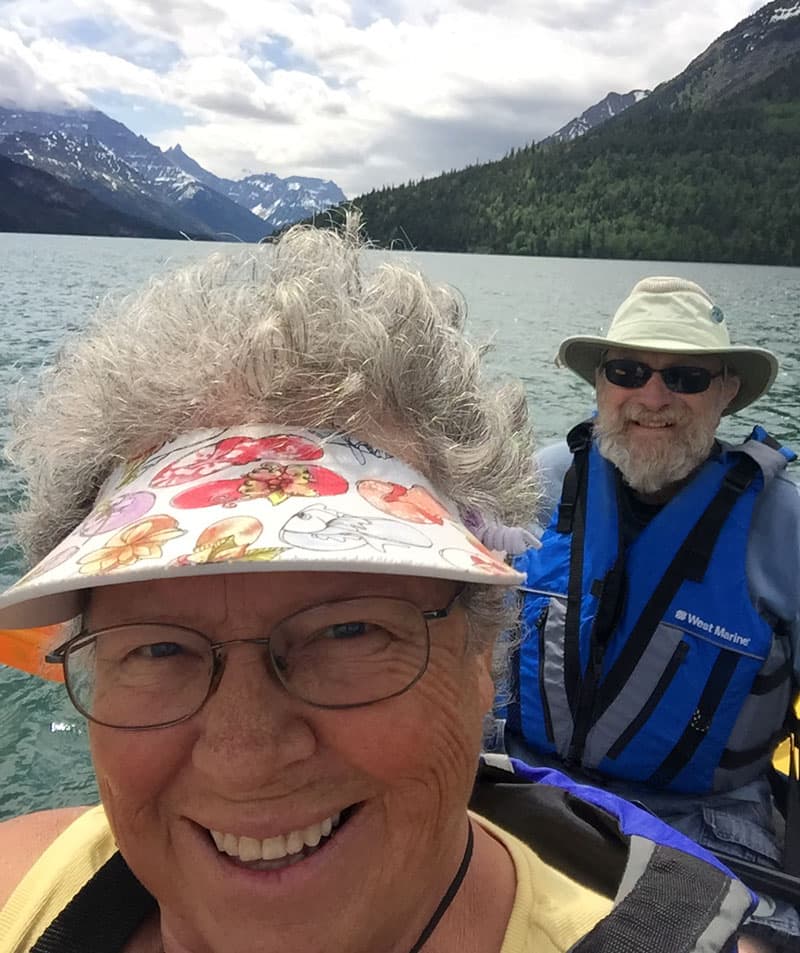 Kayaking on Waterton Lake was fantastic!  We carried our tandem inflatable Aire-brand kayak with us on our nine week road trip and were glad we did.  It is just a beautiful way to see the Canadian Rockies.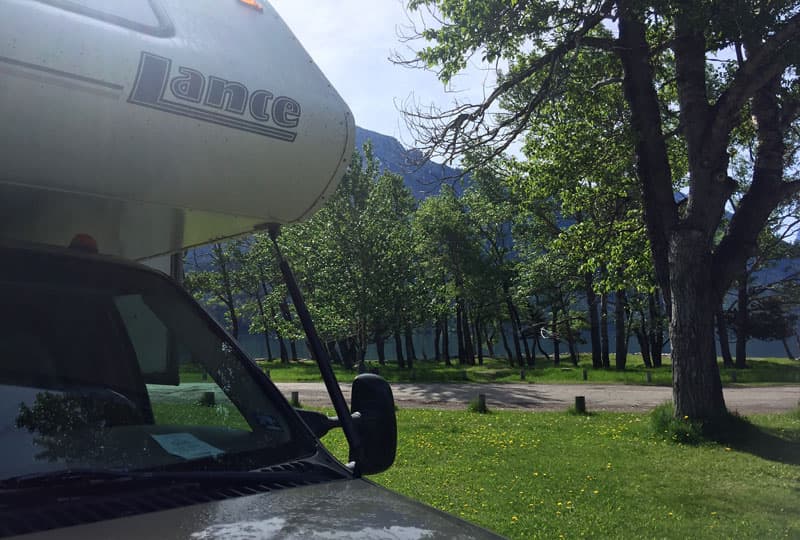 We camped in the Townsite Campground in Waterton Lake and were five minutes from walking into town.  We could carry our kayak to the lakes edge from our campsite.
John Desjardins
2007 GMC Sierra
2002 Globetrotter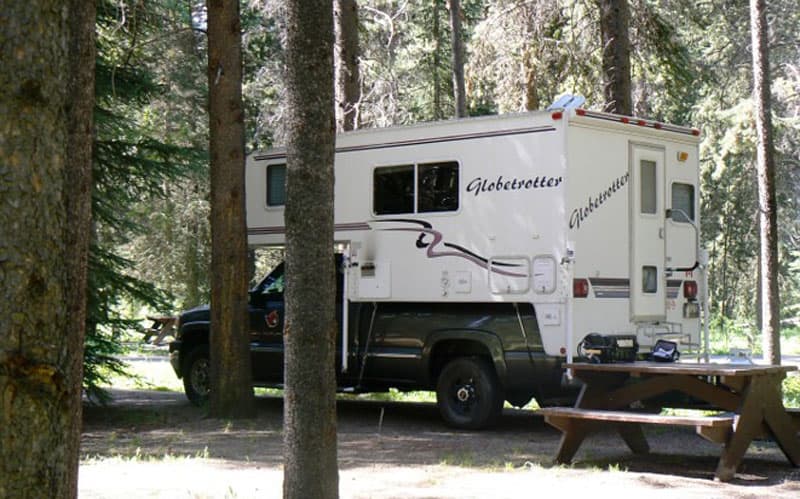 Above: Johnston Creek Campground, about 25 kilometers north of Banff, Alberta
We visited both Banff (Be Aware, Nothing For Free) and Jasper (Just Another Silly Place Extracting Revenue).  All kidding aside, we enjoyed them both very much.  The hot springs near Jasper are a must see.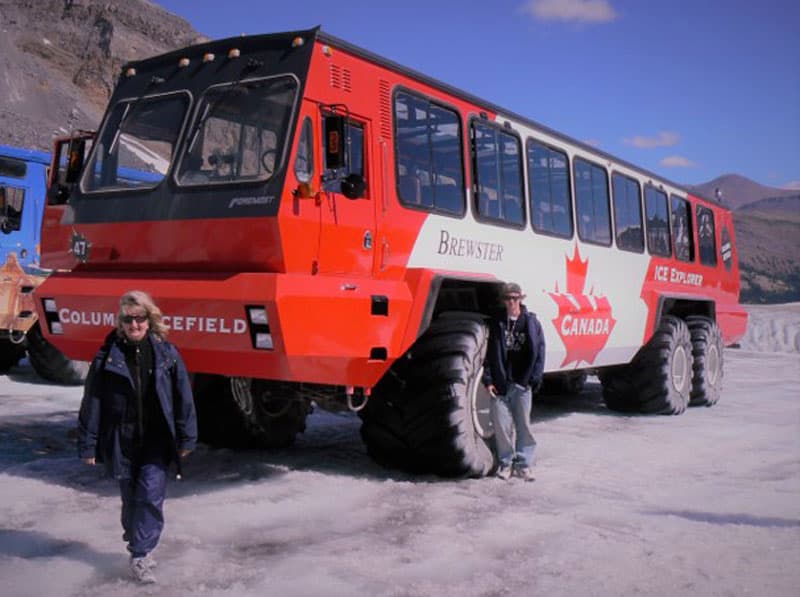 Above: Columbia Icefields tourist bus.  There were a half dozen of these, all different themes and colors.
The Athabasca Glacier is another can't miss destination.  The bus ride to and from is worth the price.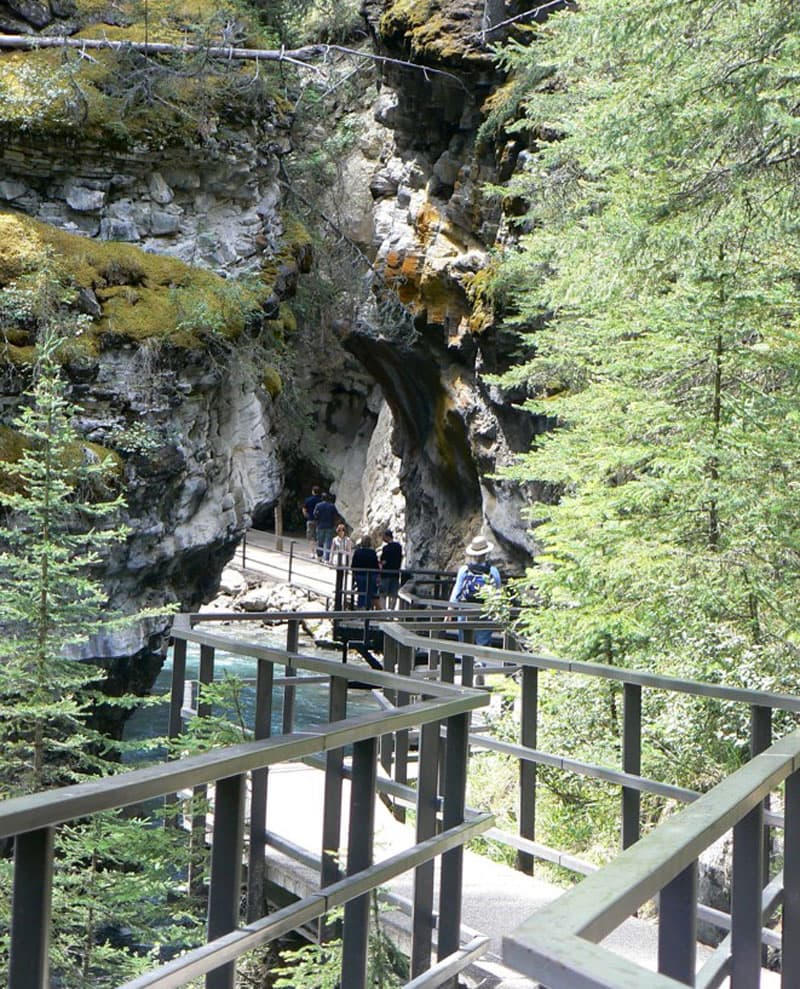 Above: Part of the walk to the upper falls on the Johnston Canyon Trail, a short drive from the campsite
Johnston Creek in Alberta was also beautiful.  We stayed there for a few days while taking day trips around the area.  There is so much to see and do in the Canadian Rockies that I could write about it for days.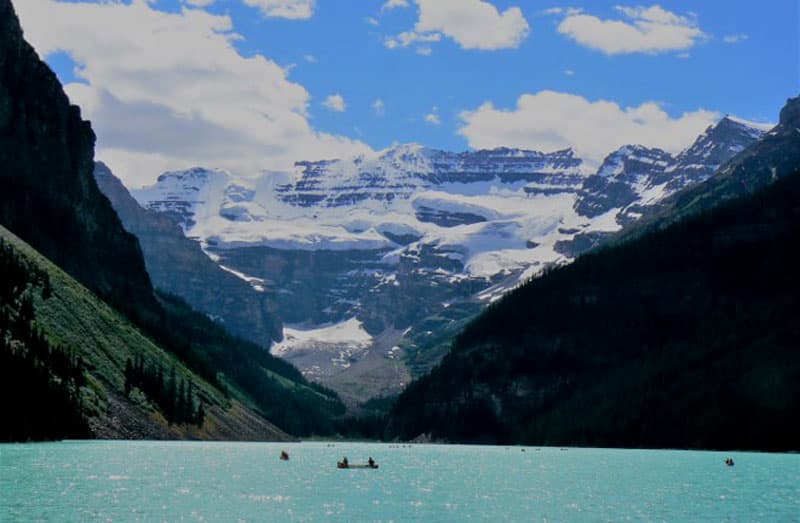 Above: Lake Louise, Alberta
I also recommend the Calgary Stampede.  We've been twice; once in 1988 and again in 2007.  Although not in the Rockies, it's certainly worth a stop.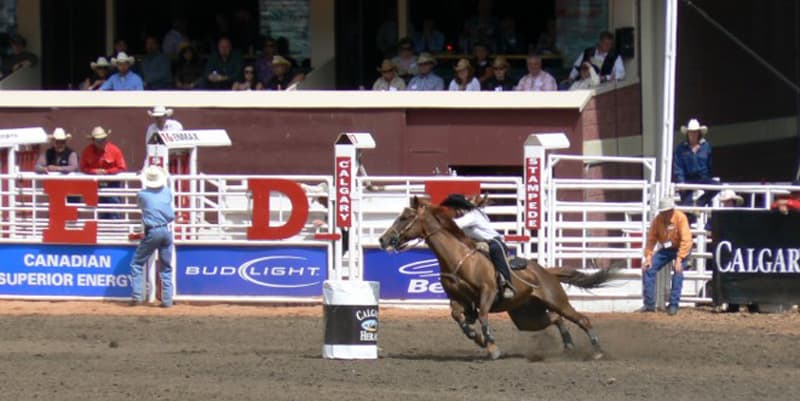 Above: Women's barrel racing at the Calgary Stampede
The most important thing we found is to dress in layers, have lots of water, bug repellent, and bear spray.  You never know what the weather will turn to after a couple of hours.  Hiking any long distance can bring you to a different ecosystem, from hot temperatures and sunshine, to cold temperatures and miserable rain within a short time.
Nancy Rivers
2004 Ford F-250
2013 Northern Lite Special Q 8-10
I recommend the Pocahontas Campground in Jasper National Park with a side trip to Miette Hot Springs.  On the road from Pocahontas Campground to Miette Hot Springs, we saw so much wildlife.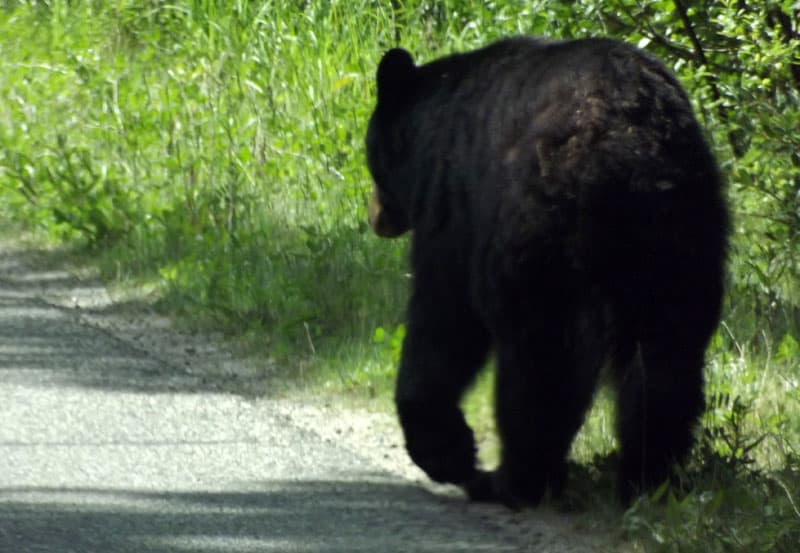 Above: Bear on the side of the road near Miette Hot Springs
The pools at Miette I called an international soup.  We met so many different folks from all over the world.  It was $8 per person for the whole day.  We soaked, hiked, and soaked some more.  Icefields Parkway is the bonus by which you get there.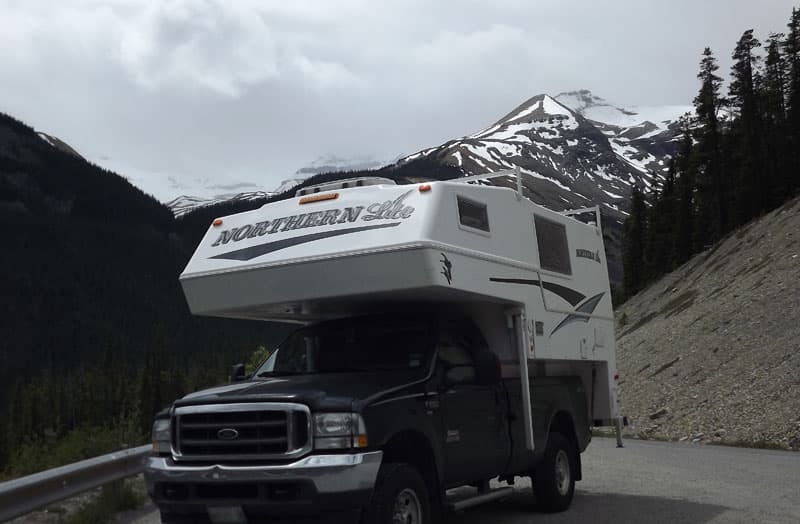 Above: Overlook on Icefields Parkway
I also liked Mount Robson Provincial Park.  There are great easy hikes, a nice campground, and awesome views.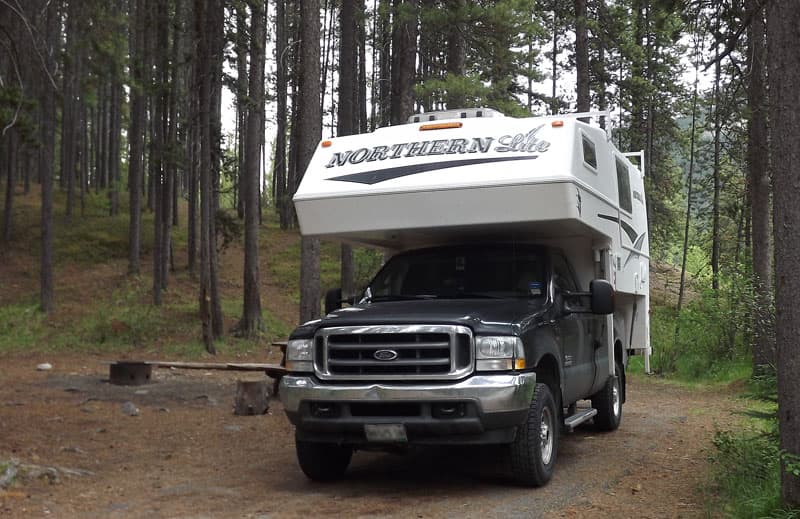 Above: Jonas Creek Campground, Jasper National Park
At the northern end of Jasper National Park, Jonas Creek Campground is $15.70 and unserviced.  It is close to Athabasca Glacier.  Whistler, a huge campground close to the village, is $30 and unserviced.
Above: Mount Robson Provincial Park
West of Miette Hot Springs is Mount Robson Provincial Park.  Robson Meadows Campground is $27 a night and across from the park's headquarters.  There are great views of glacier covered Mount Robson.
I recommend wearing warm clothing and to dress in layers.  Athabasca Glacier was windy and very cold even in the summer time.  Also, bring binoculars, a camera, and bug spray.
Jim Goodrich
2006 Chevy 3500
2009 Lance 1191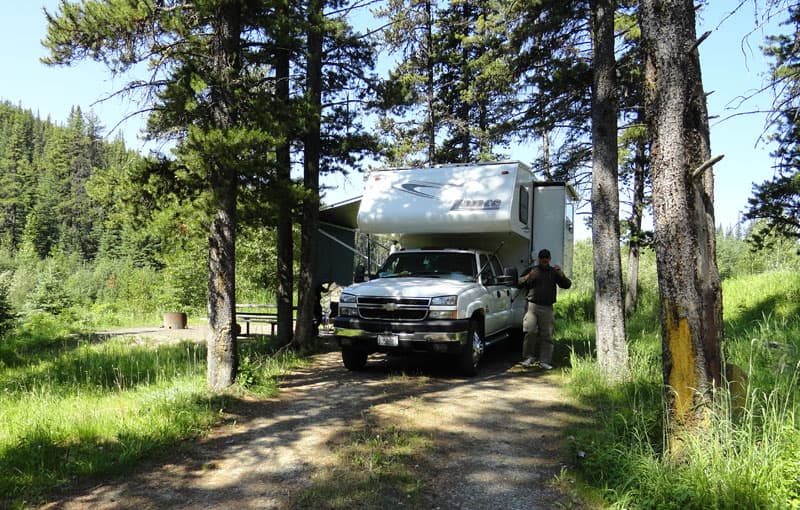 Above: Camping at Brown Creek Provincial Recreation Area
This first picture was taken at Brown Creek Provincial Recreation Area where it's $10 to camp.  There is a gravel, two lane road to get into the park.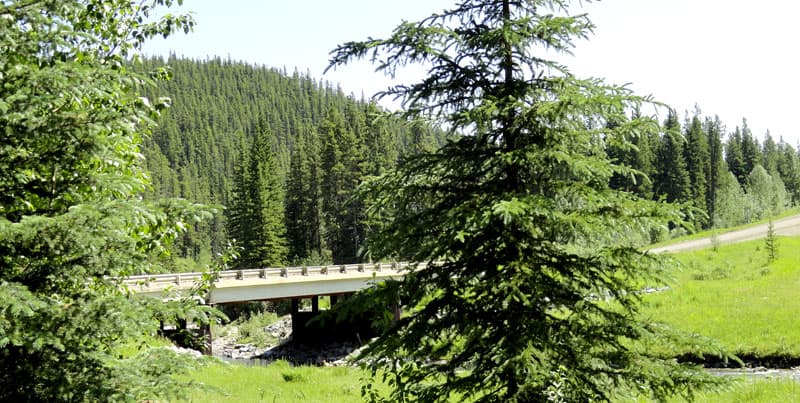 Above: The road into Brown Creek Provincial Recreation Area
Watson Creek Provincial Recreation Area is one of a string of provincial parks located along highway 40 that runs north-south along the east side of the Canadian Rockies between Banff National Park on the south and Jasper National Park on the north.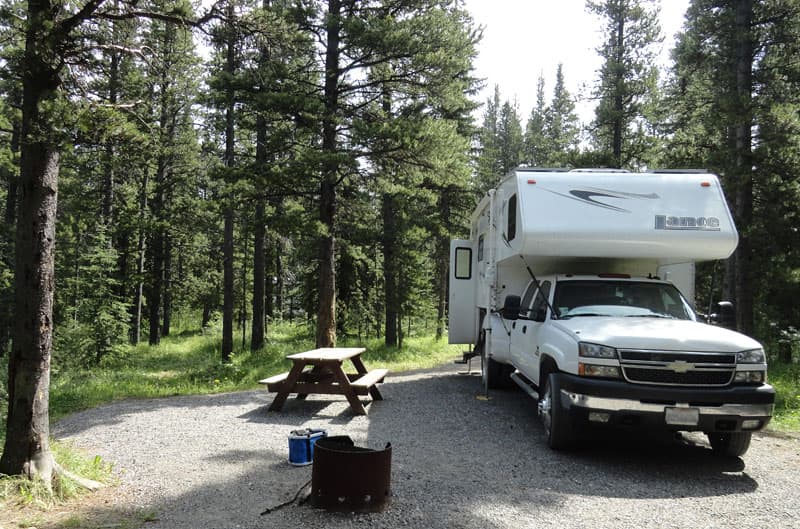 Above: Camping at Watson Creek Provincial Recreation Area
The picture of Watson Creek shows typical facilities at these parks; water pump, vault toilet, wood shed and camp site.  Most of these parks are located along water features including creeks, rivers, and lakes.
We traveled from Nordegg on Highway 11 on the south to Hinton on Highway 16 on the north.  The roads are mostly groomed gravel that are smooth enough to drive 45 to 55 miles per hour (72 to 88 kilometers per hour).
It is common to see large logging and dump trucks along this route.  You need to slow way down and pull to the far right to avoid throwing gravel and dust onto oncoming traffic.  Hopefully they do the same for you.  We had no mishaps.
For more articles about traveling in Canada, visit our Canada section.