14 experienced truck campers reveal a list of must-see roads, trails, and attractions in the spectacular Canadian Rockies.  Warning: Amazing overload ahead.

Two full years before starting Truck Camper Magazine, Angela and I explored the Canadian Rockies in a 2004 Lance 1030 and 2005 Chevy Silverado 3500 dually.  We were following the suggestions of a post on RV.net, and knew little of what to expect.
I will always remember the first time we saw the Canadian Rockies.  By this point in our trip we had already seen plenty of mountains in the American West, but these were something else entirely.  The Canadian Rockies were more dramatic, with sharper peaks, deeper valleys, and more brilliant colors.
The drive from Banff to Jasper has to be one of the most spectacular drives we have ever done.  In fact, something funny happened about a week into our trip.  I said to Angela, "It just one stunning mountain, vista, or lake after another.  Somehow I'm no longer appreciating it like I should be."
We had inadvertently discovered what we now call "amazing overload".  Amazing overload is what happens when you see too many incredible things in too short a time.  You may have experienced amazing overload during your own travels, or in a particularly good museum.  There comes a point where the mind hits saturation, and you become immune to the wonders in front of you.
The lesson for us has been to slow down, do less, and plan to return to amazing places.  The world is full of much less interesting experiences to rush through the incredible ones.  These places are to be savored, and then repeated.
The Canadian Rockies are definitely an experience that will give you amazing overload if you try to see it all in a few days.  The best advice is simple; do less, take more time, and plan to go back.  The mountains will wait for you.
Jim Salyerds
2011 Ford F350
2015 Lance 1050S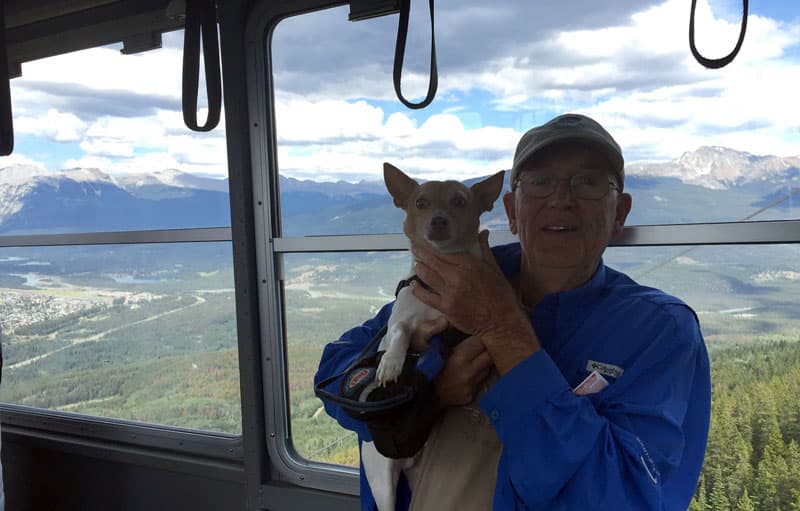 Above: Buddy and Jim on the Whistlers Summit tram.  Dogs are allowed on every tram.
I recommend Lake Louise and Lake Moraine in Alberta because they are so beautiful, especially Lake Moraine.  Between Lake Louise and Jasper, visit every site you can on the Icefields Parkway.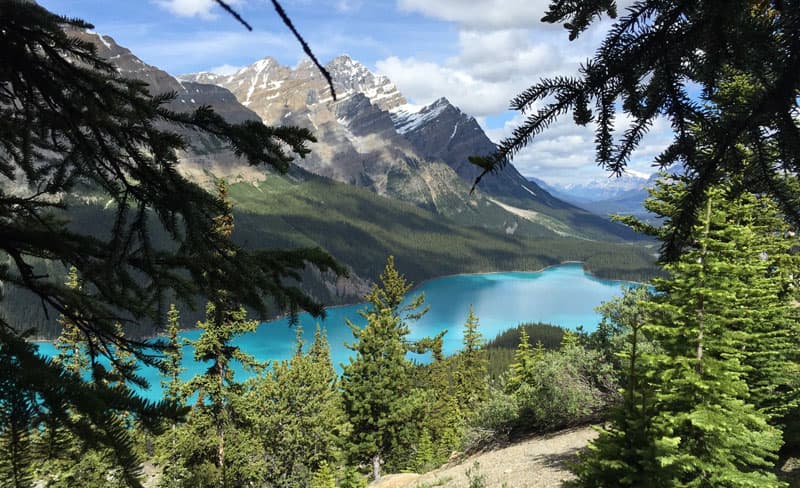 Above: Peyto Lake from Bow Summit.  Bow Summit is at 6849 feet, which is the highest point on the Icefields Parkway.  Peyto Lake is a glacial melt water lake several hundred feet below the summit.  The brilliant turquoise is created from suspended glacial sediments.
Highlights for me were the Bow Summit lookout to see Peyto Lake, Athabasca Glacier, and Athabasca Falls.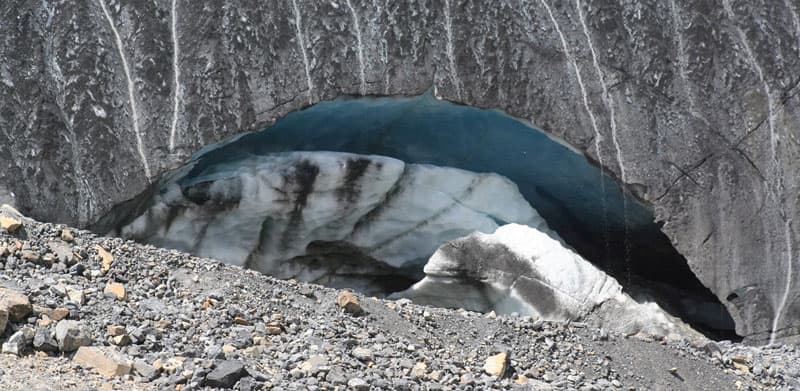 Above: This cave-in under the Athabasca Glacier was fascinating. The icy roof of the cave was a fantastic blue.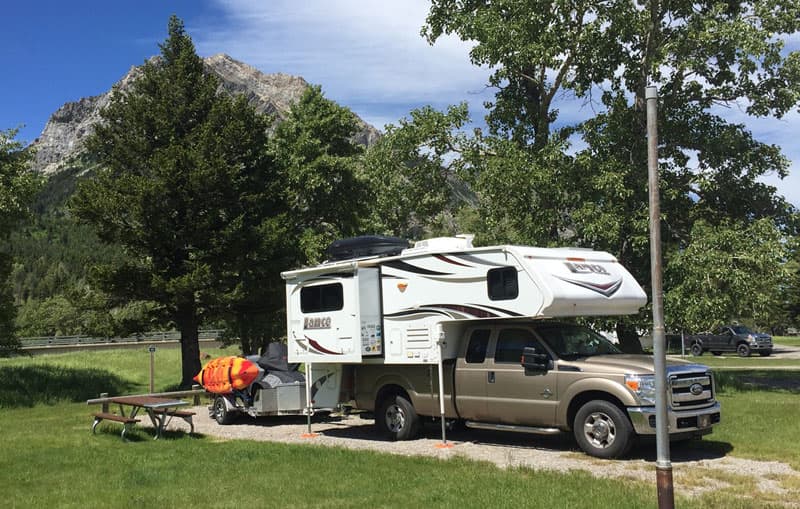 Above: Townsite Campground in Waterton Lakes National Park
I camped at Townsite Campground in Waterton Lakes National Park for $25 a night.  It is a short walking distance to the small town of Waterton.