Ken: We make our own dried meals.  Patrice will make a batch of chili and then dry it.  It takes time but, when you have ten to twelve meals already prepared, you can camp anywhere you want.  All you need is water and you're good to go.
Patrice: You cannot take fresh eggs or raw poultry across the Canadian border, coming or going.  You can bring certain amounts of other kinds of meats, but we didn't want to risk it.
Ken: They also don't allow dog food containing beef, poultry, or lamb.  At Costco we found dog food made of salmon and sweet potato.  We heard that they want the original packaging, but customs didn't look at the dog food.  They did ask us about poultry and vegetables.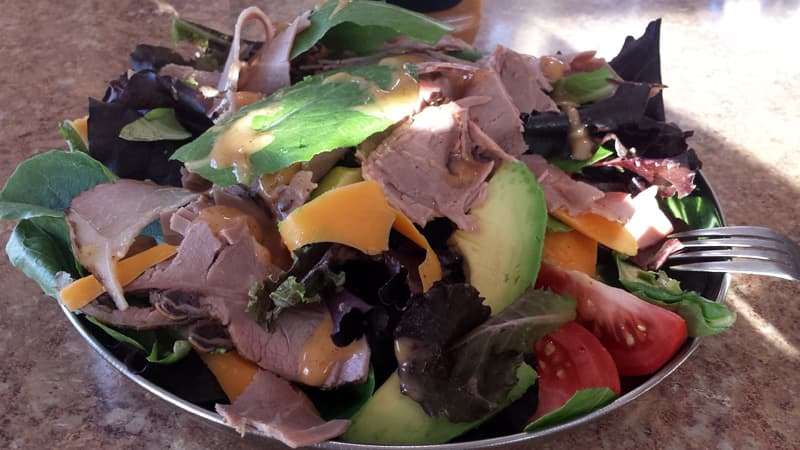 Above: Typical dinner was Cobb Salad; it's great to have the ability to prepare fresh food in the camper
Patrice: It was economical to bring so much of our own food.  It was also convenient because we tend to camp off the beaten track.  On our return trip we did not remember the 'no uncooked poultry' regulation and, as a result, two dozen eggs and chicken that we purchased in Eagle River on Wednesday were taken away from us at the border on Thursday.
TIP: Taking Pets Across the Border
Patrice: Prior to the trip, we took our dog to the vet and got a certificate of health showing that he was current on the required vaccinations.  The record from the vet needs to be within 30 days of the trip.  They did ask for that information at the border.  Canada wanted the name and address of the place you're visiting on the certificate.
Ken: If your dog bites someone in Canada, they will take your dog.  Then you need to prove that he's had vaccinations, or they can permanently take your dog from you.
Patrice:  Ken did not bring weapons, but we did have bear spray.  Bear spray is allowed, but it must have label and show that it's specifically for bears.  You cannot bring pepper spray, but you can have bear spray.
TIP: Money In Canada
Ken: We tried to get Canadian cash ahead of time because we thought we should have some cash with us.  Our bank wanted to charge us $130 US for $100 Canadian.  With the exchange rate, we thought it should be about $75 US for $100 Canadian.  So we decided to just have US cash and use our credit card when we could.
This proved to be a good plan.  We only had to use cash at one campground on our way home.  Our credit card worked everywhere and the exchange rate is calculated automatically.  There was a small exchange fee.
TIP: Fuel In Canada and Alaska
Patrice: Our son's rule was, "If you can buy gas, buy gas".  In Canada, especially in British Columbia, gas stations aren't open in 24 hours a day.
Every time you buy gas you have to go inside, estimate how much gas you need, fill your tank, and then go back inside to have the total adjusted.  We got pretty good at estimating.  In the Yukon we could use our credit card.
Ken: There were times we wanted to go on side trips, but didn't feel we had enough fuel.  We would have liked to bring extra gas along, and are considering putting our camper on a flatbed some day so that we have storage for extra fuel.
Patrice: The Milepost is essential.  I can't not stress that enough.  You have to have it.  The Milepost lists gas stations.  However, we did find that there were some mistakes in the guide.
Ken: Quite a few places are no longer in existence.  I think when gas prices went crazy, the roadside convenience stores dried up.  It's alarming that they're closed.