We saw Bear Glacier on Stewart-Hyder Road.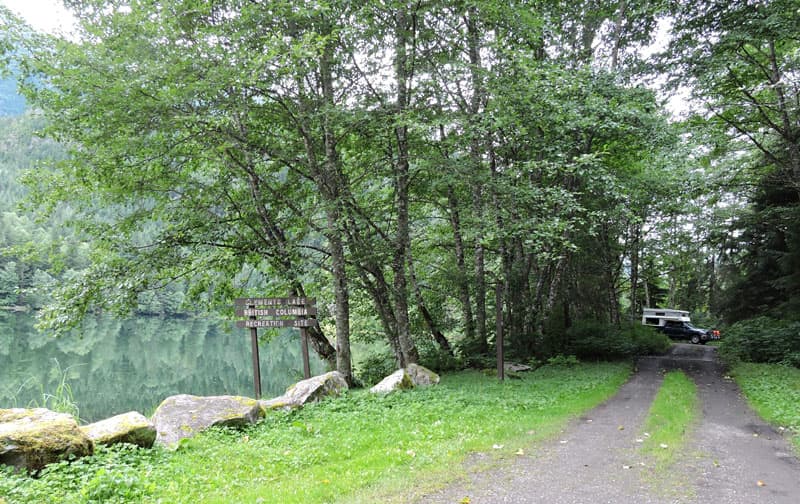 On the fourth night we stayed at Clements Lake Recreational Site off the Stewart/Hyder, Alaska Highway 37A.  It was a very rough access road, but secluded.
The next day we drove to the very end of the road on the advice from a motorcycle camper at Clements Lake.  We paid the fee to walk on the Fish Creek Boardwalk, and would not do that again.
Ken: There were a lot of salmon spawning, and bears come in to feed.  This place is so popular that they built a raised boardwalk and, supposedly, you go to see bears.  There were 50 to 100 people who are talking and laughing.  You get to see a lot of tourists having a party, and a lot of salmon, but no bears.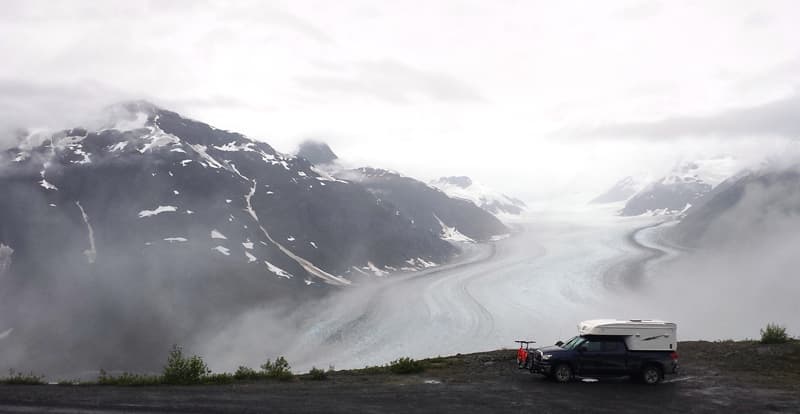 Above: The Salmon Glacier Road is good for agile truck campers
Salmon Glacier was the most beautiful glacier of the entire trip.  It's an immense, flowing river of ice.  Then we were told to go to the Salmon Glacier lookout, and keep going.  It is stunningly beautiful, and we only ran into a couple of people.  That area is really only for truck campers with four-wheel drive.  If you are pulling a trailer or are in a motorhome, you should stop at the boardwalk.
At Hyder, you go into Alaska and then back into British Columbia.  Then you re-enter through customs even through you can't go anywhere but come back into Canada to leave.
The United States does not have customs to get into Hyder, but Canada does to reenter.  You have to go through the eggs, firearms, and bear spray thing all over again.  It's probably because of access in Hyder to boats.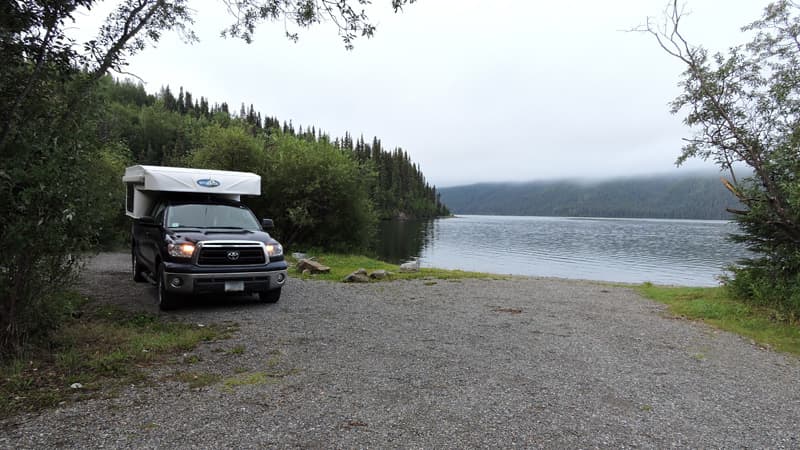 Above: Sawmill Point Recreational Area, British Columbia, free camping site
Patrice: The fifth night we stayed at Sawmill Point Recreational Site on Dease Lake.  This meant skipping the Grand Canyon of the Stikine.  As a consolation, we stopped for a dog break and discovered what a local guide book called, "The biggest huckleberry patch in the world".  Ken taught Moki, our dog, how to harvest huckleberries.  Sawmill Point turned out to be such a lovely campground that we made a point to camp there again on our way home.
Above: Moki, their dog, learning to pick huckleberries at the largest Huckleberry Patch in British Columbia
Day six turned out to be a very grueling realization that the Yukon Territory stretch was much longer than it looked like on the map.  Our first Yukon challenge was the gas pump at Nugget City.  The instructions were so complicated that it took both of us to figure out how to pump gas.  This came in handy on our return trip when we helped a couple driving a Four Wheel Camper to pump fuel.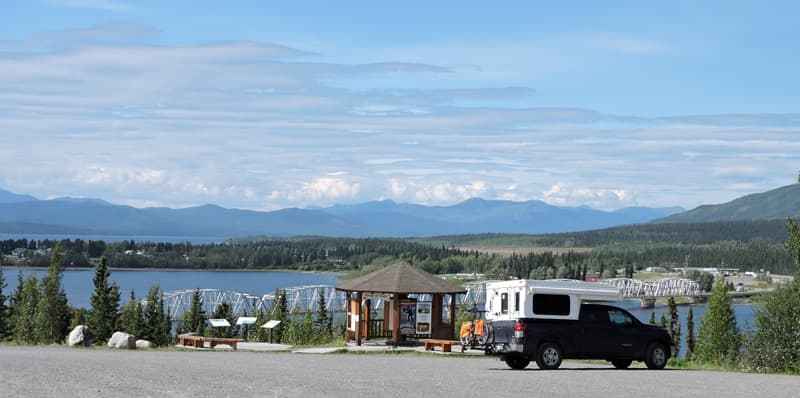 Above: The longest span over water on the Alaska Highway, Nisultlin Bay Bridge
We were now on the Alaska Highway 1.  The Yukon does not have the system of free recreational sites but rather government campgrounds that all cost $12.  We visited one of them near Haines Junction.  It was noisy with generators and kids screaming and music blaring.  Moki started barking like crazy.  He generally does not bark at anything so we took this as a sign to move on.
We ended up at a commercial campground just out of Haines Junction.  It was overpriced for a parking lot, but they had coin operated showers and it felt so good to get clean.