On the way to visit their son in Alaska, Patrice and Ken Loucks discover amazing truck camping opportunities in British Columbia and the Yukon Territory.  This is the real Canada to Alaska truck camping experience.

We have come to appreciate a different meaning of the age-old wisdom of, "Let the trip take you".  For most folks it means, "Stay flexible and be open to opportunities".  For us, it's a reminder of how precious the moments are when we can be in our rig, relax, and discover what's around the bend.  Staying flexible and open to opportunities has become second nature, but the chance to actually be in that "place" is rare indeed.
On balance, we're still working.  The magazine requires us to be on our phones and/or computers full-time, five-days a week, just to keep up with the content demands.  It's a wonderful job, but it makes us soak in the experience of pure truck camping discovery all the more deeply.  The days that we are able to just be in our rig, exploring a new place without concern for time or task, reinvigorates our passion for truck camping, and life itself.
Patrice and Ken Loucks' story of truck camping through British Columbia, the Yukon Territories, and Alaska had us ready to put the laptops in the garbage disposal and start packing.  Then their pictures had us wanting to throw the smartphones in a lake and drive north.  The mere idea of being free to roam Western Canada and Alaska is a dream we can hardly allow ourselves to consider.  If we ever stop publishing after one particularly compelling Alaska Week story, come find us in The Last Frontier.
What follows is a wonderful travelogue, and some important tips on taking a truck camper through Canada on the way to Alaska.  Along the way, Patrice and Ken Loucks remind us to let the trip take us, in so many ways.
North to Alaska!
Patrice: Our trip went from July 29, 2015 to September 3, 2015.  Our main motivation for going to Alaska was to visit our son and his fiancé who live in Anchorage.
We decided to drive so that we could have our camper with us.  We also decided to take our time and enjoy the back roads of British Columbia instead of doing a beeline on the Alaska Highway.  We spent a majority of our time in Canada.  We entered Canada at Abbotsford and followed Highway 1 north eventually linking with Highway 97 north.
The first night we stayed at Lake of the Trees near 100 Mile House (above).  It is lovely and secluded, or at least that's what we thought.  The mosquitoes come out at night.  We also discovered that the Rock Stock signs did not mean a family reunion, but rather a loud rock concert.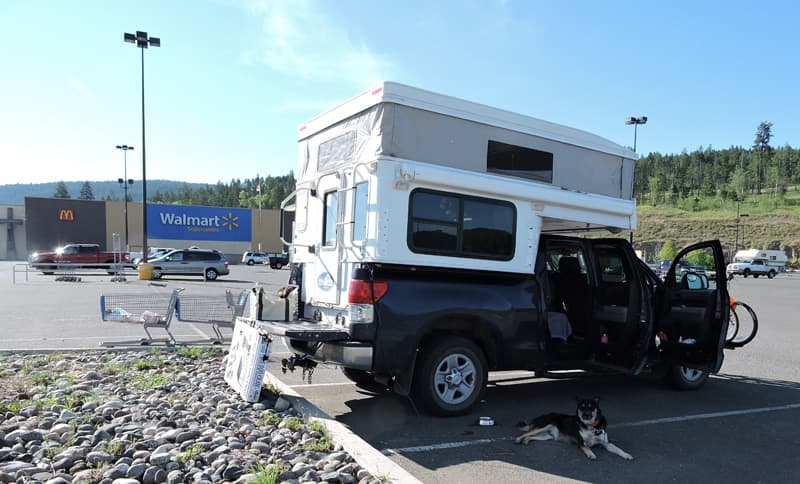 This resulted in a late night move to the Walmart in Williams Lake.
At Prince George we headed west on the Yellowhead Highway 16.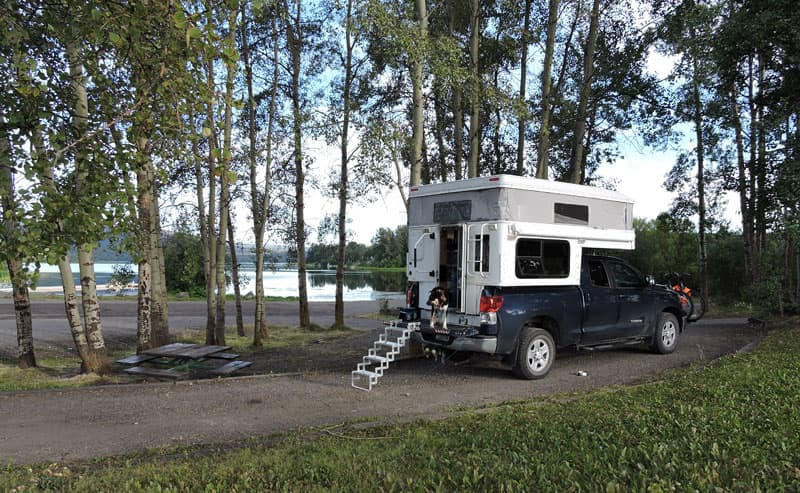 The second night we stayed at Burns Lake, which is a free city park.  It had a fitness course, but the bathrooms were closed between 10pm and 6am.
The next day we took a bike trip to Barrett Hat, which is a rock dome that overlooked the Bulkley Valley.  That was an excellent experience!   That was also the first time we got out and did a real hike.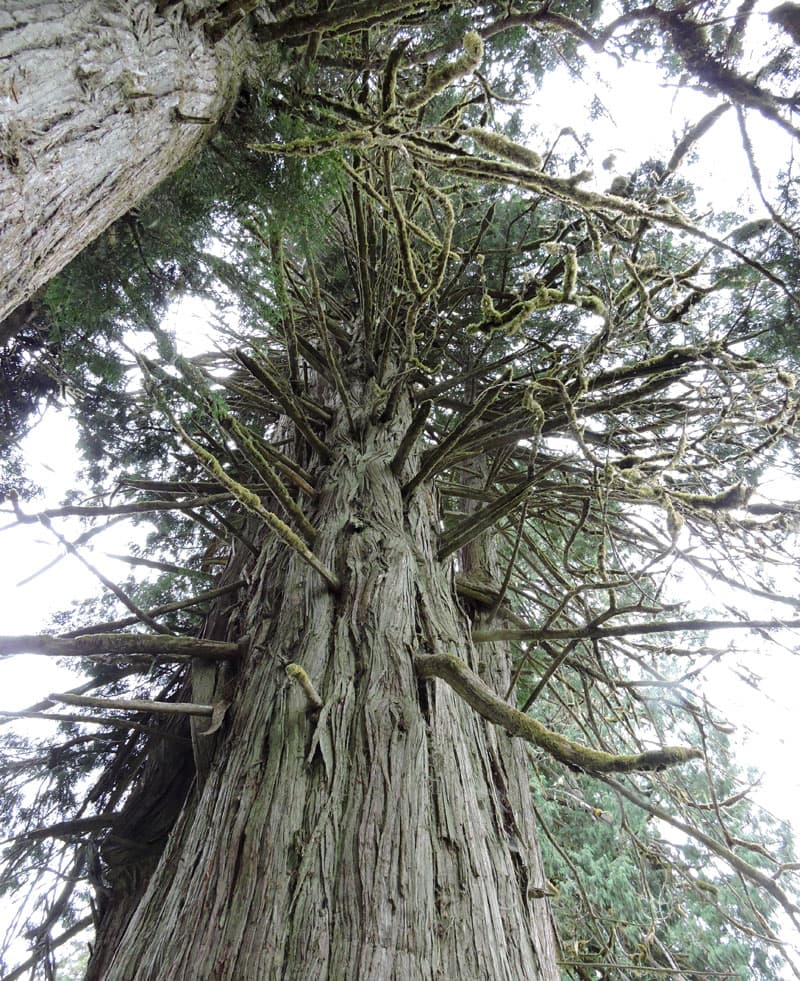 The third night we stayed at another free camping spot, Lakelse River Recreational Site on the Skeena River.  We saw the biggest cedar tree ever.  It was a split tree so it must have eluded the loggers.  Locals were snagging salmon, mostly just for fun, and throwing them back.
In Prince Rupert, we walked on the boardwalk through Cow Bay.  All the trash cans, benches, and store fronts have a cow theme.  You can even sit on a "cow"ch and drink your "cow"puchino!  An alternate approach would be to drive out on Vancouver Island and take the ferry from Port Hardy to Prince Rupert.  Then we discovered the Stewart-Cassiar Highway 37.