This is the story of one Four Wheel Camper, two months, three Goldens, 13,500 miles, countless dog biscuits, and a dream to visit Alaska.

Three Goldens to Alaska
By: Linda Norman
Alaska was a challenge I always wanted to do, and a promise I made, and kept, with my mother.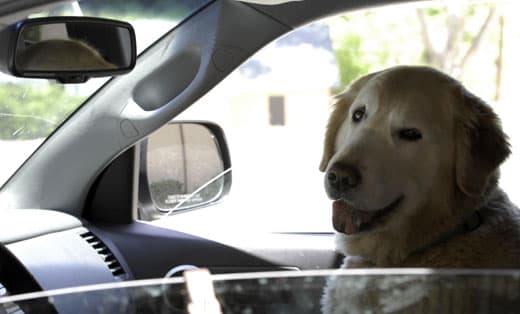 Above: Emmie ready to drive to the Overland Expo
Three old Goldens, Bedford, Emmie, and I, started our adventure by driving from Pennsylvania to the dealer in Denver to pick up our new Finch pop-up.
We then turned west to Arizona for Toyota Tacoma modifications from Adventure Trailers in Prescott, and to attend the Overland Expo in Flagstaff.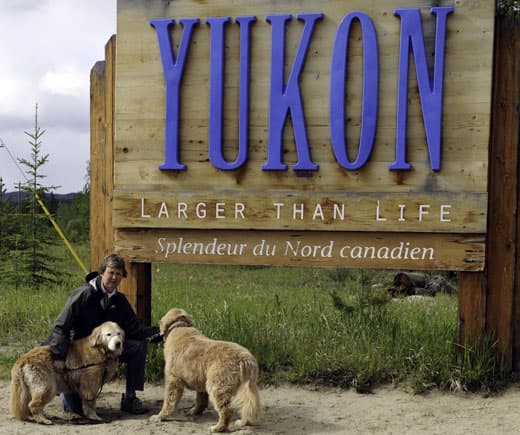 Above: Emmie, Bedford, and Linda in the Yukon, Canada
After the expo, we pointed our truck camper rig north and headed towards Alaska and the Yukon.
Maps in hand, we followed Route 89 north with stops in Ennis and Bozeman, Montana.  On to the Canadian border, I used The Milepost course through Alberta and northern British Colombia to pick up the Alaskan Highway in Dawson Creek.   As I stood at Mile 0 in Dawson Creek, I asked a motorcyclist why he was making the drive.  He answered, "If it was easy, I wouldn't be doing it."
We added the Klondike Loop to our visit to Dawson City, crossed the Yukon, and drove the Top of the World Highway into Alaska.
Researching Alaska
Hours of research months before helped me set our course.  The number one website for my research was Truck Camper Magazine with its treasure trove of Alaska truck camping articles and photographs.  I spent hours reading Truck Camper Magazine, getting caught up in the excitement of the Alaska journey.
Of course, I also used The Milepost, and consider it key equipment for a trip to Alaska.  I made sure to buy the latest edition for the most up-to-date information on gas stations and road closures.  Gas stations may not be in business when you arrive for a fill-up and the next gas station is sometimes many kilometers away.  Heavy snow and rain can cause flooding and mudslides in Alaska closing roads.  On our trip, the Alaskan Highway was shut down stranding us in Fort Nelson, British Columbia for over four days.
Travel Trailer or Truck Camper?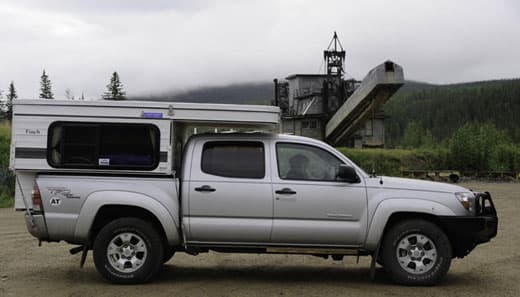 Above: Linda's Four Wheel Camper Finch in Chicken, Alaska
A key early decision was to leave the travel trailer at home.  I do not remember where, but I read an article that said, "When you back off the ferry".  Back off the ferry!  There's no way I'm backing a tailer off a ferry.  My knuckles used to lock down on the steering wheel when I had to pull in for gas.
I decided that a vehicle that was easy to maneuver was the right answer for me.  After all, this was a trip of at least 12,000 or more miles and that didn't need added stress.  I read a number of travel journals that kept repeating the advantages of the truck camper for its maneuverability.   A truck camper was the right decision.
Tricked Out Tacoma
The experts at Adventure Trailer in Prescott, Arizona were another invaluable resource.  Co-Founder, Mario Donovan, spoke with me at length as I began the planning, much like a good coach.  He listened to my plan and then made recommendations for truck modifications that would help get me there and back.  I asked for his recommendations on shelter and followed his advice for a Four Wheel Camper for my short bed Tacoma.
The truck mods were modest but later proved to be invaluable in making the truck stable and true.  The mods included airbags for the rear leaves, upgraded shocks all around, an ARB front bumper, fog lamps, and a portable Overland air compressor.  As I was told, the portable compressor would come in handy helping somebody else.  It did in the Yukon, a smile and a handshake meant the world.
Four Wheel Camper Finch
My Four Wheel pop-up is lightweight, low profile, snug to the truck, and has the comforts of home.  Even though I am older, I am able to set up and tear down the pop-up roof in record time.
I added an arctic liner to the pop-up soft wall and it was worth every penny.  It keeps the camper cooler or hotter when it needs to be.  Other options I added include a hot water heater with auto start, furnace, three-way refrigerator, outside shower for the Goldens who like to roll in things, on-demand water pump, battery pack, screen door, LED lighting, and a gas piston assist for the roof.  There is so much in that little space; it could take the rest of my article to list it all.
Overland Expo
The 2012 Overland Expo was a great opportunity to listen and learn from experience.  In my case, I camped with other Four Wheel Camper owners and figured out how to make my camper work, and learned the tricks of the trade.  Over 4,000 people camped at Mormon Lake this year, so I had a lot of experts to choose from.
I got to meet Tom and Celeste Hanagan, the owners of Four Wheel Camper, and spend more time with Chris Janeway, my Four Wheel Camper dealer, Mario, Martyn, and their Adventure Trailers Team.  Tom and Chris even turned wrenches on my camper making sure the rig was properly secured.  I owe them all a debt of gratitude for sending me on my way properly equipped and ready for the adventure.
There were classes and hands-on training throughout the three-day event.  Land Rover built a Camel Trophy driving course and led with their best-experienced trainers and drivers.
The Long Road to Alaska
The Goldens and I are well acquainted with the long road.  We have been to the Arctic Circle and Yellowknife.  Bedford has been to Goose Bay in Labrador and many more places over the years.  During these long-distance trips, we have developed a routine.  But this time we had the truck camper and more range for stopping on the road.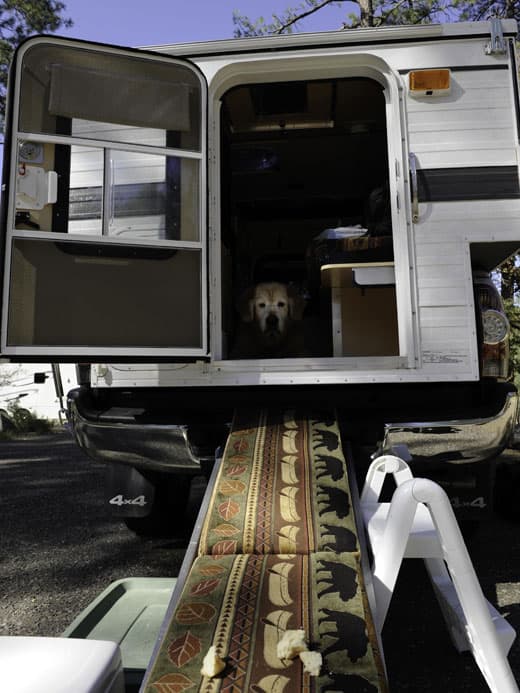 Above: "You got me in.  How are you getting me out?  Bread is for the birds!"
The Goldens could not get into the camper that well because of their age and resided in the double cab of the Tacoma.  With the front window removed in the camper, I slept on the lower rollout sofa in the camper to stay close to Bedford and Emmie.  We traveled to Alaska in June and the sun never set.  This meant Bedford would get my attention at four or five in the morning to take his walk.
It rained almost every day we were north, but I found the truck and camper comfortable, especially with the camper furnace.  We also stayed in hotels now and then.  I was especially glad to have the camper in Chicken, Alaska because rooms started at $150 a night with no bathrooms and no dogs allowed.
I had driven as far as I could go that day.  What was supposed to take four hours actually took eight.  We stayed in their campground for a nice rest and a hot shower.
Denali
To see Denali, aka Mount McKinley, in all of its glory, was a goal to be sure, and a highlight of our trip.  At over 20,000 feet, Denali is the highest mountain in North America.  Denali creates its own weather pattern and is usually shrouded in clouds and not visible.
The only access road to see Denali is controlled by the National Park Service and requires a bus ride of 180 miles.  Dogs are not permitted on the buses and there is no guarantee the mountain will be visible when you get there.
While taking an alternate road to Talkeetna, I was overtaken by an unexpected view.  In the middle of the single-lane road, between the 200-foot pines, was a white majestic cone.  The dome of Denali was dead ahead!
It startled me and I almost lost control of the truck.  Moving forward on the undulating path, I saw a photo pull over and made it there with a convoy of others.  I was told later that Denali is rarely seen even by those living there.  My neighbor's parents, residents for fifteen years, have seen the mountain only twice.  Clouds were rapidly forming and encircling as the shutters embraced the moment.  Even the images I took did not look real.
Just a few days before, four experienced climbers lost their lives on Denali.  I know of a Pennsylvanian, resting there, who cut his own safety line to save his team.
Because Bedford and Emmie were with me, I had a different trip than expected.  I was surprised and pleased as people would approach to see the dogs.  On one occasion in Whitehorse, Yukon, a native woman sat with us and wanted to hold the leashes.  She shared stories of her life and I shared our adventures.  Sometimes I would just sit on a porch and meet folks coming and going.
There were a lot of motorcyclists from around the world in the north.  I talked with a motorcyclist from Brazil who has been all over the world.  He started in Louisiana and expected to complete the Dalton Highway to Prudhoe Bay.  He told me that a man who has no story is dead.  He has a lot of stories.
Because of the camper, I met even more people.  In a parking lot where I was doing laundry, a man came running at me with a metal tape measure extended.  He wanted to measure the Finch to see if it would fit in his garage.  He too had a Tacoma.  In campgrounds, RV parks, on log porches, we filled our lives with new stories and made new friends.
Four Lessons Learned:
1. The old rule of laying out what you are taking on a trip and then leaving fifty percent behind is a good rule.  I took way too much stuff.  I ended up leaving equipment all along the route.  Rubbermaid tubs help to consolidate things and they're easy to move stuff around in.  In a small camper, space is a premium.  There's an art to packing and stacking.  I'm working on it.
2. Take the trip you want to take, not what everybody else wants.  Kindly listen to others, and then stick to your guns.  Some of what happens on the road is weather dictated.  And sometimes you're just too tired to drive another twelve or thirteen hours.
3. Bring lots of music.  The only music I had with me on this trip was one CD.  It was a gift from my sister, the soundtrack to the television series Northern Exposure.  It's absolutely outstanding, but I need to carry more music with me next time.  There are no local radio stations in many cities and towns once you head north.
4. Gas can be hard to find.  The rule from fellow experienced travelers is, if you see gas, stop and top-off, no matter what.  I did Top of the World Highway holding my breath.  We made it to Chicken, but it was a close call.  I will be installing a gas carrier and can on the Four Wheel Camper.
Final Thoughts
In Ohio, we met the Hopalong Cassidy annual reunion.  They all adopted Bedford and Emmie.  When we stayed in motels, the Goldens were looking for them especially Gabby Hayes.
To so many people we met who reached out to talk to us and help us, we thank you.  I will never forget what one woman said as she touched down from the cab of their truck camper, "That's a lot of road!".
Yes, I would do it all over again tomorrow.  Happy trails!
To visit the Four Wheel website, go to fourwheelcampers.com. Click here for a free Four Wheel brochure.
Linda Norman's Rig
Truck: 2011 Toyota Tacoma, double cab, single rear wheel, short bed, 4×4, gas
Camper:2012 Four Wheel Camper Finch
Tie-downs and Turnbuckles: External Turnbuckles
Suspension Enhancements: Old Man Emu Shocks, Firestone Airbags<
Gear: TRD Off-road package, Tow package, Arctic Pack in camper, ARB front bumper with brush-guard, heavy-duty driving lights, portable Outback Extreme air compressor, JR Custom Wooden Running Boards, CB and Antenna