This is the story of one Four Wheel Camper, two months, three Goldens, 13,500 miles, countless dog biscuits, and a dream to visit Alaska.

 Three Goldens to Alaska
By: Linda Norman
Alaska was a challenge I always wanted to do, and a promise I made, and kept, with my mother.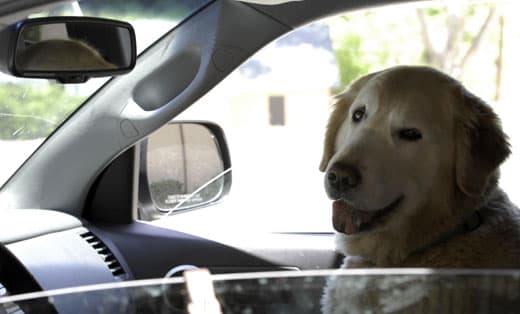 Above: Emmie ready to drive to the Overland Expo
Three old Goldens, Bedford, Emmie, and I, started our adventure by driving from Pennsylvania to Rocky Mountain Four Wheel Campers in Denver to pick up our new Finch pop-up.
We then turned west to Arizona for Toyota Tacoma modifications from Adventure Trailers in Prescott, and to attend the Overland Expo in Flagstaff.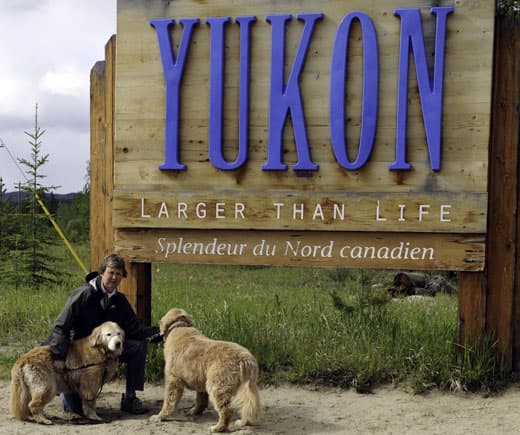 Above: Emmie, Bedford and Linda in the Yukon, Canada
After the expo, we pointed our truck camper rig north and headed towards Alaska and the Yukon.
Maps in hand, we followed Route 89 north with stops in Ennis and Bozeman, Montana.  On to the Canadian border, I used The Milepost course through Alberta and northern British Colombia to pickup the Alaskan Highway in Dawson Creek.   As I stood at Mile 0 in Dawson Creek, I asked a motorcyclist why he was making the drive.  He answered, "If it was easy, I wouldn't be doing it."
We added the Klondike Loop to our visit to Dawson City, crossed the Yukon, and drove the Top of the World Highway into Alaska.
Researching Alaska
Hours of research months before helped me set our course.  The number one website for my research was Truck Camper Magazine with its treasure trove of Alaska truck camping articles and photographs.  I spent hours reading Truck Camper Magazine, getting caught up in the excitement of the Alaska journey.
Of course, I also used The Milepost, and consider it key equipment for a trip to Alaska.  I made sure to buy the latest edition for the most up to date information on gas stations and road closures.  Gas stations may not be in business when you arrive for a fill-up and the next gas station is sometimes many kilometers away.  Heavy snow and rain can cause flooding and mud slides in Alaska closing roads.  On our trip, the Alaskan Highway was shutdown stranding us in Fort Nelson, British Columbia for over four days.
Travel Trailer or Truck Camper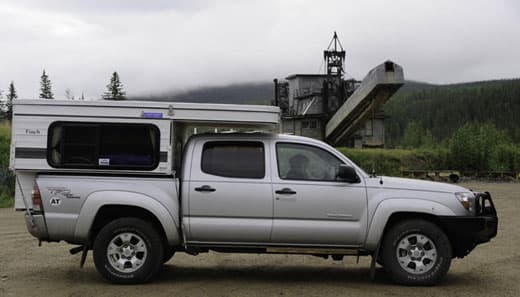 Above: Linda's Four Wheel Camper Finch in Chicken, Alaska