WARNING: This article is not suitable for anyone without a truck camper and may cause an immediate need to load your truck camper and go straight to Alaska.

According to Google Maps, the drive from our home in Lancaster, Pennsylvania to Anchorage, Alaska is 4,268 miles,  That's eighty-one hours of drive time or a little more than ten consecutive eight hour drive days.  I want to walk around and stretch just thinking about it.
At an average of $4.00 a gallon and a fuel economy of ten miles to the gallon, that would be about $1,704 of fuel one way, just to get there, never mind fuel to explore Alaska.  Now I love long distance travel, but clearly the distance and fuel costs for a trip to Alaska can be a little overwhelming.
These concerns melted away as I listened to John and Linda Ross tell me about their amazing Alaskan adventure.  In fact, they were so inspiring that I started to seriously think about our own truck camping trip to Alaska.  Their story literally made me want to pack the camper, and go.
As with so many things worth doing in life, the necessary courage, planning, commitment, and expense to go to Alaska can seem nearly impossible.  Then you talk to people who have summoned that courage, made the plans, and committed the time and finances to make it happen.  The nearly impossible becomes not only becomes attainable and real, but captivating.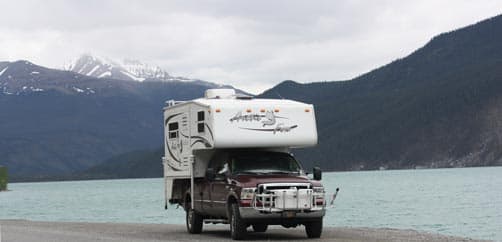 Above: This is one of the pull-outs on Muncho Lake, Alaska Highway
TCM: Tell us about how your trip to Alaska came together.
Linda: Probably two years ago we started saying that we wanted to go to Alaska as soon as we had the opportunity.  John has been retired two years and when I retired March 31st we decided it was time to begin our trip.  We began our trip  in May after first going to the Mid-Atlantic Truck Camper Rally and to Germany to see our daughter.
Our family is a big reason why we went on this trip.  Along the way, we also visited our son and daughter-in-law in California.  Our niece, our preacher's daughter, and her husband took care of our house while we were gone, so we didn't need to worry about anything.
Above: John and Linda at The Kinross Gold Mine
John: We have a friend who lives in Fairbanks.  He has lived in Alaska five years and has told us many details about it that whet our appetites even more to begin our journey.  We stayed about three weeks near him in Fairbanks and he took us places that we probably would not have experienced without knowing him.
We also talked with several people who had been to Alaska before including Chet and Cindy Manuel.  We met them two years ago at the Mid-Atlantic Truck Camper Rally.  We also bought The MILEPOST, Mike and Terri Church's Traveler's Guide to Alaskan Camping, and ordered some DVDs on Alaska.  We looked at as much information as we could.
We did not have a detailed day-to-day itinerary while we were in Alaska.  We decided what we were going to do and where we were going, but then left the experience open to enjoy.  We did have a couple of days we needed to plan in advance; the fishing charter in Homer and the Inside Passage ferries.  We had to be on the Alaska Marine Highway Ferry on August 26th in Haines.  We signed up in May.
TCM: Do you have to sign-up that far in advance?
Linda: Yes.  You need to reserve the ferry that far out.  A couple of times we thought about a side trip, but the ferries were full.  We wanted to go from Valdez to Haines, but there was a six week wait.
You can get the schedules for the Alaska Marine Highway on the web.  There's also a DVD you can get.  If you sign up for it and can't go, you can cancel and possibly make a change if they have vacancies.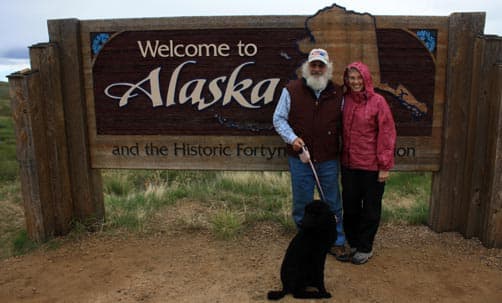 Above: John and Linda entering Alaska on the Top of the World Highway