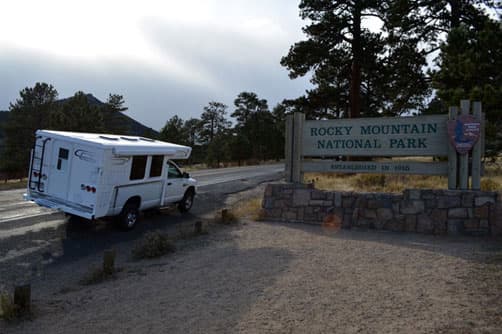 Around 4:00pm, we handed our annual pass to another Park Ranger and officially entered Rocky Mountain National Park.  The normal entry fee is $20 for a seven day pass so our $80 "America the Beautiful" annual National Parks and Federal Recreational Lands Pass was well on its way for paying for itself, and then some.  If you're sixty-two or older the pass is only $10 and lasts a lifetime.
Less then five minutes later, we came upon a herd of vehicles pulled haphazardly to the side of the road, and a rather large herd of elk.  This is a familiar scene for anyone who has visited a few National Parks and it's always exciting to discover what everyone is looking at.  After a few minutes of looking at the elk from Bill's truck, I did what any stupid tourist does and got out to take a few pictures.  Two days later I would realize just how stupid a decision like this can be.
The drive to Moraine Park was spectacular.  The mountain range literally stopped us in our tracks.  It's so easy to forget how beautiful nature can be.
When we arrived at Moraine Park Campground there were no park rangers on duty.  If you haven't experienced self-registration in campgrounds before, this means you have to drive around the campground to find and select a campsite that's not currently reserved.  Reserved sites are either occupied or have a small paper attached to the campsite number post.  When you find an open and available site to your liking, you return to the campground entry point, fill out a reservation envelope, stuff it with the required funds, and then return to the campsite.  It's a run around, but it works.
We camped in site 185, one of the few spots left.  It was nice and level-ish.  As the sun was setting, the temperatures were beginning to fall.  The low that night was supposed to be in the mid-thirties and we were about to find out if our fears of freezing in a pop-up camper were founded, or fiction.  Then our worst nightmare struck.  When Angela went to turn on the heat, nothing happened.
As Angela fussed with the thermostat and I checked the propane tanks and levels, we were both thinking the same thing, "We're going to freeze our tushies off".  Everything looked fine, but no heat.  Then, finally, Angela tweaked the thermostat just right and the heat came roaring on.  By the cheers and excitement in our camper you would have thought we had been rescued from Gilligan's Island.
So what happened?  Matt had checked the heater and even ran it for at least twenty minutes before we left Hallmark earlier in the day.  What we finally figured out is that the thermostat was faulty, probably due to the fact that our camper was a current floor model and had been subject to the use and abuse of a few RV shows.  Or, the thermostat just decided to fail at that moment.
Let's take a minute and look at this in the proper context.  Truck camper manufacturers build truck campers.  They do not manufacture thermostats, water pumps, furnaces, water heaters, microwaves, air conditioners, fuse panels, fuses, fans, slide-out mechanisms, refrigerators, awnings, televisions, stereos, batteries, and many of the other components that make up a truck camper.  This may be shocking, but they don't even make trucks.  All of that stuff is made by other companies who supply the RV industry and often back those products with their own separate warranties.
When we returned to Hallmark, we told them about the faulty thermostat and it was immediately replaced.  We don't blame Hallmark for this issue any more than we would blame our home builder for our home thermostat failing.  As for the thermostat in question, it's the exact same standard white thermostat we see in just about every truck camper and RV we see these days.  Stuff happens.  This is yet one more reason why it's critical to have a good ongoing relationship with your truck camper manufacturer or local dealer.
With the thermostat crisis behind us, we made dinner on the propane range, washed dishes, and relaxed.  When we crawled into bed around 9:30pm, we were very interested to see how comfortable the Hallmark's 60" x 80" queen size foam mattress would be.  In short, it was both firm and very comfortable.
That night the mountain winds picked up, and up, and up.  Powerful bursts of wind slammed into the camper with startling jolts.  To our delight, the Hallmark's insulated soft-walls and propane heater were more than a match for the cold and wind.  The wind storm did wake us up a few times, but we were never felt a breeze in the camper or, more importantly, a chill.  Our tushies remained toasty.  Back to sleep.
DAY 2: Wednesday, October 13th
We awoke the next morning to the amazing sound of elk bugling about twenty feet from our camper.  Immediately I jumped out of bed, grabbed my camera, and rushed out the back door.  Two seconds later, I was outside, freezing, in my PJs, and the elk were long gone.  I had hoped to get a picture of the elk near our campsite, but evidently the elk had other plans.
There was no going back to bed after that, so Angela and I made coffee on the stove and ate breakfast.  Then it was time to find out just what it's like to shower in a Hallmark Cuchara XL.  Could a pop-up truck camper really offer a shower experience similar to a hard side truck camper?
The answer is a definitive yes.  The wet bath in the Cuchara XL is small, but it has the size and amenities necessary for a real truck camper shower.  I was impressed.

With our morning routine completed, we set out to attempt Trail Ridge Road.  Our Verizon cell phone and 3G internet service did not reach into the park so there was no way to find out if Trail Ridge Road was open without physically going there.  If the road was to open for the day, we would find out when we reached the point of closure a few miles in.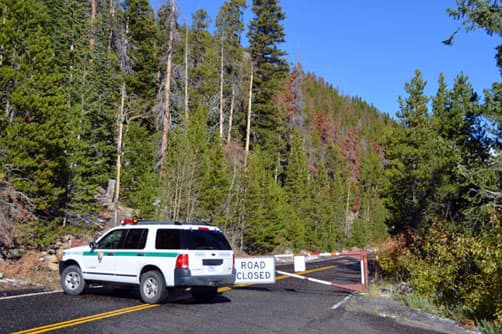 It was closed.  Time for plan B.
When we learned that Trail Ridge Road would probably be closed the following day, we decided to explore every other nook and cranny of Rocky Mountain National Park.  First up on our nook and cranny tour was West Horseshoe Park and the Alluvial Fan.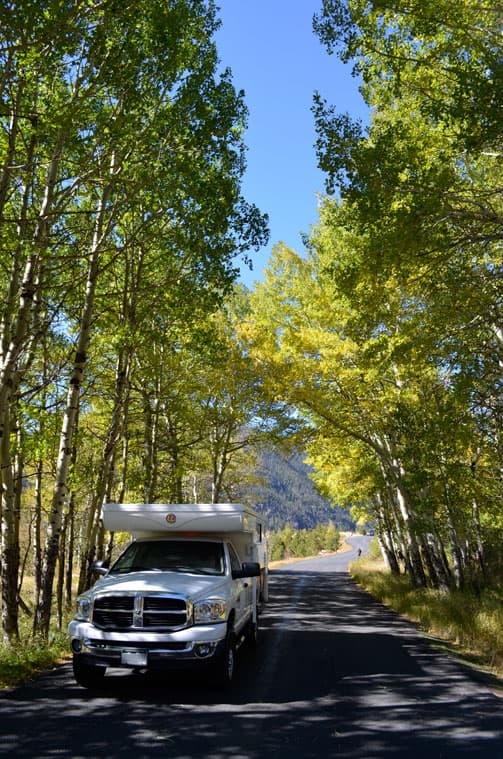 The Aspens were stunning.
I love warning signs that essentially say, "Go Back!"  What they should say is, "If you're in a car, motorhome, or towable RV, GO BACK!  If you're in a four wheel drive truck camper or Jeep, rock on you most awesome person you!"  I'll talk to the park about these changes.