TCM invited the entire Texas Truck Camper Rally to check out a 2013 Palomino 2910 full-wall slide-out truck camper.  They came, they saw, and they said the following.

We love to do Rally Reviews at truck camper rallies.  The idea is simple; bring a brand new truck camper to a truck camper rally, let everyone check it out stem to stern, and then publish their responses to the camper.  Naturally the responses range from glowing and positive to, "What the heck were they thinking", but that's real life, the real deal, the straight and skinny, or, as I like to say, "the dilly-o".
Do you want to know what real truck campers think of a truck camper?  That's what a rally review is all about.

We also camped in the 2013 Palomino 2910 during the Texas Truck Camper Rally, hosted by Princess Craft RV, and have added our own comments on the camper.  We'll start with the rally attendee opinions, and then give our feedback.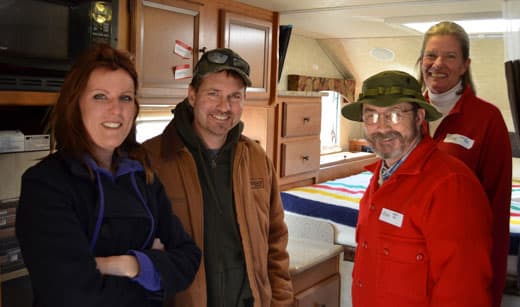 "The camper looks modern.  I like the heavy cutting board sink inserts, and the solid surface countertop is pretty.  I also love the color of the wood cabinetry and bronze handles.  I don't like fake glass block wallpaper in the kitchen.  I do love the insulated Dometic windows, especially compared to the single pane glass windows in our current Maverick.  Overall I like it." – Will and Rachel Little
"I like the exterior color.  Inside, the camper is bright with big picture windows bringing in a lot of light.  There is nice amount of storage in this camper, however there is wasted space in front of the refrigerator.  I am pleasantly surprised at this camper." – Mike and Cindy Schoaf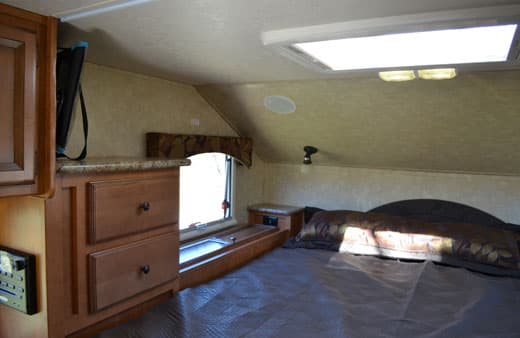 "I like the feeling of space inside the camper.  I love the solid surface sink covers.  They're the Real McCoy.  I like that there are electrical outlets near the bed.  I also like that it has drawers in the overcab.  There is a step up to the refrigerator.  I like that the refrigerator is in the slide because it opens up the camper." – Jim Schivers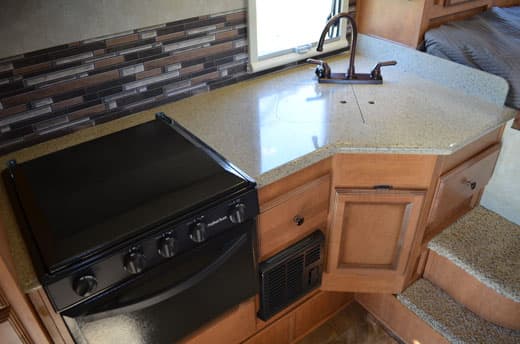 "The Corian-like countertop and backsplash looks like you can wipe it off easily.  I like the windows." – Neil Womack
"The solid surface countertop has a nice look." – Red Beers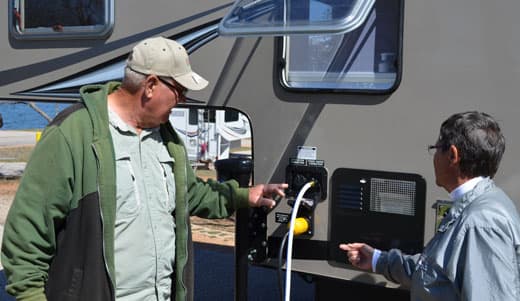 "I like the exterior color, but there needs to be a cover over the fresh water fill and city water hook up.  There's a nice big window next to the dinette.  Having the refrigerator on the slide makes it loud because of the constant fan noise.  I like the bed area and the two steps up into the overcab.  There is also a roominess up there with good sit-up height above the bed.  The solid surface countertop is heavy, but the two cutting board sink inserts will not warp.  I would like drawers under the sink.  This camper needs outlets in the kitchen area.  There is a high step up into the bathroom." – Cheryl and Rick Merks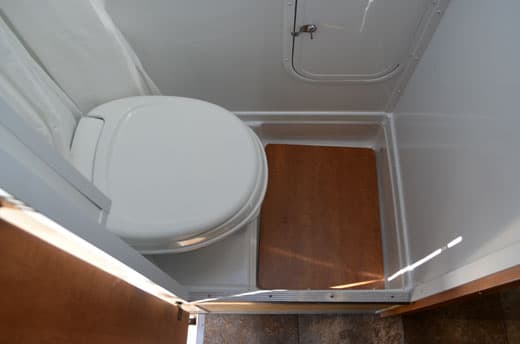 "I like the brown colored exterior.  I like the open feeling of the camper.  It makes it seem more roomy inside.  I also like the step up to the bed.  There is lots of storage in the bedroom area.  The refrigerator is a good size and there is a lot of kitchen storage.  I'm not sure I would like step up into the bathroom, especially in the middle of the night.  I would want a dry bath.  I would want to be able to walk in sideways to get through when the slide is closed up.  The windows are wonderful.  Oops, I just bumped my head on entry door and I'm not that tall." – Dick and Karen Spencer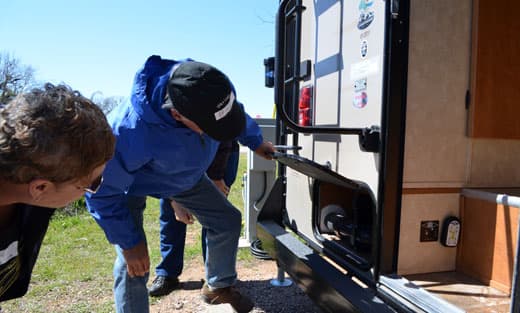 "I see there's a door that goes to nothing on the rear passenger side wing of the camper.  One propane tank is not enough for this size of a camper.  You need two.  From outside, the overcab doesn't look as big as it does inside.   I like how the windows open.  I would like some hanging storage in the camper.  I like the size of the refrigerator, but it is noisy.  I would like an outside compartment door since the dinette has such a long storage space underneath, or put a pull-out drawer there.  The bathroom has a medicine cabinet, which is good." – Sue and Bill Billyard