TCM invited the entire Mid-Atlantic Truck Camper Rally to review a CampLite TC10.  What would the rally say about a no wood truck camper in the woods?

When LivinLite RV saw the our first ever rally review last November, they asked if we would conduct a rally review of their 2012 CampLite TC10 at the 2012 Mid-Atlantic Truck Camper Rally.  They were already bringing the product to the rally and were eager to gather more feedback on their unique wood-free, 100% aluminum and composite truck campers.  Naturally, we accepted.
The CampLite TC10 rally review was an official event at the 2012 Mid-Atlantic Truck Camper Rally promoted on the rally website and program.  Rick Barna, National Sales Manager for LivinLite RV, was on hand to answer questions, but not permitted within twenty feet of the camper while the rally review was conducted.  We wanted to make sure the rally participants felt comfortable sharing their true opinions.  You can see Rick in the Mid-Atlantic Rally time-lapse video standing a short distance from the camper answering questions.
As a magazine, we believe these rally reviews are an important tool to allow the truck camper consumer to be heard and help the industry to improve their products.  This is the real deal.  The consumer opinions are not always positive, but they are all constructive and help move our industry and community in the right direction.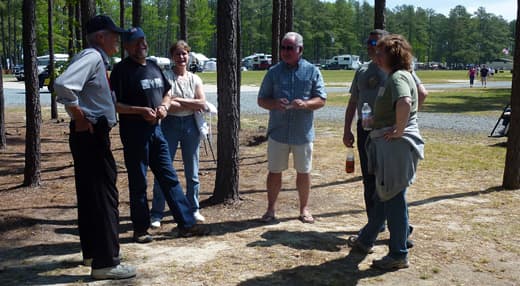 Above: Rick Barna of LivinLite (fourth from left), talks to rally participants about CampLite Campers.  Thank you to Scott Tuttle, President of LivinLite RV, Rick Barna, and all of the rally participants for helping us make this rally review a success.
Rally Review of the CampLite TC10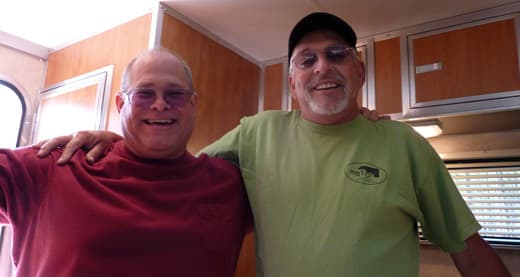 "Nice exterior paint job.  They just built it six months too late for me.  This camper will last a lifetime a dreams.  I also saw it at the Cedar Key rally and love the camper." – Marcus Schrichte
"I like the wood look.  Get rid of the foam mattress and put in a Serta.  The television mount needs to be to moved to the left so it can swing around more.  Nice durable walls that you can wash." – Don Kingfield
"The kitchen set up is beautiful and there's a lot of counter space.  It's a unique camper with it's all-aluminum construction, light weight, and ten foot length.  With a truck camper you need to travel light as there's not a lot of storage.  I think it's great.  With truck campers, less is more.  No slide, no problems." – Dorris and Mark Bluth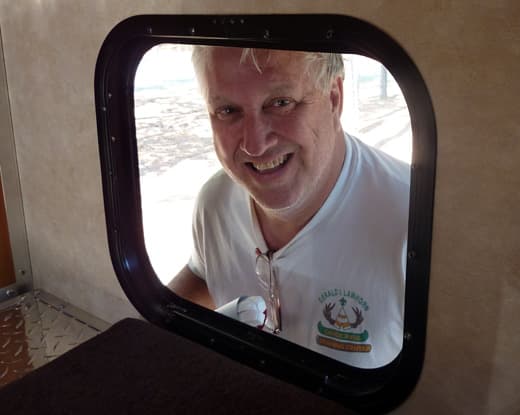 "The tanks aren't heated and they aren't big enough if you want to go boondocking or hunting." – Steve Price
"It looks like a great weekend camper.  It features wonderful construction and is ideal for camping and hunting trips.  But, for long term camping, it's not ideal because of the small holding tanks.  Also, there's no oven.  I would also like a sink in the bathroom." – Joyce Harding
"With its all-aluminum and composite construction, I would think this camper would bake in the sun.  I would have to have the air conditioner.  There should be a sink in the bathroom.  I don't like the latches because they're hard to open if you have arthritis.  Being short, the counters are a bit high in the kitchen." – Jane Schrichte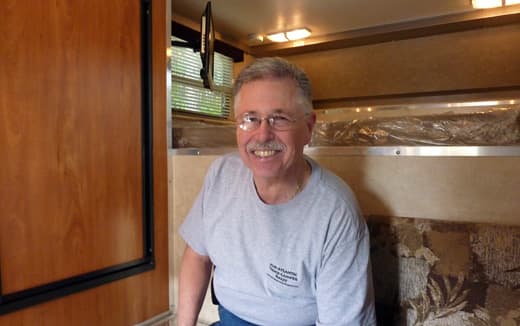 "It's a sweet unit for short term weekend use.  The build quality looks good.  It's not a four season camper because there are no heated holding tanks, which decreases the utility as a hunting camper." – Joe Zecca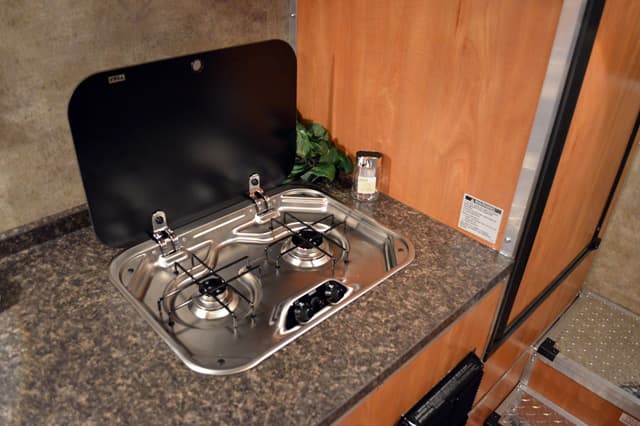 "It's quite different.  I really like the stove, but you also need an oven.  A sink in the bath would be nice too." – Steve Moore
"It's a good idea that the table can come out of the camper.  It would be easy to clean.  You definitely need a light above the bunk.  There's a nice step into the overcab.  I would like an assist handle to help in getting into the camper.  I've never seen cabinet latches like the ones in this camper." – Laura Price